Thick circles of toasted Salvadorian flat bread are stuffed with rich melted cheese. They're delicious all by themselves, but even better when dipped in a simple thin red salsa. Pupusas with salsa roja are an El Salvadorian classic dish that's easy to make, and akin to the American combination of grilled cheese & tomato soup.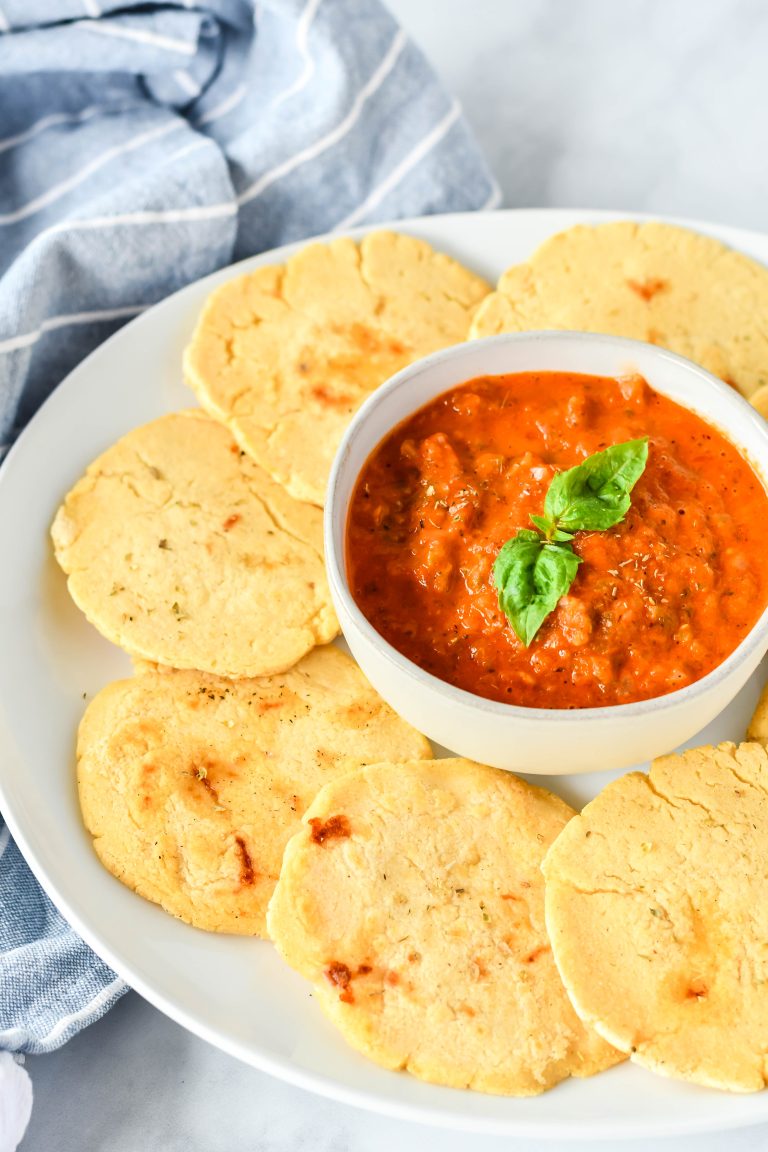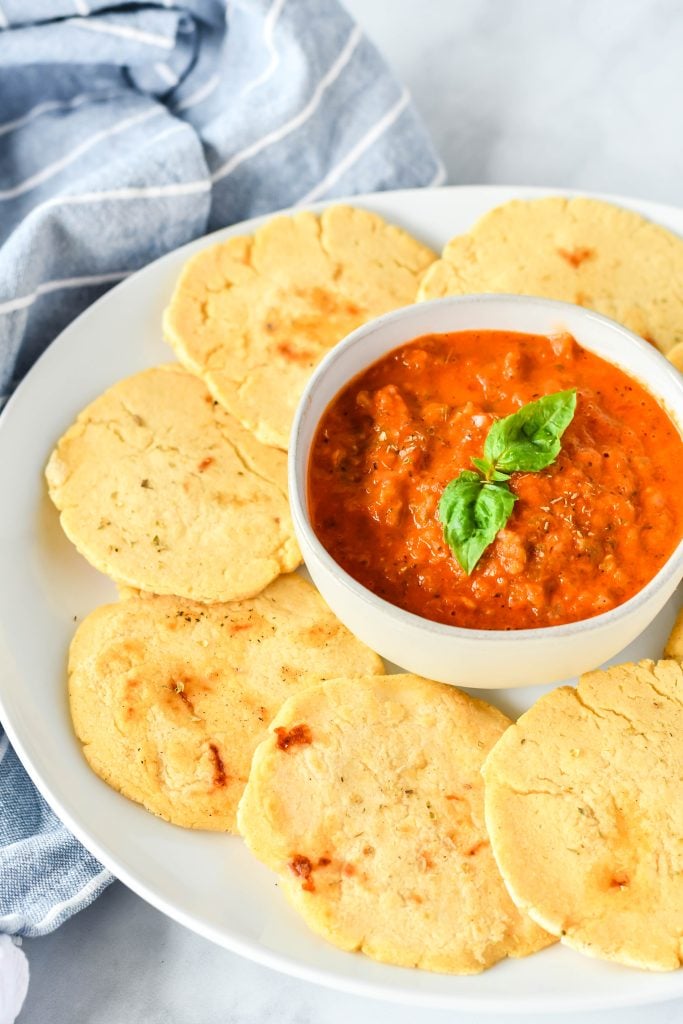 Grilled cheese is one of the quintessential comfort foods.
Even better? It's one of those things that's just as good, no matter how old you get, that's just as comforting in its original, unaltered form ( just like Mama made it) or growing with you into more 'gourmet' versions.
And we've run the gauntlet, bringing you all different varieties- especially these Pupusas with Salsa Roja.
We're not the only country who's on top of their grilled cheese game. Far from it.
Today we bring you pupusas, straight from the streets of El Salvador.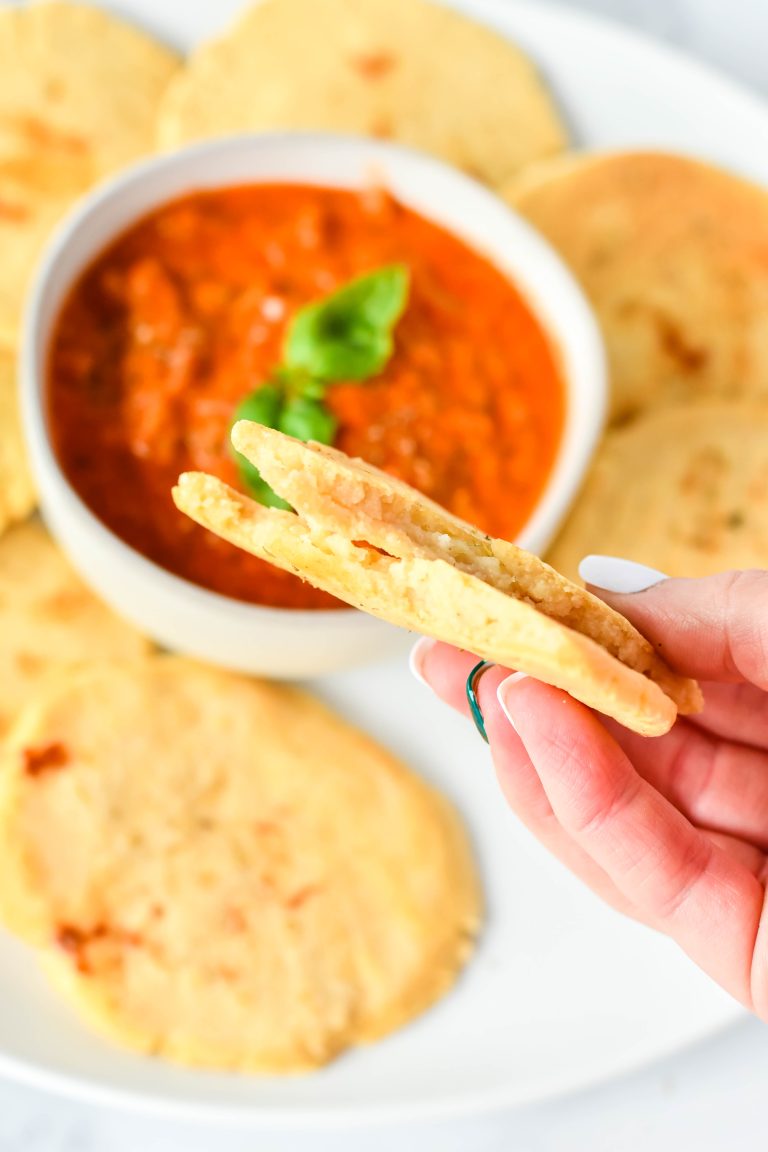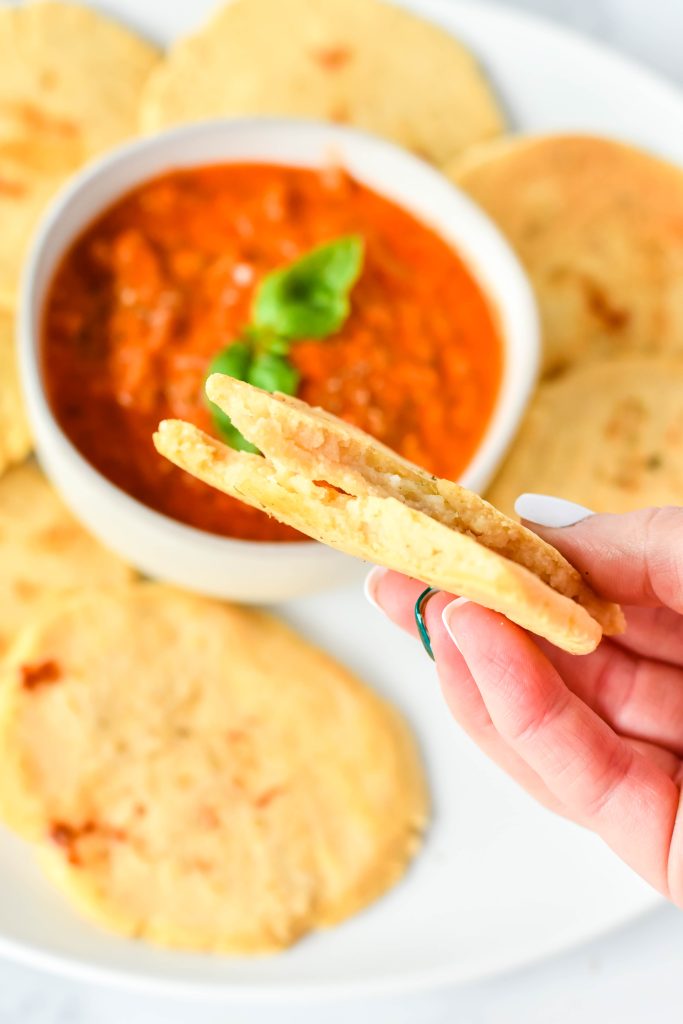 These traditional Salvadorian 'grilled cheese' consist of a thick, handmade corn tortilla that's typically filled with a blend of meat and/or cheeses.
But, of course, we're focusing on the cheeses. And it may sound hard to replicate, but it's surprisingly easy, and affordable.
They do take a teensy bit of work, but they're well worth the time.
They're a perfect snack, or main meal. Or you could go the traditional route and enjoy these savory 'pancakes' for breakfast.
Even better? Dip it in a fresh bowl of salsa roja, a seasoned tomato sauce that resembles a runnier cold version of tomato soup, but with kick butt flavors.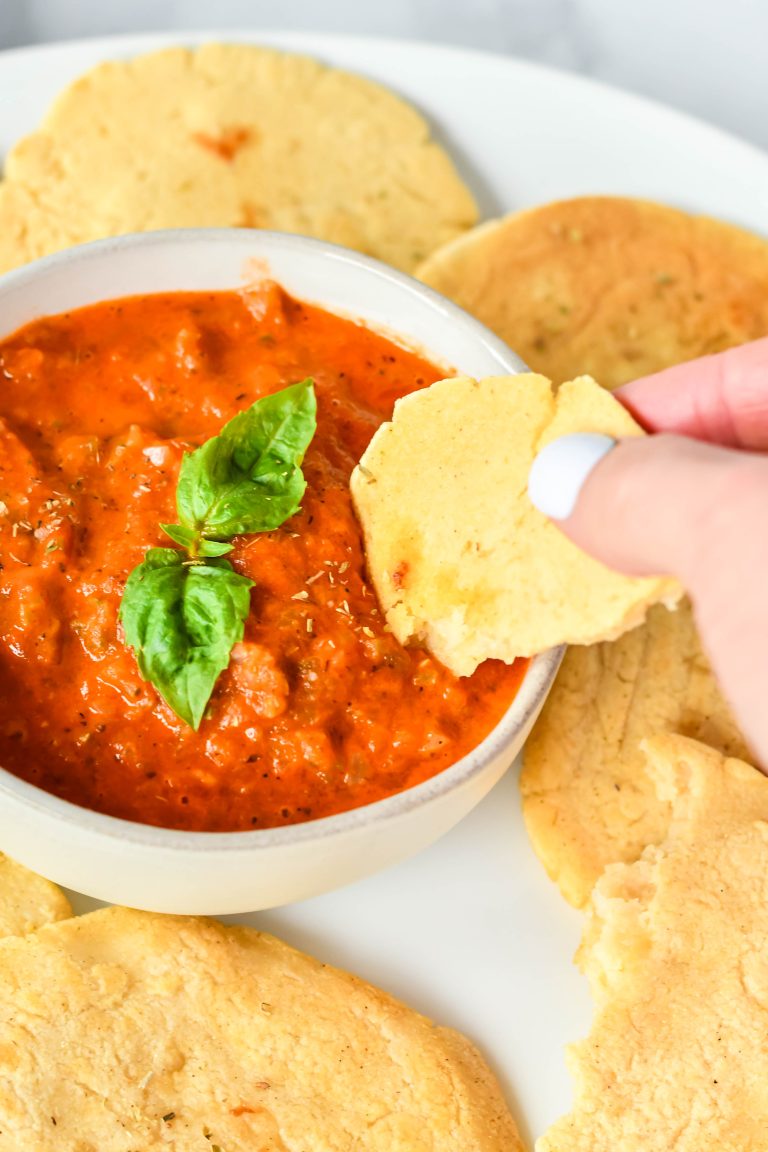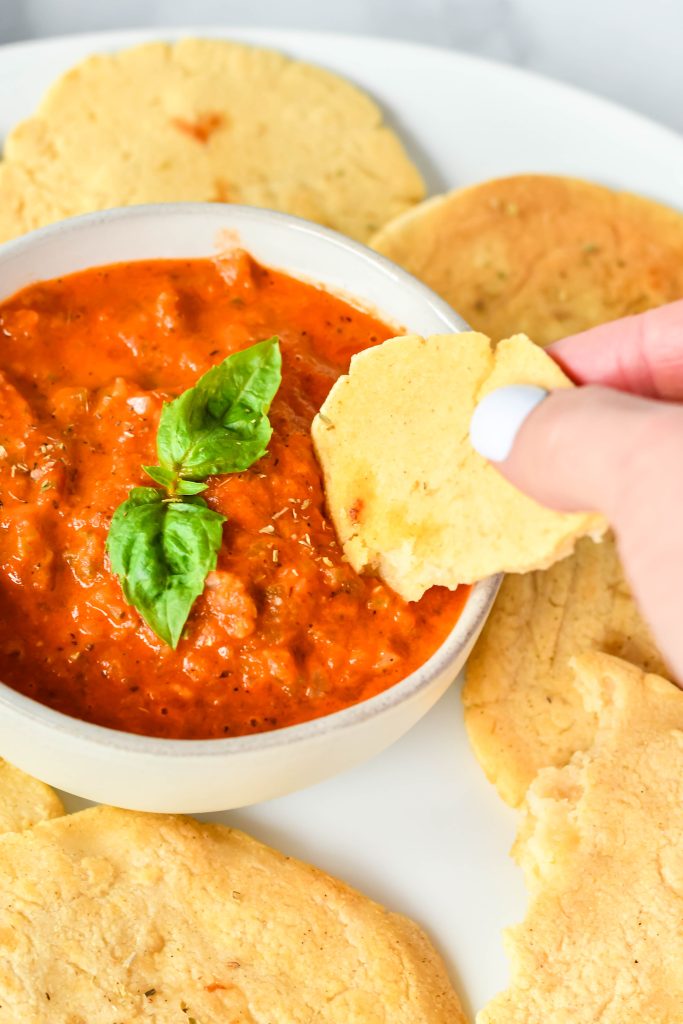 So, let's recap, Pupusas are cheap and cheerful, exceptionally hearty, stuffed and griddled disks of corn tortilla oozing, gooey cheese induced euphoria that originated in El Salvador.
Don't be daunted, they're quite simple to make and assemble.
We've provided step by step instructions below, plus a few pictures of the key steps in case a visual reference makes it seem more do-able.
Making Pupusas From Scratch
A good pupusa begins with a good dough. The dough is the base, and tasted in every bite- meaning the quality & taste of it will make or break your finished product.
In a large mixing bowl combine the instructed amounts of masa harina, salt, and warm water together until the dough has come together.
I like using hot water as I find it yields a more plieable, moister dough. Just do not use cold water. The dough won't come together correctly.
What Is Masa Harina?
Masa is a maize (corn) based dough. It's often used to make things like pupusas, but also tamales, tortillas, and a host of other Souther American & Native American dishes.
The dried, powdered form of the dough (basically corn flour) is called masa harina or masa de harina. The most popular commercial brand is called MaSeCa.
DO NOT confuse it with cornmeal. They are two entirely things, although both corn-based. Corn meal will NOT work in this recipe however.
After you've formed your dough, dump it out onto a flat surface- such as a clean counter top.
Press your finger down on top of the dough ball, directly into the center. If the dough cracks around the finger imprint, it's too dry.
Add a little extra hot water, remix, and test again for cracks. You shouldn't need too much extra water though.
Don't skip the testing step though, because a dough that's too dry will ultimately crack during cooking and you're likely to watch sadly as your yummy cheesy filling slowly leaks out.
In a separate bowl, mix the cheese together to evenly combine. Set aside.
Shaping & Filling Homemade Pupusas
Break off a handful of dough, and roll it in between the palms of your hands to form a ball. Kinda like shaping a meatballs.
Flatten it like you would when shaping a hamburger patty. To the center of the dough, add about a tablespoon of mixed cheeses.
Fold one half of the dough over to meet the other edge. It should resemble a taco. Press the edges together to seal. Fold the opposite edges together, again pressing to seal.
Flatten this filled dough ball out gently into a thin patty-like shape. The disk should be about 1/4-1/2 inch think. Be careful not to flatten it too much or you risk the filling poking through.
Set the prepared pupusa on a sheet of parchment paper, and repeat with the remaining dough until it and the cheeses have all been used.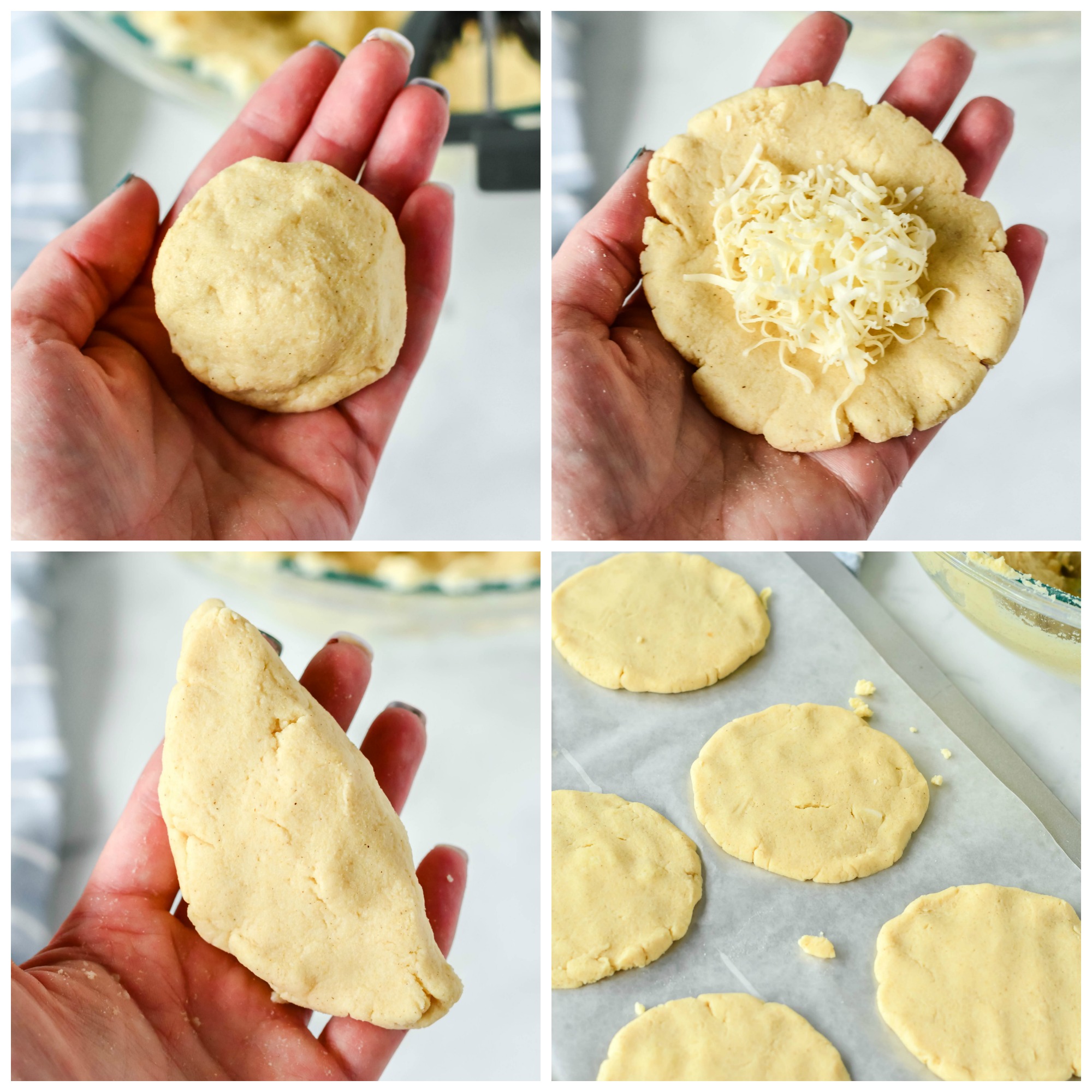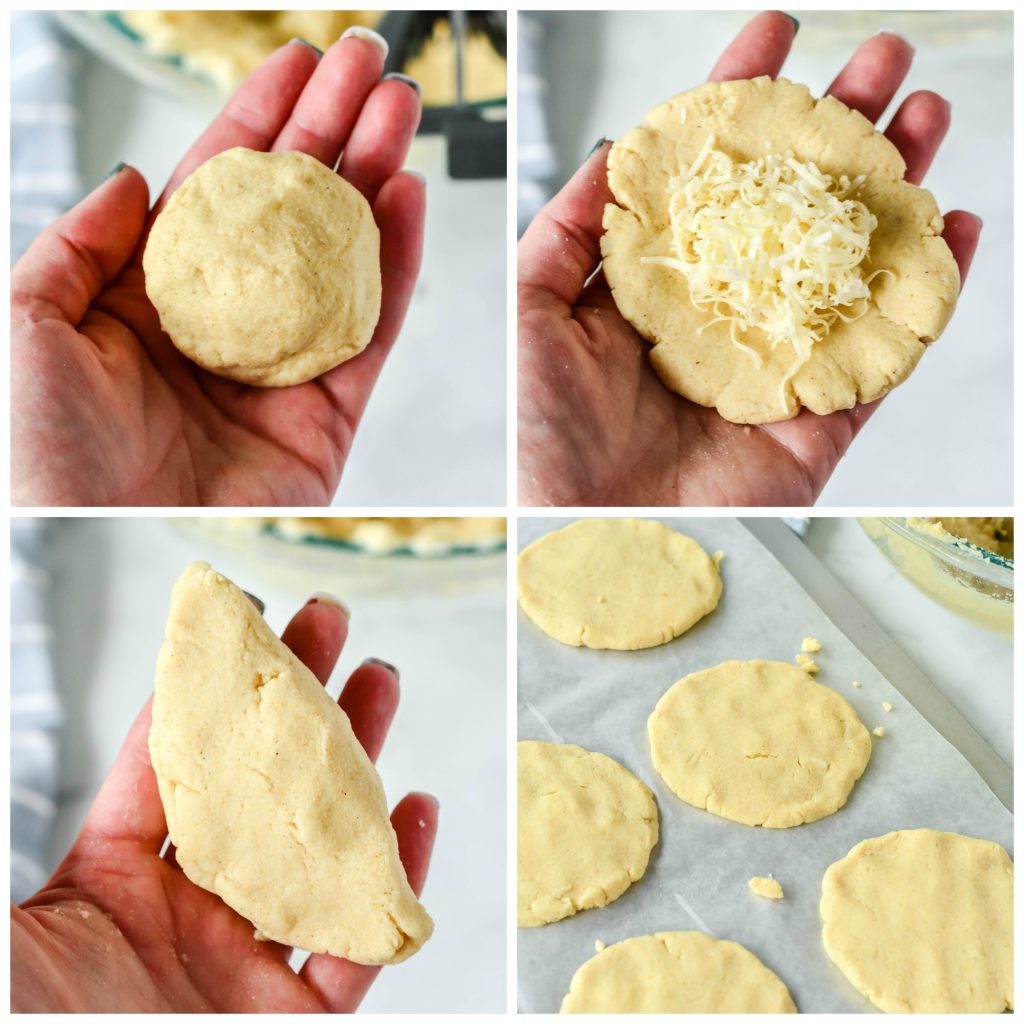 Heat a flat skillet, or griddle, over medium high heat. Working in batches, add several pupusas and let them fry for 5 minutes.
Using a spatula, carefully flip them all over and cook for another 5 minutes. If the pupusas look like they're burning as opposed to just getting dark marks, reduce the heat slightly.
Remove the cooked pupusas to a waiting plate, and continue until all of them have been cooked.
Serve the pupusas warm with sauce for dipping.
My kids love these served with queso, sour cream, and salsa- however the traditional pairing is Salsa Roja.
Salsa Roja- What Is It?
It's one of the two most famous traditional sauces in this type of cuisine. The other being salsa verde.
This traditional South American sauce literally translates to red sauce in English.
It's a smooth-style salsa that's tomato based, and can be made mild or spicy depending on preference and what exactly you're intending to serve it with.
Salsa roja is super simple to whip up, you just need a skillet & your stove top.
Extra virgin olive oil is heated in a skillet over medium high heat. Once hot chopped white onion, peeled garlic cloves, and diced jalapeno pepper are added.
These are left to simmer, just until the veggies have softened and the onion's turned translucent.
Freshly peeled, seeded, and chopped tomatoes are added along with several teaspoons of dried oregano.
I recommend using roma tomatoes as they tend to be on the firmer and fleshier side.
If you do not have access to fresh tomatoes, you can sub canned diced tomatoes but be sure to drain them well so your salsa isn't super soup-y.
Simmer the seasoned tomatoes for 10 minutes, then turn the heat off, and let the sauce sit and cool.
Once the mixture's cooled you can use an immersion blender to puree it in the skillet. You can make it as smooth, or leave it as chunky, as you like.
If you don't have an immersion blender you can transfer it to a blender and blend until smooth.
Make sure the mixture's cooled before using a blender though as trapped steam can cause it to explode and result in serious injury and burns.
You can serve the sauce as is with the pupusas, or you can chill it in the refrigerator and serve it cold. Either way it's excellent, although the chill time does allow some of the flavors to meld & marry a tad bit more.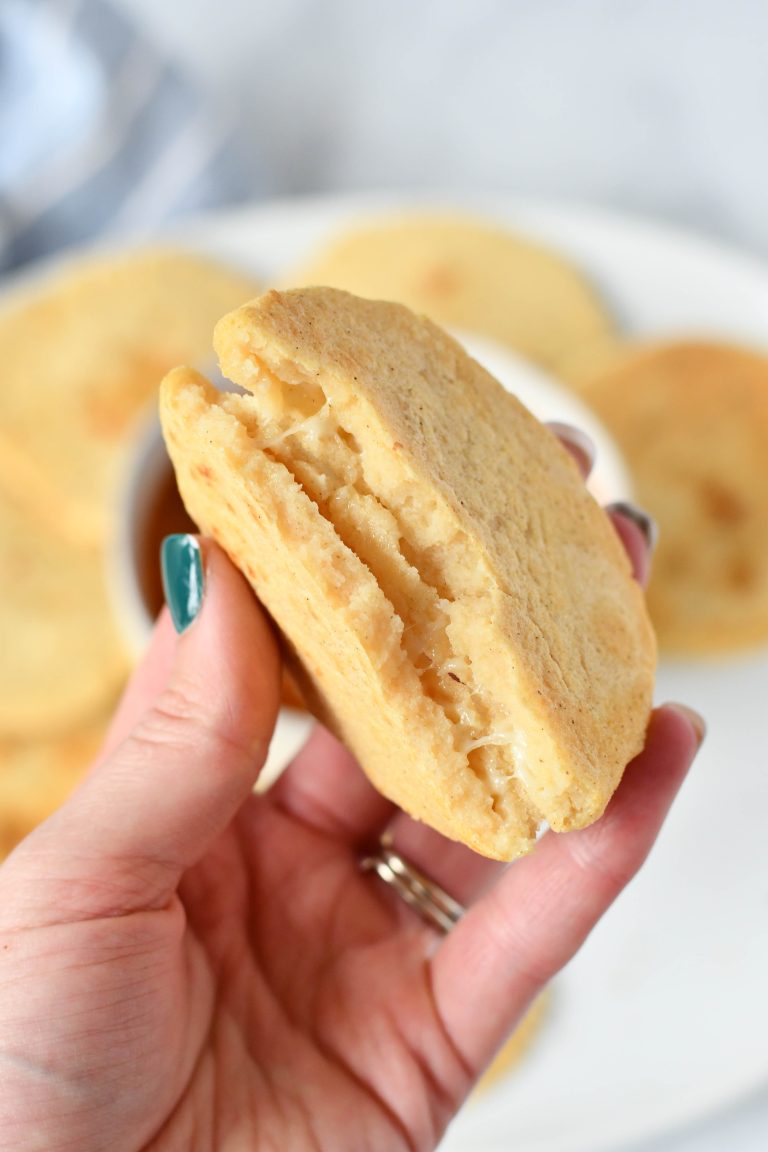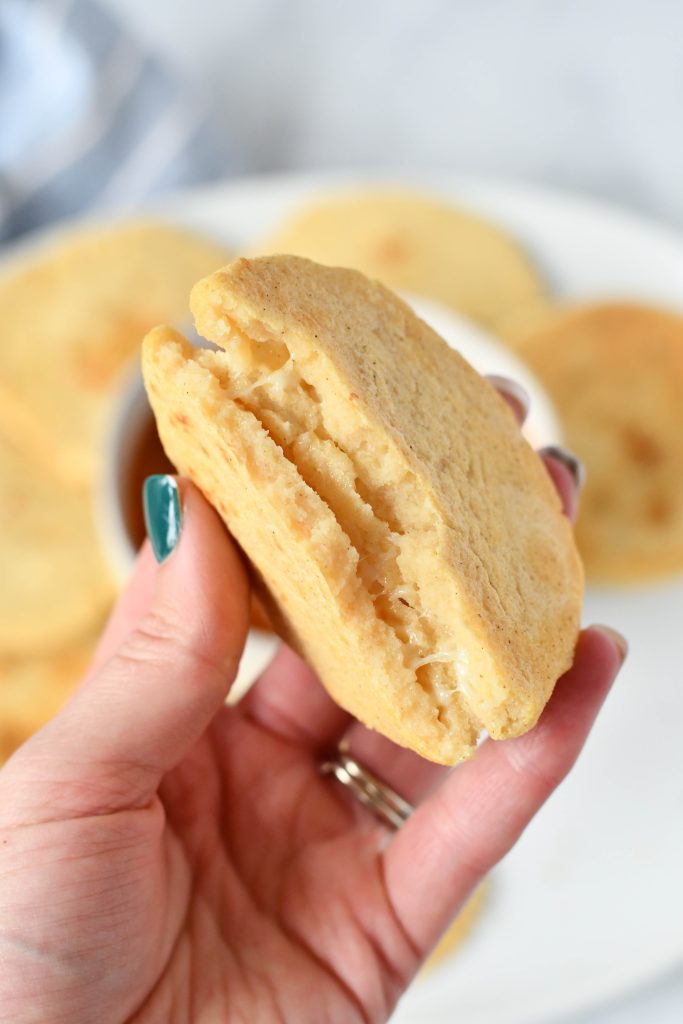 While this recipe's pretty straight forward, we have gotten a couple of great questions about it over the years. We'd like to take the time to answer them now.
Why Are My Pupusas Hard?
If your cooked pupusas are hard, cracked, and/or the filling leaked out during cooking- there's a simple answer.
Unfortunately, the masa was too dry.
To avoid this follow the finger imprint trick mentioned above. It's a fool proof method to ensure your dough's never too dry, and it's simple to do.
Can I Use Other Cheeses?
We used two of our favorite cheese, shredded pepper jack & cotija, in this pupusa recipe.
You can easily swap them out for other soft, melting types of cheese.
If you can access it, in it's native form a soft melting white cheese called Quessilo is traditionally used.
Shredded mozzarella makes a great substitute, and makes for a great cheese pull effect.
I've even heard of someone who enjoys putting ricotta cheese in theirs, but I haven't tried that myself.
What Else Can I Stuff My Pupusas With?
While cheese is the most obvious, and basic filling idea- it's far from the only one.
Other delicious fillings include- crushed fried pork rinds (chicharrones), pulled pork, shredded or diced rotisserie chicken, and refried beans.
You could even use a mixture of them.
Can You Make Pupusas Ahead Of Time?
To save on time, the dough can easily be made ahead of time. Up to 3 or 4 hours ahead in fact.
If making the dough before you intend to actually form & cook your pupusas with salsa roja- make it as instructed.
Leave it sitting in the mixing bowl on the kitchen counter, covered loosely with a damp dish cloth until ready to use.
Remember though, you only have a couple of hours to use it before it will harden up and won't work any longer.
Alternatively, these can be made completely and frozen for future enjoyment.
Prepare the pupusas as instructed, but don't cook them.
Wrap each one individually in wax paper. Then add them to a freezable tupperware or to a large ziplocking storage bag.
You can store them in the freezer for up to a month.
When ready to eat, take out the desired number and let them thaw completely. Then cook them as instructed.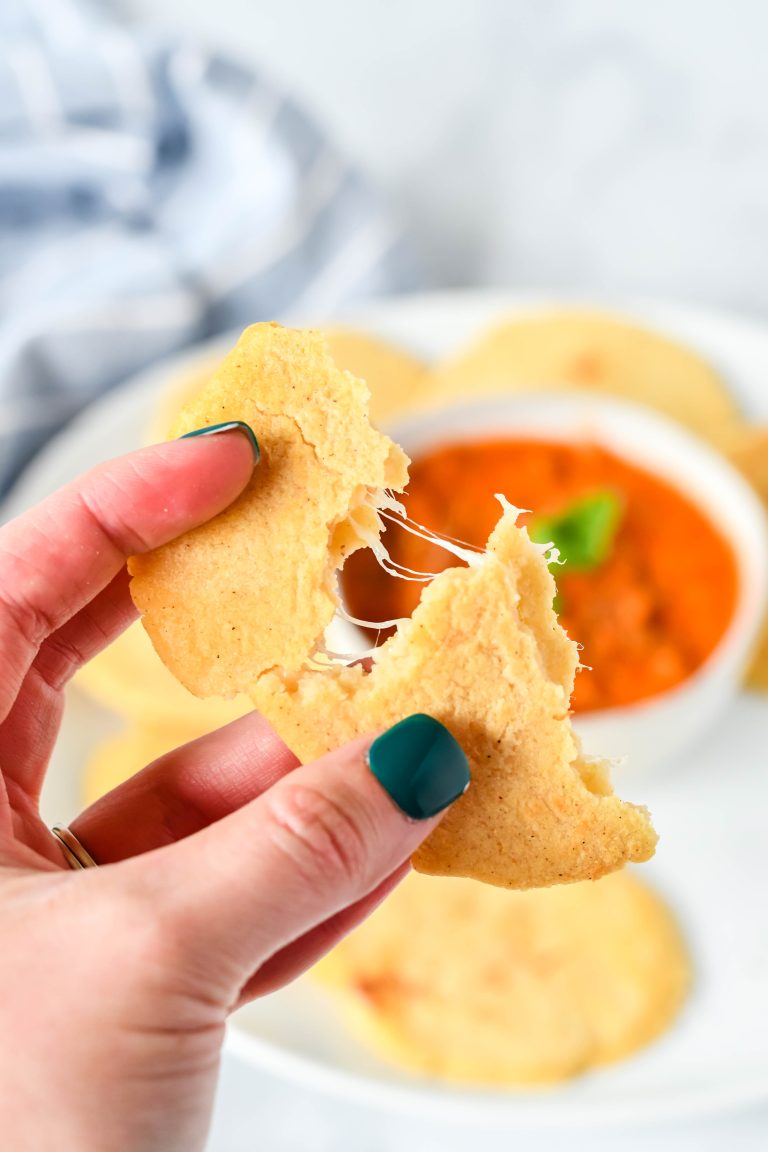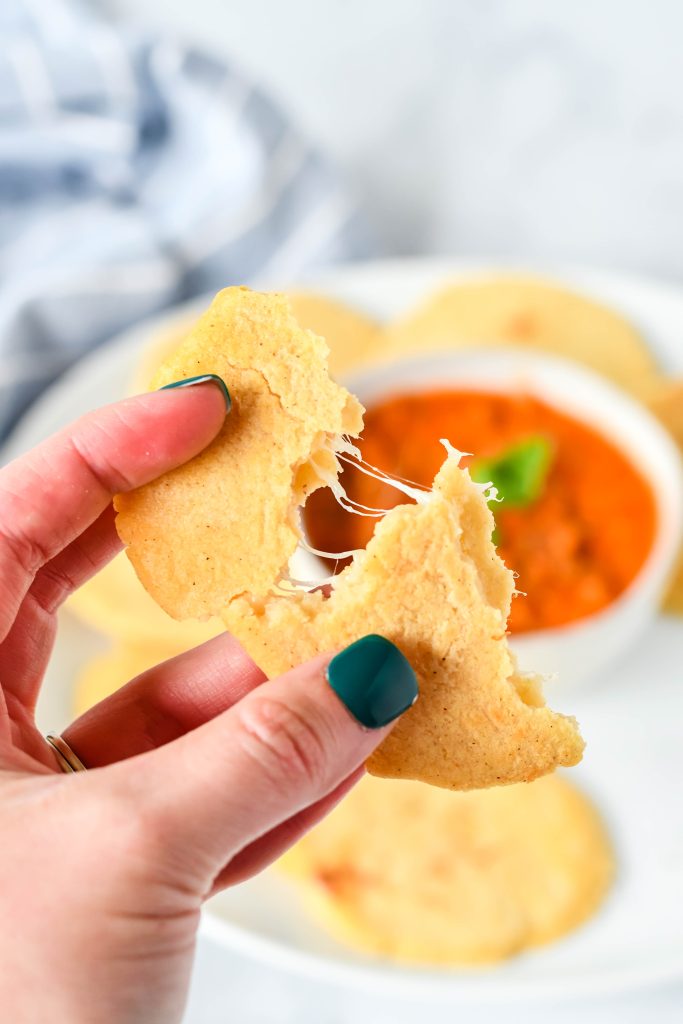 Papusas with salsa roja really are simple to make. At the heart of it, they're simple comfort food that's budget friendly.
Kind of like the classic grilled cheese & tomato soup combo we grew up with, just another culture's version. Albeit a much tastier one!
While they're good all by themselves, pairing them with this simple red sauce (salsa roja) for dipping is what really takes them over the top and completes the whole experience.
I highly recommend it!
Use our papusa with salsa roja recipe to bring a batch of this El Salvadorian specialty to your house, and enjoy watching the face-splitting smiles that spread across your family's faces.
Other Mexican Style Recipes You Might Also Enjoy:
If you've tried these PUPUSAS WITH SALSA ROJA, or any other recipe on my site, let me know in the comment section how it turned out, we love hearing from our readers! You can also follow along with me on PINTEREST, FACEBOOK, and INSTAGRAM to see more amazing recipes and whatever else we've got going on!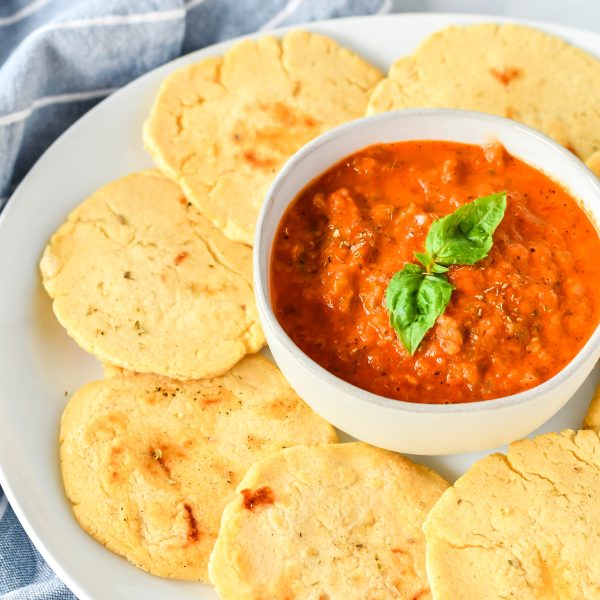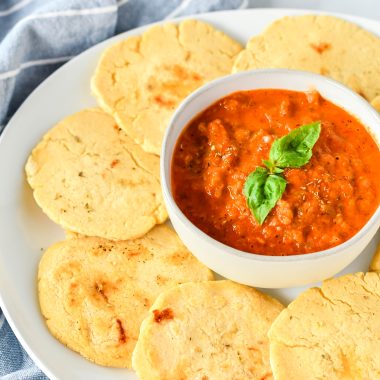 Papusas With Salsa Roja
Thick circles of toasted Salvadorian flat bread are stuffed with rich melted cheese. They're delicious all by themselves, but even better when dipped in a simple thin red salsa. It's an El Salvadorian classic dish that's easy to make, and akin to the American combination of grilled cheese & tomato soup.
Print
Pin
Rate
Ingredients
For The Papusas
2

cups

masa harina

1 ½

– 1 ¾ cups warm water

½

tsp.

salt
For The Filling
1

cup

shredded pepper jack cheese

½

cup

cotija cheese

crumbled or shredded
For The Salsa Roja
3

tbsp

olive oil

1/4

cup

chopped white onion

1-2

cloves

garlic

chopped

1

jalapeño pepper

chopped

2

cups

tomatoes

peeled, seeded, and chopped

2

tsp

oregano

salt and pepper

to taste

1/4

cup

cilantro

chopped
Instructions
To Make The Papusas
In a large bowl, mix the masa, salt and 1 ½ cups water together with your hands to make a dough.

Dump the dough onto the counter. If you press it and it cracks, you need to knead in more water.

You'll know you have enough water when you press it and it looks smooth.

Break off a handful of dough and roll it into a ball. Slightly flatten the ball and make an indention in the dough. Add about a tablespoon of the cheeses that have been mixed together.

Fold the dough like a taco and press together. Fold in the opposite ends and press together.

Set the dough on the counter and press the dough together to cover the filling. Carefully flatten it out into a ¼-inch thick disc. Don't press too hard or the filling will poke through the dough.

Continue with the remaining dough.

Heat a skillet or griddle over medium to medium-high heat. Place pupusas on the skillet in a single layer. Cook for 5 minutes, until brown.

Flip. Continue cooking 5 more minutes. Remove from skillet and cook remaining pupusas. Serve with Salsa Roja for dipping.
To Make The Salsa Roja
Heat the oil in a skillet over medium heat. Add the onion, garlic, and pepper and sauté for 2 to 3 minutes, or until the onion is translucent.

Stir in the tomatoes and the oregano and simmer for about 10 minutes. Remove from heat and let the mixture cool a bit.

Once the mixture has cooled, puree the tomato 'sauce' in a blender until smooth, adding a little water if needed. Add in salt and pepper to taste. Stir in the chopped cilantro and serve.
Nutrition
Calories:
319
kcal
|
Carbohydrates:
33
g
|
Protein:
11
g
|
Fat:
17
g
|
Saturated Fat:
7
g
|
Cholesterol:
28
mg
|
Sodium:
405
mg
|
Potassium:
259
mg
|
Fiber:
3
g
|
Sugar:
2
g
|
Vitamin A:
774
IU
|
Vitamin C:
10
mg
|
Calcium:
269
mg
|
Iron:
3
mg
post originally published on July 22, 2015