A quick & easy dish, this Italian-style Chicken & Tomato Pesto Gnocchi is a simple supper that's full of flavor. It can be planned ahead of time, but is easy enough to whip up on a whim. While this recipe makes enough for an average family dinner, it can easily be doubled to feed a larger crowd.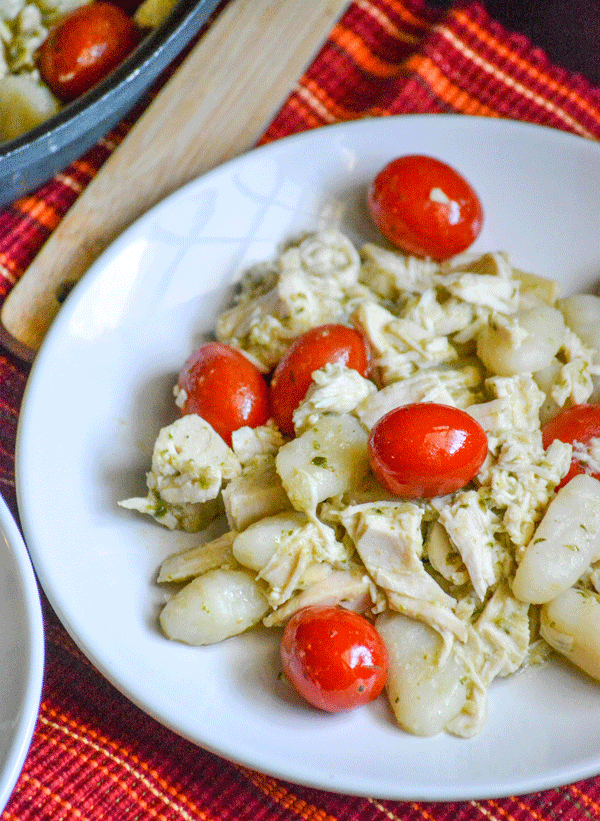 So while everyone around central VA is losing their minds and claiming we've never seen snow after the first day of Spring- I've gotta call their bluff. If you've lived in Virginia, at least my part of the state, you'd know we see snow alllllllll the time in March. If anything, it's a pretty regular thing.
My husband and I married in March. Days before our wedding, with Spring right around the corner, he was shoveling the walkway clear from a foot of snow so it was safe for my elderly Grandma who was coming to town. The day of our wedding? Not a single flake in sight, sun shining so brightly it was actually hot out.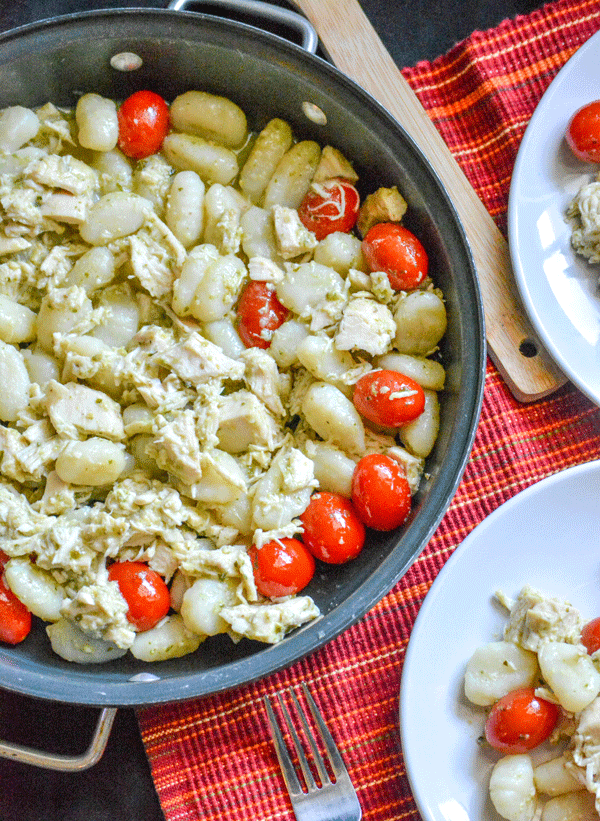 It snowed all day and well into the night here. Nope, we didn't run out to the store for bread, milk, and batteries. We're prepared.
A few hours, or even a few days without power aren't gonna make or break us. Shoot, stick a block or couple of dry ice in the freezers and our food's all safe. No power just means a nice break from our technology laden lives and some quality time with board games, rehashing cherished memories & family stories.
All that matters is we're able to transition well, and handle transitions well. Luckily, we're all well equipped to do just that.
Speaking of transitions, meals have to be ready to accept transitional states and weather too. This quick & easy recipe for Chicken & Tomato Pesto Gnocchi is an ideal transitional meal.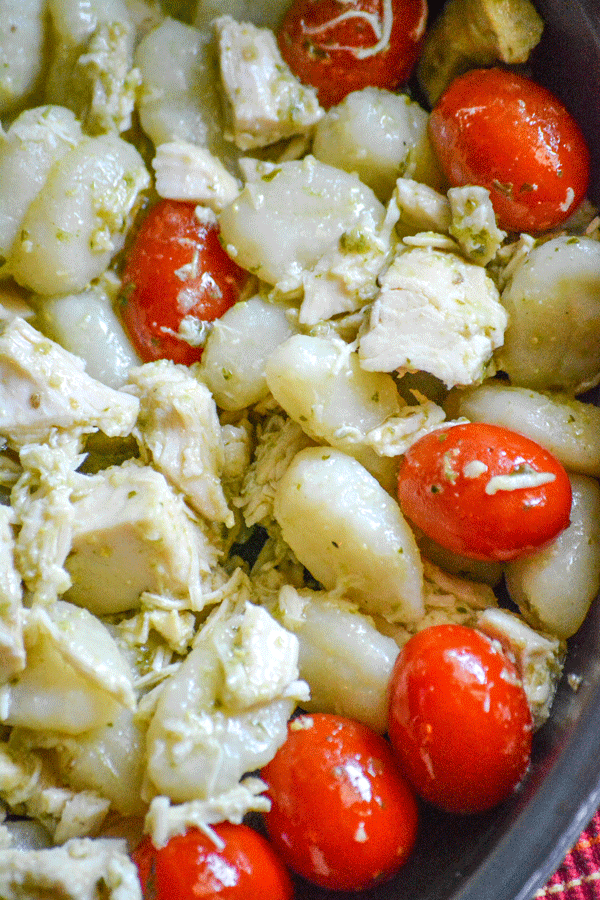 It's light, but filling- it's loaded full of flavor from simple ingredients that marry together to make magic in your mouth. Making it ideal for supper in warmer weather.
However, it's also filled with comforting potato gnocchi- or Italian dumplings as my husband's family refers to them. It's old school comfort food given a new age vibe. This dish doesn't need a heavy sauce to stick to your ribs and warm you up, even when the snow's piling up outside.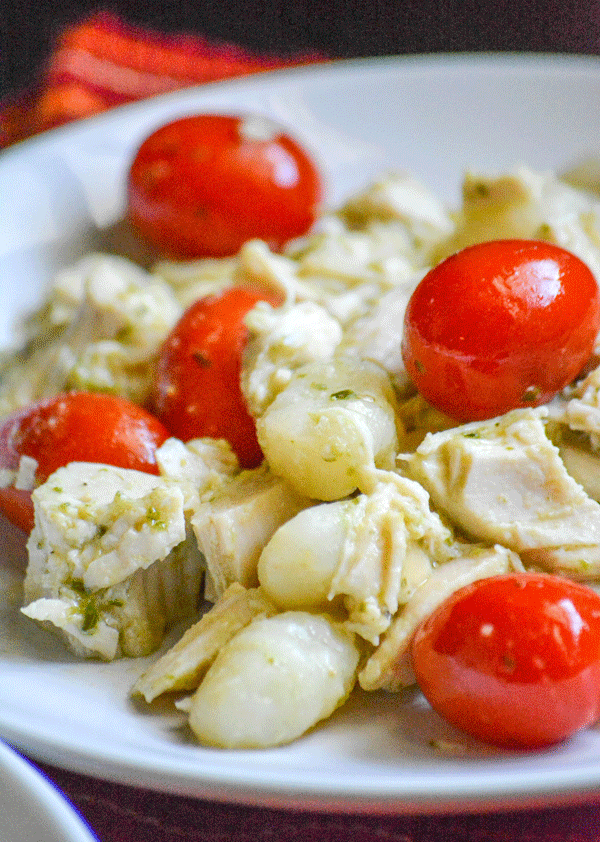 This dish couldn't be simpler, even for the most novice of cooks. What makes it one of my favorite go to meals? It doesn't taste like it, it tastes like your Italian Nonna made it in her kitchen just for you with an extra heaping helping of love.
Chicken & Tomato Pesto Gnocchi is a must have dinner on your weekly rotation that you never knew you were missing!
If you've tried this CHICKEN & TOMATO PESTO GNOCCHI, or any other recipe on my site, let me know in the comment section how it turned out, we love hearing from our readers! You can also follow along with me on PINTEREST, FACEBOOK, and INSTAGRAM to see more amazing recipes and whatever else we've got going on!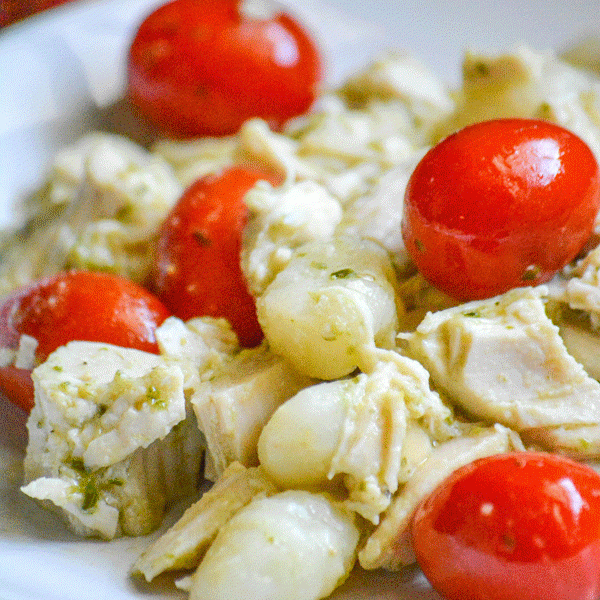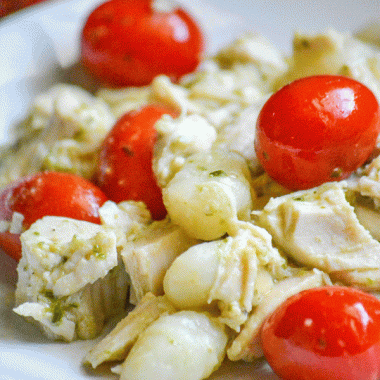 Chicken & Tomato Pesto Gnocchi
A quick & easy dinner, featuring soft plum gnocchi, grape tomatoes, and chunks of rotisserie chicken tossed in a flavorful pesto sauce.
Print
Pin
Rate
Ingredients
1

lb

potato gnocchi

2

tbsp

extra virgin olive oil

2

cups

chopped rotisserie chicken

2

tsp

minced garlic

1

cup

grape tomatoes

3-4

tbsp

quality Pesto sauce

1

cup

chicken broth

salt & pepper, to taste
Instructions
Cook the gnocchi according to the package directions. Drain immediately, and rinse with cold water until cold to stop them cooking and prevent sticking.

In a large skillet over medium heat, heat the oil. Stir in the garlic, cooking just until fragrant. Stir in the tomatoes, cooking for another 2-3 minutes, just until slightly wilted.

Add the broth, stirring to evenly incorporate. Stir in the pesto until incorporated. Reduce the heat to low, and let the mixture simmer until the sauce has begun to thicken.

Stir in the gnocchi & the chicken, tossing to evenly combine and coat. Salt & pepper, to taste, just before serving.