A quick and easy dinner, this One Pot Cheesy Chicken Broccoli & Rice combines your entree and sides into one simple dish. Bound together with a heaping helping of shredded cheese, it's always a family favorite.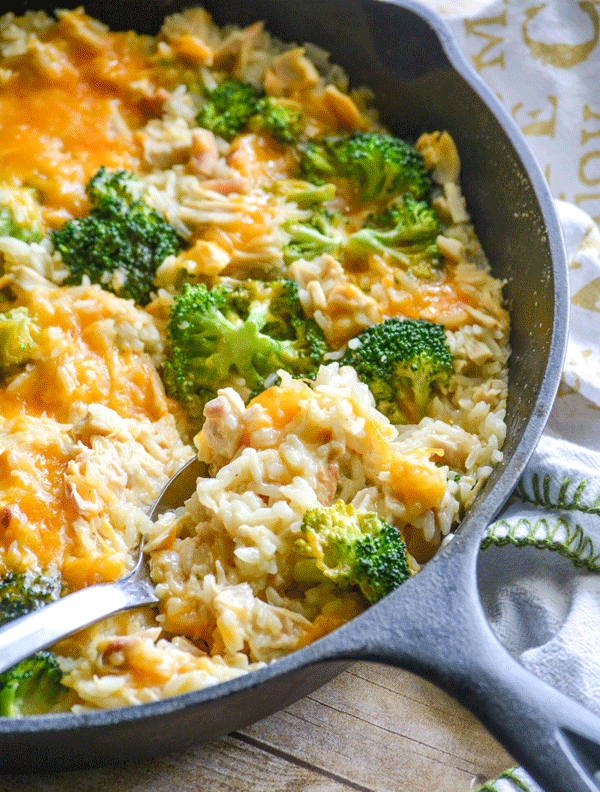 Fall is right around the corner, and that means comfy cozy family meals are back in season.
Nothing screams family, or the kind of food that Grandma used to make, like a meal that includes both rice and cheese.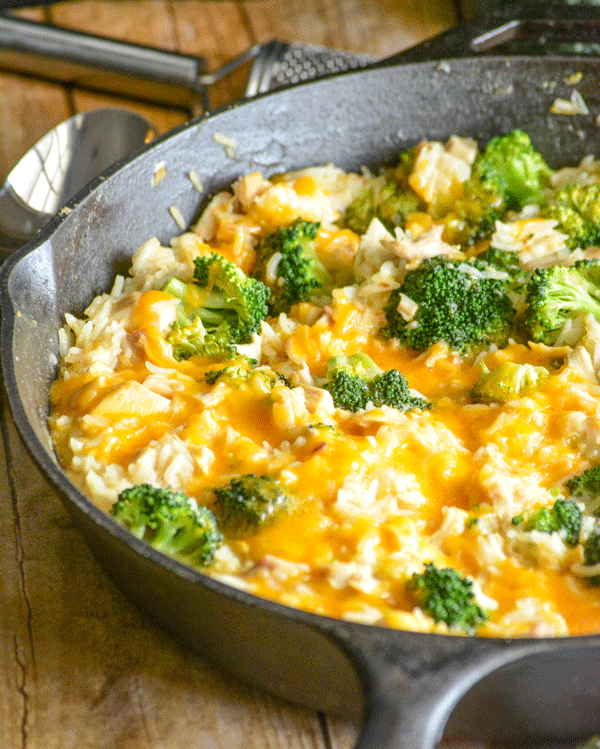 I don't know what it was about rice, but we had it in some shape or form at virtually every dinner. The only time you wouldn't find rice on Mom or Grandma's table? The nights they'd spring for mashed potatoes instead.
Most often it was a bed for some of the best homemade gravy I've ever had. Any time meat was cooked in our house, gravy was a sure thing.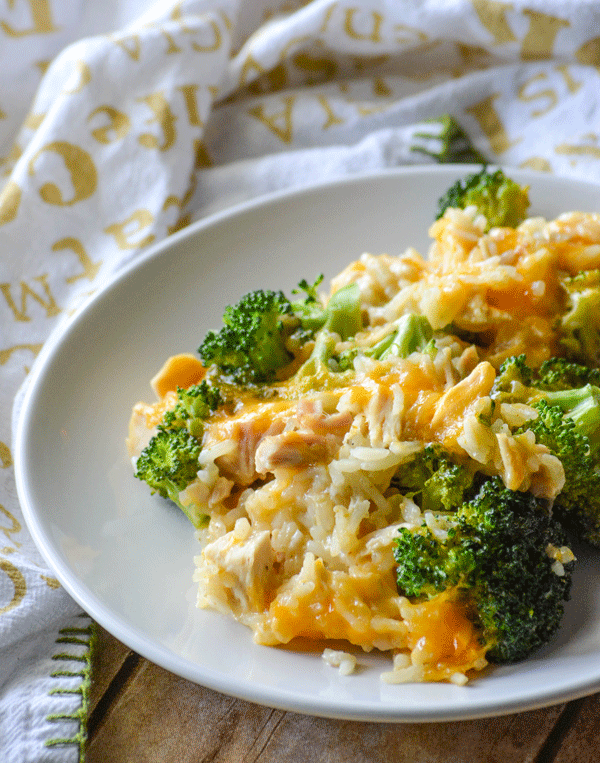 Other times it would be a bed for some sort of saucy main dish. And then there was rice with cheese.
I don't know who ever first stumbled across that amazing combination, I'm sure it wasn't my Grandma, but they were either a culinary genius or had the most happy edible accident I've ever had the pleasure of tasting.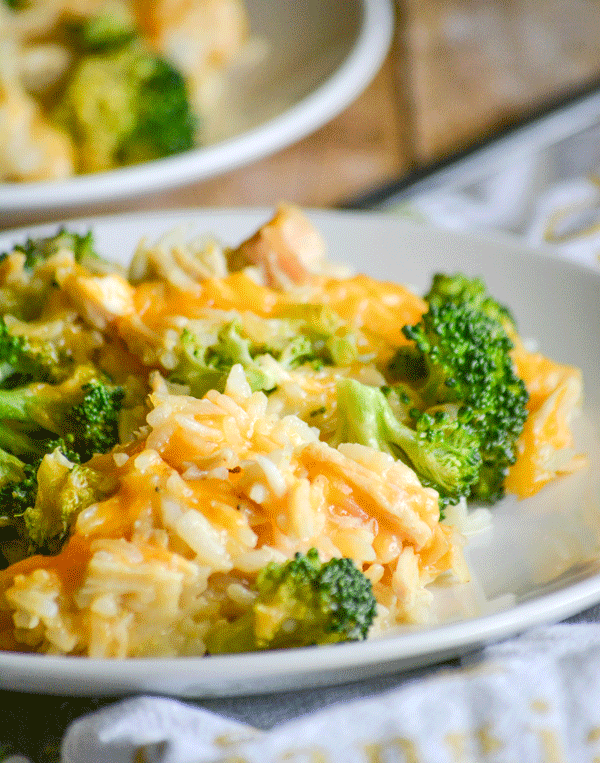 I mean just thinking about the two, I wouldn't imagine them naturally blending together so wonderfully. Maybe it's my familial gravy bias? Who knows for certain. But we did discover, quite by our own accident that when the two combine, they make each other unimaginably better.
Grandma's broccoli souffle was a staple at every holiday dinner, and it was so well loved and so hard to wait for a reason to have, it eventually was a side dish that made regular appearances at even every day dinners.
One day, it was supposed to be paired with a roasted chicken, and rice and gravy for dinner. But something went wrong. Not sure what, maybe just she was short on time- but the rice went into the cheesy broccoli casserole and the gravy was just for the meat. It was a raging success.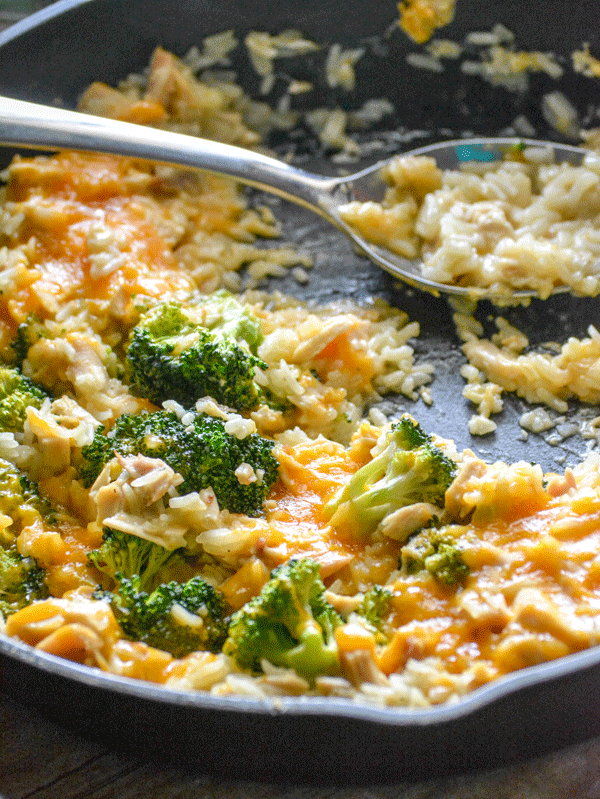 Fast forward to my own kitchen, and it wasn't such a leap of faith to skip the gray altogether and throw the chicken into the dish too. I mean, we know I'm all about simplifying things but still getting that same flavor profile we're all craving.
I felt pretty smart. I mean this One Pot Cheesy Chicken Broccoli & Rice was born and it was a HIT. It was only a few days before the sons wanted to know when we'd be having it again. And now didn't that sound familiar?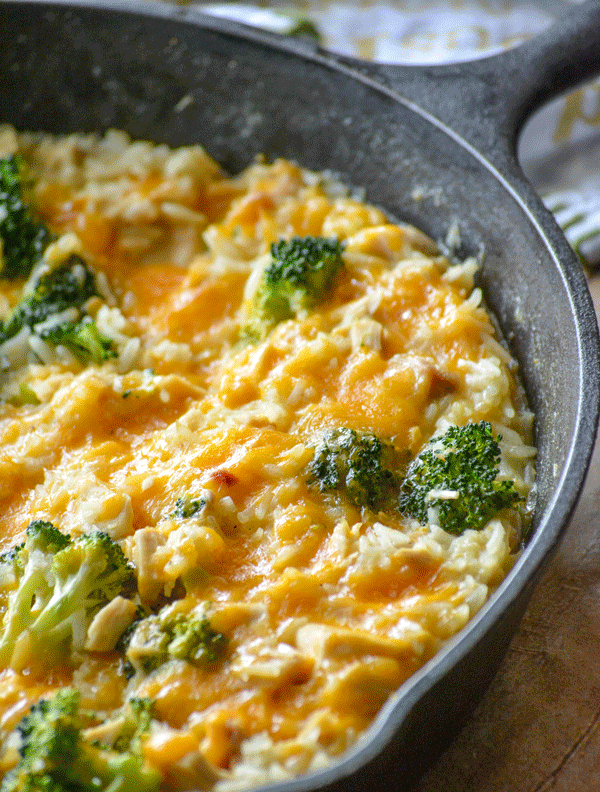 Chunks of juicy rotisserie chicken, sharp cheddar cheese, fresh broccoli, and white rice make the most delicious companions when cooked and served together, all in one pot.
Less mess, less dishes, less fuss- One Pot Cheesy Chicken Broccoli & Rice is a delicious dinner that combines an entire entree and sides into one amazing casserole.
Comfort food at it's finest, just like Mom and Grandma used to make, this dish will quickly become the latest addition to the family recipe box.
If you've tried this ONE POT CHEESY CHICKEN BROCCOLI & RICE, or any other recipe on my site, let me know in the comment section how it turned out, we love hearing from our readers! You can also follow along with me on PINTEREST, FACEBOOK, and INSTAGRAM to see more amazing recipes and whatever else we've got going on!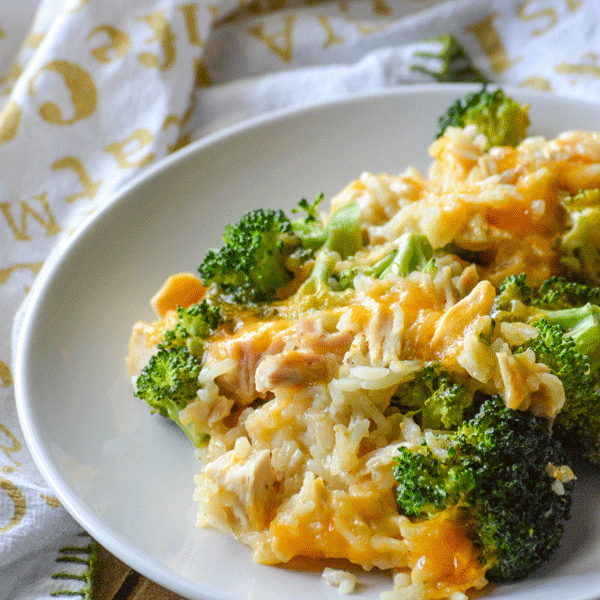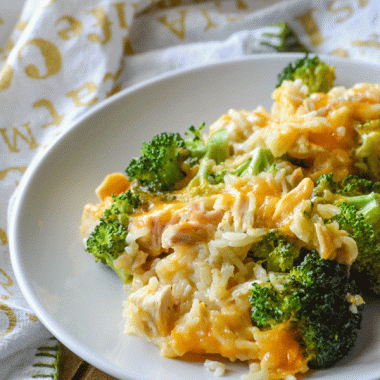 One Pot Cheesy Chicken Broccoli & Rice
A quick fix casserole, this dish puts a whole dinner of family favorites together in one pot.
Print
Pin
Rate
Ingredients
1

tbsp

olive oil

1

small

white onion, diced

2-3

cups

diced rotisserie chicken

salt & pepper, to taste

4

tsp

minced garlic

3/4

cup

basmati rice

1

10 oz can

cream of chicken soup

2-3

cups

chicken broth

2

cups

fresh broccoli florets

1

cup

shredded cheddar cheese

chopped fresh parsley, optional
Instructions
Heat the olive oil in a large cast iron skillet, or dutch oven, over medium heat. Stir in the onions, and let them cook 2-3 minutes, stirring occasionally, until tender. Stir in the garlic, and cook for about 30 seconds-- until fragrant.

Stir in the rice, soup, and 2 cups of broth. Bring to a boil, then reduce the heat down to medium low, and continue cooking until the rice is fully cooked, stirring occasionally, about 12-15 minutes. Add more broth, if needed, as the rice cooks. Taste and season the mixture with salt & pepper, to taste.

Return the heat to medium, and stir in the chicken, broccoli, and half of the cheese. Continue cooking until the broccoli softens a bit, stirring occasionally, about 3-4 minutes.

Sprinkle the remaining cheese evenly out over top of the skillet, and put it in the oven under the broiler- just until it's melted and begun to brown in spots.

Sprinkle the dish with parsley, if using, and serve.
Other Rice Recipes You Might Enjoy: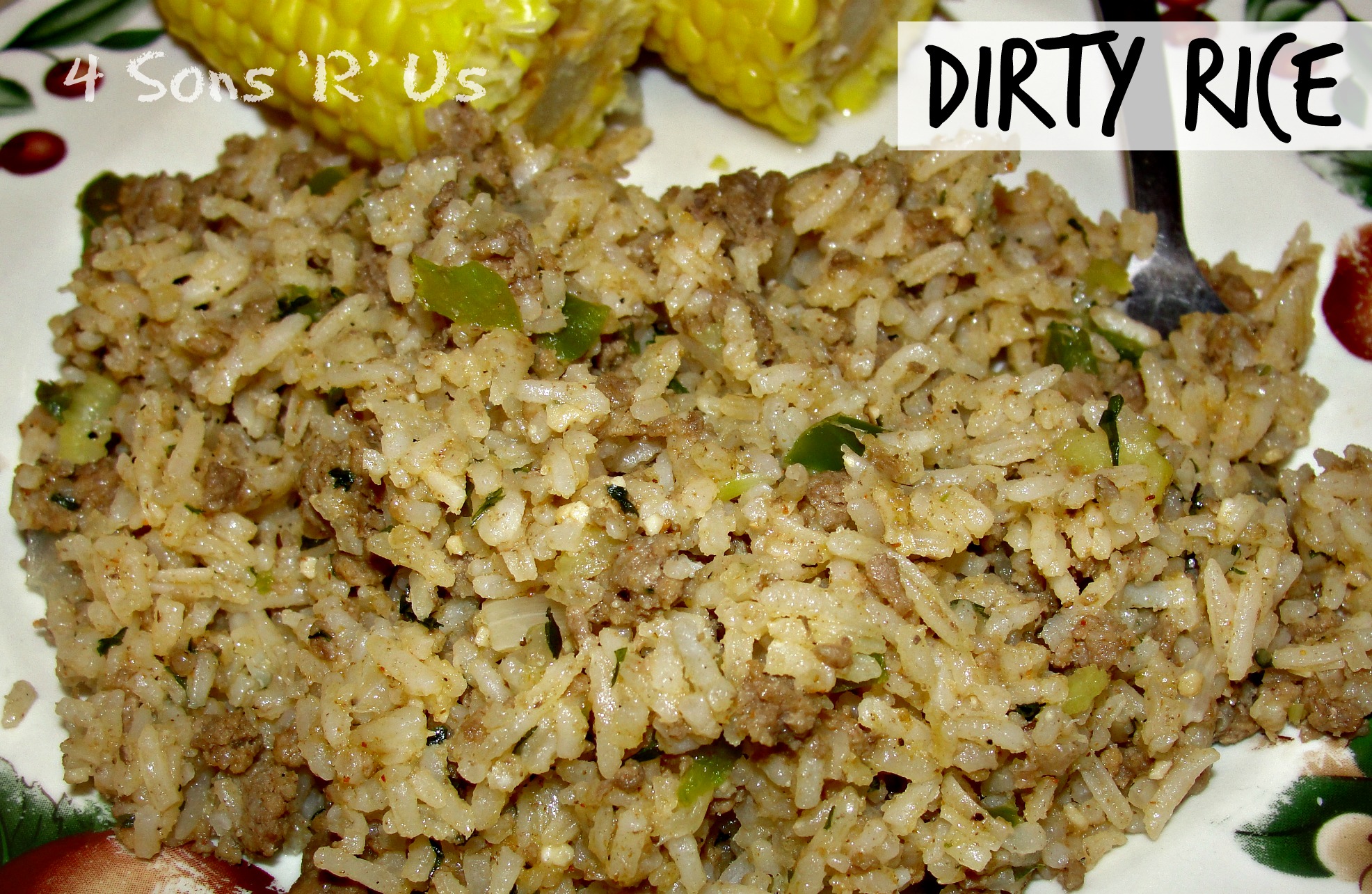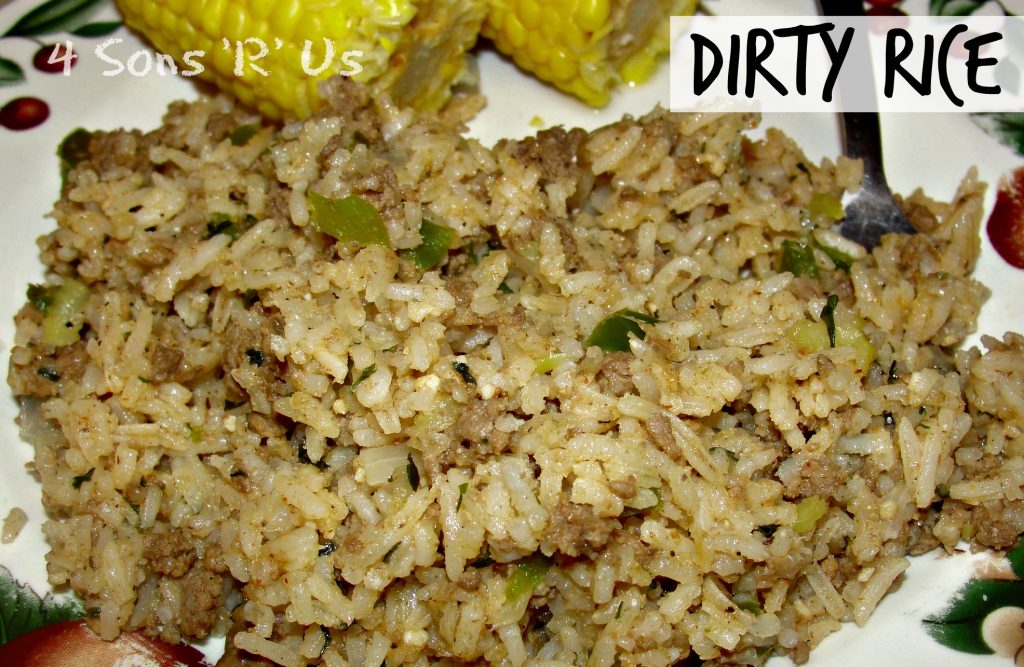 Copy Cat Panera Creamy Chicken & Wild Rice Soup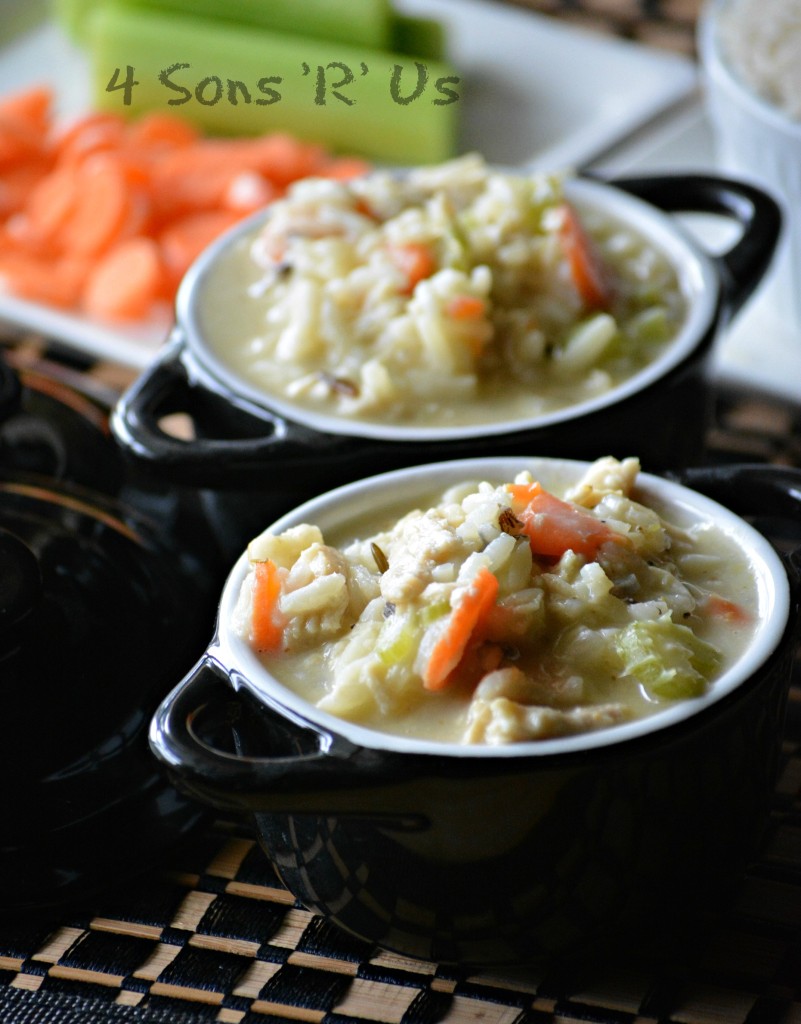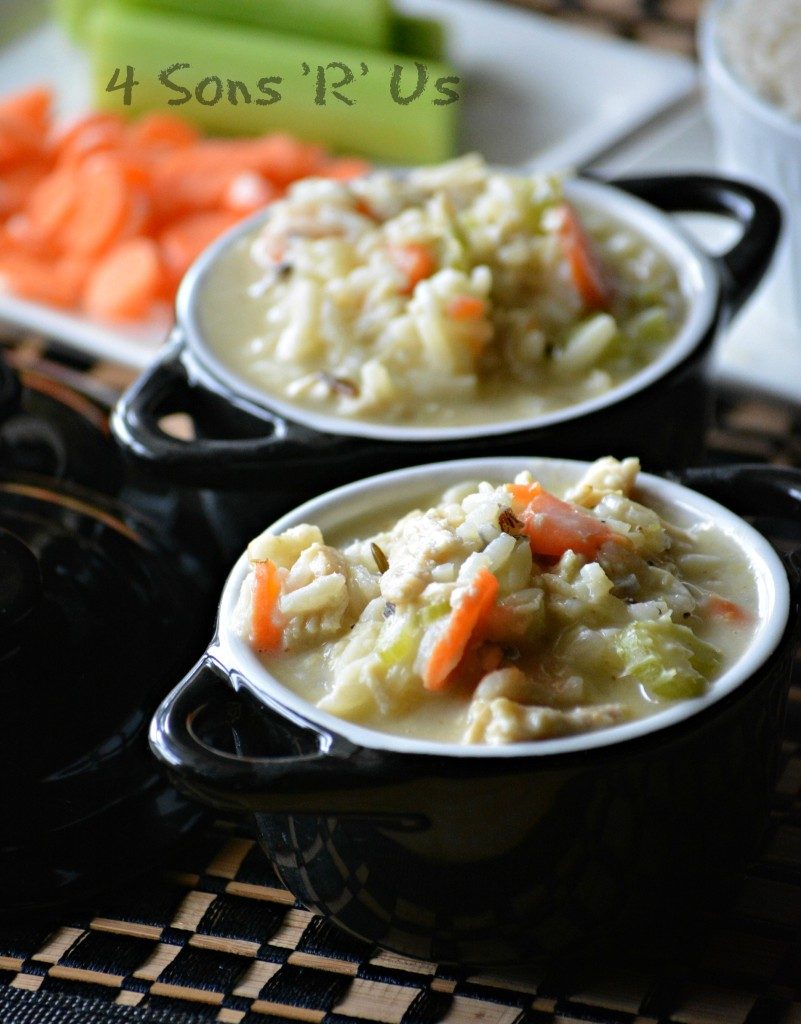 Creamy Chicken Caesar & Wild Rice Casserole