Looking for an easy way to infuse some fun into your kids' afternoon snack? These Moonlit Pumpkin Patch Pudding Snacks are fun, festive, and a great way to get everyone excited for Halloween. Just like your annual visit to the pumpkin patch, these yummy pudding cups are meant to be shared.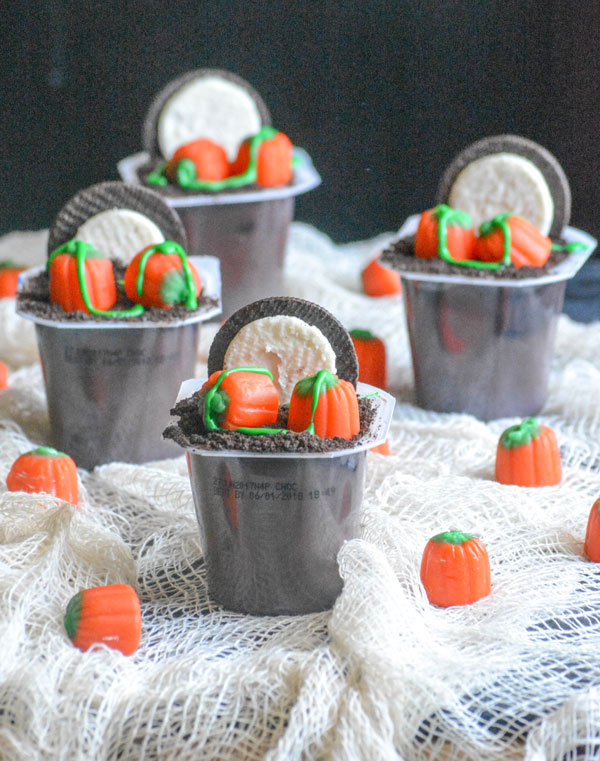 If there's one thing I can always count on, it's my boys insatiable appetites. They are never full. Literally never.
The rare, mind blowing, earth shattering times when they actually do get full? It lasts 30 minutes, at most. Sometimes it's enough for me to want to pull my hair out.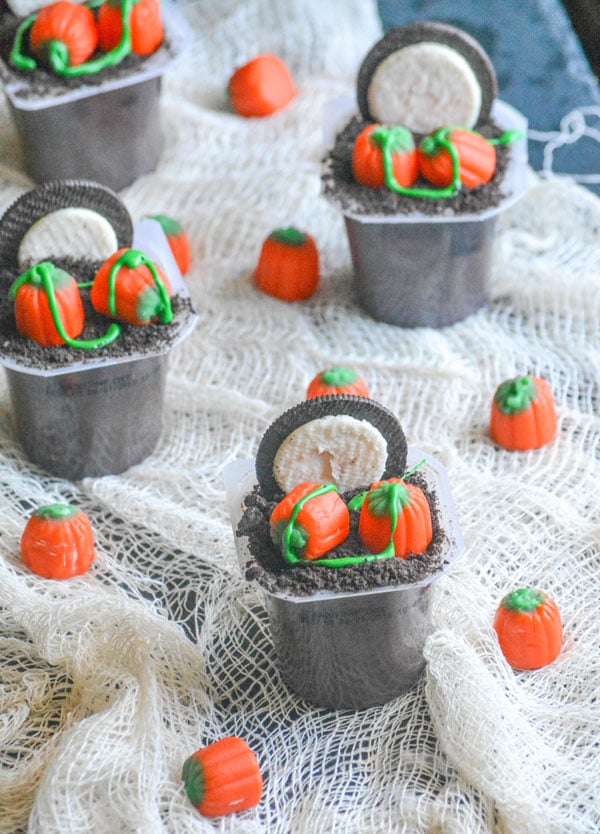 Especially those afternoons where it's been too long since lunch, and they're convinced it will never be dinner time. They get to whining about how hungry they are. They say they can literally feel their stomach's begging for a bite. They're dying a slow death, and I'm the cruelest mother alive if I don't let them have a snack STAT.
Oh the horror when I offer them a banana or an apple sliced and served with peanut butter. Surely I love them more than that. Surely, I want them to get full from their snack. Guess we have a very different idea of what 'snack' actually entails.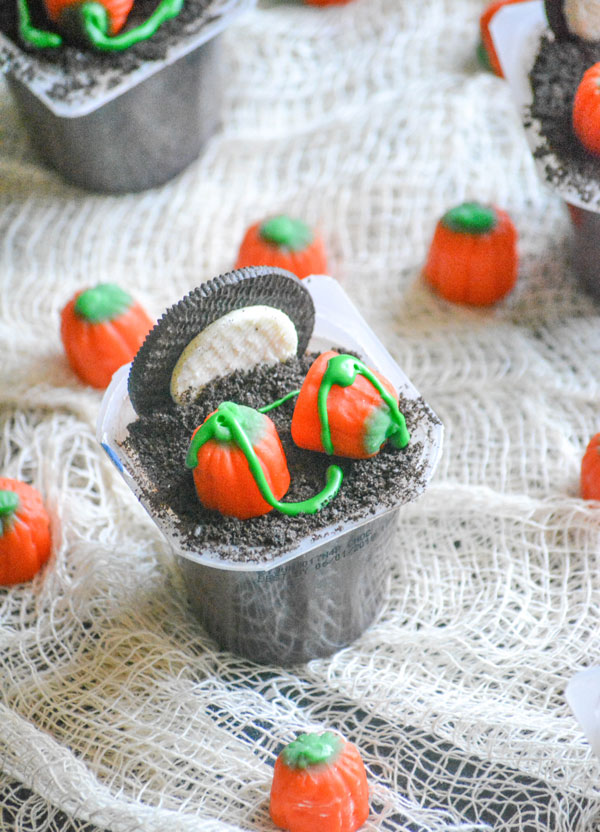 My response? Well if you don't want what I'm offering- then you must not really be hungry.
You'd have thought I'd dropped the bottom out from them or something. Jaws hit the floor. Would Mom really do that?? Only they know I would totally rescind my edible offer if it wasn't met with appreciation.
Trust me when I tell you, you've never seen a couple of boys do an about face or change their tunes faster, folks!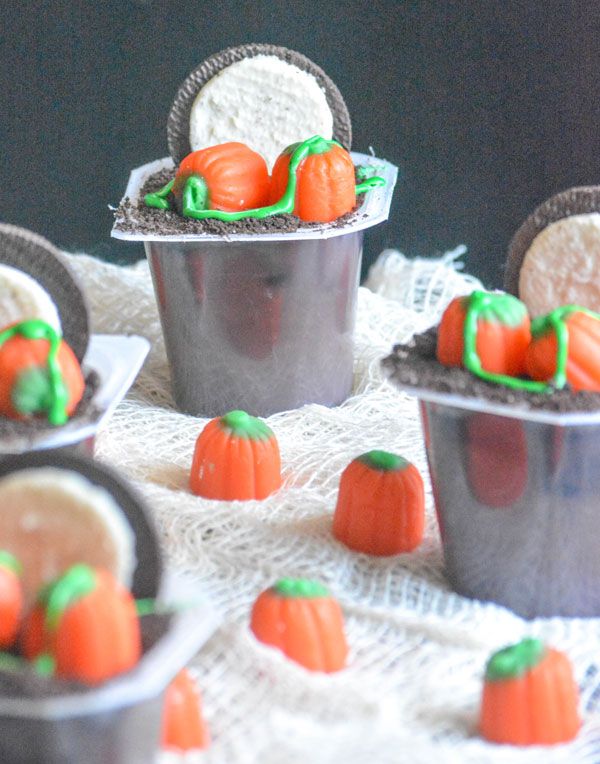 A banana sounds marvelous, Mom. Could you slice it and sprinkle a pinch of sugar on it? Apples and peanut butter are our favorite! Can I skip the apple and have my peanut butter on some celery sticks with raisins? Ants on a log style, Mama? And imagine that, they all get told 'yes'. It's like magic.
Or maybe it's just that kids are predictable. Especially your own kids. You're always a step ahead, and ever wise to their little tricks. Snack time's no different, at least not usually.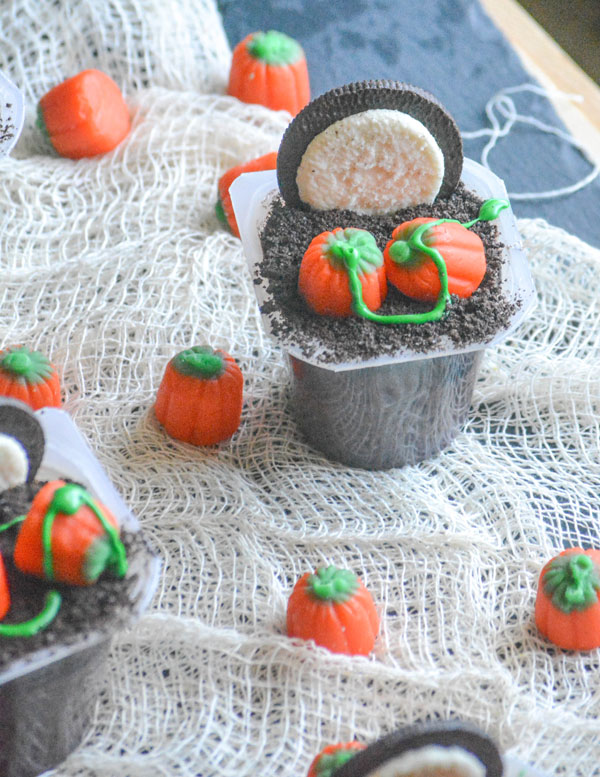 Sometimes though, even I want to shake things up. Well shake them up more than just buying different fruits and veggies from the produce section next Sunday.
My kids may not readily admit it, but I can be fun too. Especially when a holiday's coming! With Halloween coming, I thought I could easily give a few snack pack puddings, someone (not me, I swear) snuck into my shopping cart this weekend, a little makeover.
Boy, were the sons' excited when they came home to these Moonlit Pumpkin Patch Pudding Snacks. Not only was there a snack already prepared and waiting for them, but it was a sweet one- just because.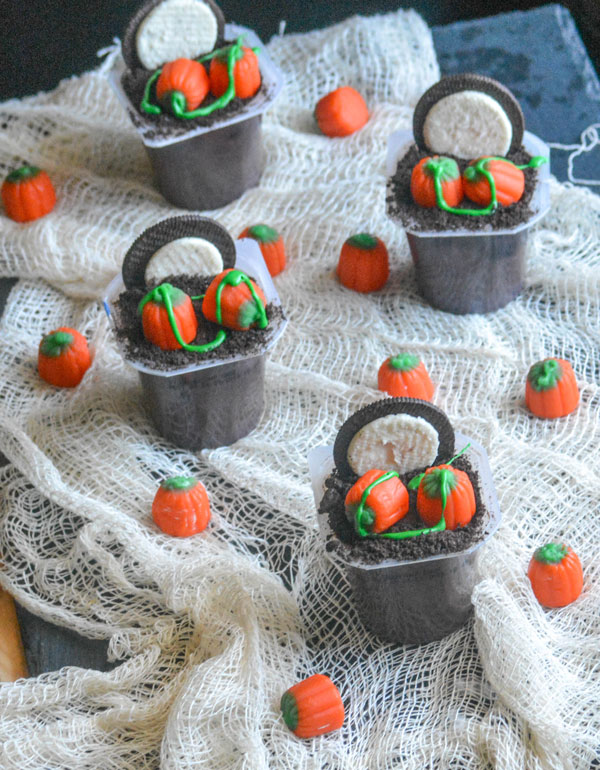 Chocolate pudding cups are topped with crushed oreos, half of an oreo cookie 'moon', a couple candy pumpkins, and frosted 'vines' for a fun Halloween treat. Moonlit Pumpkin Patch Pudding Snacks are a great way to switch up your snack time routine in October.
Fair warning, it may lead to non stop questions about when you're going to the pumpkin patch, pumpkin carving planning, and general family fun.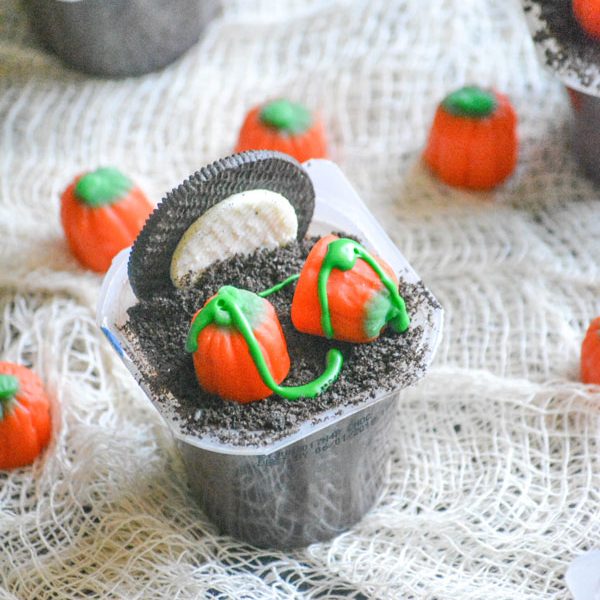 Moonlit Pumpkin Patch Pudding Snacks
A fun family snack that gets everyone in the mood to say 'Trick or Treat', these pudding cups are perfect for Halloween.
Print
Pin
Rate
Ingredients
chocolate pudding cups

oreos, halved

candy pumpkins

green frosting
Instructions
Separate the oreos into two piles, one for the 'moons' where the cream came off on them, and the other for the plain side without cream.

Crush the plain oreo halves in a blender until they resemble fine dirt. Spoon the 'dirt' into the pudding cups until level.

Out of the halved 'moon' pile, pick the ones that are most unblemished and best resemble a moon. Stick it in the back of the pudding cup, just far enough in that it stands up by itself.

Top each dirt cup with two candy pumpkins. Use the green frosting to pipe a few 'vines' across the pumpkins to connect them.

Repeat as needed for the number of pudding cups you need. Serve immediately.