Thanksgiving dinner is great, but often the leftovers are even better. Savor those flavors in a fun new way with these Thanksgiving Leftover Eggrolls & Cranberry Dipping Sauce.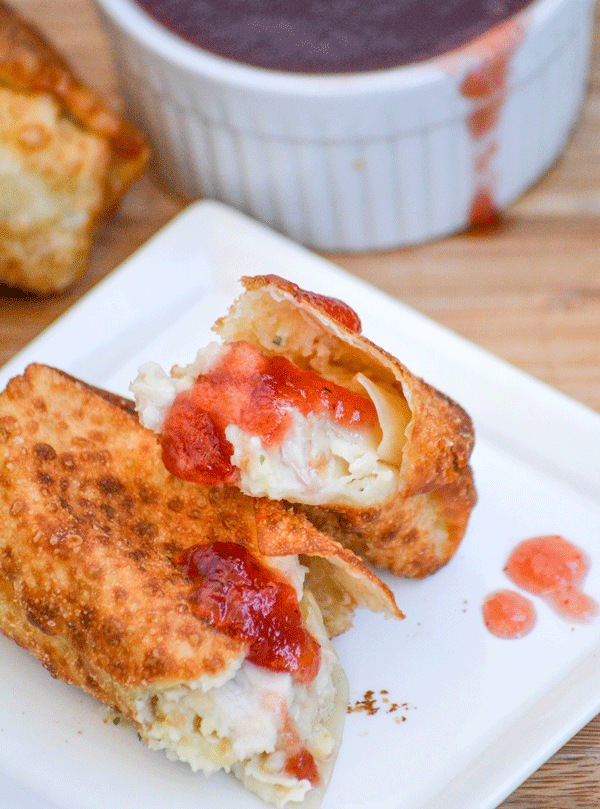 Who else is already looking forward to a yummy Thanksgiving meal around the family table? Anyone? I've had it on my mind since I first noticed Halloween decor on display in the local store.
We end up having two full meals; one a luncheon with the Hubs family, the second a dinner and dessert with mine. Needless to say, everyone knows by now to wear stretchy pants by supper!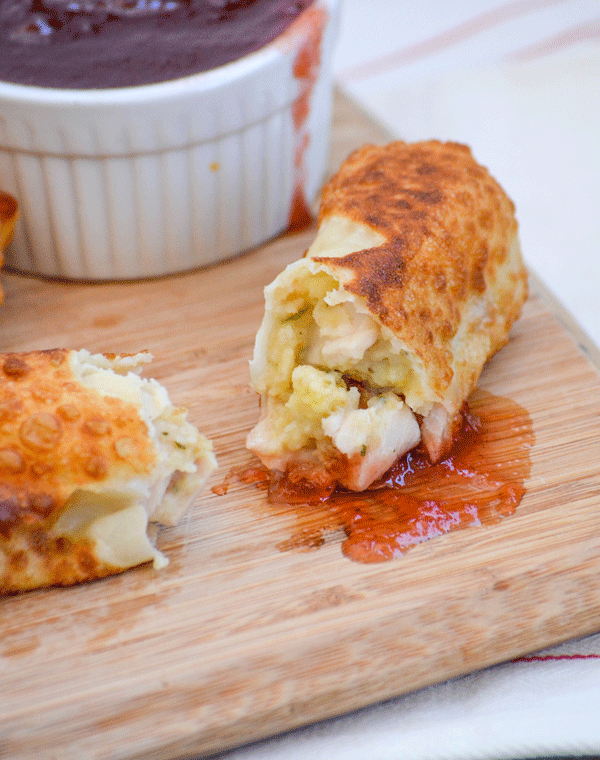 While we're all miserably full and ready to go into full on hibernation mode by the end of the night, it all works out.
His family's Italian, mine's a mix- but more traditional European with French Canadian, Irish, English, and Dutch in the mix. And this is beautifully displayed, and truly appreciated at two very different Thanksgiving tables.
So the down side's that we're miserably full by the end of the night, regardless of how much we try to demonstrate some form of self control. The up side? We're not eating the same thing at either place, with the exception of the bird- but even that's prepared differently.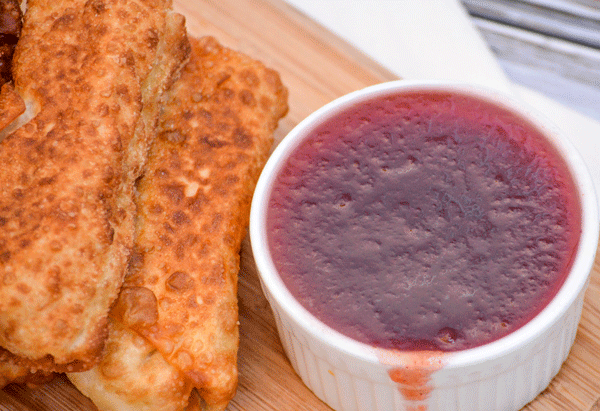 And I can't forget about the leftovers. Sometimes I think I might even look forward to those more than the main event.
What is it about a night or two in the fridge that instills such magical flavor into carved turkey, mashed potatoes, stuffing, etc?? It's mind boggling. There's got to be some science behind this phenomenon. If not, somebody should get on figuring that out.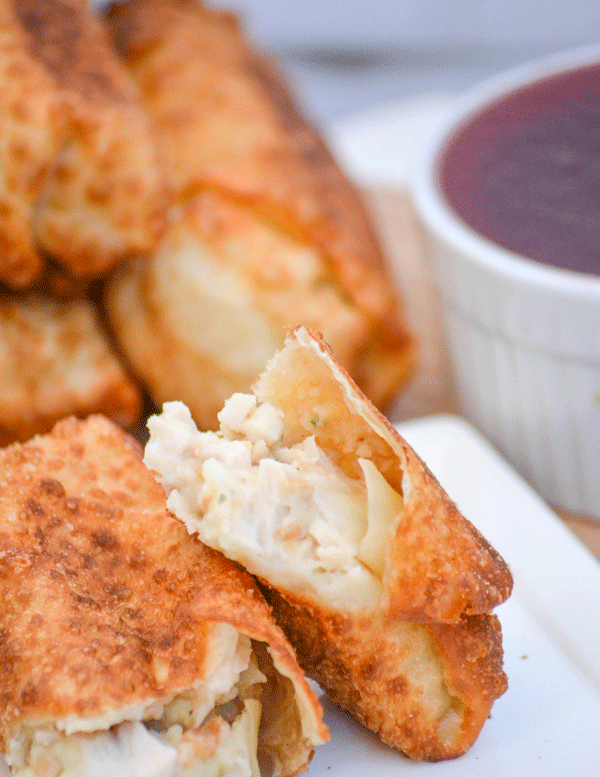 Usually we warm stuff up, and just throw everything between two pieces of sandwich bread and go to town. If there's leftover gravy, and that's a big if, we'll heat that up too for dipping or drizzling. It's an ecstatic experience, especially the first time we raid the fridge for the leftovers after the main event.
If you're doing a little Black Friday shopping, it's makes great festive fuel for that too!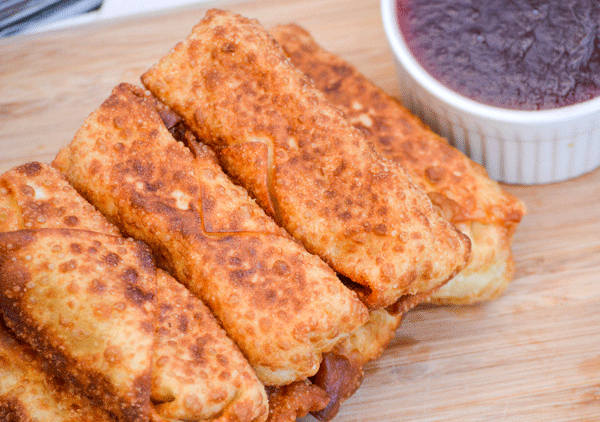 Last year though, the unexpected happened. We were out of bread! Not a single roll leftover from the night before. Not a single slice in the bread bin. Not even the lonely heel that no one usually wants was hiding in there. What was a hungry gal to do?!
Get creative, of course. This was one crisis I was perfectly equipped to handle. Just a short time later, we were enjoying a new post-Holiday favorite- Thanksgiving Leftover Eggrolls & Cranberry Dipping Sauce.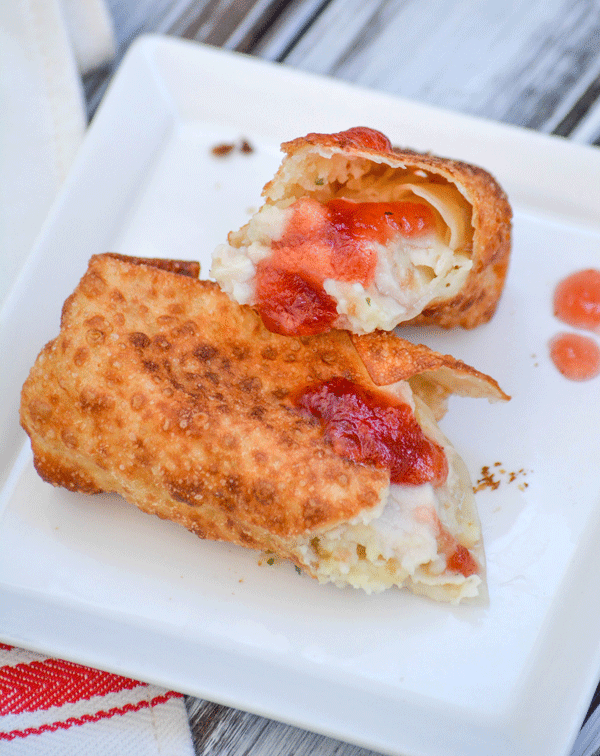 Mashed potatoes, stuffing, tender chunks of turkey- these Thanksgiving Leftover Eggrolls & Cranberry Dipping Sauce are everything you love about Thanksgiving dinner stuffed into an egg roll wrapper, and fried to perfection. Dipped in a slightly sweet, tangy cranberry orange dipping sauce, it's the perfect way to prolong the leftover love and revisit the joy of the main event- over & over again.
If you've tried these THANKSGIVING LEFTOVER EGG ROLLS, or any other recipe on my site, let me know in the comment section how it turned out, we love hearing from our readers! You can also follow along with me on PINTEREST, FACEBOOK, and INSTAGRAM to see more amazing recipes and whatever else we've got going on!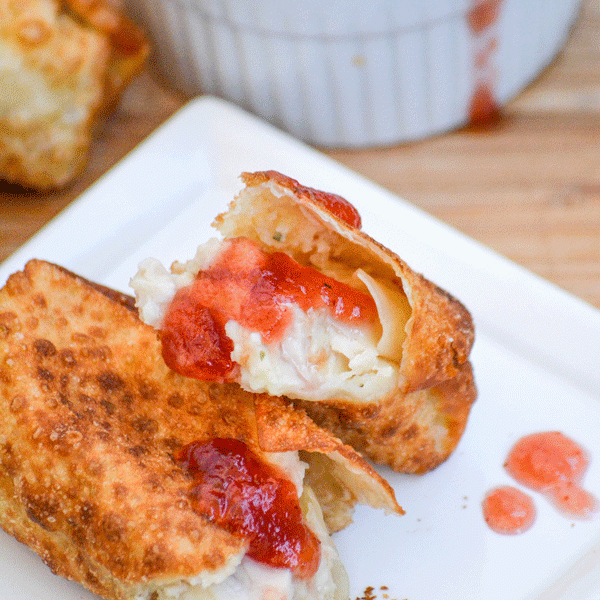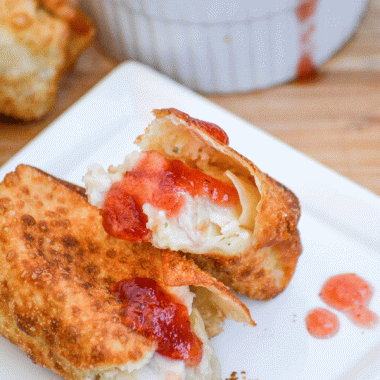 Thanksgiving Leftover Eggrolls & Cranberry Dipping Sauce
A fun new way to enjoy Thanksgiving leftovers in crispy eggrolls with a festive dipping sauce on the side.
Print
Pin
Rate
Ingredients
For The Eggrolls
25

eggroll wrappers

1

lb

cooked turkey, chopped

2

cups

mashed potatoes

2

cups

cooked stuffing

1

tbsp

cornstarch

1/4

cup

cool water
For The Cranberry Dipping Sauce
1 1/2

cups

canned cranberry sauce

1 1/2

tsp

water

1 1/2

tsp

orange juice

1

tsp

orange zest
Instructions
To Make The Dipping Sauce
In a medium sized sauce pan, add the dipping sauce ingredients. Heat over medium heat, stirring until the sauce is smooth and incorporated.

Strain the mixture through a fine mesh strainer to remove any cranberry pieces. Transfer to a small serving bowl, and refrigerate until ready to use.
To Make The Eggrolls
Stir the cornstarch and water together in a small bowl.

Lay an eggroll wrapper out on a flat, clean surface, so that it looks like a diamond with a point facing you.

Using your finger, spread a tiny bit of the cornstarch slurry out onto the edges of the wrapper.

Spread 1/2 tbsp of the potatoes out in the corner facing you. Top that with the same amount of stuffing, and a few pieces of turkey.

Lift the bottom corner of the wrapper up, and fold it over the filling without folding it completely in half. Fold both outside corner in so that they overlap. Begin rolling the eggroll, away from you, tucking the edges in as you go. Brush a bit more slurry over the remaining top corner, or tip. Finish the eggroll, and brush a tiny bit more slurry over the seal. Lay the finished roll on a plate or other surface. Repeat until all the eggrolls are done.

Fill a dutch oven, or cast iron skillet, with about 3 inches of oil. Heat the oil to 350 degrees. When the oil's hot, add the eggrolls in batches of 3-4. Fry them, turning occassionally, about 2 minutes or until they're golden brown.

Remove the eggrolls from the oil with tongs and transfer them to a paper towl lined plate to soak up any excess oil, and cool slightly.

Serve the eggrolls warm with the cool cranberry dipping sauce, and enjoy!
Notes
Make sure the eggrolls are folded tightly, otherwise they will come apart and loose their filling when fried.
recipe adapted from Cake N Knife