Simple, but absolutely stunning this Blackberry Lavender Champagne Cocktail gets it's gorgeous color from an infusion of a blackberry lavender vodka syrup with sparkling champagne.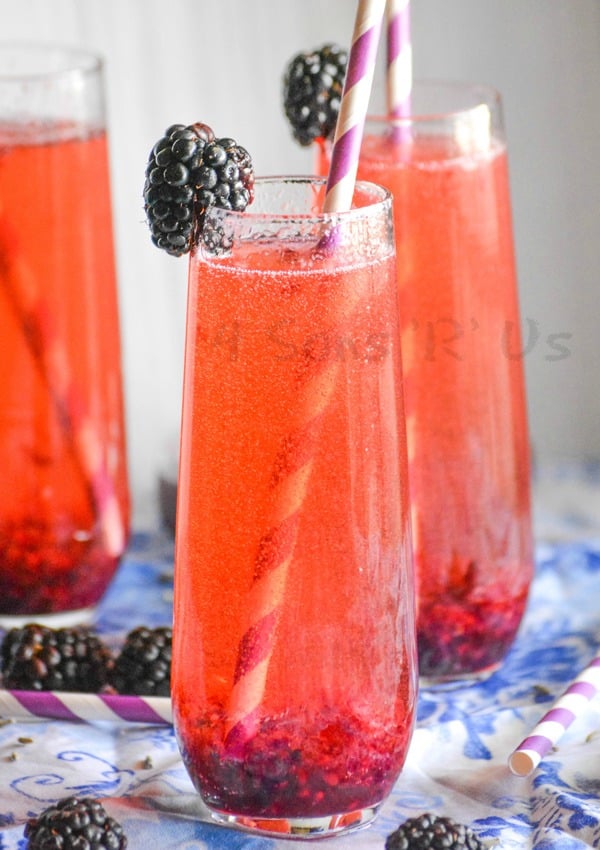 How much do you love your Mom? A lot, am I right? When life happens, do you wish you could just throw yourself into her arms, waiting for her to tell you it will all be ok?
Me too. Thirty one years old, and I still want my Mommy– seriously, the thought crosses my mind at least once a day.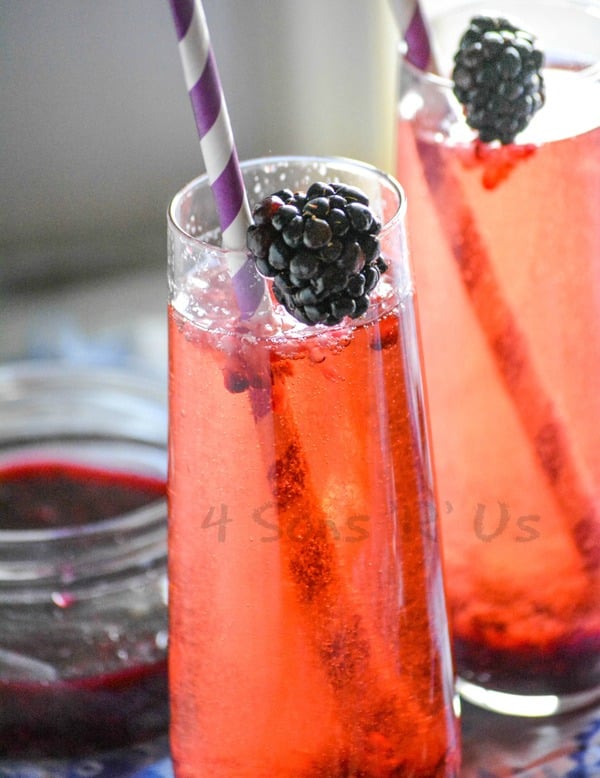 And I ain't to proud to admit it. No matter where I go, or how old I get– I will always want/need my Mama.
As a mother myself now, I know that Mother's Day isn't just one day a year. It's every day. It's in the every day things that we do. My kids may not appreciate everything right now– they're kids and their world revolves solely around themselves most days.
But, it makes their appreciation and thankfulness all the more special when it does come.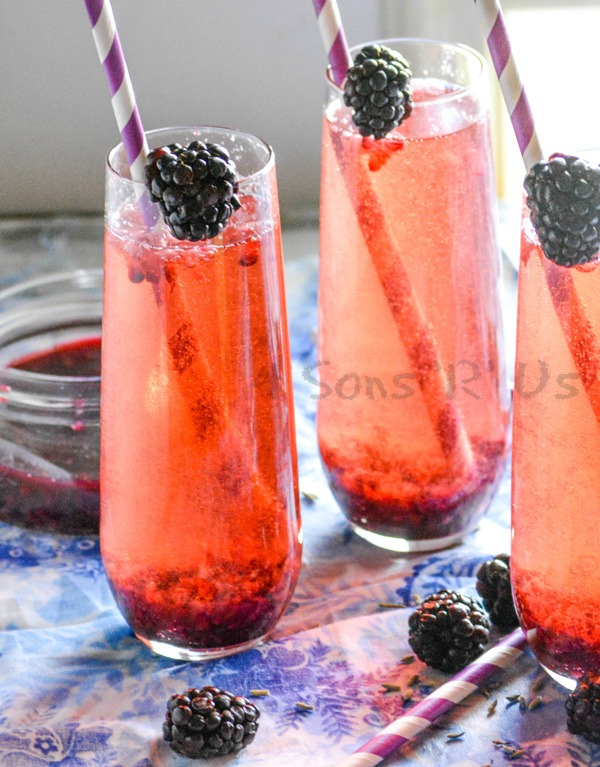 I figure a decade or so from now, I'll get a phone call asking how I did it all and how I loved them through the tough times.
Afterall, my own Mom was correct in her prediction that my kids would be just like me, pull the same crap, and I'd understand the struggle SOME day.
Oh, how she's laughed and laughed and laughed many times since then. Always in a supportive way.
The irony's never been lost on me. Pain in the butt kid, now raising the next generation and all.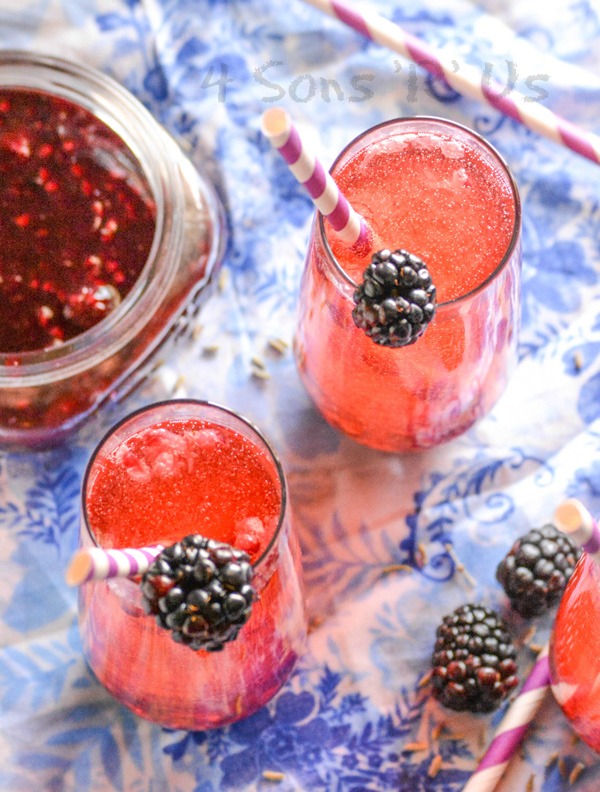 I tell myself that I turned out ok, and I know they will too. My boys' all have one thing in common, and that's a heart of gold.
Another thing they have in common with me? They're equally stubborn. We have to learn the hard way.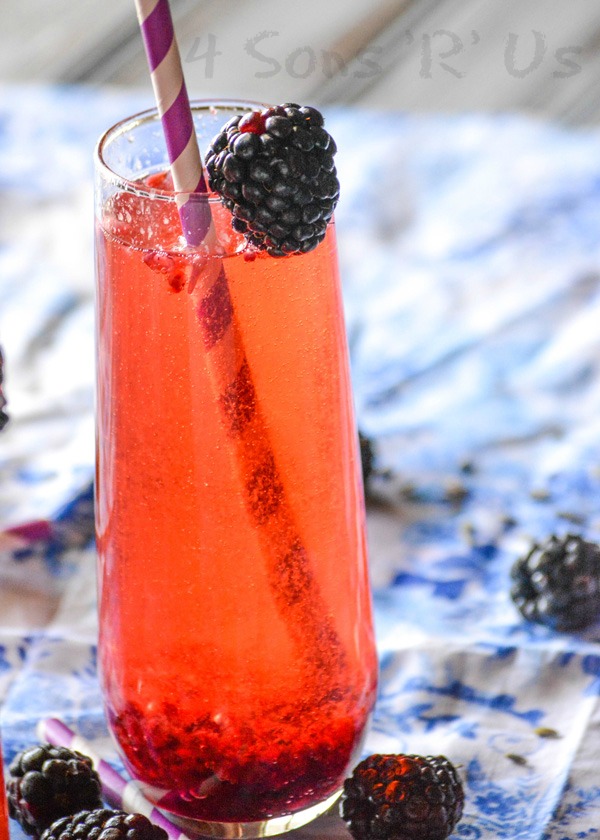 Another thing that's dawned on me since becoming a parent? Why my own kept a stocked liquor cabinet, and why there was always chilled wine.
Somedays, that adult beverage is what helps take the edge off. A deep breathe, a sip of something sweet, and today instantly seems like it wasn't as bad as I thought.
With that in mind, I wanted to create a drink that I though my own mother would love. One that was a little bit sweet, but with a dash of something stiff to remind me of her backbone and fortitude.
One that featured berries I remember helping her pick fresh off the vine for her famous blackberry syrup. And I couldn't forget the sprigs of fresh lavender we'd pick for her from the back yard that she always treated like the world's most precious gift.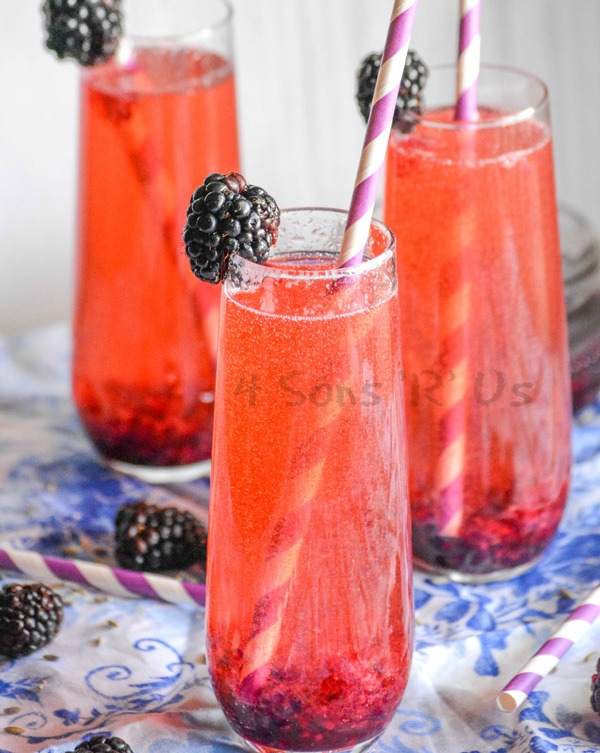 Even when we can't be together, I'll sip on a flute of this Blackberry Lavender Champagne Cocktail and think of her. My Mom, and reminisce on all of our wonderful memories. And I'll probably be offering up a silent prayer (since if I'm sippin' on this- it's a safe bet the sons are in bed for the night) for renewed patience, and a reminder that tomorrow is a new day.
Side note, these yummy little cocktails are perfect for celebrating on any special occasion– especially at brunches.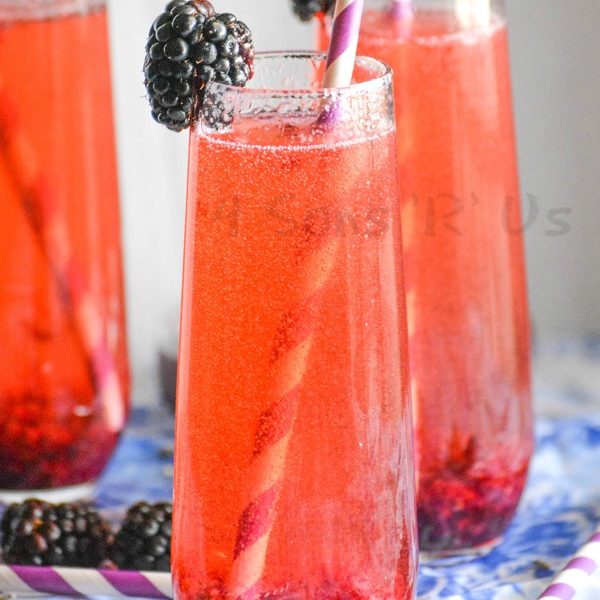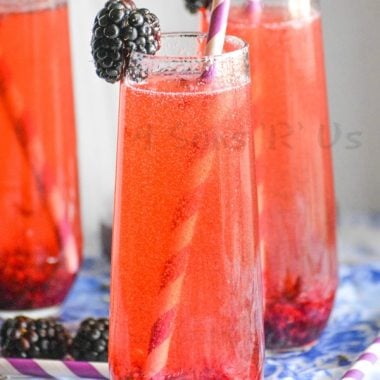 Blackberry Lavender Champagne Cocktail
A fun cocktail that combines the crisp taste of sparkling champagne with a blackberry vodka syrup, and a sweet sprig of lavender.
Print
Pin
Rate
Ingredients
1

tbsp

dried lavender flowers

1

cup

fresh blackberries

1/2

cup

maple syrup

1/4

cup

vodka

2 (750 ml)

bottles

champagne, chilled
Instructions
In a medium sized sauce pan, bring the blackberries, syrup, and vodka to a boil. Use the back of a sturdy spoon to gently mash/stir the berries. Continue cooking, stirring occasionally, for about five minutes or until the berries have fully cooked down.

Stir in the lavender flowers, and continue cooking/stirring for an additional minute. Remove the skillet from heat and let cool completely. Transfer the mixture to a sealed container and refrigerate for at least an hour, up to 2 days/

Add one tablespoon of the blackberry lavender syrup to each champagne flute. Add a small sprig of lavender, if desired, to each as well. Pouring against the side of a tilted flute, to reduce foaming, fill each glass with chilled champagne.
Other Drink Ideas You Might Enjoy: