Indian chicken tikka masala is a delicious way for you to satisfy your Indian food cravings at home. You'll never want to order Indian takeout again after you try this flavor packed chicken tikka masala recipe. Make some today to satisfy your takeout cravings with these big, bold flavors.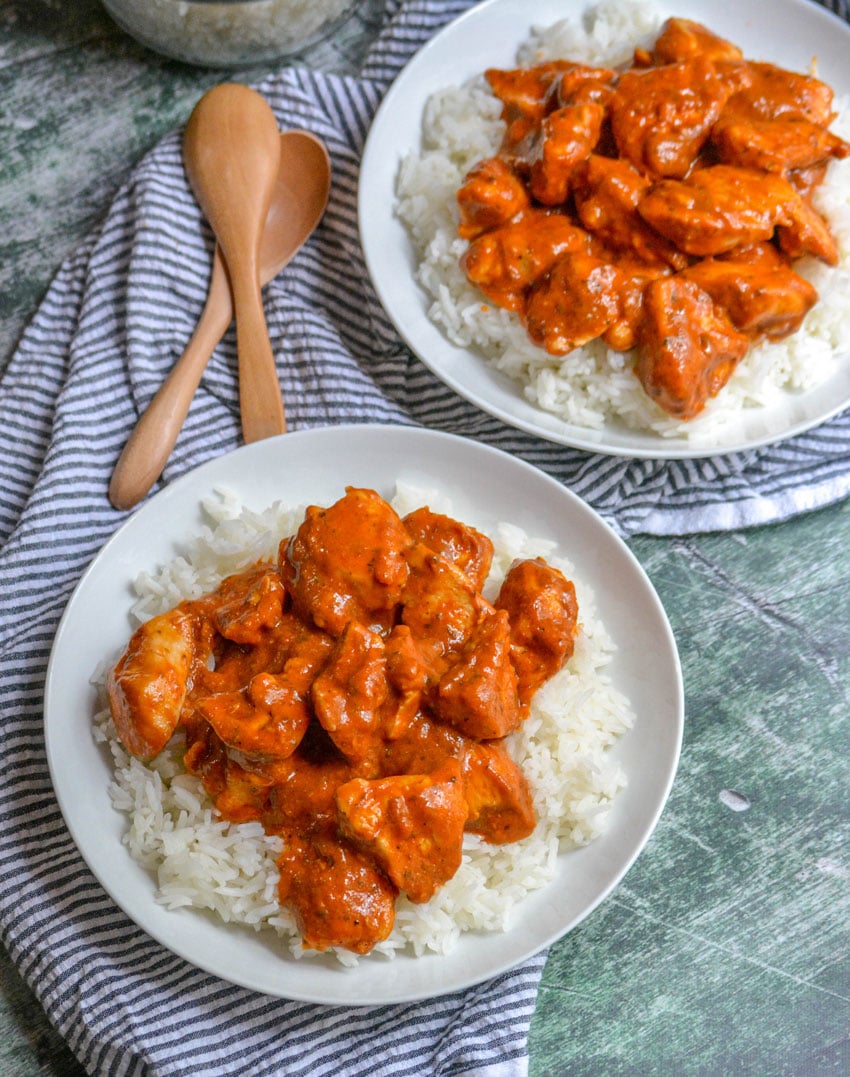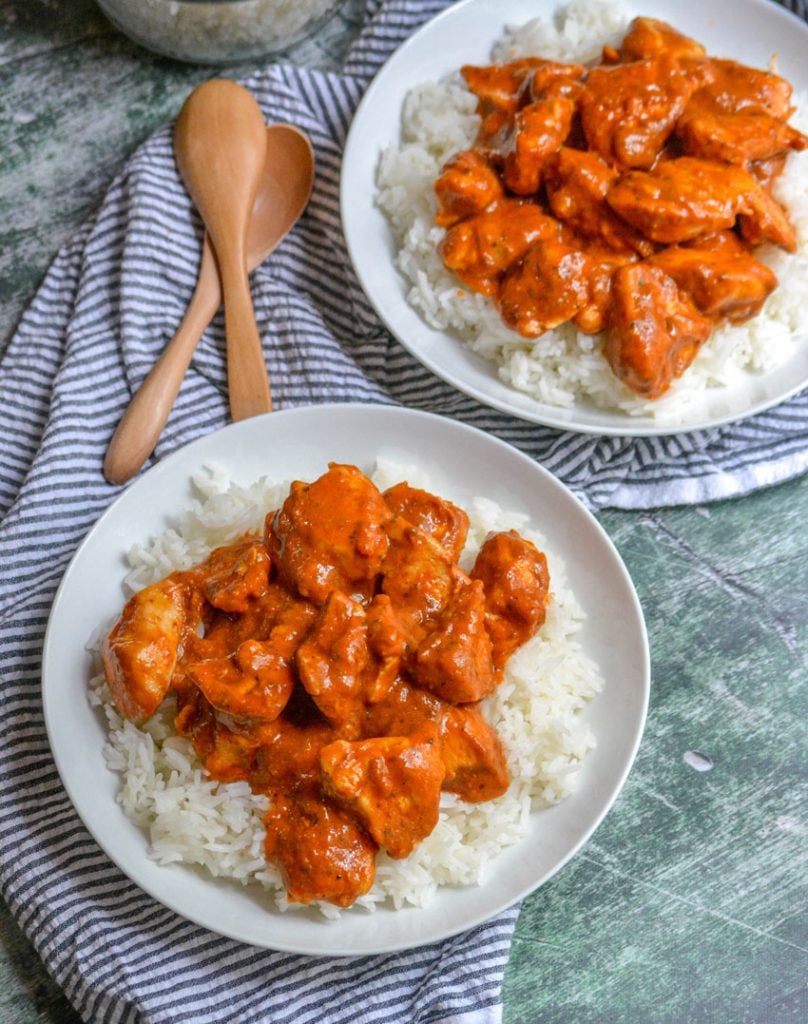 I get tired of the same old thing, night after night. While I serve chicken often in my house because it's so versatile- sometimes I'm just really bored with my standard chicken recipes.
Whenever boredom strikes and I find myself in a food rut, the best way for me to break out of it is by trying different cuisines. In this case, like Indian.
What is chicken tikka masala?
Have you ever had chicken tikka masala before? It is absolutely delicious.
Chicken tikka is a popular Indian inspired chicken dish. I say Indian inspired because many other places claim it originated there but the dish has distinctly Indian flavors.
A rich, spicy red curry sauce covers chicken that's been marinated in yogurt spiced with garlic, garam masala, and other spices.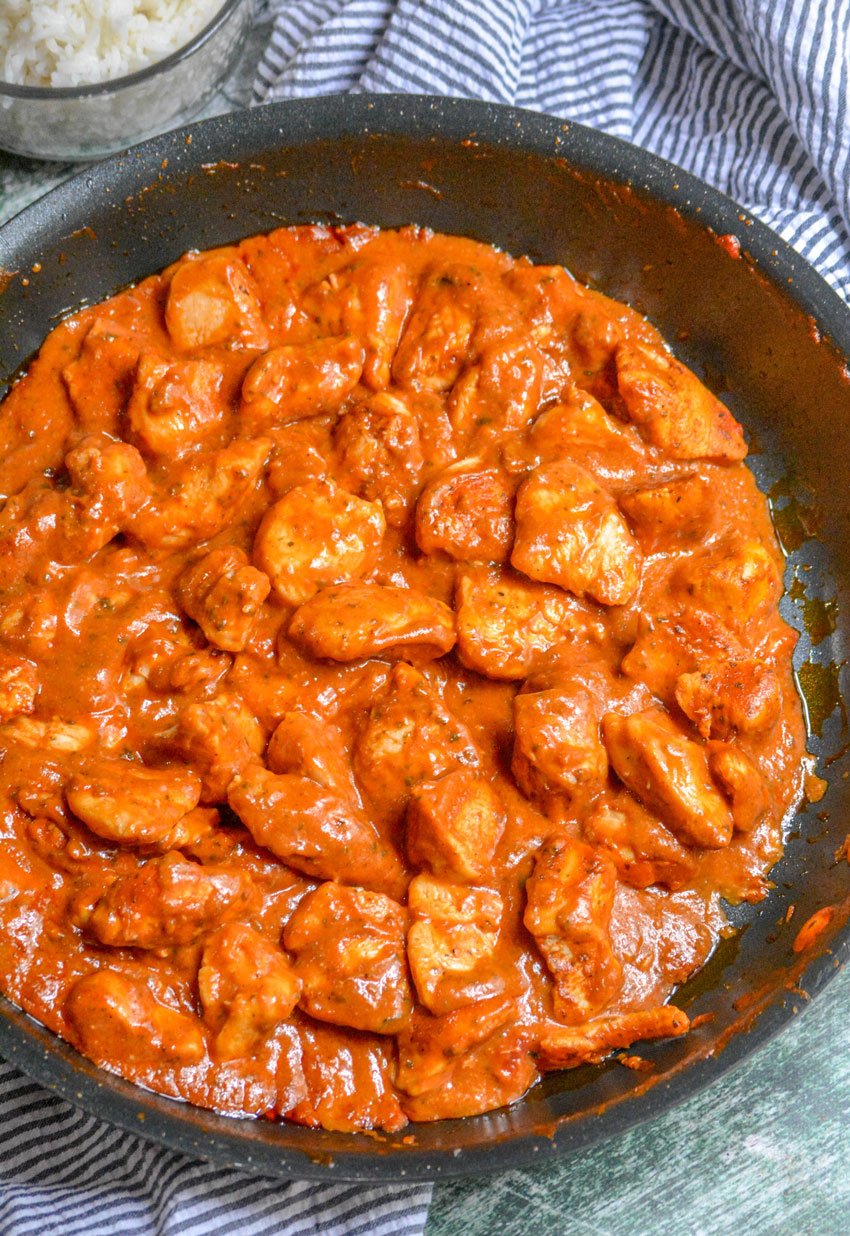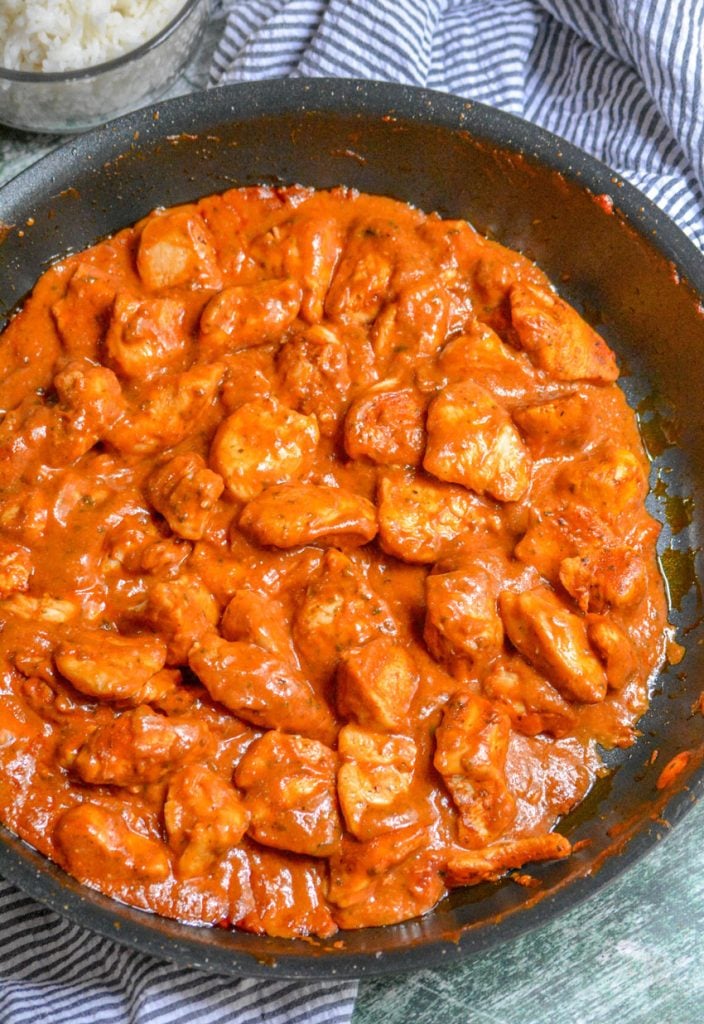 How to Make Chicken Tikka Masala
There are two parts to making Indian chicken tikka masala: the marinade and the sauce. Let's break it down step by step.
Marinade the Chicken
Start by cutting 2 to 3 pounds of chicken breast into roughly half inch pieces. They don't have to uniform or perfect, but keeping them somewhat the same size will make sure all the chicken cooks evenly & at the same rate.
Then mix minced garlic, ginger, garam masala, tumeric, cumin, and chili powder into plain yogurt. I like to do this in one of my mixing bowls that have a fitted lid, that way I can just throw the prepped chicken into the mixture, cover, and be done.
If you don't have a mixing bowl with a lid, you can use one and cover it tightly with cling wrap or you can use a large ziplocking bag instead.
Cover the chicken pieces with the yogurt marinade and then you can give the chicken a good toss to make sure it is well combined. Next, you can cover it and put in the fridge for at least 2 hours but up to overnight.
When you are ready to cook the chicken tikka, heat oil up in a large skillet over high heat. Once the oil is hot, you can add the chicken to the skillet and cook until the chicken is nice and brown but not cooked through.
Once it is a lovely brown color, you can remove it from the skillet. Now we're going to make the sauce.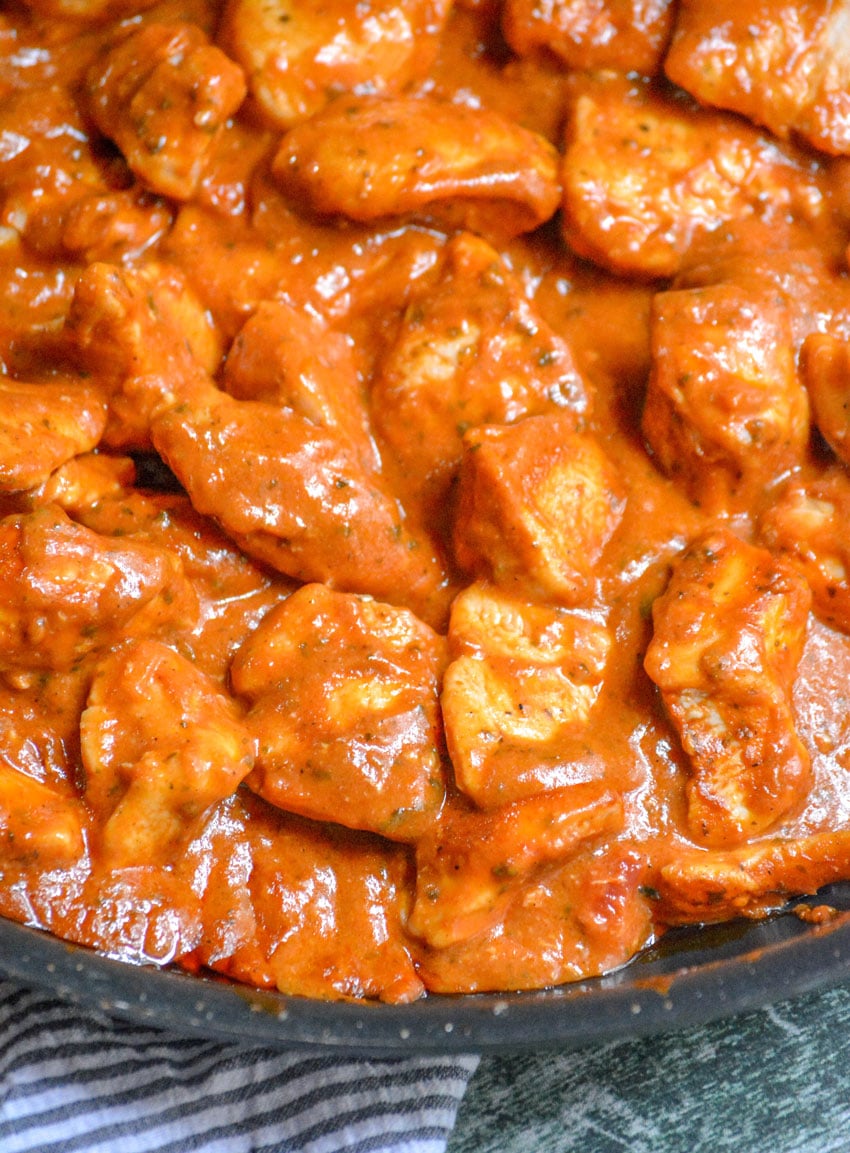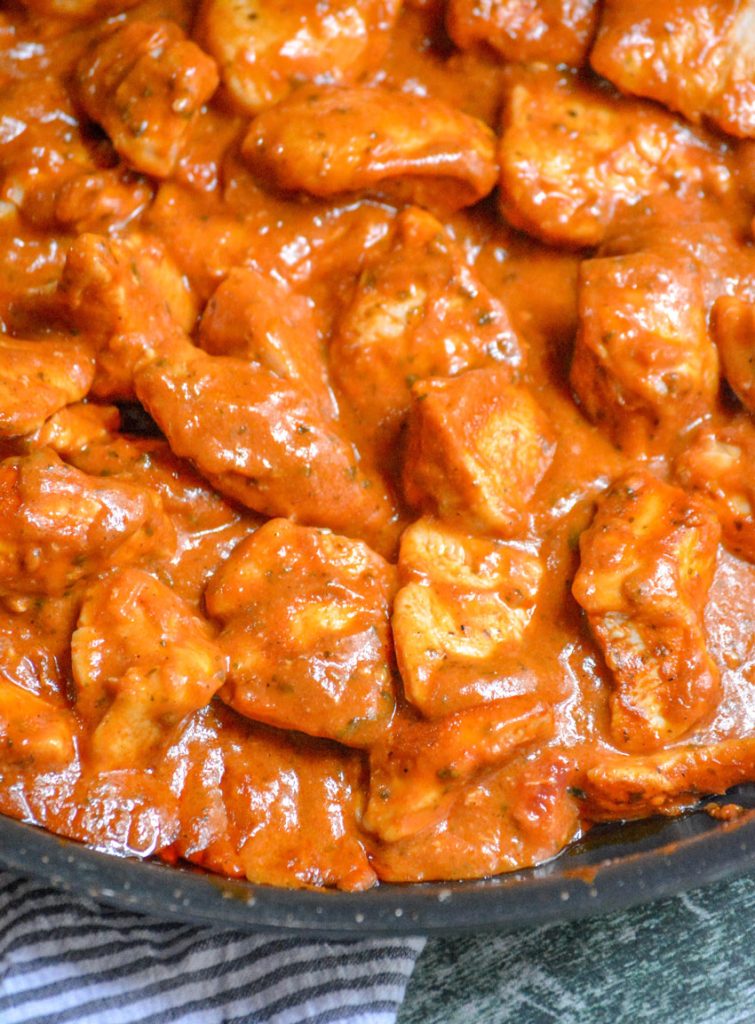 Make the Tikka Masala Sauce
To make the sauce, add the butter and diced onion into the pan. You can let the onions cook until they begin to get beautifully golden and soft, tossing them with the butter so they are well coated.
When the onions have started to caramelize, add the garlic and ginger to the onions. Cook them until they are just fragrant and then add the rest of the spices into the skillet.
Now you can stir in the tomato sauce and the chili powder. Let the sauce come to a simmer and then let slowly simmer for 10 to 15 minutes or until it turns a deep red brown color.
Now you can whisk in the cream and sugar and let that simmer for a minute. To finish, you can add the chicken to the sauce and let it come to a simmer for 8 to 10 minutes.
If you find the sauce has thickened too much you can thin it with a little water, or extra cream, if needed.

Putting Together Chicken Tikka Masala
Once everything is cooked, you can spoon the chicken over cooked long grain rice. I recommend Jasmine or Basmati, however you can also use plain white or even brown rice if that's more to your preference.
I like to garnish it with a little fresh cilantro and serve it with some pita bread or naan. I love to keep both on hand to serve with things like curry chicken salad and Greek yogurt chicken curry.
Trust me, you'll love the naan on the side for extra sauce dipping. That sauce is so delicious you will want to soak up every last drop!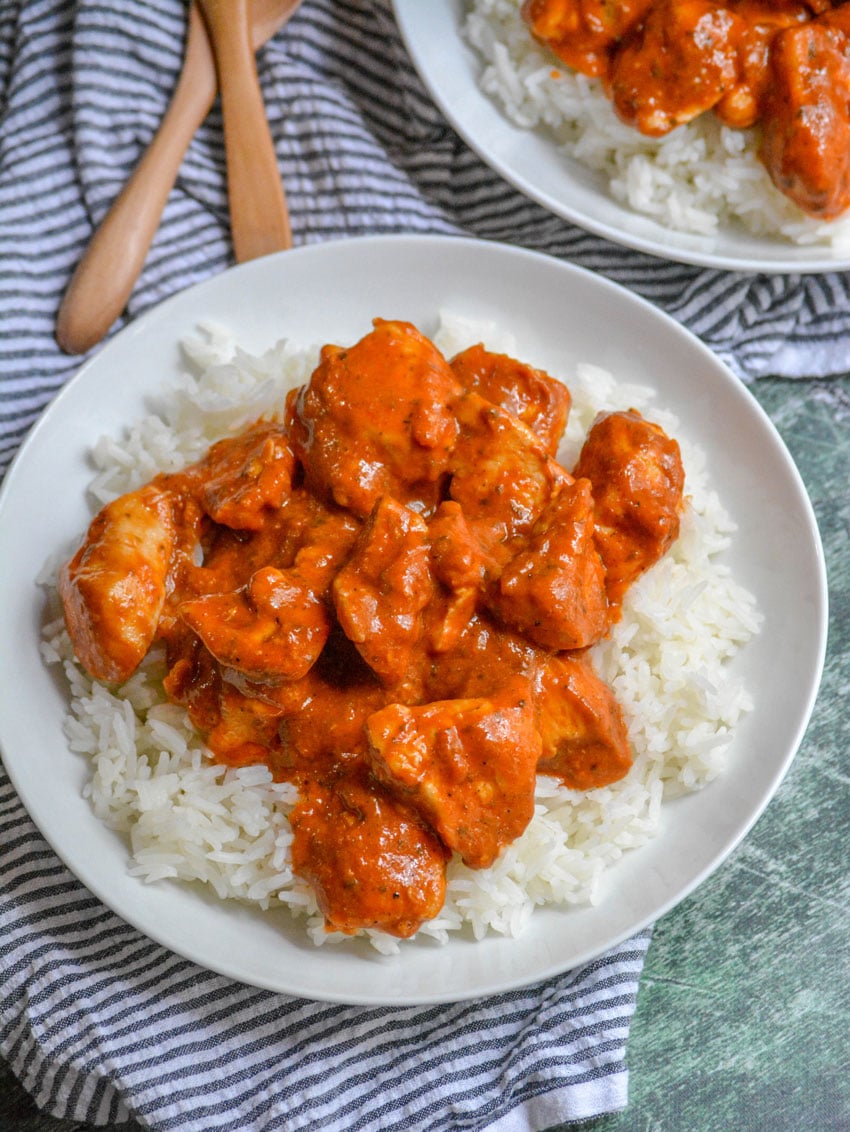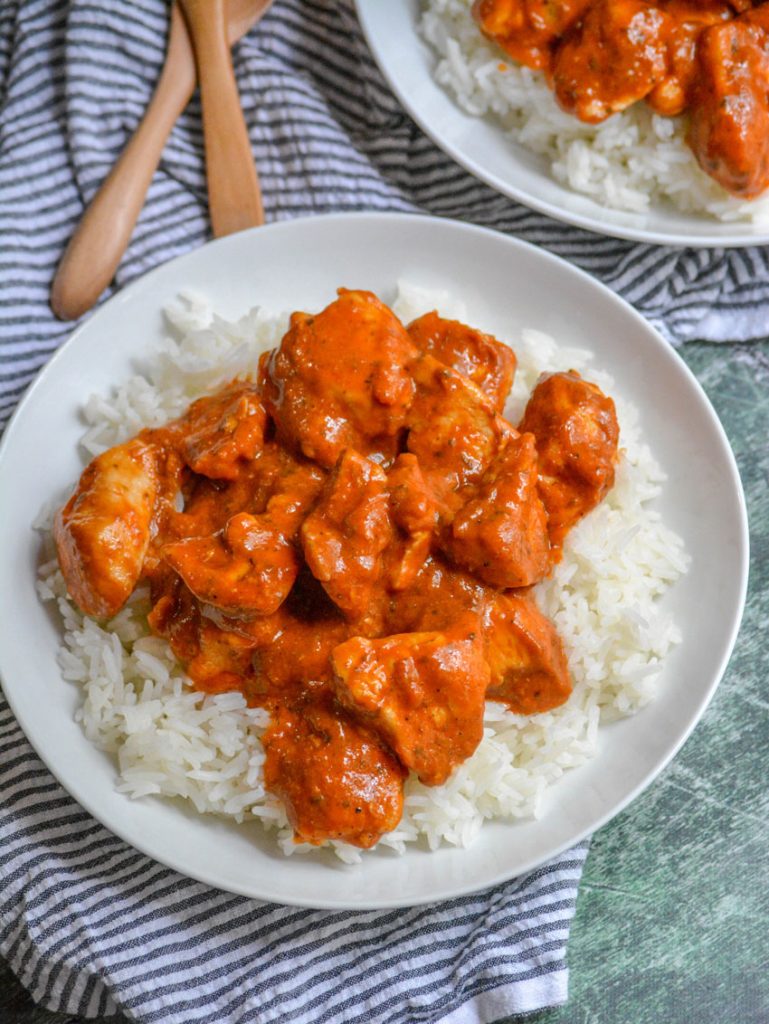 Other At Home Takeout Recipes You Might Love
This fragrant, bold Indian chicken tikka masala is my favorite at home Indian dish. Make a batch today and see why I love it so much!
For other homemade takeout inspired recipes that you might love, try these:
If you've tried this INDIAN CHICKEN TIKKA MASALA, or any other recipe on the site, let me know in the comment section how it turned out, we love hearing from our readers! You can also follow along with me on PINTEREST, FACEBOOK, and INSTAGRAM to see more amazing recipes and whatever else we've got going on!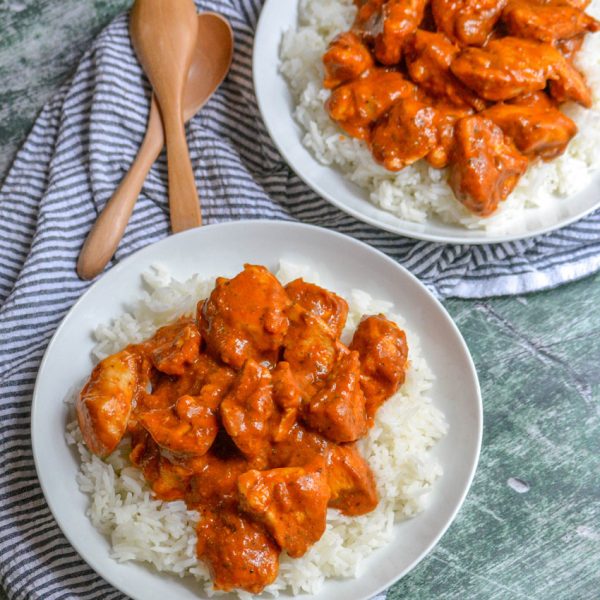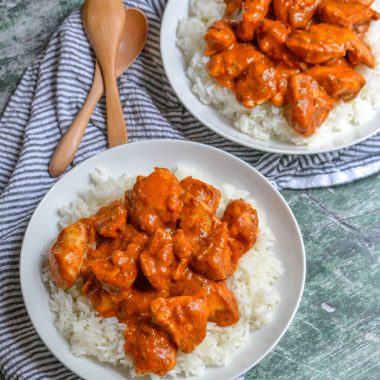 Indian Chicken Tikka Masala
Indian food just got better with this easy to make at home tikka masala recipe. It features chunks or marinated chicken cooked in a creamy lightly spiced, red curry yogurt sauce. Served over a bed of rice it makes a filling dinner.
Print
Pin
Rate
Ingredients
For The Marinade
2-3

lbs

chicken breast

chunked into 1/2 inch pieces

1

cup

plain yogurt

2

tbsp

minced garlic

1

tbsp

ginger

2

tsp

garam masala

1

tsp

turmeric

1

tsp

cumin

1/8

tsp

ground red chili powder

salt

to taste
For The Sauce
2

tbsp

canola oil

2

tbsp

butter

1

large

white onion

finely diced

1 1/2

tbsp

minced garlic

1/2

tsp

ground ginger

1 1/2

tsp

garam masala

1 1/2

tsp

ground cumin

1

tsp

tumeric ppowder

1

tsp

ground coriander

1

14 oz can

tomato sauce

1/2

tsp

ground red chili powder

optional

salt

to taste

1 1/4

cups

heavy whipping cream

1

tsp

brown sugar

1/4

cup

water

if needed

freshly chopped

cilantro leaves

for garnish
Instructions
In a large mixing bowl, whisk together all the marinade ingredients. Add the chicken, tossing to coat.

Cover the mixture and allow to marinate for two hours, or up to overnight.

Add the oil to a large skillet over medium high heat. As soon as the oil's hot, start adding in half of the chicken.

Cook the chicken, turning once or twice, until it's nicely brown on the outside but not cooked through. Remove the chicken to a waiting plate, and repeat with the rest of the raw meat.

Add the butter & onions to the skillet, tossing to coat. Cook the onions, stirring and scraping up any crispy bits from the bottom of the pan, until the onions are lightly caramelized.

Stir the garlic & ginger into the onions, cooking just until fragrant.

Stir in the rest of the spices, letting them cook just until fragrant.

Stir in the tomato sauce, chili powder, and salt until combined. Bring the sauce to a simmer, and let it slow simmer for 10-15 minutes- until it thickens and develops a deep red brown color.

Whisk in the cream and sugar until evenly combined. Let it simmer for 60 seconds.

Scrape the chicken & any juices on the plate back into the skillet. Stir them in to evenly incorporate.

Let the mixture simmer an additional 8-10 minutes, or until the sauce has reduced and thickened slightly & the chicken's cooked through.

If the sauce gets too thick, add in a bit of water to thin it out as needed. Let the mixture rest 1-2 minutes away from heat before serving.

Ladle the chicken and sauce over warm long grain rice to serve. Garnish with freshly chopped cilantro leaves, if desired.
Nutrition
Calories:
476
kcal
|
Carbohydrates:
10
g
|
Protein:
36
g
|
Fat:
33
g
|
Saturated Fat:
16
g
|
Cholesterol:
180
mg
|
Sodium:
252
mg
|
Potassium:
747
mg
|
Fiber:
1
g
|
Sugar:
4
g
|
Vitamin A:
944
IU
|
Vitamin C:
6
mg
|
Calcium:
114
mg
|
Iron:
2
mg
*the calorie count does not include the rice you may/or may not choose to serve with the chicken*