It seems like more and more people are turning to hand tossed pizza style dough, but I still prefer the pan style crusts from when I was a kid. These Easy Cast Iron Pan Pizzas with Perfect Crust have the best crispy, oiled golden brown crust. Fix 'em up with your favorite toppings for an easy, at home experience you won't soon forget.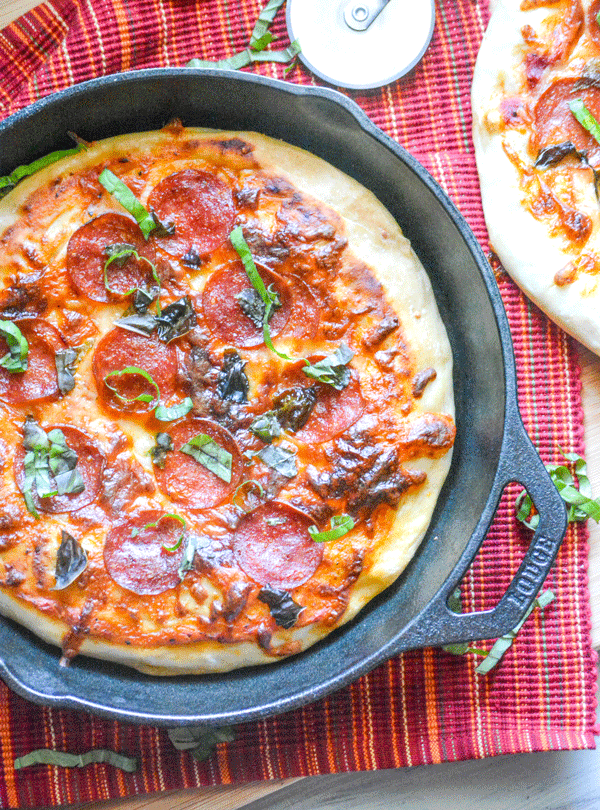 My kids haven't been to school a solid week since Christmas Break ended. They managed one day (yesterday) this week before being snowed home today.
We're taking bets now if they'll make it back before Friday or not.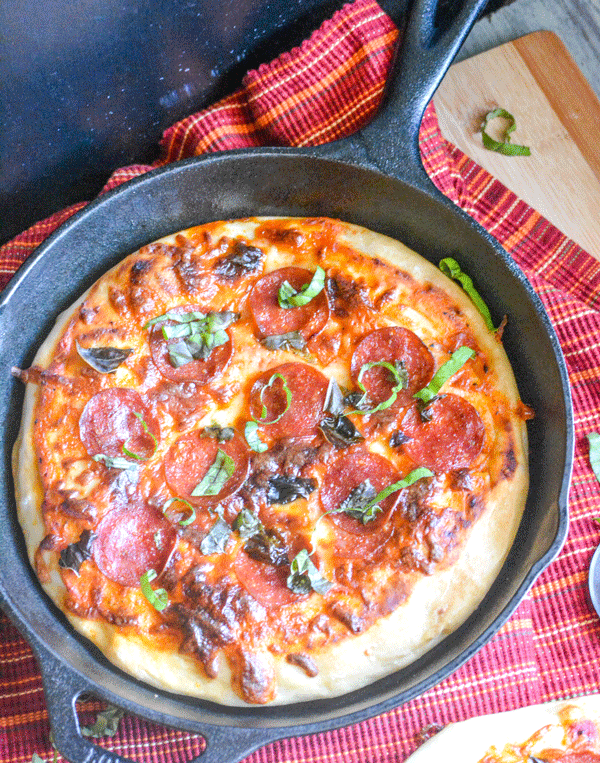 Snow Days are lazy days, at least when it comes to me in the kitchen and being stuck at the computer. All that gets put on hold so I can enjoy the white powdery stuff with my guys.
Everybody's still gotta eat though, and hours outside builds up ravenous appetites.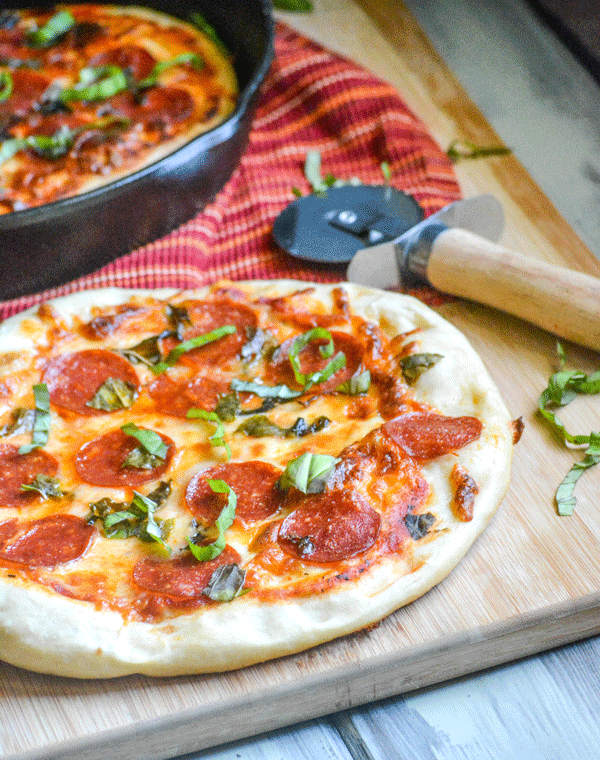 What's a Mom (who wants a snow day too) to do?!
Normally, I'd head straight for my slush fund and pull out some pizza money, place an order, and go play some more while we wait.
While I was headed in to get right on that plan, it dawned on me that I refused to let my own teens out on the road today. Better safe than sorry! And I wouldn't want someone else's son or daughter taking a chance on me and a pizza- that was simple something I didn't have to have.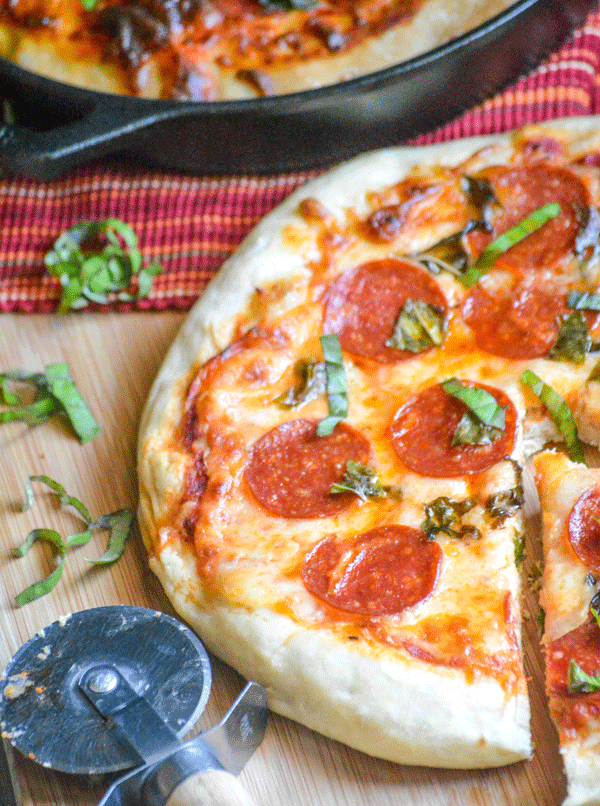 Let me just go ahead and tip my hat to these Easy Cast Iron Pan Pizzas with Perfect Crust.
Notice the name doesn't include the word 'quick'? That's because there isn't anything quick about them, and I wouldn't want to mislead you. They are however, seriously easy! And if you're patient enough for several periods of waiting, the results will be 100 % worth it.
Good things come to those who wait, remember?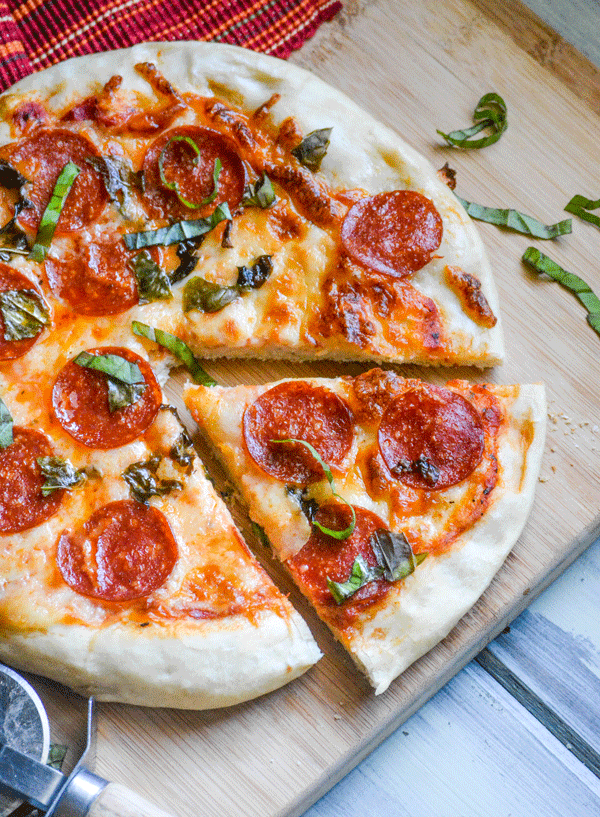 My Grandma made the best homemade pizza crusts, and truth be told, that's probably why pizza is my go to on special occasions like snow days. It's what I grew up with, ya know? And while this isn't her recipe, you can find it here.
On the other hand this one is much easier, requires no kneading, and as long as you measure accurately- it's darn near fool proof. Easy Cast Iron Pan Pizzas with Perfect Crust might even leave ya kickin' that delivery habit for good.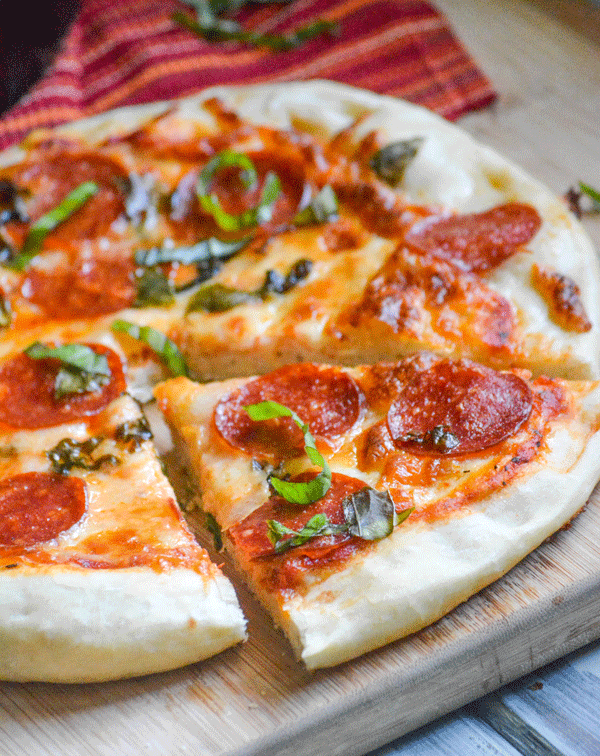 If you've tried this EASY CAST IRON PAN PIZZAS WITH PERFECT CRUST, or any other recipe on my site, let me know in the comment section how it turned out, we love hearing from our readers! You can also follow along with me on PINTEREST, FACEBOOK, and INSTAGRAM to see more amazing recipes and whatever else we've got going on!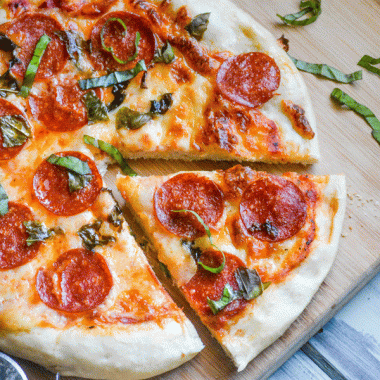 Easy Cast Iron Pan Pizzas with Perfect Crust
An easy, at home way to make & enjoy crisp, bubbly, golden brown pan-style pizzas
Print
Pin
Rate
Ingredients
For The Pizza Dough
2 1/2

cups

bread flour

2

tsp

salt

1/2

tsp

instant yeast

1

cup + 3 tbsp

water
For The Pizzas
4

tbsp

oil, olive or canola work best- NOT extra virgin, divided

1 1/2

cups

thick pizza sauce, divided

2

cups

shredded mozzarella

1/2

cup

pepperoni slices

5-6

basil leaves, chiffonade & divided
Instructions
To Make The Dough
In the bowl of a stand mixer, mix together all of the dough ingredients until completely evenly combined. Cover the mixing bowl tightly with cling wrap, and let the dough rise at least 8 hours but up to 24 hours.

Add 2 tbsp of oil to a 12" cast iron skillet, and add the remaining oil to a second similarly sized skillet. Use a brush to spread the oil evenly out of the surface so it's completely coated.

Divide the risen dough into 2 even pieces. Pull the dough apart at the sides to stretch it. Tuck the ends into the bottom turn the dough 1/4 turn, roll it around in your hands to form a ball. Repeat 2x until you're left with an even ball.

Roll the dough gently in the skillet until completely coated in oil, ending up with the smoothest side down. Use the palm of your hand to gently flatten and spread the dough out a few inches, but not so it covers the whole pan. Repeat for the second ball of dough and the second skillet. Cover both again, tightly with cling wrap, and let the dough rise another 2 hours- undisturbed and at room temp.
To Make The Pizzas
Preheat your oven to 500-550 degrees, whichever of the two it will go to. The dough should have almost spread to the edges of the skillet. Gently help it along pulling it up slightly and out so that it's at, or very nearly at, all the edges. Gently push down any large air bubbles.

Spoon half of the dough out over each pie, using the back to spread it out evenly but leaving a small edge of crust plain all the way around. Sprinkled a cup of cheese evenly out over each of the pies. Top evenly with pepperoni slices. Take half of the basil, divide it in half, and sprinkle evenly out over each pie. Set the remaining half aside.

Immediately transfer the pizzas to your hot oven, baking for 12-20 minutes-depending on desired done-ness/brow-ness of crusts. Let the pizzas rest 2 minutes.

Using 2 flat spatulas, carefully transfer them to cutting boards. Sprinkle the remaining basil evenly out over both pies. Let the pizzas rest another 5 minutes before slicing and serving.
Other Pepperoni Pizza Ideas You Might Also Enjoy:
Pepperoni Pizza Pull Apart Bread