This convenient, creamy Crockpot Chicken And Pesto Soup features fresh veggies, chunks of juicy chicken, chewy barley, pesto, and Parmesan in a dish that leaves you savoring each and every bite.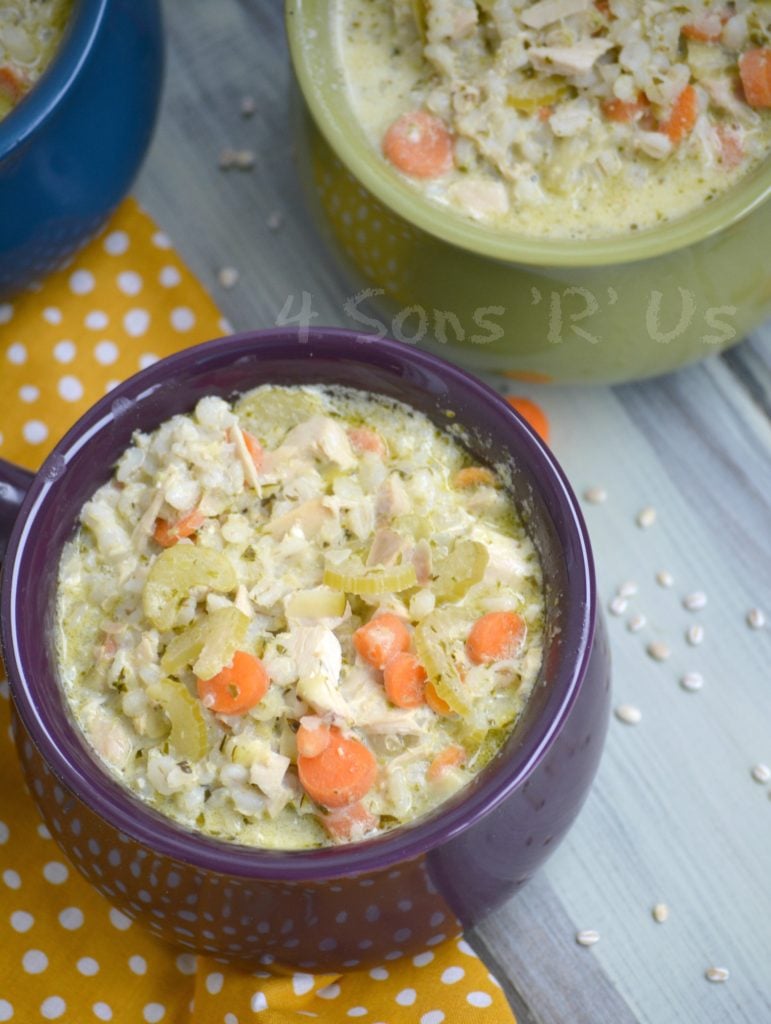 I've mentioned my affinity for soups before, but have I ever mentioned my bond with my crockpot? Some days it's my lifeline.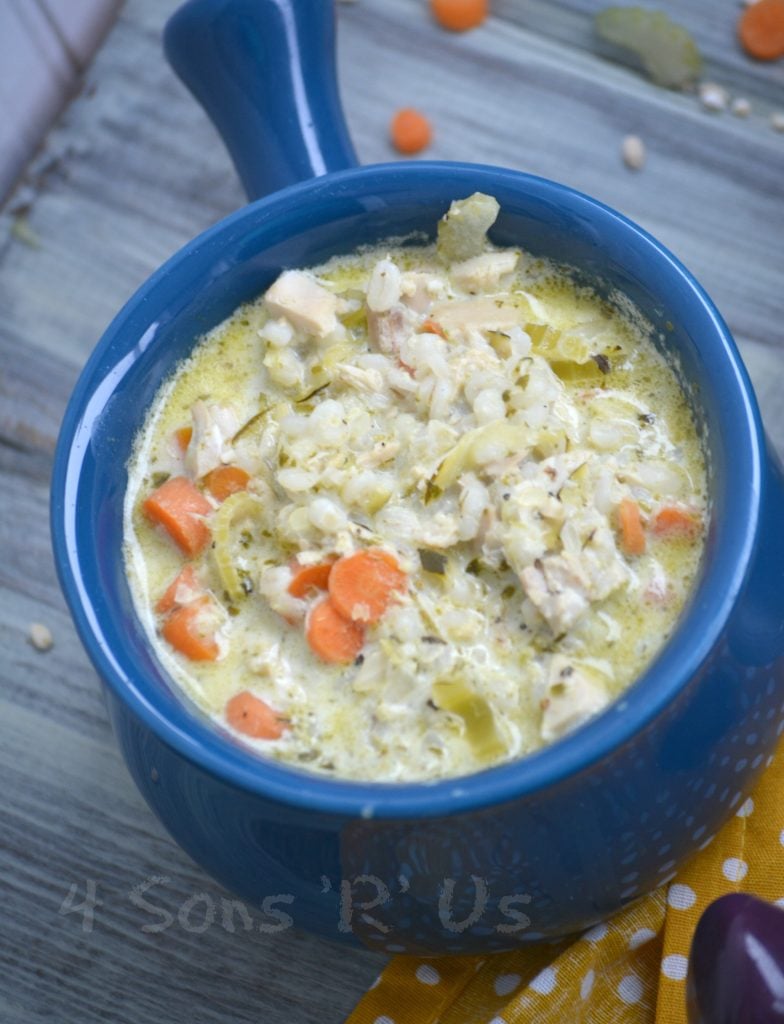 Summer and I have a love/hate relationship. I hate being hot, but I love to cook. I hate that using the oven, even the stove top in summer and spring, makes my kitchen feel like a sauna. I can't stand to be hot while cooking. In the summer, the crockpot and I are best friends. I'm talking bosom buds. It helps me feed my family the lovingly prepared, delectable food we all like, without me sweating up a storm as I slave away.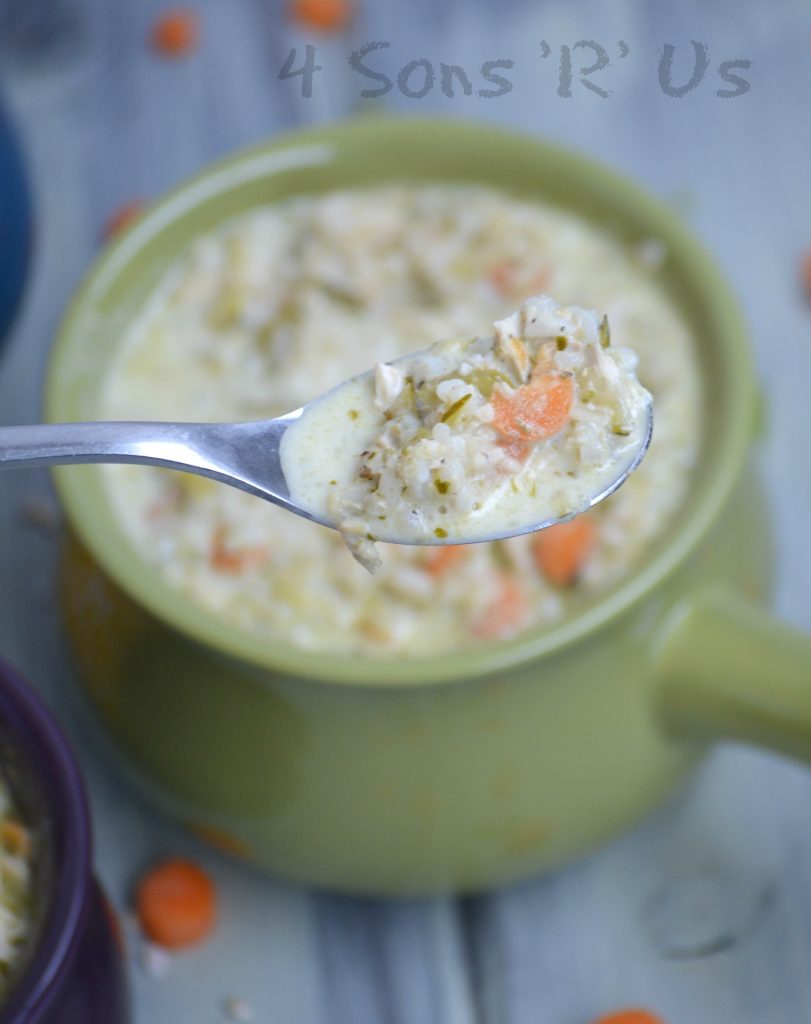 Did I mention I'm also to cheap to turn up my air conditioner just because I'm hot in the kitchen? No, I don't think I did. But, I am. This soup recipe is a winner. It's also a must when I'm craving soup in the summer. Same great taste, but noticeably less heat.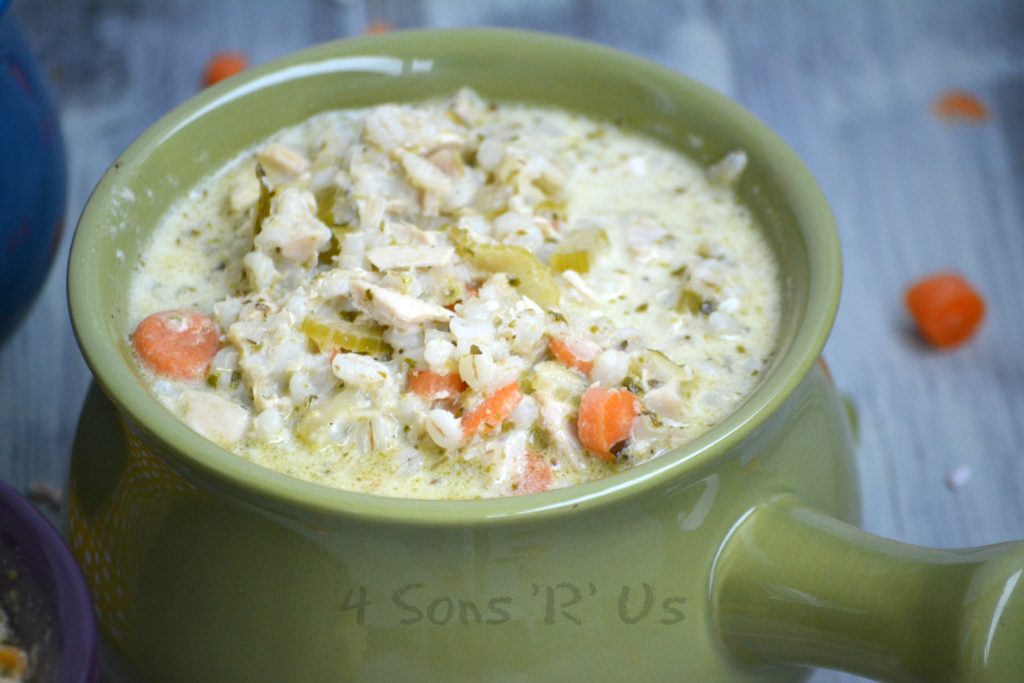 When I first tried it, I honestly couldn't believe I'd never seen something like it in an Italian restaurant somewhere before. Then again, without this recipe, I don't think it would have occurred to me to try pesto in a soup. Lesson learned.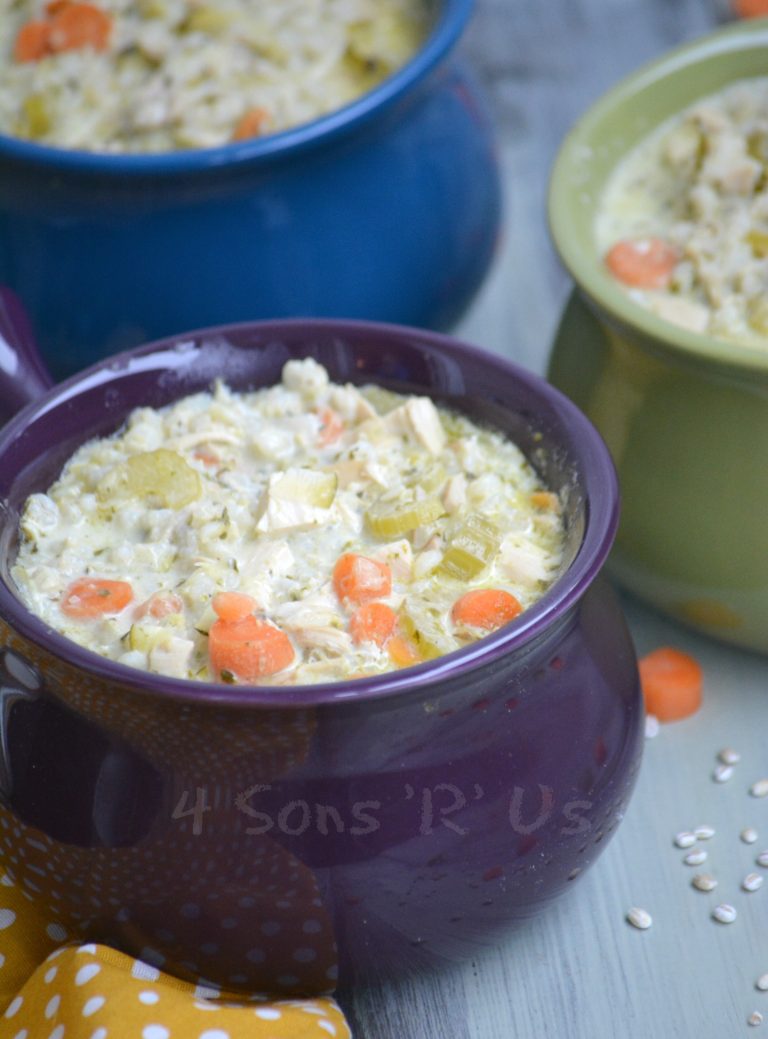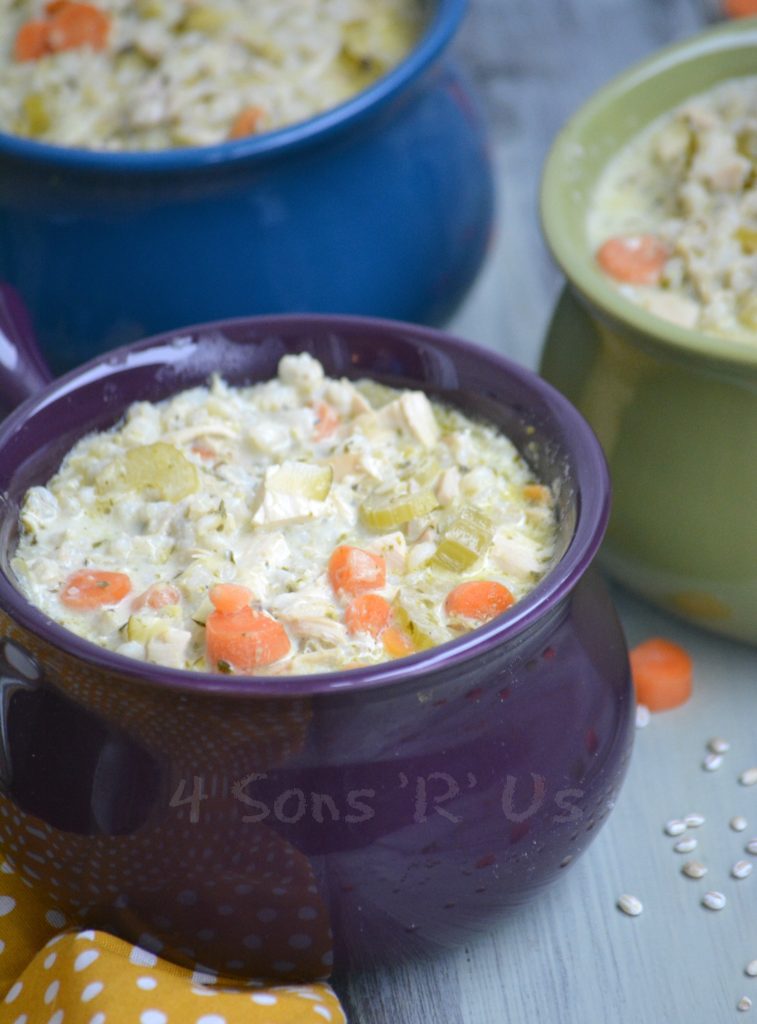 Dump the ingredients into your crockpot in the morning, have dinner waiting on you at the end of the day, and cozy up to a big ol' bowl of this Crockpot Chicken And Pesto Soup.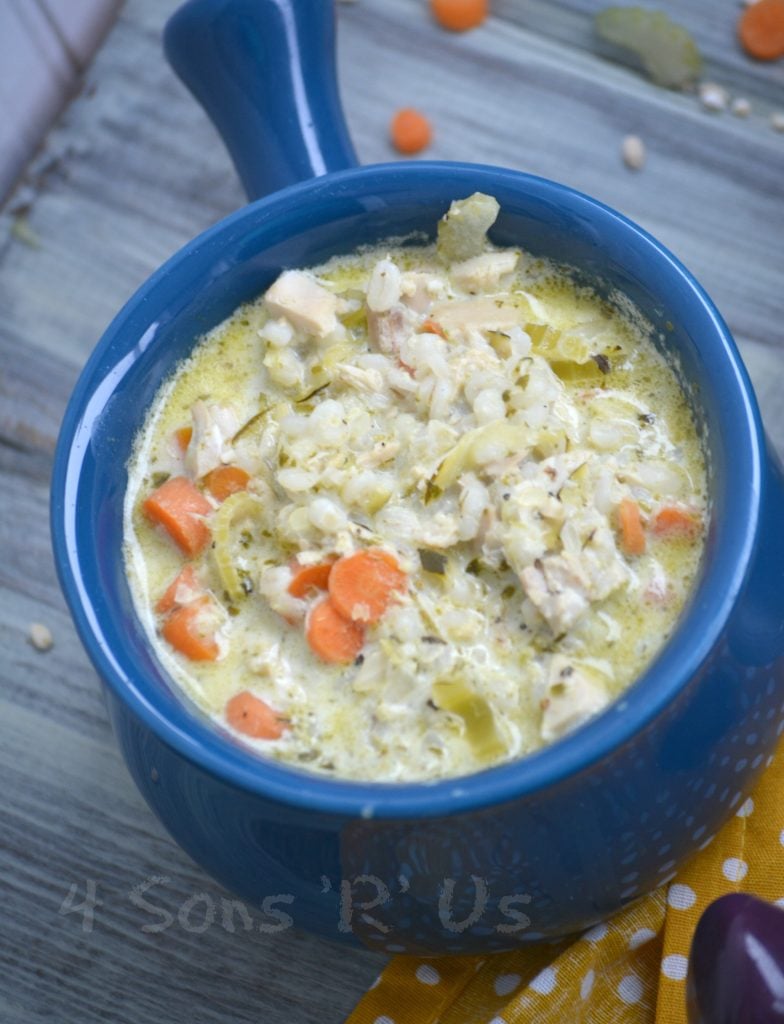 Crockpot Chicken And Pesto Soup
2017-02-10 04:31:02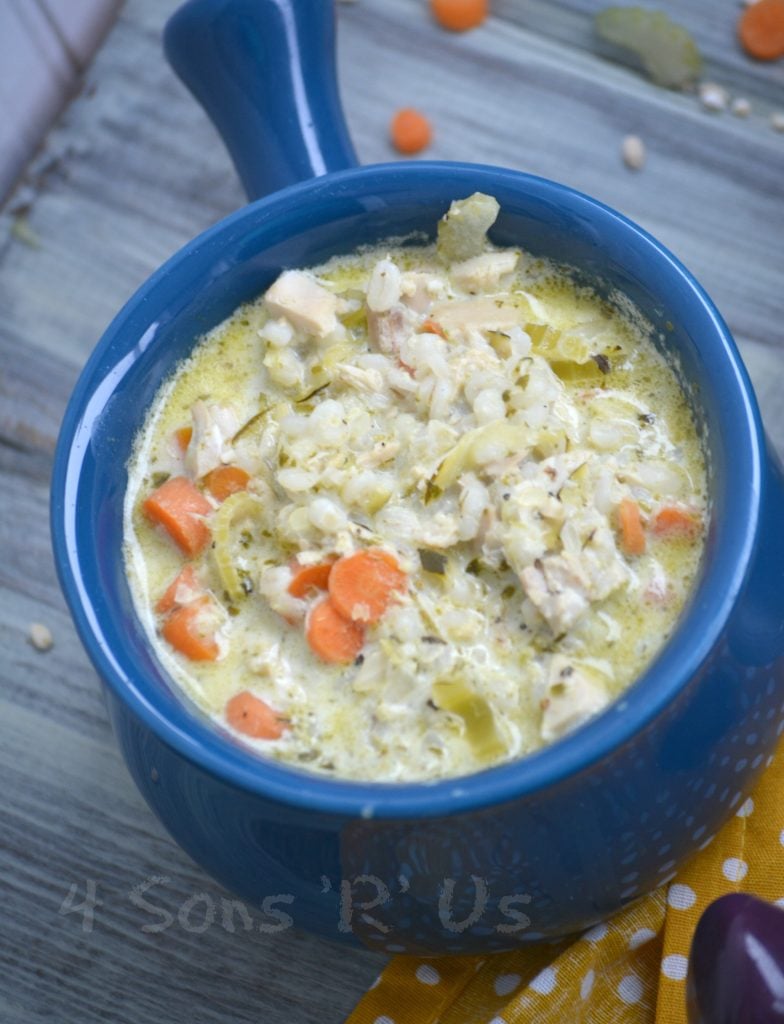 A creamy, comforting soup featuring chicken, veggies, barley, and pesto-- that conveniently cooks in your crockpot.
Ingredients
3 cups chicken broth
2 carrots, shredded and finely diced
2-3 ribs of celery, finely diced
1 tbsp dried, chopped onion
1 tsp dried oregano
1 heaping tbsp minced garlic
2 boneless, skinless chicken breasts, thawed or frozen
1/2 cup pearl barley (not quick cooking)
1 1/2 cups milk, room temperature (you can sub half/half or even cream for a richer soup)
1/4 cup of shreddedparmesan cheese
1/2 cup pesto
1/2 of a zucchini, shredded
Instructions
To the bowl of a crockpot, add in the broth, carrot, celery, onion, oregano, garlic, and zucchini-- give it all a good stir.
Add in the chicken breasts.
Cover and cook on low for 4-6 hours, or until the chicken is cooked through and the barley is soft and chewy.
Remove chicken to a plate, and use two forks to shred or a knife and fork to dice it up.
Put the shredded, or diced, chicken back into the crockpot.
Stir in the milk, Parmesan, and pesto.
Turn the heat up to high, and continue cooking for another ten minutes.
Ladle the soup into bowls and garnish with additional Parmesan and/or pesto, as desired.
Adapted from 365 Days of Slow Cooking
4 Sons 'R' Us https://4sonrus.com/
Pictures updated 2/9/2017