Unicorn monkey bread is fun treat that will brighten your day. This tasty pull apart bread makes for a magically sweet breakfast, brunch or dessert. It will put a smile on everyone's face even during the most stressful of times.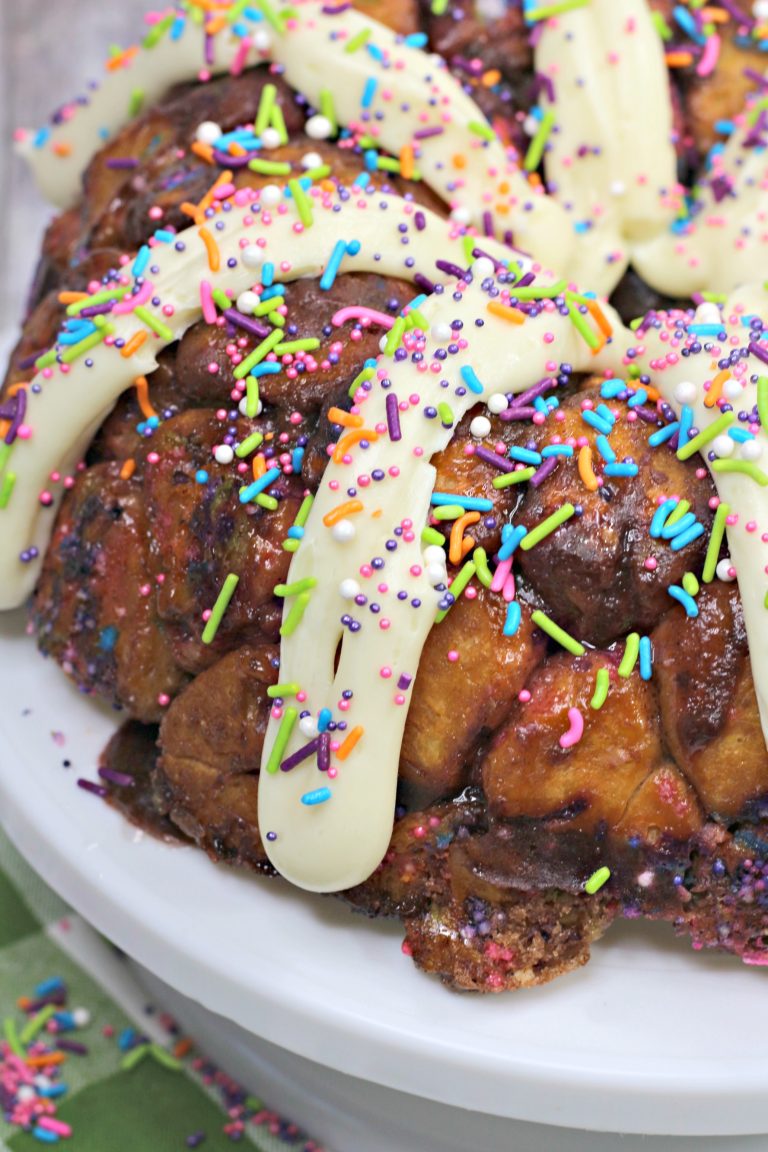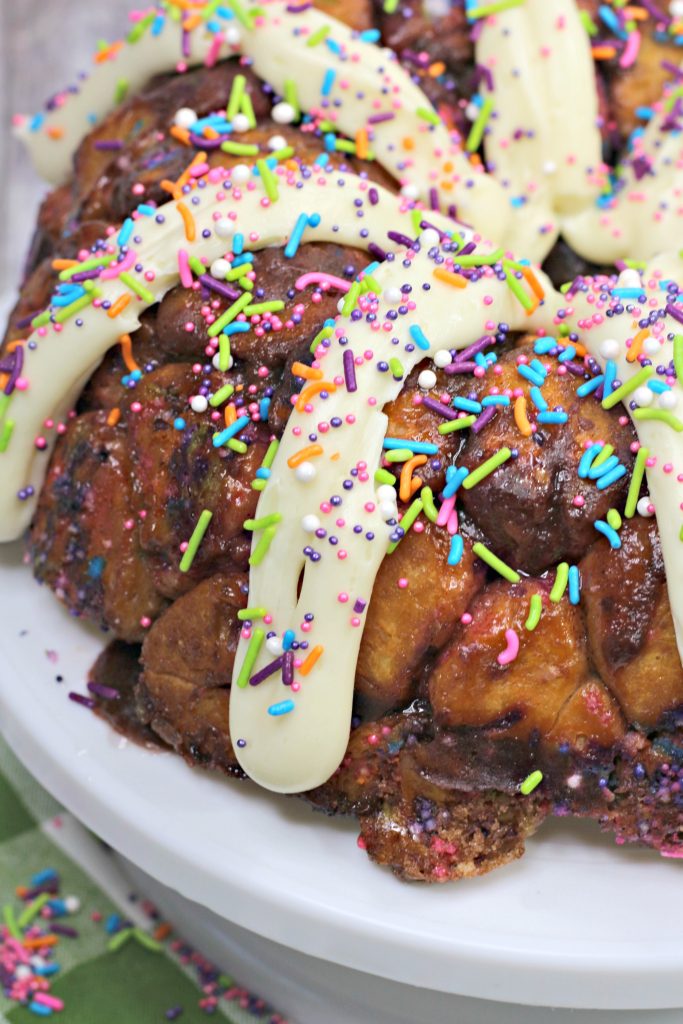 Monkey bread is a breakfast and brunch favorite in this house.
I normally reserve this decadent dish for special occasions like Christmas or Easter but with us being stuck at home during these strange days, all bets are off.
Monkey bread with sprinkles on a random weekday morning? Why not?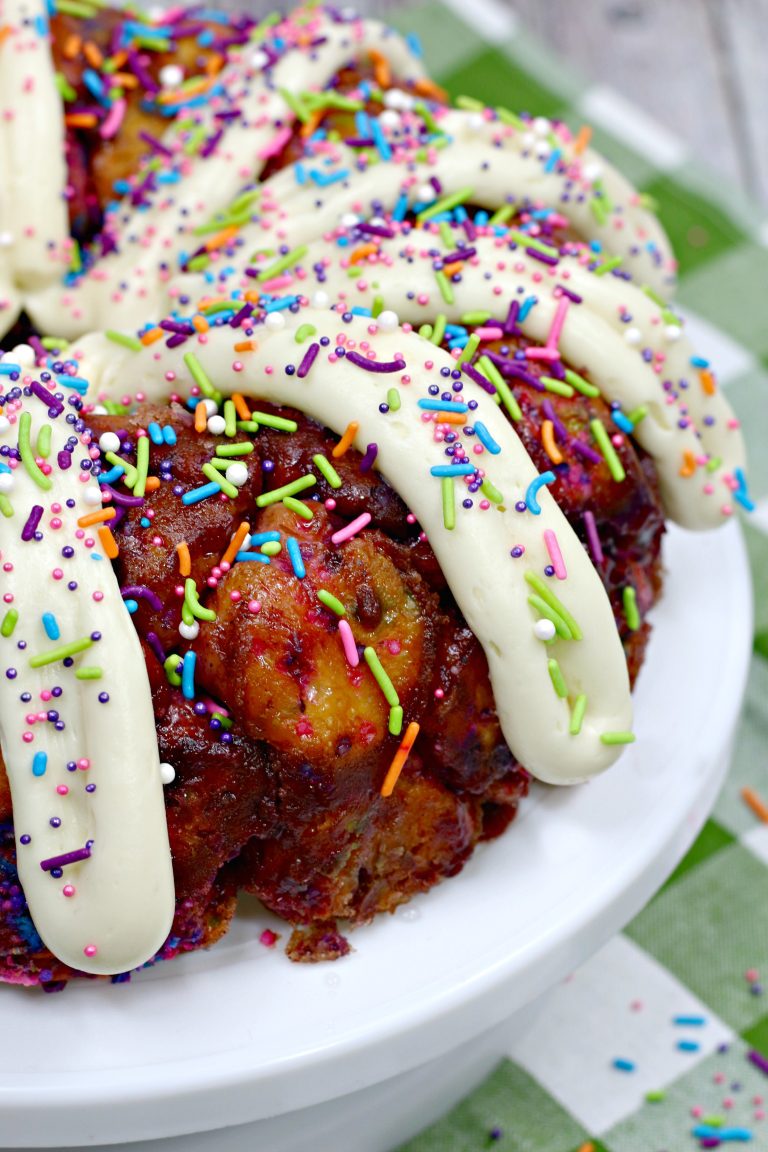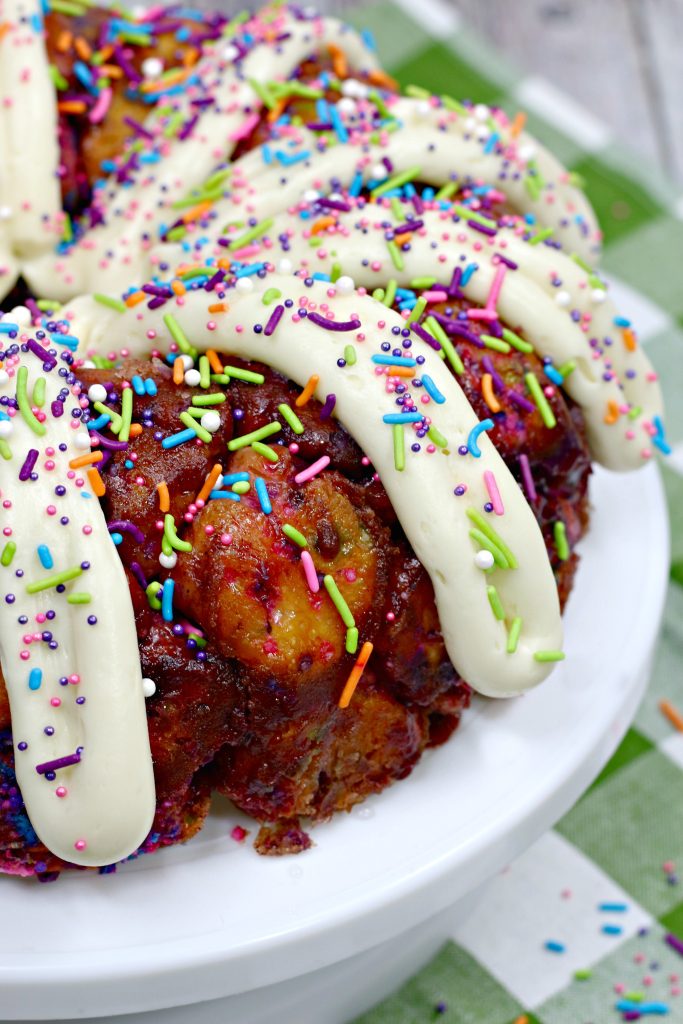 What is monkey bread?
Monkey bread is a pull apart bread. You can find savory versions, often stuffed with cheese, but most of the time monkey bread is sweet.
A sticky glaze similar to the glaze on the outside of some sweet rolls and sticky buns coats them and brings out the cinnamon sugar flavor most have.
This unicorn monkey bread has that classic cinnamon sugar sweetness but a generous drizzle of vanilla icing and confetti sprinkles make it even more magical and fun.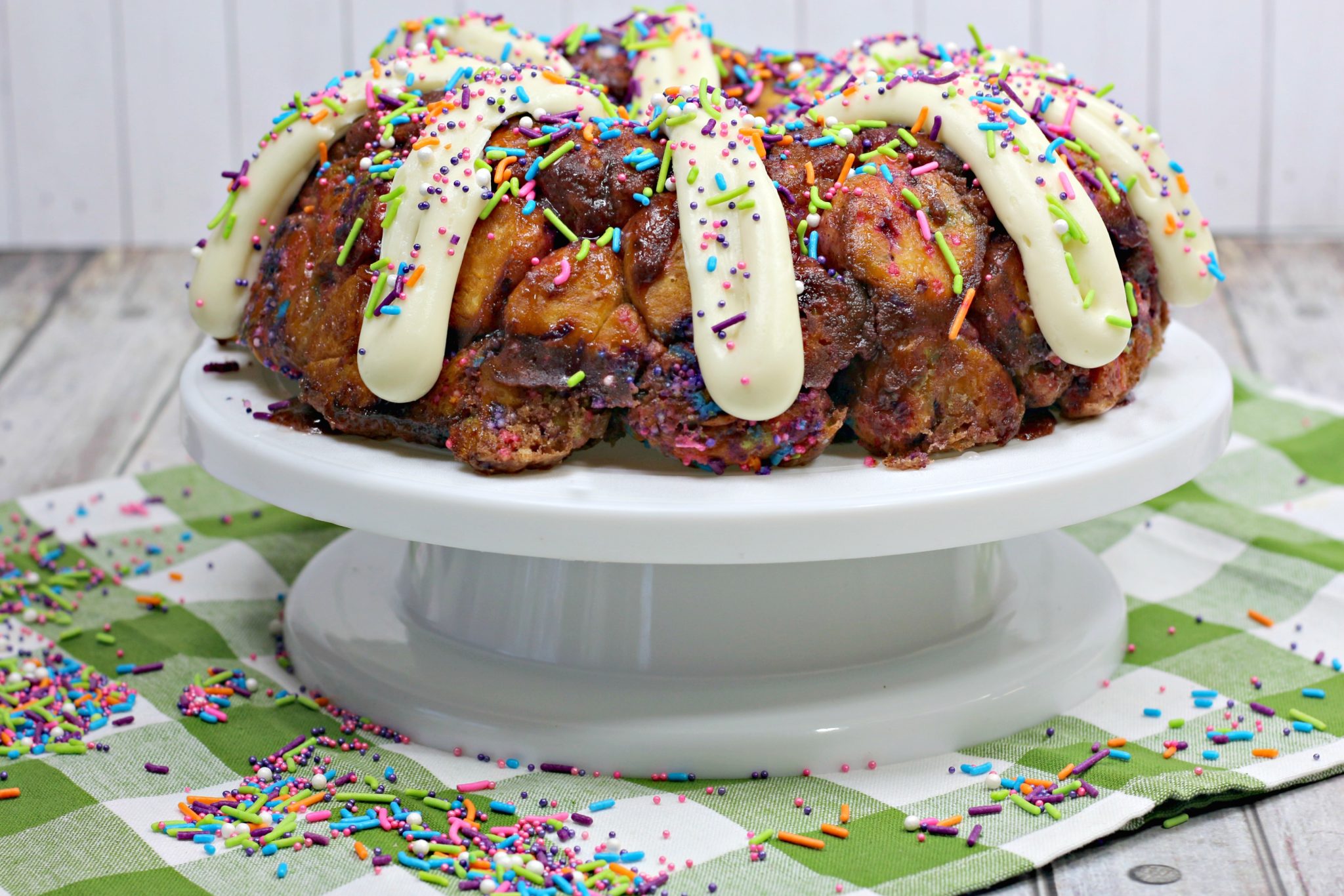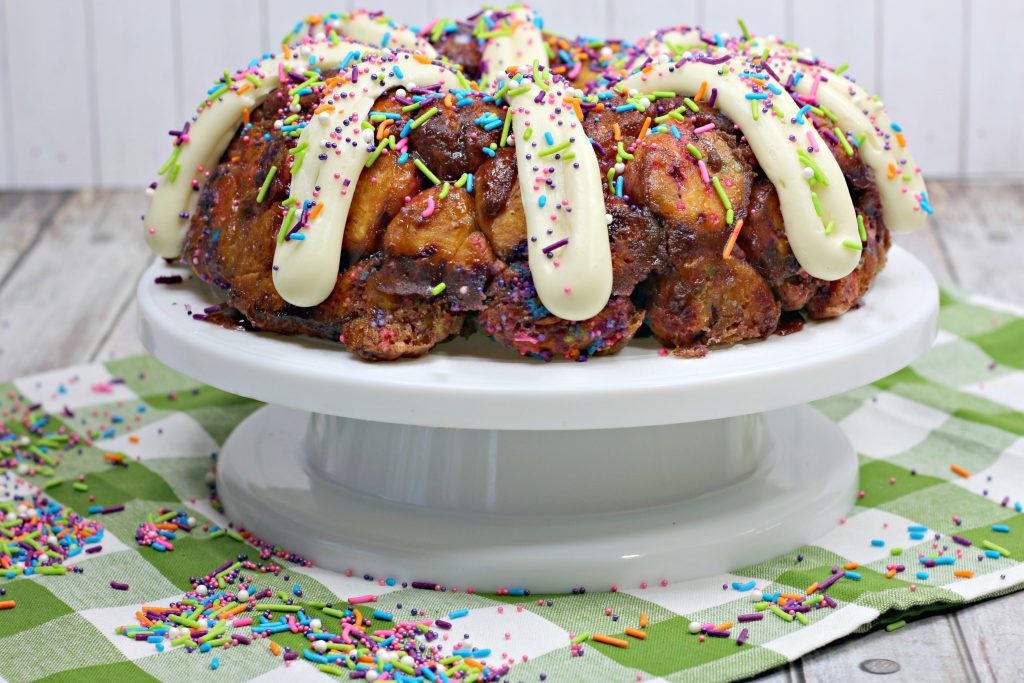 How to Make Unicorn Monkey Bread
Making unicorn monkey bread is pretty similar to making any other sweet monkey bread. The difference? Sprinkles! So many sprinkles! That's what makes this bread extra fun after all.
To make unicorn monkey bread, start with with your 2 cans of your favorite biscuits. Be brave and pop open the biscuit can with a spoon and then pull the biscuits apart as if you were going to bake them as is.
I say be brave, because even though I know it's coming the dreaded 'pop' on opening still gives me a mini heart attack while my life flashes before my eyes. It's a serious struggle.
Then cut each biscuit into quarters. Add the quartered biscuits to a large bowl along with a cup of rainbow sprinkles. Toss them together.
Now roll each biscuit quarter into a ball. The sprinkles will incorporate into the biscuit balls. Once you have all the balls rolled, melt your butter in a small sauce pan. When the butter is melted, stir in the vanilla and granulated sugar.
When you've combined the butter mixture, put one third of the dough balls in a bundt pan you've sprayed liberally with cooking spray. The dough balls should cover the bottom of the pan in an even layer.
Now pour a third of the butter mixture evenly over the dough. Repeat this until you've used all the dough and butter mixture. Then bake in a 350 degree oven for 30-35 minutes.
When the bread is baking, using a stand mixer to make the cream cheese glaze. Just beat together the cream cheese and powdered sugar until it is light and fluffy. Once it's light and fluffy, beat in the vanilla. Then mix in the milk a little at a time until the glaze reaches your desired consistency.
Once you've removed the bread from the oven and let it cool for 10 minutes, flip it over onto a serving tray or platter. Pipe the icing onto the bread and sprinkle on the rest of the sprinkles. Then enjoy!


Tips to Make the Most Magical Unicorn Monkey Bread
This monkey bread recipe is a pretty basic way of making monkey bread. These tips and tricks will make it so that your unicorn monkey bread turns out perfectly the first time you make it:
Don't skimp on the cooking spray. Make sure you spray the bundt pan heavily with nonstick spray. Skipping this or not using enough spray will make it hard to remove the bread from the pan.
When you roll the biscuit balls, press the sprinkles into the balls.
If you find the bread is browning too quickly on top, cover it with foil. The foil will prevent browning and help the butter and sugar mix melt fully.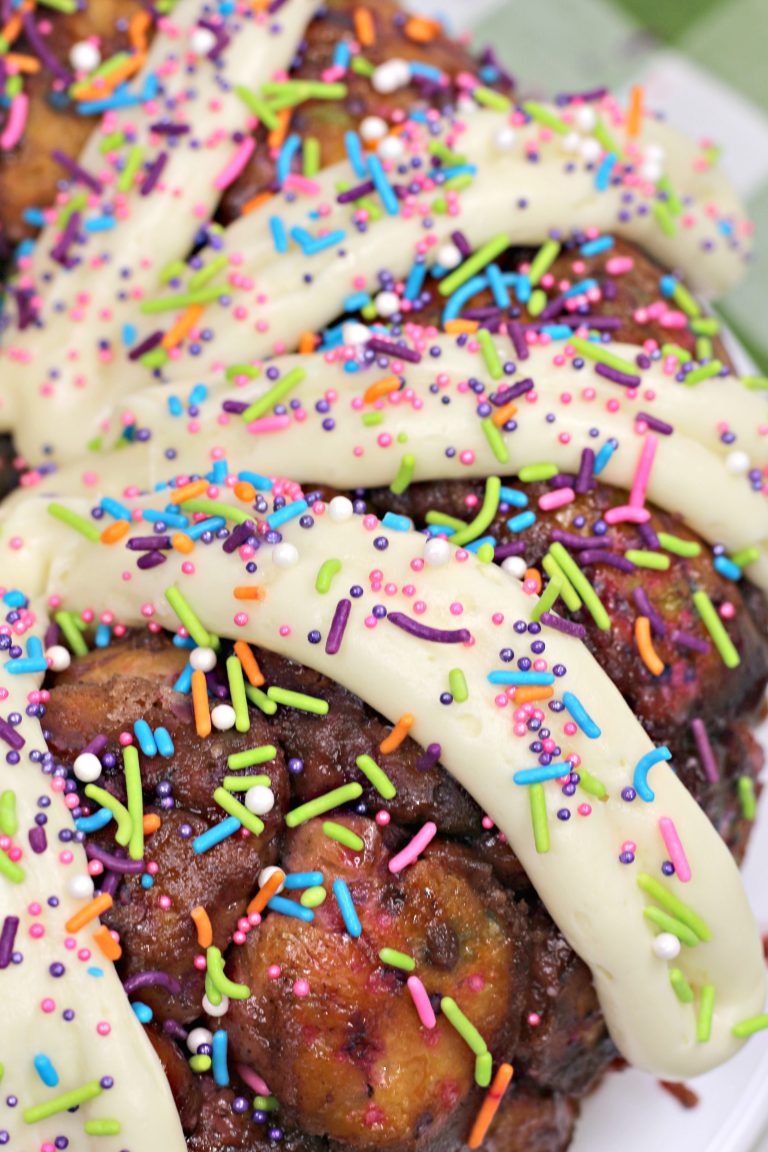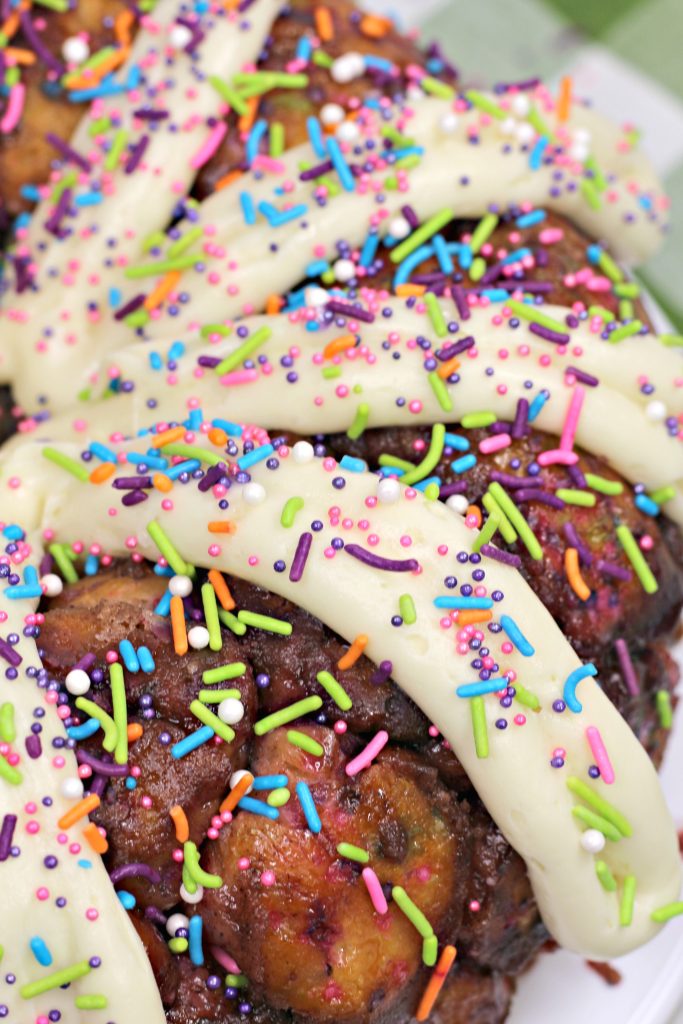 Other Unicorn Treats You Might Enjoy
This unicorn monkey bread is a surefire way to bring a smile to the breakfast table. Make it today for a fun sweet breakfast treat.
Looking for another unicorn treat? Try these:
Not unicorn themed, but fanciful & fun all the same! Whip up at batch of these delightful fairy sandwiches for a fun lunch kids will think is equally magical! Maybe just not all in the same day.
If you've tried this UNICORN MONKEY BREAD, or any other recipe on my site, let me know in the comment section how it turned out, we love hearing from our readers! You can also follow along with me on PINTEREST, FACEBOOK, and INSTAGRAM to see more amazing recipes and whatever else we've got going on!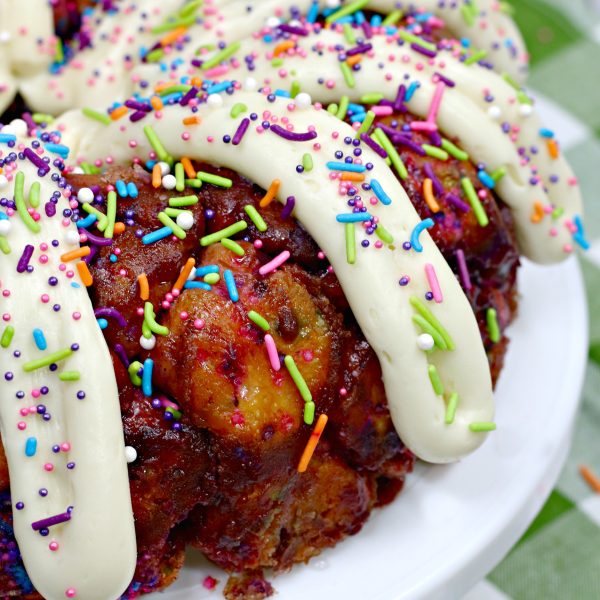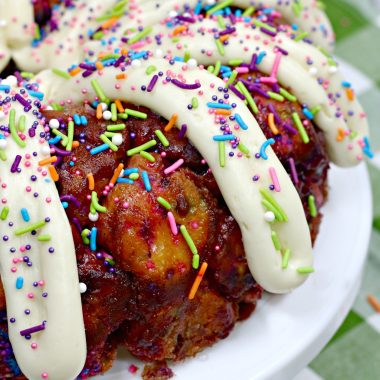 Unicorn Monkey Bread
Unicorn monkey bread is fun treat that will brighten your day. This easy pull apart bread starts with canned biscuits & makes for a magically sweet breakfast, brunch or dessert.
Print
Pin
Rate
Ingredients
2

16 oz cans

homestyle biscuits

3/4

cup

unsalted sweet cream butter

1 1/4

cups

sugar

1

tbsp

cinnamon extract

1/4

tsp

vanilla extract

6

oz

cream cheese

softened

4

tbsp

milk

plus extra if needed

1/2

cup

powdered sugar

1/2

tsp

pure vanilla extract

2

cups

bright colorful funfetti sprinkles

1

piping bag with round tip
Instructions
Preheat oven to 350º.

Spray your bundt pan with cooking spray heavily, and set aside.

Open the biscuits and lay each roll out onto a cutting board

Cut each biscuit into quarters

Place the biscuits into a large bowl and sprinkle 1 C of the sprinkles onto the biscuits

Toss the biscuits with the sprinkles

Roll each biscuit quarter into a ball

Using a small sauce pan, melt the butter

Add in granulated sugar and vanilla extract

Place one layer of dough balls into Bundt pan, then pour one-third of the melted butter mixture over.

Repeat this process until you have used all the dough and butter mixture.

Bake for 30 to 35 minutes or until golden brown on top.

Cover with foil if the top browns too quickly. (You want to make sure the sugar granules melt completely)

While monkey bread is baking, make the cream cheese glaze

Using a standing mixer, beat the cream cheese and powdered sugar until smooth, light and fluff

Mix in the milk and vanilla until combined and smooth

Scoop cream cheese into the piping bag and set aside

Remove monkey bread from oven and allow to cool for 10 minutes before flipping over onto a serving tray

Pipe the cream cheese onto the monkey bread and sprinkle the remaining sprinkles all over!

Enjoy!
Nutrition
Calories:
441
kcal
|
Carbohydrates:
62
g
|
Protein:
1
g
|
Fat:
22
g
|
Saturated Fat:
14
g
|
Cholesterol:
56
mg
|
Sodium:
61
mg
|
Potassium:
35
mg
|
Sugar:
61
g
|
Vitamin A:
664
IU
|
Calcium:
28
mg
|
Iron:
1
mg