A quick & easy dish to throw together, this Cheesy Potato & Smoked Sausage Casserole is a meat and potatoes kind of dinner everyone can agree on. It's meant to be savored, and shared.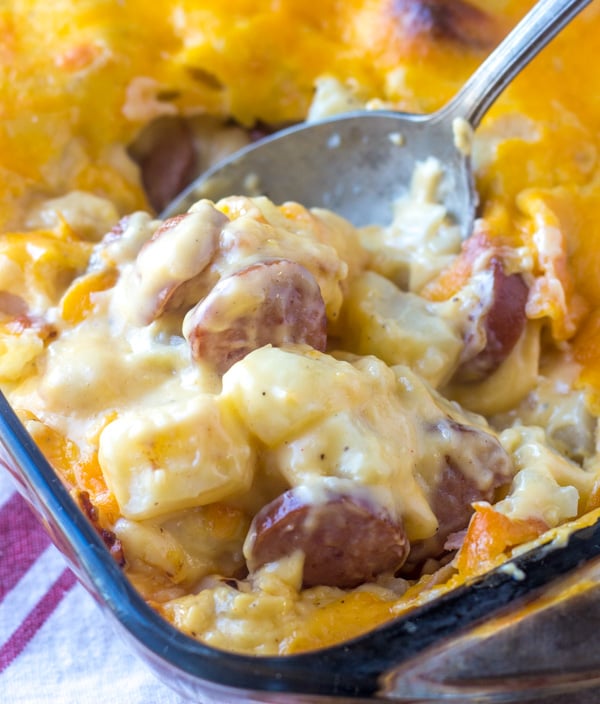 Cheese. Cheese! Glorious Cheese. How can you not like cheese?
It is beyond our family's comprehension. In the words of the infamous Sicilian, The Great Vizzini, "Inconceivable!"
So if you're one of these people who don't like cheese, whether it's a texture thing, an animal by-product aversion, I give you fair warning: Look Away. Look. Away. NOW.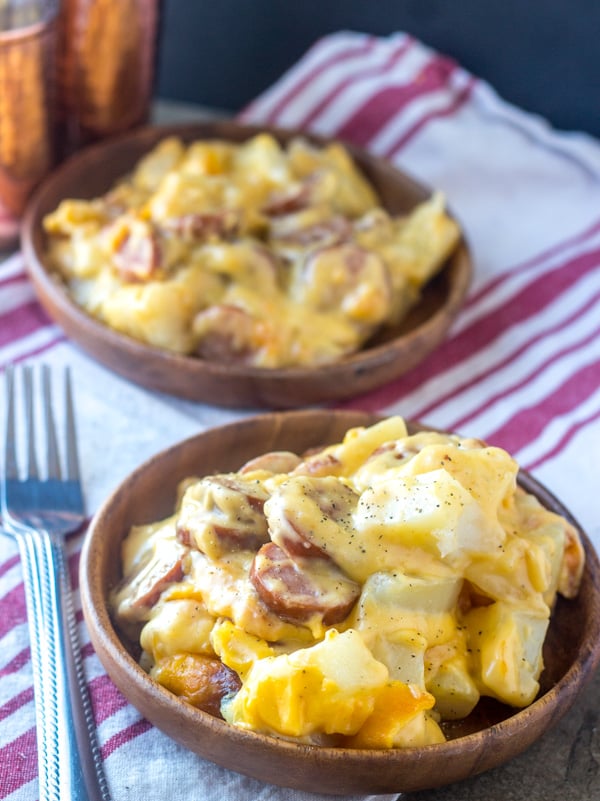 For everybody else who jumped right on the cheese wheel wagon with us, this is your kind of dish.
Cheese, cheese sauce, with another sprinkle of cheese on top.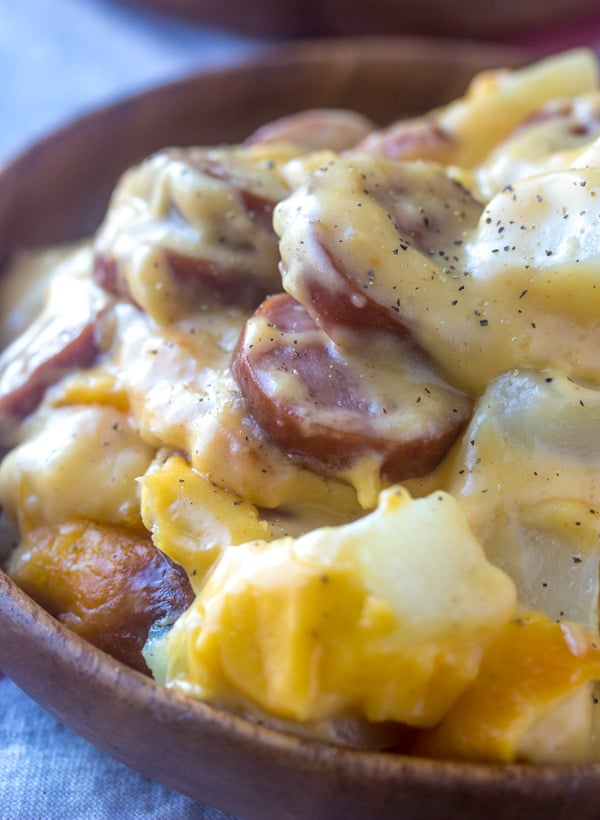 And, you know, some tender Russet potatoes and sliced smoked sausage were included to make it a meal appropriate for general consumption.
Eating cheese sauce by the spoonful & straight out of the pan- it's probably frowned upon in polite society.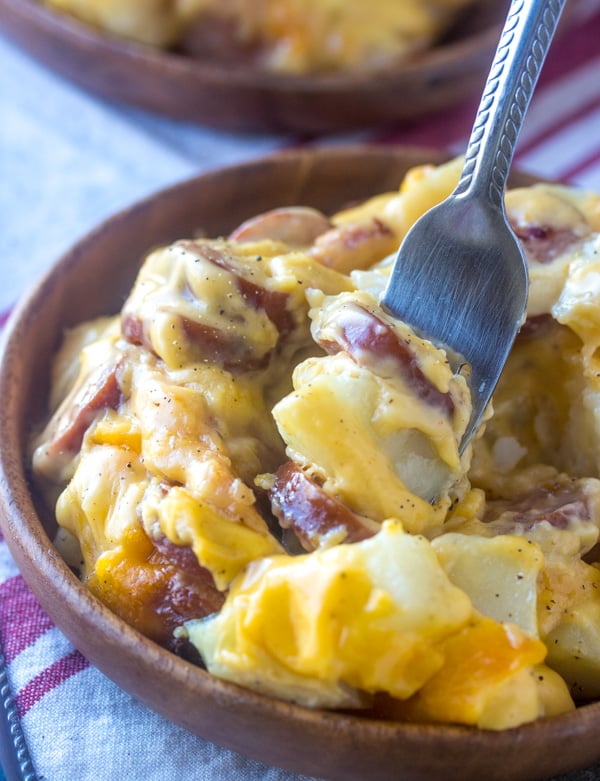 I wish there were a cheese grater, like the one at Olive Garden who grates the fresh Parm on your salad, but at my personal beck and call, and when I tell him to keep it coming, make it rain, (you get the idea), he just says, 'As You Wish.'
Can you tell I've been re-reading The Princess Bride for like the millionth time? I can't help it. I love everything about it, and it makes such good reference material!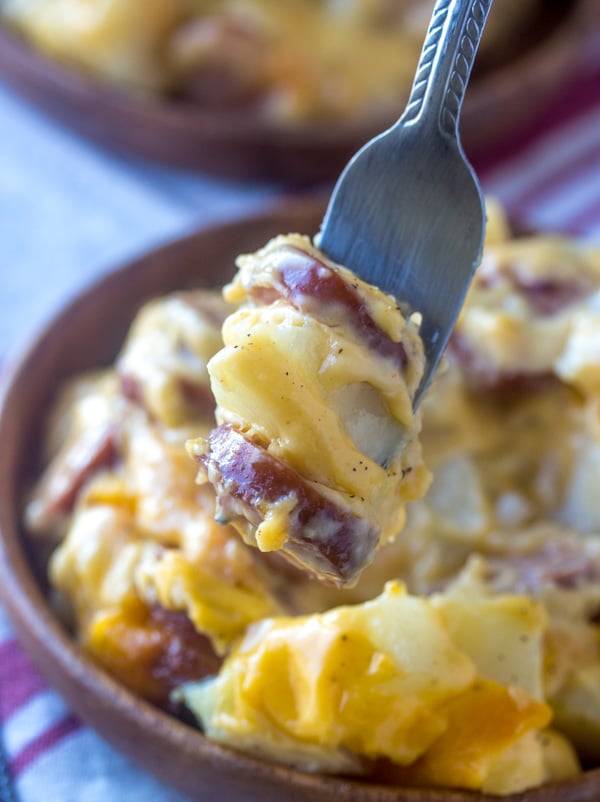 But honestly, if you thought cheese was good all by itself, err I meant to say cheesy potatoes, yes– if you thought cheesy potatoes were good by themselves, then you're really gonna love them with the added flavor from the smoked sausage.
Let's not forget the sweet, smokiness of the paprika either!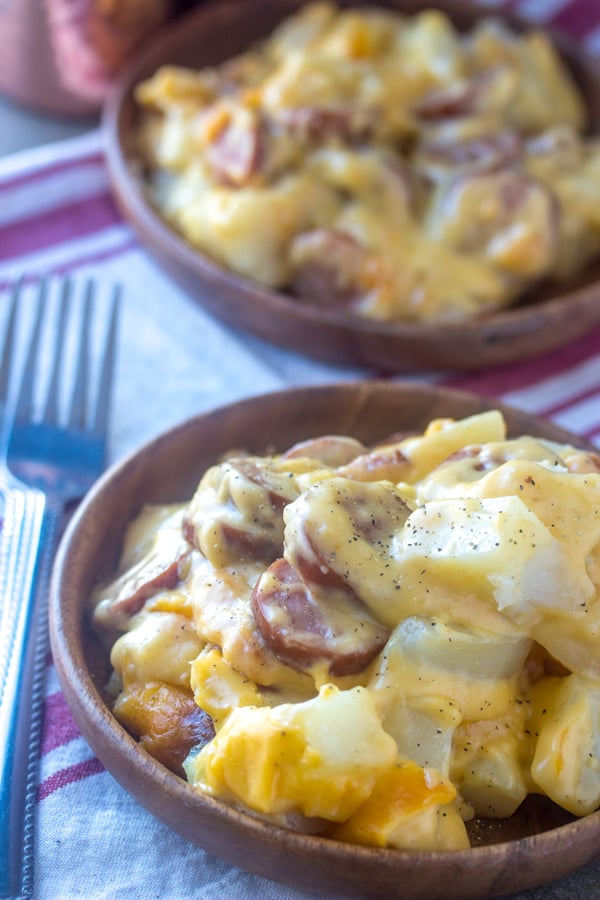 I could seriously eat a dish like this everyday. This Cheesy Potato & Smoked Sausage Casserole is serious comfort food, just how it's meant to be.
Making It A Meal: What To Serve With This Cheesy Potato Casserole?
Ever heard the term meat & potatoes? It generally is prescribed to hearty, stick to your ribs comfort food which this casserole definitely is. It also happens to literally be a meat & potatoes casserole, with a heaping helping (or more) of cheese thrown in the mix.
This is a rich dish that is very filling, expecially depending on the serving size. It can totally serve as a stand a lone meal. My boys would have zero complaints even if this was the only thing on the dinner menu any given night.
But there's that nagging Mom guilt that means I need to make it a full meal, which means at least something healthy (ish) needs to be ready to go on their plates with this dish.
My go to is a simple, fresh side salad. Leafy, green, good for everyone and they can customize it with the dressing of their choice. When that's not an option, I serve either steamed broccoli on the side or our go to canned green bean recipe.
If you truly want to make it a one dish meal, you can toss the steamed broccoli or a plain, drained can of cut green beans right into the casserole before baking.
Other Cheesy Potato Ideas To Try:
If you've tried this CHEESY POTATO & SMOKED SAUSAGE CASSEROLE, or any other recipe on the site, let me know in the comment section how it turned out, we love hearing from our readers! You can also follow along with me on PINTEREST, FACEBOOK, and INSTAGRAM to see more amazing recipes and whatever else we've got going on!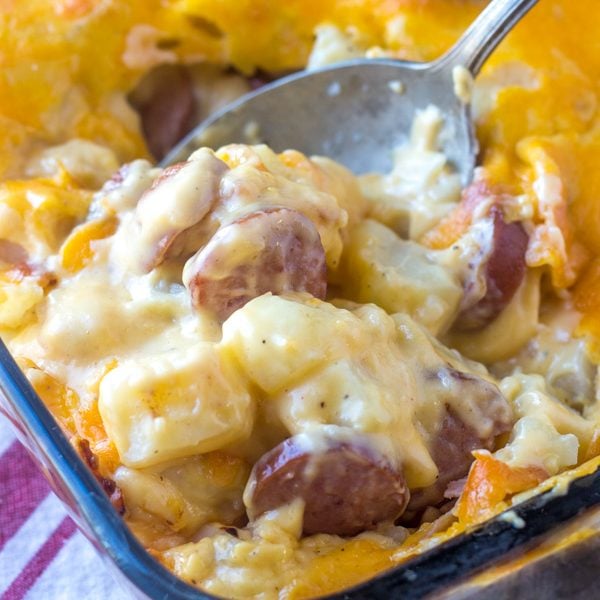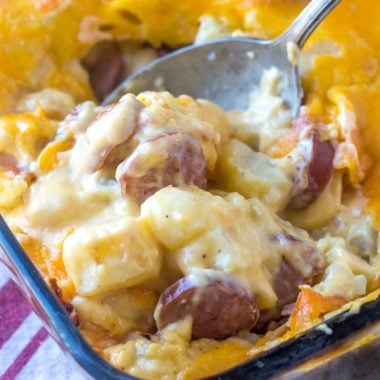 Cheesy Potato & Smoked Sausage Casserole
A creamy, cheesy meat & potatoes casserole, this dinner is simple Southern comfort food.
Print
Pin
Rate
Ingredients
3

cups

peeled

cubed Russet potatoes, boiled until soft but not mushy

1

lb

smoked sausage*

thinly sliced

4

tbsp

butter

4

tbsp

flour

2

cups

half & half

or milk

salt & pepper

to taste

1/2

lb

Velveeta cheese

cubed

1/2

cup

shredded sharp cheddar cheese

1/4

tsp

smoked paprika
Instructions
In a large skillet, over medium low heat, saute the sausage in a large skillet with 1-2 tbsp of olive oil flipping and stirring until they've browned a bit.

Lightly spray a 9x13" baking dish with non stick cooking spray. Transfer the cooked potatoes and sausage to a casserole dish, stirring just enough to evenly distribute.

Turn the heat up to medium and add the butter to the skillet. When melted, whisk in the flour. Allow it to cook about a minute, whisking constantly, to get rid of the floury taste. Slowly add in the half and half, 1/4-1/2 cup at a time, whisking constantly until evenly incorporated. Continue cooking until thickened.

Stir in the Velveeta, paprika, and salt & pepper, stirring occasionally until completely melted and the sauce is smooth.

Pour cheese sauce evenly out over the potatoes and meat. Evenly sprinkle the shredded cheese over top.

Bake at 350 degrees for 35-45 minutes, or until the potatoes are fork tender and the casserole is golden brown on top.
Nutrition
Calories:
420
kcal
|
Carbohydrates:
14
g
|
Protein:
17
g
|
Fat:
33
g
|
Saturated Fat:
17
g
|
Cholesterol:
97
mg
|
Sodium:
1178
mg
|
Potassium:
460
mg
|
Fiber:
1
g
|
Sugar:
5
g
|
Vitamin A:
874
IU
|
Vitamin C:
9
mg
|
Calcium:
311
mg
|
Iron:
2
mg