This cheesy ham and potato quiche is a classic brunch staple. A flaky homemade pie crust holds a hearty filling of tender potatoes, savory ham, and cheesy eggs. This homemade quiche recipe will have everyone at your brunch table begging for seconds.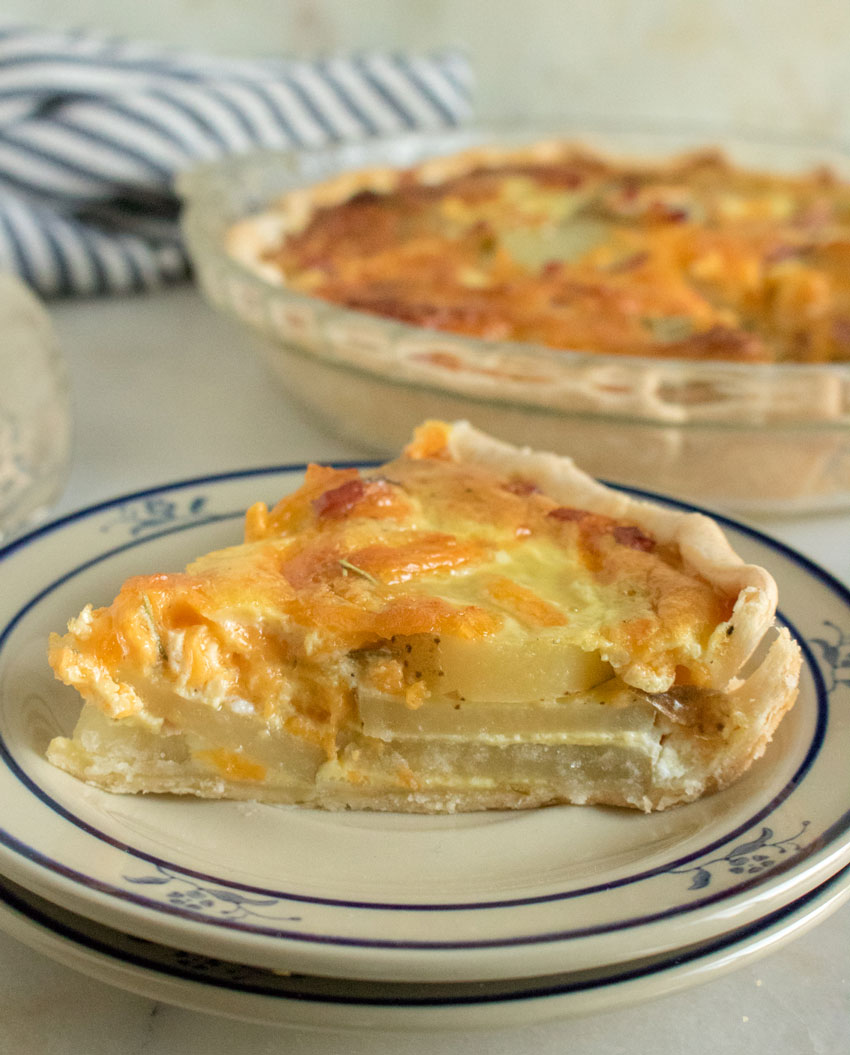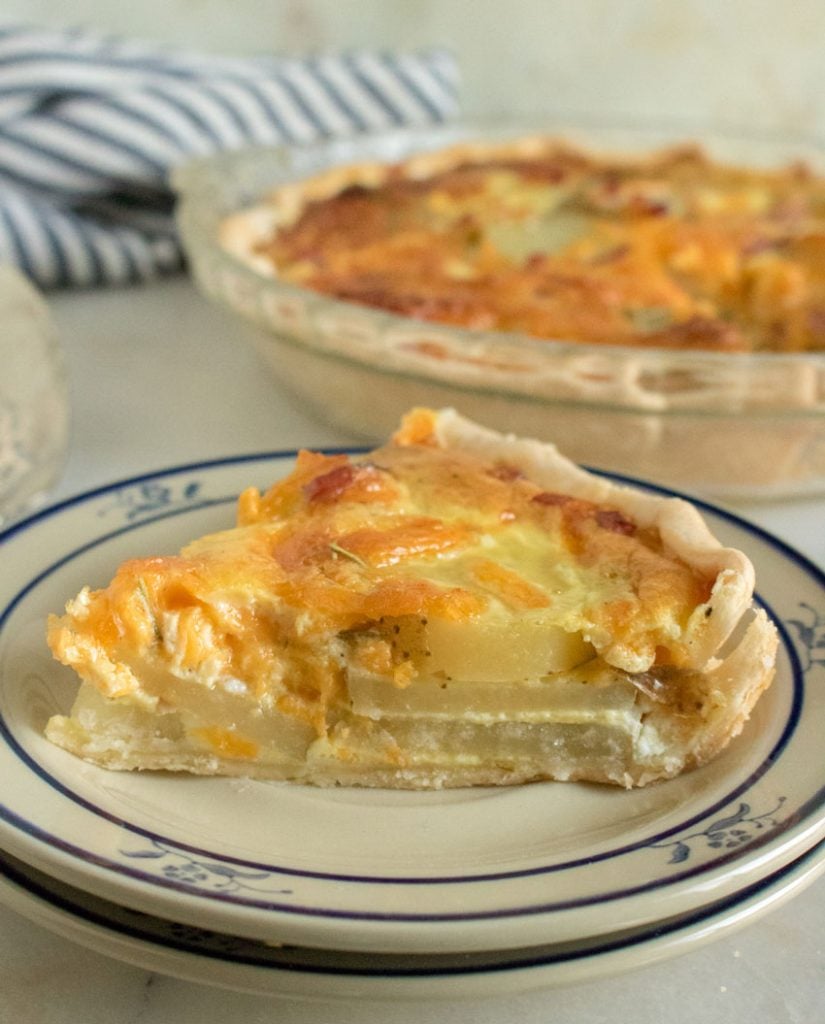 Quiche is pretty much the food of brunch gatherings and it's perfect for any occasion where you need to feed a crowd early in the day. Truth be told though, you could definitely serve this cheesy ham and potato quiche with a salad for dinner any day of the week. Pretty sure no one would complain.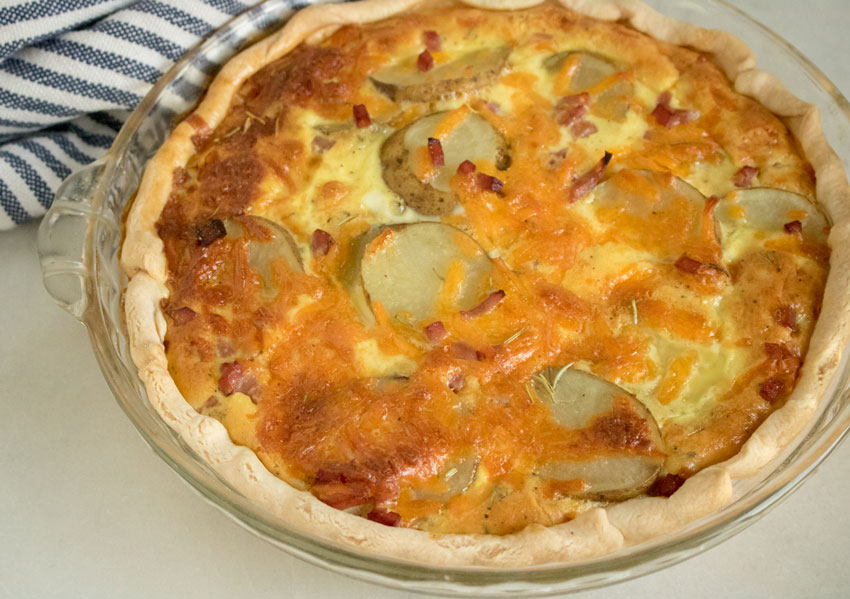 And for good reason. It's full of so much rich flavor from the custard like eggs and so much salty goodness from the ham. Plus, the sliced potatoes give it extra heartiness. And the homemade pie crust is buttery perfection that compliments the filling so nicely.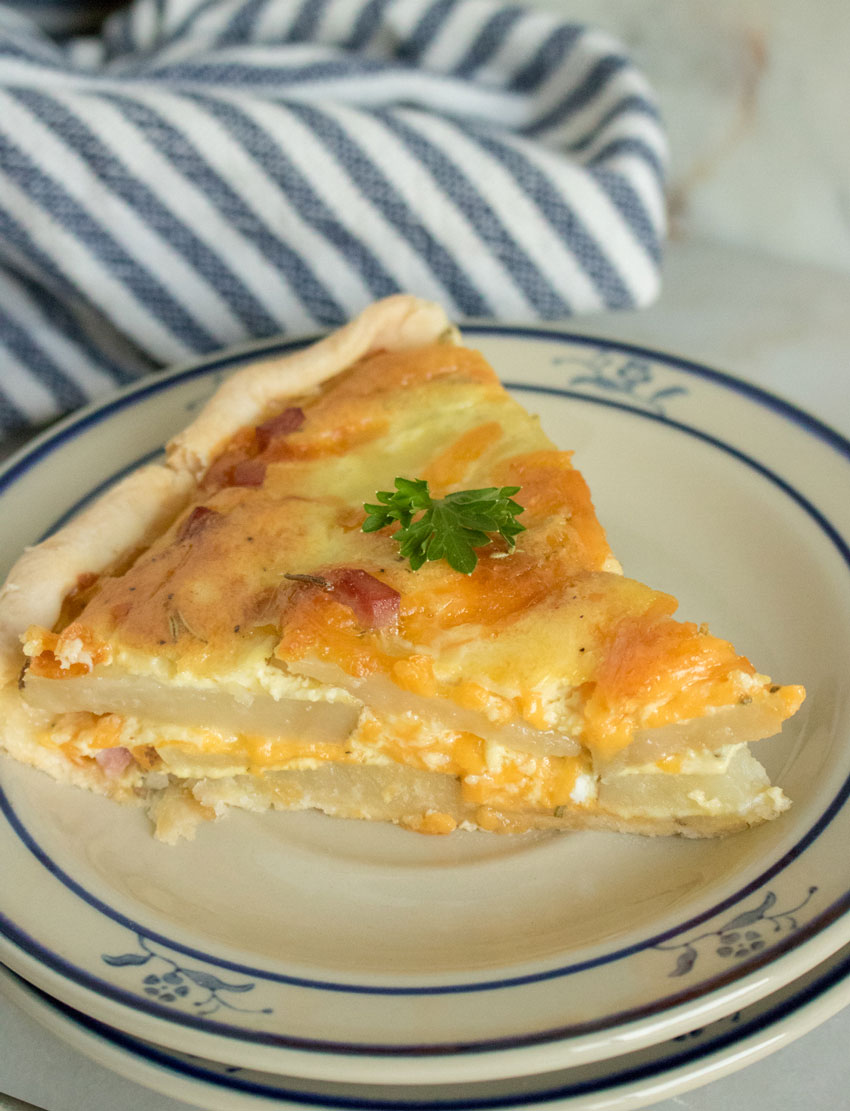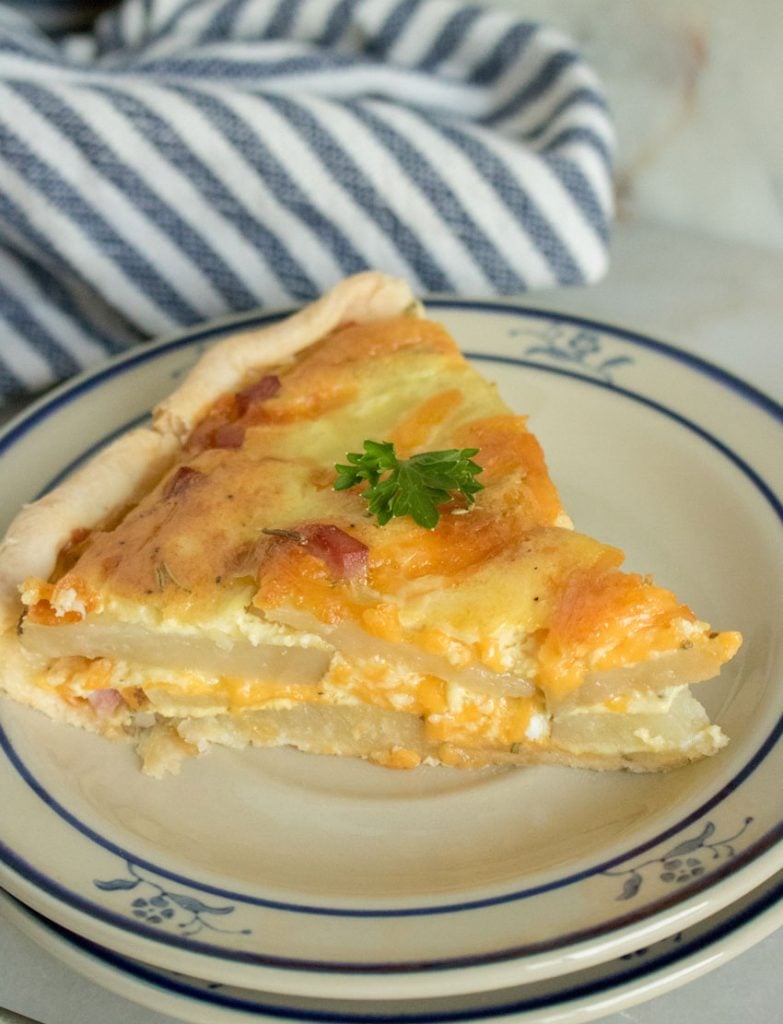 I can't take complete credit for this combination of flavors though. My cheesy ham and potato quiche is a play on the classic quiche lorraine. Quiche lorraine is a French quiche with lardons, Swiss cheese, and onions in the egg filling.
Lardons are essentially bacon that you render the fat from to cook other ingredients in. Quiche lorraine is decadent and feels so fancy. Perhaps because it's French. In my busy kitchen, I don't always have time for that. No matter how good fancy may sound.
In my cheesy ham and potato quiche, I use the pork and cheese flavor combination from a quiche lorraine but instead of bacon I am using ham. Because I'm using ham instead of bacon, it cuts the prep time of this quiche recipe down as there is no need to cook the ham before making the filling.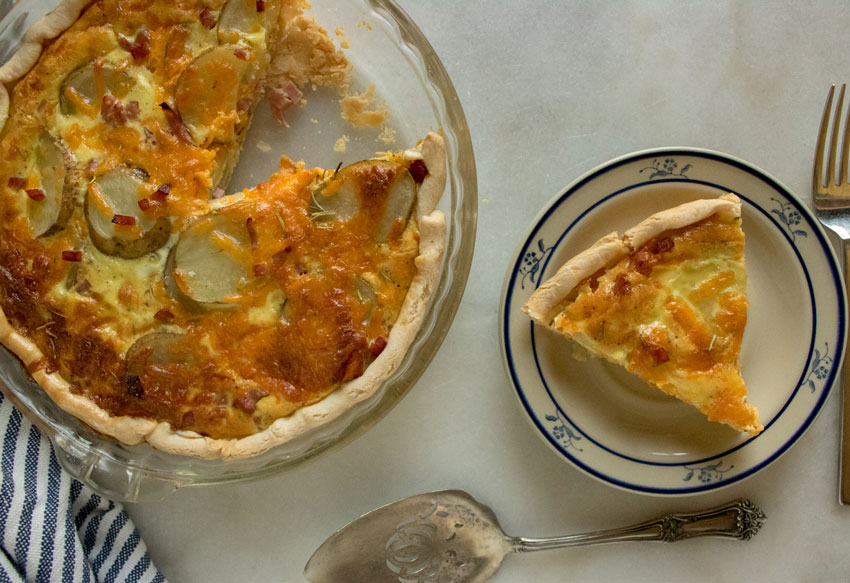 In fact, because I've saved a step in the prep time it feels like no trouble whatsoever to put together the homemade pie crust. Plus, rather than doing that entirely by hand, I shortcut it even more by using my food processor.
To make a pie crust in the food processor, I add the dry ingredients to the food processor and pulse. When the ingredients are combined, I add small pieces of cut up, cold butter into the food processor and pulse it again until the butter is no larger than a pea. Then I add in the ice water little by little and continue pulsing until the dough comes together. Definitely make sure you are using ice water- not room temperature or even cool water.
The ice water keeps the butter cold and ensures it won't melt before you bake it. This is super important if you want a tender flaky crust especially if you make the crust in the food processor. The friction from the food processor tends to create a bit of heat that can melt the butter. Also, you want to make sure you don't skip chilling your crust in the fridge for the same reason.
When the cold crust with its pockets of unmelted butter go into the oven, the butter will release steam that creates little air pockets in the pie crust as it cooks. After you have chilled the pie crust, roll out the pie crust and line a pie dish with one of the rolled crusts.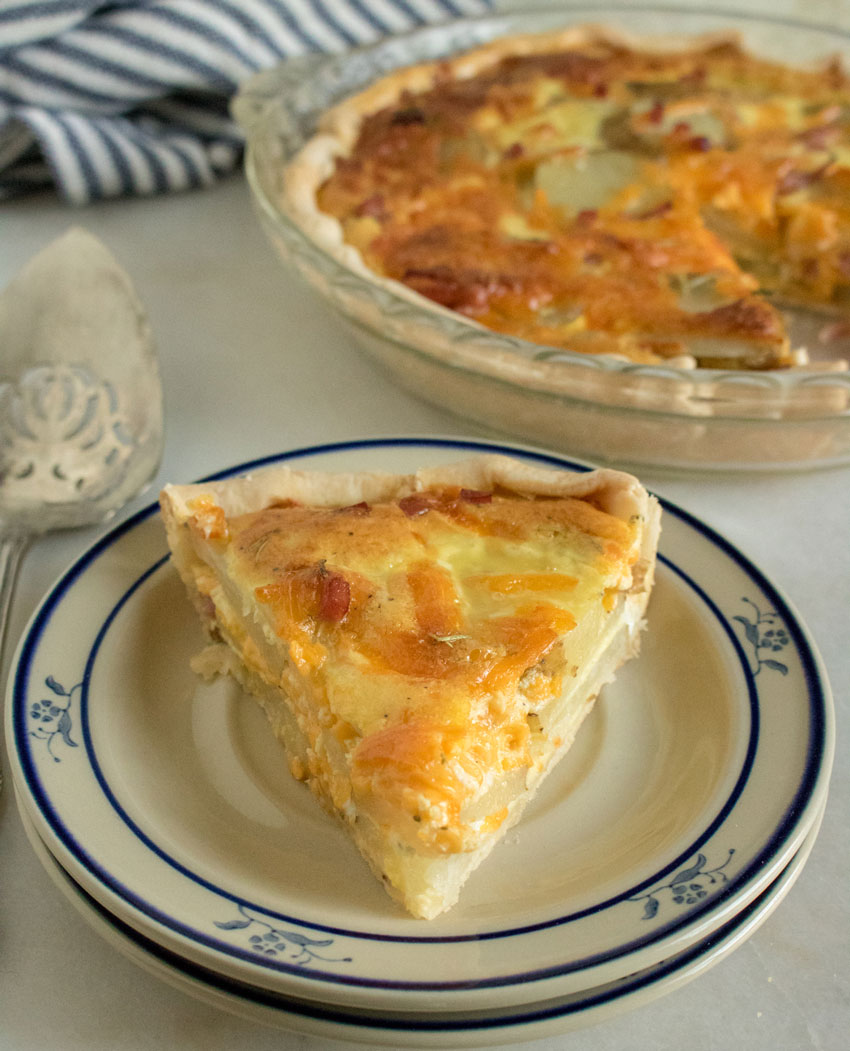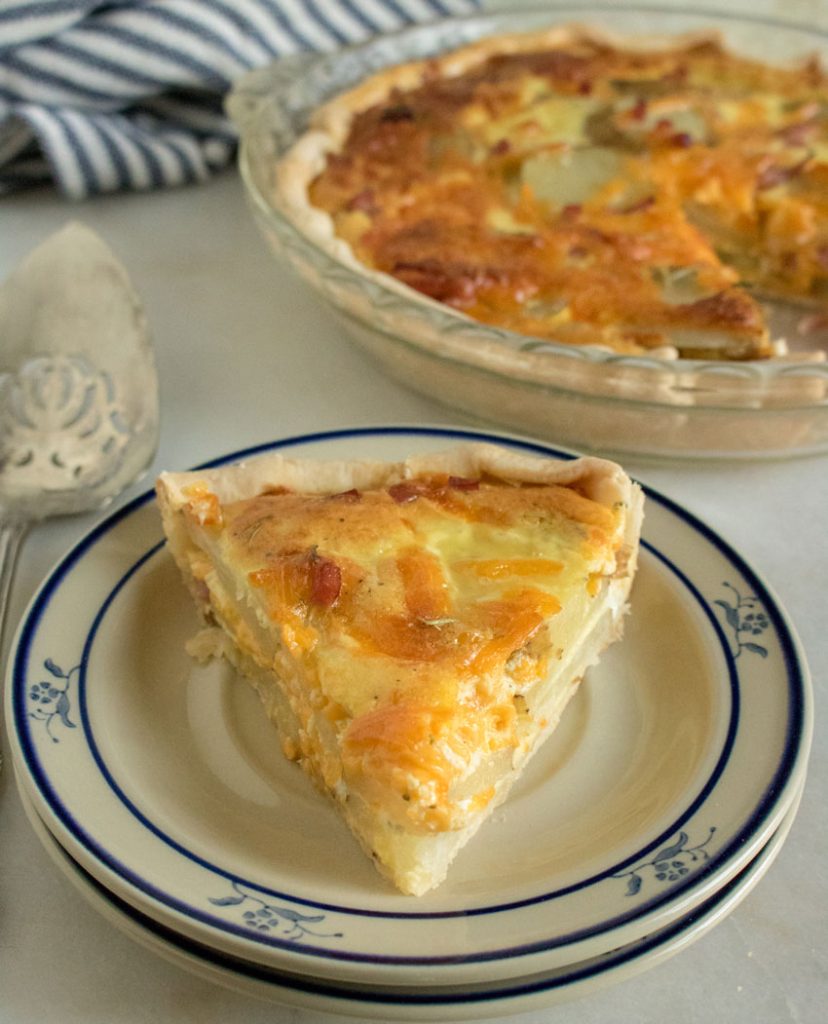 Now you're ready to fill your pie crust. Start by lining the crust with sliced russet potatoes and then cover them with ham and cheese. After that, you can whisk together eggs, heavy cream, rosemary, and salt pepper in a bowl. Pour the egg mixture over the ham, potatoes, and cheese. Then bake it at 350 for 45-50 minutes.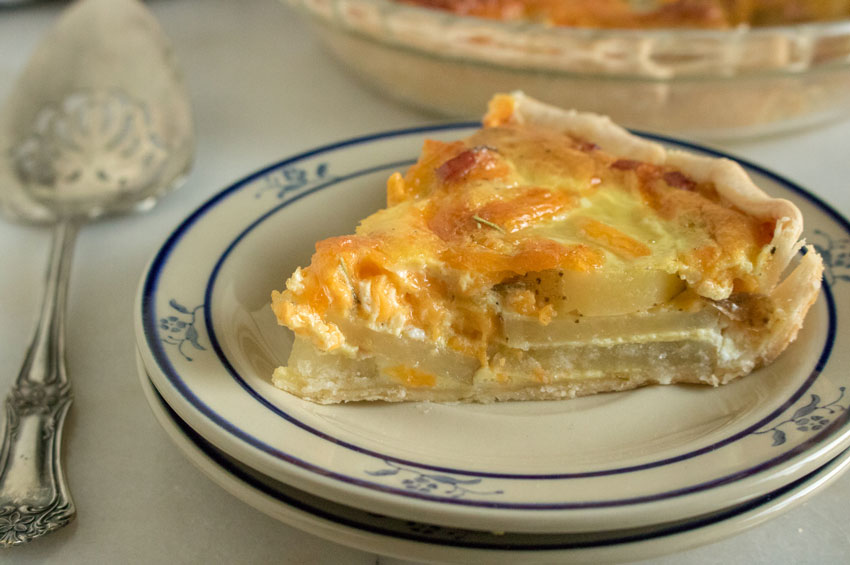 Serve and enjoy this delicious cheesy ham and potato quiche as brunch, lunch, or dinner. Pick your meal, you can't go wrong whatever you choose with this dish!
Here's Several Other Yummy Quiche Ideas: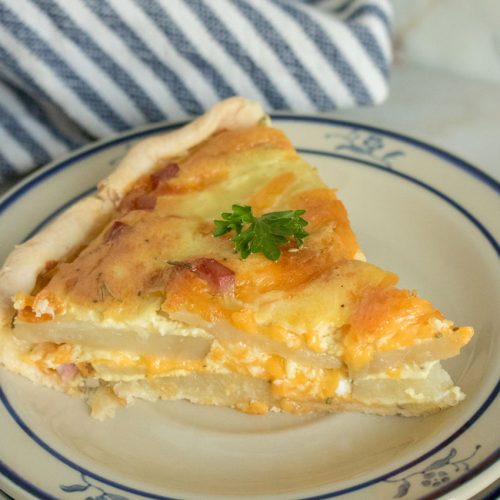 Cheesy Ham and Potato Quiche
An easy, cheesy brunch staple- this quiche features a flaky homemade pie crust and is stuffed full of tender sliced potatoes and chunks of chopped ham in a creamy egg filling
Print
Pin
Rate
Ingredients
For The Crust (makes enough for 2 quiches):
2 ½

cups

all-purpose flour

plus extra for rolling

1

cup

unsalted butter

1

teaspoon

salt

1

teaspoon

sugar

6-8

tablespoons

ice water
For The Filling:
3

eggs

1/4

cup

heavy cream

1/3

cup

milk

¼

teaspoon

salt

¼

teaspoon

pepper

½

teaspoon

rosemary

3

medium Russet potatoes

washed sliced with skins on

½

cup

chopped ham

1

cup

shredded cheddar cheese
Instructions
To make the crust, pulse flour, sugar and salt in a food processor and pulse to mix together.

Add in the butter, cut into small chunks, and pulse until the butter is no larger than pea size. Add water in a little at a time and pulse.

Remove the dough from the food processor and knead together, forming two 4-5 inch disc shape with the dough. Pat dough out into two 4-5 inch circles.

Wrap each piece of dough in plastic wrap and refrigerate for an hour or overnight.

When you're ready to make the quiche, preheat oven to 350.

Roll out one of the pie crusts. Line pie dish with one of the pie crusts.

Add potato slices to the pie dish. Cover with ham and cheese.

Mix the eggs, heavy cream, milk, rosemary, salt and pepper. Pour over sliced potatoes and cheese.

Bake 45-50 minutes.