This delicious dessert berry recipe is perfect for almost any occasion. Cheesecake stuffed strawberries are your favorite dessert in petite, finger food form. Get a little bit of dessert on the dessert table without much extra effort. It's just the thing to serve when you don't want to hire a planner- but want the same catered quality.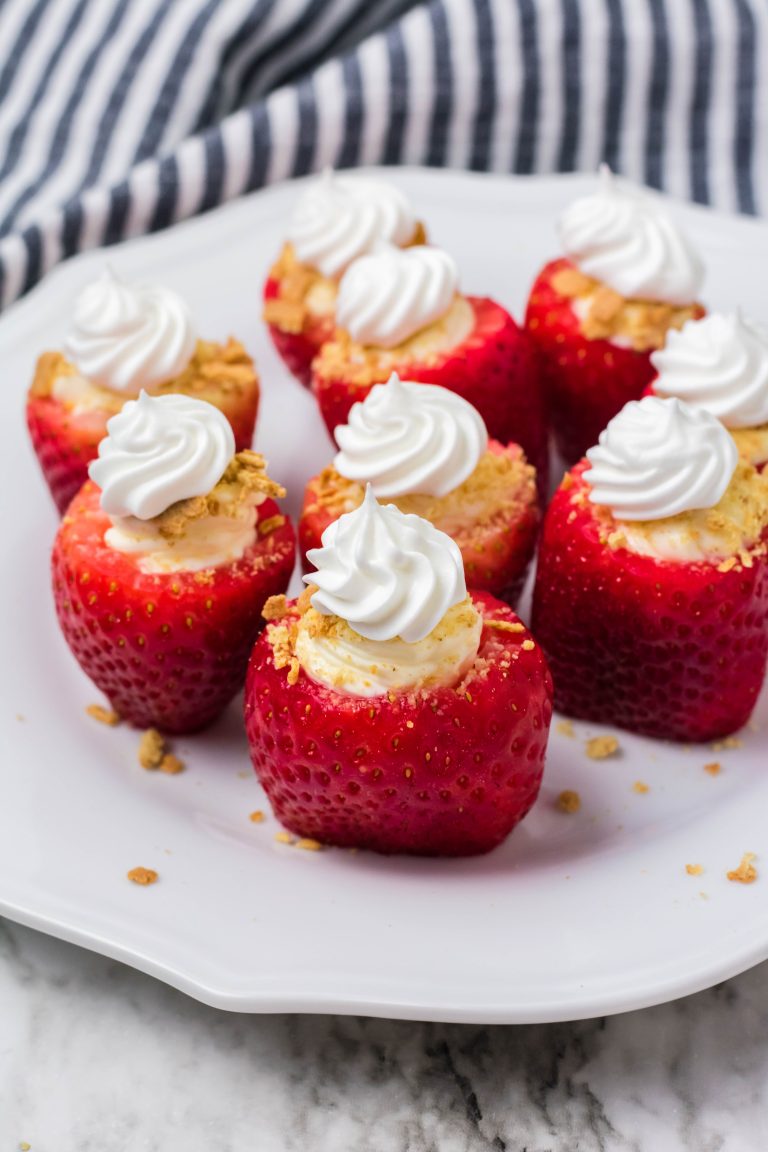 I love cheesecake. I mean LOVE. I make it all the time. For everyone. For everything. For anything.
I've been making cheesecake since I was 9 years old.
Since I was a teenager it has been my go-to special occasion dessert and I've experimented with every kind of topping possible, including my favorites: peaches, cherries, and strawberries.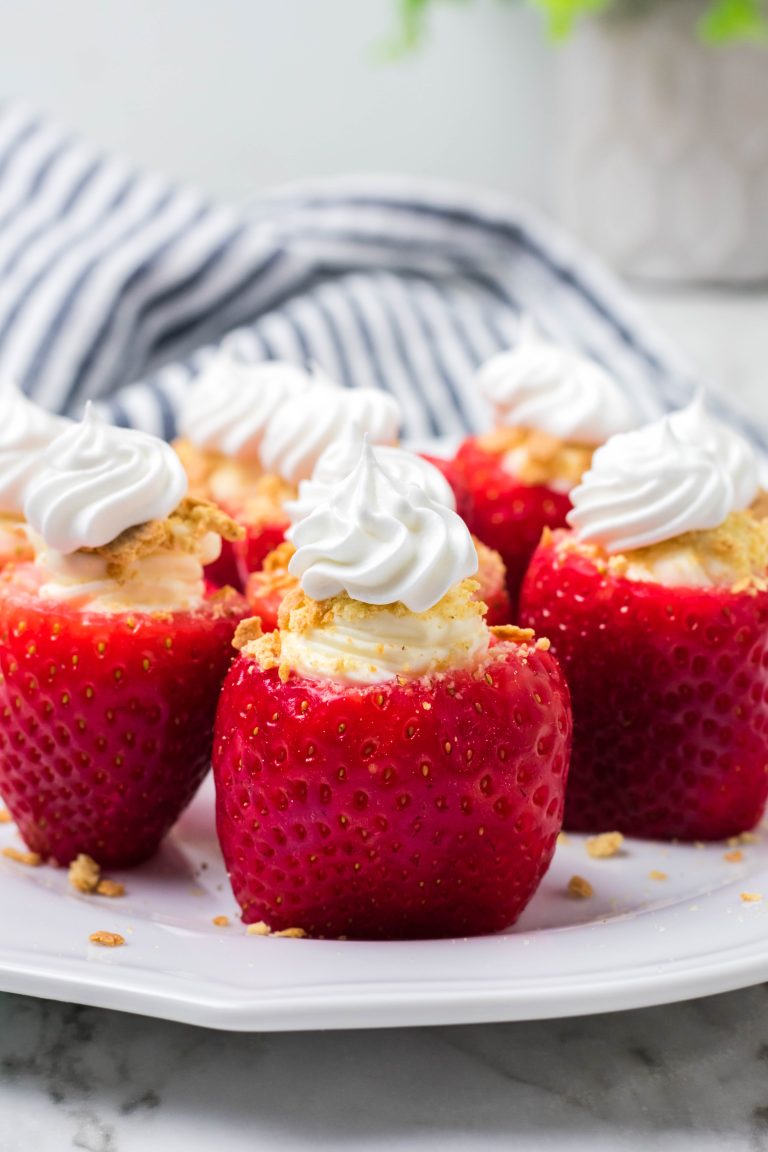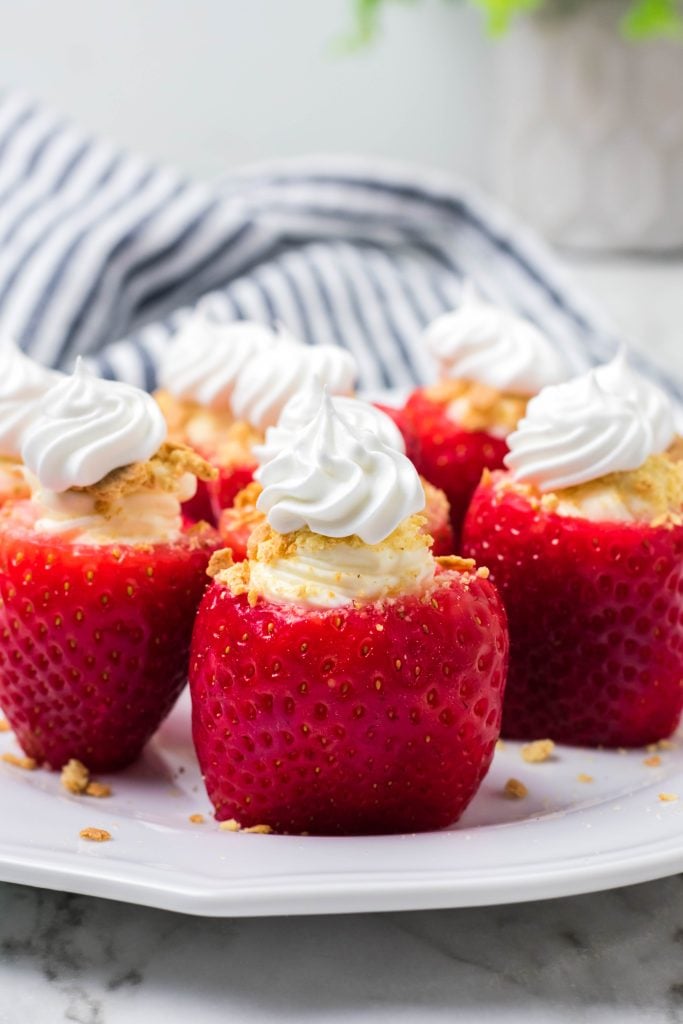 However, fundamentally I always make it the same way, using the same methods: a NY style cheesecake batter poured into a delicious buttery graham cracker crust inside my trusty spring-form pan and finally, topped with whatever fruit I am craving.
When I came across a sweet new twist on an old favorite of mine, I knew I had to try this.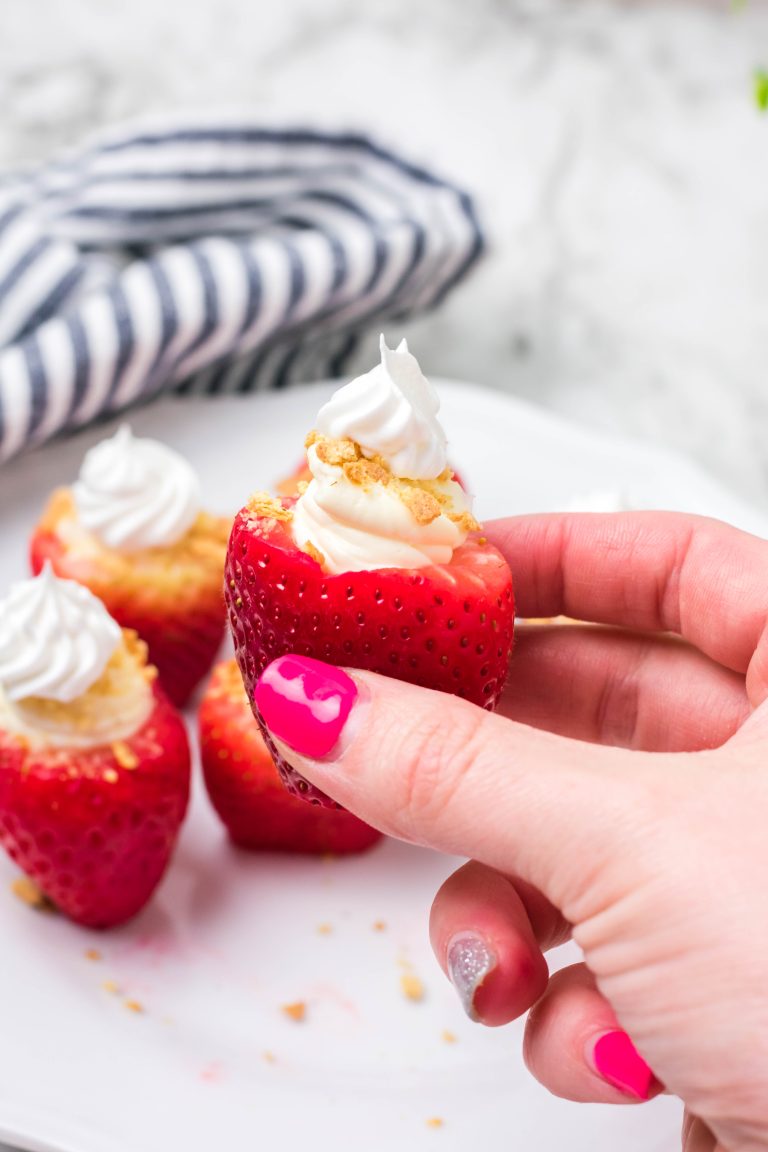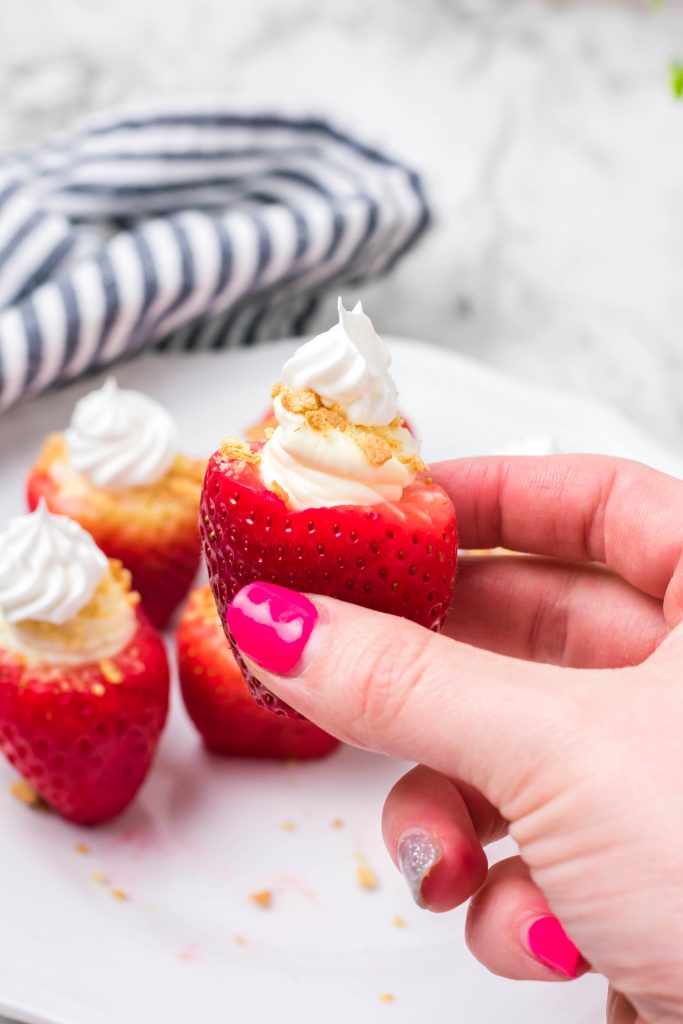 I served these petite 'cheesecakes' at a family birthday party and they were gobbled up almost as soon as I had set them out.
Everyone loved them! The sprinkle of crushed graham cracker made them.
With a perfect balance between rich, creamy cheesecake and the sweet fruity strawberries these are a must try for both cheesecake lovers and non-cheesecake lovers alike.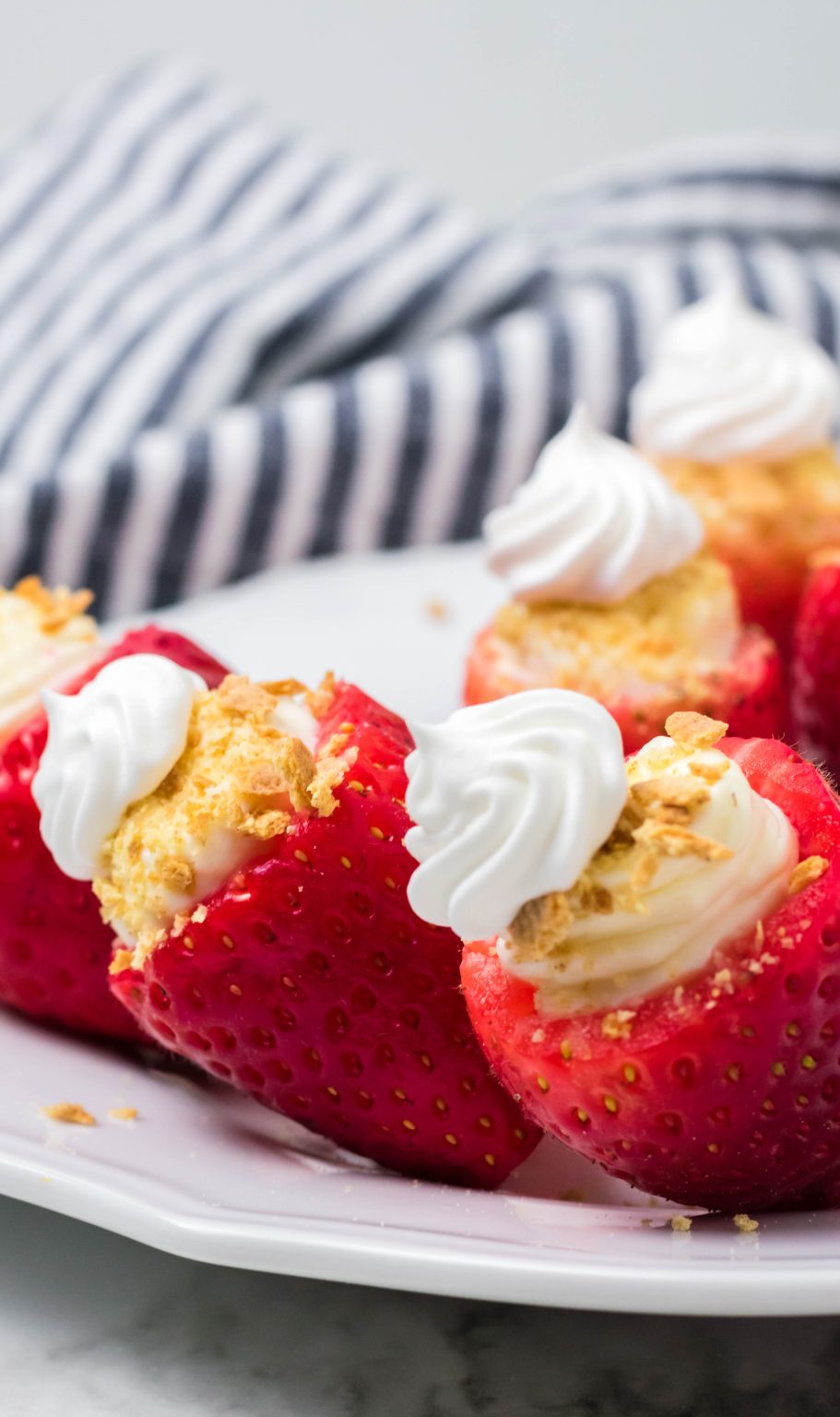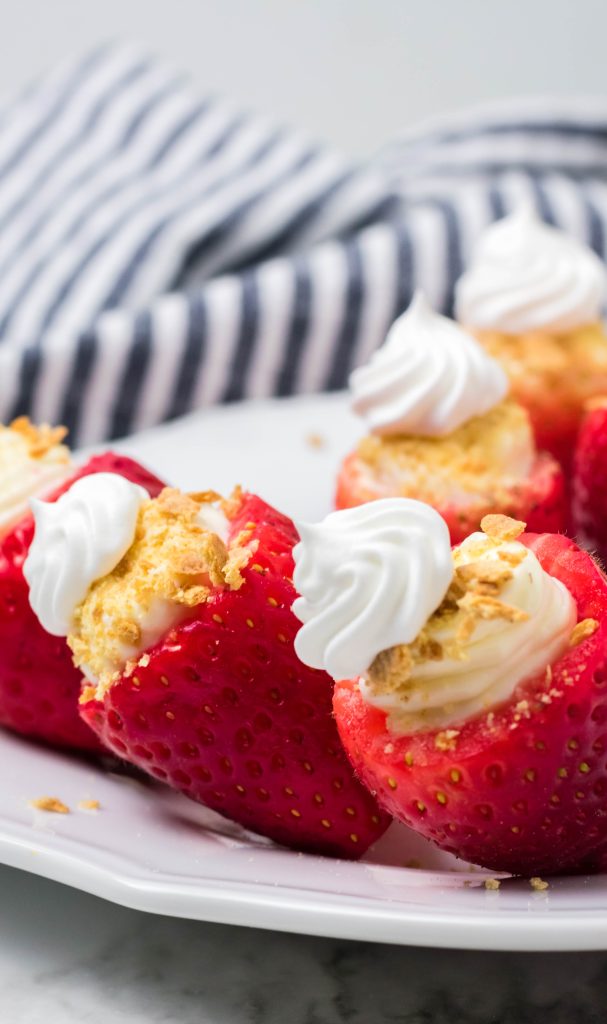 Stuffed Strawberries- Start With The Berry!
While you can't really go wrong with this recipe as long as the berries aren't rotten or anything, there are plenty of tips to picking the best strawberries from the grocery store!
Local is best! Shipped in berries take longer to ripen and look good on shelves meaning they're picked before they're ripe. That results in less flavor overall.
Buy In Season. If you can, always plan your berry recipes around the season. Off season berries are good, but in season will always be best.
Go Red! Color is key here. Avoid any berries with white around the stem or anywhere else on the berry. Again, that means it wasn't picked at the peak.
Shape Doesn't Matter! This is nature and nothing looks perfect, that's ok and don't get hung up on finding the perfect strawberry.
Size Does Matter! But probably not how you'd think. The smaller the berry the riper it tends to be. So just because we're stuffing them, don't necessarily just go for the jumbo sized fruit. The larger the berries, the more bitter they can actually be.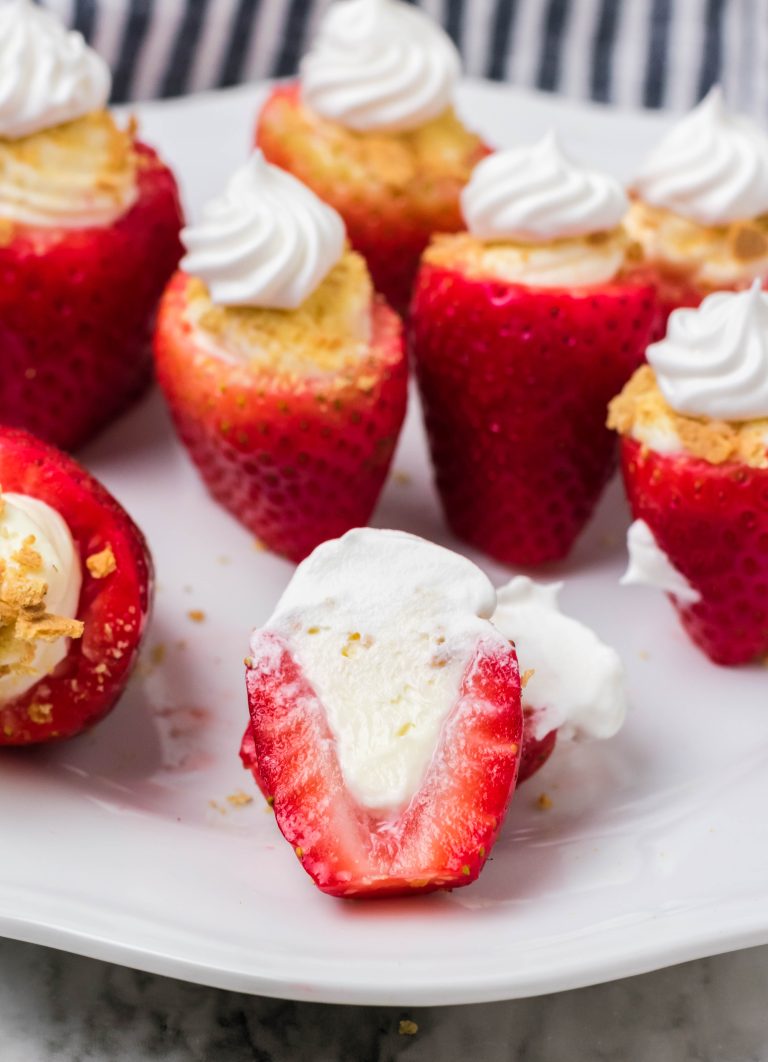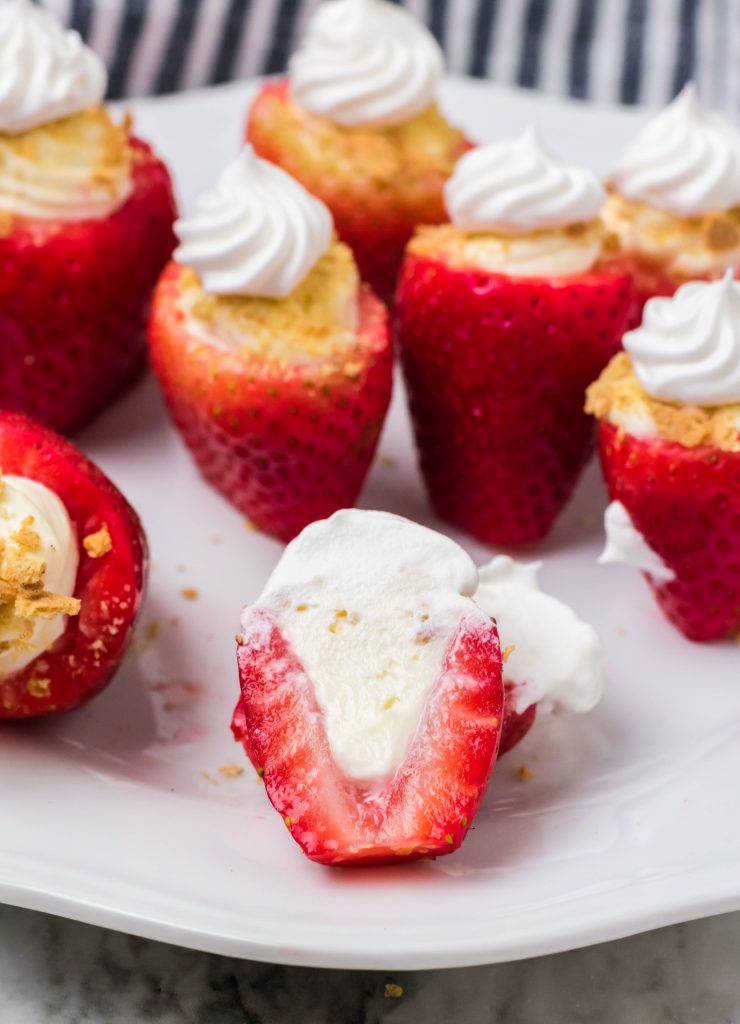 The first step to making this recipe is to prep the berries. Obviously they need to be washed and cleaned. Once washed, carefully use a pairing knife to cut around the hull.
The hull, also called a 'calyx', is the root around the stem and leafy top of the bright red berry. Carefully cut that away, popping it off like a top.
Using the same knife, gently carve out a nice hole in the berry. Do this for all the prepared strawberries.
You want to create a cavity to hold the stuffing, but not so thin that it would or will seep through. The cavity doesn't have to be huge either. The cheesecake filling is sweet, so even just a little bit pairs perfectly with the strawberries.
Stuffed Strawberries- Making The Cheesecake Filling
The filling is actually very simple to make, and whips up in a breeze.
Cream cheese, powdered sugar, and a bit of vanilla extract are added to a large mixing bowl. Using a hand mixer, whip them together until the mix is light, airy, and creamy.
You can do this in a stand mixer, but sometimes I find the hand mixer (old school though it may still be called) the easier method with less clean up for this particular type of recipe.
All that's really important is that the cream cheese & powdered sugar are whipped together until smooth. So that the filling isn't heavy, but fluffy.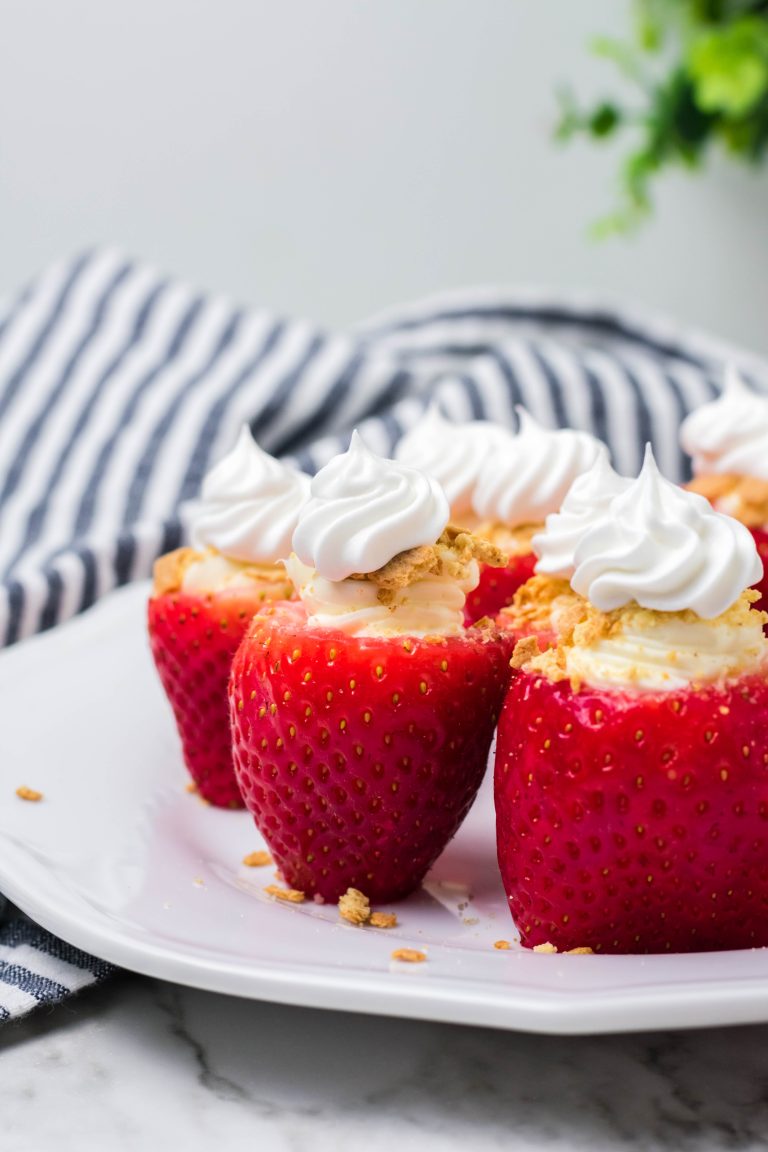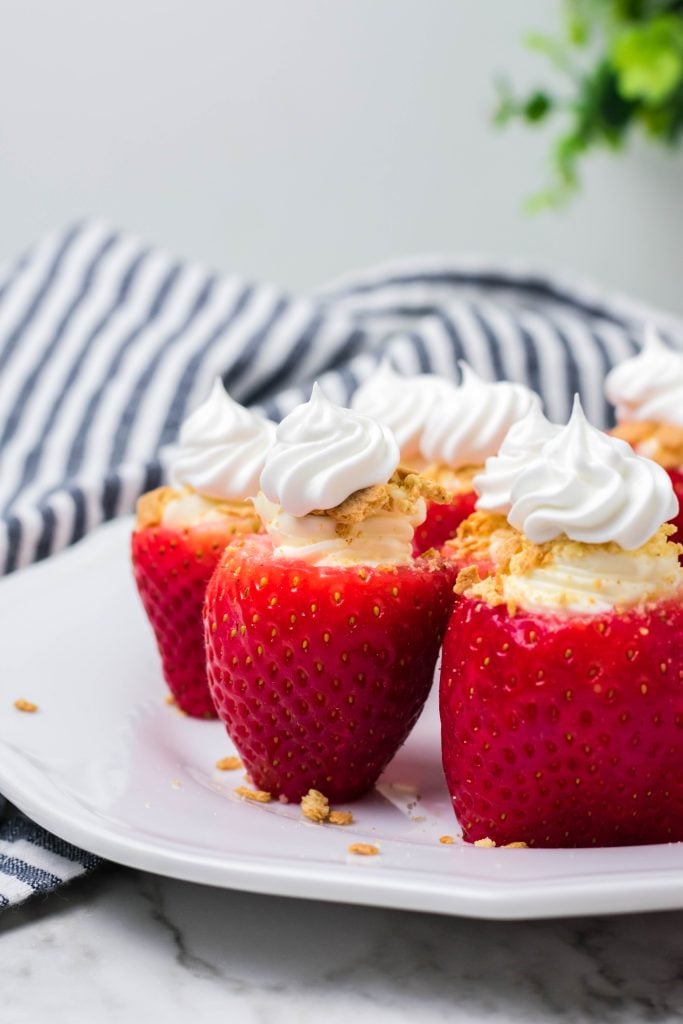 How To Prepare The Strawberries- Stuffing & Garnishing
Ok, so once the cheesecake filling is mixed up, it's super simple to go from there. You've got two filling options essentially. You can choose to scoop the filling in with a spoon, or pipe it in with a frosting bag.
Both will yield equally yummy results, but if presentation is key then you're probably going to want to pipe the filling in.
Fill the strawberries with the cream cheese mixture, just until it reaches the rim. Sprinkle graham cracker crumbs evenly out over top. Then add a dollop of whipped cream.
You can serve them as is, on their sides on a serving plate. Or for a different presentation, cut a tiny pit off the bottom of each strawberry so it sits up straight on a serving plate.
These cheesecake stuffed strawberries would make a perfect thing to serve for Valentine's Day, for Mother's Day, or just for an every day special occasion- like an anniversary or some other holiday like a birthday or telling someone special they're special.
Other Tasty Strawberry Treats To Try:
If you've tried these CHEESECAKE STUFFED STRAWBERRIES, or any other recipe on the site, let me know in the comment section how it turned out, we love hearing from our readers! You can also follow along with me on PINTEREST, FACEBOOK, and INSTAGRAM to see more amazing recipes and whatever else we've got going on!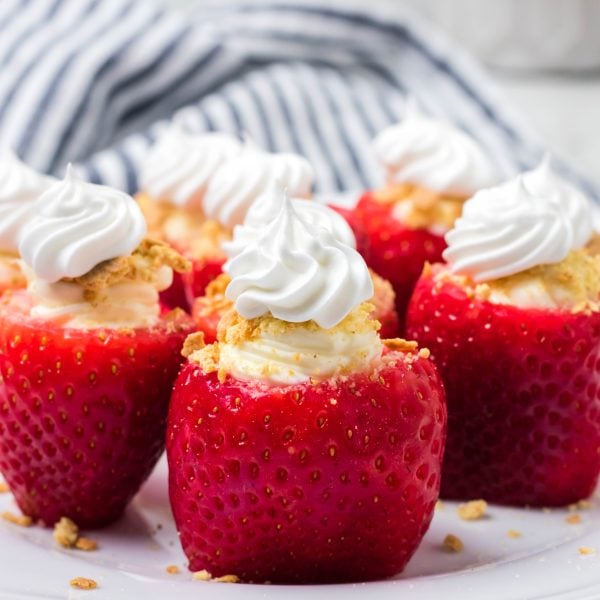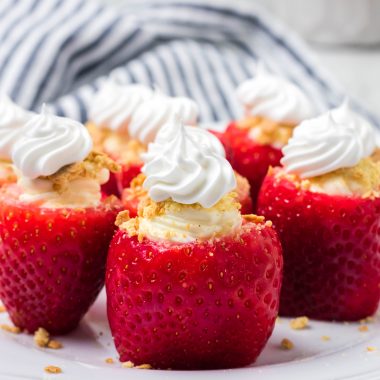 Cheesecake Stuffed Strawberries
Sweet hulled strawberries are filled with a creamy cheesecake filling. Topped with a graham cracker crumb sprinkle and a dollop of whipped cream- they're a deliciously complete dessert in every bite. They're perfect for serving guests, but also for sharing with a special someone!
Print
Pin
Rate
Ingredients
1

lb

large strawberries

8

oz.

cream cheese

softened

4

tbsp

powdered sugar

1

tsp

vanilla extract

whipped cream

graham cracker crumbs
Instructions
Rinse the strawberries and, using a paring knife, cut around the top of the strawberry.

Remove the top of the strawberry and clean out the inside so that you're left with a nice little hole in the center of the strawberry.

Prep all the strawberries and then set them aside.

In a mixing bowl beat the cream cheese, powdered sugar, and vanilla together until creamy and evenly combined.

Put cream cheese mixture into a piping bag or a ziplock back with one of the corners snipped off.

Fill the strawberries with the cream cheese mixture and arrange in a single layer on a plate or serving tray.Pipe on a little dollop of whipped cream & sprinkle generously with graham cracker crumbs.

Serve immediately & enjoy!
Nutrition
Calories:
176
kcal
|
Carbohydrates:
13
g
|
Protein:
3
g
|
Fat:
13
g
|
Saturated Fat:
7
g
|
Cholesterol:
42
mg
|
Sodium:
122
mg
|
Potassium:
168
mg
|
Fiber:
2
g
|
Sugar:
10
g
|
Vitamin A:
517
IU
|
Vitamin C:
44
mg
|
Calcium:
49
mg
|
Iron:
1
mg
pictured & post updated 1/14/2020