This yummy Tomato Bisque with Cheddar Bay Dumplings is the soup lovers' dream come true. A rich, creamy tomato bisque is studded with buttery Cheddar Bay style dumplings for a new twist on on a couple classics.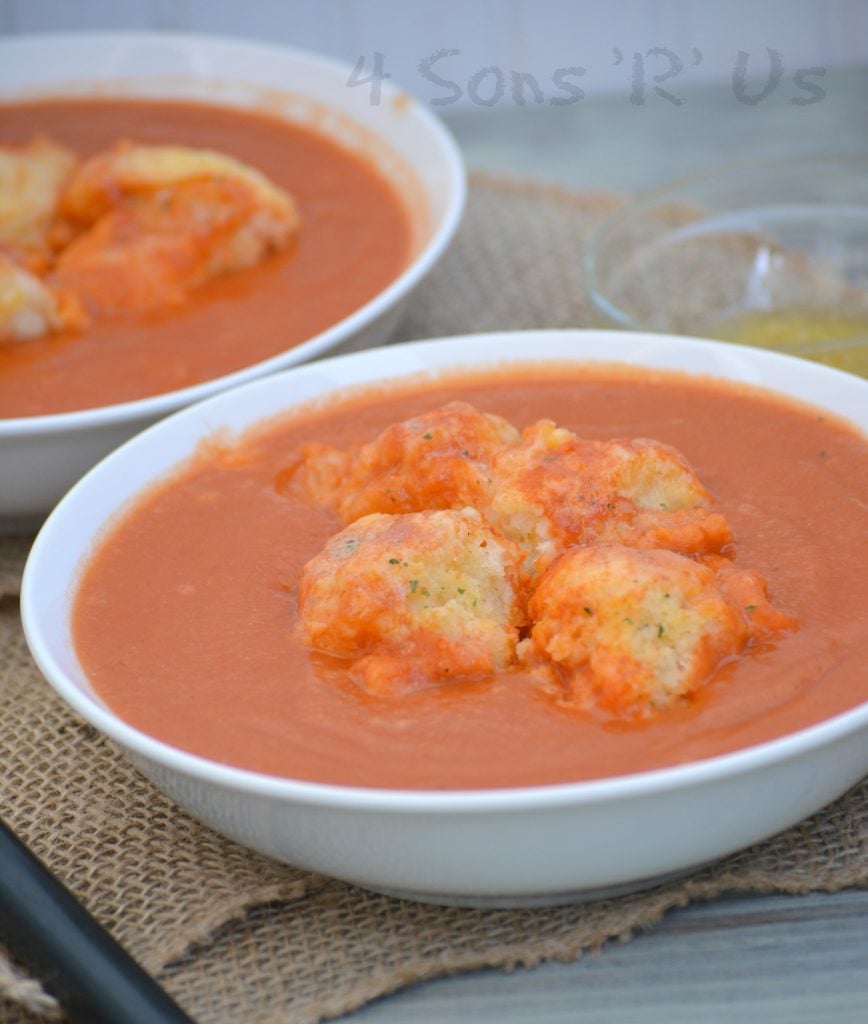 One of the universal laws I've found to be wholly true and always unavoidable is that if the kids get sick, Mom gets sick.
Every. Single. Time.
Guess who all had head colds, alternating between inflamed congested sinuses and dripping faucets for nostrils last week? All the kids. One came down, and the others all followed in quick succession.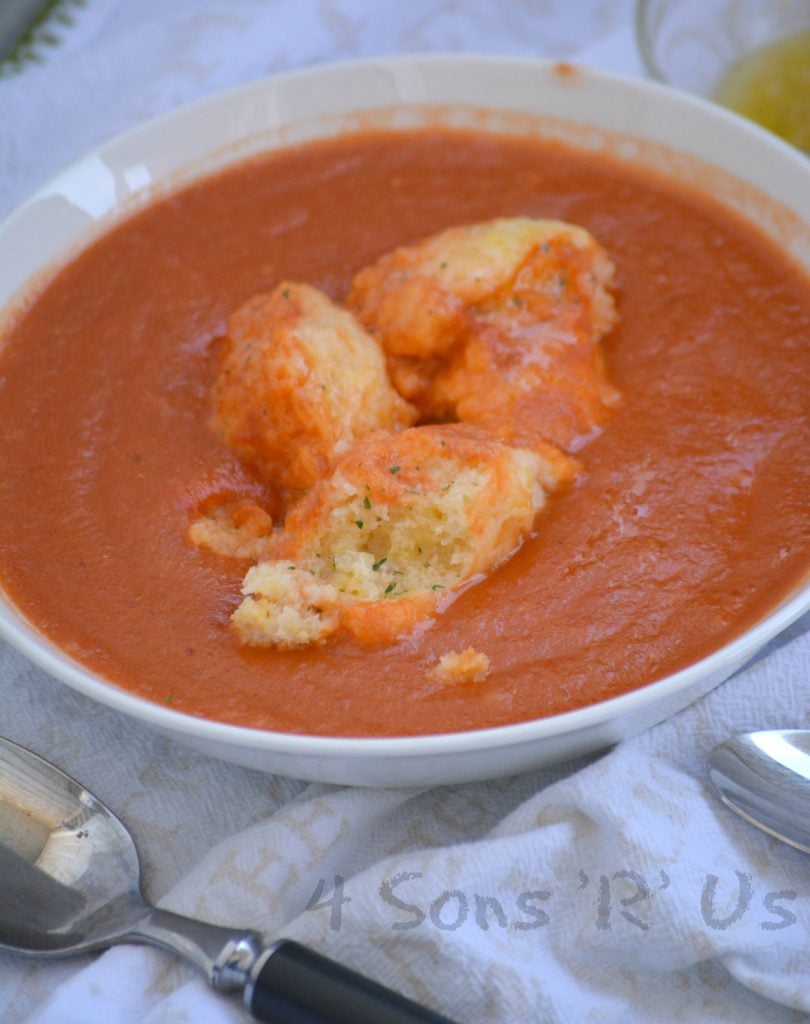 Guess who's now miserable while the kids are running circles around me and peppering me with questions, all while my sinuses feel like they might explode? This Mom.
Guess who wants to pop some Sudaphed and crawl under her covers and not return to the world of the living until the alarm clock goes off Monday morning? Also, this Mom.
But– the world keeps on turning and my kids' bellies will still be growling every three hours until bedtime.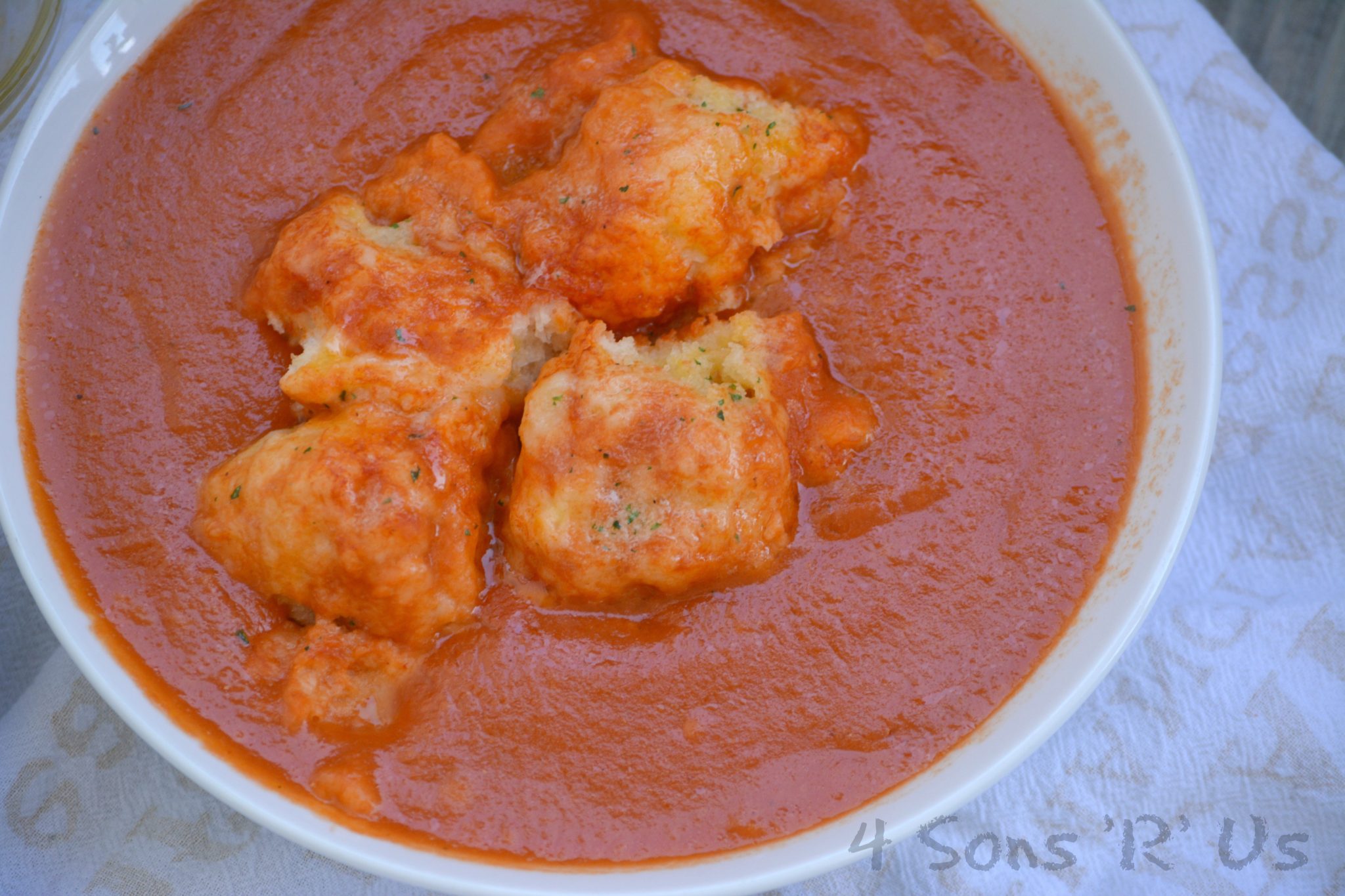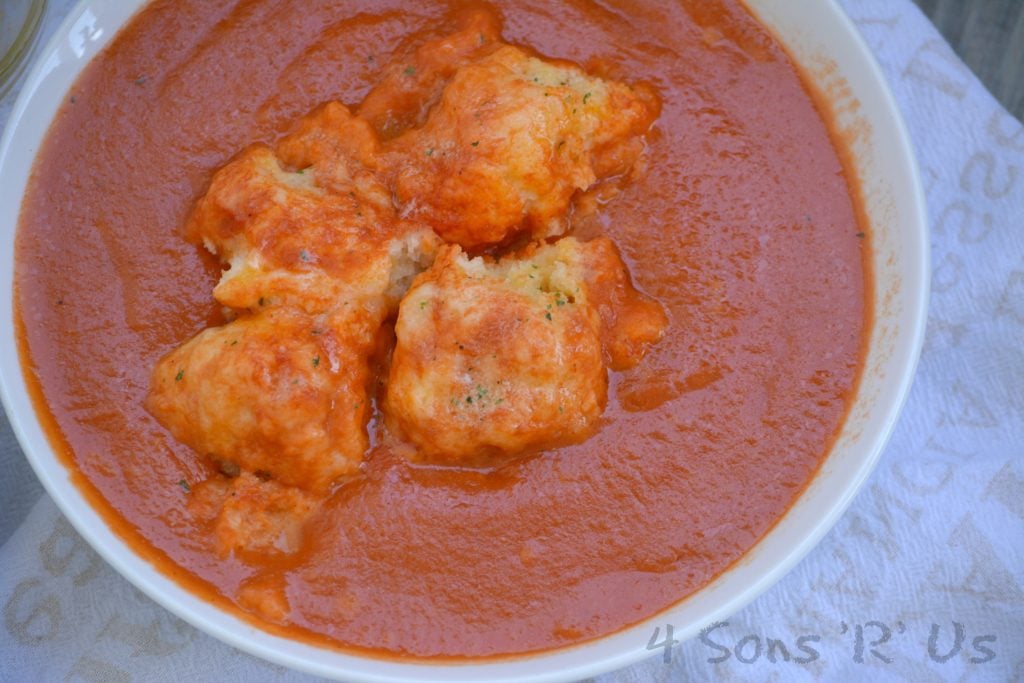 It's pretty much been soup week here. I love soup.
The fact that it's easy to whip up, and it's the only thing hot enough to clear me out long enough to actually taste something right now? Added perks.
We did the chicken noodle route the first day. Grandma's penicillin. And who am I to argue with tried and true old-school methods?
Another thing Grandma was known for serving up when the temps went down outside and up in the grandbabies? Good old, smooth tomato soup. Usually from a can.
And it was always the perfect thing.
So I opted to go the same route for myself. I figured if it didn't make me feel better right away, at least the warm memories would lift my spirits. Boy was I right, and then some.
The then some being that my husband refused to eat soup without some form of carb to accompany it, even if it means he has to make it himself.
That's how he ended up in the kitchen with a batch of Cheddar Bay biscuit mix ready to be put on a pan and baked.
Did I mention that I was also in the kitchen, and that I was sick? Sickness = major laziness y'all. And THAT is how I ended up plopping that dough right on into the soup in little dollops that fluffed up into Cheddar Bay dumplings— in all their buttery, cheesy glory.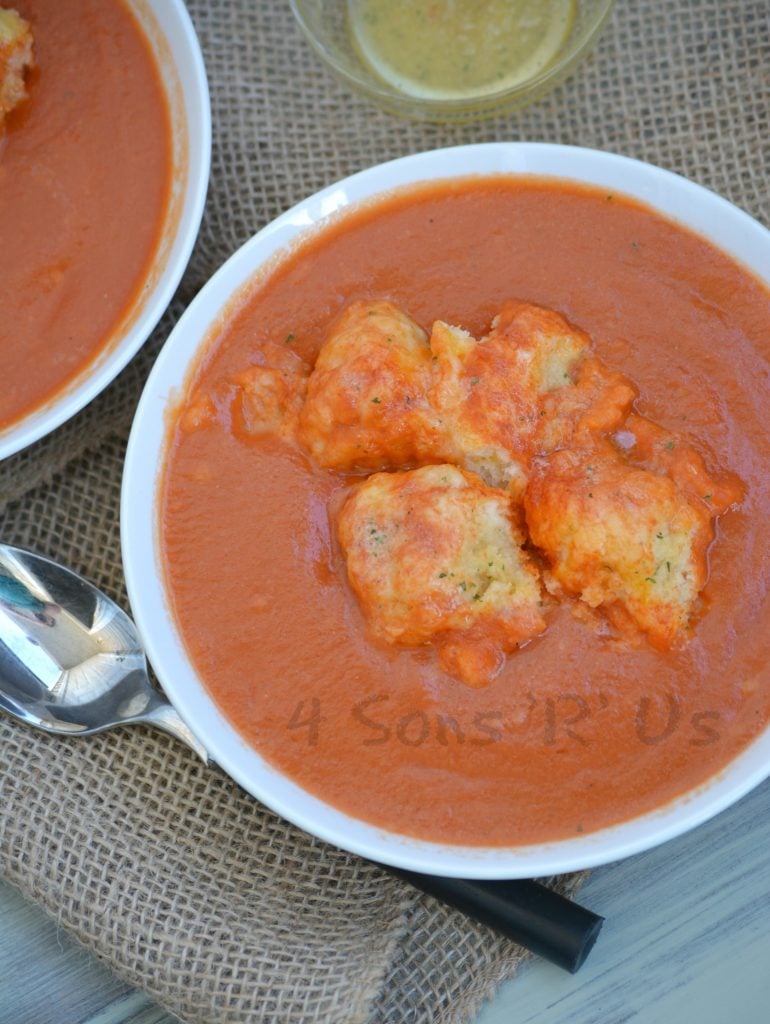 Tomato soup is super comforting, whether you're sick or just need something warm on a cold day or evening. Homemade tomato soup is surprisingly simple, but anything but bland.
This smooth Tomato Bisque with Cheddar Bay Dumplings delivers bright bold flavor in a smooth soup. The buttery Cheddar Bay dumplings are the real star of this show and the perfect addition to this new family favorite.
Sitting down to a bowl full of this will make anything seem better, even when you're under the weather.
If you've tried this TOMATO BISQUE WITH CHEDDAR BAY DUMPLINGS, or any other recipe on the site, let me know in the comment section how it turned out, we love hearing from our readers! You can also follow along with me on PINTEREST, FACEBOOK, and INSTAGRAM to see more amazing recipes and whatever else we've got going on!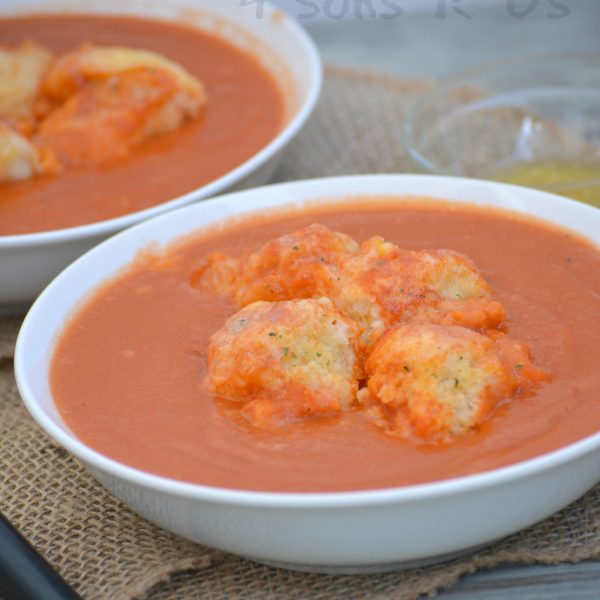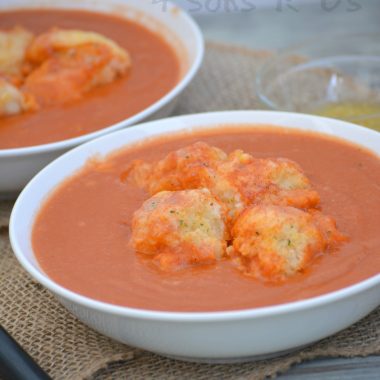 Tomato Bisque with Cheddar Bay Dumplings
A rich and smooth homemade tomato soup is topped with tasty Cheddar Bay-style dumplings for a match made in tasty heaven.
Print
Pin
Rate
Ingredients
For The Tomato Bisque
2

tbsp

butter

1

white onion

chopped

3

tbsp

flour

3

cups

chicken broth

3

14.5 oz cans diced tomatoes

1

tsp

sugar

¾

tsp

kosher salt

¼

tsp

black pepper
For The Cheddar Bay Dumplings
2

cups

all-purpose flour

1

tbsp

sugar

1

tbsp

baking powder

2

tsp

garlic powder

1/2

tsp

salt

1/4

tsp

cayenne pepper

optional

1

cup

buttermilk

1/2

cup

unsalted butter

melted

1 1/2

cups

shredded sharp cheddar cheese

2

tbsp

butter

1

tbsp

chopped

fresh parsley leaves

1

tsp

garlic powder
Instructions
To Make The Tomato Bisque
In a dutch oven, or other large soup pot, over medium heat melt the butter. Add the onion, stirring until cooked soft. Whisk in the flour and cook for about a minute to cook the flour 'taste' out.

In a separate bowl, stir together the broth and tomatoes. Stir the broth mixture in a little bit at a time until the mixtures completely smooth and all the broth's incorporated. Stir in the sugar, salt, and pepper and bring the mixture to a boil, and then immediately reduce the heat to a simmer. Put a lid on the pot and prepare the dumpling dough.
To Make The Cheddar Bay Dumplings
In a large bowl, combine the flour, sugar, baking powder, garlic powder, salt and cayenne pepper, if using.

In a separate small bowl, whisk together the buttermilk and the half cup of melted butter.

Pour the milk and butter mixture over the dry ingredients in the larger bowl and stir, using a rubber spatula, just until moist. Using the same spatula gently fold in the cheese.
To Finish
Remove the lid from the soup pot and reduce the heat to low. Use an immersion blender to puree the soup until it's completely smooth. Return the soup to a simmer.

Using a spoon, drop dollops of the dumpling dough into the simmering soup until it's all in the pot. Return the lid to the pot and continue cooking for 15-20 minutes. Insert a toothpick into the center of the largest dumpling and if it comes out clean, remove the pot from heat.

In a separate small pot, melt and stir together the butter, parsley, and garlic. Brush the mixture out over the dumplings in the pot.

Ladle the soup into bowls, making sure each bowl has several dumplings. Serve with the leftover butter herb mixture, for dipping- if desired.
Notes
If you don't have an immersion blender you can use a blender to puree the soup. Work in small batches so that the soup doesn't come out when turned on. Remember it will be hot so there will need to be an opening to allow steam to escape as you puree.
Adapted from Heather Likes Food
Nutrition
Calories:
824
kcal
|
Carbohydrates:
66
g
|
Protein:
22
g
|
Fat:
53
g
|
Saturated Fat:
32
g
|
Cholesterol:
142
mg
|
Sodium:
1808
mg
|
Potassium:
711
mg
|
Fiber:
3
g
|
Sugar:
9
g
|
Vitamin A:
1635
IU
|
Vitamin C:
14
mg
|
Calcium:
538
mg
|
Iron:
4
mg