A fun, spooky addition to any Halloween party, this 'Shrimp On The Brain' Cracker Spread is simply 'boo'-tiful. It looks just like a fresh, bloody brain, but it tastes like a creamy, flavorful shrimp dip that the whole family will love.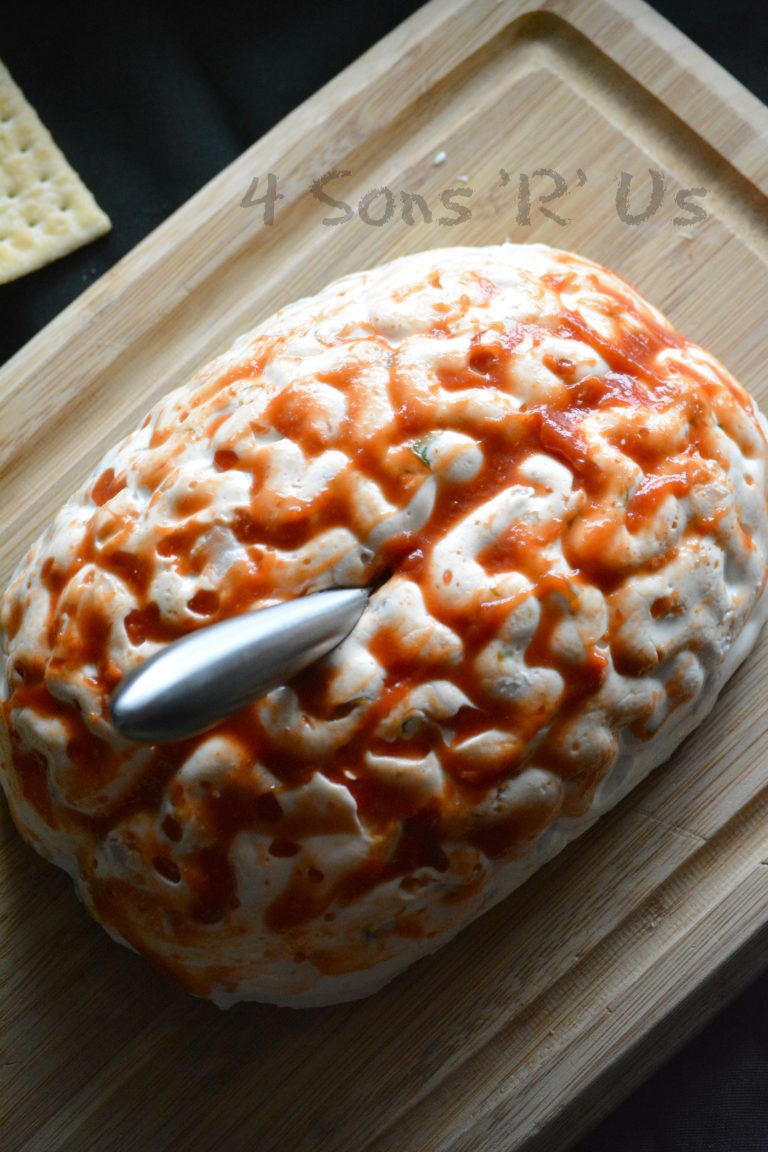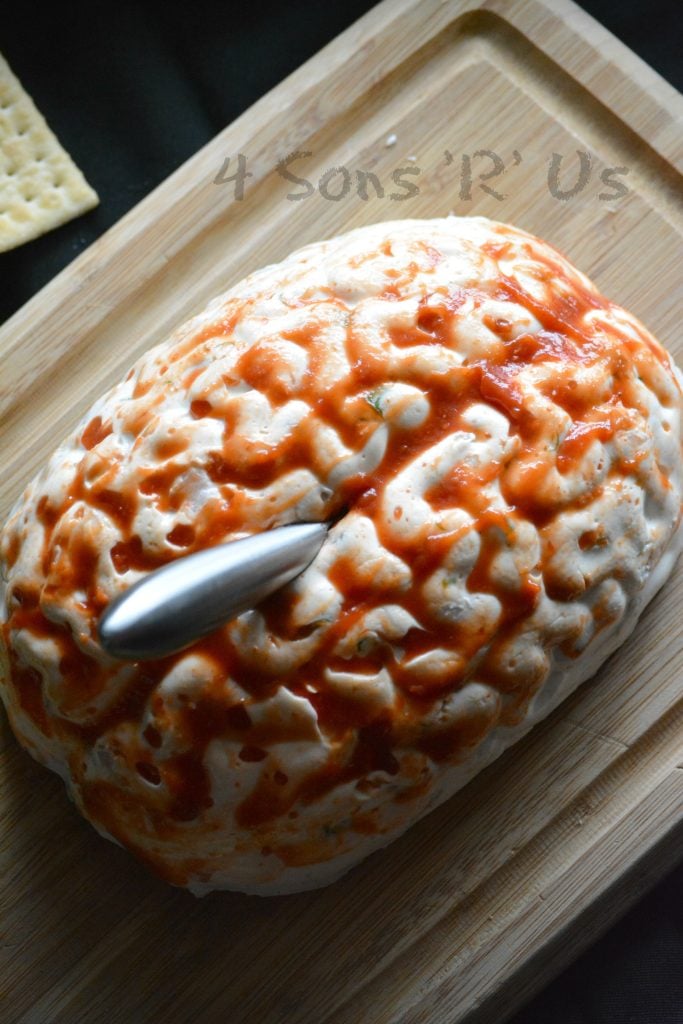 October is just a month away, and it included two of the hubs and I's favorite things.
Halloween, which is a whole family affair, and the premiere of Season 8 of The Walking Dead.
One for them, and one for us. It's an exciting month. What they both have in common?
Brains.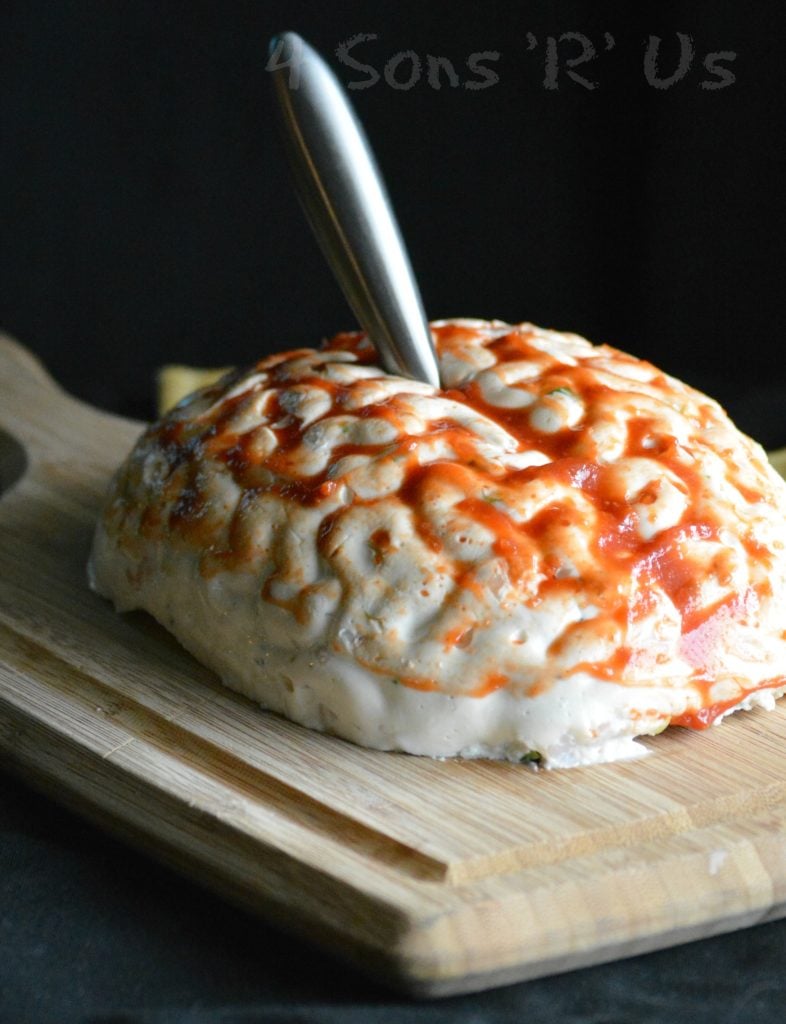 Let me say it again for ya, braaaaaiiiiiiiinnnnnsssssss.
I love making themed food. I like it a lot. Like to the point where my husband even knows, don't question Mom's Amazon orders close to any holiday. Just don't. Mostly because by themselves- well they can seem bizarre.
No amount of gesturing on my part, or explaining, can accurately paint the finished picture for them. They just end up looking at me confused, with a smirk that wonders if I've finally gone a wee bit bonkers.
Like I said, they've learned. Just let Mom do her thing. Roll with it. It will all make sense in the end.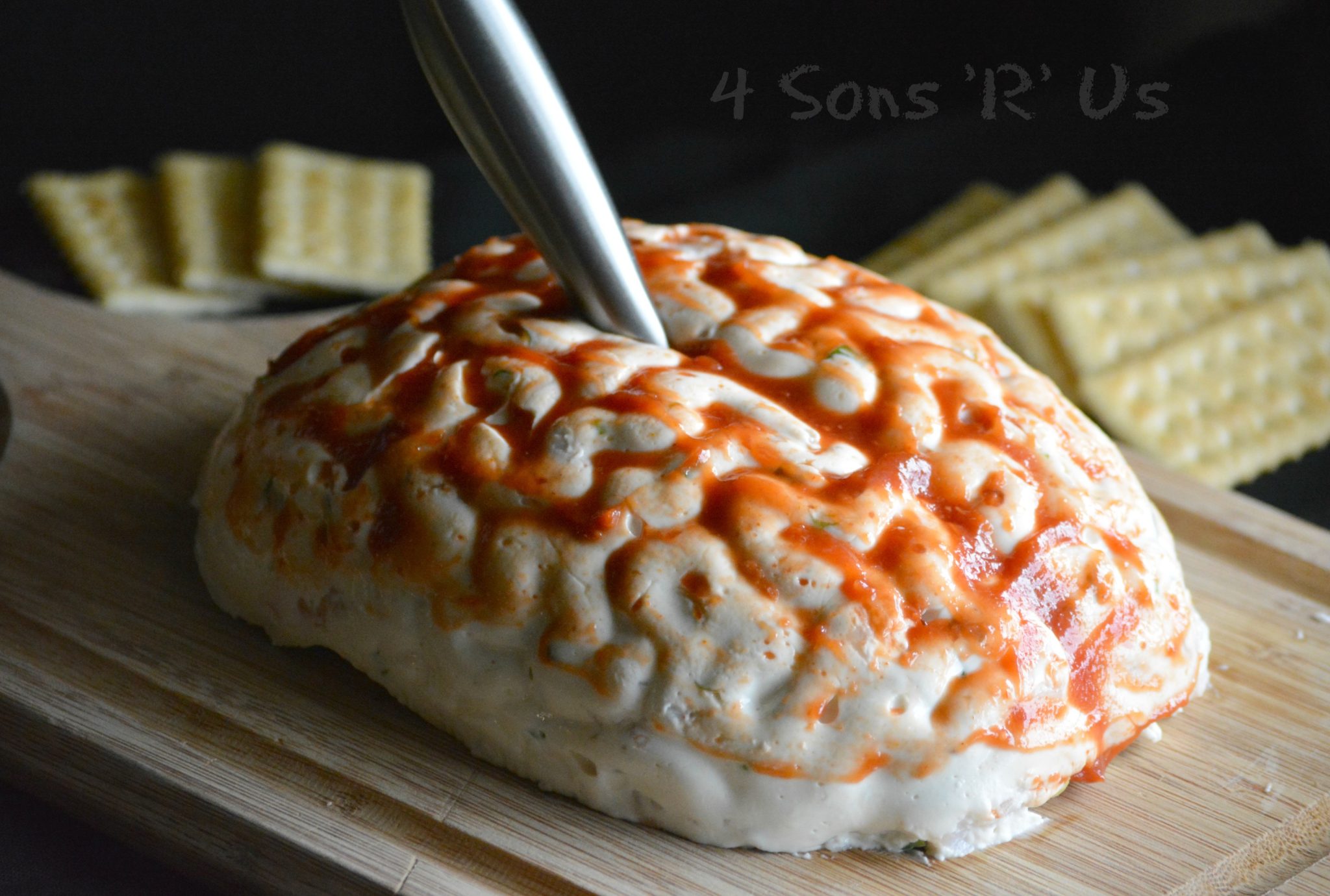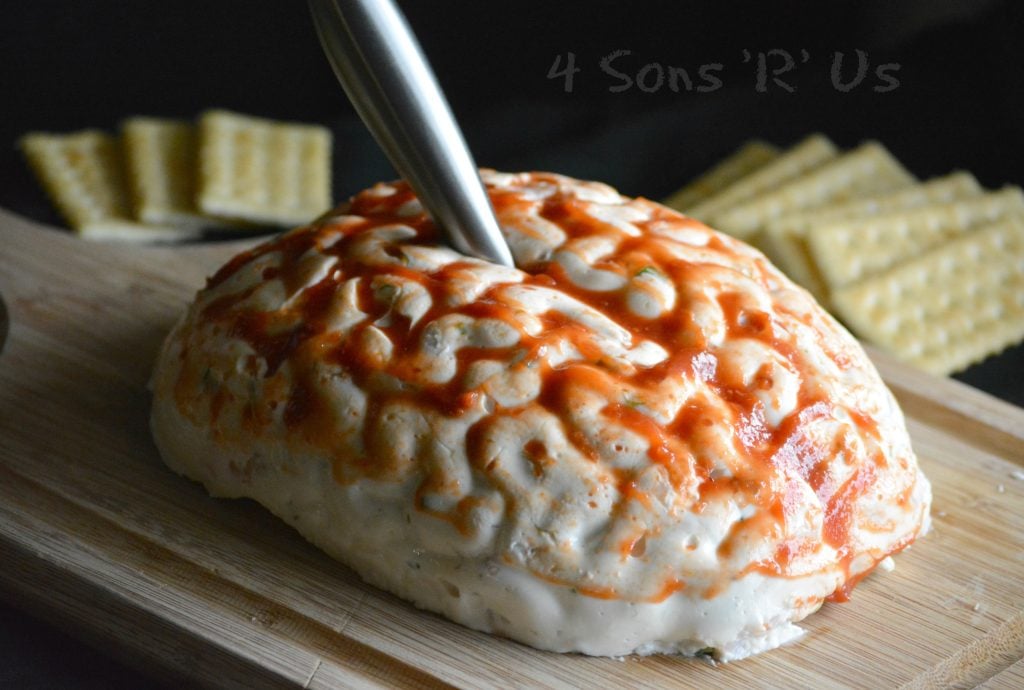 This was pretty much exactly how it went when an order came in last year, and I let the kids open it. Seriously, my kids beg to open my packages. Do yours? They know there's nothing in there for them, especially if I give them the go ahead. Still, whatever makes them happy!
Anywhoo, when they opened that particular box I got some seriously skeptical looks that, may or may not have, included one or two pronounced arched eyebrows.
See they pulled out a mold, but not just any mold. They're used to ice cube molds, and cake/cupcake molds. This was a 'brain' mold. What on earth would or could I do with that??
Oh, my little heathens- you just wait and see what Mama had up her sleeve. A gruesome, but irresistible, 'Shrimp On The Brain' Cracker Spread.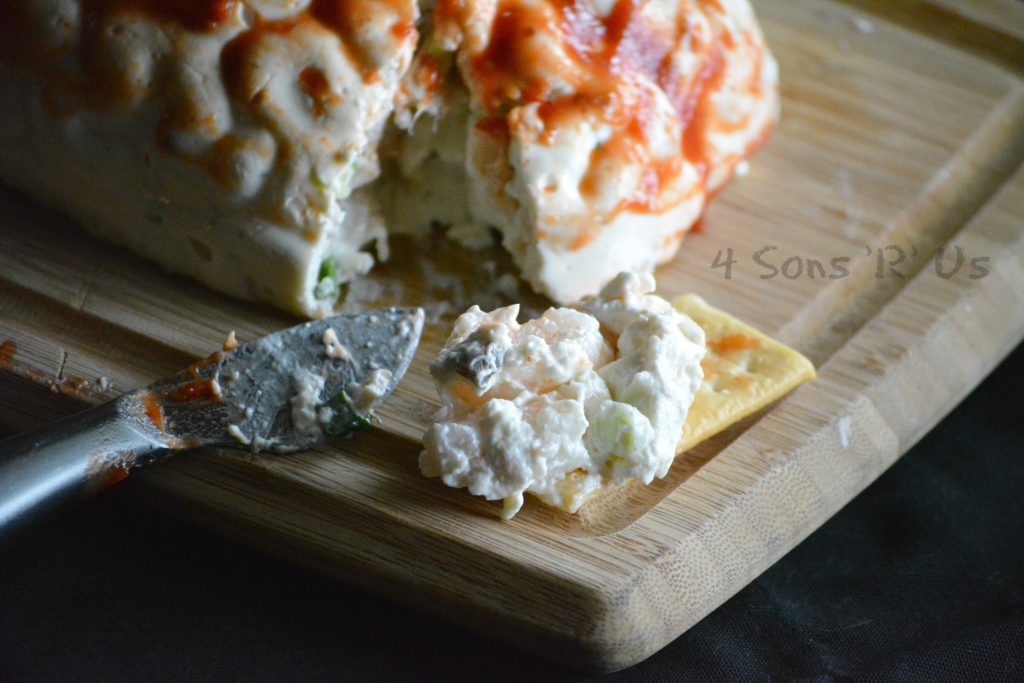 A creamy shrimp dip that's begging to be dipped with a crisp, buttery cracker– this molded 'Shrimp On The Brain' Cracker Spread makes an eerie Halloween treat, or a great addition to a Horror movie marathon night.
Zombies anyone? Walking Dead Fans, I'm lookin' at you. This is a must at this season's premiere party!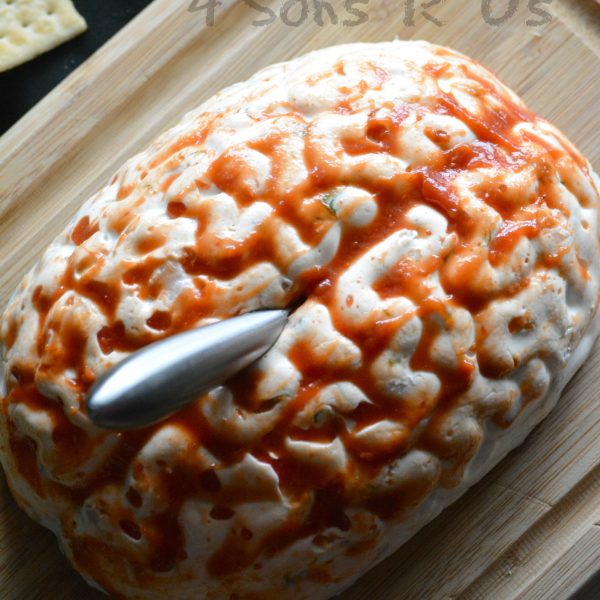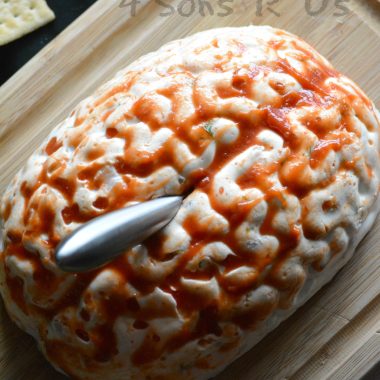 'Shrimp On The Brain' Cracker Spread
A creamy shrimp party dip, with a devilishly spooky look.
Print
Pin
Rate
Ingredients
1

10 oz can

cream of mushroom soup

1

8 oz pkg

cream cheese, softened

1

pkg

unflavored gelatin

1/4

cup

water

1/3

cup

thinly sliced green onions

2

cups

cooled, cooked shrimp, roughly chopped

1

cup

mayonnaise

1/4

tsp

hot sauce

cocktail sauce

crisp, sturdy crackers
Instructions
Whisk together the gelatin and water until completely dissolved. Set aside.

In a large skillet, over medium heat, stir together the cream cheese and soup until completely incorporated and smooth.

Remove the skillet from heat and stir in the gelatin mixture until completely incorporated. Gently fold in the remaining ingredients.

Lightly spray the inside of a brain shaped mold with non stick cooking spray. Pour the dip mixture into the upended mold. Cover the mold tightly with cling wrap, and refrigerate until set-- at least 4 hours, or overnight.

When ready to serve, turn the mold right side up and out onto a serving plate or dish to release it. Spread a bit of cocktail sauce over the top of your 'brain' to bloody it up. Insert a cheese 'knife' or small steak knife into the top for added presentation (optional).

Serve with extra cocktail sauce and crackers for dipping/spreading.