We absolutely adore a classic philly sub, but aren't always feeling like a sandwich for supper. This philly cheesesteak stew combines all the classic flavors you love about the sub in a single, hearty stew. Steak and cheese bathed in a rich beef broth with plenty of onions, peppers, and mushrooms in a stew bowl is about as close as it comes to perfection.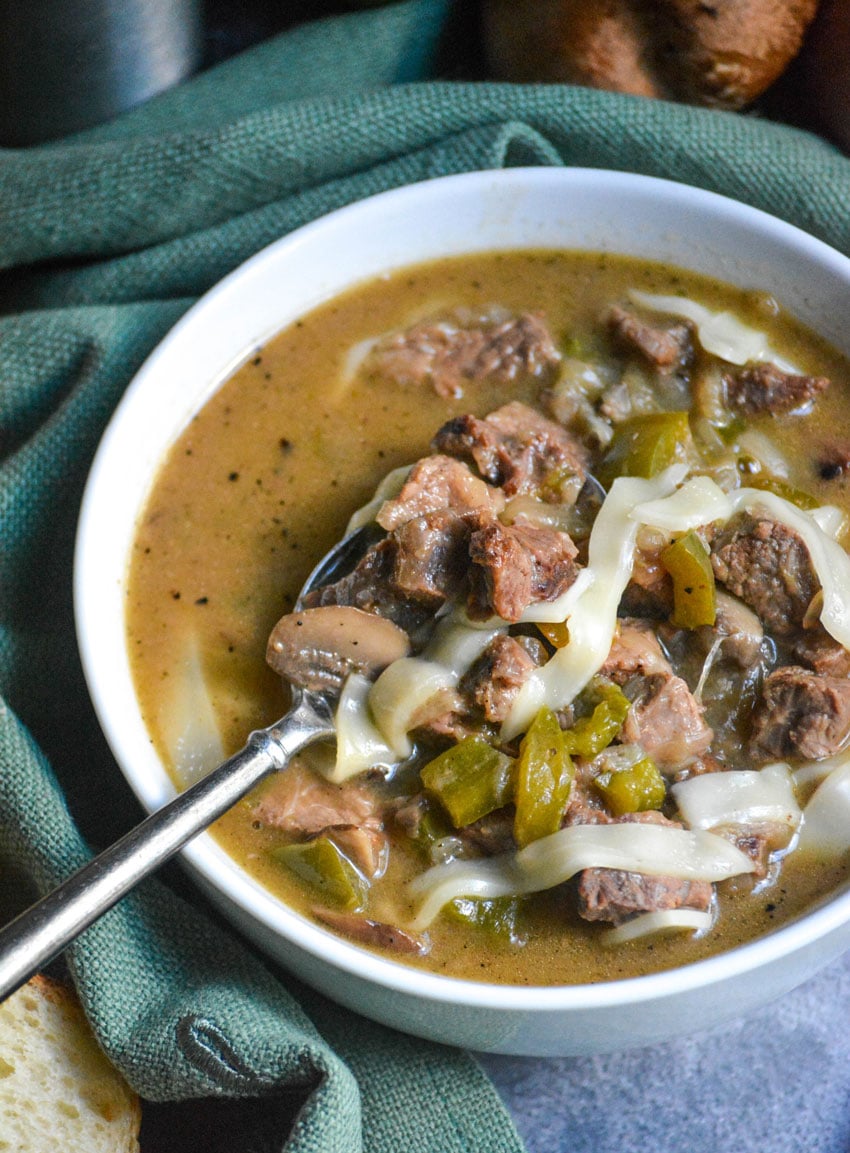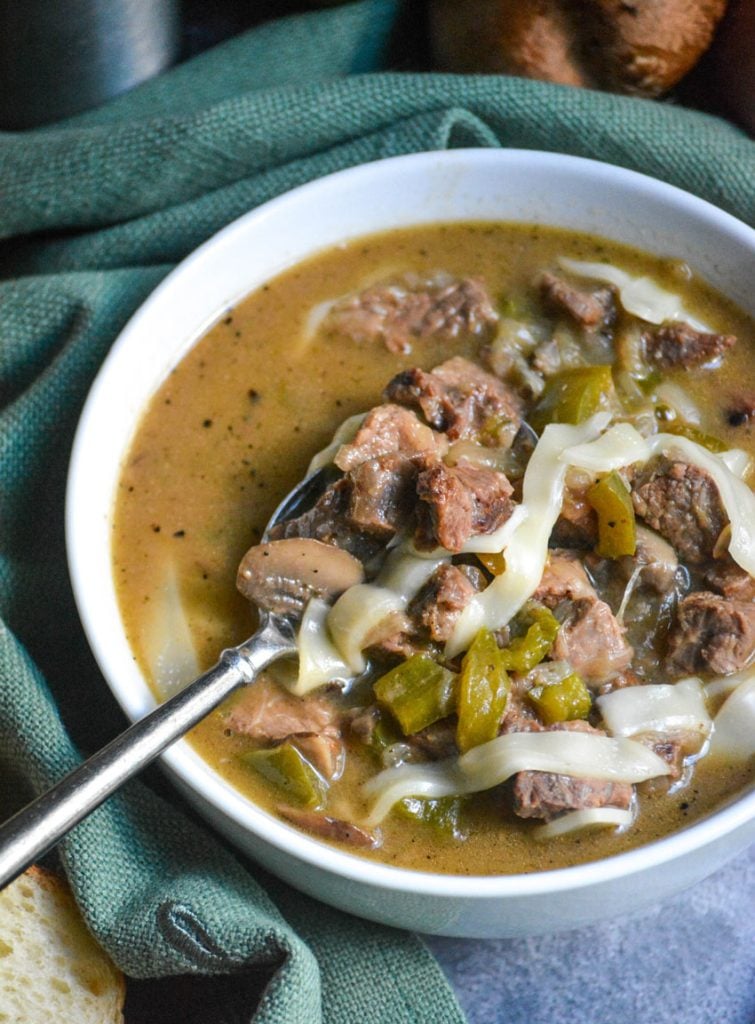 Do you ever get an intense craving for a good philly cheesesteak sub?
Like an, 'I know I'm not pregnant or anything, but I have got to have one right. now' kind of craving? (Come on, I know I can't be the only one!)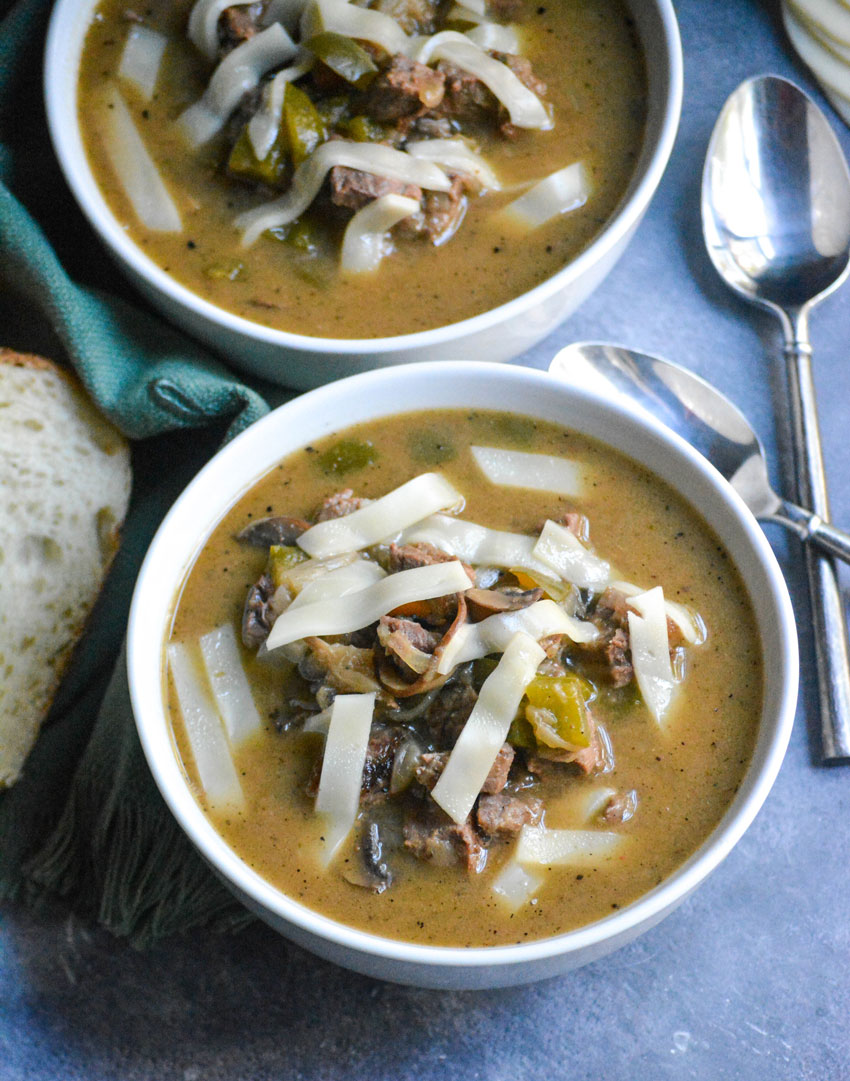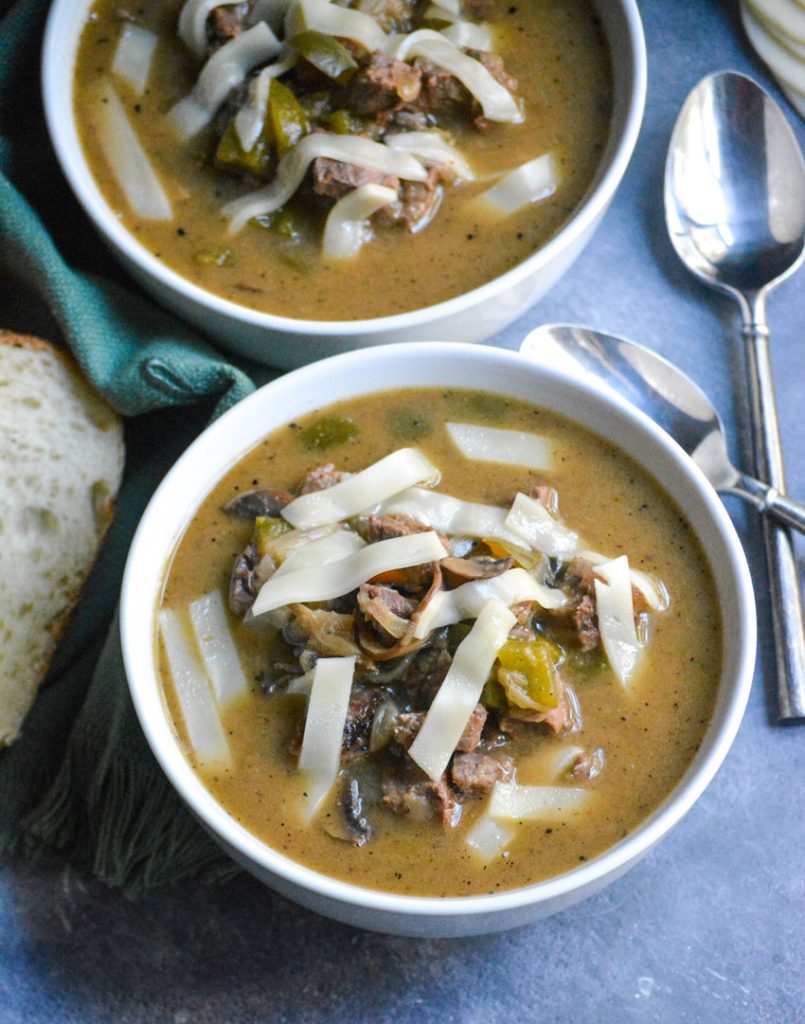 But then there's all these impossible obstacles in the way, like not wanting to go to the sub shop, or the store.
Maybe you don't have bread in the house, or you don't want a bunch of carbs, or you don't want to chew a lot… guess what?
I have a solution! Philly Cheesesteak Stew.
It's everything you love about the infamous sub sandwich, but with broth and served in a soup bowl instead.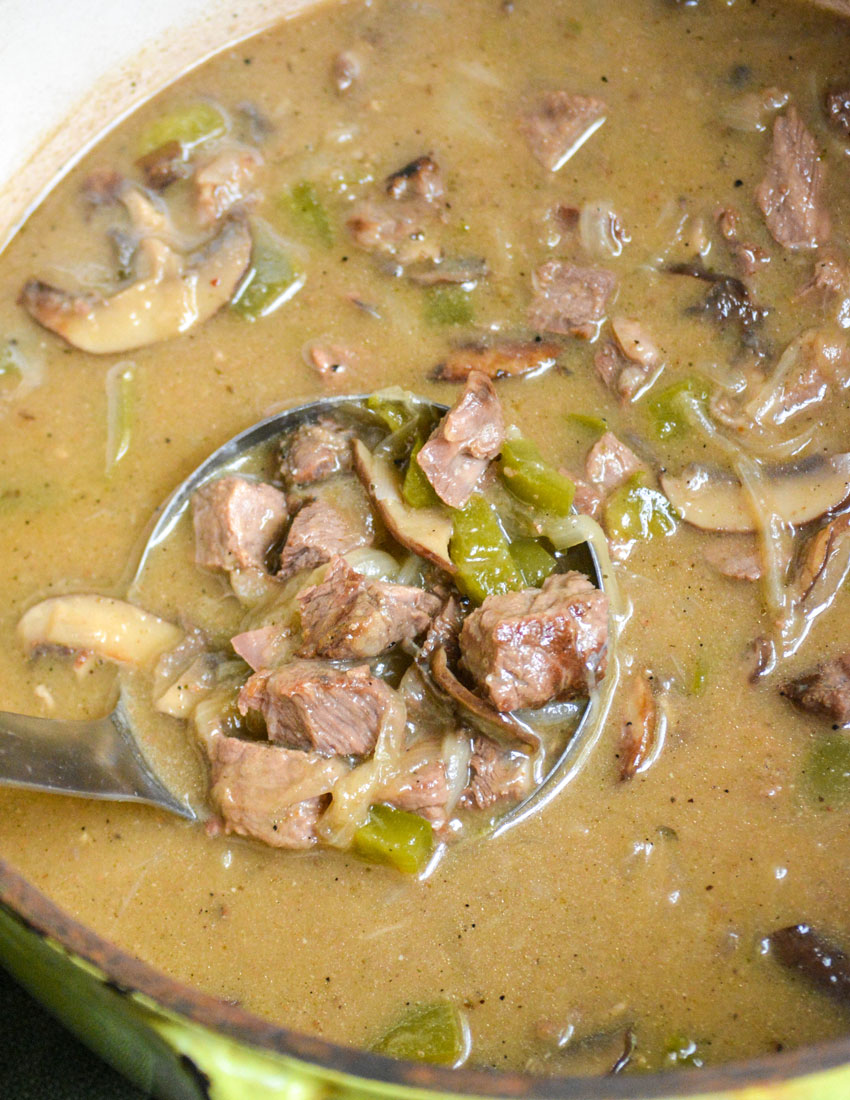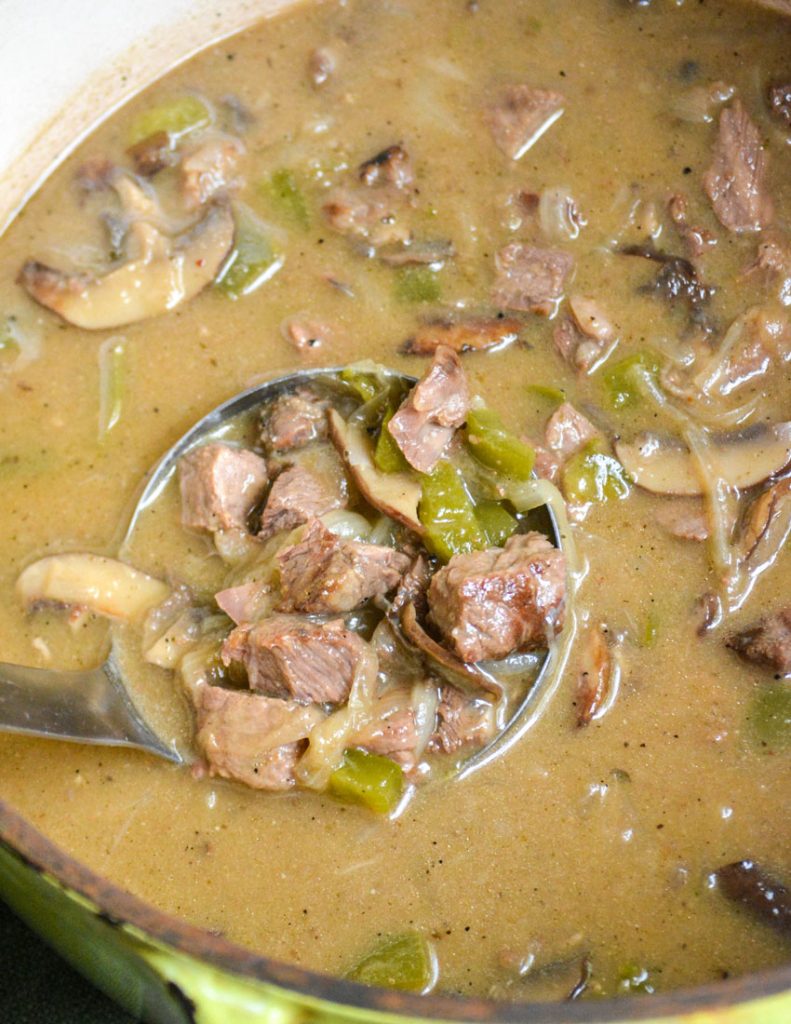 I'll admit we've never been to Philly…maybe someday….but we sure do like their sandwiches.
And, I figured if their sandwiches were good, then a soup would be, too!
Boy, was I right!!
I know, I know- I'm sure some of you are skeptical about a recipe being able to capture the sandwiches' true essence in a soup pot, but believe you me- it really does!
Transforming A Classic Sub Sandwich Into Soup- What Goes Into Philly Cheesesteak Stew
The flavor is spot on, no thanks in small part to a simple but truly though out list of key ingredients.
Of course this soup needed the basics: steak, peppers, onions, mushrooms- you know all the prerequisites.
I love this recipe as a great way to use up leftover steak after a weekend of grilling, but you can absolutely stick with fresh.
I tend to used flank steak, but sirloin also works really well.
It also needs a rich broth, because well we're making a soup at the end of the day.
To achieve that, we used beef broth with just a dash of Worcestershire sauce.
Can you smell it coming together already? Because I can, and I'm starving!
The rest of the magic comes from just the right blends of seasonings, and everything melding merrily in the same heavy bottomed stew pot.
And of course from the toppings!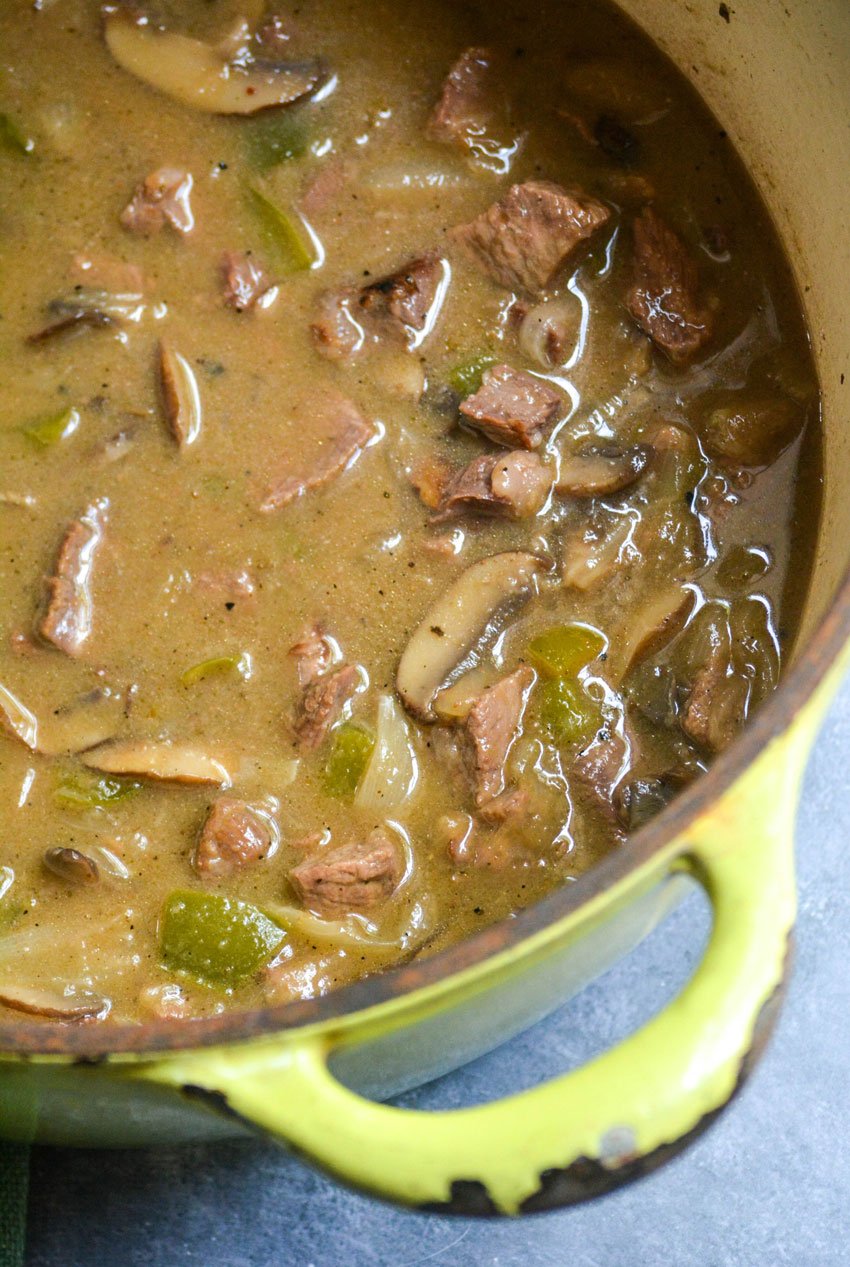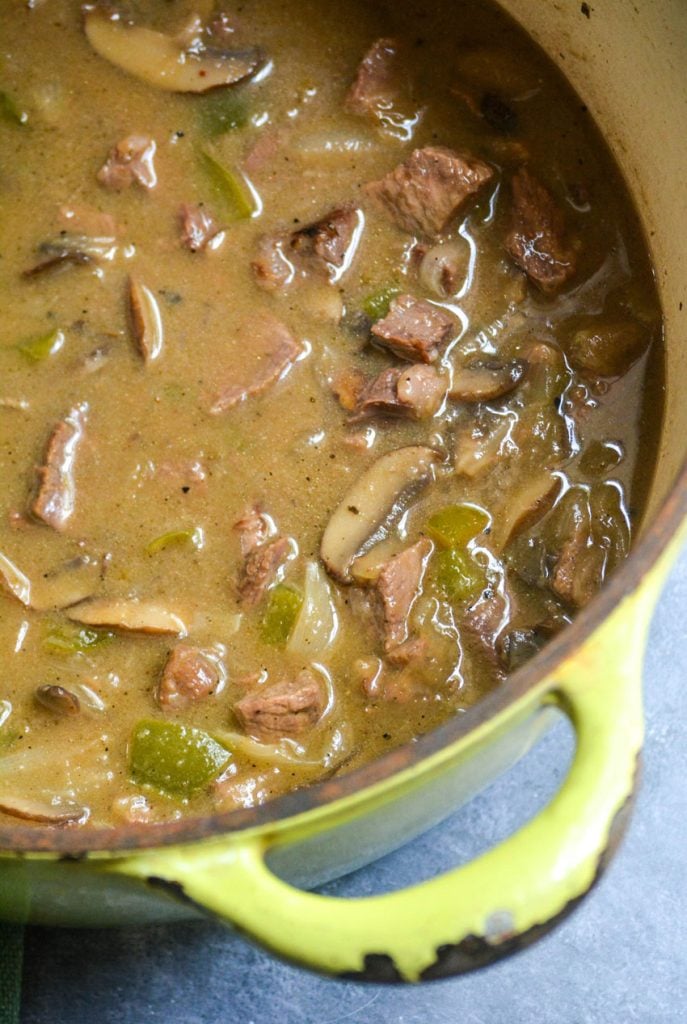 To make this cheese steak stew, start by tossing your steak strips with salt & pepper seasoning flour. Make sure all the strips are coated well.
Using a large, heavy bottomed pot or Dutch oven sear all the steak strips.
You don't want to actually cook them through, just sear which usually only takes a minute or two tops.
Using a slotted spoon, remove the steak to a waiting plate and set it aside.
Add the onions and mushrooms to the pot, and cook until the onions are translucent.
Season them with garlic powder, salt & pepper and the last bit of flour. Stir to make sure the veggies are all coated with flour.
Whisk in the beef broth a half cup at a time.
Stir in between each addition so that it mixes with the flour and there's no lumps.
Use the whisk to deglaze the pan and scrape up and tasty brown tid bits from the steak.
Once all the beef broth's been added let the stew thicken and begin bubbling.
Once a good bubble (not quite a boil) has been reached, reduce the heat to medium low and let the stew simmer for thirty minutes.
After 20 minutes, add in the peppers, and at the thirty minute mark add the steak back in to heat through.
Let it cook for five more minutes before ladling into bowls and serving.
Serving Philly Cheesesteak Stew- The Finishing Touches Make It
Top the stew with thin slices of provolone cheese, and let them melt just slightly before serving.
It creates a gorgeous cheese pull, and really makes it taste like your favorite sandwich.
If you don't have provolone, shredded mozzarella will also work well in a pinch.
You can also top it with a few extra pieces of diced green onion for color and texture contrast.
This soup is good all on its own, but really it deserves a good bread to go with it.
Slices of quality crusty bread will again give it the authenticity you're craving.
They're also a great way to soak up any excess broth left in the bottom of your bowl.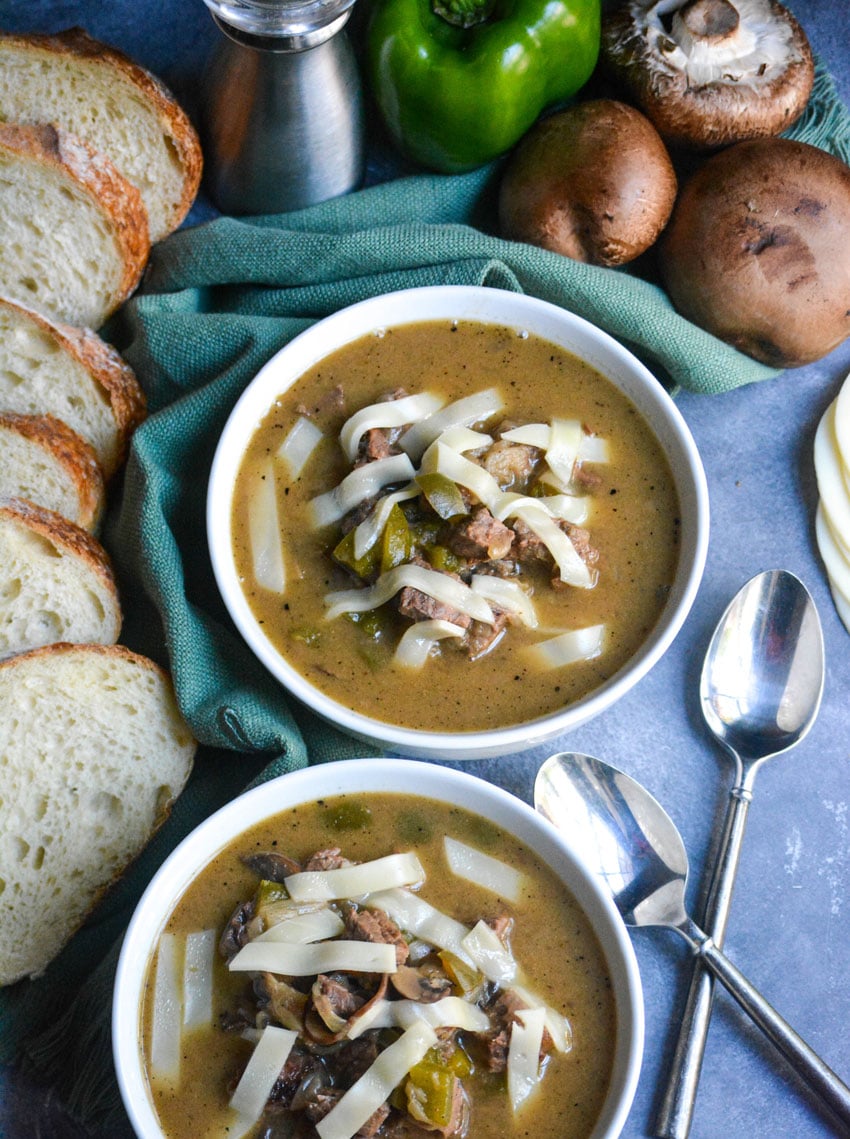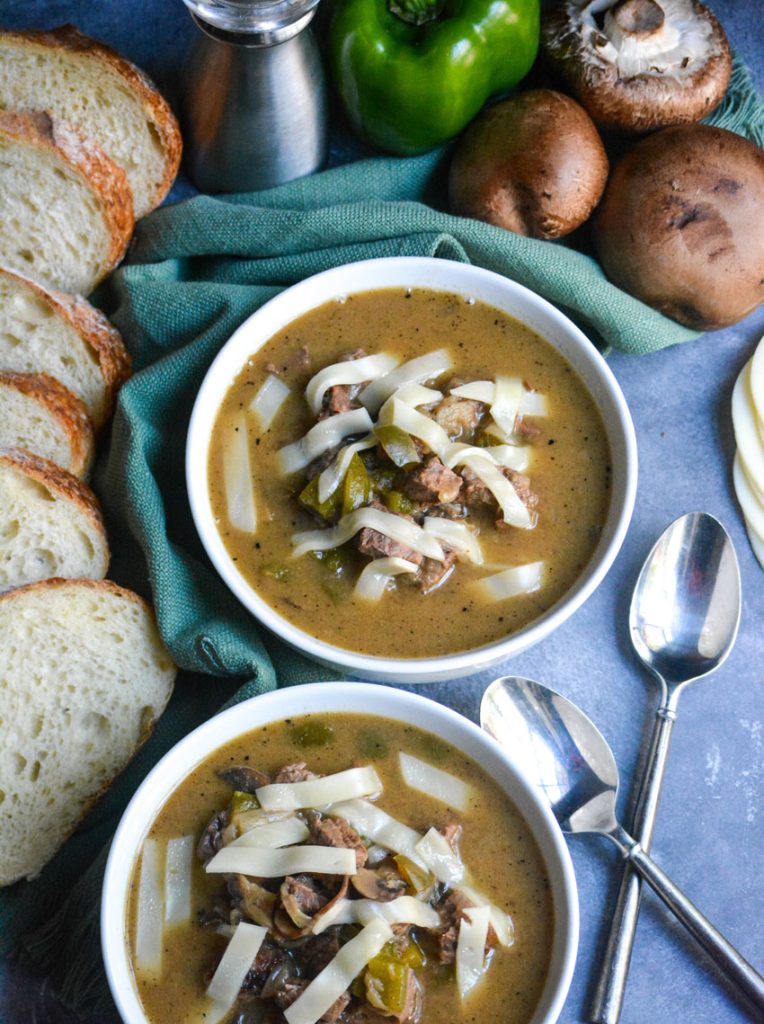 Serving Philly Style Cheesesteak Stew In Bread Bowls- Because Regular Bowls Are Boring
We adore this cheese steak soup served in any form.
It makes me want to lick my bowl, my spoon, the pot. Give me every possible last drop.
While we typically just ladle it into soup bowls, you can really up the ante by scooping it into a hollowed out bread bowl.
You can specifically purchase bread bowls, or you can buy the largest crusty buns you can find and use those instead.
Using a pairing knife, cut a bit of the top off, and hollow out the middle. Just make sure to leave enough inside the crust so that the soup doesn't soak through,
Add a slice of provolone to the bottom of each bread bowl, this will help seal them and also infuse the soup with the flavor.
Ladle in soup just until each bread bowl is almost filled.
Top each bowl with another slice of provolone cheese. Then carefully sit them on a baking sheet.
Add the pan to the oven with the broiler setting on.
Watching them carefully (to prevent burning), broil them until the cheese is melted and bubbly.
Serve the bread bowls, and dig in!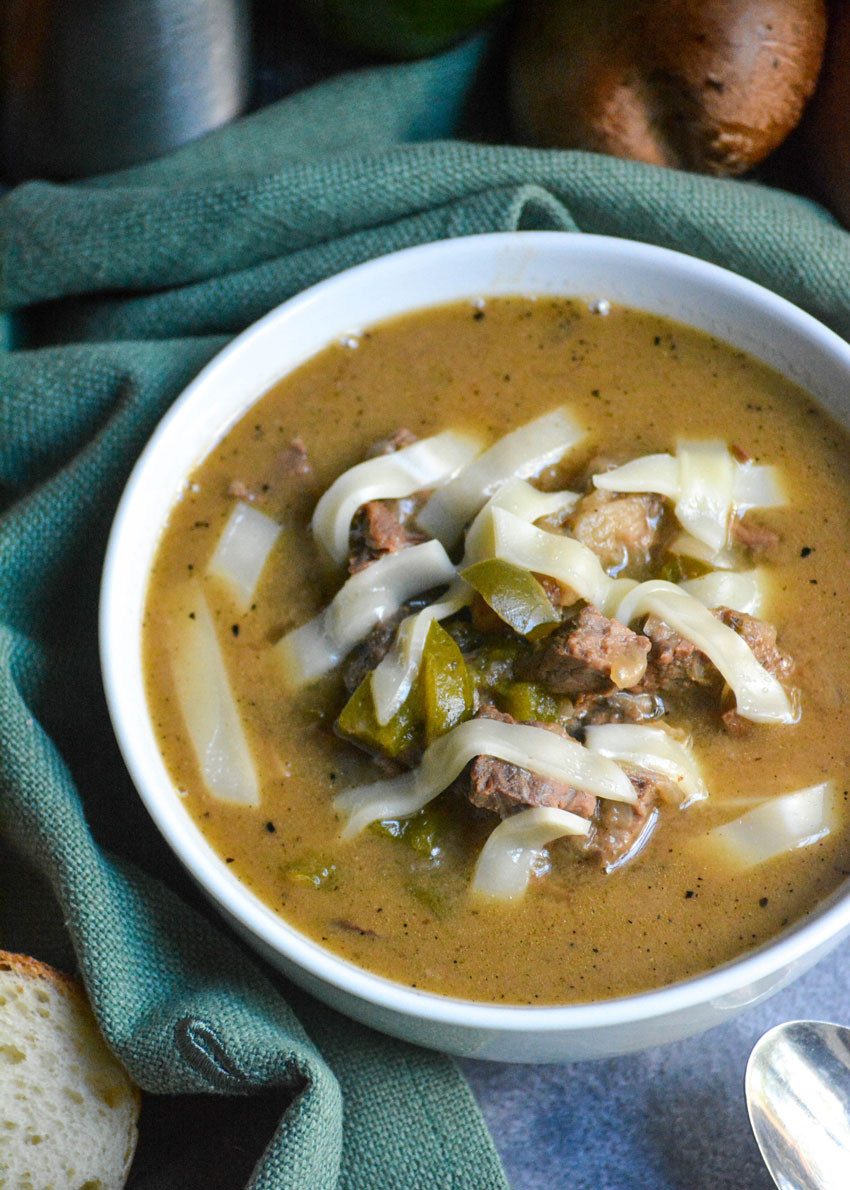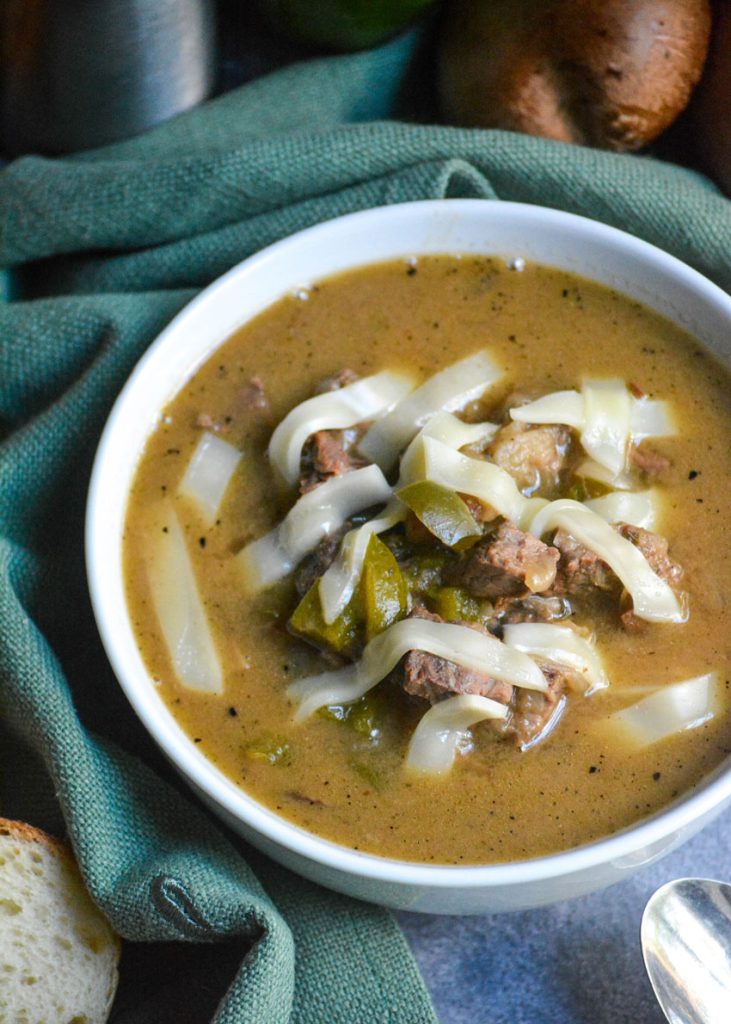 If you like the philly cheesesteak sandwich, then you got to try this soup.
All the flavors of the famous sandwich you love come together here in a thick, and hearty stew that is sure to satisfy any level of cheesesteak craving.
See? We've got you covered.
Other Meat-y Stews You Might Also Enjoy:
If you've tried this PHILLY CHEESESTEAK STEW, or any other recipe on the site, let me know in the comment section how it turned out, we love hearing from our readers! You can also follow along with me on PINTEREST, FACEBOOK, and INSTAGRAM to see more amazing recipes and whatever else we've got going on!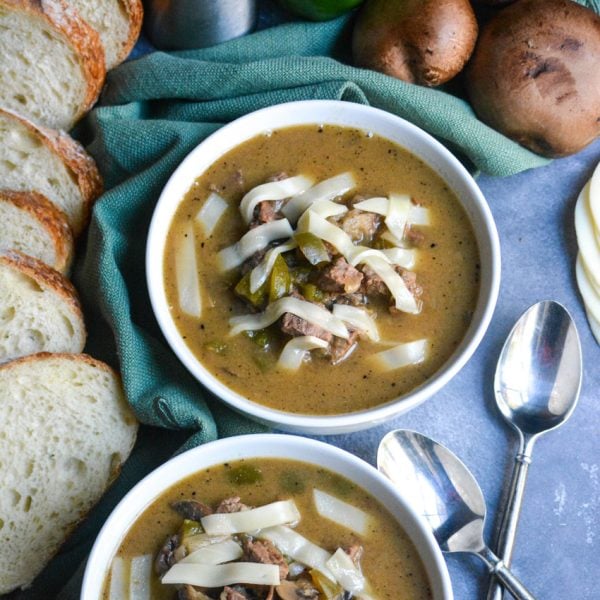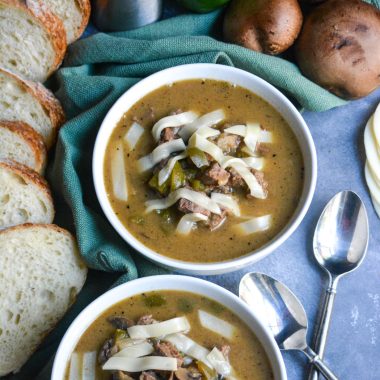 Philly Cheesesteak Stew
This hearty steak stew has all the flavors you crave in a traditional cheese steak, minus the bun of course, and served in a soup bowl. Topped with melted Parmesan it's the ultimate way to settle into a meal on a cold day.
Print
Pin
Rate
Ingredients
1 1/2

lb

top sirloin or ribeye

cut in thin slices

1

tsp

salt

1/2

tsp

black pepper

4

tbsp

flour

divided

2

onions

quartered and cut into thin slices

1/2- 1

cup

sliced mushrooms

1

tsp

garlic powder

1

tsp

thyme

1

tsp

Worcestershire sauce

1/2

tsp

black pepper

4

cups

beef broth

2 if you want a really thick stew

1-2

sweet bell pepper

thinly sliced

12

slices

provolone cheese
Instructions
In a large bowl, toss the steak strips with the salt and pepper. Add 2 tablespoons of flour and toss again, making sure the slices are well coated.

Sear the steak, in two batches, over medium-high heat, so that both sides brown, only about 1-2 minutes per side. At this stage we still want the centers pink. Once browned, set aside.

Next, add the onions and mushrooms to the same skillet and brown for a few minutes until the onions are translucent. Now, add the garlic powder, salt, pepper, Worcestershire sauce and the last 2 tablespoons of flour. Stir to ensure the onions are coated with flour.

Add in the beef broth, 1/2 cup at a time, stirring between each addition so that it thickens, until it's finally fully incorporated to avoid lumps. Allow to thicken and bring to a bubble, then reduce heat to medium low and simmer for 30 minutes.

Add in the peppers in the last 10 minutes of simmering. Add beef after the 30 minutes and let simmer, about 5 minutes, so that it's heated through.

Serve the stew as is at this point, ladling it into bowls topped with some provolone cheese, or read on to find out how to serve it in bread bowls.
Serving Cheesesteak Stew In Bread Bowls
Cut a circle in the top of each bun and remove most of the insides. Set on either a foil covered pan, a pan with a non-stick baking mat, or a pan sprayed with non-stick cooking spray.

Add one slice of provolone to the inside of each bread bowl. Carefully spoon stew into each bread bowl over top of the cheese, and then top the stew in each bread bowl with two slices of provolone.

Place the pan under the broiler for 2-3 minutes until the cheese is bubbling and begins to turn a golden-brown.
Nutrition
Calories:
489
kcal
|
Carbohydrates:
11
g
|
Protein:
41
g
|
Fat:
32
g
|
Saturated Fat:
17
g
|
Cholesterol:
108
mg
|
Sodium:
1536
mg
|
Potassium:
638
mg
|
Fiber:
2
g
|
Sugar:
3
g
|
Vitamin A:
599
IU
|
Vitamin C:
20
mg
|
Calcium:
451
mg
|
Iron:
3
mg
recipe adapted from Lady MeLady