This cheesecake is so easy it's almost fool-proof, and it's so decadently dreamy that eating it outta be a sin. Thankfully for all of us, it's not! A thick and chewy brownie crust is topped with rich, creamy chocolate cheesecake studded with milk chocolate chips. No baking is required, and once it's set it's topped with an indulgent layer of hot fudge. This No Bake, Hot Fudge Brownie Cheesecake is a little bit of heaven in every slice.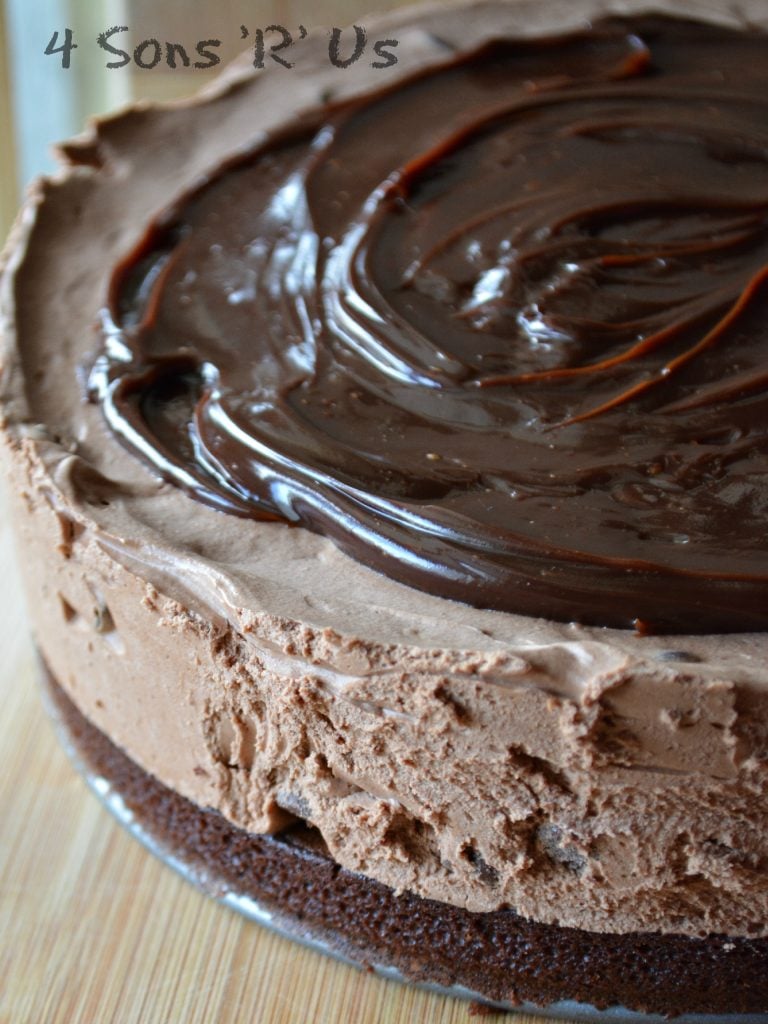 My FIL joked yesterday when he wished me a 'Happy Birthday' that he wouldn't ask how old I was now, since he'd learned long ago that after 28 it's not prudent to inquire– at least if the one celebrating is a birthday girl.
Ya'll there ain't no shame in my game. I turned the big 3-0. Yep, the dirty thirty.
It's all good because most days I don't feel a day over 28– with the exception of that day last week when I found my first gray hair.
And it wasn't a nice introduction into my impending slope into middle age as it decided not to do the decent thing and blend in but opted for a follicle right above my forehead for maximum display/exposure.
I blame raising kids on it though– specifically the teenage years. I do realize that it could always be worse; I knew someone who started going gray at 17 and was completely gray mid-twenties. I'm not running for a box of Clairol just yet though.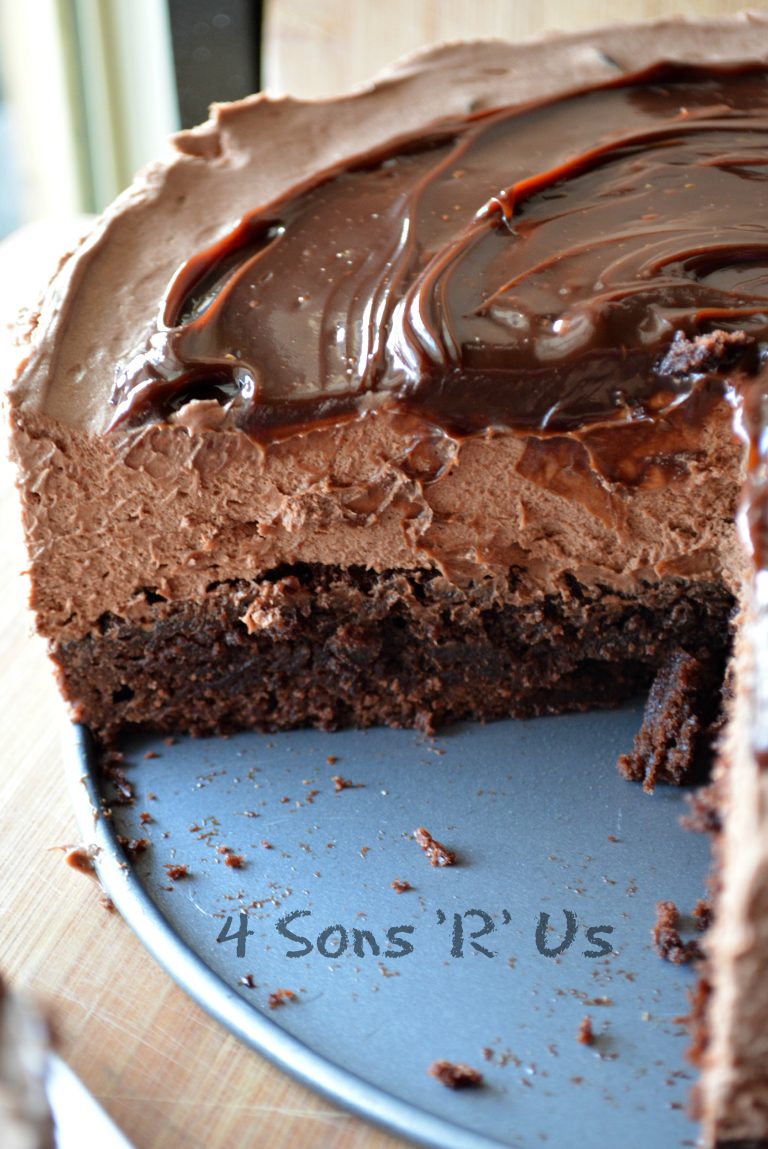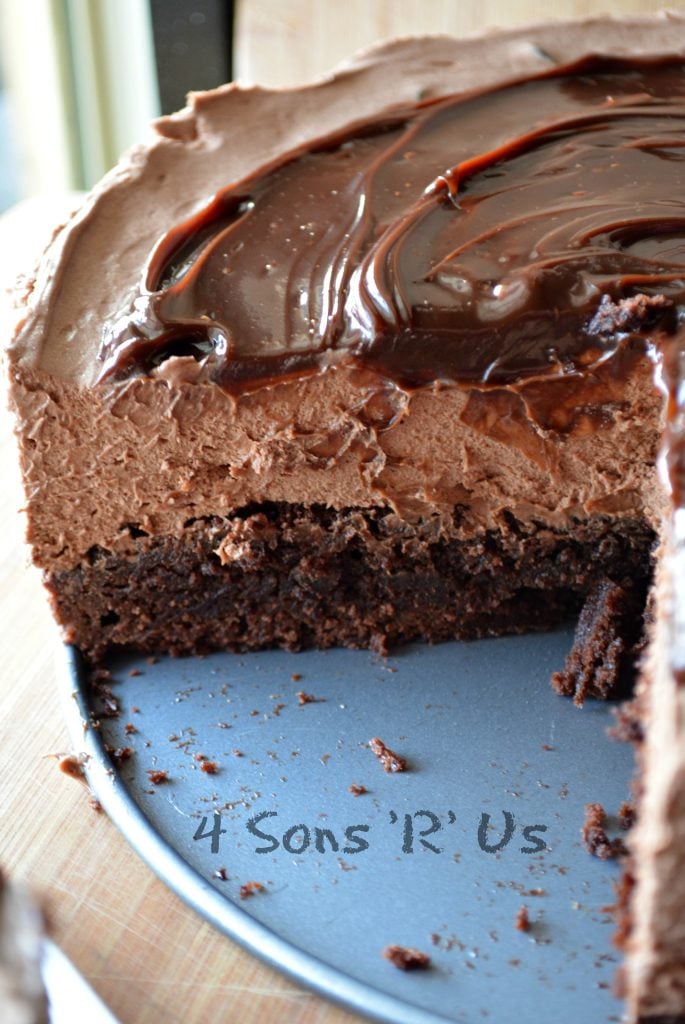 All that being said– it does get a bit awkward when everyone's trying to celebrate my birth day and they all know this gal doesn't really do cake.
But in there valiant efforts to shower me with copious amounts of sugary confections they were adamant that I have some dessert I of my choosing.
While I may not like cake per se, I <3 me some cheesecake. I mean full flung love affair, and while a regular NY style, cherry topped is my traditional favorite– the more 'out of the box' the better.
Chocolate, chocolate, chocolate… oh and more chocolate? That had my name written allllllll over it.
Chocolate lover? Cheesecake lover? General dessert and sugar connoisseur? All can unite behind this yummy recipe.
A fudge-y chocolate brownie crust is adorned with the creamiest of chocolate cheesecakes with milk chocolate chips stirred right in before finally being topped with a thick, rich layer of luscious hot fudge sauce.
It's any chocolate lover's dream come true, in sweet fudge brownie cheesecake form.
It's been pointed out by reader's that this isn't a true no-bake cheesecake since you do in fact have to bake the brownie crust. The no bake reference wasn't meant to be misleading, but there's no baking the cheesecake. That's what I was referring to.
That said, if you want to make this a truly 'no bake' recipe then you can always buy store bought brownies and cut the crust out in a circle. Use the bottom of the springform pan as a guide for accuracy. Once cut, transfer the brownie crust to the springform pan- and then follow the rest of the instructions as written.
If you've tried this FUDGE BROWNIE CHEESECAKE, or any other recipe on my site, let me know in the comment section how it turned out, we love hearing from our readers! You can also follow along with me on PINTEREST, FACEBOOK, and INSTAGRAM to see more amazing recipes and whatever else we've got going on!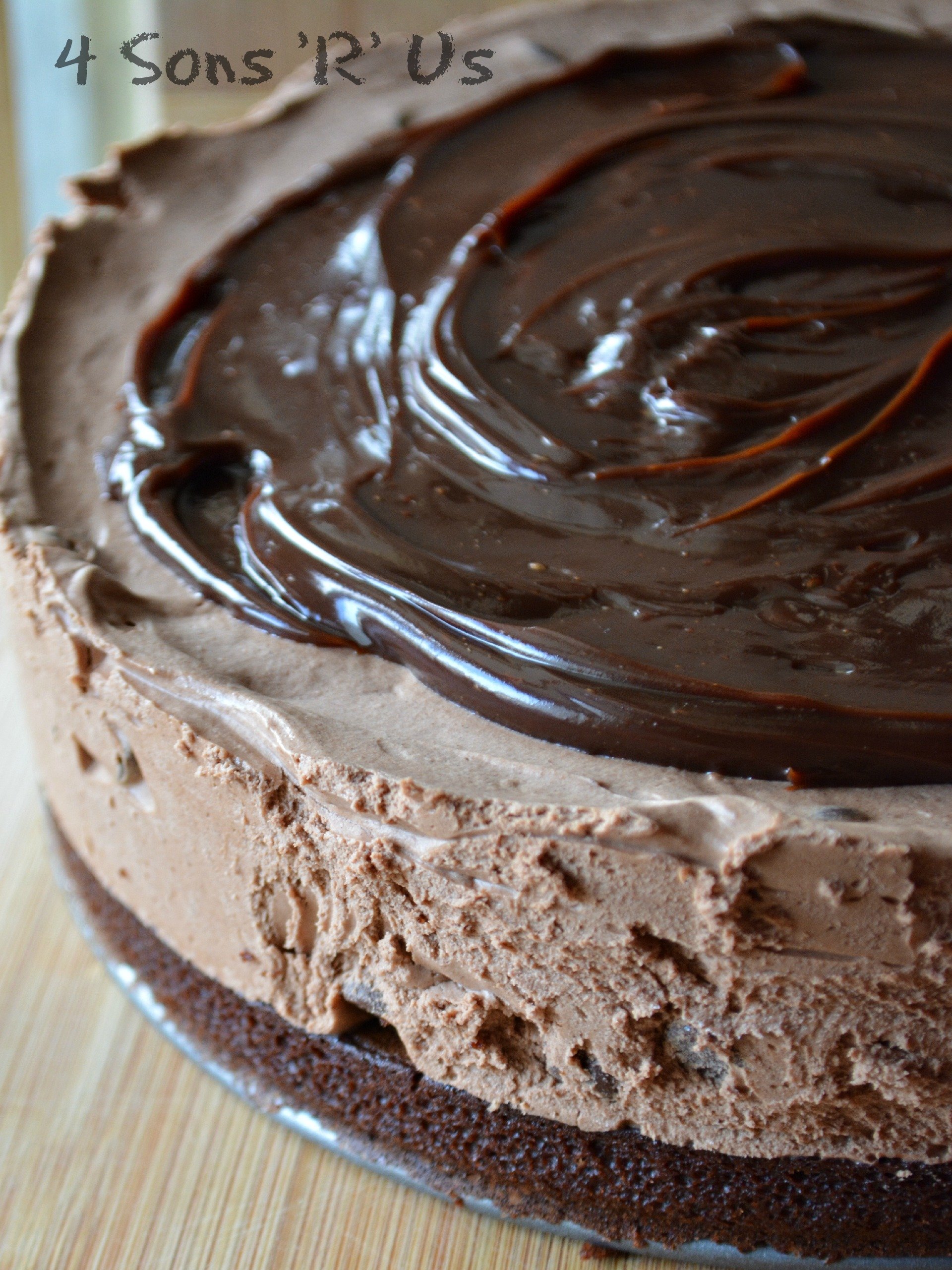 No Bake, Hot Fudge Brownie Cheesecake
A chocolate cheesecake lover's dream come true, this no bake recipes is easy enough for anyone to enjoy.
Print
Pin
Rate
Ingredients
1

boxed brownie mix

1 1/2

cups

60% cocoa chocolate chips

12

oz

cream cheese

softened

1/2

cup

sugar

1/4

cup

butter

softened

2

cups

frozen cool whip

thawed

3/4

cup

semi-sweet chocolate chips

full-sized or miniature

hot fudge sauce

your favorite store bought or homemade
Instructions
Spray an 8" springform pan lightly with cooking spray. Prepare the brownies according to the package directions. Instead of using a brownie pan, pour them into the prepared cheesecake pan and (again) bake them according to the package directions.

When the brownies have completely cooled, prepare the cheesecake filling. In a small bow add chocolate chips and heat in microwave for 1-minute. Stir, and then heat in 30 second intervals stirring in between until chocolate is completely smooth and melted. Or melt them using a double boiler. Set aside to cool.

In the bowl of a stand mixer, beat together the cream cheese, sugar and butter until smooth and creamy. While the mixer continues to run, slowly pour in the cooled melted chocolate chips, continuing to slowly stir until they're evenly incorporated. Use a firm spatula to gently fold in the cool whip until the mixture's smooth.

Use a spatula to gently stir in the chocolate chips until they're just spread throughout the batter. Spread the cheesecake batter out on top of the cooled brownies.

Place the cheesecake in the refrigerator until set, or about an hour.

Before serving spread a layer of hot fudge out over the top of the chilled cheesecake.
Nutrition
Calories:
360
kcal
|
Carbohydrates:
34
g
|
Protein:
4
g
|
Fat:
24
g
|
Saturated Fat:
14
g
|
Cholesterol:
47
mg
|
Sodium:
151
mg
|
Potassium:
116
mg
|
Fiber:
2
g
|
Sugar:
29
g
|
Vitamin A:
577
IU
|
Vitamin C:
1
mg
|
Calcium:
75
mg
|
Iron:
1
mg