A fluffy whipped cream filling sandwiched between two soft yellow cakes and covered in a luscious layer of white chocolate. This Copy Cat Little Debbie Zebra Cake is topped off with a chocolate drizzle before being sliced and served. This cake is a fun, delicious homage to one of your favorite childhood treats and an easy way to usher it in for a new generation.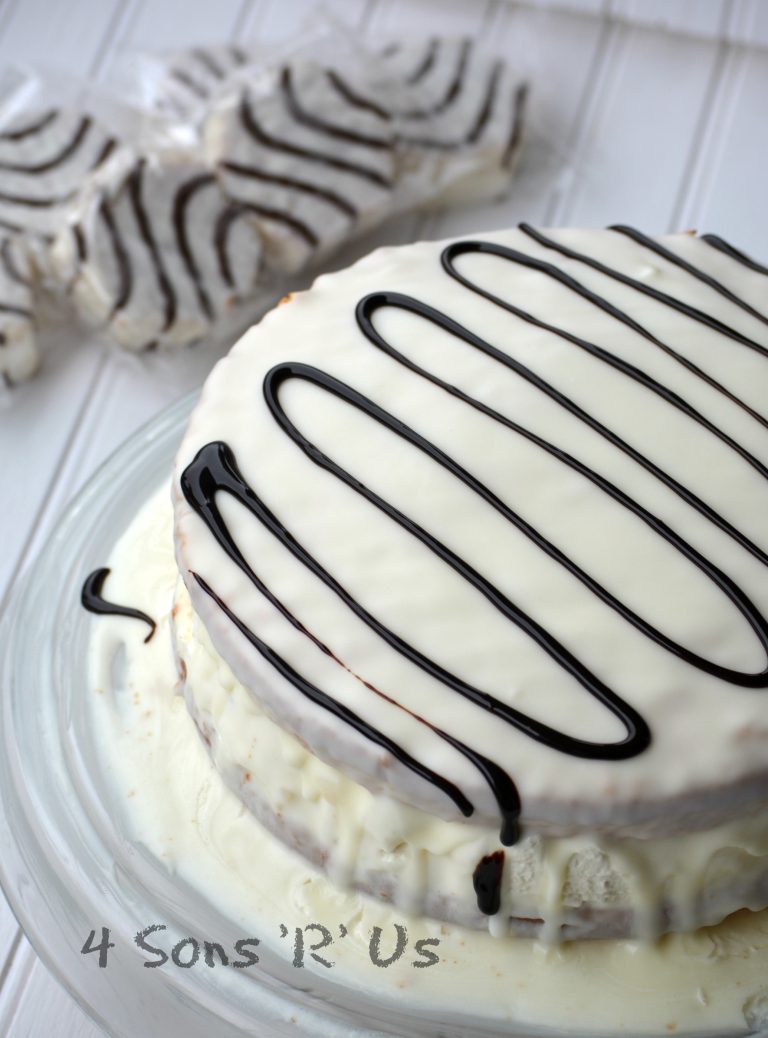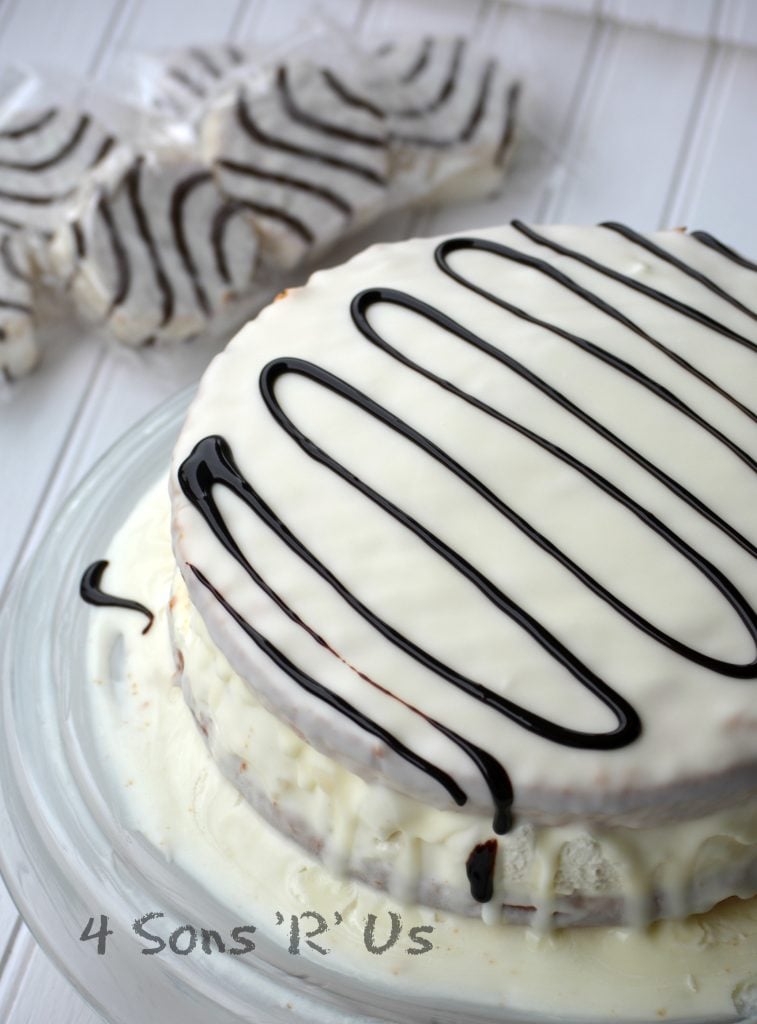 Last week another kid reached another major milestone. Our second son turned the big 1-6. Sweet Sixteen. It's always a bitter sweet moment for us as parents.
We're so proud of seeing them grow– as men, as young adults, as good souls with beautiful hearts and minds, but a part of me always tears up at memories of chubbier cheeks and hands who needed me for so many more things and that as time marches on they're future no longer lies in my arms and there path won't be walked holding my hand or from behind my legs anymore.
Like I said, bittersweet but the positives and all the promise of the future always outweighs my nostalgia.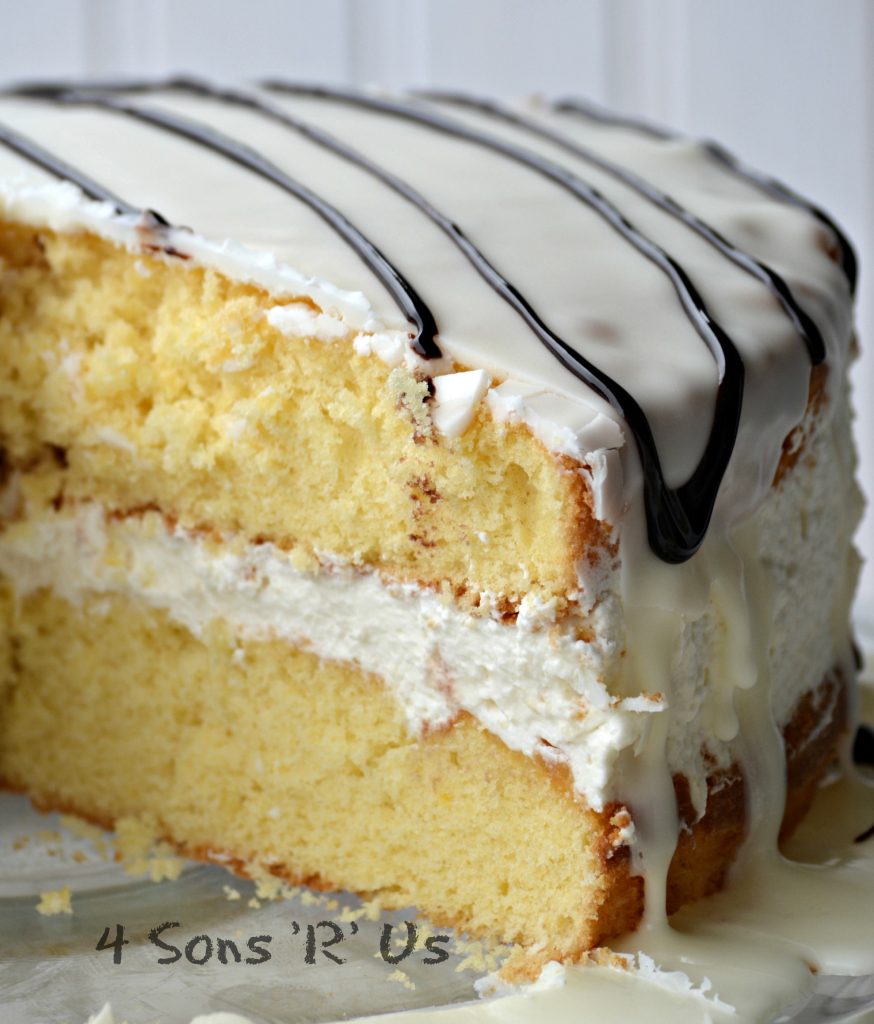 You only have a handful of 'milestone' birthday's in you life, so I really try to make them extra special.
No that doesn't mean we go crazy dumping money into something or hosting a mega party that would bankrupt us. It does mean we try to make it special to them, our child we're celebrating.
We tend to opt to get them a 'coming of age' sort of gift, and typically let them pick from several options or put in input.
This year, our frugalest kid was able to get several things with his 'responsible' choices.
A new bedding set that will also double for home and college in just a few short years, an adult electric razor that he will be able to get years of use out of, and a used snowboard to take on the family skiing trips.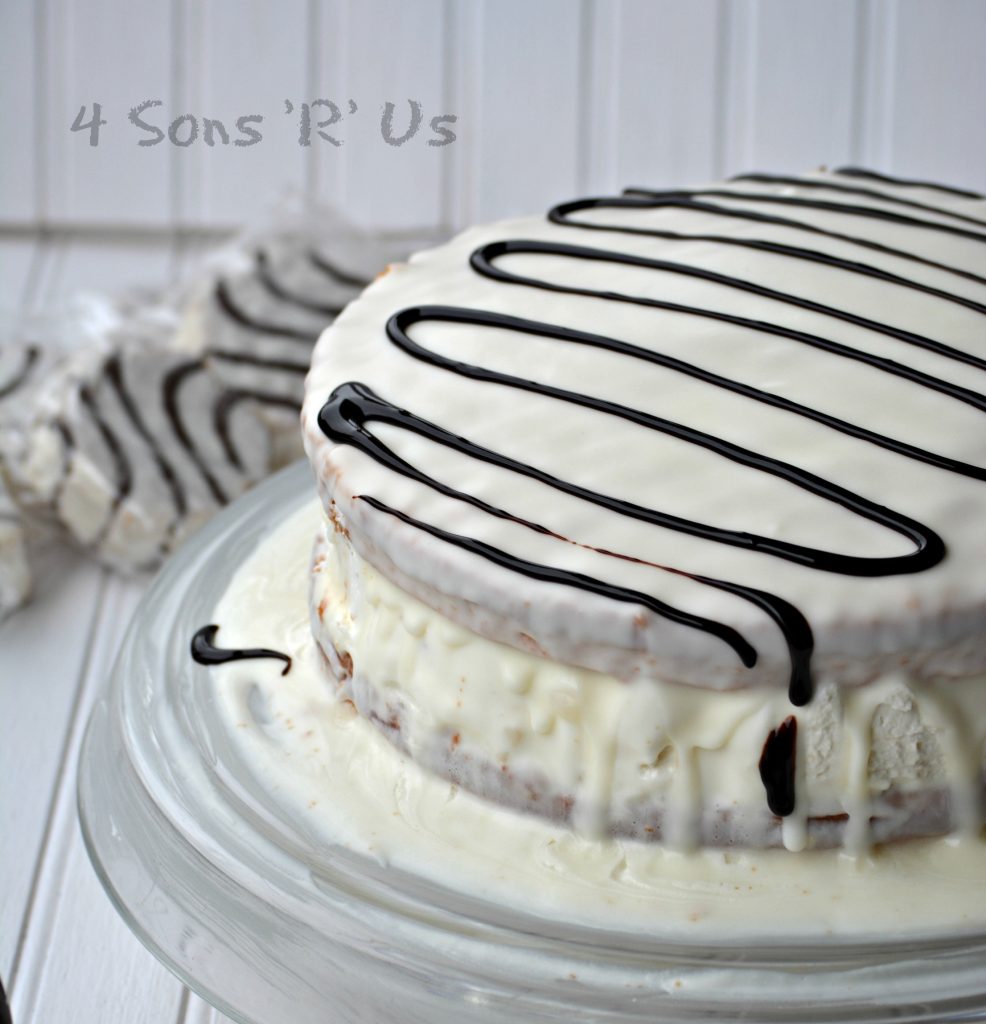 Despite being so modest, he does have his own little vices– his sweet tooth chief among them.
What can I say? Despite my tutelage and intervention he is his Daddy's mini-me, and this is one thing he definitely comes by honestly. If it was actually a viable option, Son # 2 would be entirely content to live off a diet of chocolate, ice cream, and Hostess cakes.
I am not even joking.
Our corner store/ neighborhood gas station had to start ordering more specifically because he was buying out their meager stock every few days. (He puts half his paycheck in savings, no questions asked, so we try not to begrudge him his spending money purchases- within reason)
I am always shocked at every dentist appointment when he walks away cavity free. Must be all my nagging for him to remember to brush and floss!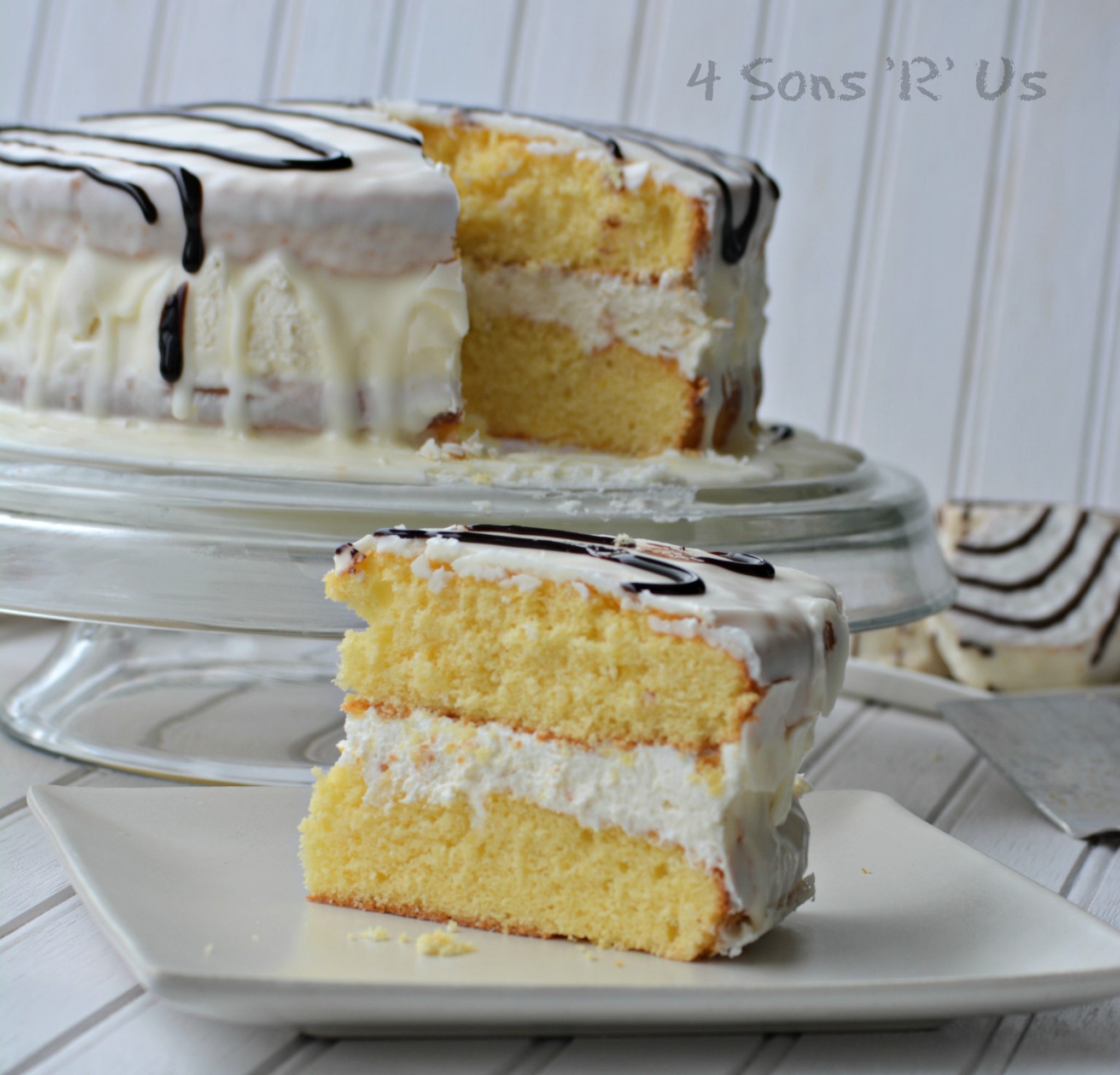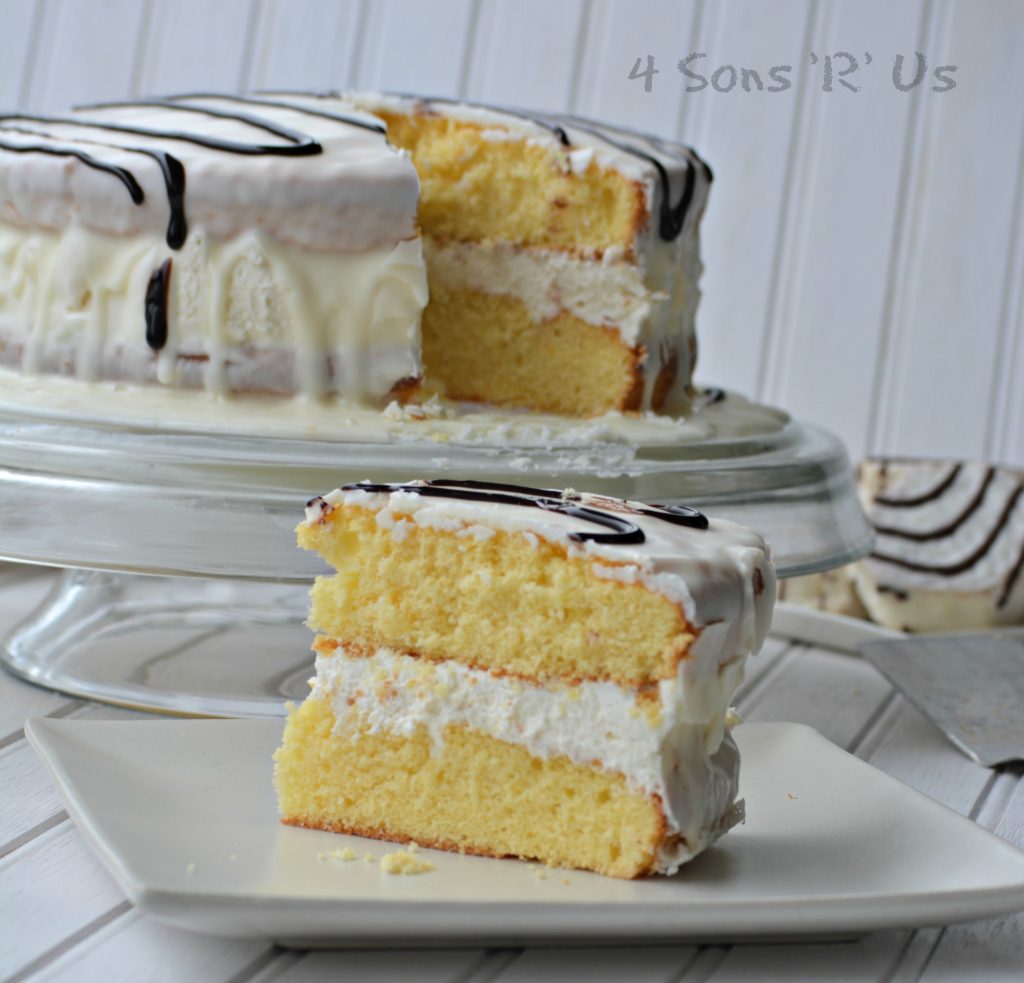 Back to the birthday boy and his unchecked love for Little Debbie snack cakes, specifically their zebra cakes.
I knew instantly that this was the perfect birthday cake idea to truly celebrate him and to make him feel extra loved and special on one of his most special days.
He was thrilled!
Thrilled enough that it turned him greedy and he honestly lobbied to not have to share a single slice of cake with his siblings or anyone else.
When that didn't work, he just stared down every one, begrudging his brothers every precious bite after he'd inhaled his.
He wasn't really that bad, but I kinda can't blame him.
The cake was that good, and tasted just like one giant Copy Cat Little Debbie Zebra cake (but even better than the real deal).
If you've tried this COPYCAT LITTLE DEBBIE ZEBRA CAKE, or any other recipe on my site, let me know in the comment section how it turned out, we love hearing from our readers! You can also follow along with me on PINTEREST, FACEBOOK, and INSTAGRAM to see more amazing recipes and whatever else we've got going on!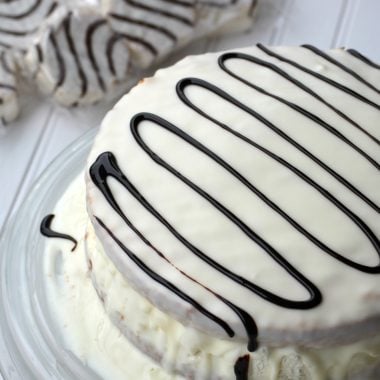 Copy Cat Little Debbie Zebra Cake
A yummy replica of a childhood favorite, this cake features a fluffy whipped cream filling sandwiched between two yellow cakes and covered in a white chocolate coating with a chocolate drizzle.
Print
Pin
Rate
Ingredients
CAKES
1

box

yellow cake mix

with required ingredients to bake
FILLING
4

tsp

Ice cold water

1

cup

very cold heavy whipping cream

1/4

cup

confectioners' sugar

1/2

tsp

vanilla or almond extract
COATING AND DRIZZLE
16

oz

vanilla almond bark

8

tbsp

vegetable shortening

thick chocolate syrup
Instructions
Prepare the two cake as directed on the packaging and spread them evenly into two prepared pans of equal size. I used 9" pans for the cake pictured. Bake about 17-20 minutes, until cake bounces back slightly when pressed in the center.

Allow the cakes to cool slightly before transferring them from the cake pans to a wire rack to finish cooling completely. While the cakes are baking and then cooling, prepare the cream filling.

In a mixing bowl that has been in the freezer for at least 5 minutes, use the whisk attachment to whip the cream, sugar and extract together until it starts to thicken. Once you see it come together, set the mixer to a high speed and whip until the filling is stiff. Refrigerate the cream until ready to use.

Once the cakes are completely cooled, set the bottom cake onto a cake stand or a wire rack. Spread a thick, even layer of frosting out over the top. Gently set the other cake on top of the cream and press it down just a bit so that the cream comes to the edges, but doesn't overflow.

In a double boiler melt together, stirring occasionally until the almond bark (or white baking chocolate) and shortening are smooth and evenly incorporated.

Set the cake stand over a wire rack that's been placed onto a large baking sheet with rims all the way around (this prevents the excess chocolate from running all over your kitchen counters) or just leave them on the wire rack if transferring to a serving dish later on. Carefully pour the melted white chocolate over the cake so that as it runs over it coats the top and sides evenly and completely.

Let the cake sit until the chocolate has completely cooled and 'set'-- about 15 minutes or so. At this point you can serve or refrigerate until ready to do so.

Just before serving, drizzle the chocolate syrup over top in the classic Zebra Cake pattern.
Notes
If not serving immediately, this cake will need to be refrigerated until ready to use since it's filling incorporates fresh cream which can spoil at room temp. The same goes for any leftovers.
Nutrition
Calories:
528
kcal
|
Carbohydrates:
66
g
|
Protein:
2
g
|
Fat:
28
g
|
Saturated Fat:
18
g
|
Cholesterol:
27
mg
|
Sodium:
333
mg
|
Potassium:
35
mg
|
Fiber:
1
g
|
Sugar:
48
g
|
Vitamin A:
292
IU
|
Vitamin C:
1
mg
|
Calcium:
104
mg
|
Iron:
1
mg