A quick and easy meal, this sweet & savory Zucchini & Sweet Corn Summer Soup is the sleeper meal that you didn't know you've always needed and wanted.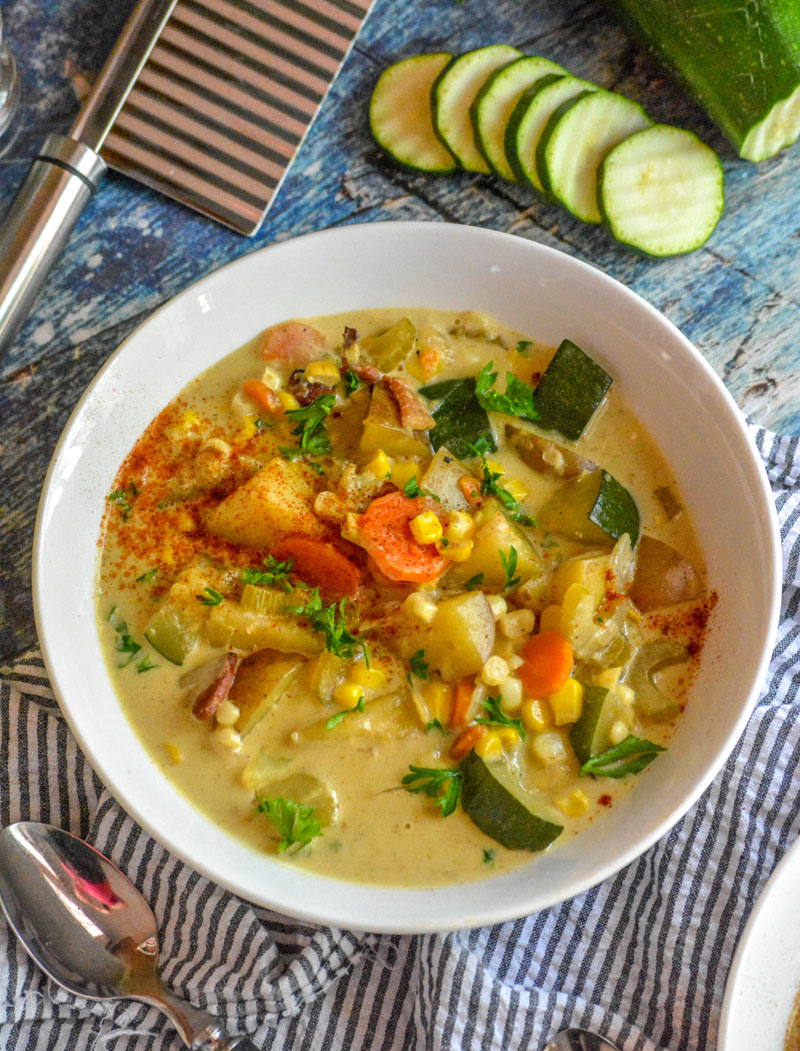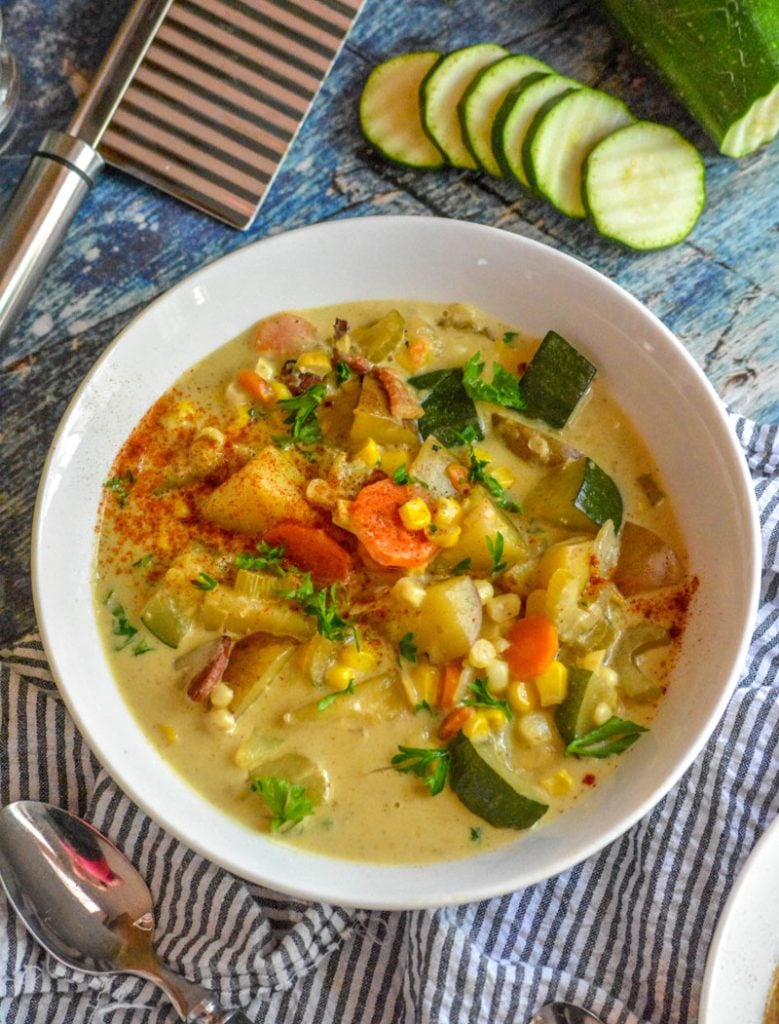 There's no denying at this point, Summer's coming to an end. Quickly. For me and my people though, that's not necessarily a bad thing. It means Fall's just around the corner.
Chilly nights
Bon fires
Hoodies
Hot Chocolate
Halloween
Pumpkins
What's not to love and get super excited just thinking about?!
While I'm one of those wacky weirdos who isn't completely sad about seeing the end of the warm weather and lazy days of Summer, it doesn't mean I'm ready to totally give up on the flavors and tastes of the season either.
Not just yet at least.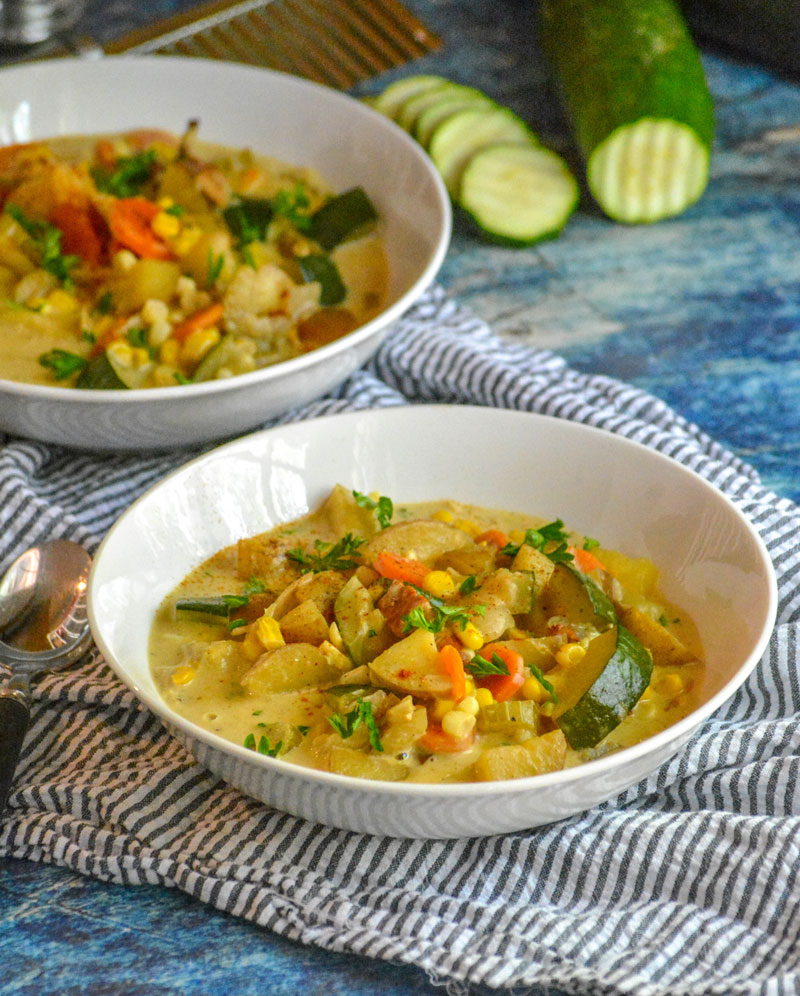 We've talked before about how soup isn't just a food for warmer weather. It's a great dish that adapts to any season, even the heart of Summer. I'm not just talking about a cold bowl of gazpacho either. I mean hot soup, slow simmered right on your stove top.
The trick is to really think about your ingredients and pick seasonal favorites that create a light, sweet profile which is so delicious you don't mind the added heat in your meal. Nowhere does that come more into play than with this sensational Zucchini & Sweet Corn Summer Soup.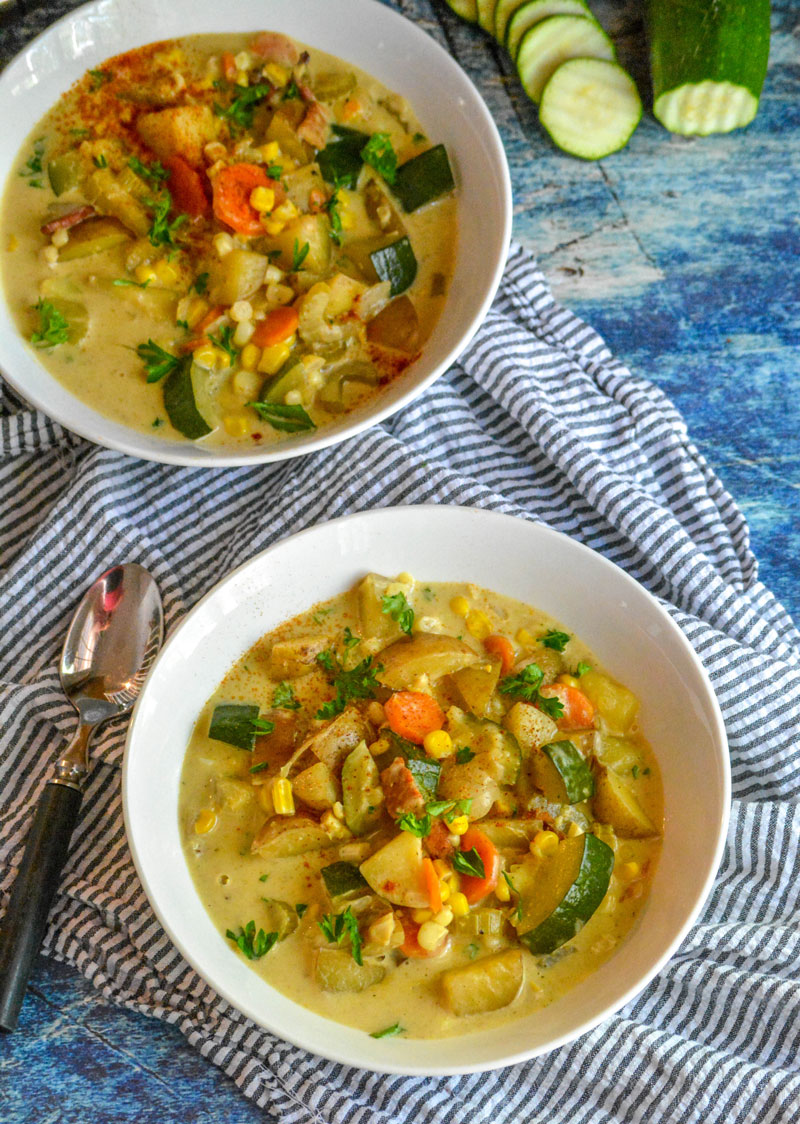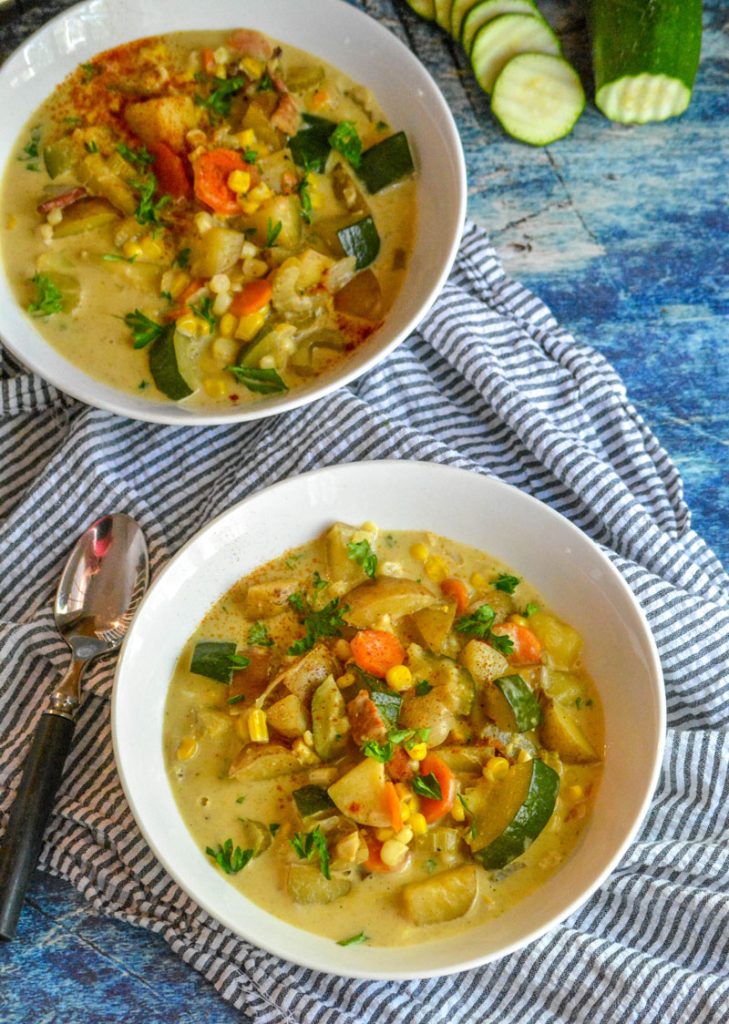 While we call this soup (force of habit, I guess), it's actually more of a lightened up 'chowder'. If you're anything like me, you may be sitting there scratching your head and silently wondering what exactly a 'chowder' is.
Is there any distinguishable difference between it and a soup? What about stew?
Don't feel alone, I was so confused on this topic for so much longer than I'd care to admit. Like, most of my life. Then my son went to culinary school, and I learned a few things- getting 'schooled' right alongside him.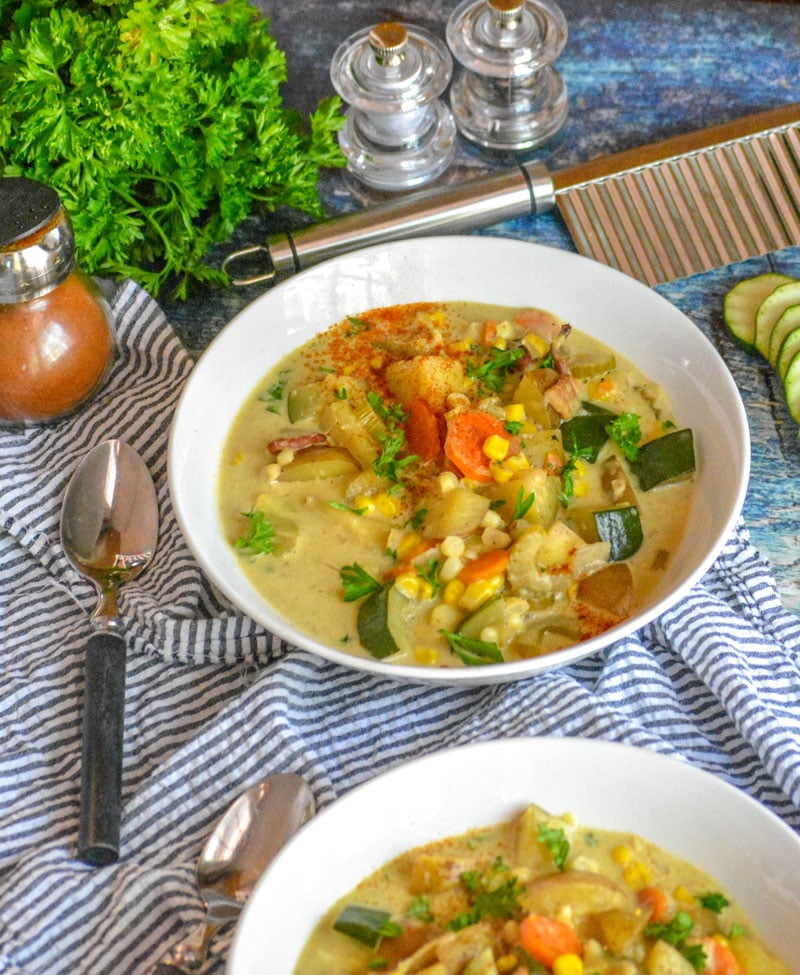 Turns out, 'soup' is just a really broad term than includes any liquid dish where solid ingredients are cooked in broth. Seems simple enough. Stew though, is actually a verb- as in 'to stew'.
Stewing something means barely covering the chunky ingredients in liquid, covering, and simmering for an extended time until the broth has thickened, but not really reduced in volume. You could say it's less 'soupy'.
Now I guess it's time to talk about chowder, which is where things get a little less clear and the lines are a bit blurred. There's a hot debate all over the culinary world about what constitutes a true chowder. And depending on which side of the fence you fall on, or advocate for, you could very well find yourself enmeshed in an intense argument.
Traditionally, a chowder is a thick and pretty chunky soup with a creamier texture. Not a cream soup, but creamy all the same. Where the issue comes in, is if you believe a chowder must always contain an element of seafood or not. I'm gonna let y'all know that I'm in the 'not' category. At the same time, don't anybody dare call my beloved clam chowder by any other name.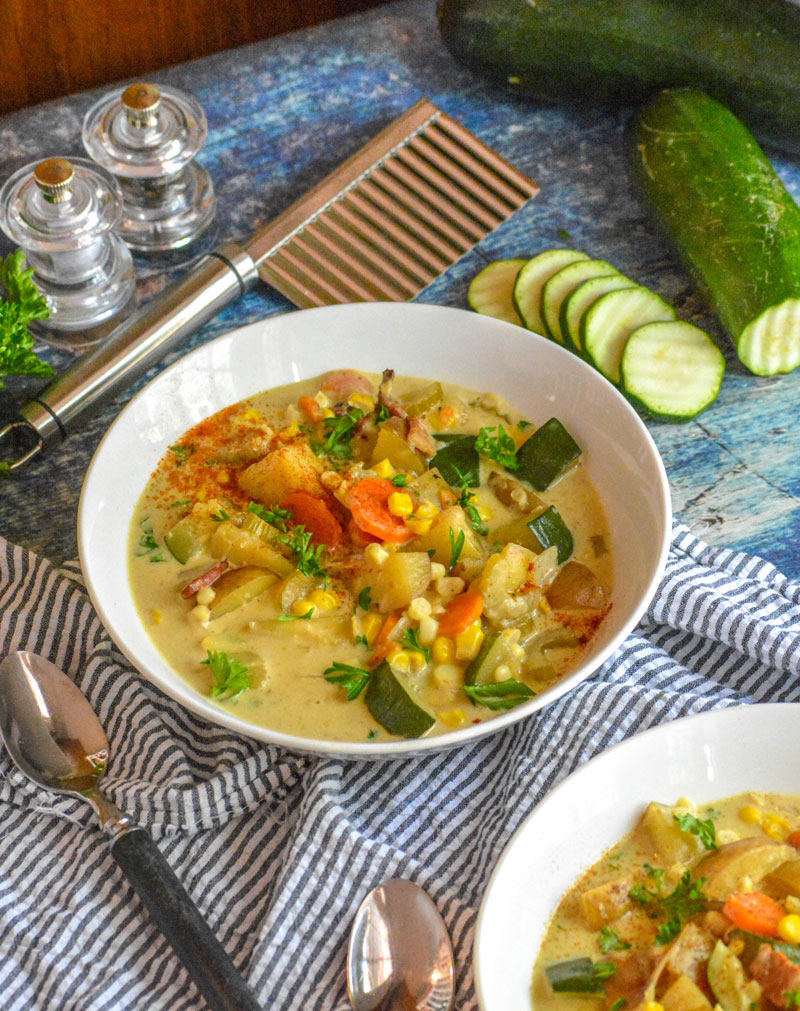 All that being said, to me- this Summery-soup is actually a lightened up chowder, but because I try to be neutral in most things- still opted to call it a soup.
Also, chowders always seem to bring Winter-related memories and images to mind. I'm not trying to deal with that while I'm enjoying a bowl of this sweet & savory Zucchini & Sweet Corn Summer Soup.
And who would want to, when this soup is a bit of Summer ladled right into every bowl?? It's got everything a couple Summer staples such sweet corn cut right off the cob and diced zucchini squash, along with soup staples like celery, carrots, onions, and potatoes.
It's the ultimate creamy comforting meal that's as filling as it is fueling for you. With all this deliciousness in one bowl, you won't even miss the meat!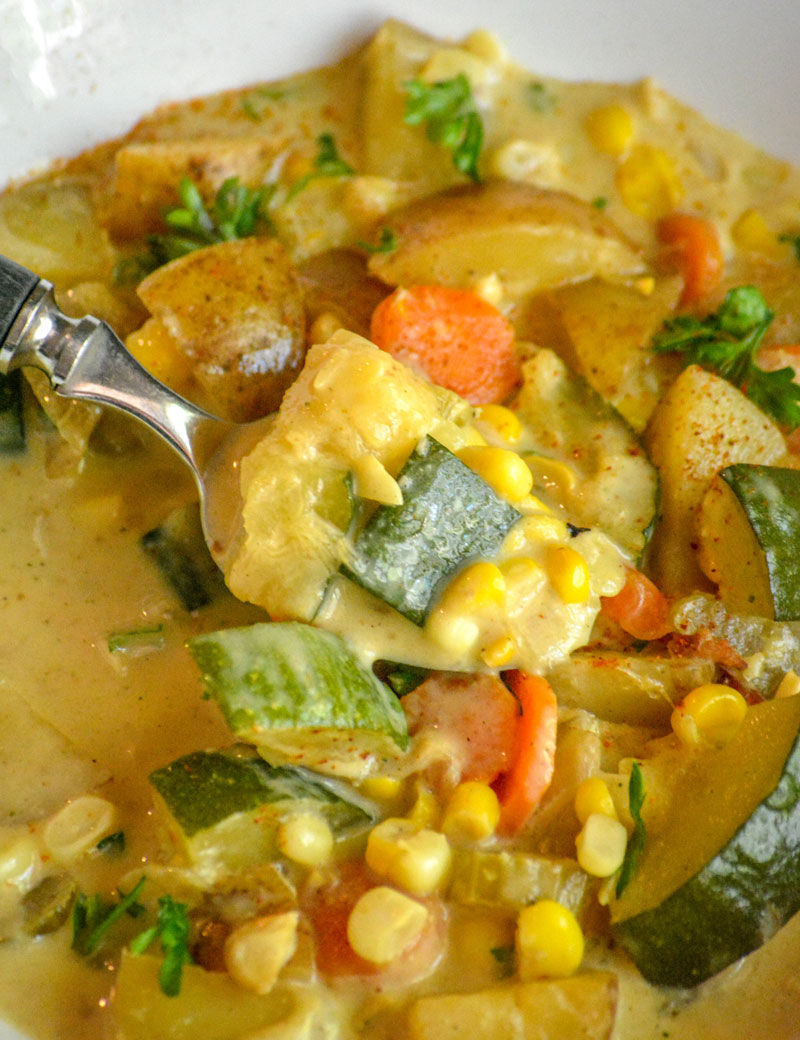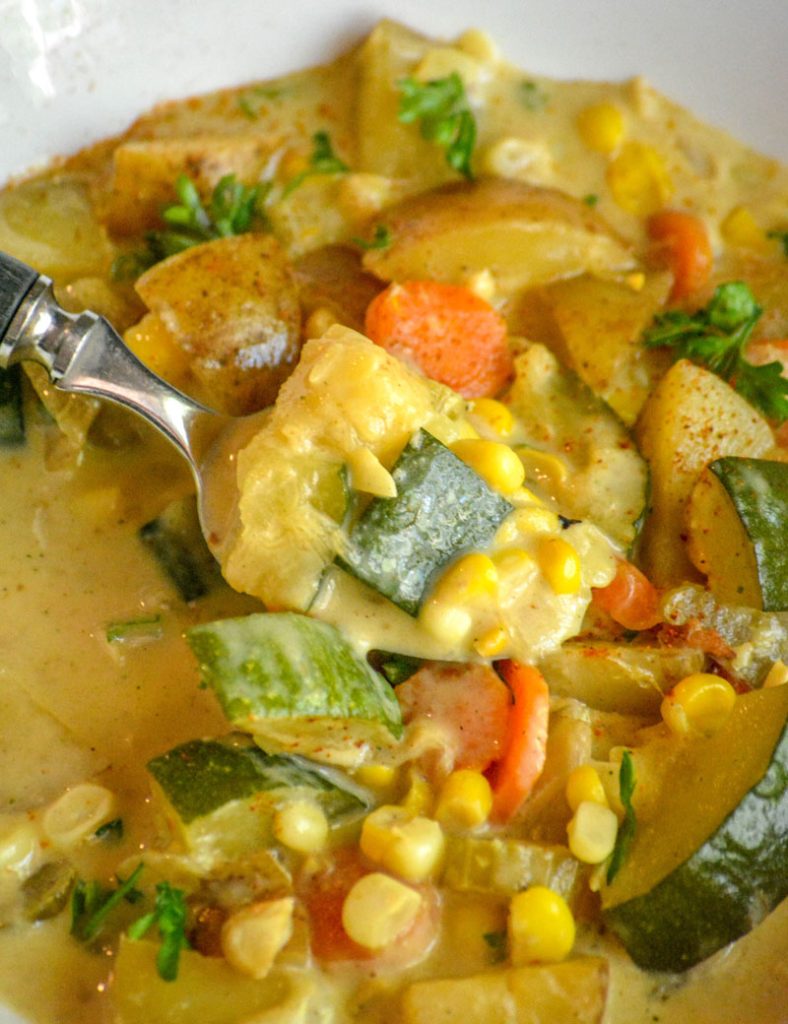 Depending on where you are, or your gardening level, stop by the store or step out into your garden and pick what you need to make this yummy soup. One bite of this easy vegetarian Zucchini & Sweet Corn Summer Soup, and your family's gonna thank you with every bite.
They won't miss the meat at all!
Other Summer Soup Ideas You Might Also Enjoy: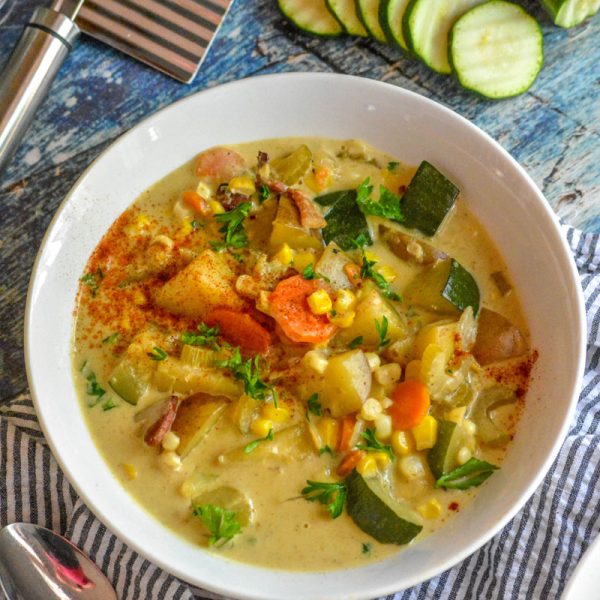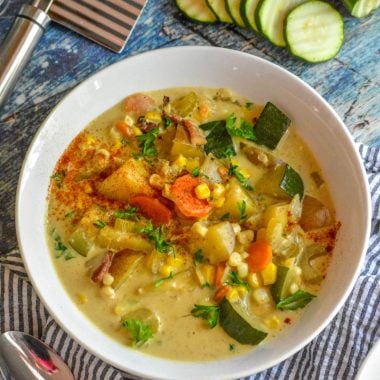 Zucchini & Sweet Corn Summer Soup
A Summery chowder style soup features some of the season's best crop with fresh, sweet corn cut straight off the cob and diced zucchini squash.
Print
Pin
Rate
Ingredients
1

tbsp

butter

3

strips

bacon, chopped

1/2

large

white onion, diced

2

stalks

celery, sliced & diced

1/2

cup

sliced carrots

1 heaping

tbsp

minced garlic

1/2

tsp

dried thyme

1

lb

potatoes, diced into 1/2" cubes

4

cups

chicken broth

1-2

zucchini squash, chopped

4

ears of corn, shucked and kernels cut away from the cob

1

cup

half & half

1/4

tsp

dried parsley

1/8

tsp

cayenne seasoning

salt & pepper, to taste

1/4

tsp

smoked paprika
Instructions
Melt the butter in a cast iron pot over medium heat. When the butter's melted, add in the bacon. Stirring occasionally, until cooked- about 3-4 minutes.

Stir in the onion, celery, carrots, garlic, and thyme. Continue cooking until the vegetables begin to soften, stirring occasionally, about 5 minutes.

Stir in the potatoes, broth, and bay leaf.Bring the heat to a quick boil, then lower the heat and let the soup simmer for 10-12 minutes, or until the potatoes are at least half cooked.

Stir in the zucchini and corn, and salt & pepper, to taste. Bring the mixture back to a simmer, and cook for another 10-12 minutes- or until the squash is tender.

Take the bay leaf out, discard. Pour half the soup into another bowl, set aside. Using an immersion blender, puree the remainder. Transfer the two back together and stir to combine.

Stir in the half and half, cayenne, parsley, and smoked paprika.

Serve hot, with a thick slice of good bread.