This post is sponsored in conjunction with #BrunchWeek. I received product samples from sponsor companies to aid in the creation of the #Brunchweek recipes. All opinions are mine alone.
If you've got the right ingredients, this Quick & Easy Cheesy Cheddar Asparagus Frittata will save you on pretty much any occasion you're entertaining. It's simple, savory, and it's also fool-proof!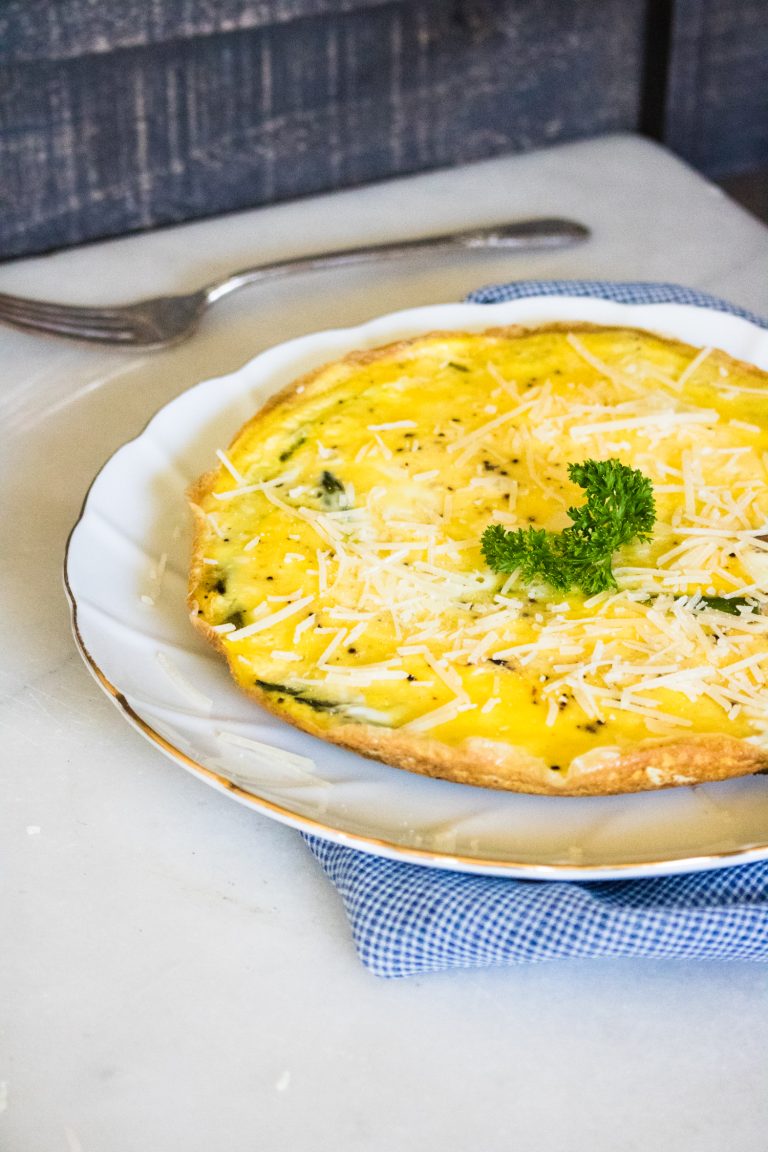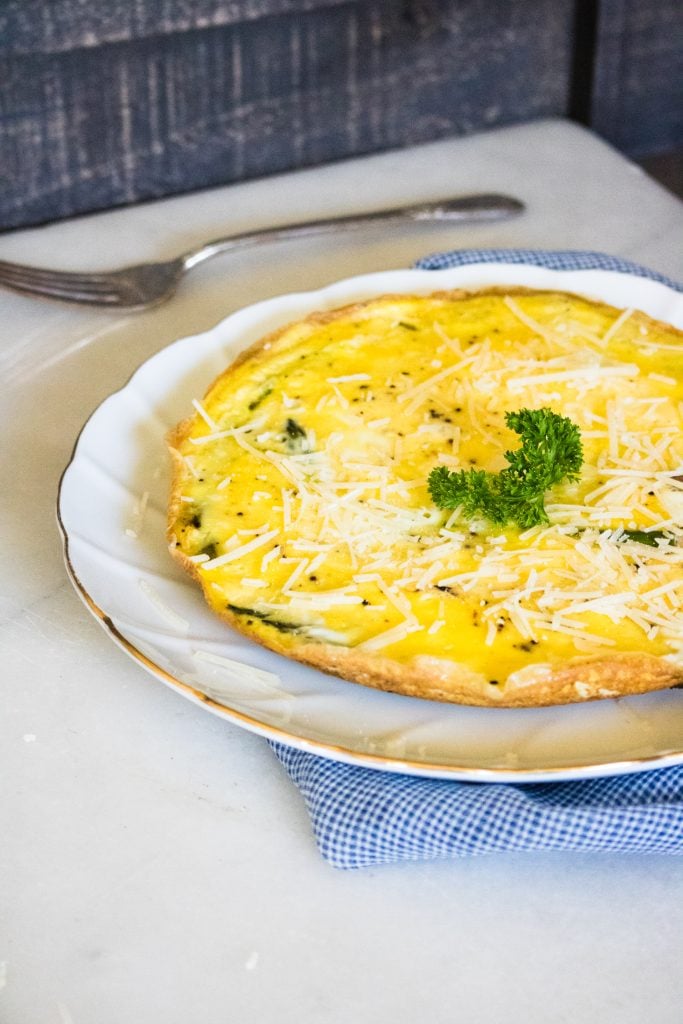 Eggs take on any flavor you incorporate with them, and this dish is no different. Filled with light, airy eggs, sauteed asparagus, and rich creamy cheese- it's perfect for breakfast, brunch, or even a last-minute dinner.
Growing up, I loved Saturday mornings. It was the one day a week my Mom got up and made a full on meal of egg-based deliciousness. I'd later come to know it by the name 'brunch', but her omelettes were legendary and occasionally we'd be treated to an extra special treat- a homemade quiche.
It was great, she'd throw in leftover veggies she'd saved throughout the week, and whatever leftover meat she had on hand. No meat? No problem, those bad boys were yummy either way.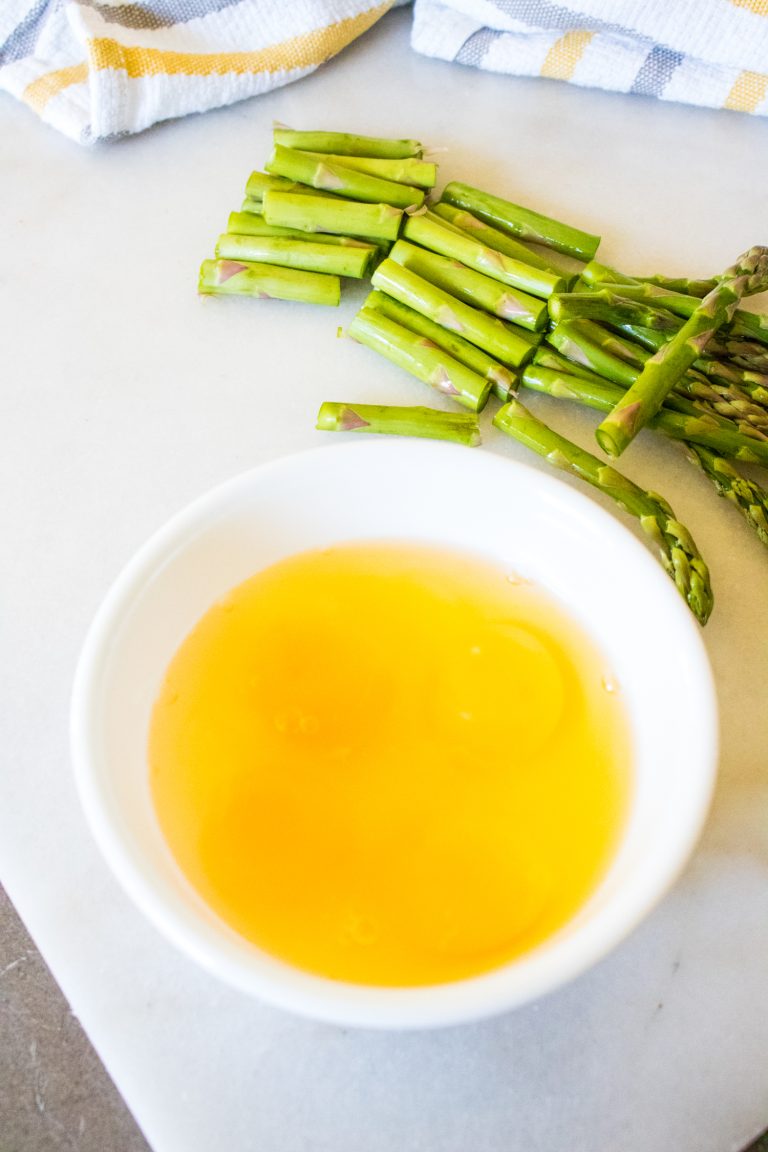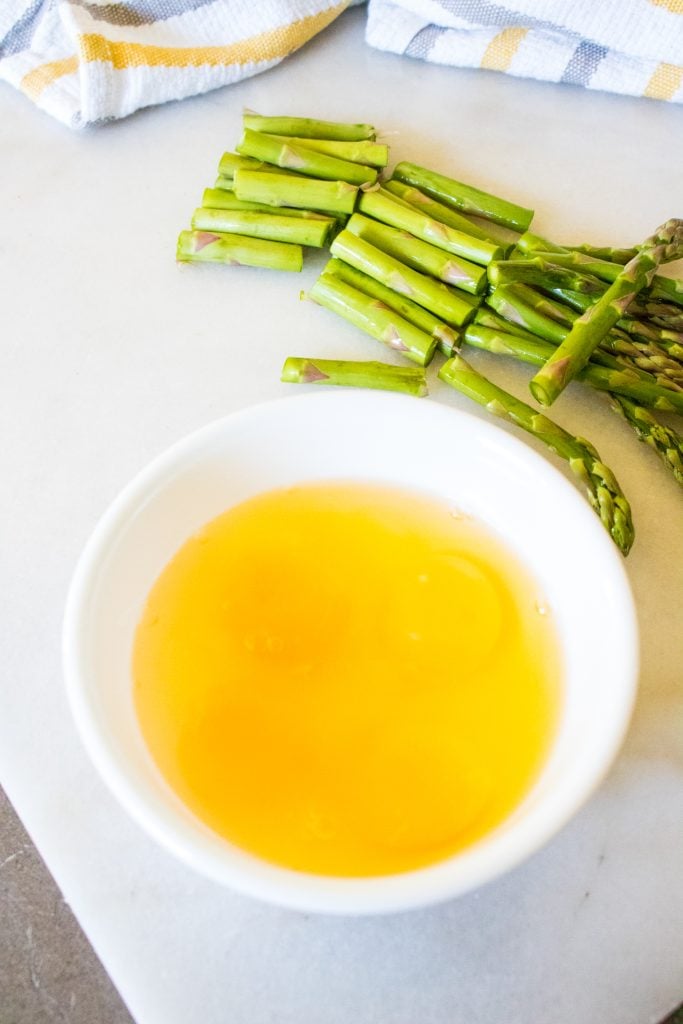 Then I met and married my Italian husband, and we went to visit his Italian Nonna. Since we stayed the night, naturally she made us breakfast the next morning. Something she called a frittata, but it looked to me like a cross between an omlete and crustless quiche. What is a frittata??
Well, I learned that it's an Italian egg-based dish that's basically an open-faced omlette and in Italian frittata loosely translates to 'fried'. It's a powerhouse meal that's quick and easy, perfect for morning noon or night, and a great way to use up leftovers.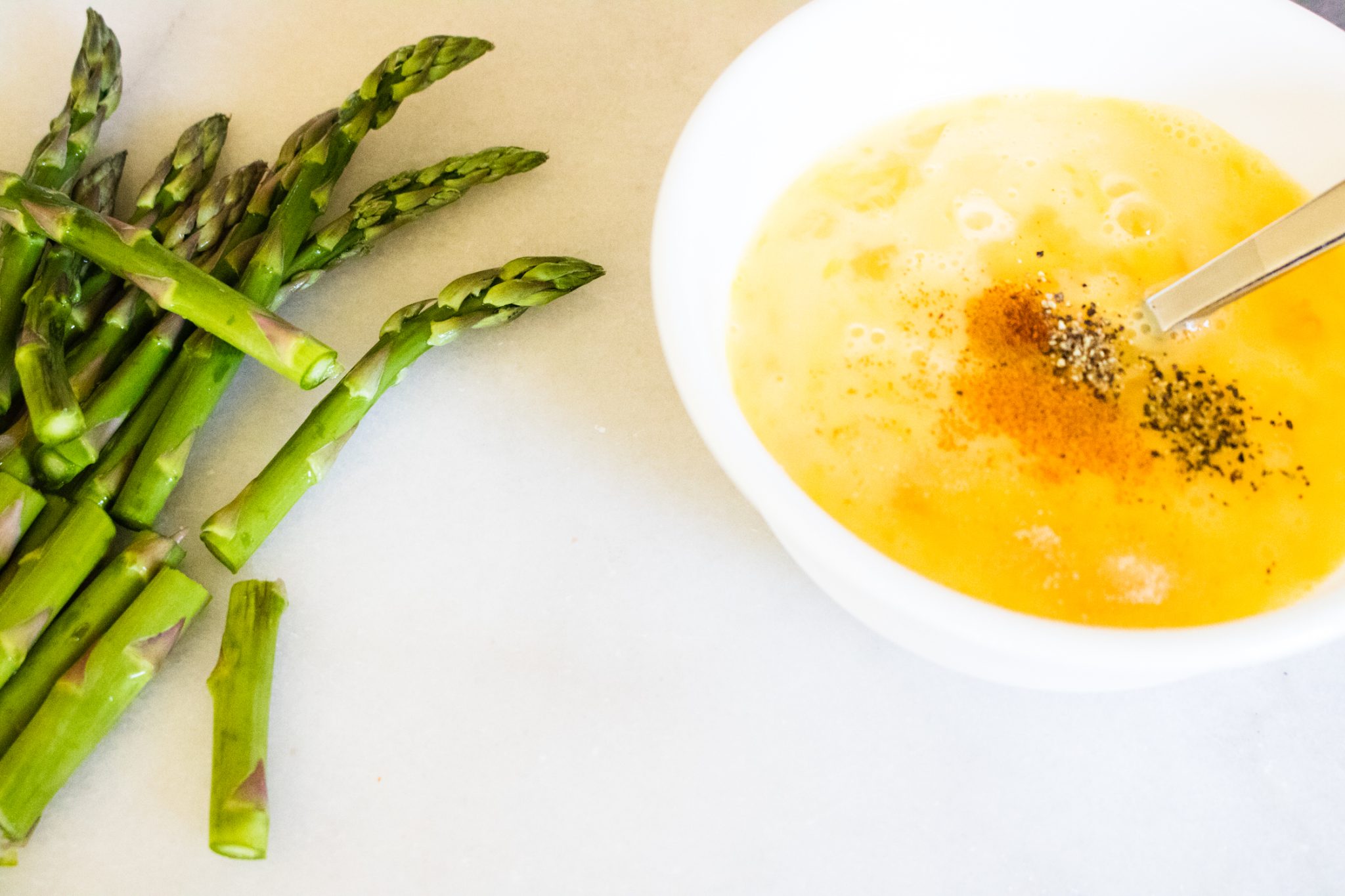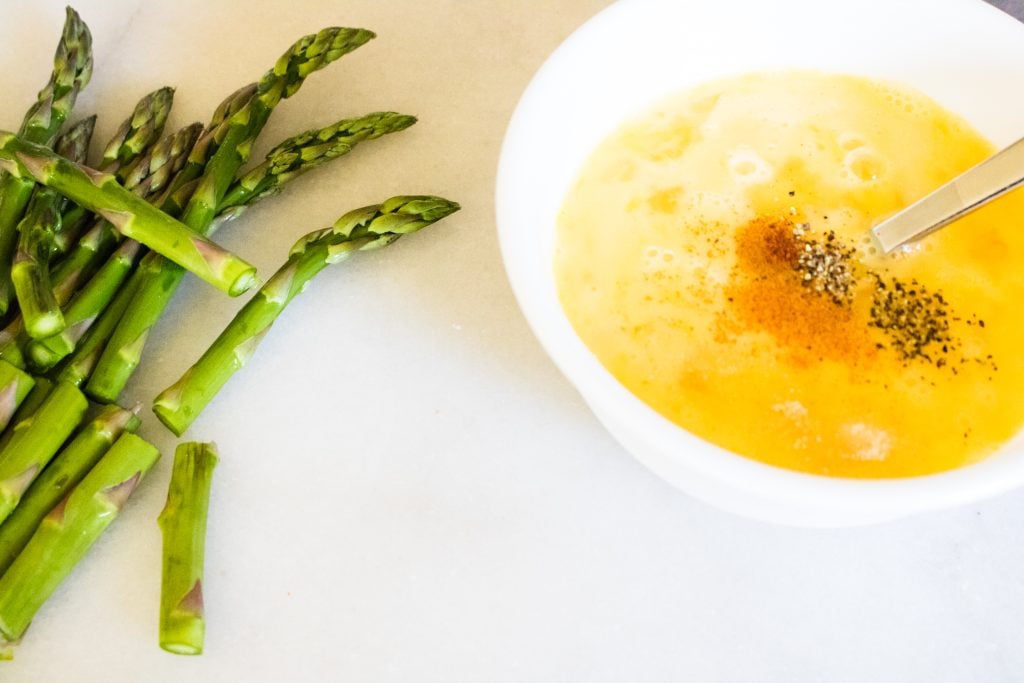 Stir your favorite veggies, meats, and cheeses into the beaten eggs and let the skillet and the heat do the heavy lifting for you!
After learning how to make the dish from my husband's Nonna, I've since learned to adapt it to our own tastes. My favorite version is by far this Quick & Easy Cheesy Cheddar Asparagus Frittata.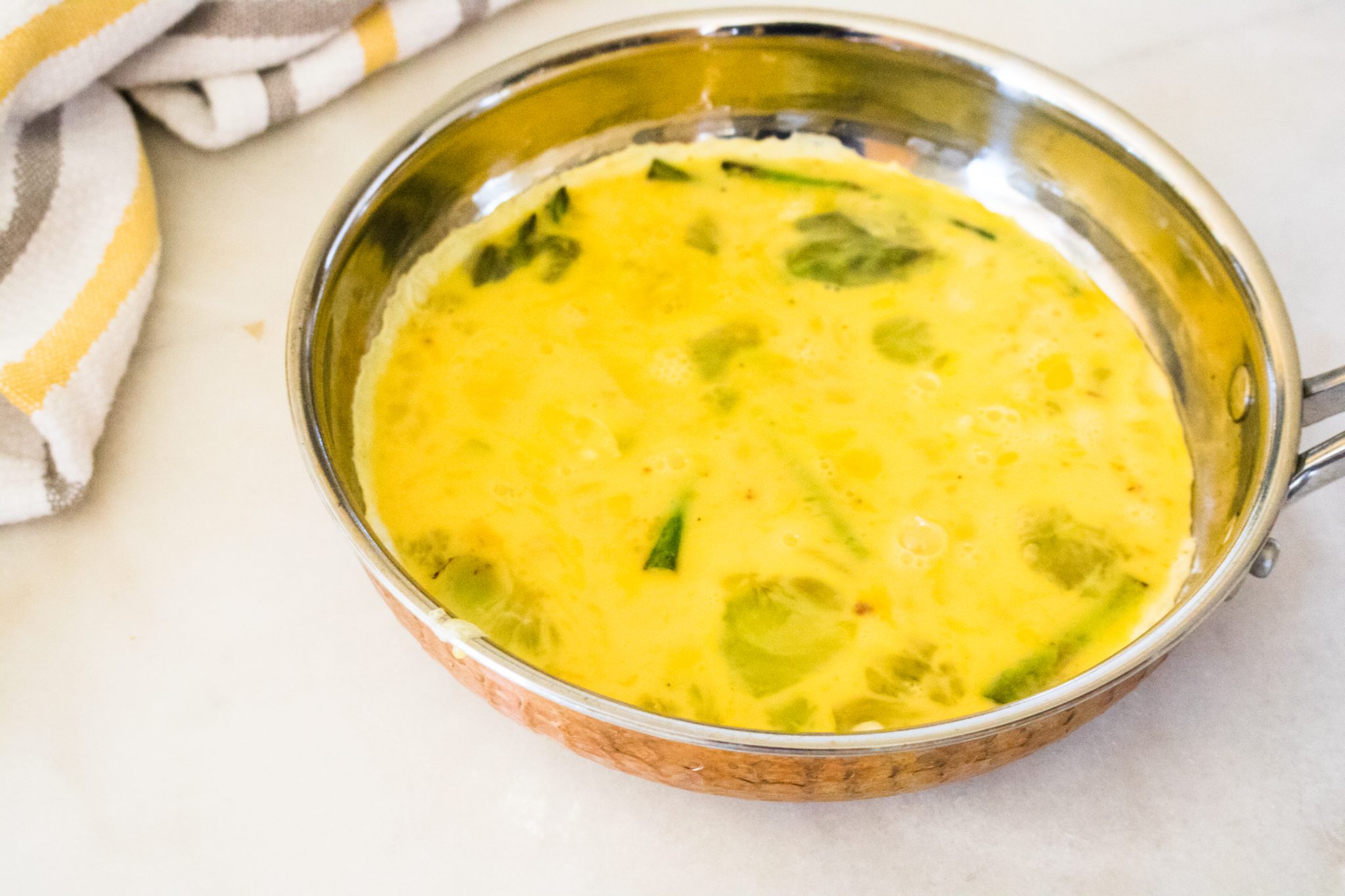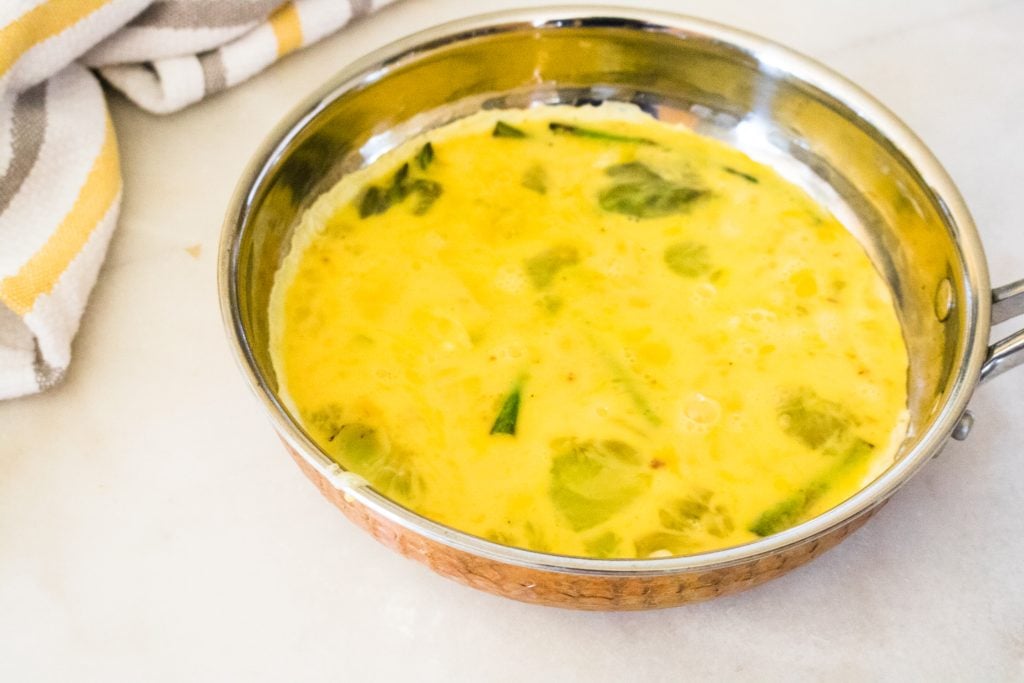 A good brunch doesn't get any better than it's best dish. We keep our family's taste buds craving more by using some of the best ingredients around.
For example, to get the creamiest beaten eggs with a light, airy finish in your frittata, I highly suggest going with Eggland's Best. Plus, you can feel good knowing your family's getting extra nutritious eggs- they have as much as 6x more vitamin D, 10x more vitamin E, and double the omega 3s compared to ordinary eggs. Why settle for less than the best?!
Cabot Creamery makes the best cheese around, and in the U.S. For this particular dish, we used their Farmhouse Reserve cheddar from their Legacy Collection. Although, their horseradish cheddar could be subbed and add a nice little zing to this savory brunch entree.
Michigan asparagus is the only asparagus for me. It's known for its hand snapped freshness and being locally grown in the U.S. It's the most flavorful we've found, and the quality is always superb making it a must have for me for my Quick & Easy Cheesy Cheddar Asparagus Frittata.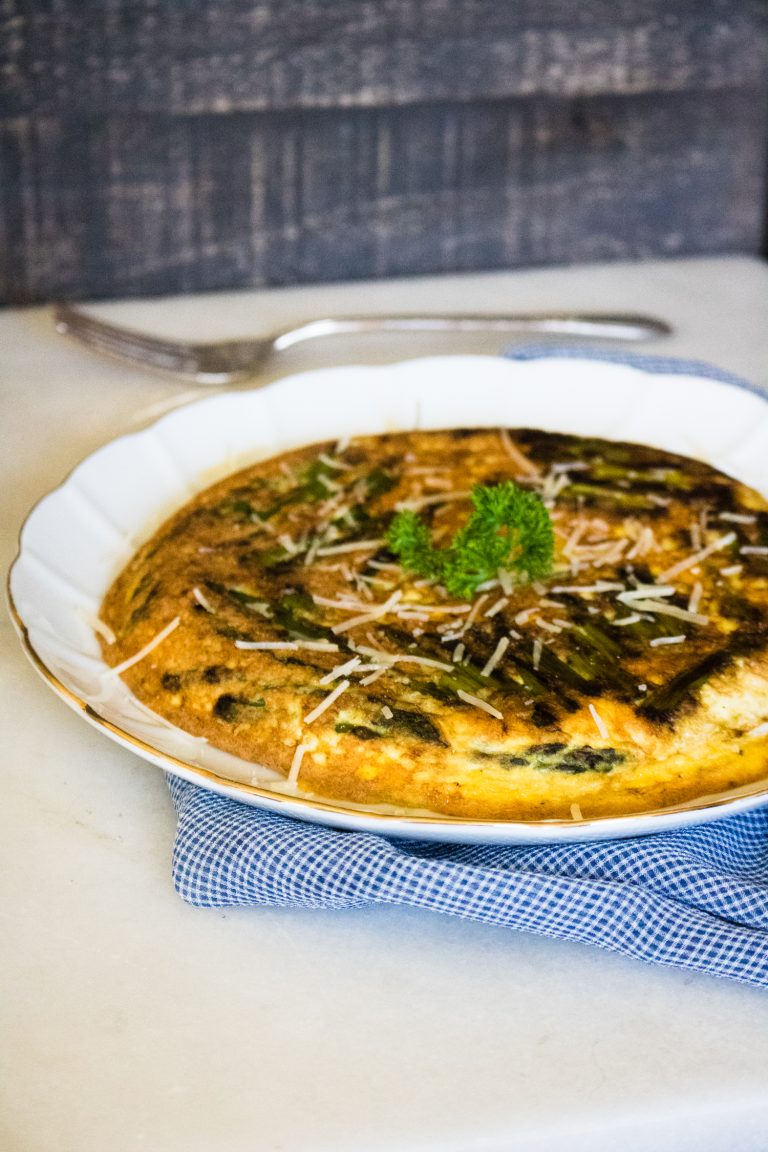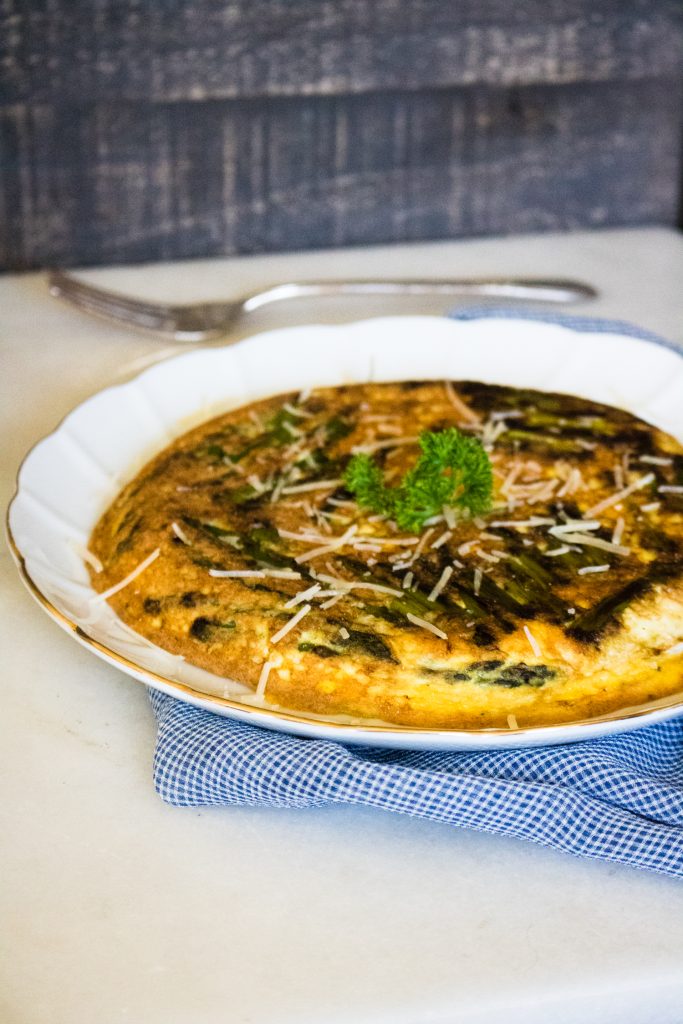 From my husband's Nonna's kitchen, to your brunch table this Quick & Easy Cheesy Cheddar Asparagus Frittata is easy enough for an level of cook (even a total novice), but so good that- even though it's straightforward enough- it's destined to impress all of your guests.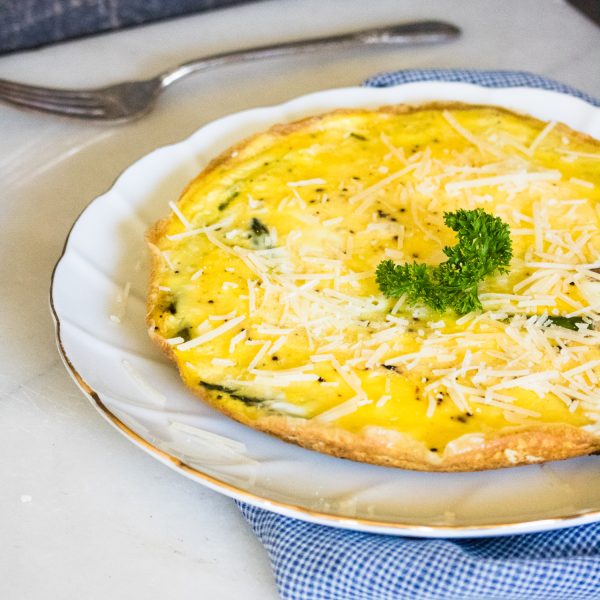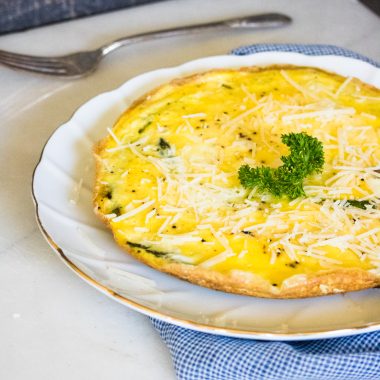 Ingredients
4

Eggland's Best eggs

2

tbsp

half & half

5

Michigan asparagus stems, washed with the ends cut off & discarded

1/4

tsp

salt

1/4

tsp

smoked paprika

1/4

tsp

freshly cracked black pepper

scant 1/8

tsp

garlic powder

1/4

cup

shredded Cabot Farmhouse Reserve Cheddar

shredded Parmesan cheese
Instructions
Spray a non stick skillet with cooking spray. Heat the pan on the stove top over medium heat while prepping the other ingredients.

Cut the asparagus into 1-2" pieces, then add them to the heated pan, sauteeing for 3-5 minutes and turning halfway through.

Crack the eggs into a small bowl, use a whisk to beat them together until creamy. Whisk in the seasonings, just until evenly incorporated.

Pour the seasoned eggs evenly out over the asparagus, and let the mixture cook for 3-4 minutes. Once the frittata is almost cooked through, place a lid on the skillet, remove from heat, and let the frittata continue cooking naturally.

To serve the frittata, run a butter knife around the edges to release it from the pan. Working carefully, flip the frittata out onto a place, serving dish, or even a cutting board. Top side up will look prettier, but the bottom side up will have the veggies visible, as seen in our photos.

Garnish with shredded Parmesan and serve immediately.
Notes
If you'd like a heartier version, add in a 1/2 cup of chopped ham.
Welcome to #BrunchWeek 2018 hosted by Love and Confections and A Kitchen Hoor's Adventures! This year is even bigger and better than ever! Thirty eight bloggers from around the country are showcasing their best brunch dishes. We have so many delicious recipes for you to enjoy throughout the week (over 150!!) including cocktails, appetizers, pastries, tarts, main courses, and plenty of desserts! Our BrunchWeek Sponsors are helping us give away some great prizes. Thank you so much, Sponsors, for your generosity. We have an incredible giveaway below and we'd love if you would take a moment to read about it and what you can win!
Prize #1 Dixie Crystals is giving one winner a 6-Quart Instant Pot 7-in-1 Multi-Use Programmable Pressure Cooker, Slow Cooker, Rice Cooker, Steamer, Sauté, Yogurt Maker and Warmer and a case of Dixie Crystals Extra Fine Granulated Sugar
Since 1917, Dixie Crystals® has been the South's choice for high-quality sugar and sweeteners. For generations, Dixie Crystals has been at the heart of family traditions and celebrations. Our pure cane, non-GMO sugar products guarantee that treasured family recipes will turn out right every time. Bake with love and Dixie Crystals.
Prize #2 Cabot Creamery Co-operative is giving one winner a Cheese Board Set, including a slate cheese board, Boska cheese knife, Legacy Collection Cabot Cheddars, Founders 1919 Collection Cheddars, Waxed Private Stock, Waxed Vintage Choice, and 3 Year Artisan cheeses.
Cabot Creamery Co-operative, makers of naturally aged, award-winning cheeses and dairy products is owned by 1,000 dairy farm families in New England and New York.
Prize #3 LorAnn Oils and Flavors is giving one winner A Baking and Candy Making Prize package. The package includes: ceramic serving platter, a collection of 5 LorAnn Bakery Emulsions, one each of LorAnn Madagascar vanilla extract and Madagascar vanilla bean paste, Lollipop cookbook along with re-usable candy mold, candy packaging accessories, candy thermometer, and a pack of 3 LorAnn super-strength candy oils.
Our flavors. Your creations. For over 50 years, LorAnn Oils has been supplying professionals and home chefs with the finest quality candy and baking flavors, essential oils, and specialty ingredients. Visit us at www.LorAnnOils.com to shop, learn, and discover new recipe ideas.
Prize #4 Cal-Organic Farms is giving one winner a Cal-Organic prize package complete with kitchen supplies, a portable cooler bag and branded apparel—everything you need to take your delicious #BrunchWeek recipes on-the-go! The package includes a custom-made Tilit apron, cooler bag, kitchen knife, vegetable peeler, t-shirt, hat, notepad and pen.Cal-Organic Farms is the largest organic vegetable producer in the United States. Supplying more than 65 year-round and seasonal varieties, we are proud to grow 100% of our produce on family-owned acreage in California.
Prize #5 Michigan Asparagus is giving one winner $100 cash gift card.Michigan Asparagus is known for its hand snapped fresh asparagus. It is available May – June and grown mostly in Oceana County along the shores of Lake Michigan. Remember to buy U.S. for the freshest of the fresh.
Prize #6
Eggland's Best
is giving one winner an Eggland's Best Kitchen Essential Prize Package that included 1 month of free Eggland's Best Eggs along with Hard-Cooked Peeled Egg coupons, a freezer bag to carry your groceries, kitchen essentials, (whisk, spatula, pot holders, cutting board, frying pan), Eggland's Best brand new cookbook, and a plush Eggland's Best egg.
Eggland's Best eggs have more of the delicious, farm fresh taste you and your family love – anyway you cook them. Plus, Eggland's Best provides superior nutrition such as 6x more vitamin D, 10x more vitamin E, and double the omega 3s compared to ordinary eggs so why settle for less?
Prize #7 Cento Fine Foods is giving one winner a Cento Classico gift basket, which contains imported products from Cento and their family of brands.Cento Fine Foods, the premier Italian food distributor, importer and producer in the United States, presents a distinctive line of more than 1,000 authentic Italian style products produced from only the finest ingredients. A family owned and operated company spanning three generations, Cento continues to provide premium quality, exceptional products at the best consumer value. Taste the difference quality makes and see why you can "Trust Your Family With Our Family Ò".
Disclaimer: Thank you to #BrunchWeek Sponsors: Dixie Crystals, Cabot Cheese, LorAnn Oils and Flavors, Cento Fine Foods, Michigan Asparagus, Cal-Organic and Eggland's Best for providing the prizes free of charge. These companies also provided the bloggers with samples and product to use for #BrunchWeek recipes. All opinions are my own. The #BrunchWeek giveaway is open to U.S. residents, age 18 & up. All entries for the winner will be checked and verified. By entering you give the right to use your name and likeness. The number of entries received determines the odds of winning. Seven (7) winners will be selected. The prize packages will be sent directly from the giveaway sponsors. The #BrunchWeek Bloggers are not responsible for the fulfillment or delivery of the prize packages. Bloggers hosting this giveaway and their immediate family members in their household cannot enter or win the giveaway. No purchase necessary. Void where prohibited by law. This promotion is in no way sponsored, endorsed or administered by, or associated with Facebook, Instagram, Pinterest, Twitter or any other social channel mentioned in the #Brunchweek posts or entry.
Take a look at what the #BrunchWeek Bloggers are creating today!
BrunchWeek Beverages:
Carrot Grapefruit Smoothie from Rants From My Crazy Kitchen
Cranberry Orange Mimosas from The PinterTest Kitchen
Hazelnut Coffee Syrup from The Redhead Baker
BrunchWeek Appetizers:
Antipasto Salad from Cooking with Carlee
Egg & Asparagus BLT Salad from Sweet Beginnings
Spring Brunch Veggie Tray from Wholistic Woman
BrunchWeek Egg Dishes:
California Club Omelet from The Barbee Housewife
Quick & Easy Cheesy Cheddar Asparagus Frittata from 4 Sons 'R' Us
Huevos Rancheros Cups from A Day in the Life on the Farm
Kuku Sabzi (Persian Herb Omelette) from Culinary Adventures with Camilla
BrunchWeek Breads, Grains, and Pastries:
Buttermilk Scones from Mildly Meandering
New York Style Garlic Knots from Girl Abroad
Miso Butter Toast from Brunch-n-Bites
Pecan Belgian Waffles with Strawberry Sauce from Family Around the Table
Savory French Toast with Asparagus from Forking Up
BrunchWeek Main Dishes:
Breakfast Macaroni and Cheese from Strawberry Blondie Kitchen
Canadian Bacon, Egg & Asparagus Quesadilla from Kudos Kitchen by Renee
BrunchWeek Fruits, Vegetables and Sides:
Asparagus Fried Rice from Tara's Multicultural Table
Asparagus Bacon Rollups from For the Love of Food
Creamy Baked Cheesy Asparagus from Daily Dish Recipes
Roasted Asparagus with Parmesan from Books n' Cooks
BrunchWeek Desserts:
Blueberry Raspberry Chocolate Bark from Caroline's Cooking
Raspberry Chocolate Cheesecake from The Crumby Kitchen
Red Velvet Cake Macaron from A Kitchen Hoor's Adventures
Succulent Vanilla Sugar Cookies from Love and Confections