These yummy Loaded Italian-Style Chicken Sheet Pan Nachos combine all of your Italian flavor favorites. Rotisserie chicken, mozzarella cheese, sliced black olives, sun dried tomatoes, pepperoncinis, pepperoni, green onions, and parsley- all lovingly bound together with a generous alfredo sauce base.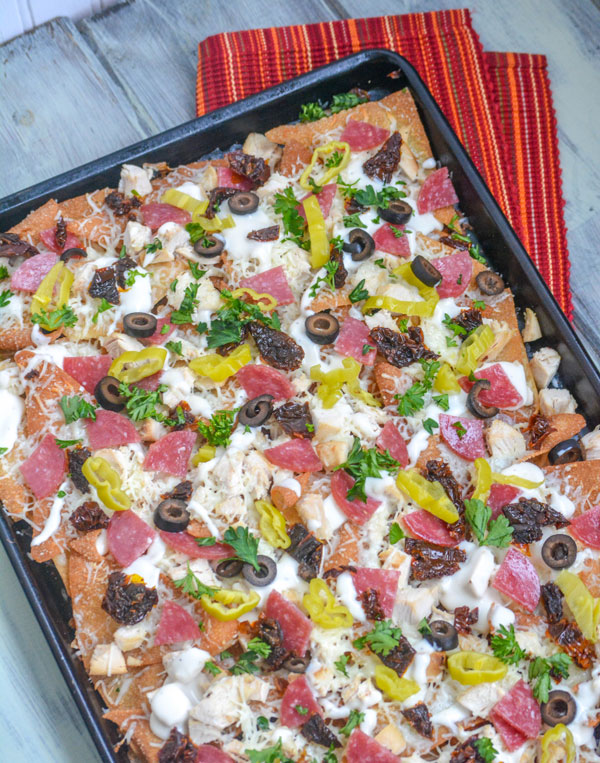 Did you know you could get an entire Italian dinner in a single sheet pan? This simple nacho recipe features all your favorite flavors, in an easy to prep and prepare meal that everyone will love.
I've said it for years, and I'll say it again… if my husband & I didn't have bad luck, we'd have no luck at all. Case in point, tonight. We get all moved in to our new home, everything put away. Well, mostly put away.
The kids are grumping and harumphing about having to get back on chores. I mean their chore list is so long, you'd think they might die or something.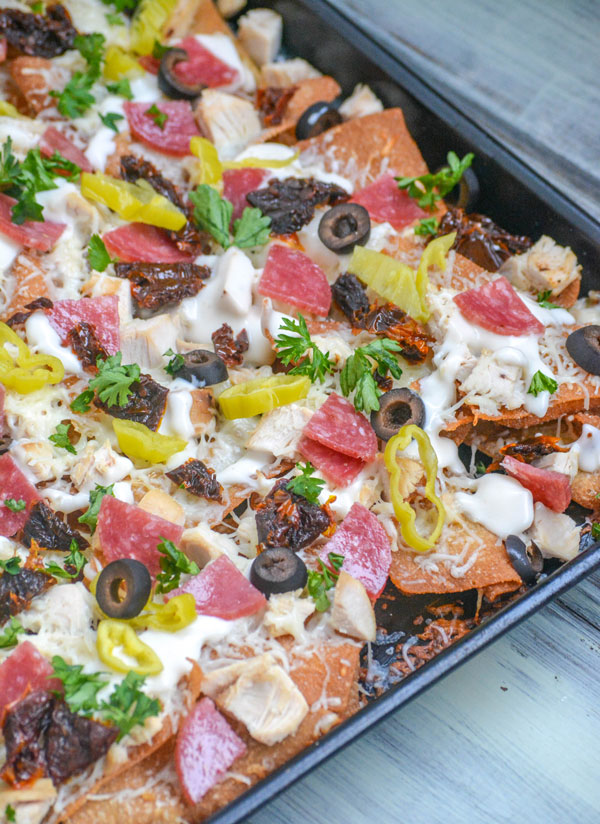 What with all the walking the dog, loading/unloading the dishwasher (a stark improvement to our old home where we had to hand wash and dry said dishes), and generally clean up after themselves.
The last one being the biggest issue!
I'm trying so hard not to lose my cool, and keep it calm and 'talk' them through it. When the 18 year old, in the throes of a major attitude episode over unloading the dishwasher takes down the stack of small plates to put the big plates up, gets his keychain stuck on something, angrily jerks away, and sends the entire stack of small plates and a couple bowls crashing to the floor.
Cue the 'I'm gonna die/Deer in headlights' look from my son.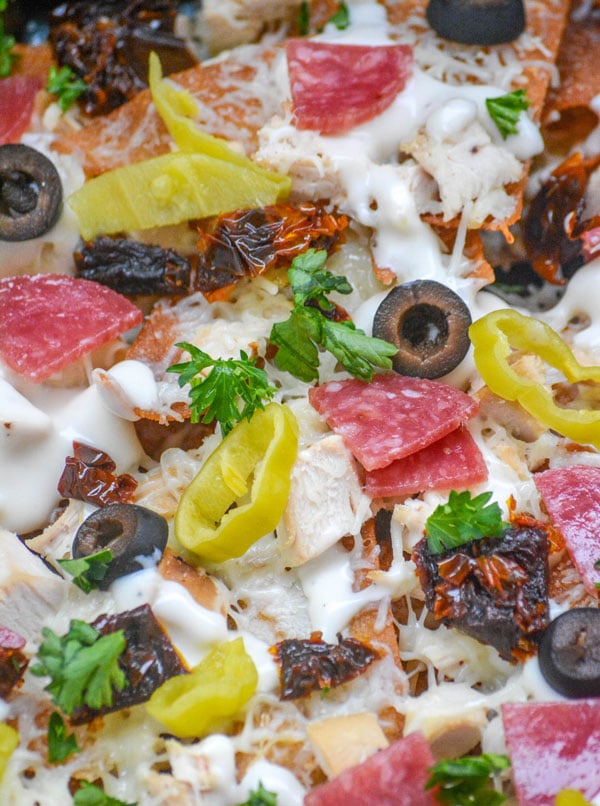 I wish I'd been recording because the cascade of breaking/broken ceramic and crockery spreading out all over the kitchen floor was pretty damn impressive. Well, it would've been if my heart hadn't been seizing and breaking all at the same time.
Over half of them were dishes you've become quite familiar with in our pictures and posts, if you've followed along for any amount of time. These lovely red official Mason jar plates in these photos being some of the recently deceased.
So in an ode to bid them a fond farewell, I couldn't see a better way than to share with you the last yummy recipe that graced their plates: Loaded Italian-Style Chicken Sheet Pan Nachos.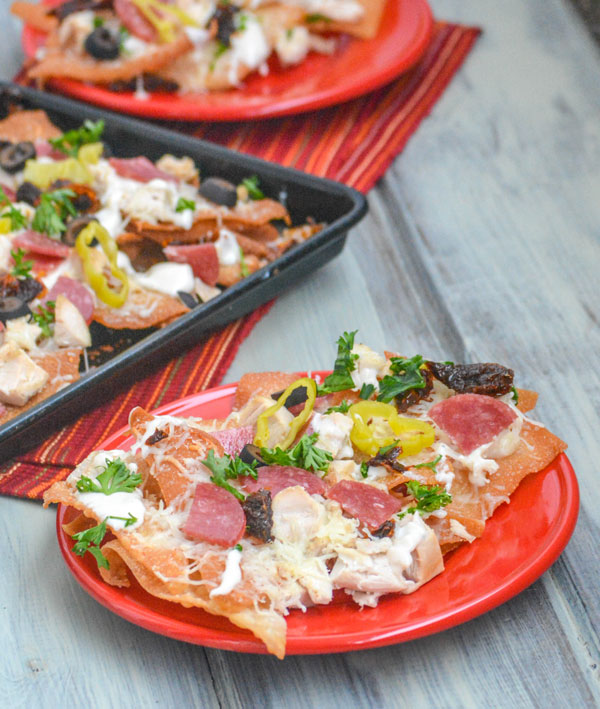 I know for many people (myself included for a long time), nachos brought a purely Mexican flavor profile to mind. Long gone are those days though! If it fits on a bed of chips, it's gettin' made.
In lou of the traditional fried tortilla chip, we opted for fried wonton chips instead. A bed of those heavenly crisps are topped with all of your favorite Italian-style toppings.
Chopped rotisserie chicken, melted mozzarella cheese, and a hearty drizzle of your favorite alfredo sauce top a bed of crisp, freshly fried wonton chips. Sprinkle over that several toppings, such as chopped sun dried tomatoes, sliced pepperocini peppers, freshly chopped parsley, sliced black olives, and traditional pepperoni.
These are the nachos your Italian ancestors could/would appreciate or, better yet, these Loaded Italian-Style Chicken Sheet Pan Nachos are the quick & easy dinner anyone who loves Italian flavor can appreciate.
Other Italian style recipes you might enjoy: Sweet Italian Sausage Soup with Kale, Italian Bruschetta Style Salsa, Italian Wedding Soup Pasta Skillet, and Nonna's Italian Broccoli & Spaghetti.
If you've tried these LOADED ITALIAN STYLE CHICKEN SHEET PAN NACHOS, or any other recipe on my site, let me know in the comment section how it turned out, we love hearing from our readers! You can also follow along with me on PINTEREST, FACEBOOK, and INSTAGRAM to see more amazing recipes and whatever else we've got going on!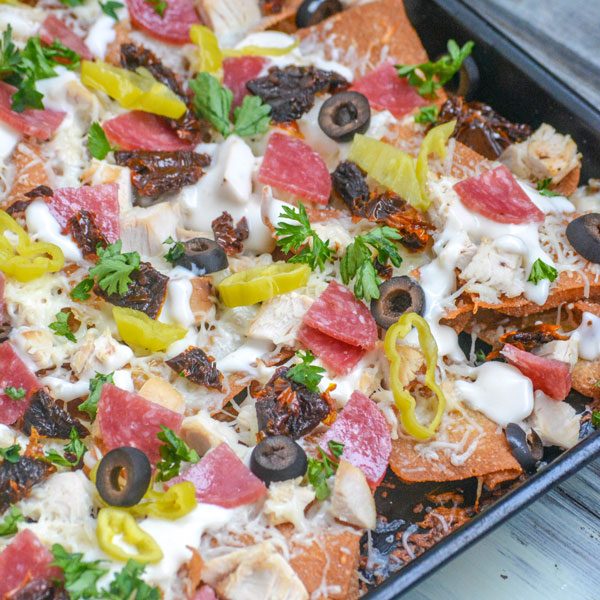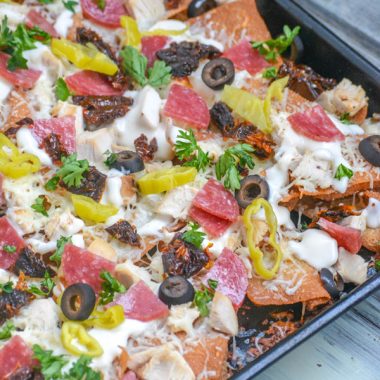 Ingredients
1

pkg

wonton wraps, cut in half diagonally, fried & drained

alfredo sauce

2

cups

roughly chopped rotisserie chicken

2

cups

shredded mozzarella cheese

1/2

cup

sun dried tomatoes, in oil, drained & chopped

green onions, thinly sliced

1

can

sliced black olives, drained

pepperocini peppers, thinly sliced

traditional pepperoni, chopped

1/4

cup

Italian parsley leaves, washed and roughly chopped
Instructions
Spread the wonton chips evenly out onto a rimmed baking sheet. Drizzle the alfredo sauce generously out over top of the chips. Top evenly with the chopped chicken and mozzarella cheese.

Sprinkle the sun dried tomatoes, green onions, olives, peppers, and pepperoni evenly out over top. Place the pan under the broiler, just until the cheese has melted and started to brown.

Sprinkle the parsley evenly out over the nachos. Let them rest 1-2 minutes, and serve immediately.