A healthy, powerhouse of a meal- these Grilled Herb Lemon Salmon Kebabs are full of refreshing flavor, but low on fat and calories. Easily prepared, and quickly cooked on the grill they're a budget-friendly crowd pleasing dinner that's perfect for warm Spring evenings and hot Summer days.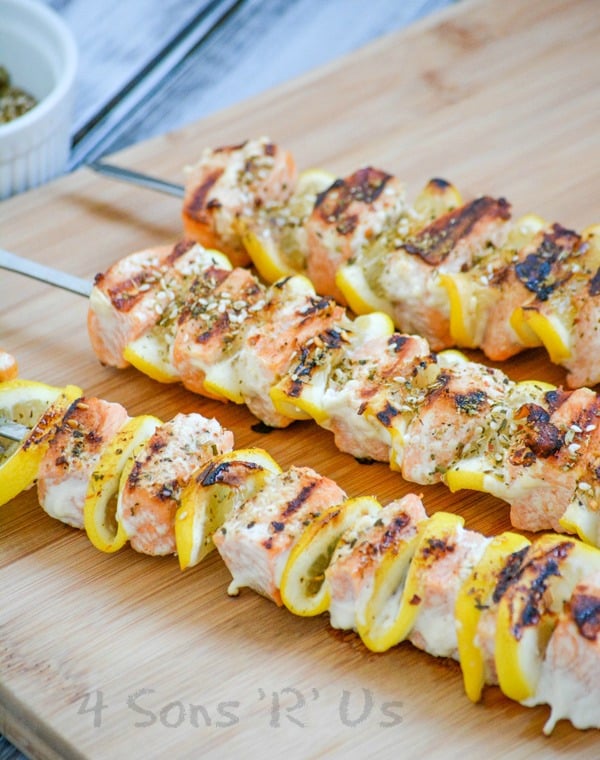 So the snow's finally melted. I won't hold my breath though since they're calling for more later this week.
Speaking of not holding my breath, I also won't wait to bust out our grill (in honor of the fabled coming of Spring) during the few nice days in between. The first thing on my to make list? A yummy kebab recipe, and I've got several tried & true ones to choose from.
I could go for a batch of our saucy Bang Bang Chicken Kebabs, Greek Chicken Kebabs with Tzaziki Sauce, Honey Garlic Chicken Kebabs, or even an indulgent Dessert Kabob post meal. What I ended up making? This most awesome Grilled Herb Lemon Salmon Kebabs recipe.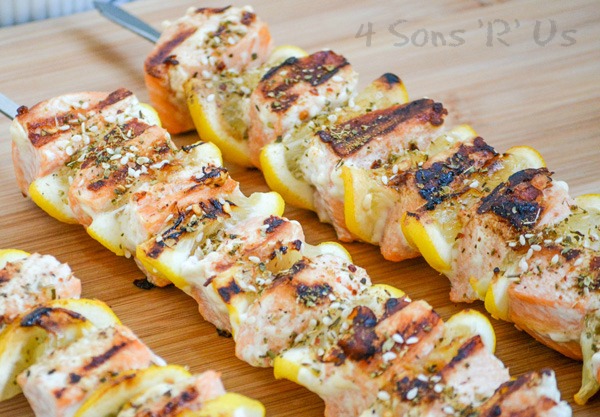 Not that this crazy weather in early Spring is unusual. For us, it's the norm. It's ok though, it's a great life lesson in learning to go with the flow and particularly for realizing somethings that you can't change or control- you just gotta deal with.
Doesn't mean I still can't cook like it's a different season, and get a jump on embracing some of my favorite flavors in anticipation.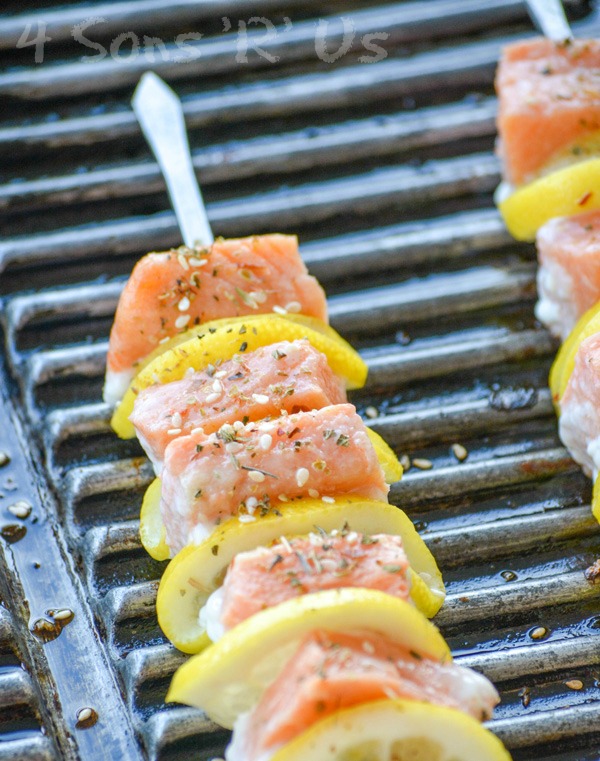 Do you say kebab, kabob, or do you call them skewers? I've always fluctuated between kebab and kabob. Is it a regional thing? I wasn't sure, so I did some research.
I discovered that it's originally an Arabic word, and the difference is merely one of pronunciation and phonetic spelling. Kinda like saying you're going to a hibachi restaurant, but it technically should be called teppanyaki. Or calling a gyro (pronounced yi-roh, a jai-roh). Simple semantics.
So basically, it's our American take on an old tradition of threading some form of meat and vegetables onto a stick, and grilling until a level of utterly lovely perfection is reached. I was already sold, but count me in again! Even better? There's no 'season' associated with this side of dish. If you can grill it, you can eat it, and if you make it- specifically these Grilled Herb Lemon Salmon Kebabs- they will come. They will come runnin'!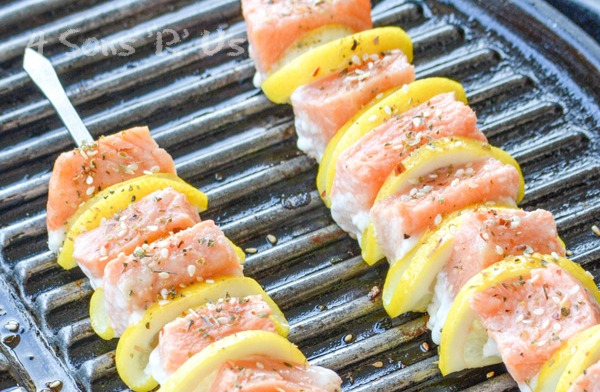 Salmon has many health benefits, as does eating lemon in some way shape or form, that can't be ignored. They're a great part of a healthy, whole diet. With this recipe, we've embraced the best of both and enjoyed their simplicity.
Instead of a heavy dish, we opted for no sauce, used the grill, and seasoned them with a blend of simple spices to get the most flavor without adding calories.
It's heart healthy. It's good-for-you brain food. It's quick and it's easy. If you can get to your grill, then there's no season you won't look forward to, or want to whip up a batch of, these Grilled Herb Lemon Salmon Kebabs. Make it once, and you'll be hooked.
Come hell, high water, or Spring snow storm- you're gonna have to have 'em.
If you've tried this GRILLED LERMON HERB SALMON KEBABS, or any other recipe on my site, let me know in the comment section how it turned out, we love hearing from our readers! You can also follow along with me on PINTEREST, FACEBOOK, and INSTAGRAM to see more amazing recipes and whatever else we've got going on!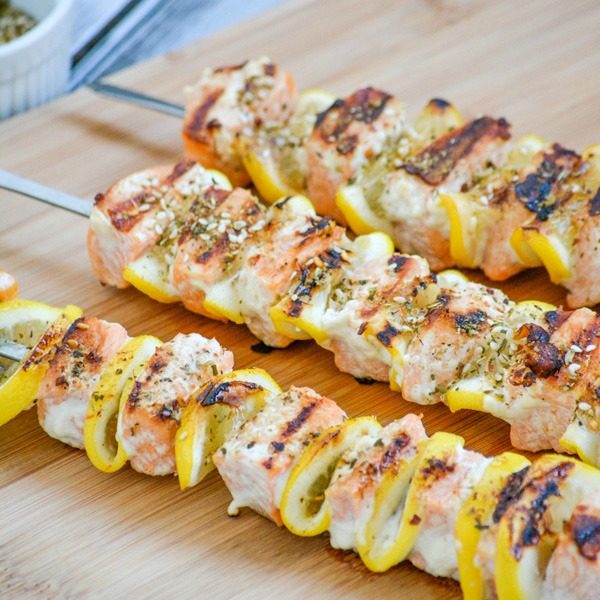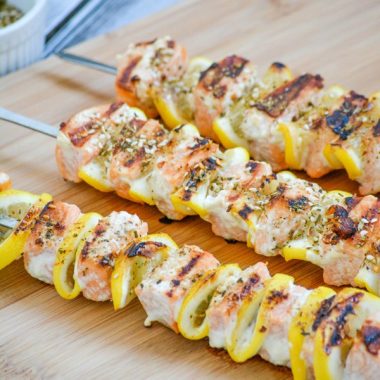 Grilled Herb Lemon Salmon Kebabs
A lovely lightened up, refreshing seafood meal that's prepared easily, cooked quickly, and meant to simply be enjoyed.
Print
Pin
Rate
Ingredients
2

tbsp

finely minced, fresh oregano leaves

2

tsp

sesame seeds

1

tsp

cumin

1/4

tsp

crushed red pepper flakes

1 1/2

lb

boneless, skinless salmon filet, cut into 1" pieces

2

lemons

thinly sliced

non stick cooking spray

salt & pepper, to taste

metal skewers, or wooden skewers that have been pre soaked for an hour
Instructions
In a small bowl, mix together the oregano, sesame seeds, cumin, and pepper flakes until evenly incorporated. Set aside.

Heat a grill over medium heat. When heated, spray the grates liberally with the non-stick spray.

Thread a piece of salmon onto a skewer, pushing down until it's about an inch or two from the end. Next, thread on a slice of lemon that's folded in half. Repeat until there's only an inch or two left on the other end of the skewer, ending with a piece of fish. Repeat until all the skewers are filled, or all the ingredients are used.

Lightly spray the kebabs with non stick cooking spray. Salt & pepper both sides. Season the skewers liberally with the spice mixture on both sides.

Grill the fish, turning periodically to prevent sticking, about 8-10 minutes or until it's opaque and flaky.

Eat immediately off the skewer, or serve with cooked basmati rice and roasted asparagus for a complete meal.