Carrot cake ball truffles are an elegant take on Easter candy. This fun springtime candy puts a new twist on classic carrot cake flavor. These carrot cake truffles would be a festive end to any springtime celebration.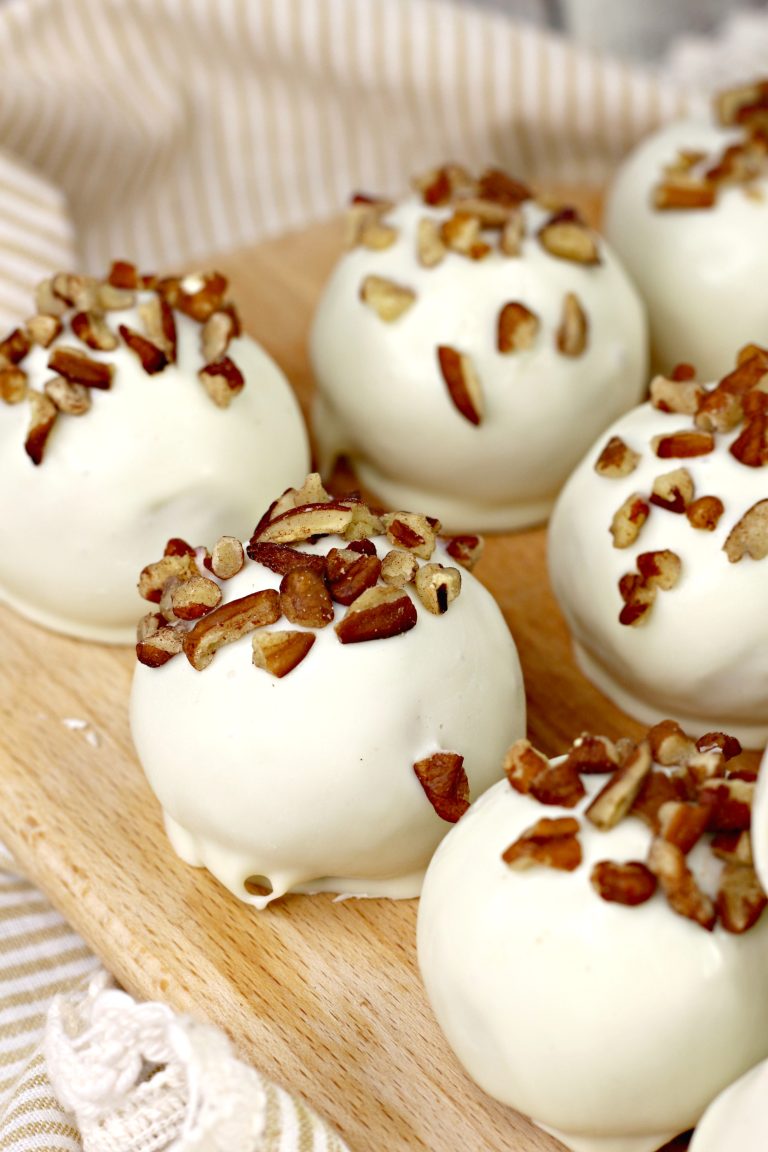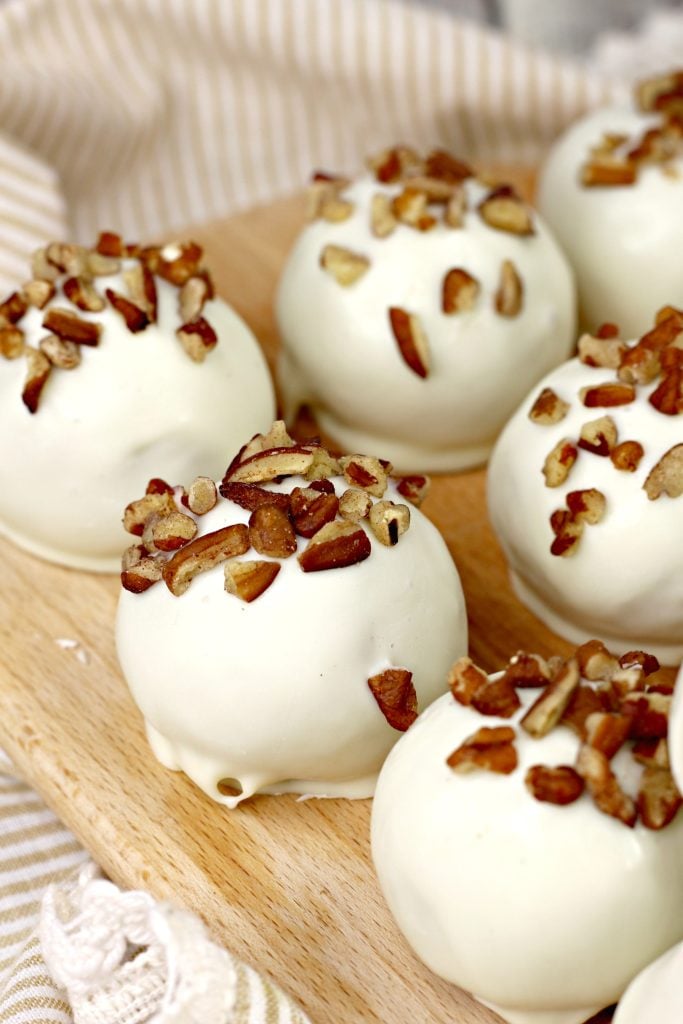 Spring has finally sprung, officially. We may be waiting for the weather to catch up to the date on the calendar but I am in full spring mode.
I am so ready for warm weather, flowers, and Easter. Because Easter means Easter candy. And, oh yes, I am so ready for it all- peanut butter eggs, jelly beans. Bring them on!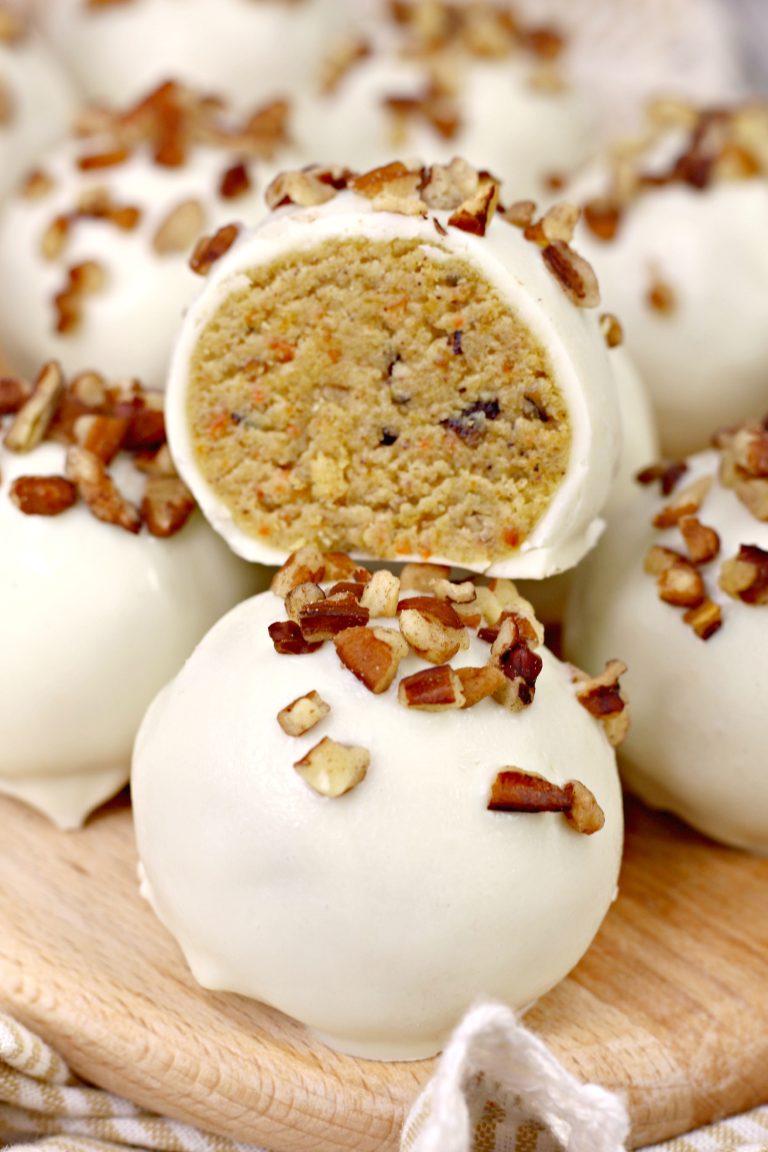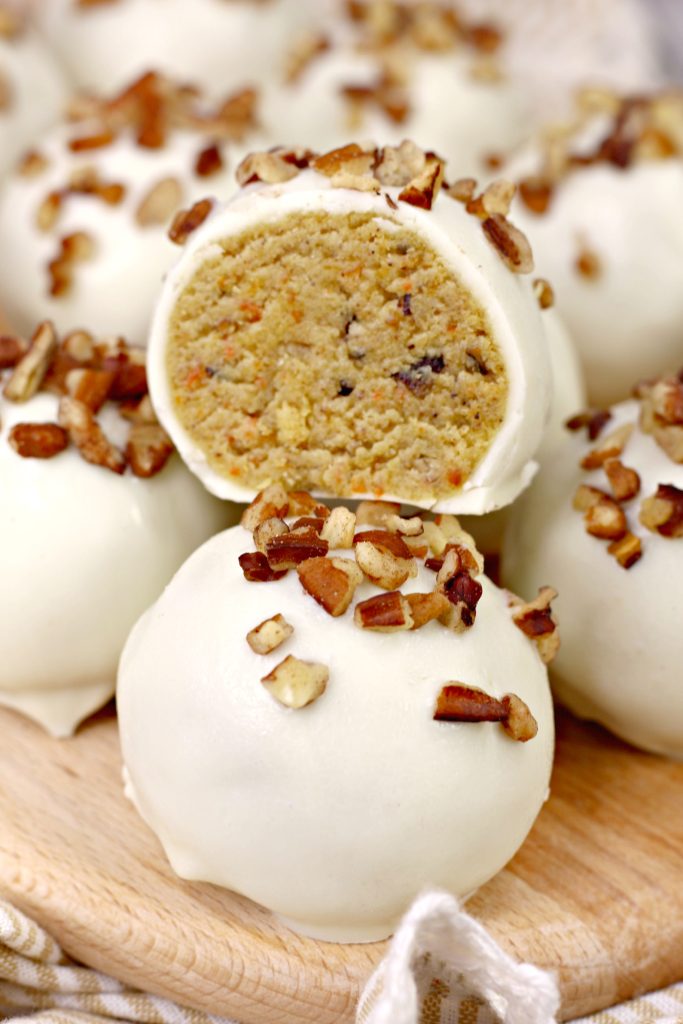 As much as I love those treats, sometimes I want something more adult that still feels seasonal. A candy I could easily serve to company or end a special meal with.
I can't have guests show up and put out a tray of jellybeans and call it a day. That's not my style. I like to make my company and my spring celebrations feel extra special. That's where these carrot cake truffles come in.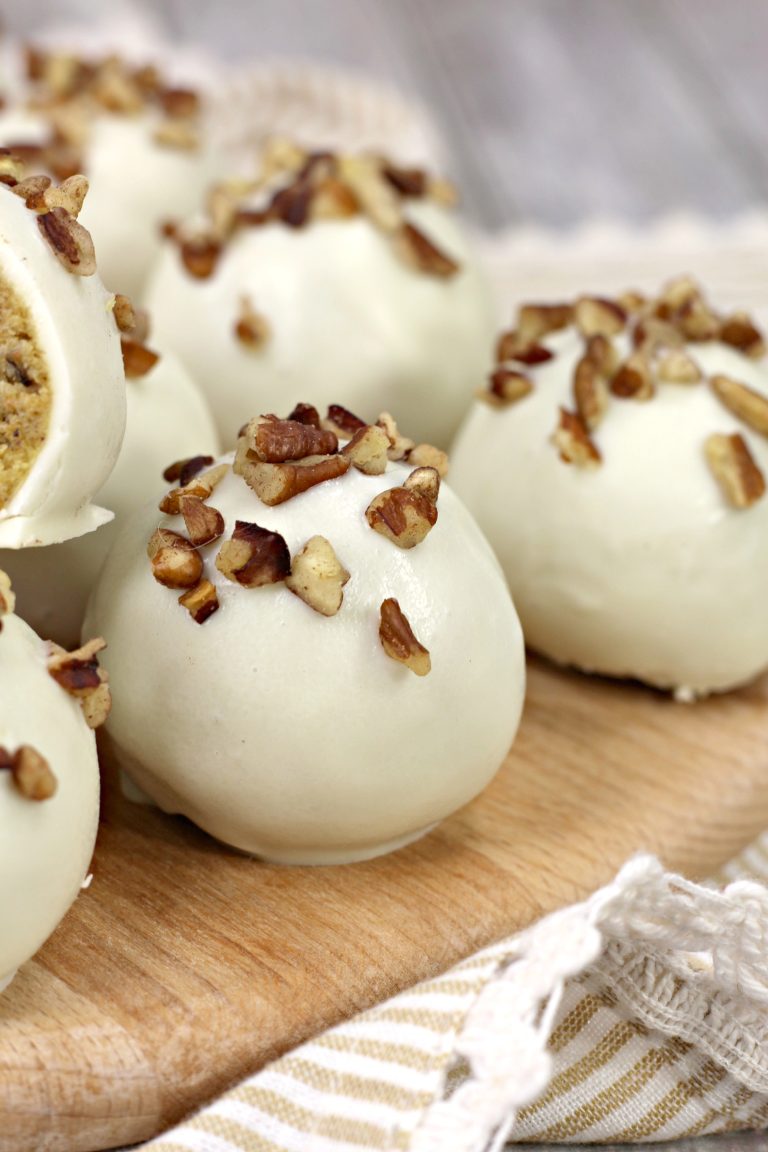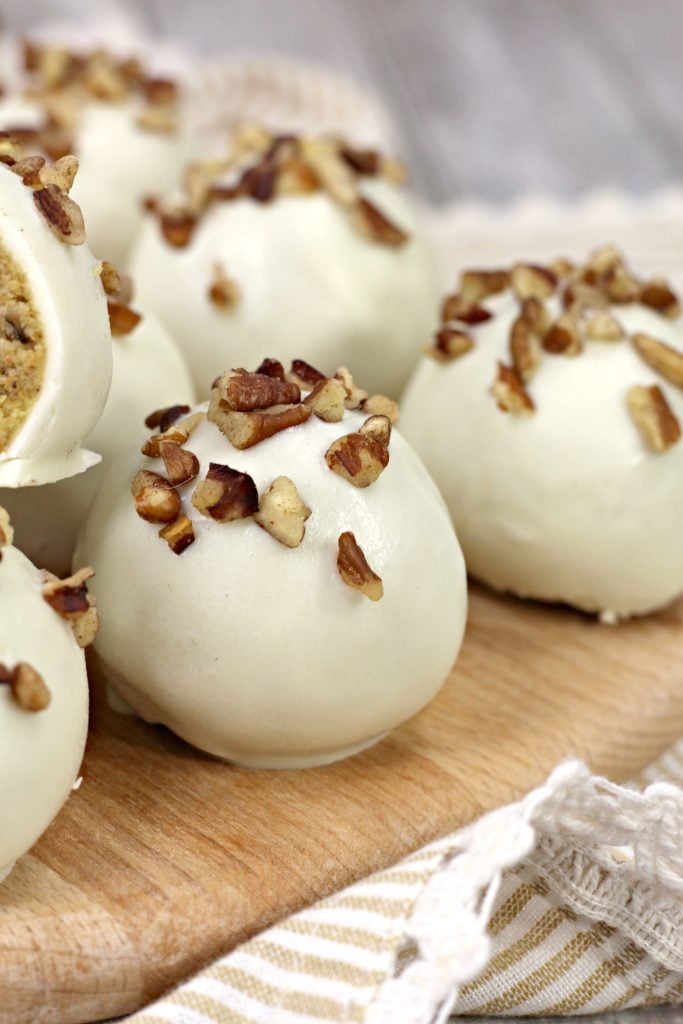 And they are so special. Imagine rich, sweet, slightly spicy carrot cake. And make it denser and even more moist than regular carrot cake. That is how the cake part of these truffles are.
Have you ever had a cake pop? You know how creamy the cake in a cake pop is? That's how these carrot cake truffles are.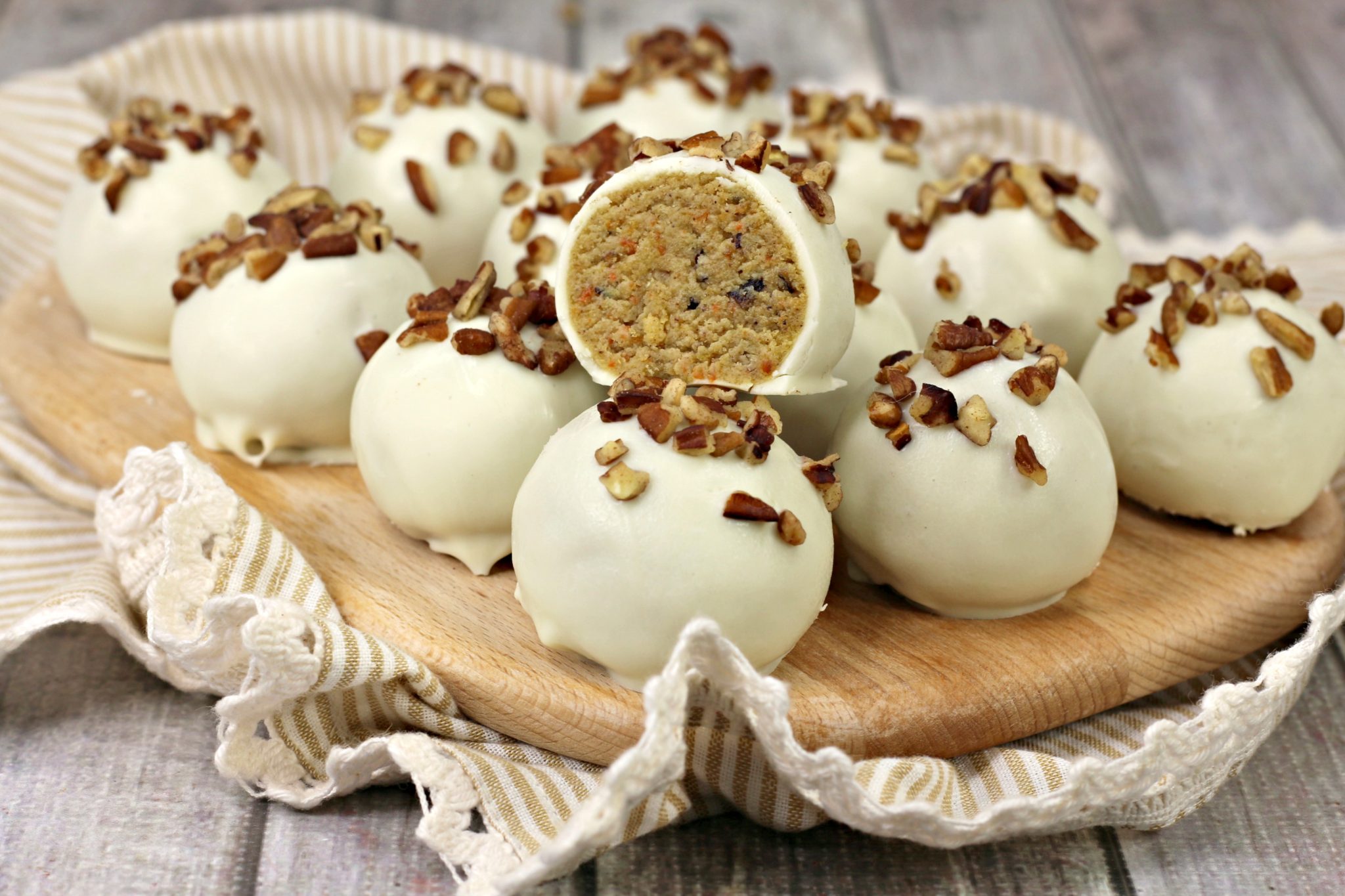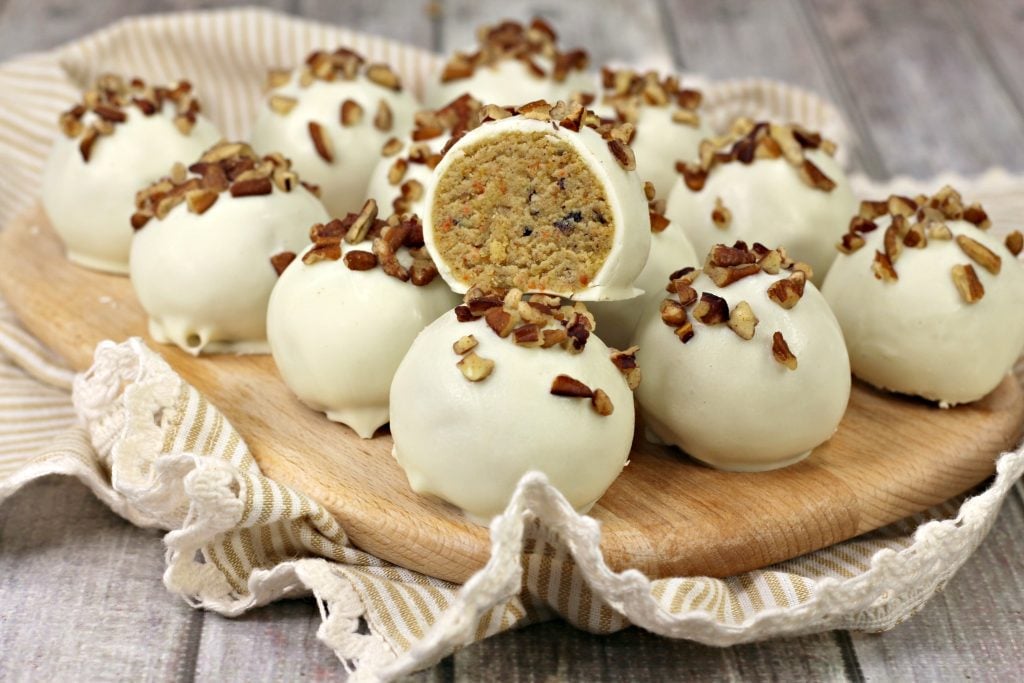 Making these carrot cake truffles is a bit of a process, but if we break it down it's not hard. The first step? Making the cake. There's no special technique just because the cake creates the base for the truffle filling.
Begin by creaming together your sugar, oil, and eggs. Then mix in your dry ingredients. When the dry ingredients are incorporated, fold in the shredded carrots and pecans. Then pour the batter into a 9×13 baking dish and bake it for 30 to 40 minutes.
There's no need to worry about how the cake looks when it comes out of the oven because once it cools, you're going to crumble up the cake. Then you mix the crumbled cake with cream cheese frosting to create the rich, creamy consistency of the carrot cake truffle filling.
You'll know you've added enough icing because the crumbles will stick together and form a dough that's similar in consistency to cookie dough. When the dough forms, use your hands to roll little balls. Let the little balls set in the fridge for an hour and then dip them into melted white chocolate and top with chopped pecans. Let the chocolate set before serving.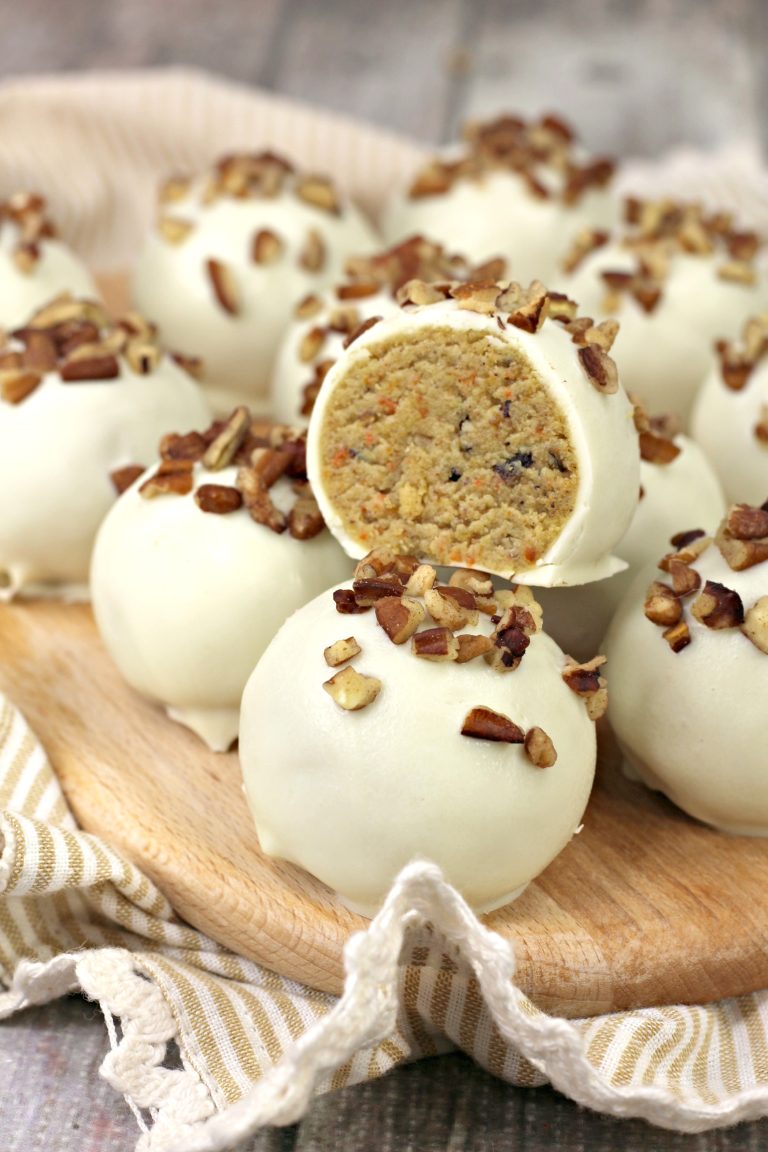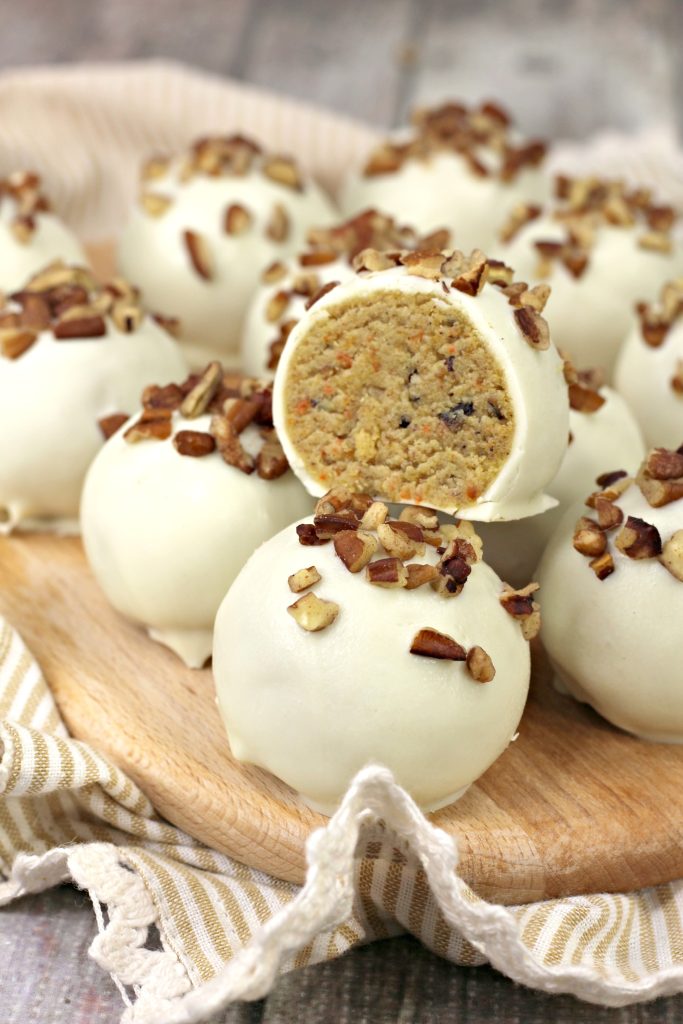 The end result? An impressive carrot cake truffle with a sweet, slightly spicy carrot cake center sure to wow everyone this spring.
Other Carrot Cake Flavored Desserts You'll Want To Try: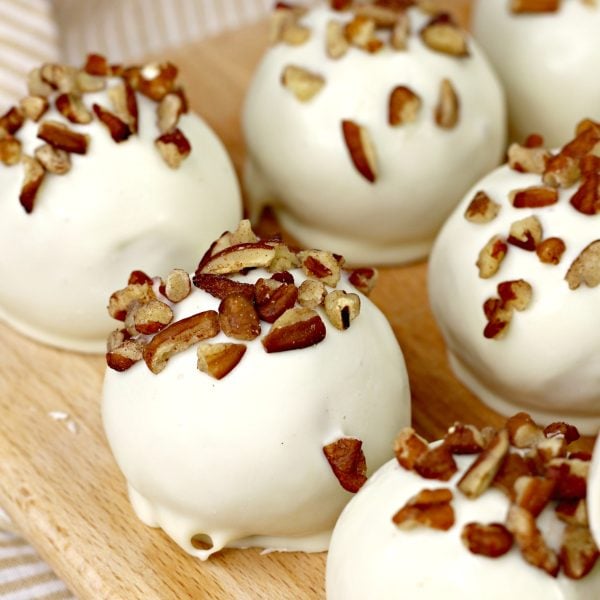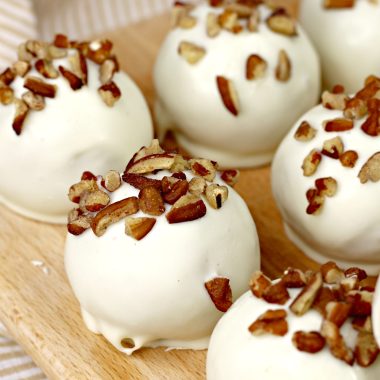 Ingredients
2

C

sugar

1

C

canola oil

4

large eggs

2

C

flour

1

tsp

baking soda

1

tsp

baking powder

1/4

tsp

salt

2

tsp

cinnamon

2

C

shredded carrots

1

C

pecan chips

plus 1/2 C for topping

1

container of cream cheese frosting

1 16

oz

bag of Ghirardelli white chocolate melting wafers
Instructions
Spray a 9x13 baking dish with non stick cooking spray and set aside

Preheat the oven to 350 degrees and line two 9inch springform pans with parchment paper

Using a standing mixer, mix until combined the sugar, oil and eggs

Mix in the flour, baking soda, baking powder, salt and cinnamon until combined

Fold in the shredded carrots and 1 C pecan chips

Pour the batter into the 9x13 baking dish the oven for 30-40 minutes or until a toothpick comes out clean

Allow cake to cool completely on a wire rack

Crumble the cake into fine crumbs into a large bowl

Mix in about 2-3 Spoonfuls of cream cheese frosting and mix until a dough forms

Using a small ice cream scoop, scoop out some of the cake mixture and roll into a ball

Place onto a cookie sheet

Repeat steps until all mixture has been molded into balls

Place into the fridge for 1 hour to harden

Once the hour is up, remove from fridge and place onto the counter

Using a double boiler, melt the white chocolate melting wafers

Once melted, using a fork, dip the cake ball into the melted chocolate

Lightly tap the edge of the pot to get rid of excess chocolate

Place back onto the cookie sheet and sprinkle with some chopped pecans

Repeat step until all balls have been dipped or all chocolate has been used

Allow the chocolate to harden for 15 minutes before enjoying!