This Caprese grilled cheese offers everything a traditionalist would expect, but has the power to win over a whole new generation with it's Mediterranean twist on the classic sandwich. Sweet basil, juicy tomatoes, and fresh melted mozzarella are sandwiched between two perfectly crisped slices of thick buttered bread making this a truly gourmet grilled cheese sandwich.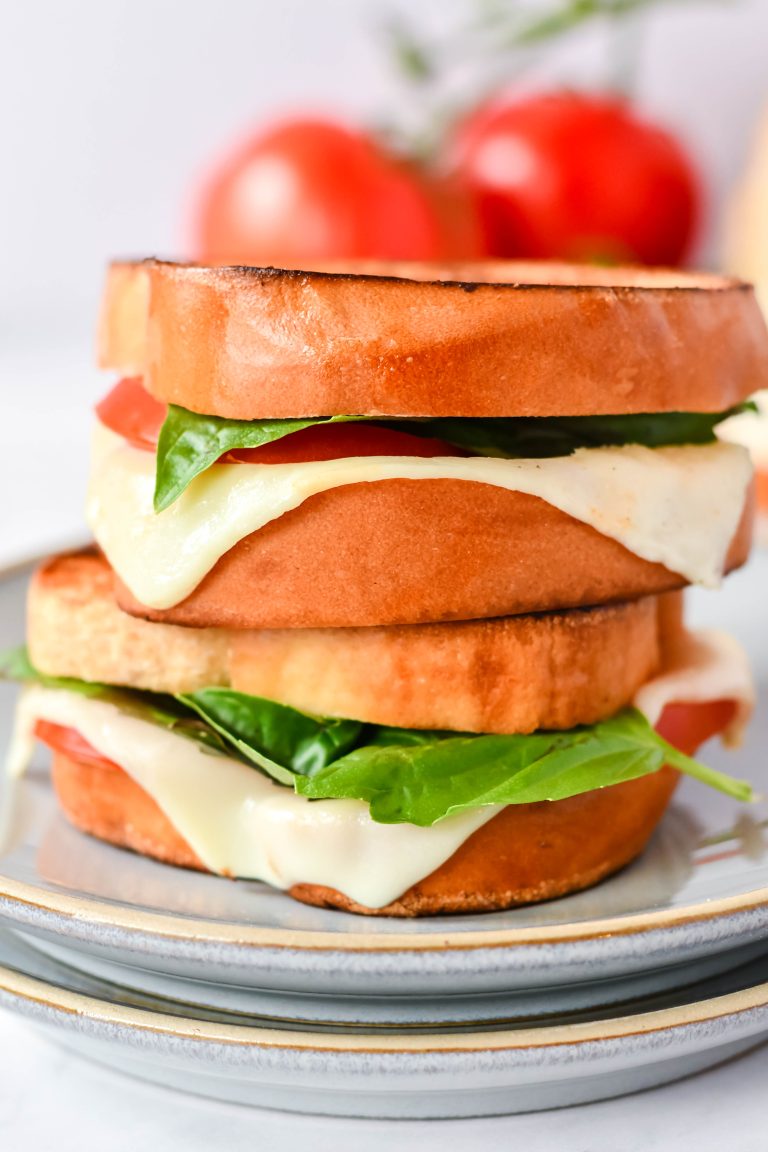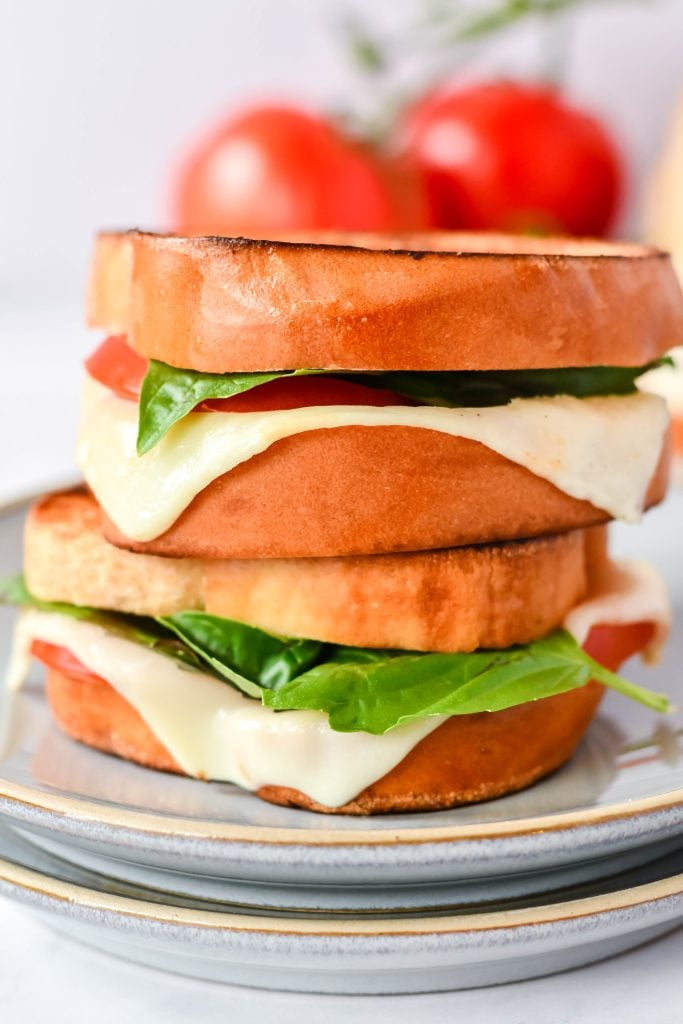 Cheese. Cheeeeeeeese. Glorious cheese.
Let's take a moment to reflect on that. A moment of silence for cheese.
Our family loves cheese. In all it's types, colors, flavors. In all it's cheesy glory.
We might even have a mild case of cheese addiction.
Ok, we do, and 'mild' is probably an understatement.
But, can there really be such a thing as too much cheese? Definitely not.
That being said, we all love a good, crisp, slightly crunchy grilled cheese with an ooey, gooey melty center.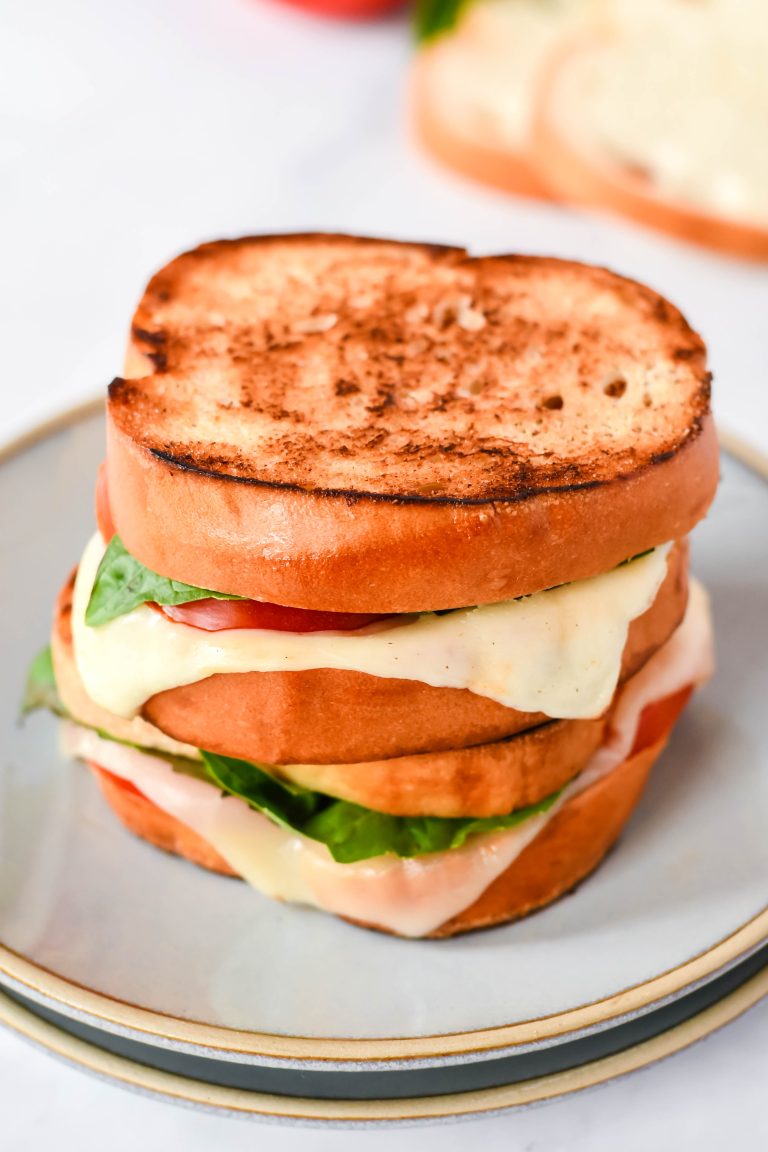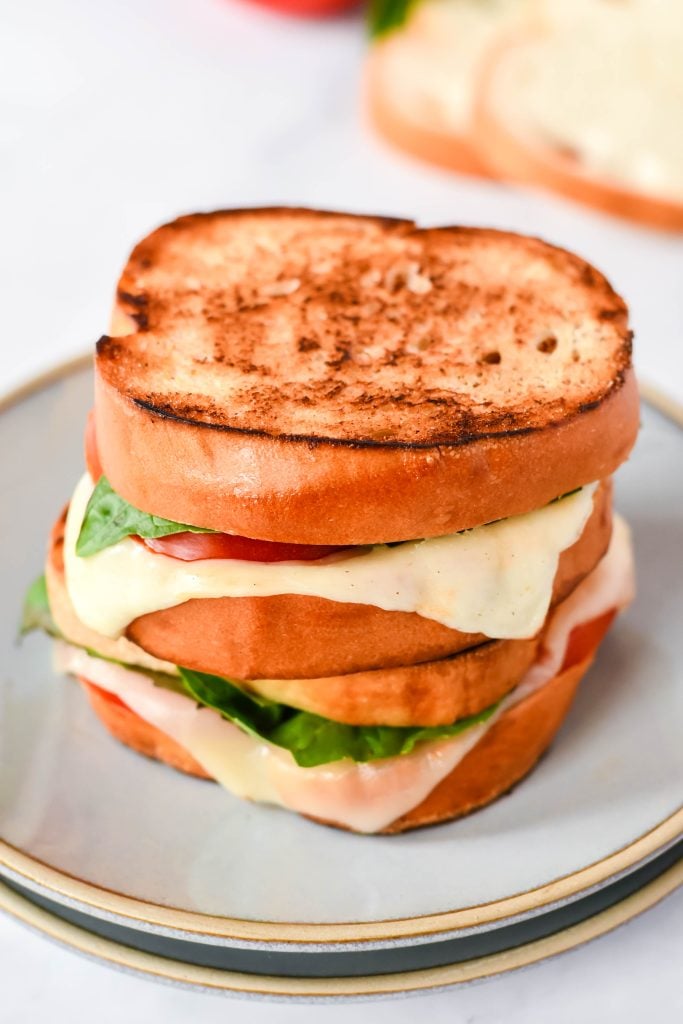 You know that part where you cut it in two, or in quarters?
That amazing moment when you pull the pieces apart and watch beautiful strings of cheese that could stretch forever?
Yeah, that's my favorite part. My kids', too.
As I've grown, you know into a 'responsible adult', there are some things from my childhood I've never been able to let go of.
Despite all the changes of adulthood & parenthood, my love for a grilled cheese has not abated or even diminished a single bit.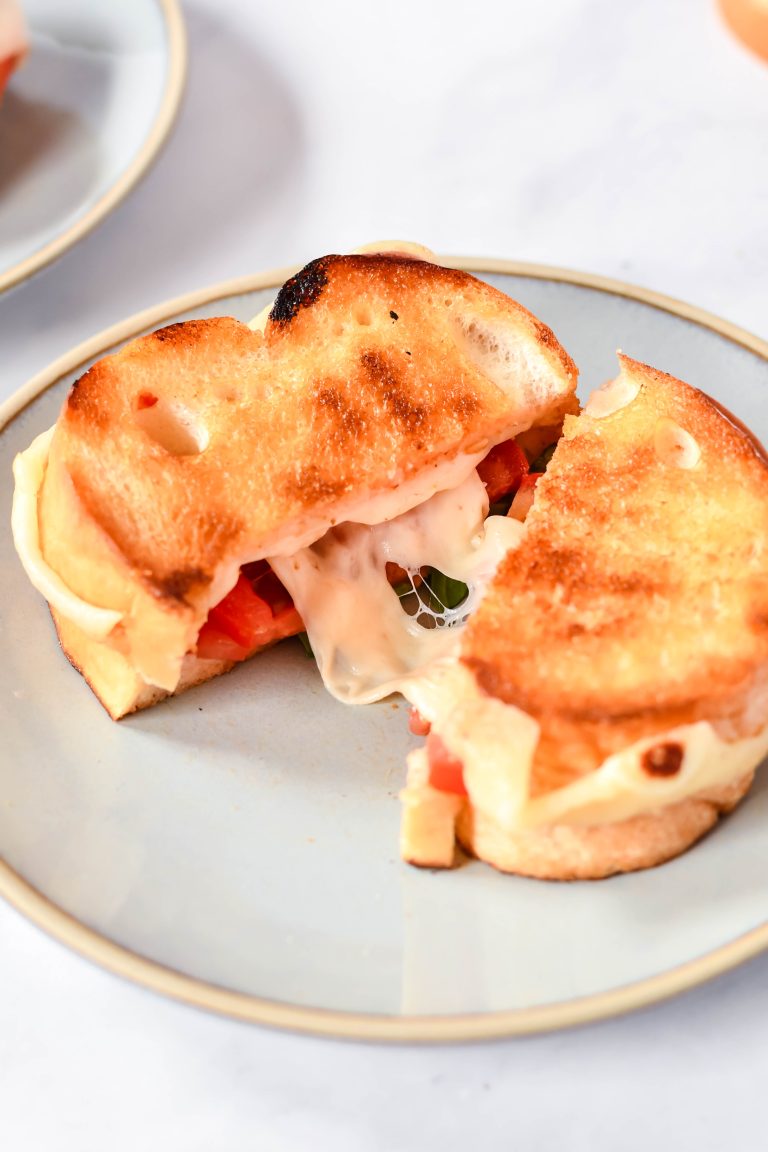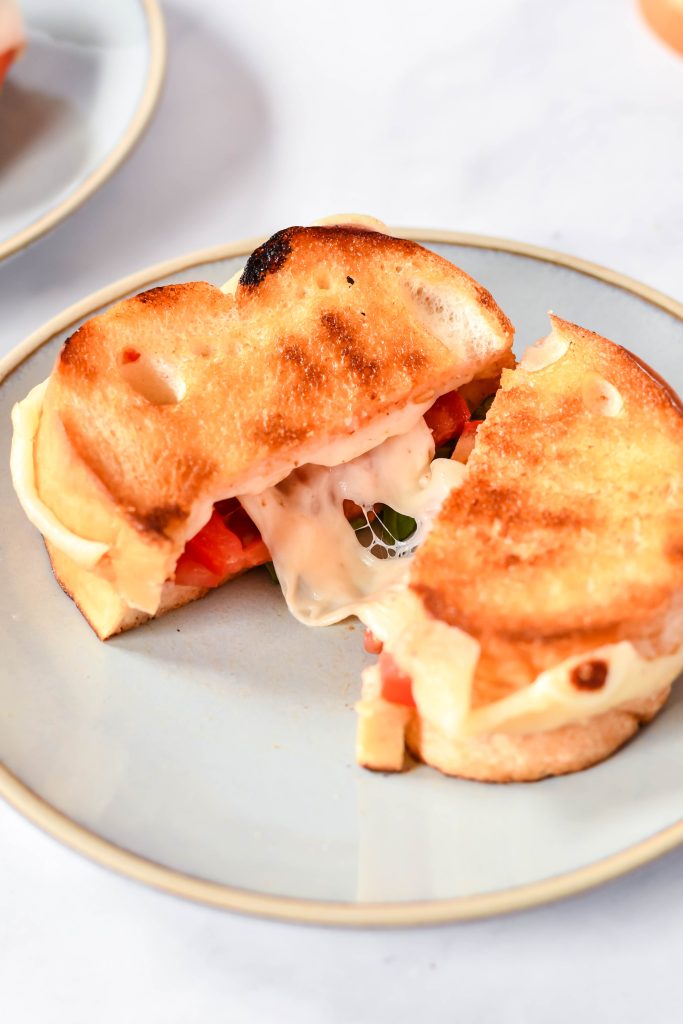 Luckily for me, my kids have inherited that same affinity.
However, in an effort to appear adult-like when I devour one, I've tried very hard to create 'grown up' grilled cheese sandwiches.
I couldn't leave them behind, but I did have to make sure they, at least some of the time, appeared to evolve with me.
Caprese Grilled Cheese is one of my favorite 'grown-up' versions to date.
Everything I love about the original, but with a bright, fresh Spring & Summer feel to it.
What Is In A Caprese Style Recipe?
Caprese, Italy is a region that's become the name sake of a very specific combination of ingredients.
Speficialy the pairing of fresh tomatoes, sweet basil leaves, and moist mozzarella cheese.
My husband swears by buffalo mozzarella, but the cow's milk kind is actually traditional to the region.
This classic Italian dish tends to be served chilled, in alternating layers on a plate with a drizzle of balsamic vinegar & olive oil.
Since then, the popular flavor combination has begun to branch out and spread into other classic dishes.
Like mac and cheese, these Italian sausage sandwiches, and now this gourmet Caprese-style grilled cheese sandwich.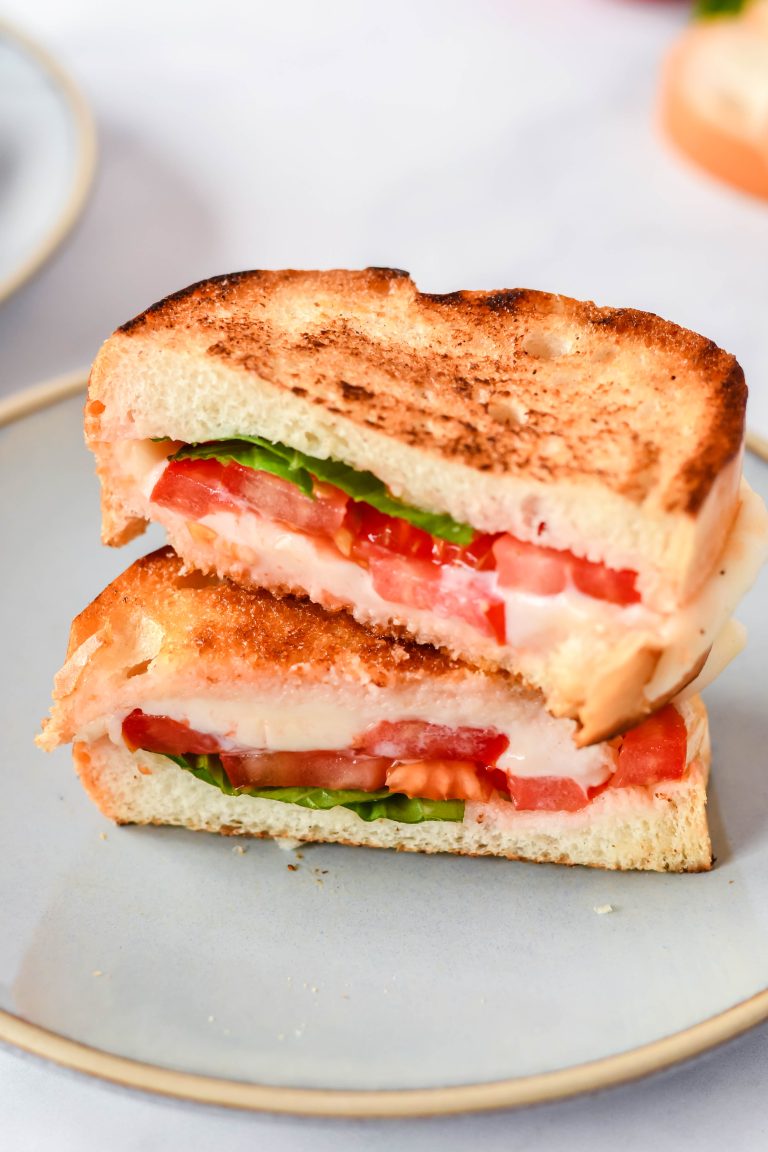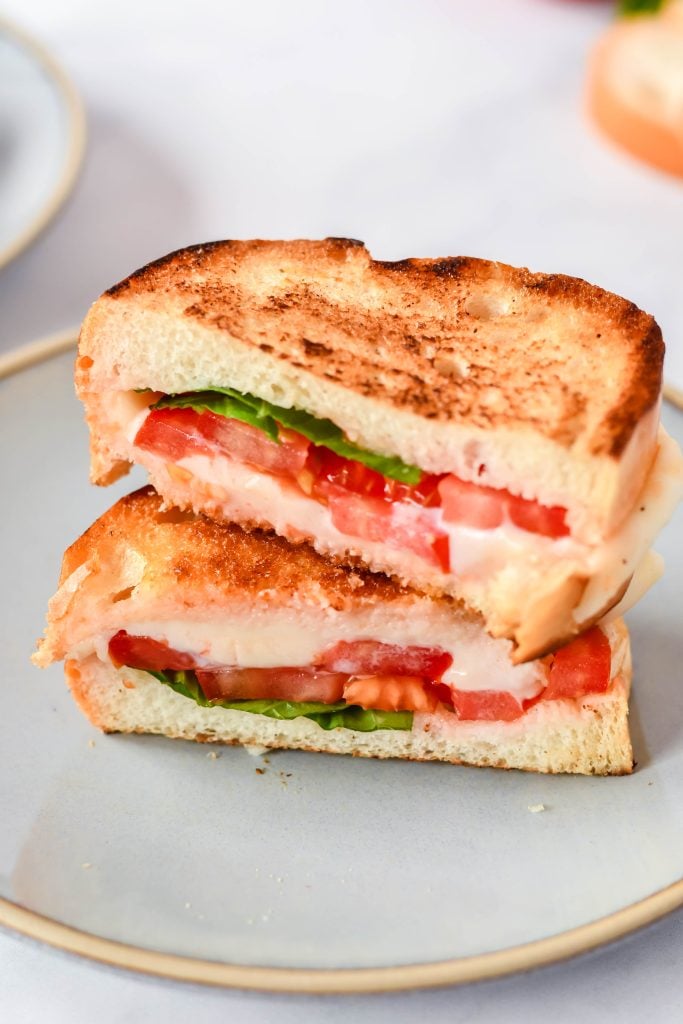 How To Make This Gourmet Grilled Cheese
Heat a large skillet over medium heat.
You can use a smaller skillet, and just cook one sandwich at a time.
I prefer the larger option since it allows me to cook two sandwiches at a time, and work in batches.
As written this recipe makes two hearty sandwiches, but this option makes it easier if I'm feeding the whole hungry family.
Take four thick slices of fresh French bread, and divide the butter evenly out between them.
Picking one side of each slice (preferably with them matching up later in mind), and liberally spread the butter evenly out over it.
Sprinkle a 1/4 cup of grated Parmesan cheese evenly out over the butter slices of bread. This will help form a deliciously crisp crust with the perfect 'crunch'.
Carefully lay all four slices of bread in the skillet, buttered side down.
Place the mozzarella evenly out over the sliced bread in the pan.
Cover the skillet with an accompanying lid, or with aluminum foil if it doesn't have one.
This will keep the heat in and help the cheese melt faster. In turn, this will keep your bread from burning while waiting on the cheese.
Once the cheese has melted (this won't take long, so keep an eye on it and don't walk away)- remove the lid.
Add the basil leaves and sliced tomatoes on top of two slices of bread.
If using, drizzle a bit of balsamic vinegar out over top of the basil and tomatoes. Not a lot, roughly half a tablespoon on each.
You want the flavor, but without too much liquid so the sandwich's crunchy outer bread holds everything in without getting soggy.
Assemble the sandwiches but putting the tops on.
Transfer the caprese grilled cheese to plates and serve immediately.
Alternatively, you can cut the sandwich into quarters or triangles and arrange them evenly on a wooden cutting board.
To this we add ramekins with balsamic vinegar and Italian dressing (for dipping) and more fresh mozzarella, tomatoes, and even some meats like sliced pepperoni or salami.
This makes for a pretty presentation and a filling lunch or light supper option the whole family loves.
Is This Healthy?
Another question I get asked often, is if this Caprese combination and this sandwich are healthy.
They answer is actually yes and no.
Nothing with copious amounts of cheese is every really healthy, and it's definitely not low in fat.
However, when enjoyed occasionally in proper portions- it's not actually bad for you.
The core staples come from the Mediterranean diet, and actually have several healthy benefits themselves.
Olive oil and tomatoes both have been shown to be heart healthy, and basil is loaded with vitamins A & K.
However, too many carbs aren't good for anyone long term.
So while I love to indulge in this delicious sandwich, I don't make it a daily thing.
Everything in moderation, right?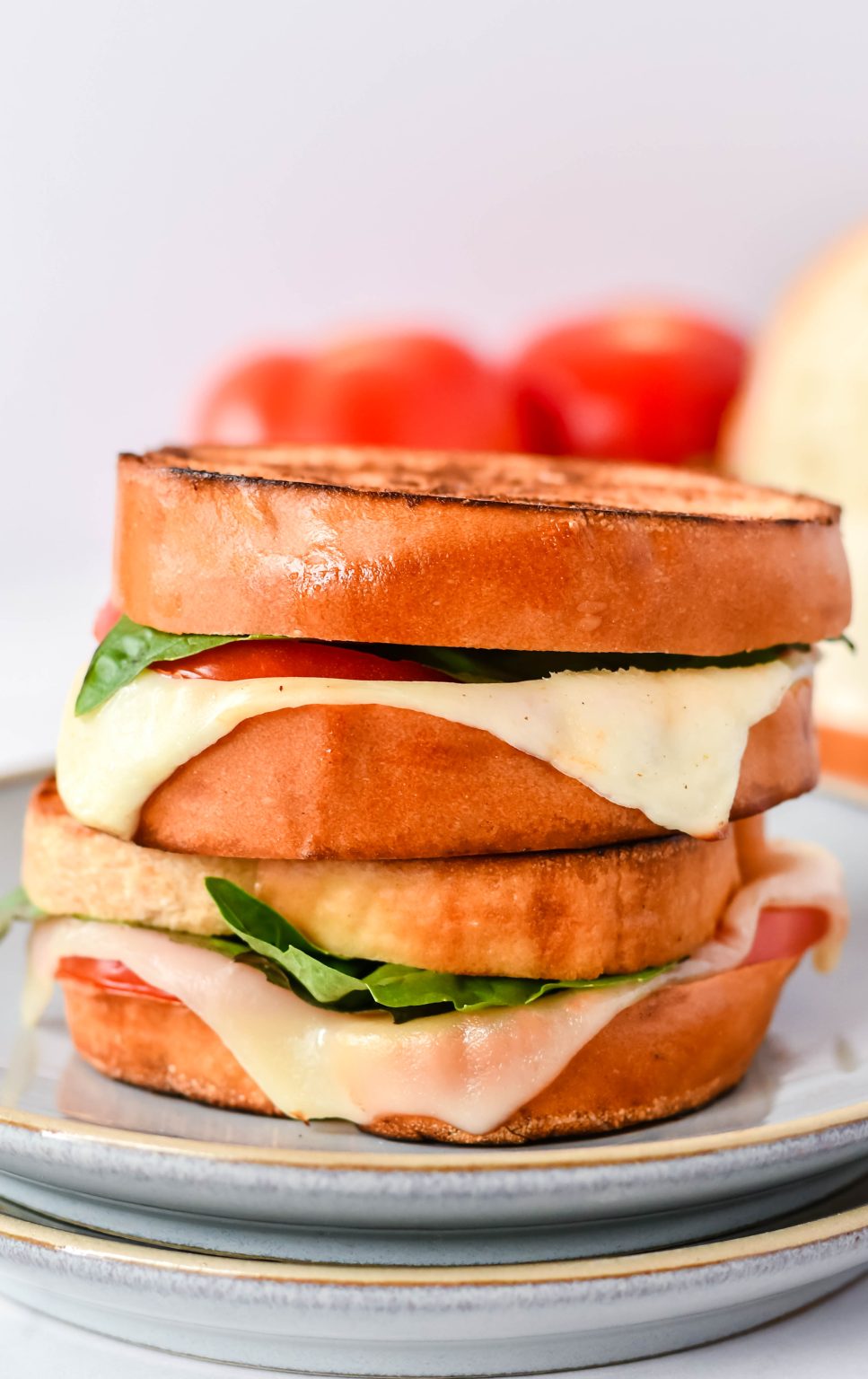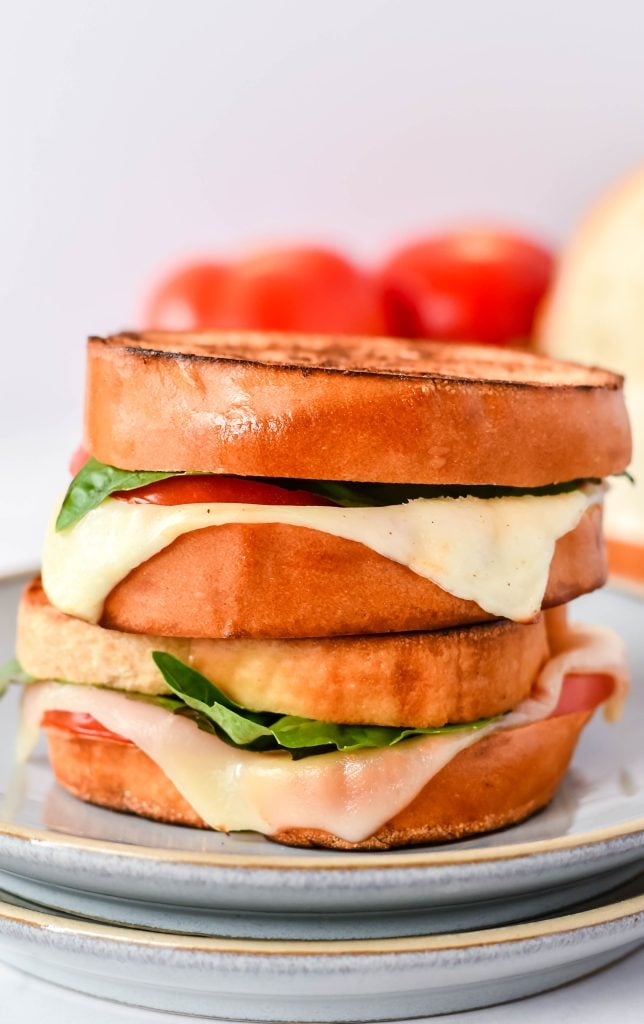 Adding Meat
While this caprese grilled cheese sandwich is a tasty vegetarian option, I realize that there are plenty of people who have to have meat in their meal to truly enjoy it.
If you want a sandwich with sturdier stuff, you can absolutely add meat to this.
As with many things, certain meats taste better than others in this grilled cheese recipe.
Some of our favorite recommendations are:
leftover grilled steak, thinly sliced
grilled chicken or rotisserie
salami
shaved ham
thinly sliced roast beef
TIPS & TRICKS
Follow these simple suggestions for the best results.
Use The Best Tomatoes – believe it or not, they're not all made the same. The better the variety/quality, the better results. They should be ripe, fragrant, and juicy. Let any excess juices drain off before adding them to the melted cheese bread.
Use Moist, Fresh Mozzarella – the sliced, prepackaged dry mozzarella cheese will certainly melt and it will work if that's what you have. However, thinly slicing some fresh mozzarella will really take this sandwich to another level. Fresh mozzarella also melts easier, quicker, and with a much larger cheese pull factor. It's also the best 'glue' to bind the ingredients together.
Do Not Be Tempted To Sub Dried Basil – dried basil certainly has it's time & place (I'm looking at your soups & sauces), but this isn't one of them. Fresh is best for this caprese grilled cheese.
Keep Seasoning Simple – if the balsamic vinegar is not to your liking, simply season this sandwich with some sea salt & freshly cracked black pepper.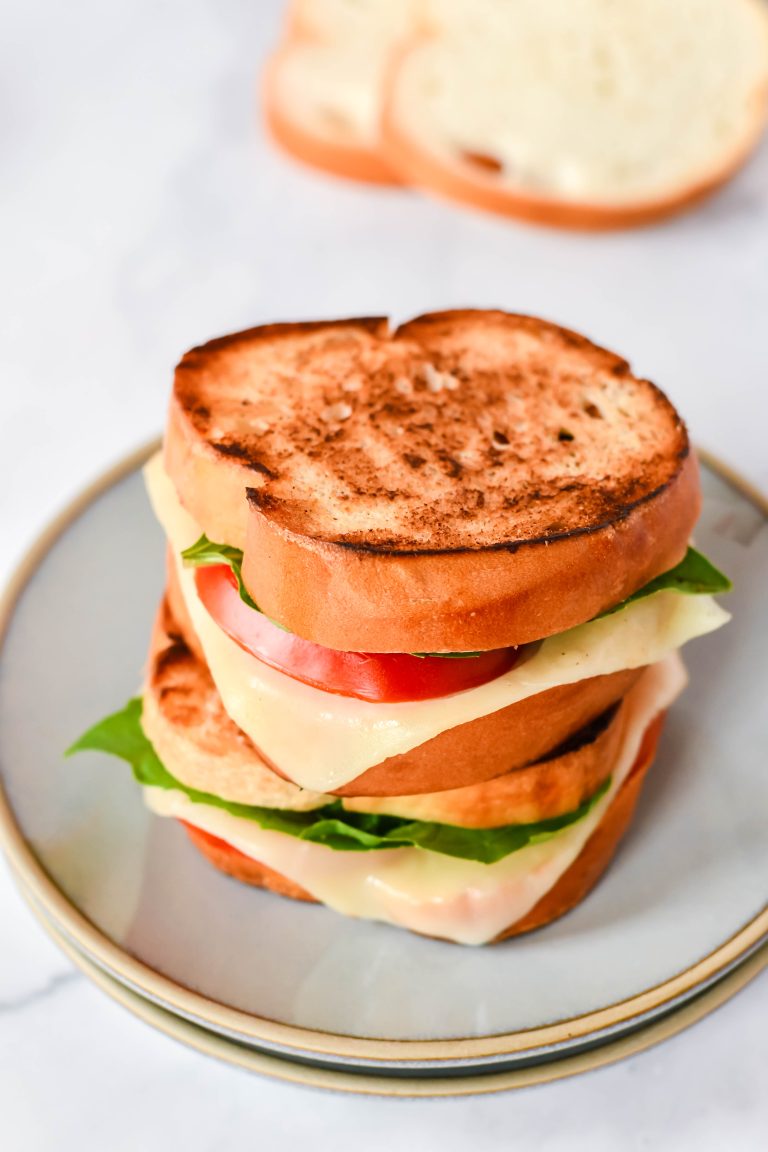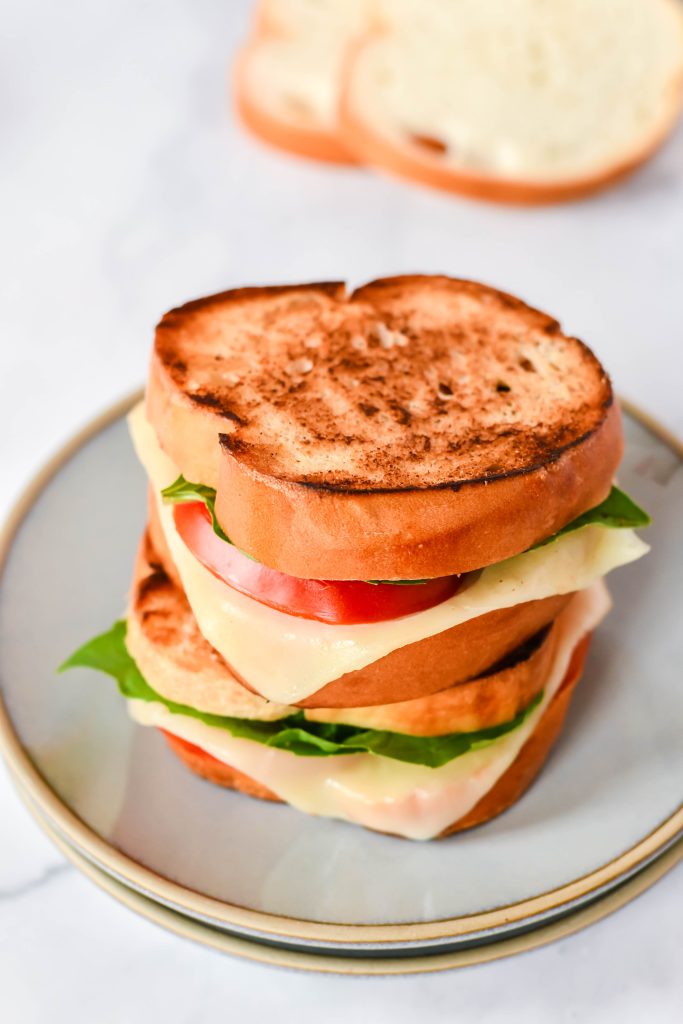 This caprese grilled cheese offers everything a grilled cheese purist would expect, but has the power to convert a new generation with it's fancy, schmancy new style.
What's the fun in being grown-up if you can't be childish sometimes too? Here's the perfect cheesy compromise.
Eat like an adult, enjoy it like a kid.
The recipe below is for 2 sandwiches, but it easily doubles, or even triples. So don't let that hold you back!
If you've tried this CAPRESE GRILLED CHEESE, or any other recipe on my site, let me know in the comment section how it turned out, we love hearing from our readers! You can also follow along with me on PINTEREST, FACEBOOK, and INSTAGRAM to see more amazing recipes and whatever else we've got going on!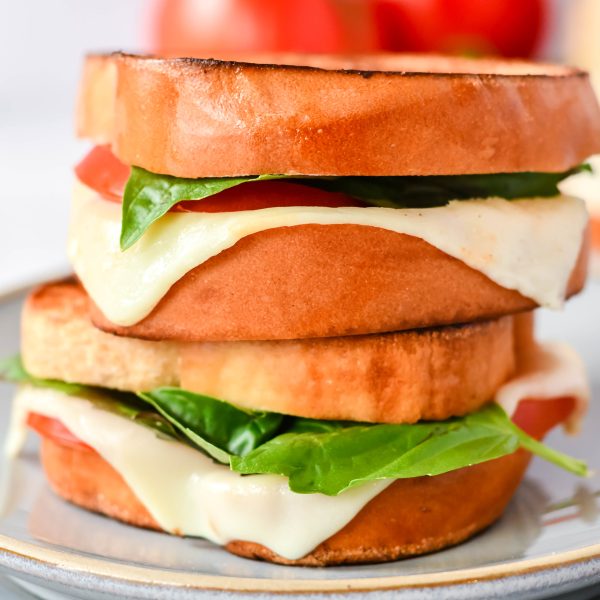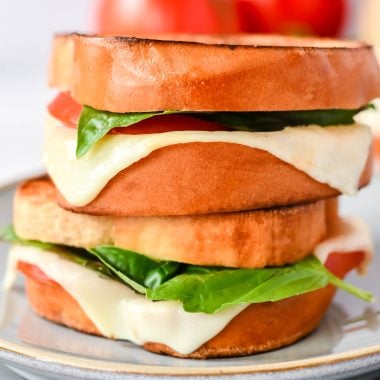 Caprese Grilled Cheese
This Caprese grilled cheese offers everything a traditionalist would expect, but has the power to win over a whole new generation with it's Mediterranean twist on the classic sandwich. Sweet basil, juicy tomatoes, and fresh melted mozzarella are sandwiched between two perfectly crisped slices of thick buttered bread making this a truly gourmet grilled cheese sandwich.
Print
Pin
Rate
Ingredients
4

thick slices of french bread

2-3 to

matoes

sliced

6

oz.

mozzarella

sliced or shredded

8-10

fresh

large basil leaves

2-3

tbsp

butter

1/4

cup

Parmesan cheese

grated

balsamic vinegar

optional
Instructions
Heat a large skillet to medium heat.

Spread butter on one side of all four slices of bread. Sprinkle the Parmesan evenly over the butter.

Put all four pieces of bread, buttered side down into the skillet.

Lay, or spread, mozzarella on all pieces of bread.

Cover with a lid to keep the heat in and melt the cheese.

Once the cheese is melted, lay the basil and sliced tomatoes on top of the cheese.

If using vinegar, drizzle a tiny bit ( I use 1/2 tbsp) over top of the tomatoes now.

Assemble the sandwiches by putting the tops on.

Enjoy!
Nutrition
Calories:
563
kcal
|
Carbohydrates:
32
g
|
Protein:
29
g
|
Fat:
36
g
|
Saturated Fat:
21
g
|
Cholesterol:
106
mg
|
Sodium:
1088
mg
|
Potassium:
436
mg
|
Fiber:
3
g
|
Sugar:
7
g
|
Vitamin A:
2222
IU
|
Vitamin C:
18
mg
|
Calcium:
730
mg
|
Iron:
3
mg
recipe originally published July 29, 2013