A perfect breakfast pastry, this Blueberry Cream Cheese Danish has a buttery, flaky crust topped with sweetened cream cheese and ripe blueberries ready to burst with every bite.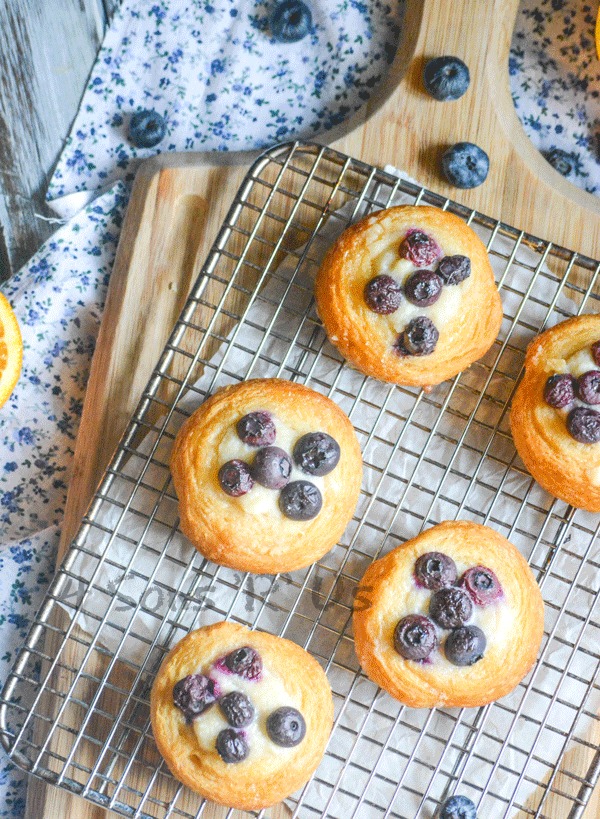 Tis the season for fresh berries & bright colors. I love walking through the produce aisle this time of year and seeing all the bright colors in abundance.
Blues, reds, pinks, purples. Eye popping bursts of color everywhere I look.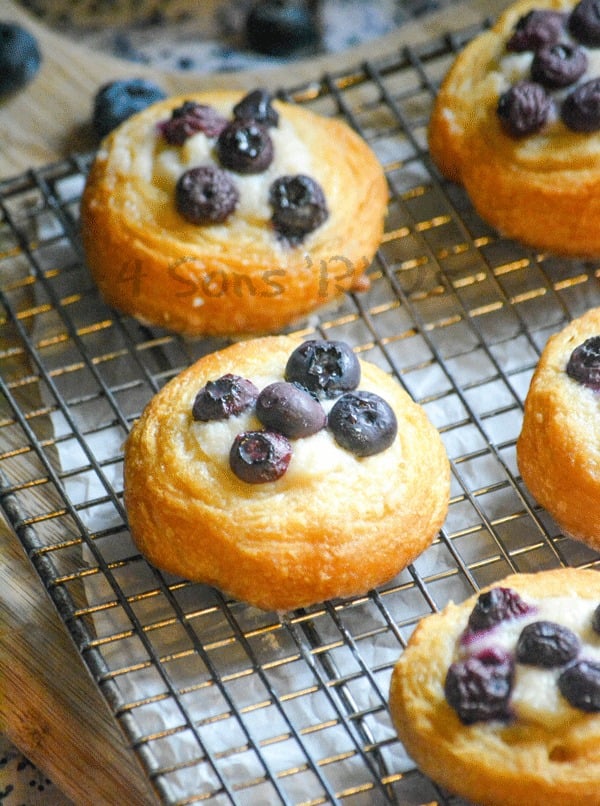 In my mind, there's no meal that can't be enhanced by an infusion of color. Or a little bit of sweetness.
Fresh berries are a perfect way to incorporate both.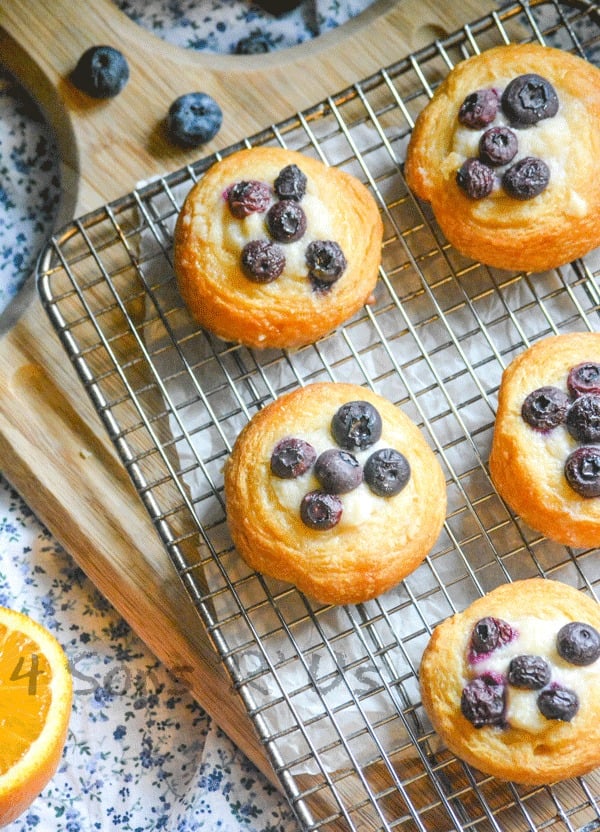 Breakfast with all of it's traditionally bland hues from toasts, breads, pastries is just begging for it.
It almost demands it.
Especially when things are in season and so affordable– it could almost be considered criminal not to.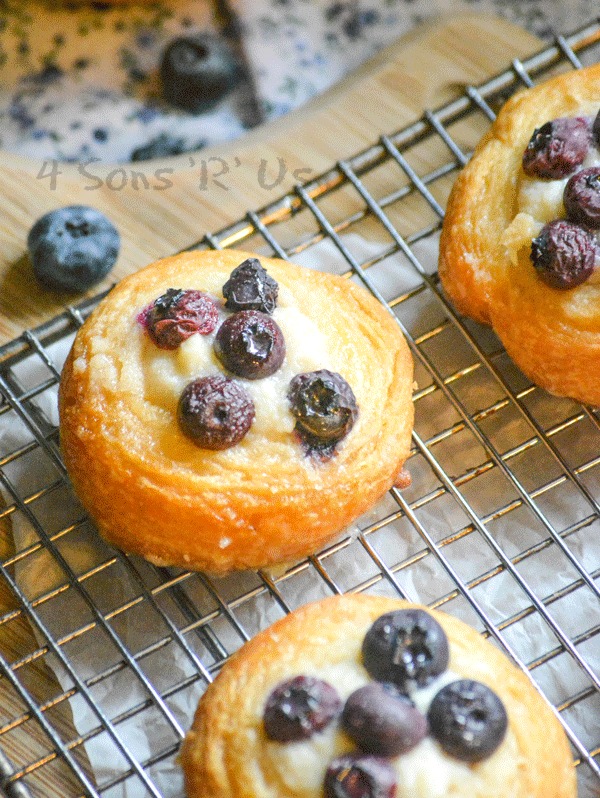 And upgrade we have, starting with our faovirte pastry- the cream cheese danish. Good, scratch that- great all by itself, with a hint of juicy sweetness from fresh blueberries it becomes irresistible.
Mornings are hard enough all by themselves, why should breakfast be bland too?
With a batch of our Blueberry Cream Cheese Danish, you may even look forward to the alarm clock going off.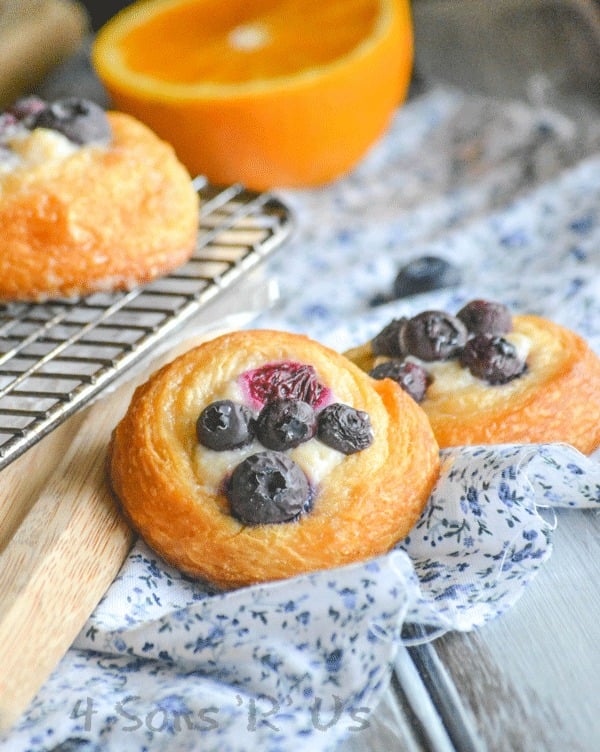 Buttery, flaky pastries with a cream cheese center are topped with fresh blueberries bursting with sweet juices.
The Blueberry Cream Cheese Danish is a great breakfast for a promising start to any day, or a sweet treat to end the day on a good note.
Take advantage of the in season prices, and add the ingredients to your grocery list asap.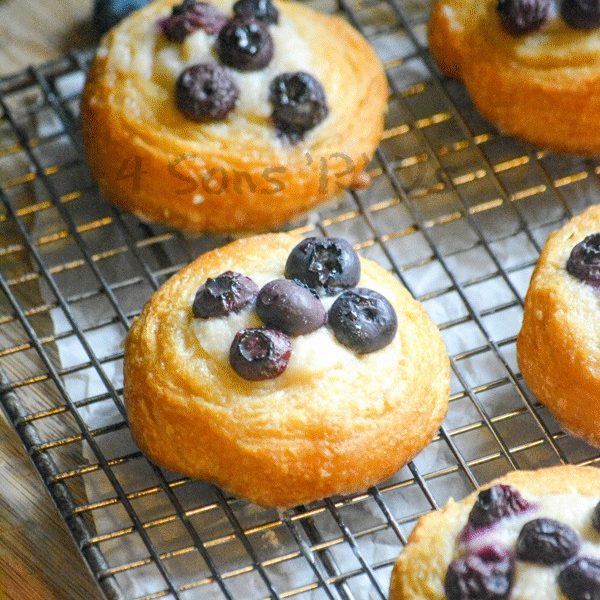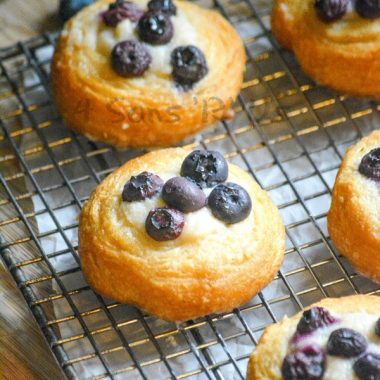 Blueberry Cream Cheese Danish
A perfect breakfast pastry, this version is filled with sweet cream cheese and topped with ripe, juicy blueberries.
Print
Pin
Rate
Ingredients
4

oz

cream cheese, softened

1/2-3/4

cup

fresh, ripe blueberries

1/3

cup

sugar, optional

1

tsp

vanilla
Instructions
Whip the cream cheese, sugar, and vanilla together until smooth.

Open the package of crescent rolls, but keep them in their rolled up 'log' shape.

Use a serrated knife to cut the 'log' into 12 equal coined slices. Place the coins onto a baking sheet, lightly sprayed with non stick spray. Use your thumb to make a shallow, circular well in the center of each.

Add an equal amount of cream cheese into the center of each pastry.

Place 4-6 blueberries on top of the cream cheese on each danish.

Bake at 350 degrees for 18-20 minutes.

Let the danishes rest for 2 minutes before serving.
Notes
These can be made ahead of time, cooled completely, and frozen. When ready, just grab one, reheat, and go.