Zucchini are in abundance when Summer rolls around. Turn them into a savory side dish with this baked gnocchi with zucchini & tomatoes recipe. Add some meat and it quickly becomes a simple squash & vegetable based casserole for supper.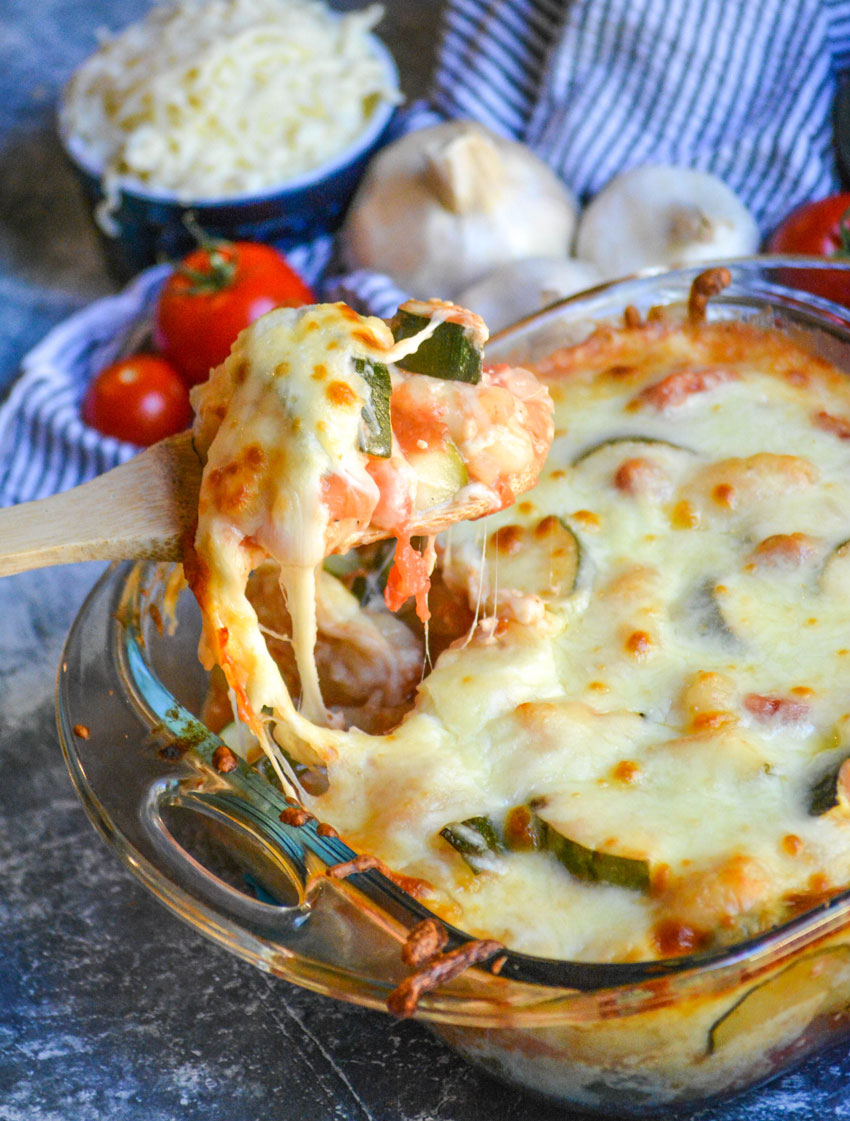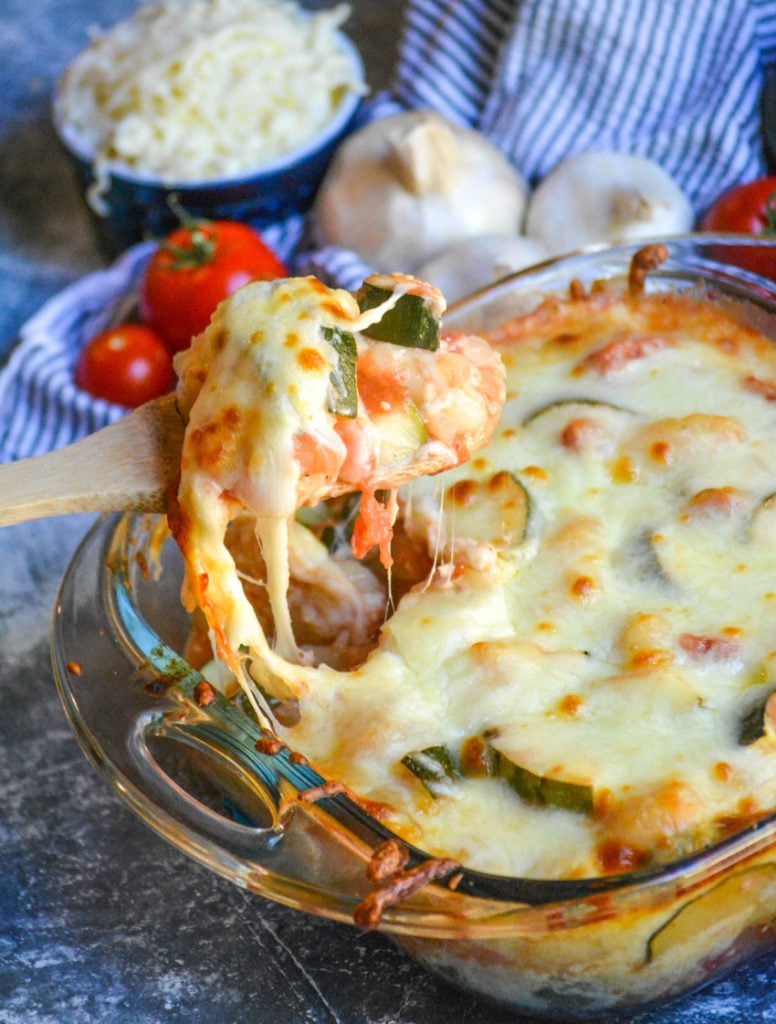 Have you started planting your garden yet?
Are you already picturing the multitude of fresh veggies you're going to enjoy in just a few months?
Now that we've seen the last of Winter and the warmer weather is here to stay, I can't wait to get my hands on some fresh vine ripened tomatoes and a ton of summer squash.
And those are two things I just love.
Tips For Growing Zucchini & Tomatoes
We have actually taken to planning our gardens now, instead of just planting whatever wherever in their own rows.
And that little bit of planning has made all the difference in our yield.
I actually draw out a little map on an 8×11″ sheet of computer paper to better help myself visualize.
Zucchini, and any other squash we're growing, gets its own row.
While they're technically 'vine-y', they don't actually grown long invasive tendrils. What these plants do do, is grow very large and bush out. So they need plenty of space.
Even though we use tomato cages, we try to give our tomato plants the same amount of space.
Not because they bush out, but because we plant our basil plants in between them.
Basil and tomatoes are two plants that do better when planted together.
Look up other pairings- you may be surprised- and take it into consideration when planning for your next backyard garden.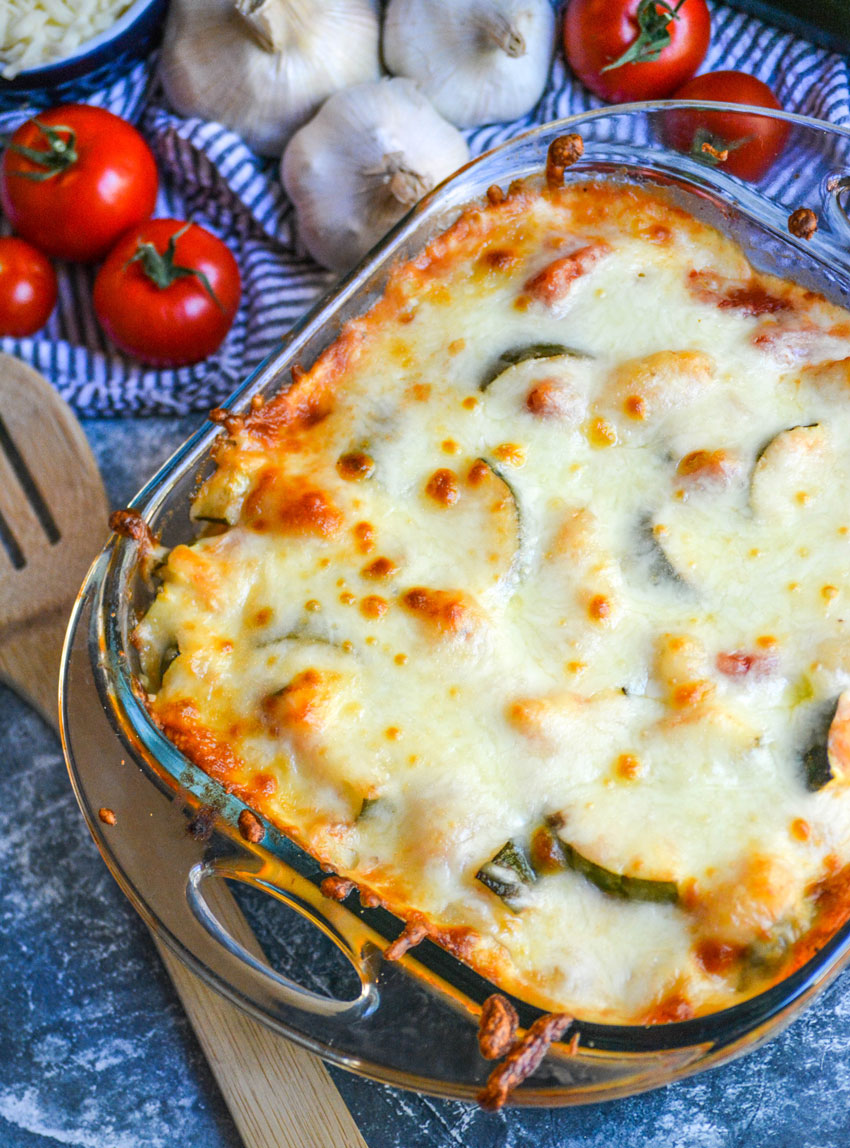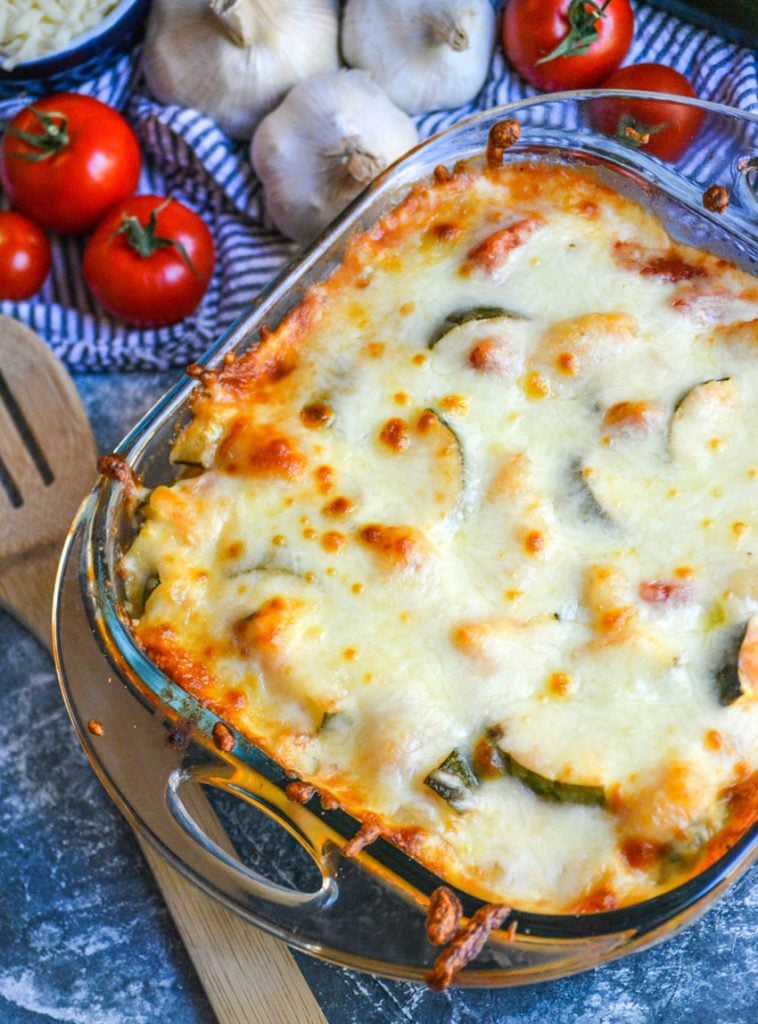 I could live off of tomato sandwiches on toast. For real y'all.
I remember every Summer growing up and going to Grandma's house and her serving us up tomato sandwiches with ones fresh picked from the garden and so juicy they'd drip right down your chin if you weren't careful.
There wasn't any delicacy better. It's still my favorite summer time treat.
Although tomato pie has become a close runner-up.
And squash? I never thought I'd get my guys to willingly, and eagerly consume something like squash.
I was not a very enthusiastic squash eater growing up, but that was because back then I didn't know you could do anything with it beyond a microwave and a little bit of salt and pepper.
My, my, my how things have changed. Especially since they've seen and grown these veggies with their own two hands.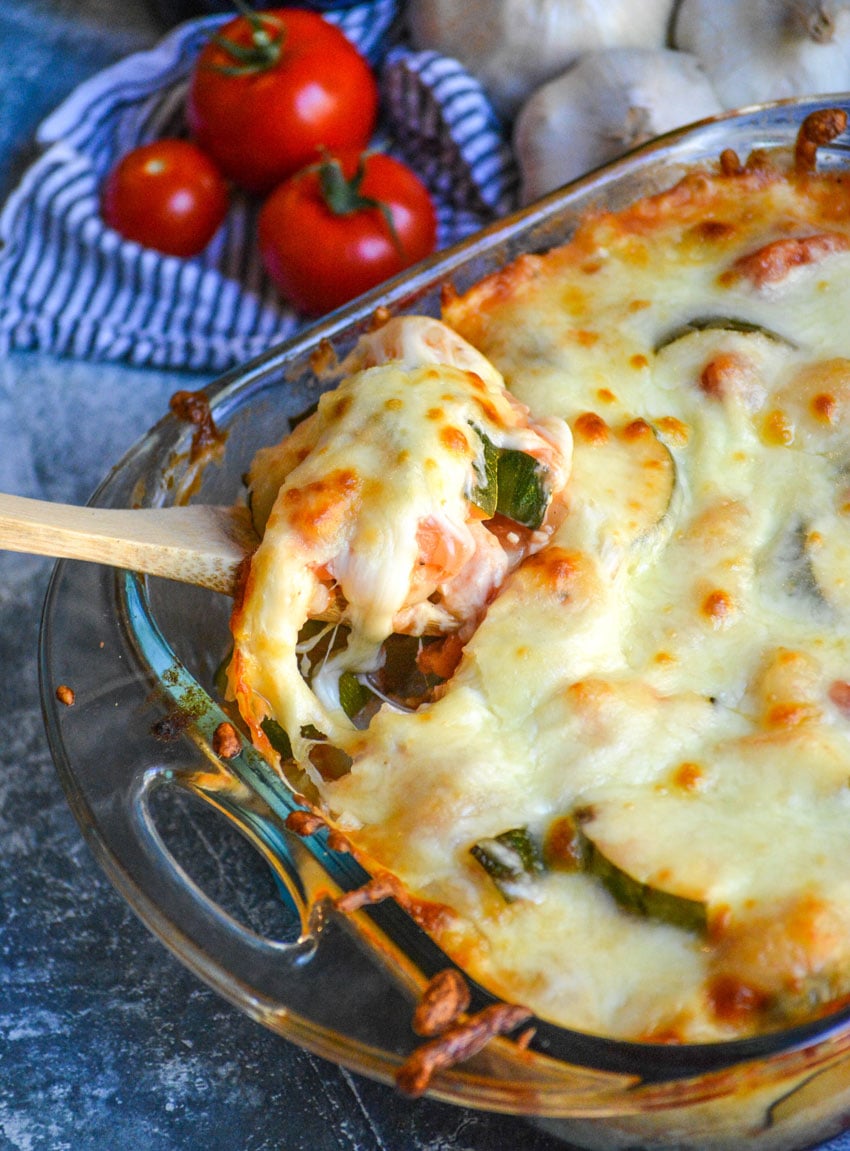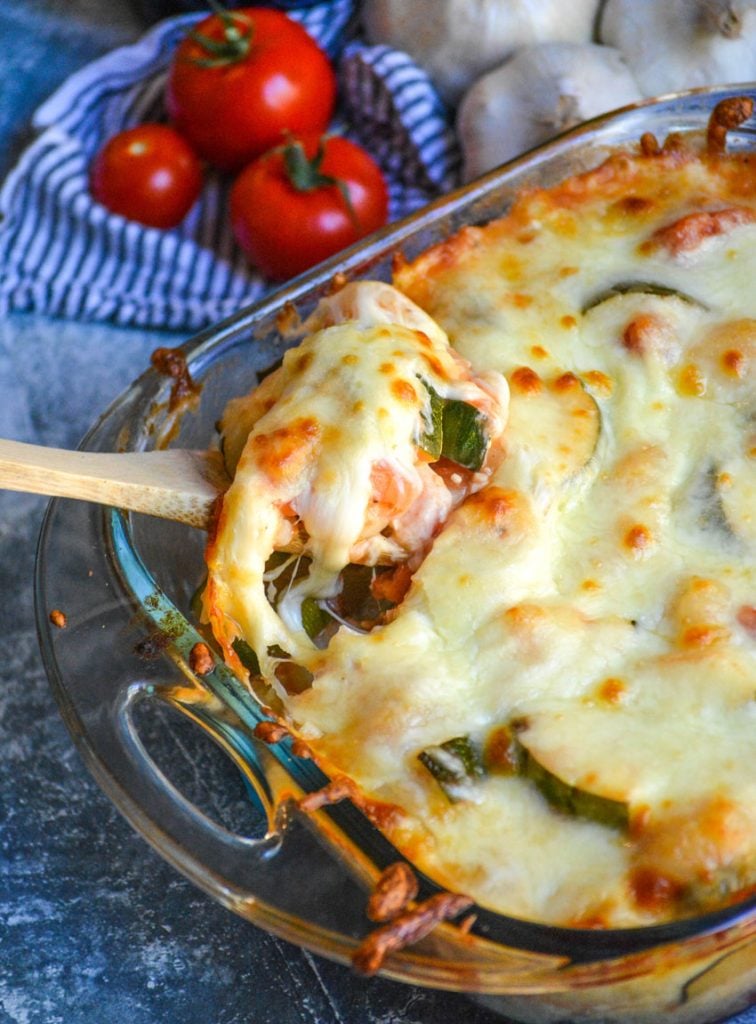 The Best Summer Squash Recipes To Try
Let's talk recipes that take your summer squashes to the next level for a minute.
Here's the short dish list of some of the sons' favorites:
We love taking such an old staple as squash and upgrading it from the country cottage table level and giving it that fancy city-fied attitude.
And while those recipes were all well and good, something was still missing for me.
I felt I hadn't quite achieved the zenith of squash and tomato perfection.
Close, but no cigar.
And then I had a thought.
Zucchini and tomatoes paired together in one perfect side dish. Add in a little gnocchi, fluffy little potato pillows of perfection, and we were more than in business.
We were booming.
This baked gnocchi with zucchini & tomatoes was the simple side dish everyone needs to be enjoying. All months of the year!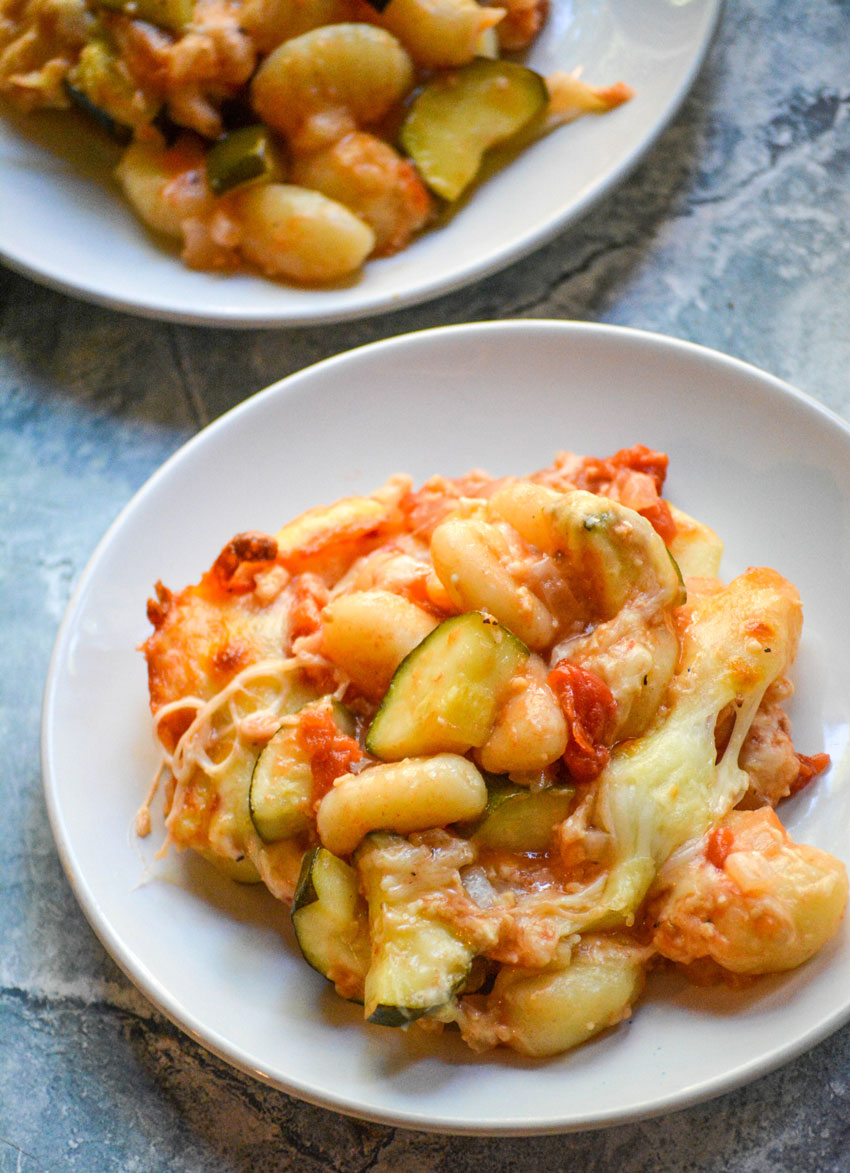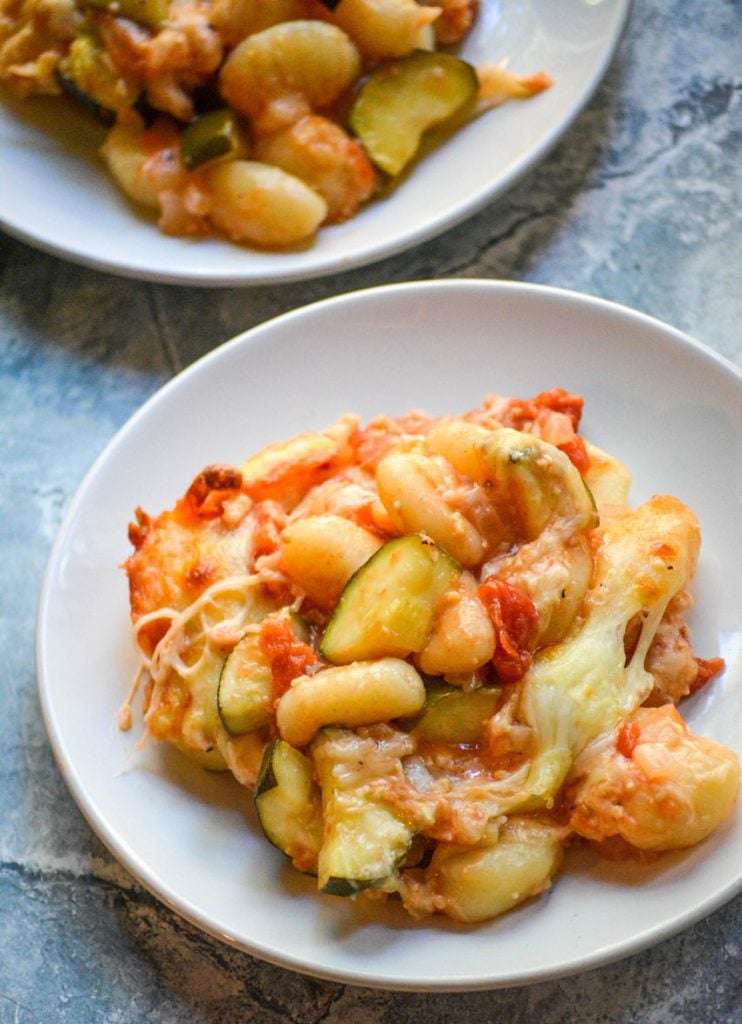 How To Make
A lot of people just throw their squash in a pan, saute it, and call it a day. And I love serving squash a side dish for that very reason.
But- when you decide to serve it in a casserole dish, it needs a little more love.
Nothing too complicated though, because down here in the South even our coziest dishes are really very simple.
Wash and prep your zucchini. It needs to be sliced down the middle (de-seeded if it's extra large) and then sliced and/or quartered depending on the desired size.
Heat a large skillet over medium high heat. Add olive oil & onion, sauteing just until the onions are soft and the garlic's no longer bitter.
Add the prepped zucchini, and let them saute an additional five minutes or so. You want them just slightly cooked, but nowhere near soft. They will finish cooking when baked in the oven.
Stir in the can of tomatoes, reduce the heat to the lowest setting, and cover the pan with foil. Let the mixture slowly bubble while you cook the gnocchi.
Cook the gnocchi in a pot according to the package directions. Drain it completely, and set aside.
Remove the foil from the zucchini & tomato mixture. Season with with salt & pepper, to taste. Stir to combine.
Add the gnocchi, carefully stirring to incorporate. Let simmer for another minute, and then remove the skillet from heat.
You can use an 8×8 or 9×9′ cooking dish. We used pyrex this time, but I also have several ceramic baking dishes that work just as well.
Spray the dish lightly with non stick cooking spray.
Spoon half of the gnocchi mixture into the dish, and using the back of the spoon spread it out evenly into the dish.
Sprinkle one cup of shredded mozzarella evenly out over the top.
Repeat by layering the remainder of the gnocchi/zucchini mixture evenly out over top. Followed by another cup of shredded cheese.
Bake the dish at 350 degrees for 25 minutes. Everything will be cooked at this point and you can serve and enjoy, as is.
If you like your cheese a little more browned on top, then turn on the broiler.
Watching the casserole carefully, broil for 2-3 minutes until the top has developed the desired amount of golden brown spots with a nice cheesy crust.
Let rest for 1-2 minutes before spooning onto dishes and serving.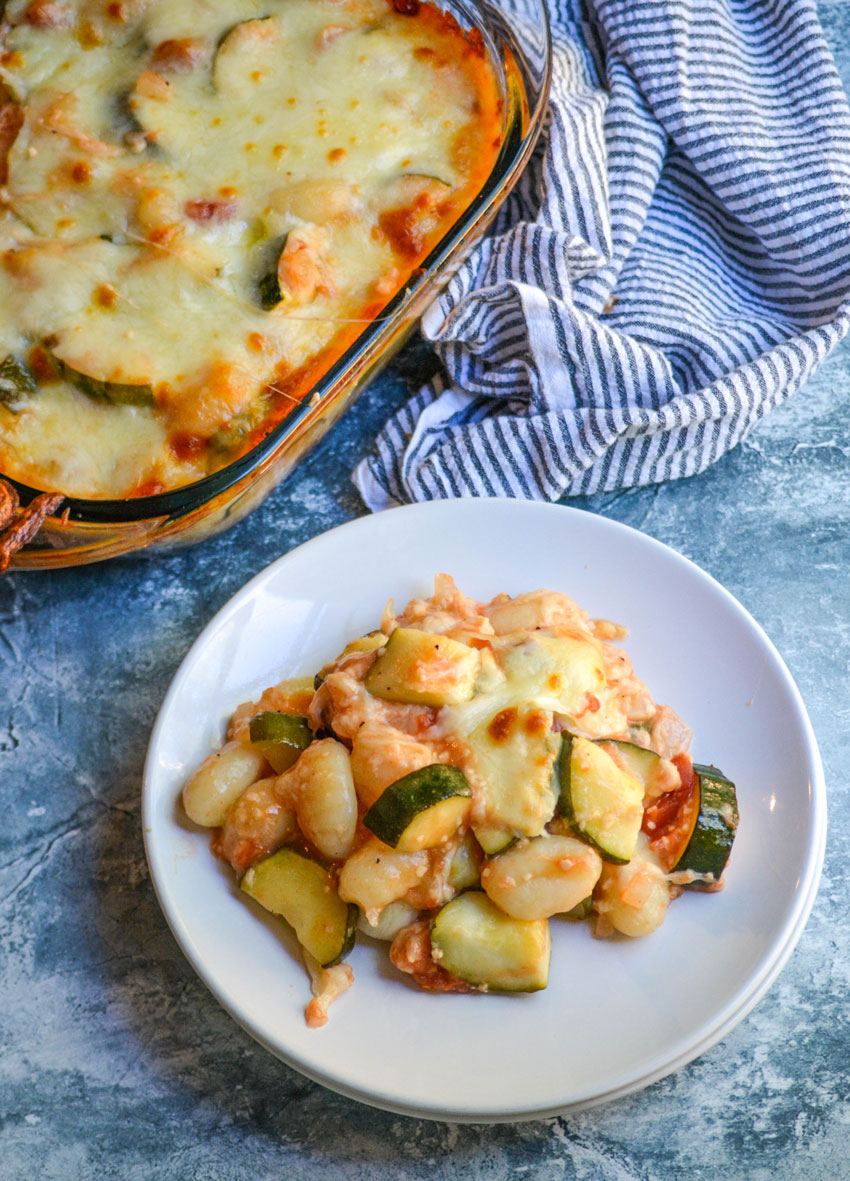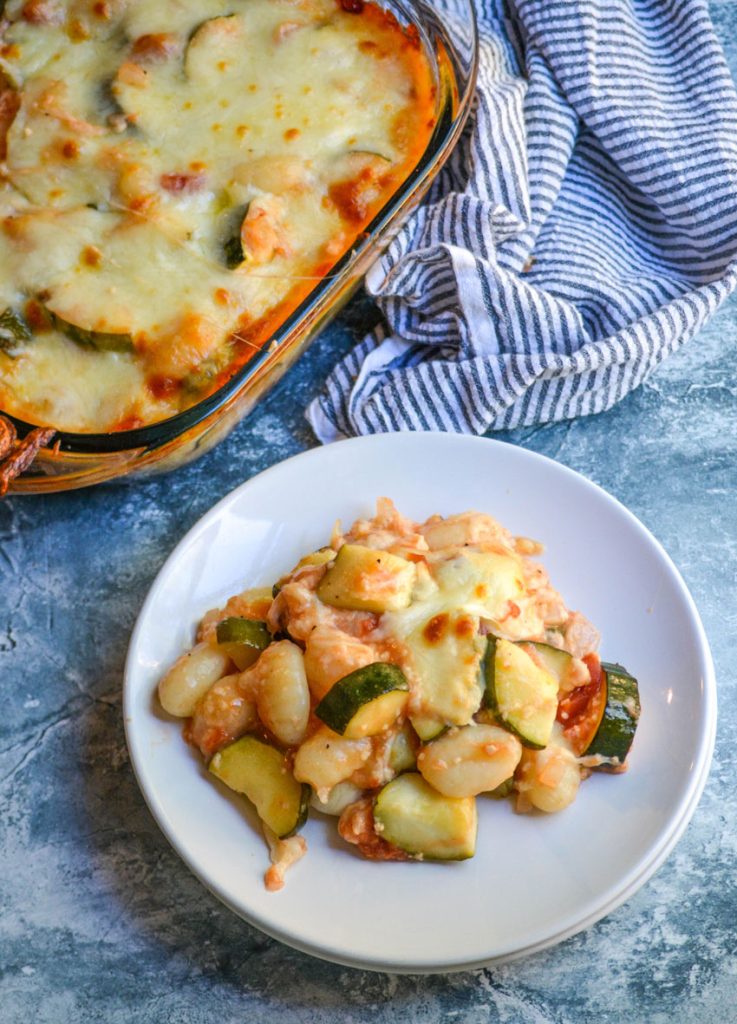 The flavors in this baked gnocchi with zucchini & tomatoes dish meld into one perfect 'ah-ha' moment in your mouth.
Tips & Tricks
We love the texture and just the over all cheesiness that the mozzarella adds, but feel free to leave it off if you're trying to go for lighter fare.
You can save calories by leaving off the cheese. If that's more to your liking.
Similarly, you can switch up the cheese if you have another melting cheese that you prefer.
You can also switch up the squash. Yellow squash & butternut also work well in this recipe.
Want to turn this into a one stop dinner? You can stir fully cooked (and drained) ground sausage into the mix.
Serve it with a simple side salad and crusty bread for a filling vegetarian meal option. I find this especially satisfying when the weather's extremely hot.
Take advantage of the inexpensive Summer bounty and whip up this simple side dish, or turn it into a pleasing easy dinner. You can't go wrong with either option, and it's sure to become a new family favorite.
If you've tried this BAKED GNOCCHI WITH ZUCCHINI & TOMATOES recipe, or any other recipe on the site, let me know in the comment section how it turned out, we love hearing from our readers! You can also follow along with me on PINTEREST, FACEBOOK, and INSTAGRAM to see more amazing recipes and whatever else we've got going on.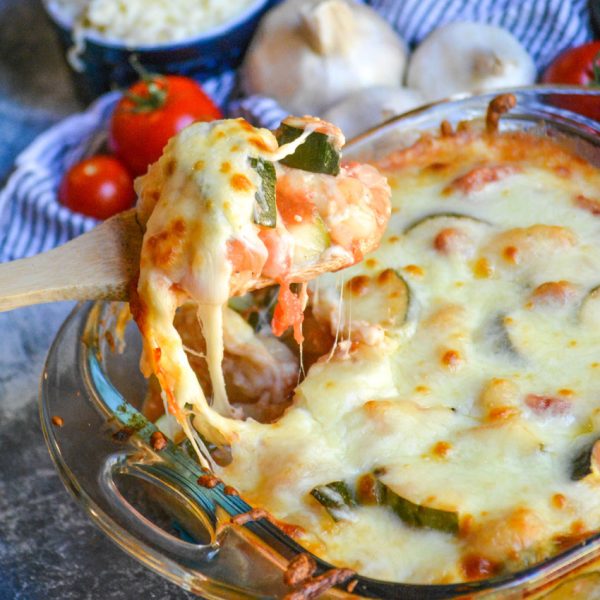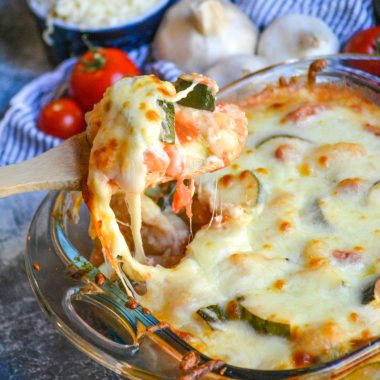 Baked Gnocchi with Zucchini & Tomatoes
Zucchini are in abundance when Summer rolls around. Turn them into a savory side dish with this baked gnocchi with zucchini & tomatoes recipe. Add some meat and it quickly becomes a simple squash & vegetable based casserole for supper.
Print
Pin
Rate
Ingredients
3

cups

zucchini

sliced and halved or quartered

1

cup

onion

roughly diced

2

cloves

garlic

minced

2

tbsp

olive oil

1

14.5 oz. can diced tomatoes with Italian spices (basil, garlic, oregano)

1

17 oz. package gnocchi (potato dumplings)

2

cups

sliced mozzarella cheese

divided
Instructions
In a large skillet, saute the onion and garlic in the olive oil over medium high heat. Saute about 5 minutes or until the onions are soft, and then add in the zucchini. Cook, stirring occasionally, for another 5 minutes. Add the can of tomatoes, stirring to combine. Cover the pan, reduce the heat to medium low, and then let the mixture simmer while the gnocchi cooks according to it's package directions.

Drain the gnocchi when it's done cooking.

Add salt and pepper, to taste, to the zucchini mixture and stir. Gently stir the gnocchi into the zucchini mixture and let everything simmer together for about a minute. Remove the skillet from the heat.

Spoon half of the gnocchi mixture into a 8 or 9 inch square baking dish that has been sprayed with cooking spray. Take half of the mozzarella cheese and sprinkle it on top of the gnocchi mixture. Layer the remaining gnocchi on top of the cheese and then arrange the remaining cheese over that layer of gnocchi.

Bake, uncovered, at 350 degrees for 25 minutes. Turn the broiler of your oven on and broil, watching carefully, for 2-3 minutes until the top begins to brown.

Serve & enjoy!
Nutrition
Calories:
188
kcal
|
Carbohydrates:
8
g
|
Protein:
10
g
|
Fat:
13
g
|
Saturated Fat:
6
g
|
Cholesterol:
29
mg
|
Sodium:
339
mg
|
Potassium:
358
mg
|
Fiber:
2
g
|
Sugar:
5
g
|
Vitamin A:
457
IU
|
Vitamin C:
20
mg
|
Calcium:
228
mg
|
Iron:
1
mg
originally published 8/14/2015