Want a dinner that's easy to throw together with just a couple pantry items? This Bacon Cheeseburger French Fry Platter is just the thing. It's like nachos, but with french fries and bacon cheeseburger flavored. Whether feeding a crowd, or just trying to feed your own herd- this dish fits the bill!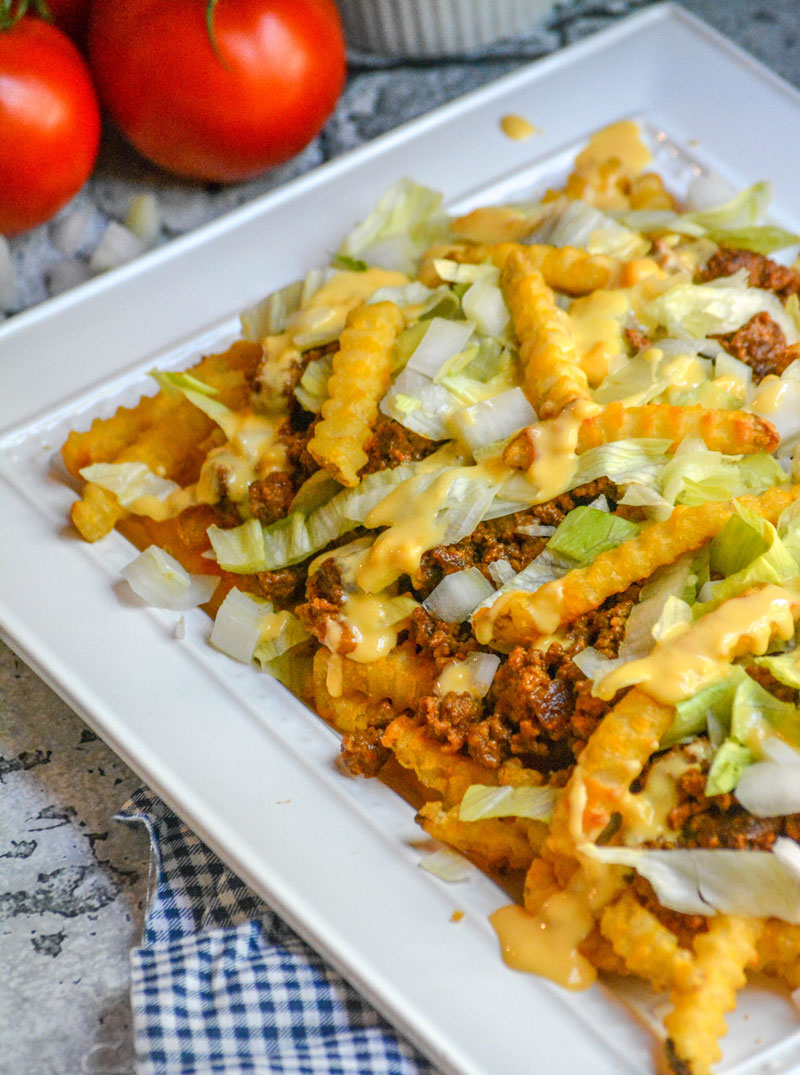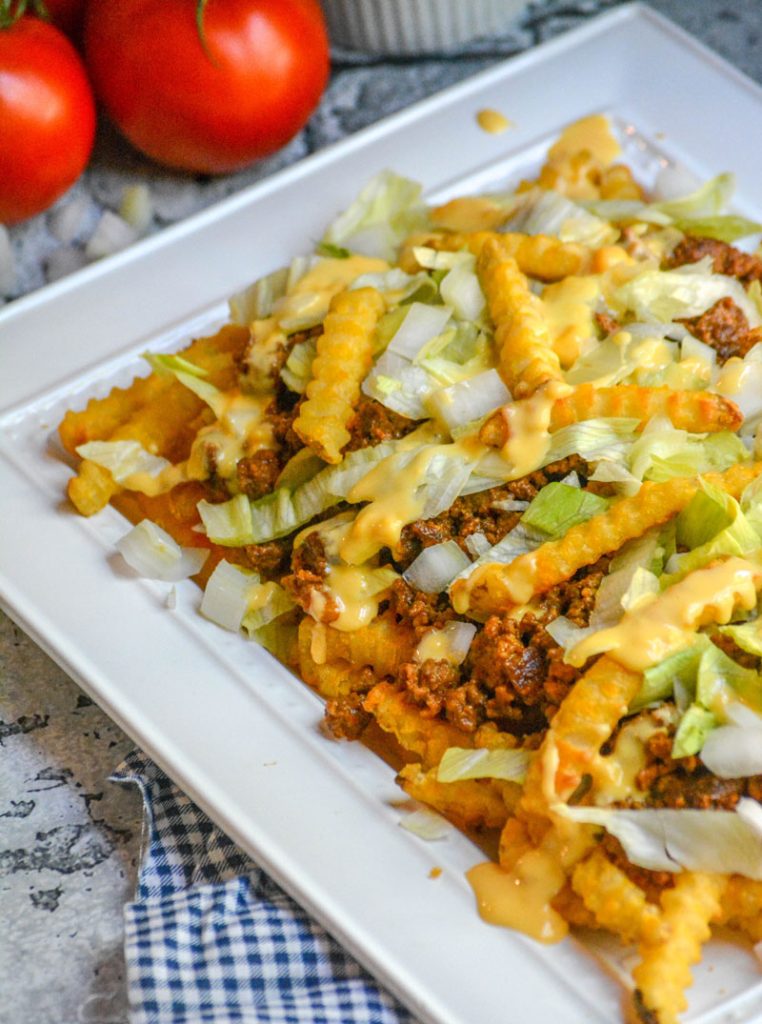 Not gonna lie, our family loves a good burger as much as the next person. While I try not to make a habit of it, I will stop for burgers on the way home every now and then.
The Hubs acts like he hates it. The Sons' think it's a real treat. Me, I just enjoy not having to cook for the one night- whether I order anything for myself or not.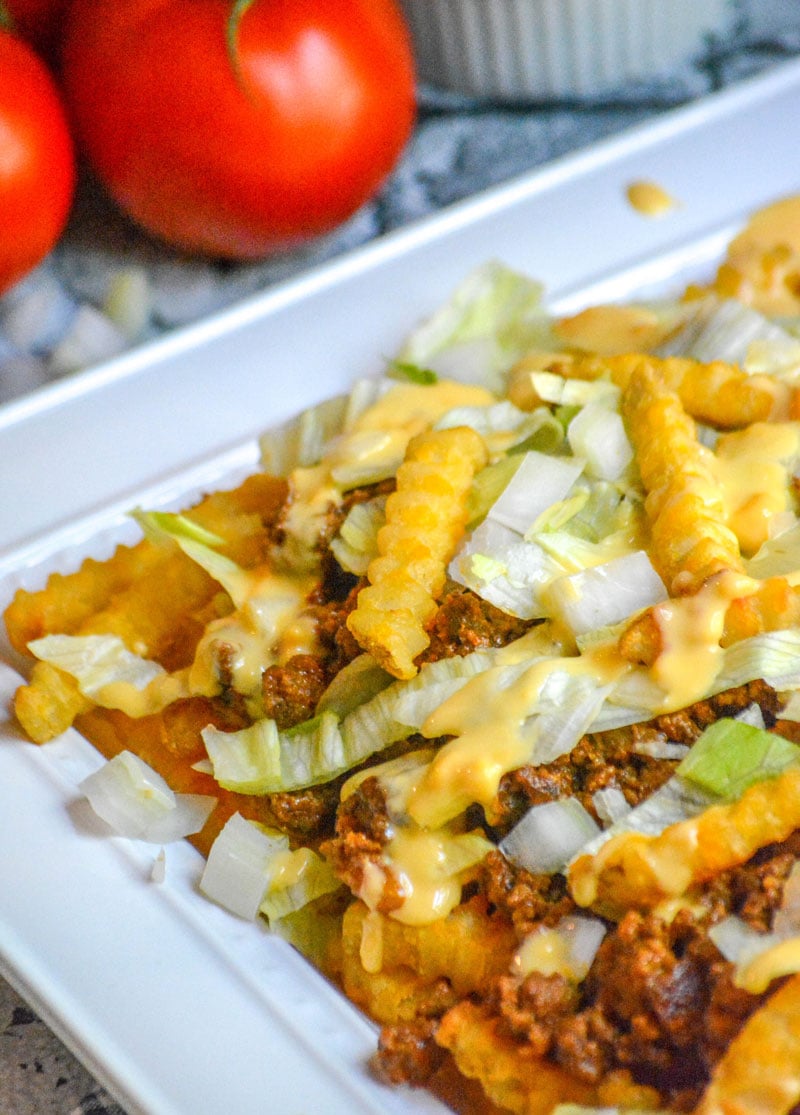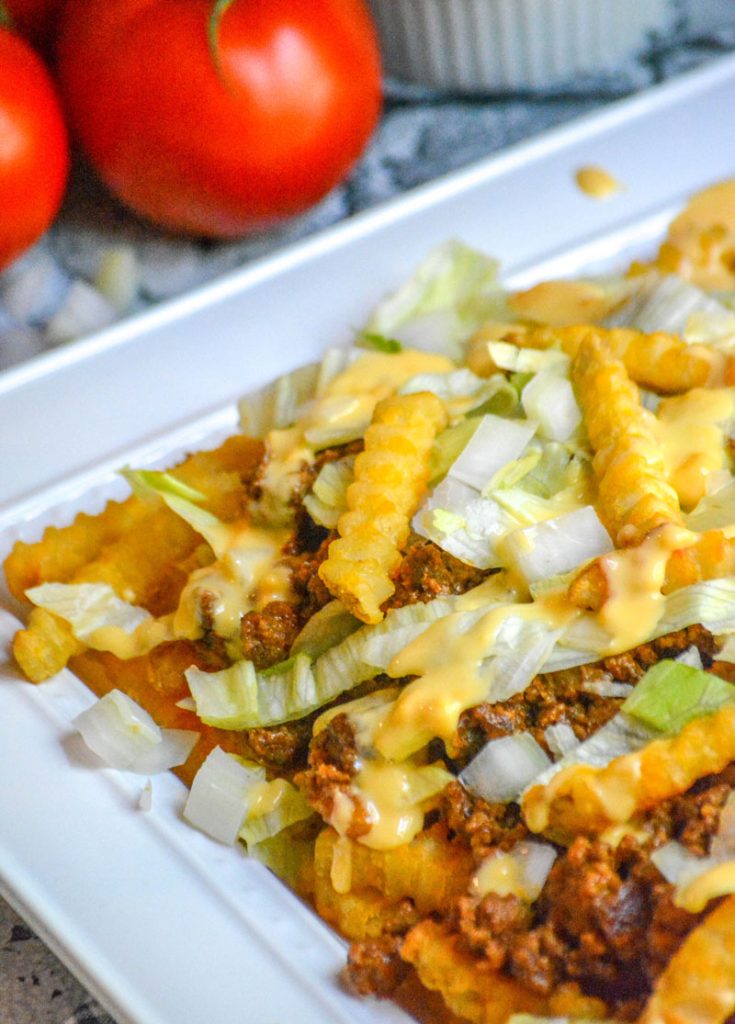 Still I get cravings just like anybody else, and ordering out isn't always in the budget. Let's be honest too, if I don't feel like cooking I don't really feel like going to the local drive through either. It may sound silly, but it's true.
On the other hand, sometimes even I'm really craving those fast food flavors we all know & love. I don't ncessarily want the calories or trans fats. I don't even feel the hassle of being bothered to pick anything up, simple as it may be.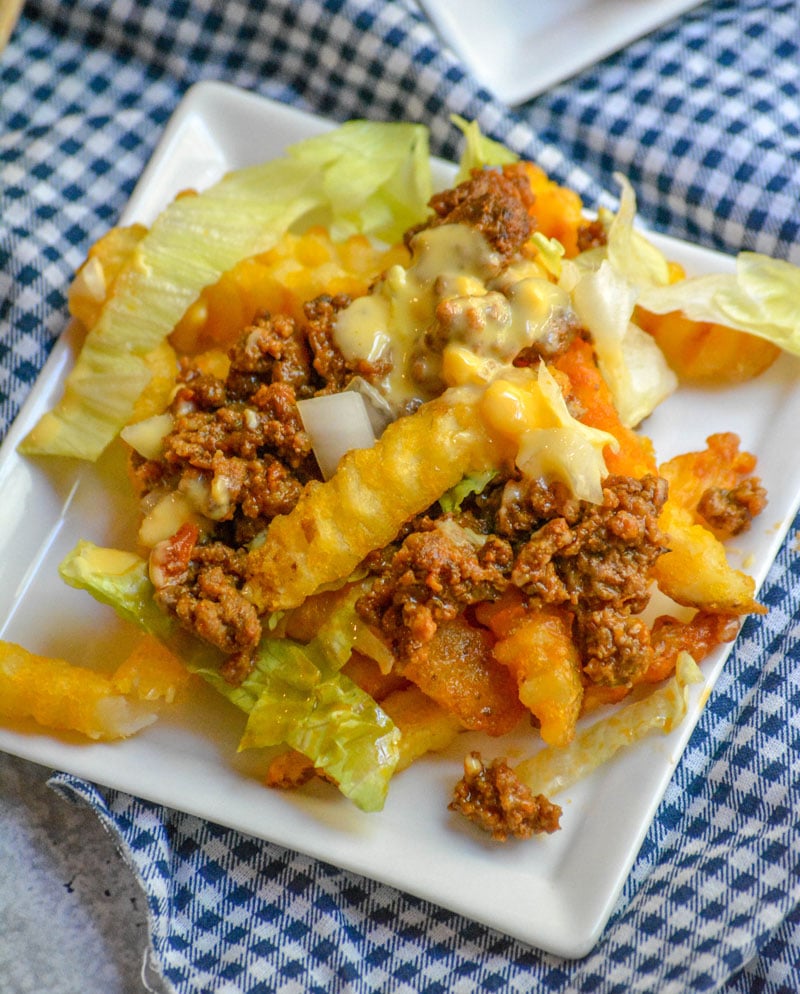 This frustration eventually led to the dawn of this simple Bacon Cheeseburger French Fry Platter in our kitchen.
It's about as simple as it gets, especially for burger fans. It's basically everything you love about your basic fast food meal, but piled high on a platter. It's kinda like nachos, but with fries instead of tortilla chips and cheesy bacon burger flavored.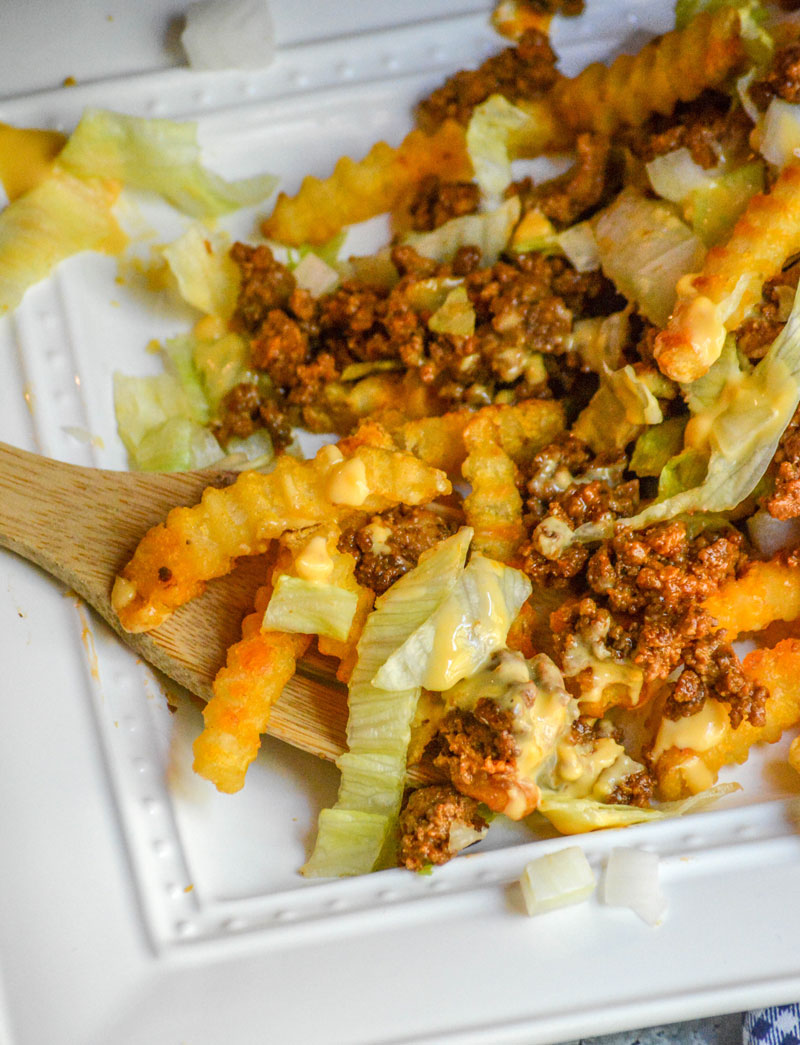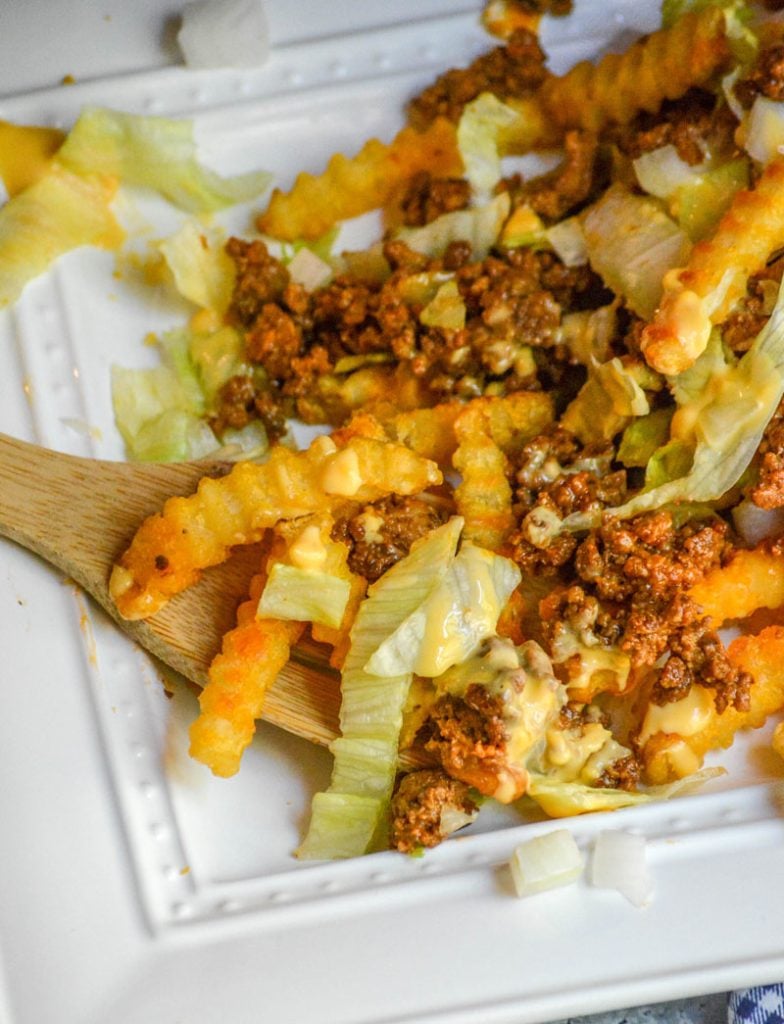 If you're at all a fan of anything cheeseburger related, or anything of cheesy nacho fame- this dish is gonna be a hit. It's simple. It's savory. Most of all, it's rich & indulgent but easy enough for any busy evening.
How often is it that you can just place a platter full of dinner on the table and feel confident telling everyone to dig in?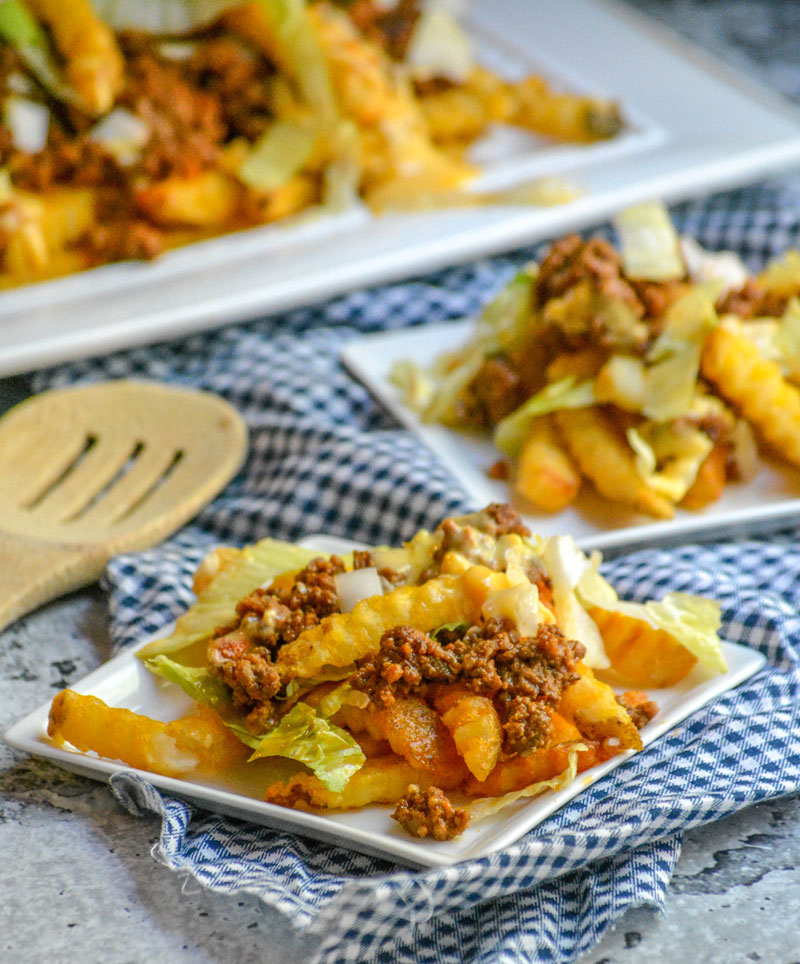 The base of this dish is golden brown, crispy french fries. Nothing fancy just frozen fries cooked according to the package instructions. I suggest crinkle cut fries, but you don't have to use those. Wedges, or steak house style would also work. Pretty much any variety will work as long as it's a sturdy thick cut.
Make sure not to bunch up the fries when cooking either. To get a truly crisp result, you want a single layer. While the fries are cooking, it's time to get started on the meat mixture. It really is the special sauce that ties the whole Bacon Cheeseburger French Fry Platter dish together.
Start by roughly chopping several slices of bacon. I used 6. The more bacon the better I say. Nothing's ever not been better with a little extra bacon thrown in. Saute the bacon in a large skillet over medium heat until done, then stir in the ground beef.
Continue cooking, breaking the meat apart as you do, until it's browned throughout. Strain all the grease, and set the mixture aside. Make sure to cover the skillet so it stays warm.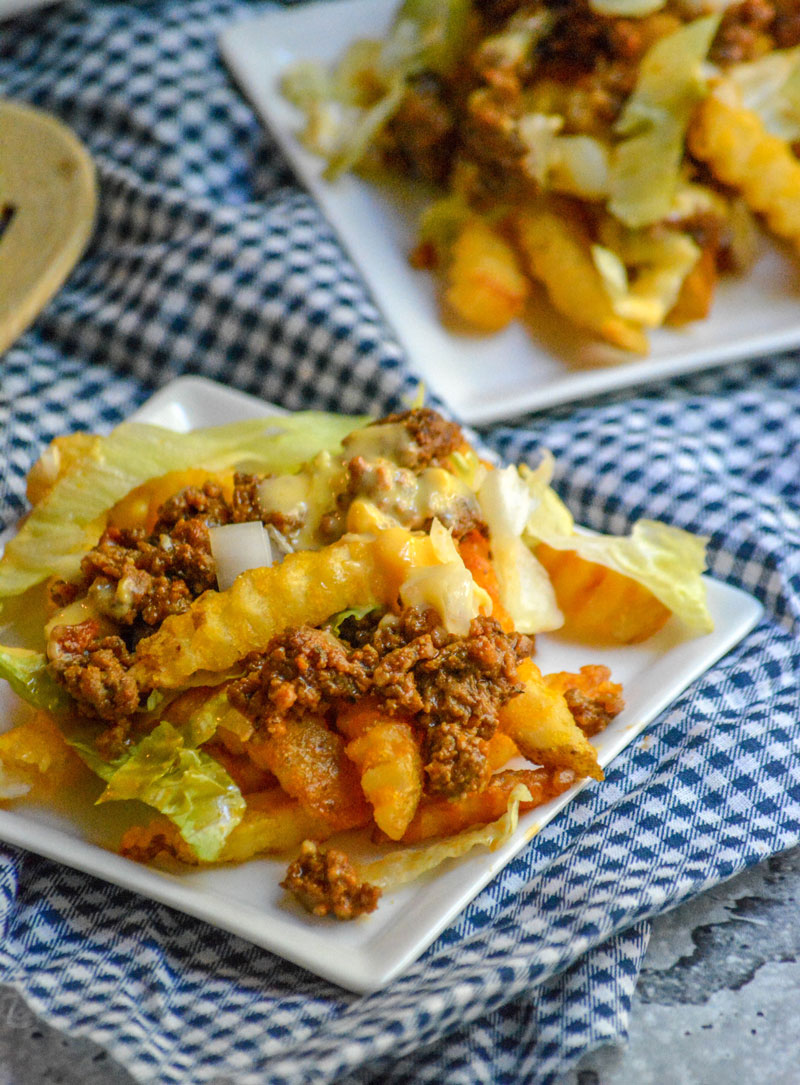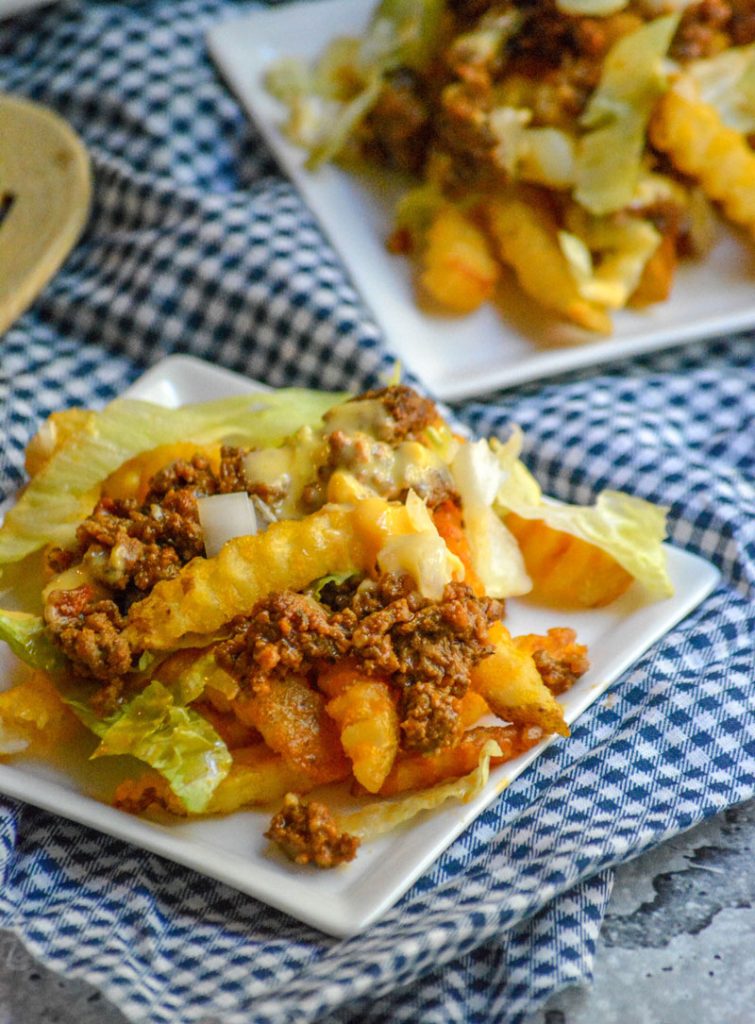 To assemble the nachos, start by moving the fries to a serving platter. Top them with half the shredded lettuce. Add the meat mixture evenly out over top. Finish them off by sprinkling the rest of the lettuce & onions over top. Drizzle generously with the cheese sauce. Serve them immediately!
While they make a scrumptious treat for dinner, this bacon cheeseburger french fry platter is perfect for sharing. Sharing is one of the best forms or caring, whether with family or friends. Serve them up on game day, or fed a crowd at the next church pot luck.
Other Fun French Fry Ideas: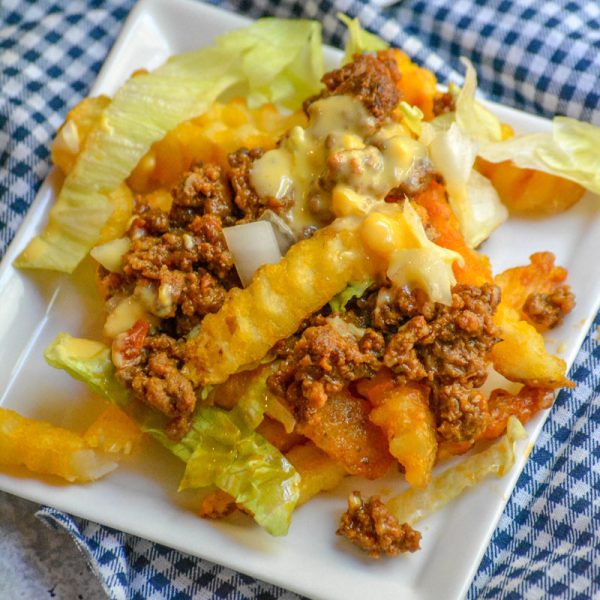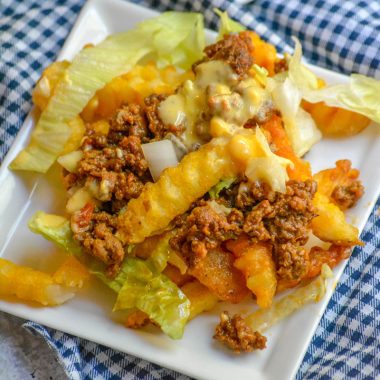 Bacon Cheeseburger French Fry Platter
Your favorite bacon burger meets cheesy nacho fries in this fun savory family-sized platter meal.
Print
Pin
Rate
Ingredients
2

lbs

crinkle cut frozen french fries

6

slices

bacon, chopped

1

lb

lean ground beef

1/2

cup

ketchup

1/4

cup

yellow mustard

1

tsp

Worcestershire sauce

salt and pepper, to taste

1

small

white onion, diced

2

cups

shredded lettuce

1

cup

velveeta cheese sauce
Instructions
Bake the fries according to the package directions.

In a large skillet over medium heat, cook the bacon- stirring occasionally, until done. Add the ground beef, breaking up as it cooks, and cook until the meat's completely browned. Strain the meat mixture until all the grease has drained, then return it to the skillet.

Add the ketchup, mustard, and Worcestershire sauce stirring until completely incorporated. Season with salt & pepper, to taste. Cover the skillet with a lid, remove it from heat, and set aside.

Transfer the cooked, crisp fries to a large serving platter of your choice. Spread half the lettuce evenly out over top of the fries. Spoon the beef mixture evenly out over the top, spreading as necessary to cover the fries.

Sprinkle the rest of the lettuce and the onion evenly out over top of the fries. Lastly, drizzle the cheese sauce evenly out over top.

Serve immediately, and enjoy!