Every week I try to do a 'Taco Tuesday' since we all love Mexican food. It's evolved into more of a 'tex-mex' themed meal as opposed to being just the traditional tacos. One thing my kids always, unanimously, ask for on is this Yellow Basmati Rice.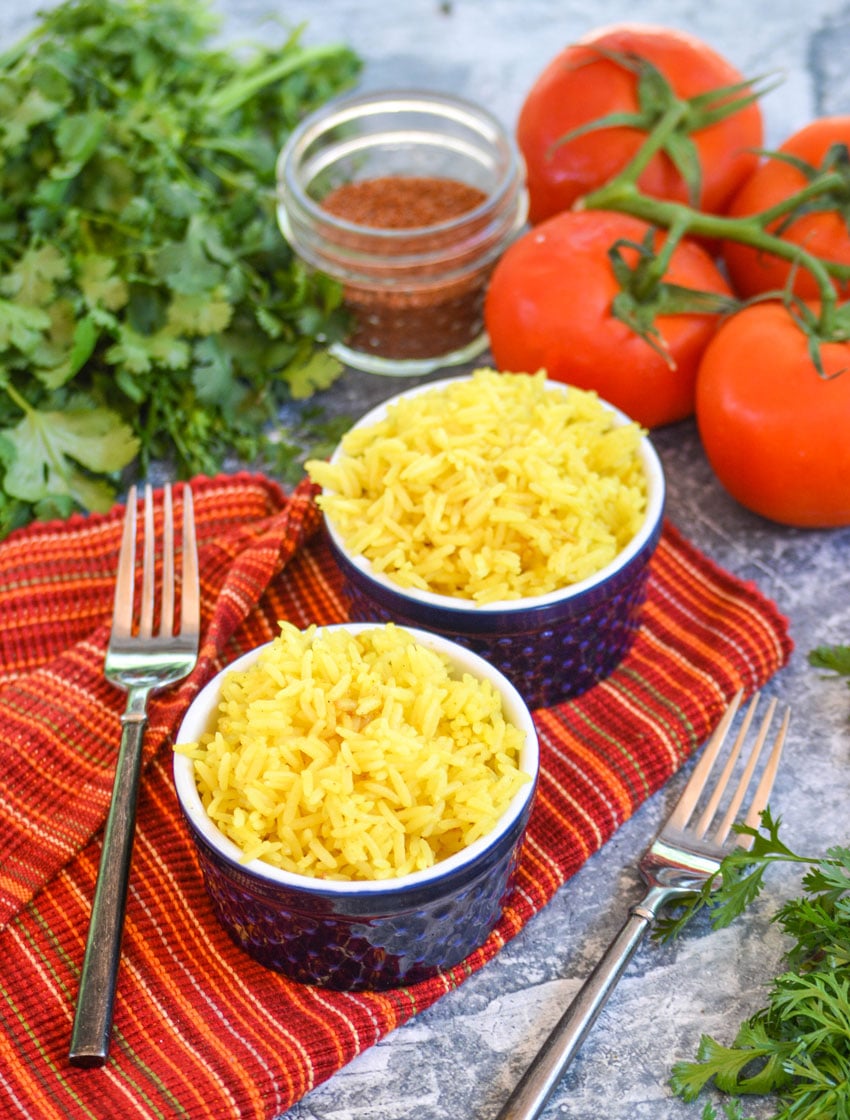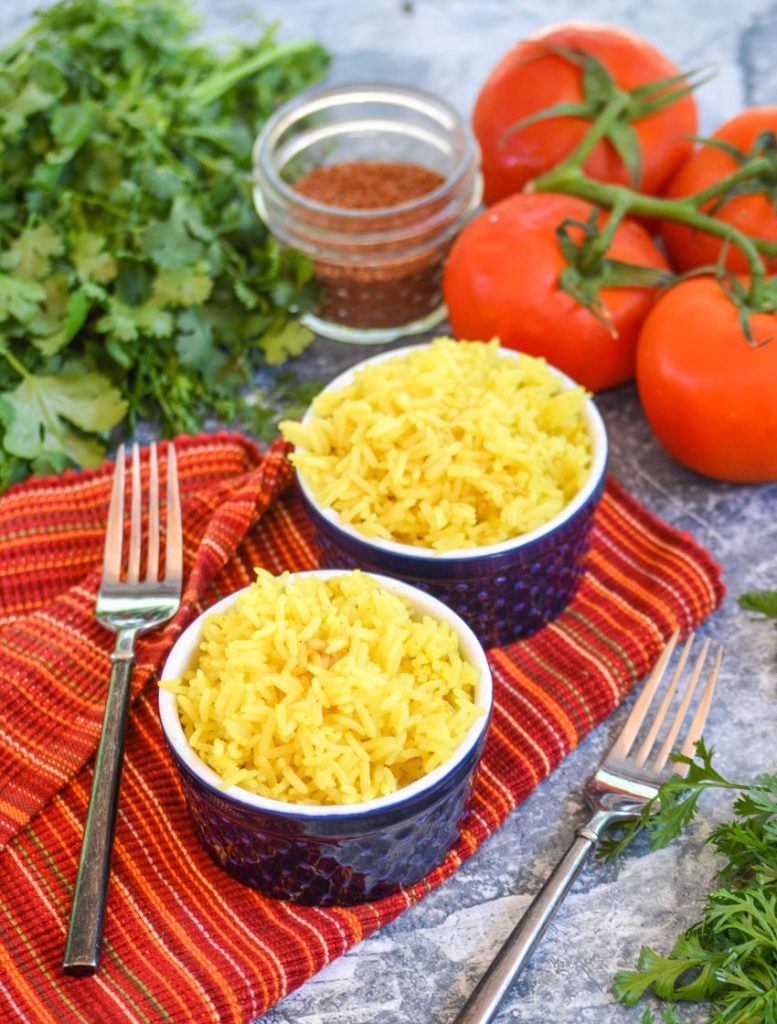 Rice is one of those things that you will always find stocked in my pantry.
Seriously. I buy it in bulk at Costco and keep it in a plastic bin on the floor.
Right next to my 25 pound bin of flour.
Why? I'm sure many of you will be wondering that question.
The obvious answer is because it's cheaper in the long run if I pay a lower price and buy more up front.
Also, it stores well, and it can be used in so many different recipes.
It goes great in casseroles, soups, and even as the base for many a sauce main entree.
It's also a great side dish, and versatile.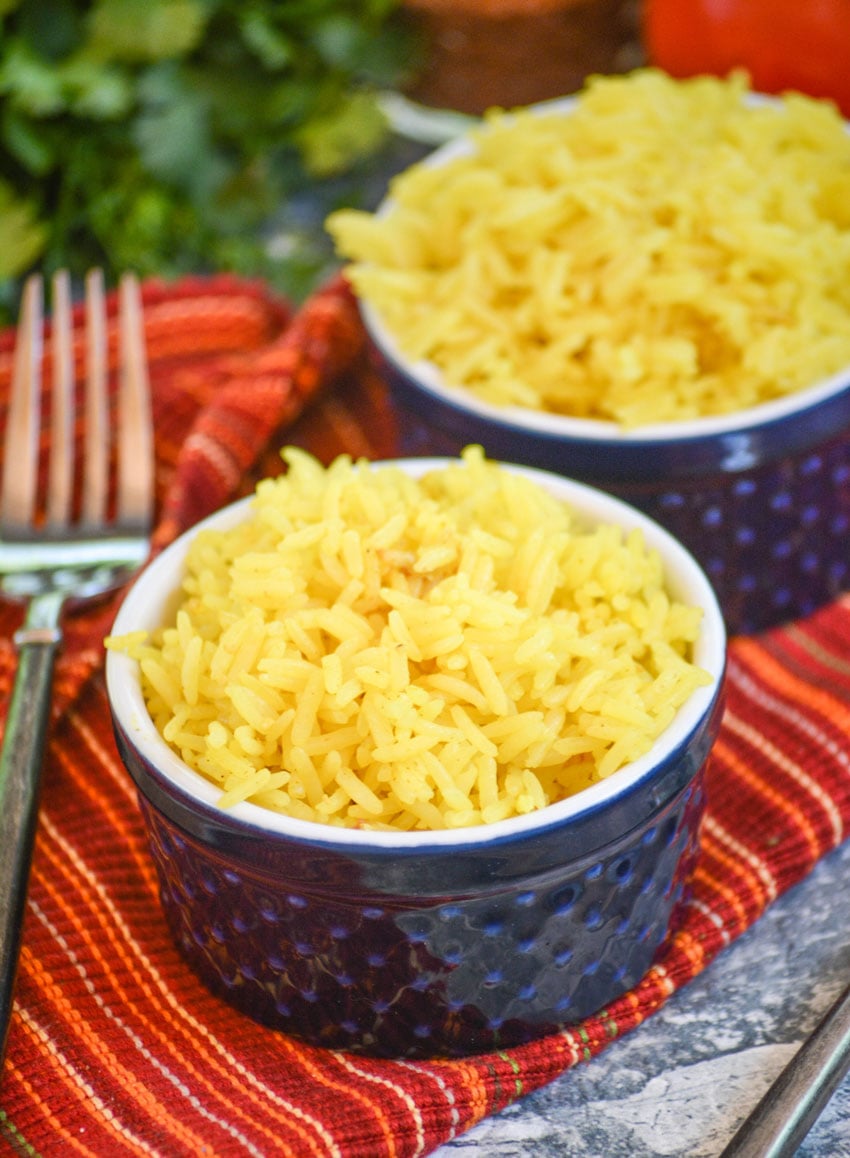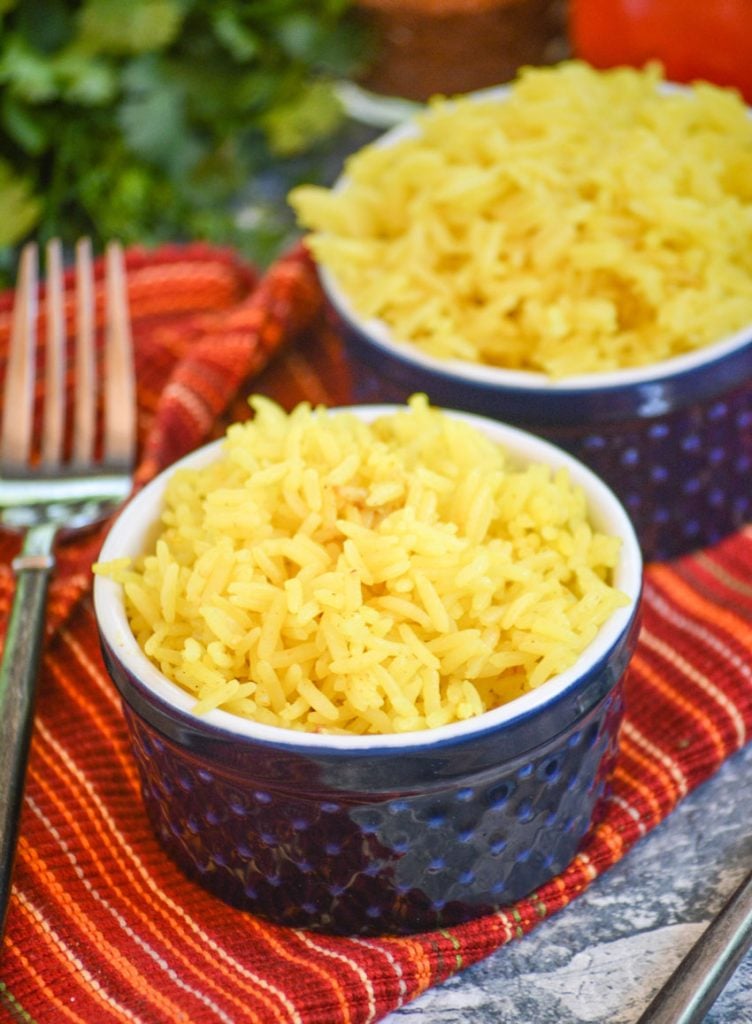 While rice itself can be paired with so many different dishes, there's only two versions we enjoy on Mexican food nights.
It's either got to be Mexican (Spanish-style) rice or yellow rice.
Yellow Rice Vs. Mexican Rice- What's The Difference?
Both rice dishes are simple enough, and begin with some similar ingredients but there are also some key differences.
I won't write a dissertation on the subject, although I probably could. I love information, especially about foods, their origins, etc. But I won't.
Today, we'll keep it simple with the two main differences between the two versions of Hispanic rice.
Mexican rice, also commonly referred to as Spanish rice in the States, tends to be red-ish orange in color.
This is due to the inclusion of tomato sauce or paste. It's also commonly referred to as arroz rojo.
Yellow rice is always a distinct golden yellow color thanks to the turmeric that's stirred in. It adds subtle flavor, but bold color.
This rice is what's often referred to as Paella when cooked in a large skillet with a bunch of flavorful meat & vegetable additions.
Depending on which version you're making, spices can be a hot topic- specifically the use of cumin or saffron.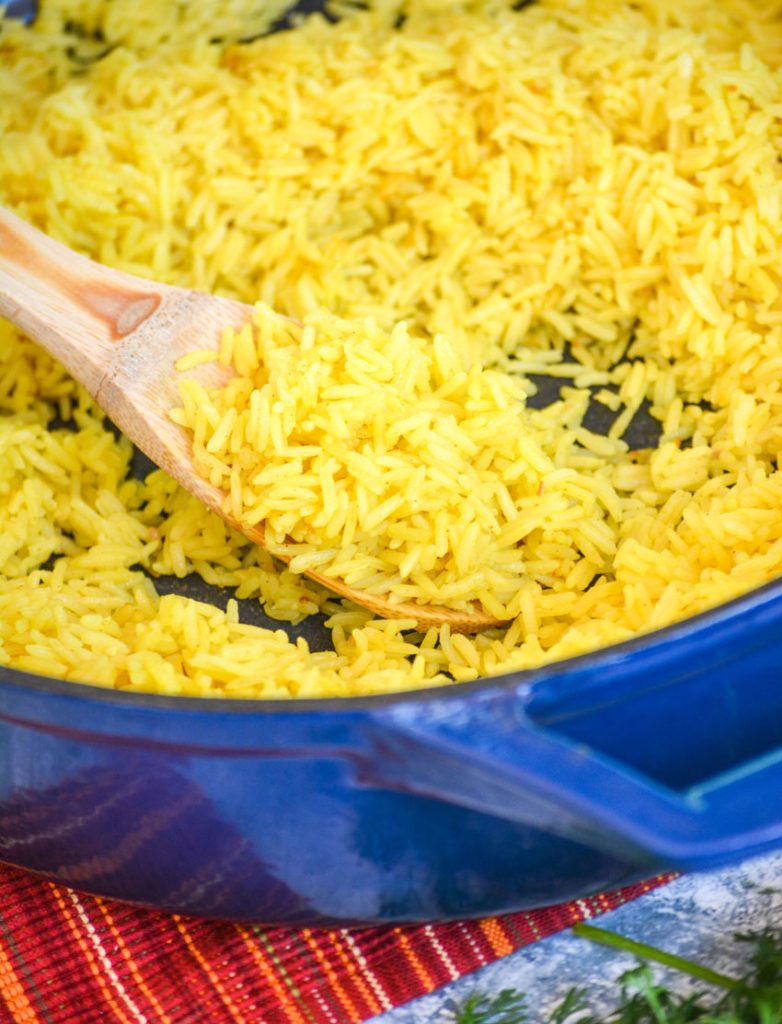 While we call this side dish yellow rice, in no way is it 100% authentic.
It's merely our interpretation or a delicious way to prepare rice from another culture.
With that in mind, we've blurred the lines a little bit.
While yellow rice tends to include saffron, I don't always have time to be that fancy.
Saffron makes a great addition to this dish, but to truly bring out the flavor a few strands should be soaked in hot water first.
I tend to just skip it altogether.
Instead I reach into my spice rack for the cumin, what you'd normally find in the Spanish-style rice.
It's easier, and more forgiving. Plus it gives the rice a nicer bite.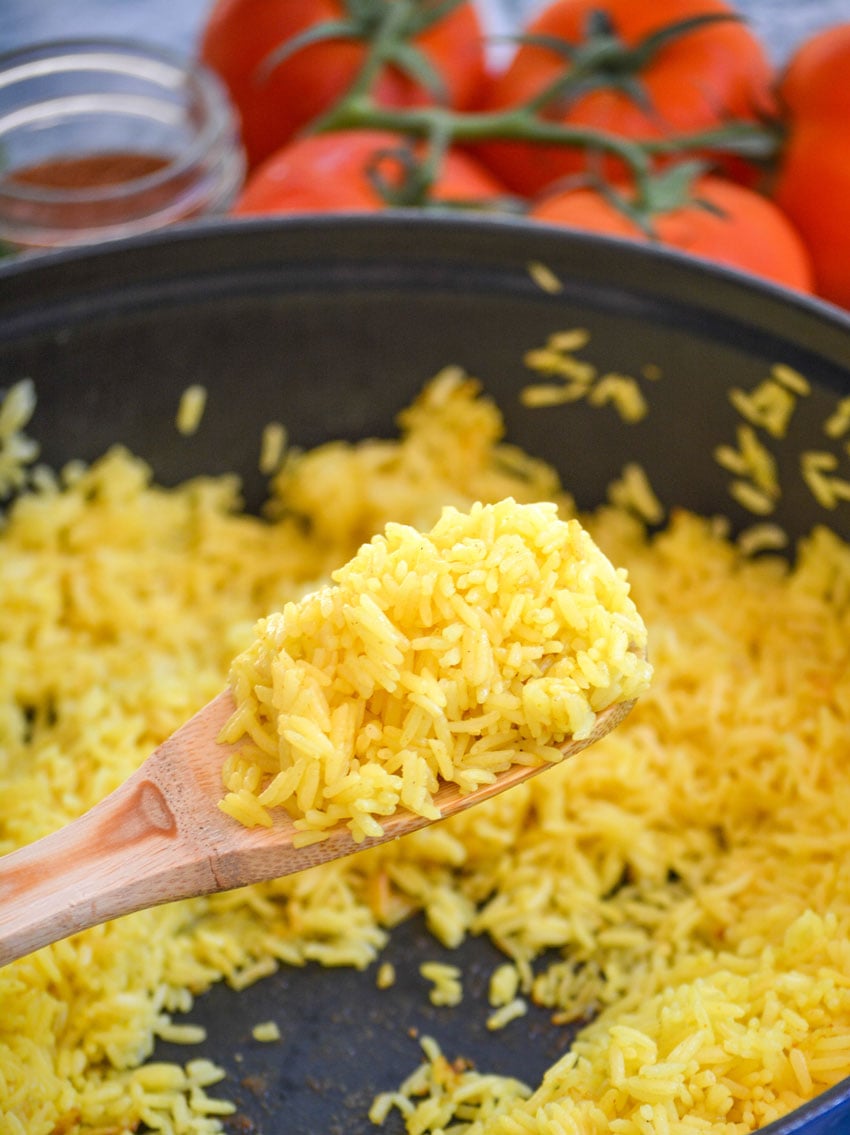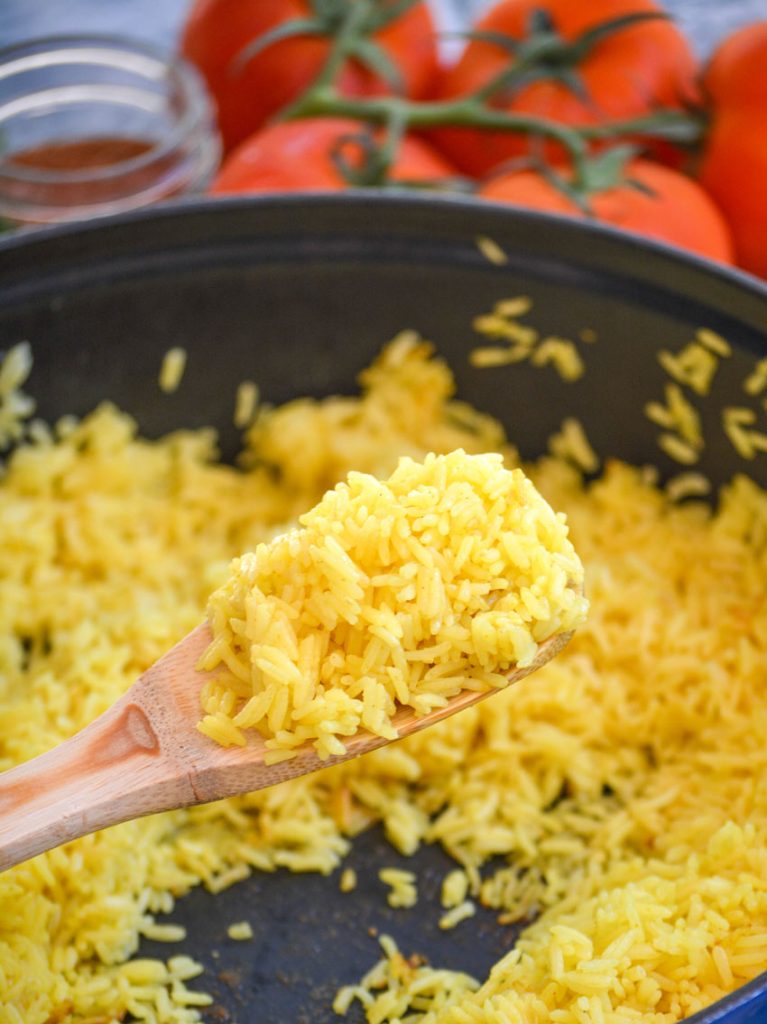 What Ingredients Make a Traditional Yellow Rice?
Traditionally a yellow rice is made up of white rice, using annatto and either turmeric or saffron to give it color.
Annatto is an orange/red dye that comes from tropical trees in Mexico.
Because this recipe uses a good amount of turmeric, there's no need for extra dye from anything else.
Again we've kept the ingredient list simple.
While it's not 100 % authentic, it tastes just as good and makes for a much simpler list when grocery shopping.
Ingredients Needed To Make This Yellow Rice Recipe:
rice
broth
butter
turmeric
garlic
cumin
cinnamon
bay leaf
Nothing overly complicated, and nothing a well stocked pantry won't have.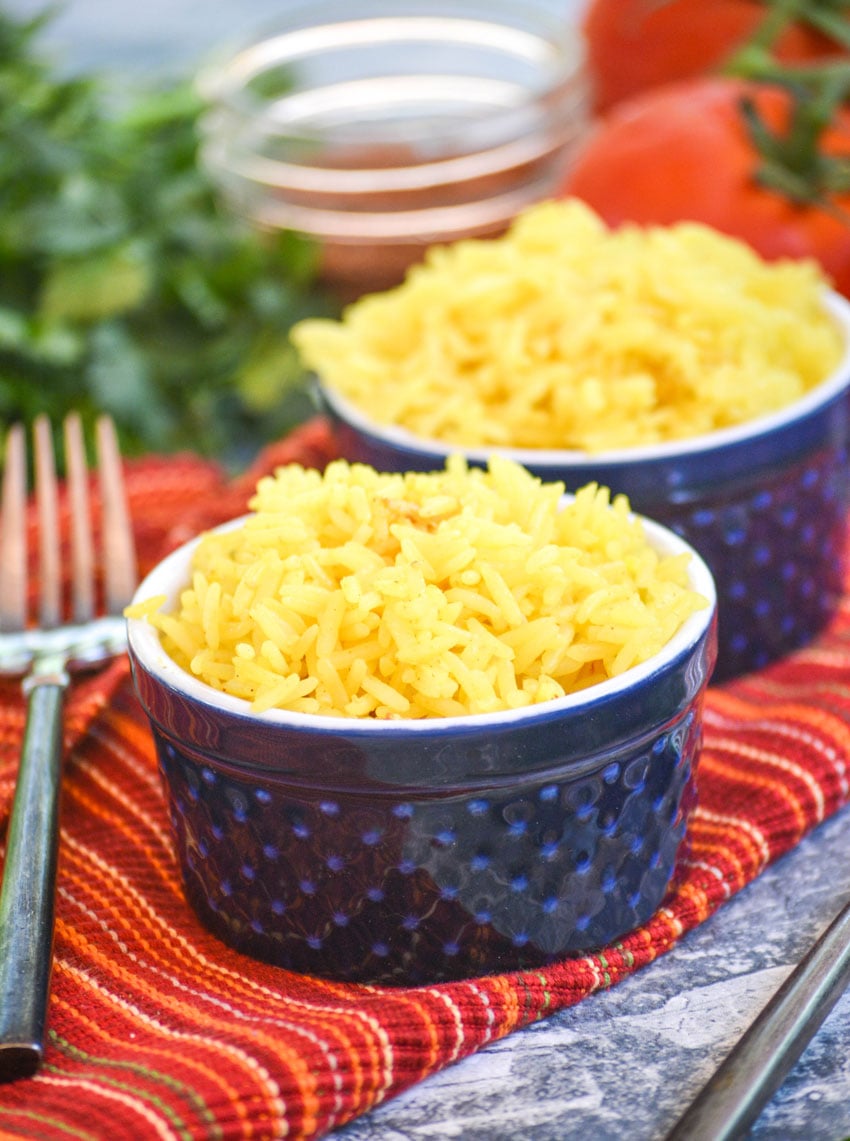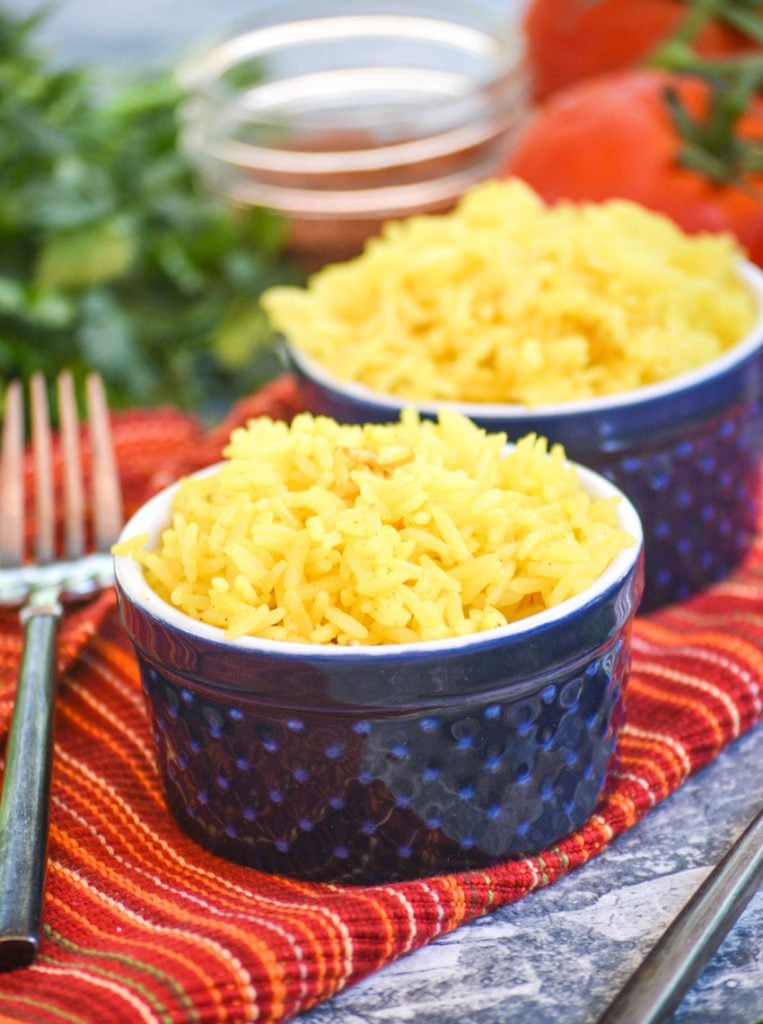 If by chance you don't keep bay leaves on hand in your spice cabinet, I highly recommend picking some up. They're a wonderful addition to so many savory dishes, especially aromatics and stews.
How To Make An Easy Yellow Rice:
You can make this rice in a large pot, but I prefer a dutch oven. Nothing's wrong with the large pot, as long as it has a corresponding lid- I just prefer the way a Dutch oven evenly distributes heat. The rice will turn out well whichever one you choose.
Add the butter and spices- turmeric, garlic, cumin, cinnamon- to the pot over medium heat. While the butter melts, the spices will toast slightly and infuse the butter.
Add the rice to the pot, and give everything a good stir so that the rice is evenly coated. Continue letting the mixture cook for roughly two more minutes over medium heat- again allowing everything to meld.
Pour the broth into the pot, give everything a thorough stir, and drop in the bay leaf. Put the lid on the pot.
Bring the mixture to a boil, check & stir every so often to prevent any rice or juicy tid bits from sticking to the bottom, replacing the lid each time.
I know, it may seem tedious, but if you let the mixture come to a boil without replacing the lid the liquid will boil off resulting in under cooked rice.
As soon as it comes to a boil reduce the heat to the lowest setting that will maintain an even, slow simmer. Stir, and return the lid to the pot. Allow the rice to simmer for 15-20 minutes, stirring occasionally.
Don't open the lid too often, the built up steam helps everything cook. But it does need to be stirred to prevent sticking- I recommend five minute intervals.
Turn the heat off, stir, and keep the lid on. Let the pot sit and the rice rest for about ten minutes. At this point you can remove the lid and fluff it. Stir and add any additional seasonings, like maybe extra salt and pepper.
Make sure to remove the bay leaf before scooping & serving. It makes a great flavor enhancer, but is absolutely awful to bite into.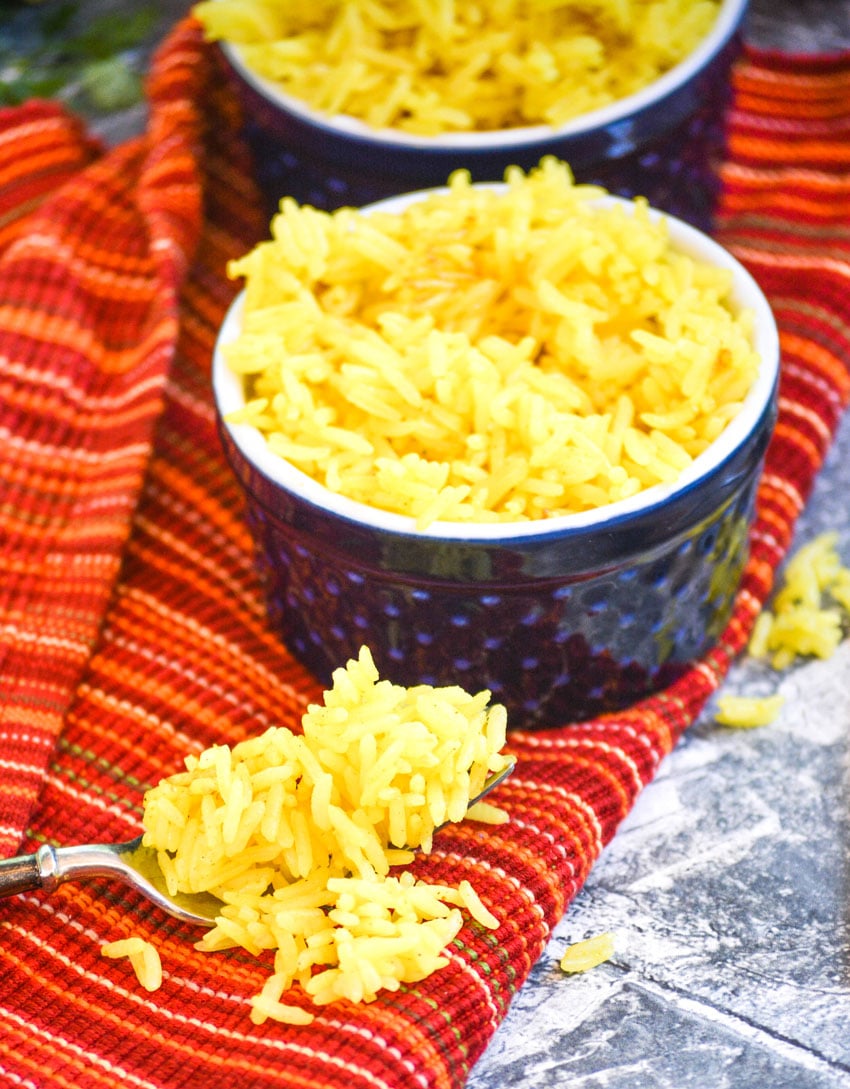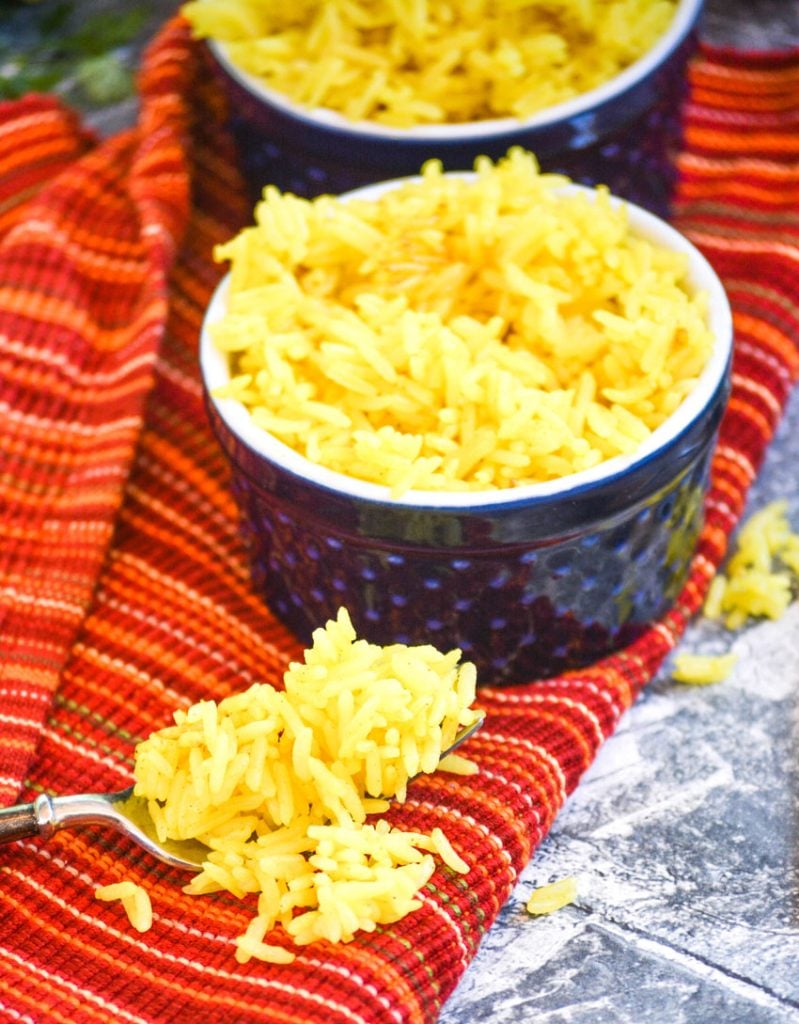 Can It Be Made In A Rice Cooker?
Years ago, I probably would've said no.
However, after years of testing it in both my rice cooker and Instant pot pressure cooker- the answer is absolutely YES.
Whichever one I'm using, I prepare it as instructed- adding all of the ingredients to the inner bowl. Seal the lid and hit the 'rice' button.
When it's done, I carefully turn the valve to unseal, releasing the steam in a quick release.
A gentle fluff with a fork, and the rice is ready to serve!
Once upon a time, I used to buy yellow rice mix from the grocery store for just such dinners, but no more. Not only is making it myself cheaper, it's actually less work.
This recipe has a wonderful 'set it and forget it' feel and is ready in less than thirty minutes. By far, this is the best yellow rice I've ever had, and hands down one of my favorite rice recipes.
Start your own 'Taco Tuesday' tradition. Have a fiesta. Just don't forget this side dish. It's the perfect compliment to any Mexican-style entree.
Other Rice Recipes To Try:
If you've tried this YELLOW BASMATI RICE, or any other recipe on my site, let me know in the comment section how it turned out, we love hearing from our readers! You can also follow along with me on PINTEREST, FACEBOOK, and INSTAGRAM to see more amazing recipes and whatever else we've got going on!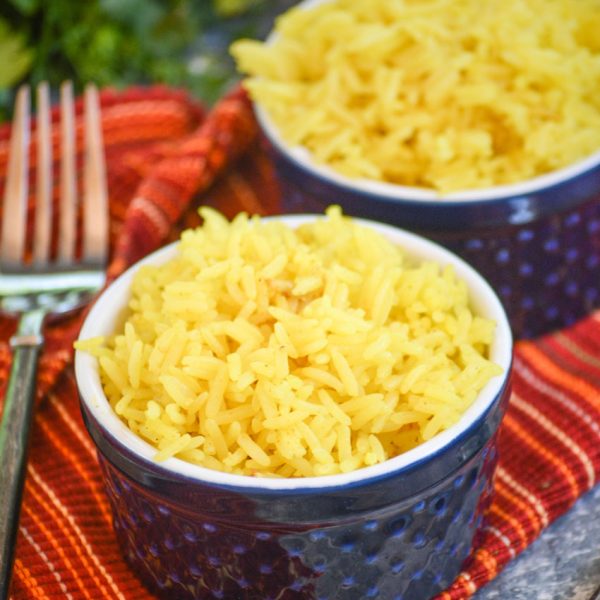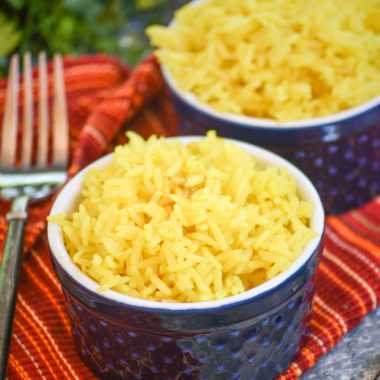 Yellow Basmati Rice
This authentic, Latin-style yellow rice, or Arroz Amarillo, pairs long grain basmati rice with simple spices and is ready in under 30 minutes.
Print
Pin
Rate
Ingredients
2

cups

uncooked basmati rice

3

cups

chicken broth

2

tbsp

butter

1

tsp

turmeric

1/2

tbsp

minced garlic

1/4

tsp

ground cumin

scant 1/8 tsp cinnamon

1

whole bay leaf
Instructions
In a dutch over, or in a large stove pot, heat the butter, turmeric, garlic, cumin, and cinnamon over medium heat until the butter has melted.

Once the butter's melted, stir the spices into it and add the rice to the pot, stirring again until the rice is evenly coated and cooking over medium heat for about 2 minutes, lightly toasting the rice and spices.

Pour the chicken broth into the pot and add the bay leaf.

Put the pot's lid on, and bring the pot to a rolling boil, stirring occasionally to prevent sticking to the bottom.

As soon as the broth reaches a full boil, reduce the heat to the lowest setting and let it simmer, covered, for about 20 minutes. Be careful not to stir too often and let the heat escape.

After simmering for 20 minutes, turn the heat off, but leave the lid on and let the rice 'rest' for 10 minutes.

Remove the bay leaf. Fluff the cooked rice with a fork and serve it warm.
Nutrition
Calories:
266.96
kcal
|
Carbohydrates:
50.3
g
|
Protein:
5.03
g
|
Fat:
4.5
g
|
Saturated Fat:
2.55
g
|
Cholesterol:
10.03
mg
|
Sodium:
466.84
mg
|
Potassium:
173.33
mg
|
Fiber:
0.87
g
|
Sugar:
0.1
g
|
Vitamin A:
116.62
IU
|
Vitamin C:
8.43
mg
|
Calcium:
24.32
mg
|
Iron:
0.92
mg