A fun and adorable, less invasive pumpkin idea– this easy Frozen Queen Elsa Pumpkin is perfect for any fans of the movie.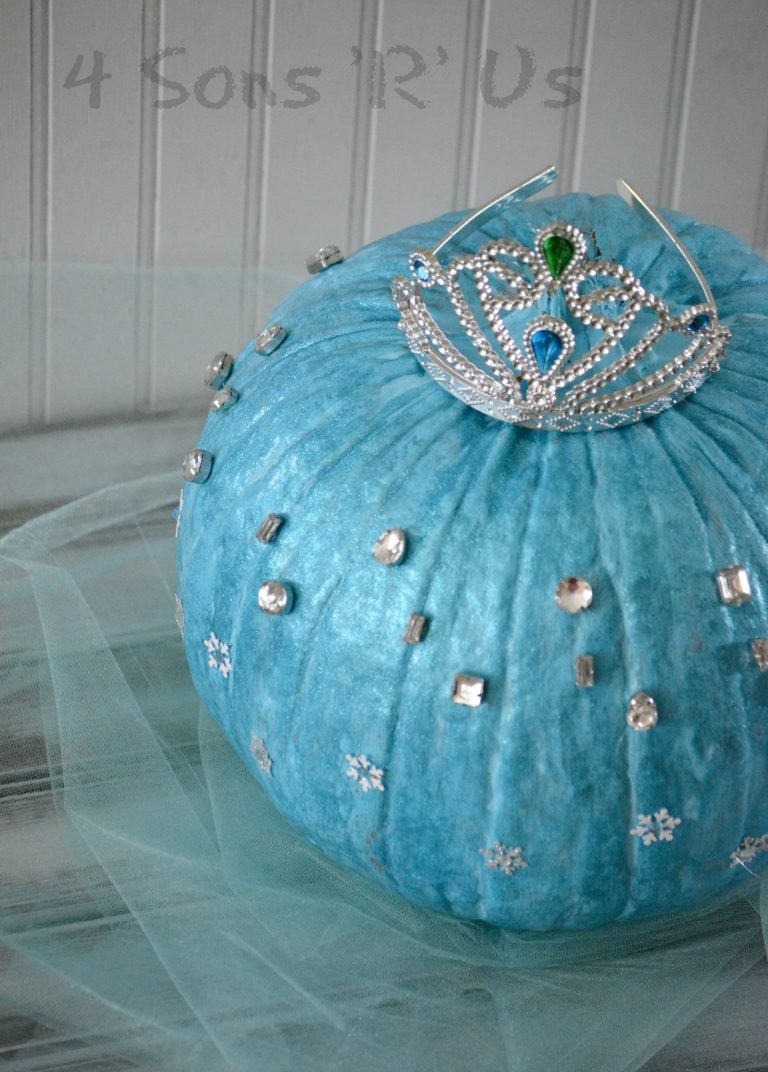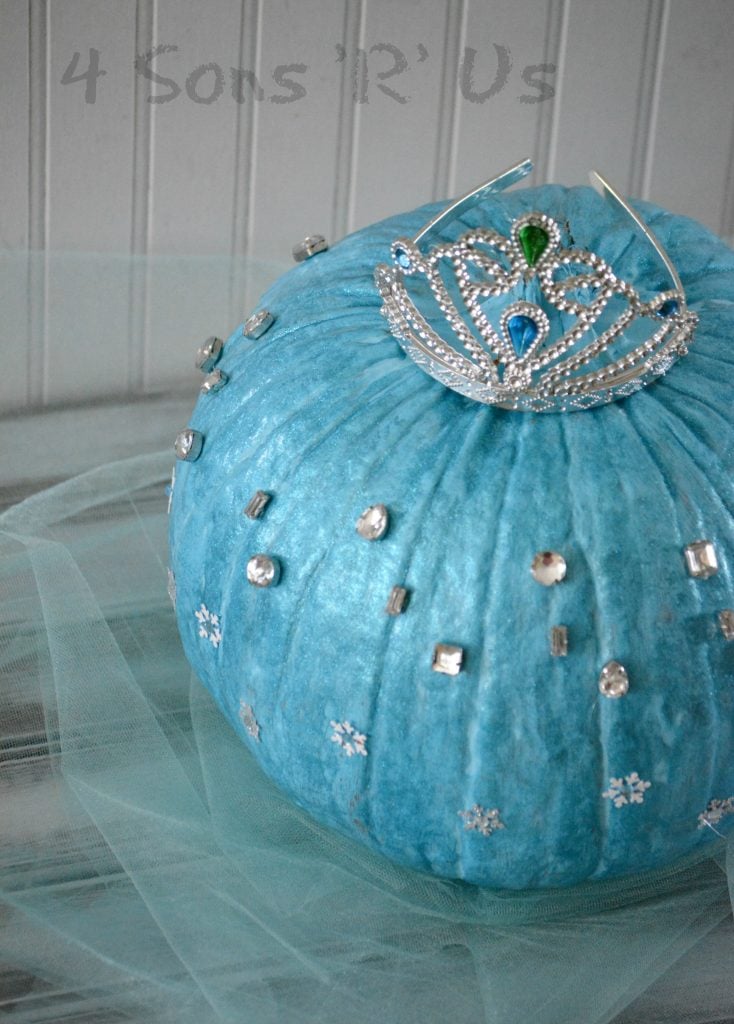 I know, I know– Halloween is over. Hear me out though folks.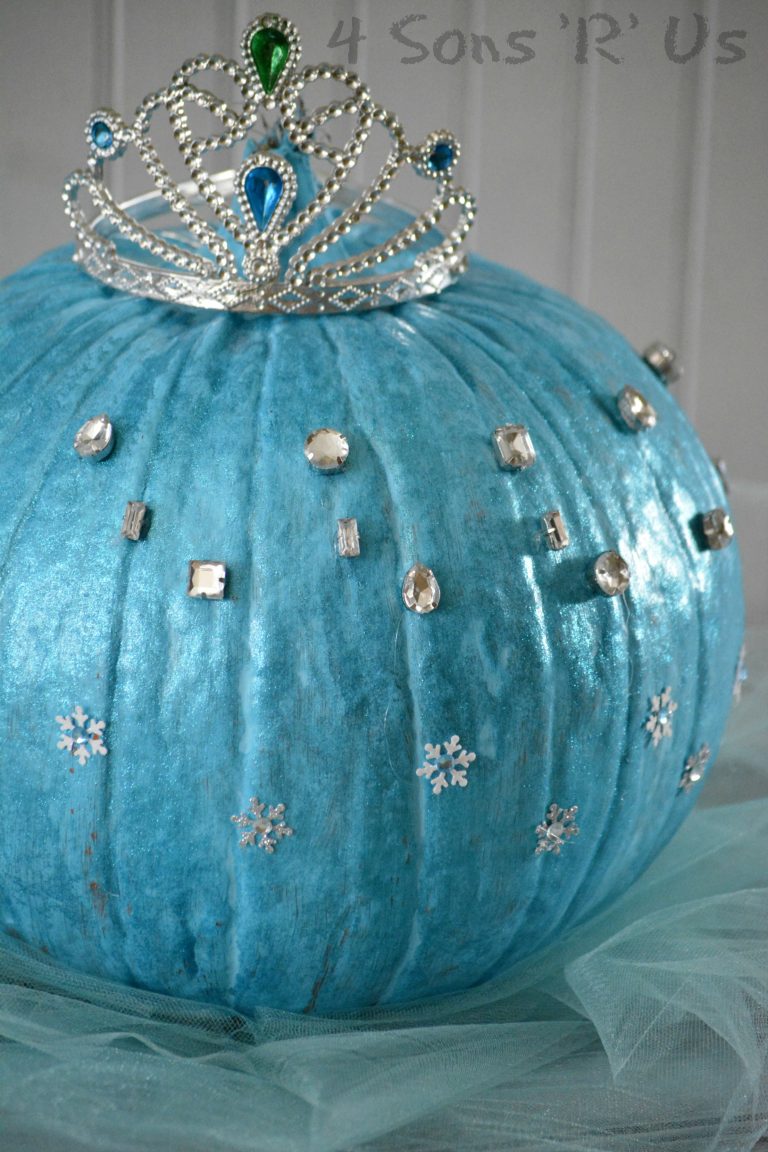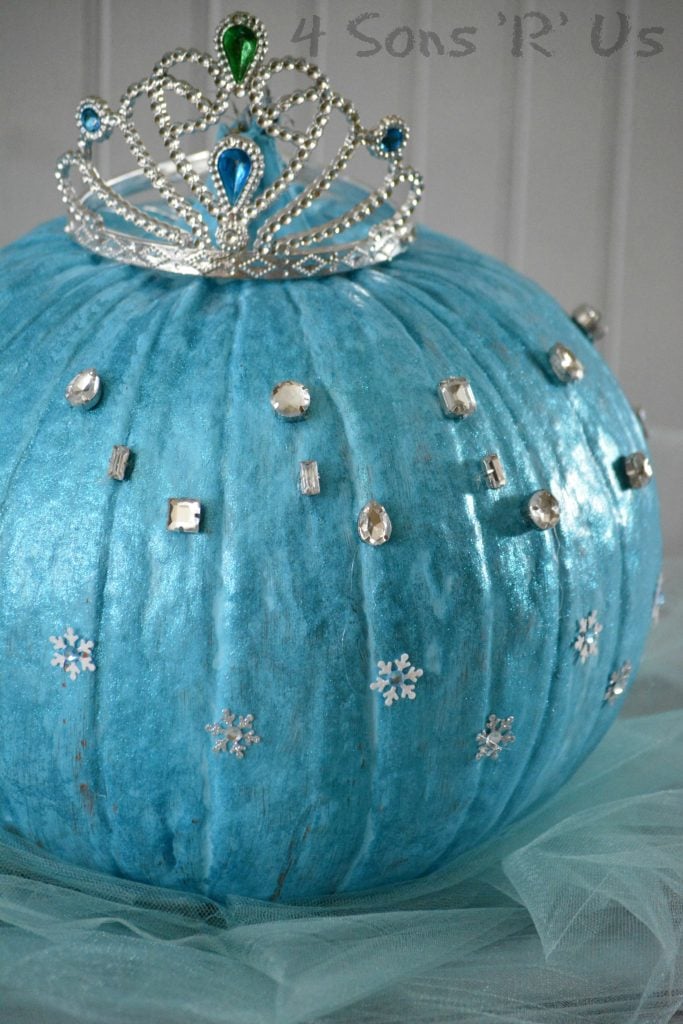 Did you know that local pumpkin patches, grocery stores, pretty much anybody who had oodles of pumpkins leading up to the spooky holiday, wants those bad boys gone when it's over before they actually go bad. Clearance pumpkins are cheap. Even plastic pumpkins at the craft stores are heavily discounted. That means you could stock up for your gorgeous diy decor ideas for the next year for half the normal price.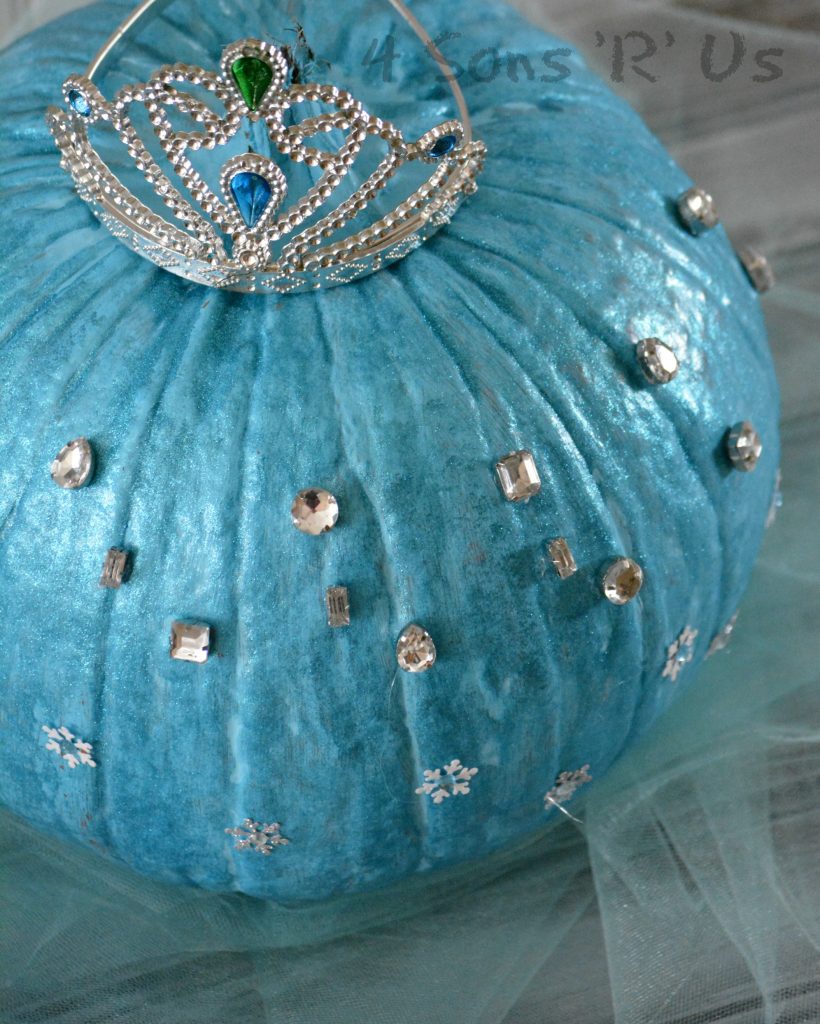 Back the the actual pumpkins, the seeds are still mighty tasty. They're great for baking with– ever had beef stew cooked in a pumpkin? Yummy little chunks of pumpkin scrape away from the sides with each scoop of hearty stew. Also, while carving and all the mess it entails once a season is good enough for me– there's plenty of other less invasive fun ideas that will still tickle the kids fancy.
Which is how we ended up with some smocks on, newspapers spread out, and toddlers painting 'princess' pumpkins. I cannot tell you the joy in their eyes when they saw the results (with a bit of help). The Frozen Queen Elsa Pumpkin was by far the star of show. I'm pretty sure that was solely because it was topped off with a shiny tiara that was the envy of every little eye. Whatever works though, right?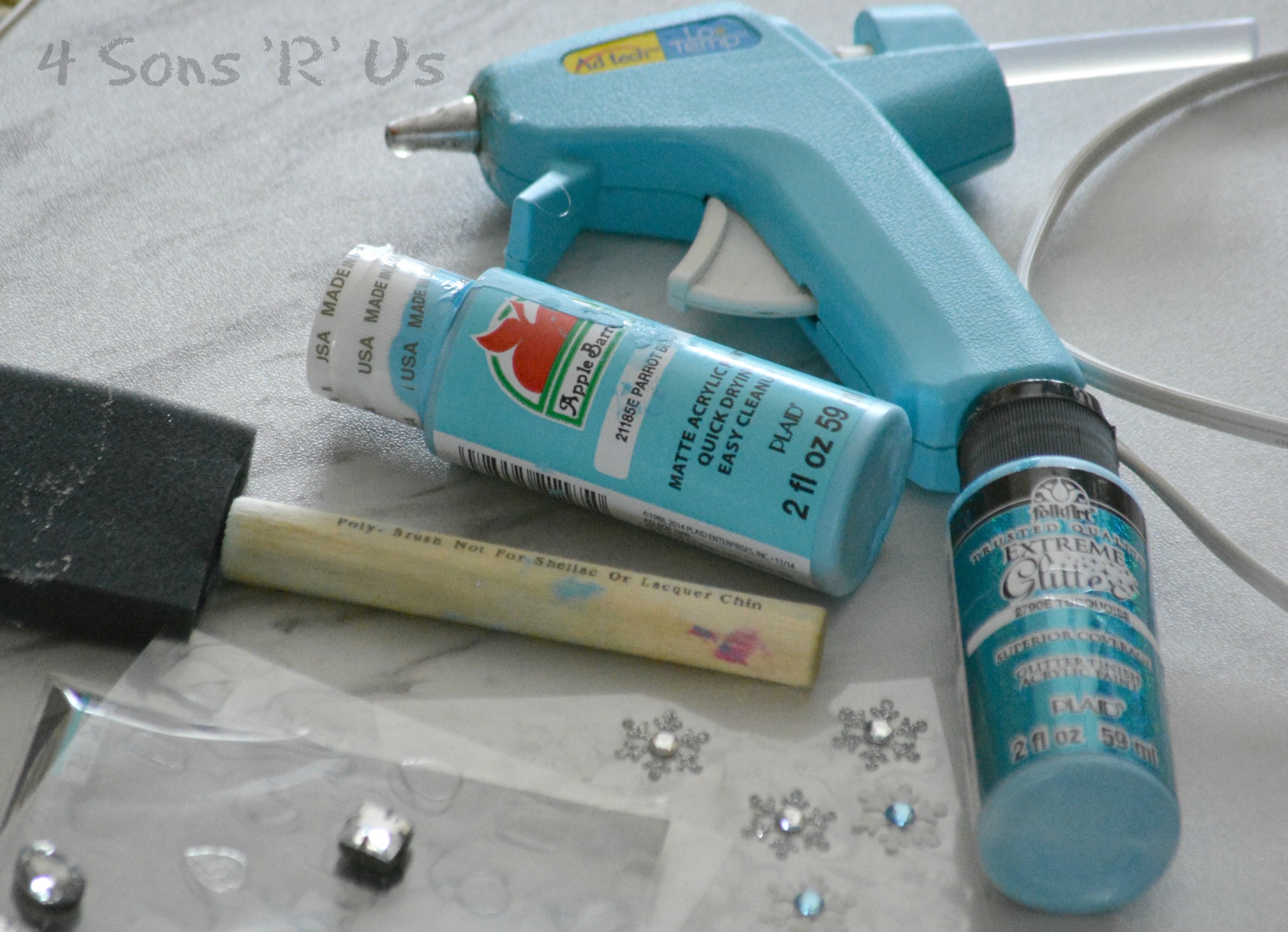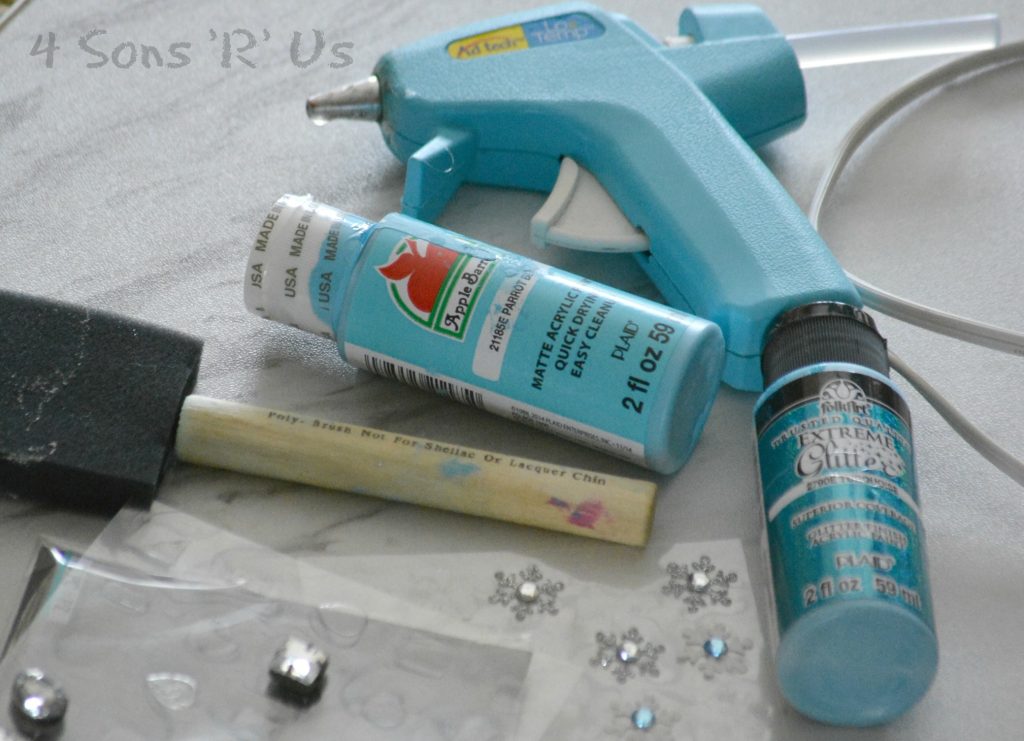 This gorgeous pumpkin is actually super simple to make. Above I've pictured everything you need, minus the pumpkin of course. You could pay $8 for a can of glitter blast spray paint to coat your pumpkin. OR you could choose to save $6, go to Walmart, and buy 2 tubes of Acrylic paint. We used Apple Barrel's Parrot Blue for our base coat using the sponge brush to apply. Easy for little hands and maximum coverage! When it was completely dry we used Folk Art's Extreme Glitter Turquoise for a second coat. (If you don't let it dry completely the glitter paint will actually scrape away the base coat allowing orange pumpkin to show through)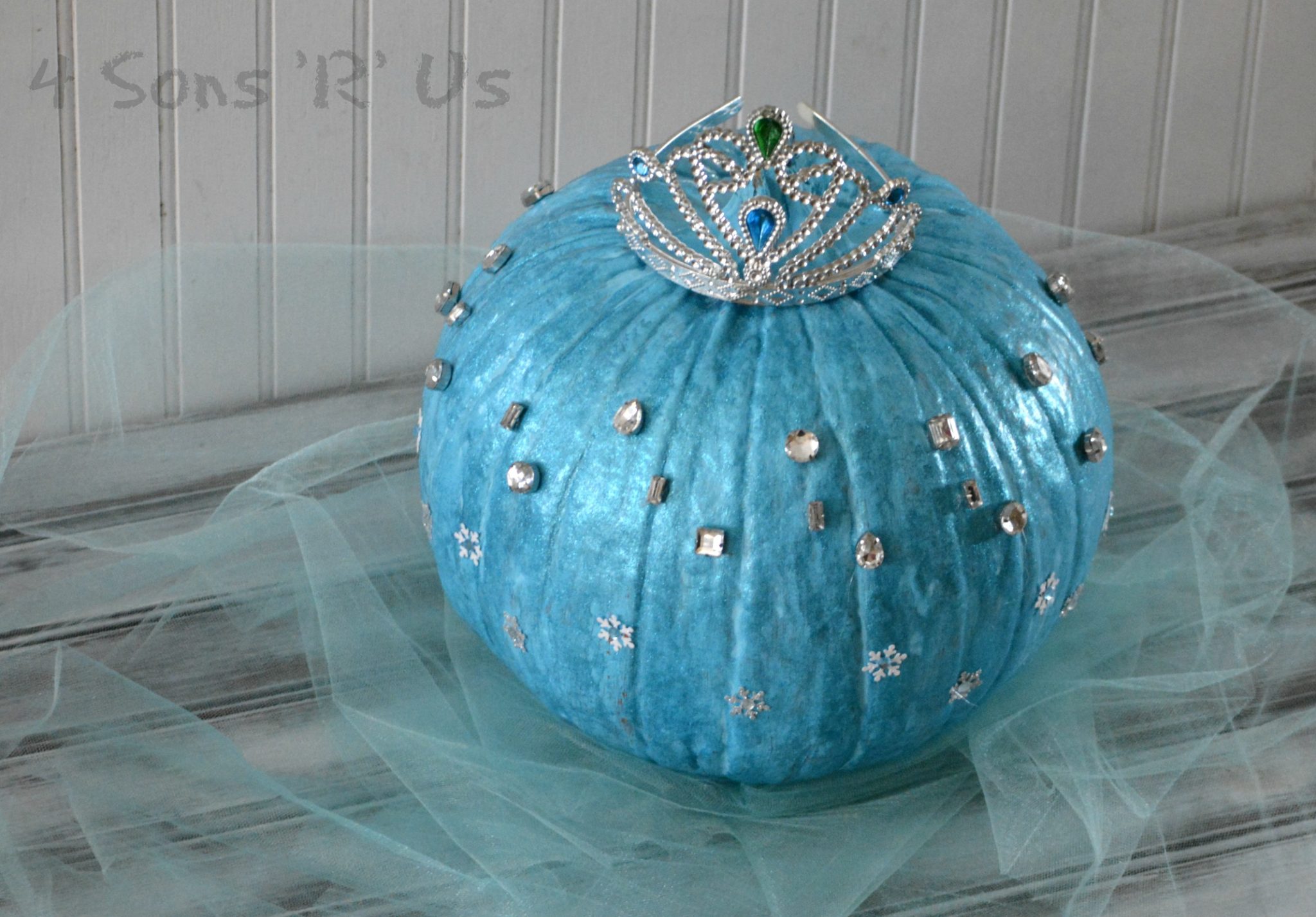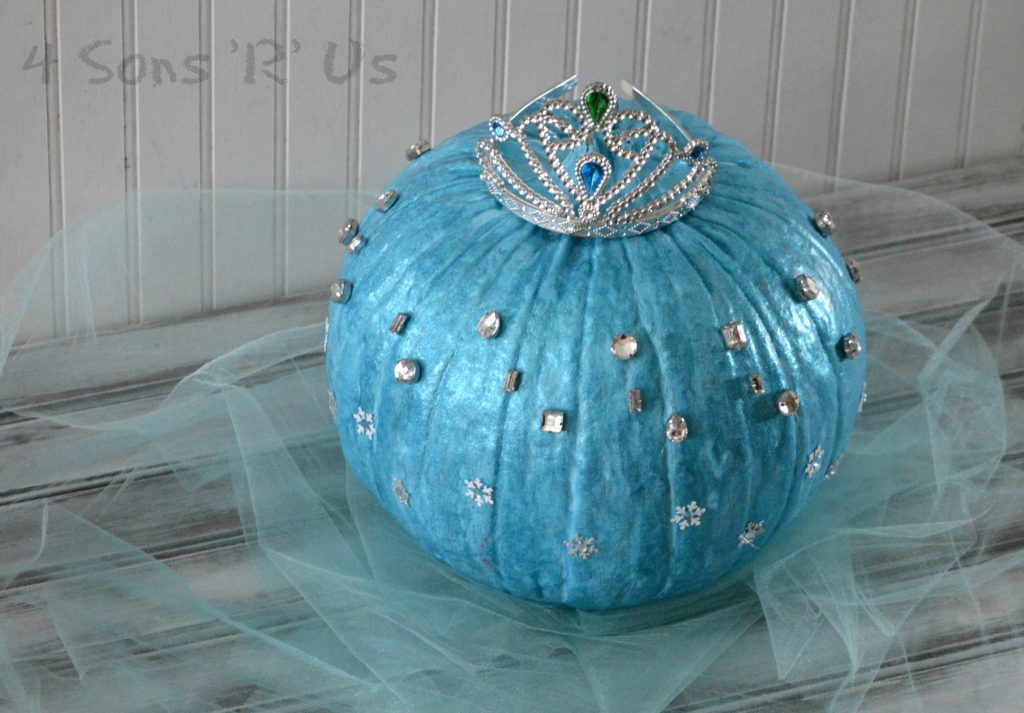 Again, while we used a real pumpkin, a plastic craft pumpkin would work just as well. Again, let the paint dry completely. You could use regular glue for little hands, but since I was doing the gluing I opted for the sturdier hot glue to apply some rhinestone I found in the scrap-booking section at the local craft store. Obviously we had to throw some snowflakes in there, Elsa's powers being of ice and snow and all. I found a tiara and wand set in the toy section of the Dollar Tree. Just sit the tiara atop the pumpkin and you're done! Squeals of delight will ensure, as will many, many trips outside to see the 'princess'.
Get your clearance pumpkin on and get ahead of the game for next year. Use it as an adorable decorative item for your Frozen fans shelves. Pin or bookmark this post and have it handy for next year. Your Elsa & Anna fans will thank you!