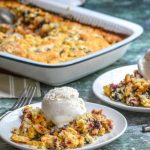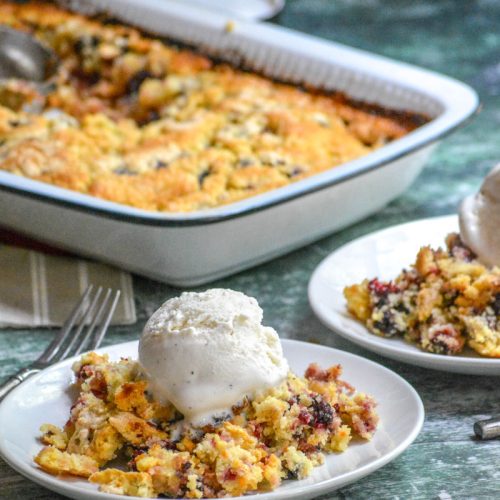 Print Recipe
Dump & Bake Blackberry Cobbler
A quick & easy, 4 ingredient dump & bake blackberry cobbler made from boxed cake mix. This is the perfect recipe for Summer!
In a medium sized mixing bowl, toss the berries and sugar together until well coated. Set aside, and let them rest for 10-15 minutes.

Lightly spray a 9x13" baking dish with non stick cooking spray. Empty the cake mix out into pan, and shake the dish so that it's evenly spread out.

Scoop the berries and any/all juice evenly out over the cake mix. Pour the water gently out over the dish. Mix just enough to incorporate some of the water, and have most of it settle to the bottom of the dish.

Top with the pats of butter, spread out evenly. Bake at 350 degrees for 45-50 minutes.

Remove the cobbler from the oven, it may still be a bit gooey in the middle- but that's ok. As it cools it will continue cooking a bit and 'set'.

Serve warm topped with a generous scoop of vanilla ice cream.