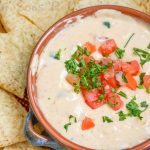 Print Recipe
Restaurant Style White Queso Dip
A spot on copy cat of your favorite restaurant Queso dip, that's quick & easy enough to get your anytime.
3/4

lb

deli sliced white American cheese, roughly chopped

1/4

lb

fontina cheese, shredded

1 1/4

cup

half & half

2

tbsp

canned green chilies, minced

1

tsp

chili powder

1/2

tsp

ground nutmeg

1

tsp

red pepper flakes, optional

salt & pepper, to taste

diced tomatoes, for garnish

cilantro leaves, for garnish
Heat the half & half in a medium skillet over medium/high heat. Watch as soon as it starts simmering, just before it reaches a boil, reduce the heat to low.

Starting with the american cheese, slowly stir the cheese in working in batches. Slowly increase the heat to medium, stirring constantly. And I do mean stirring constantly. As each addition of cheese is completely incorporate, smooth/bubbly, add a bit more and continue the process until all the cheese has been completely incorporated.

Stir in the chilies, chili powder, nut meg, salt & pepper, and chili flakes until evenly incorporated.

At this point you have two options. A) Transfer the queso to a bowl or a small crock pot to keep it warm, and serve with chips. B) Transfer the queso to a small oven proof dish, and broil for 3 minutes, or just until it begins to bubble and brown.

Whichever method you choose, top the dish with diced tomato and cilantro leaves before serving and enjoy!