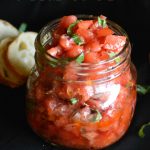 Print Recipe
Italian Bruschetta Style Salsa
An easy fresh salsa with an Italian twist.
10-12

tomatoes, diced and deseeded

1/2

red onion, diced

1/2

banana pepper, minced (optional)

1/3

green

bell pepper, diced (optional)

3

oz

red wine vinegar

2

oz

water or tomato juice

1

packet

Italian dressing seasoning, or to taste

4

oz

extra virgin olive oil

2-3

leaves

basil, chiffonade
Add all of the ingredients to a medium mixing bowl.

Toss well until everything's evenly combined.

Refrigerate before serving, until the mixture's chilled through and the flavors have married, about 1-2 hours.

Serve with a freshly sliced baguette, crostini, or crackers.