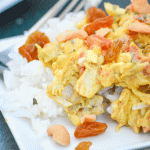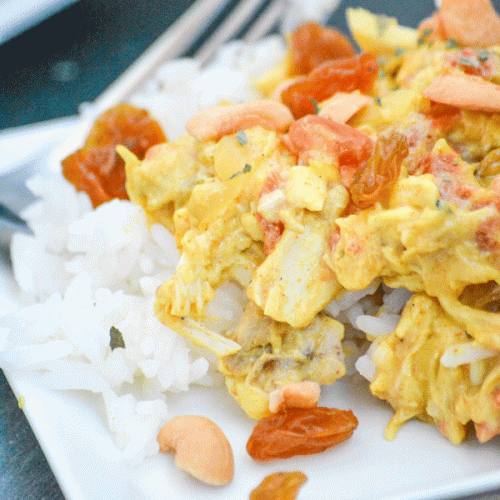 Print Recipe
Quick & Easy Greek Yogurt Chicken Curry
A quick & easy, milder version of the traditional dish this chicken curry is made in a hurry and a perfect dinner when served over a bed of basmati or jasmine rice.
meat from one rotisserie chicken, roughly chopped

1 1/2

cups

basmati or jasmine rice, cooked according to package directions

1 1/2

tbsp

olive oil

1

yellow onion

diced

1 1/2-2

tbsp

yellow curry powder

1/4

tsp

garlic powder

pinch

red pepper flakes, optional

1/2

cup

plain Greek yogurt

3/4

cup

half and half, or full fat coconut milk

salt & pepper, to taste

1

14.5 oz can

diced tomatoes, drained, and cut into tiny pieces (kitchen shears in the can does the trick)

1/3-1/2

cup

golden raisins

chopped cashews

1/4

cup

cilantro leaves, washed, then finely chopped (for garnish)
Cook the rice according to the package directions. Set aside, covered & stirring occasionally to prevent sticking.

In a large skillet, over medium low heat, add the oil. When hot stir in the onions, continue cooking & stirring occasionally until sauteed.

Stir in the curry powder, garlic, and red pepper flakes (if using), and continue cooking for 1 minute.

Stir in the yogurt until evenly combined. Stir in the half & half, or coconut milk, until evenly combined. Bring the mixture to a simmer, and continue cooking for an additional 3-5 minutes-stirring occasionally. Season with salt & pepper, to taste. Stir in the tomatoes & raisins, and remove the skillet from heat.

Divide the rice into six different bowls, or into a single large serving dish, and ladle the chicken curry evenly out over top. Sprinkle the cashews evenly out over top and then with the cilantro leaves, and serve immediately.