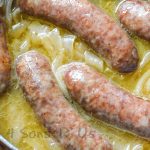 Print Recipe
Smoked Beer Brats with Caramelized Onion
Stuff these smoked brats into a fluffy bun and top them with a generous helping of caramelized onions and a drizzle of sauce for the perfect summer sandwich.
4

tbsp

butter

2

medium

white onions, sliced

4

tbsp

brown sugar

2

cans

Pabst Blue Ribbon Beer
In large skillet, melt the butter over medium heat. Add in the onions, stirring until they're tender and clear.

Stir in the brown sugar until dissolved.

Reduce the heat to low, and add the brats to the pan. Pour in the beer and cover the pan.

Continue cooking the covered brats for 25-30 minutes, allowing the beer to cook down and the onions to caramelize.

Transfer the brats to a smoker safe dish (leave the onion in the skillet, and set aside). Using hickory chips, smoke the brats for an additional 1-2 hours at 225 degrees.

Stuff the brats into your favorite buns. Serve them topped with warmed caramelized onions.