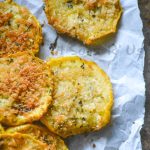 Print Recipe
Crispy Garlic Parmesan Squash Chips
A healthier alternative to traditional potato chips, this crispy baked veggie version features fresh summer squash.
Line several baking sheets with parchment paper.

Add the sliced squash to a large bowl. Drizzle with the olive oil and toss to evenly coat. Salt & pepper the squash, to taste.

In another large bowl, add the bread crumbs, cheese, and spices. Toss them to evenly combine.

Working one at a time, dip each slice of squash into the cheese crumb coating-- use your fingers to gently press the coating onto both sides to ensure it sticks.

As they're coated, transfer the squash chips to a prepared baking sheet. Moving onto another when the previous one is full until all the squash is prepared.

Lightly spray the tops of the chips with non stick cooking spray. Bake at 450 degrees for 10 minutes.

Carefully remove the baking tray(s) from the oven. Use a fork or tongs to flip each slice over. Lightly spray the chips again with non stick cooking spray.

Return the chips to the oven for an additional 8-10 minutes. Remove the cooked chips from the oven. Let them rest for 1-2 minutes, before transferring to a plate and serving. Repeat as necessary until all the chips are cooked.