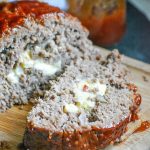 Print Recipe
All Jack'd Up Stuffed Smoked Meatloaf
A moist tender meatloaf infused with the flavor of Jack Daniels, stuffed with melted pepper jack cheese, and slathered in a bold spicy sauce.
To Make The Meatloaf
Preheat your smoker to 225 degrees F, using a blend of hickory and apple wood chips.

In a large mixing bowl add the beef, bread crumbs, onion, garlic, eggs, Worcestershire, whiskey, steak seasoning, and milk.

Using your hands, mix all of the ingredients just until evenly combined.

In the bottom of a small, shallow metal pan- spread out half of the meat mixture. Use your fingers to create a shallow well in the center. Add the pepper jack cheese to the well, leaving about an inch of meat on all sides.

Top with the remaining meatloaf mixture. Gently squish everything together to form a loaf, and use your fingers to securely seal up any holes so that the cheese doesn't leak out during cooking.

Stir together the sauce ingredients. Spoon the sauce evenly out over the meatloaf. Letting it drip down the sides a bit is a plus.

Transfer the meatloaf to the smoker, close and seal it and smoke for 4 hours- or until the internal temp reads 165 degrees F.

Remove the meatloaf from the smoker. Let it rest for five minutes. Slice and serve with your desired sides.