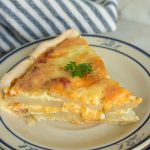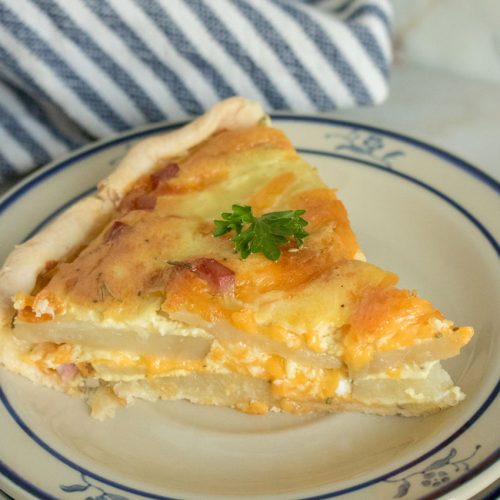 Print Recipe
Cheesy Ham and Potato Quiche
An easy, cheesy brunch staple- this quiche features a flaky homemade pie crust and is stuffed full of tender sliced potatoes and chunks of chopped ham in a creamy egg filling
For The Crust (makes enough for 2 quiches):
2 ½

cups

all-purpose flour

plus extra for rolling

1

cup

unsalted butter

1

teaspoon

salt

1

teaspoon

sugar

6-8

tablespoons

ice water
To make the crust, pulse flour, sugar and salt in a food processor and pulse to mix together.

Add in the butter, cut into small chunks, and pulse until the butter is no larger than pea size. Add water in a little at a time and pulse.

Remove the dough from the food processor and knead together, forming two 4-5 inch disc shape with the dough. Pat dough out into two 4-5 inch circles.

Wrap each piece of dough in plastic wrap and refrigerate for an hour or overnight.

When you're ready to make the quiche, preheat oven to 350.

Roll out one of the pie crusts. Line pie dish with one of the pie crusts.

Add potato slices to the pie dish. Cover with ham and cheese.

Mix the eggs, heavy cream, milk, rosemary, salt and pepper. Pour over sliced potatoes and cheese.

Bake 45-50 minutes.