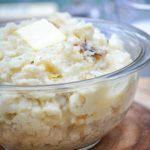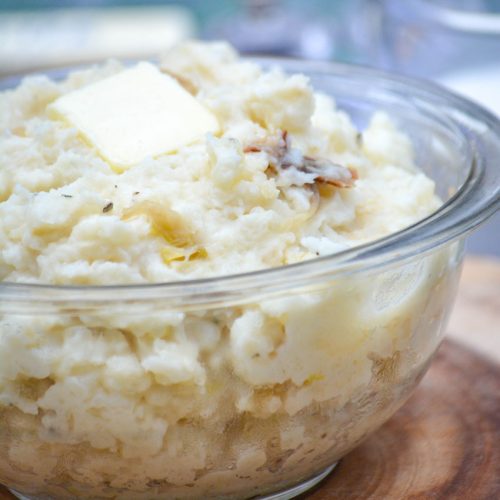 Print Recipe
Creamy Roasted Garlic Mashed Potatoes
Creamy homemade mashed potatoes are infused with fresh roasted garlic, cream, and a blend of rich cheeses.
2 1/2

lbs

russet potatoes, peeled & cubed

1

whole

garlic bulb

1

tbsp

olive oil

1/2

cup

heavy whipping cream

1/2

cup

shredded Parmesan cheese

1

cup

shredded Fontina cheese

2

tbsp

salted butter

additional salt & pepper, to taste
Cut the top off of the garlic bulb, just exposing all the cloves. Sit the garlic bulb on a square of foil with enough excess to wrap it tightly and completely, and pour the olive oil over top. Bringing all the corners of the foil up, twist them together to tightly seal the bulb.

Bake the garlic bulb at 350 degrees for 35-40 minutes. Remove it from the oven, let it rest for 2-3 minutes, then unwrap. Allow the garlic to cool almost completely. Squeeze the cloves out into a bowl, adding any oil left in the tin foil, and mash until a paste has formed.

While the garlic is cooling, add the potatoes to a pot, and add water until the potatoes are covered by a 1/2". Bring the pot to a boil, and reduce the heat to a simmer- cooking until the potatoes are fork tender.

Drain the potatoes and transfer them to a large mixing bowl. Using a potato masher, roughly mash the potatoes. Add the garlic paste, olive oil, butter, milk, cream, cheeses, salt, and pepper and continue mashing until the potatoes are smooth & creamy.

You can serve as is, or if you want the potatoes piping hot- transfer the mashed potatoes to a small buttered casserole dish. Bake them at 350 degrees for 15-20 minutes, or until hot throughout. Dollop them with pats of butter, and let them melt before scooping and serving.