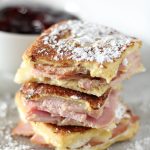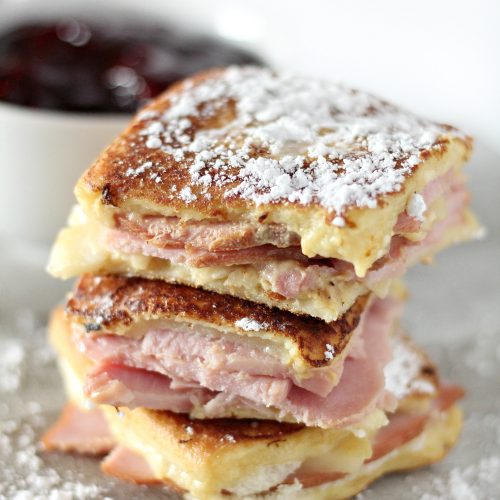 Print Recipe
Monte Cristo Style Breakfast Sliders
A yummy brunch finger food- these sliders are made Monte Cristo style, featuring thick slices of carving board ham & tangy gruyere cheese, a sifted powder sugar finish, and sweet raspberry preserves for dipping.
Start by cutting each dinner roll in half.

Spread a generous amount of dijon mustard on the inside of each half.

Add several pieces of ham and gruyere cheese to the bottom half of the roll. ( I cut my ham and cheese to fit my roll.)

Place the top half back on to make a sandwich.

Next beat together your eggs and milk in a small bowl.

Dip the bottom half and top half of your slider in the egg mixture. Do not let it soak and get soggy.

Spray a heated skillet with non stick spray.

Grill your slider just as you would a grilled cheese. Until golden on both sides.

Top with powdered sugar.

If you prefer you can place the slider in a greased baking dish, and bake until golden and cheese is melted. Just skip dipping them in the egg mixture.

Serve and enjoy!