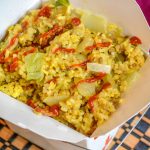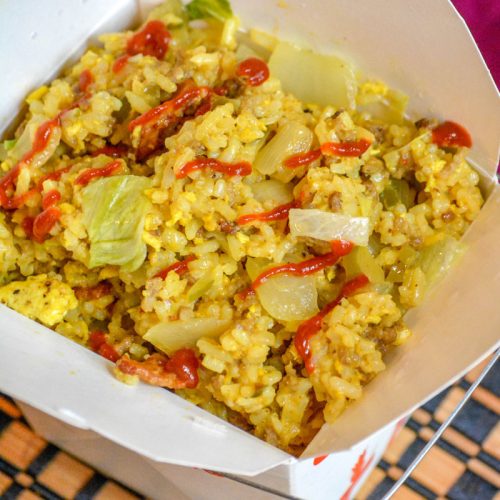 Print Recipe
Cheeseburger Fried Rice
A delightful dish, this one combines the ease and convenience of fried rice with the comforting flavors of a juicy cheeseburger.
4

slices

thick cut bacon, roughly chopped

1

large

onion, chopped

3/4

cup

yellow mustard

1

lb

ground beef

3

large

eggs, lightly beaten

salt & pepper, to taste

4

cups

cooked white rice, preferably from an actual Chinese restaurant

2

cups

shredded cheddar cheese

2

cups

shredded iceberg lettuce

1

cup

sliced or diced, crisp dill pickles, such as Claussen

sesame seeds & ketchup or sriracha, thinly sliced green onions, diced tomatoes (all optional) for garnish
Heat a wok over medium high heat. Stir in the bacon, cooking until crisp, and stirring occasionally. Stir in the mustard, and continue cooking until it's become soft and almost translucent, about 3-5 minutes. Stir in the mustard, and lower the heat to a simmer, cooking for another 60 seconds. Transfer the mustard mixture to a small mixing bowl, and set aside.

To the already seasoned wok, stir in the ground beef, stirring & breaking up as it cooks. Continue cooking until completely browned. Stir in salt & pepper, to taste. Transfer to a strainer, but save 1 1/2 tbsp worth of the rendered fat, while straining the rest completely. Transfer the meat to a bowl, set aside.

Heat the wok over medium heat, and stir in the slightly beaten eggs. Stir them almost continuously across the pan until the eggs are scrambled and set.

Add the reserved, still warm fat back to the beef and stir to combine. Add the beef to the mixing bowl with the mustard mixture and whisk together to evenly combined. Then add that mixture to the work, stirring to incorporate the egg. Stir in the rice, tossing until everything's completely combined and evenly incorporated.

Cook the mixture over medium low heat, stirring/tossing often, until the mixture's hot throughout. Remove the work from heat.

Stir in the pickles, lettuce, and cheese. Divide the cheeseburger fried rice evenly out into bowls, or take out containers. Drizzle ketchup or sriracha out overtop of each serving, if desired, and then sprinkle with some sesame seeds, sliced green onions, and/or diced tomatoes.