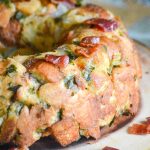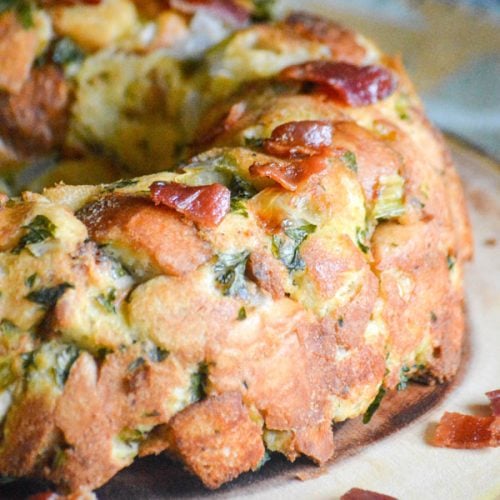 Print Recipe
Savory Bundt Pan Stuffing
A delicious recipe for a traditional homemade stuffing, but this one feature's crisp, crumbled bacon & is cooked and served in a bundt pan for a presentation that will 'wow' your guests.
1

loaf

French bread, cut into roughly 1/2" cubes

4

tbsp

butter

1

cup

finely chopped white onion

1

cup

finely chopped celery

1/2

cup

minced parsley

1

tbsp

finely chopped fresh thyme leaves

1/4

tsp

garlic powder

2

eggs, beaten

salt & pepper, to taste

1

cup

chicken broth

4-6

strips

thick cut bacon, cooked crisp, drained, and crumbled
Spread the bread crumbs out onto a flat baking sheet in a single layer. Bake the bread crumbs at 400 degrees, for 10 minutes or until lightly golden brown. Set aside, and reduce the oven temp to 350 degrees.

Melt the butter in a medium sauce pan over medium heat. Stir in the onion and celery, and continue cooking about 5 minutes, or until they're tender. Transfer the cooked veggies to a large mixing bowl.

Add the parsley leaves, thyme, garlic, and salt and pepper, as desired. Stir the spices into the veggie mixture.

Next add the bread crumbs, eggs, stock, & half the bacon- stirring until everything's evenly incorporated.

Use butter to butter the bundt pan, making sure to coat every bit inside to ensure the cooked stuffing slides out easily. Then transfer the stuffing to the prepared dish, and press the stuffing into the dish to pack it down evenly all the way around.

Bake the stuffing at 350 degrees for 25-30 minutes, or until the dish comes out golden brown.

Let the stuffing rest for 5 minutes, then run a butter knife around the edges to release the stuffing from the pan. Place a plate or a cutting board over the open part of the bundt plan, and holding them together tightly- flip the bundt pan to release the stuffing onto the dish.

Sprinkle the rest of the bacon evenly out over the top of the stuffing. Serve & enjoy!