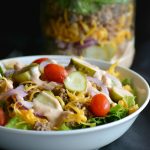 Print Recipe
Cheeseburger Mason Jar Salad
A hearty salad in a jar that's easy to grab for an on the go meal that delivers all the fabulous cheeseburger flavor you love in each lighter bite.
In a large skillet over medium heat, brown the ground beef until fully cooked. Strain the grease from the meat and return it to the skillet and heat. Stir the ketchup and mustard into the beef. Lower the heat and cook, continuing to stir, until the mixture's warmed through. Remove the skillet from heat and allow it to cool.

Starting with the dressing, layer the ingredients equally into two mason jars. Follow the desired amount of dressing with the tomatoes, pickles, onions, cheese, cooled beef mixture and finally with the lettuce.

Seal the mason jars and store in refrigerator for up to 4 days.