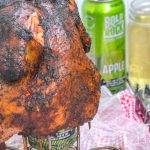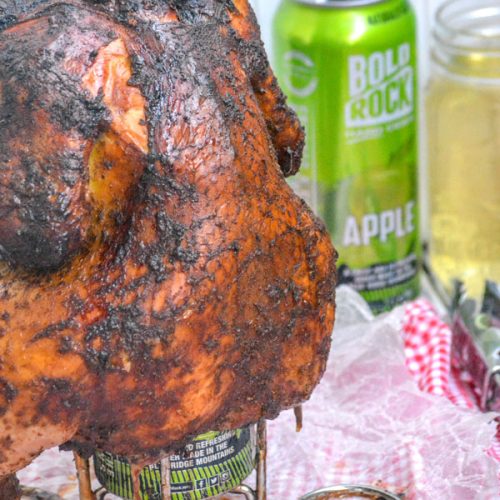 Print Recipe
Smoked Hard Cider Beer Can Chicken
A whole chicken smoked seamlessly with minimal effort- this is the tenderest, most flavorful chicken to end all chickens.
Remove all the innards from the bird. Rinse thoroughly, and pat dry.

Rub the bird down, liberally, with the prepared marinade.

Pop the top on your can of beer, and pour 1/4 - 1/2 of the beer out, either into the sink or into a glass to drink. Set the beer into a beer can stand. Place the stand in a disposable aluminum pan.

Place the bird's cavity over the beer can until the chicken's resting firmly on the base. Carefully place the pan in a smoker preheated to 225 degrees, using a blend of hickory and apple wood chips.

Smoke 5-6 hours, or until a meat probe inserted into the thickest part of the breast reads 160 degrees Fahrenheit.

Remove the chicken from the smoker, and let it rest for 10 minutes before slicing and serving.
Calories:
1
kcal
|
Carbohydrates:
1
g
|
Protein:
1
g
|
Fat:
1
g
|
Saturated Fat:
1
g
|
Cholesterol:
1
mg
|
Sodium:
1
mg
|
Sugar:
1
g