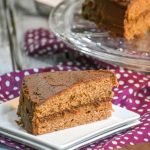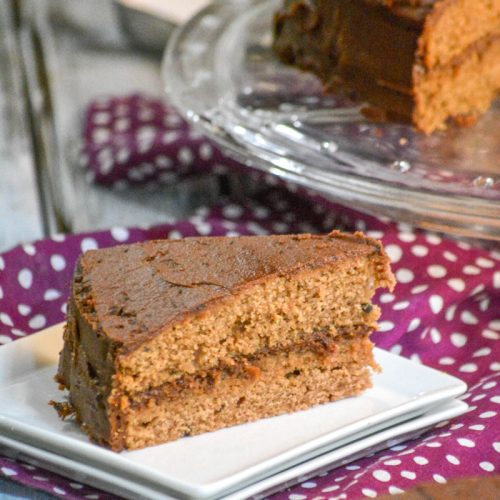 Print Recipe
Old Fashioned Chocolate Church Cake
An old fashioned favorite, this moist chocolate cake was a staple at Southern potlucks
For The Frosting
1/2

cup

butter, softened

1/2

cup

cocoa powder

1

tbsp

Adam's Extract vanilla extract

1/2

cup

heavy whipping cream

2 1/2

cups

Dixie Crystal's powdered sugar
To Make The Cake
In the bowl of a stand mixer, cream the butter & sugar together until whipped and fluffy. Add the extract, milk, & eggs. Beat until evenly combined and the batter's smooth.

To a large mixing bowl, add the flour, cocoa powder, baking soda, & salt. Using a whisk or fork, stir together until all ingredients are evenly combined.

Set the mixture to a slow speed, and steadily, but slowly, add the dry mixture in- mixing just until the batter comes together and is evenly combined.

Add the hot water, mixing again just until evenly combined.

Spray 2 9" round cake pans liberally with cooking spray. Pour the batter into them, dividing evenly between the two. Give each pan a wack onto the counter 2-3 times to get any trapped air bubbles out and to make sure the batter's even.

Bake the cakes at 350 degrees for 20 minutes, or until a toothpick inserted in the center comes out clean.

Remove the cakes from the oven, and set them aside from heat to cool in the pans for 5 minutes. Run a butter knife along the outer edges to release, then carefully turn the cakes out onto cooling racks to finish cooling completely.
To Make The Frosting
Add the butter to a bowl of your stand mixer, cream until fluffy. Add the remaining ingredients, and beat again until well combined & the frosting's fluffy.

Transfer the designated bottom layer of your cake to a cake plate or whatever serving dish you're using. Spread a layer of frosting evenly out over top to the edges.

Top with the remaining cake. Evenly frost the outer layers and top of the cake.

Slice & serve as is, or cover, refrigerate and serve within 24 hours.
while this recipe tastes just like my Grandmother's version, it's actually adapted from Sue Bee Homemaker