Soup is an essential part of life, both as a way to treat a cold, and as a way to stave one off. For me, it's also a genius way to get my kids to happily eat more veggies, especially with this hearty Warm Sausage & Kale Soup. Whip up a batch for your own family, and feel good about loading them up on a healthy meal, packed full of antioxidants, without a single complaint.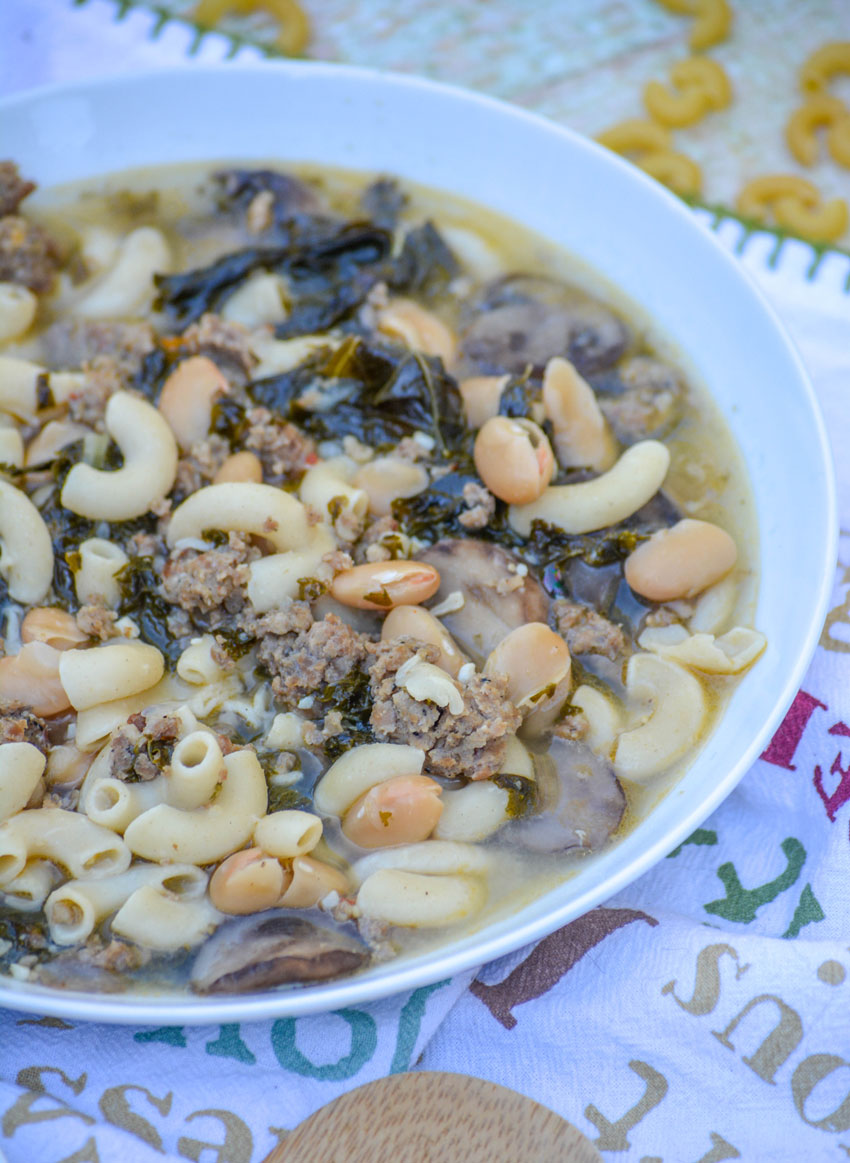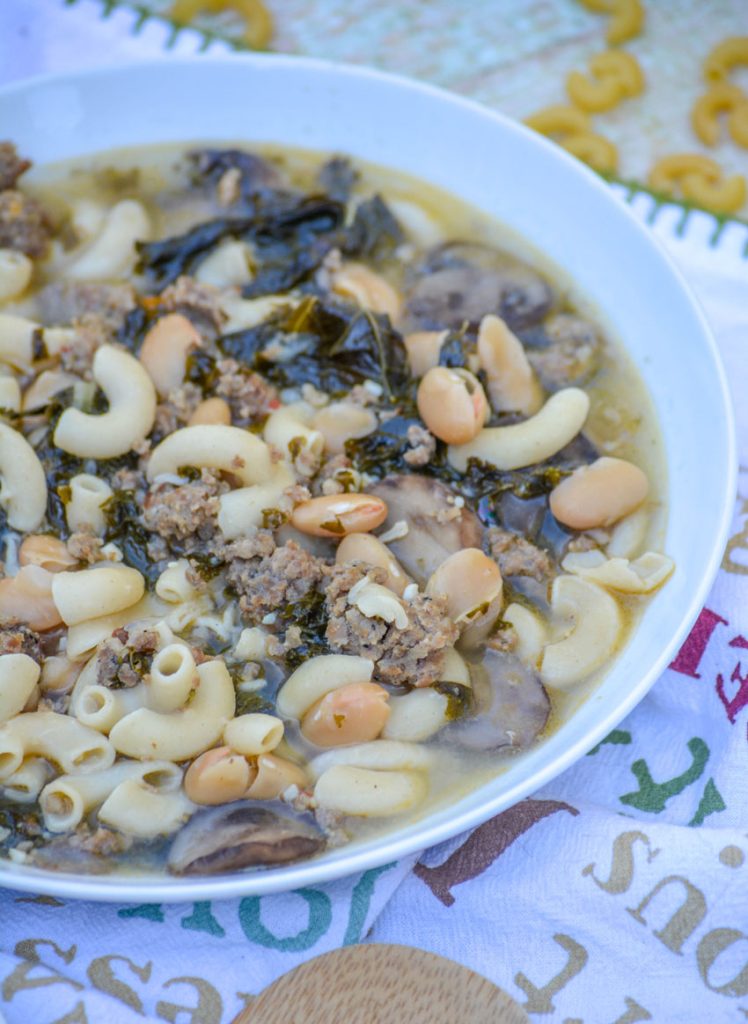 Even when we're all bundled up, with the cold weather settling in, after an afternoon spent outside with the kids I tend to need a little something extra to warm me up when I finally make it back inside, after herding the boys in to wash up for dinner.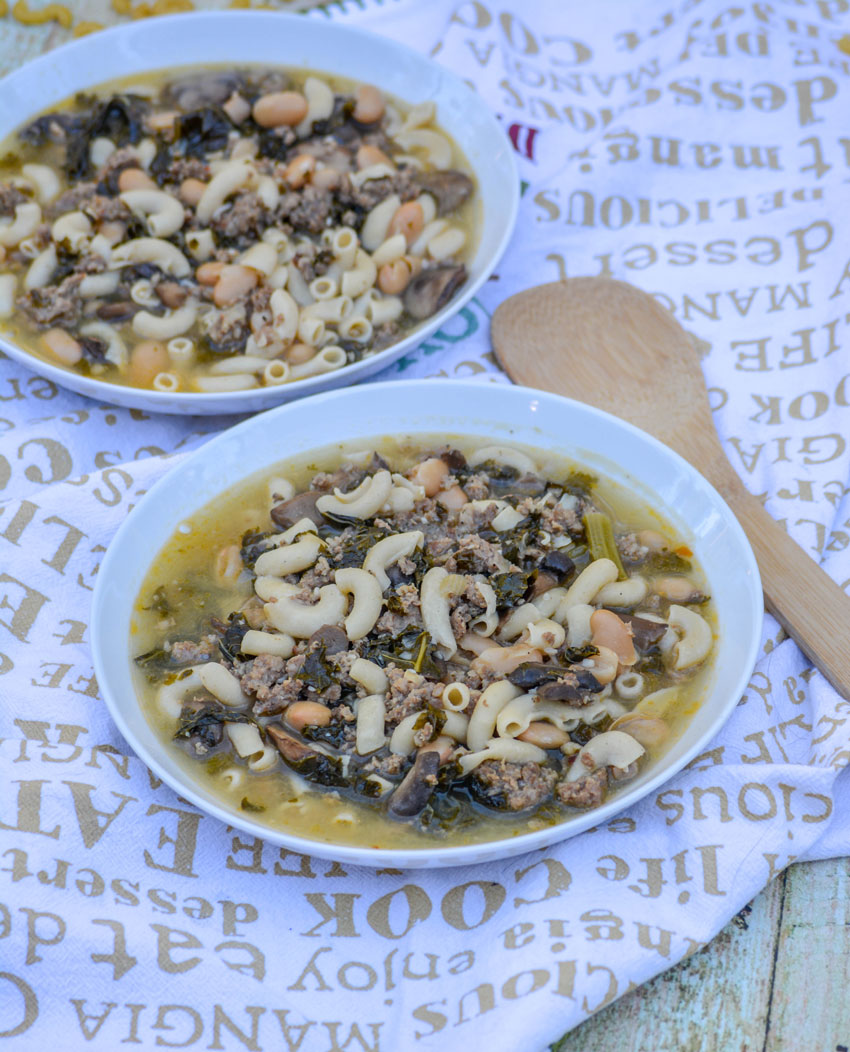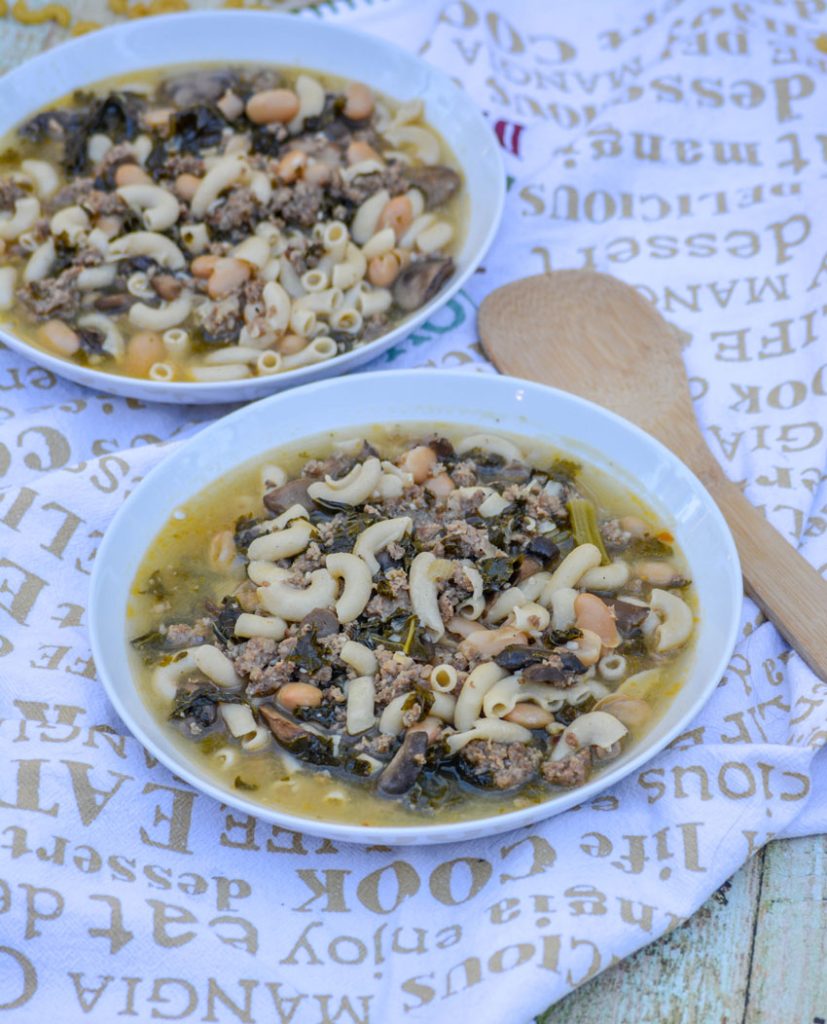 A pot of this soup hot on the stove is always just what the doctor ordered.
It's incredibly hearty & flavorful, and it includes an abundance of 'good for you' ingredients. Just one warm bowl of this Winter-weather fighting soup and the chill you brought in with you will magically melt away.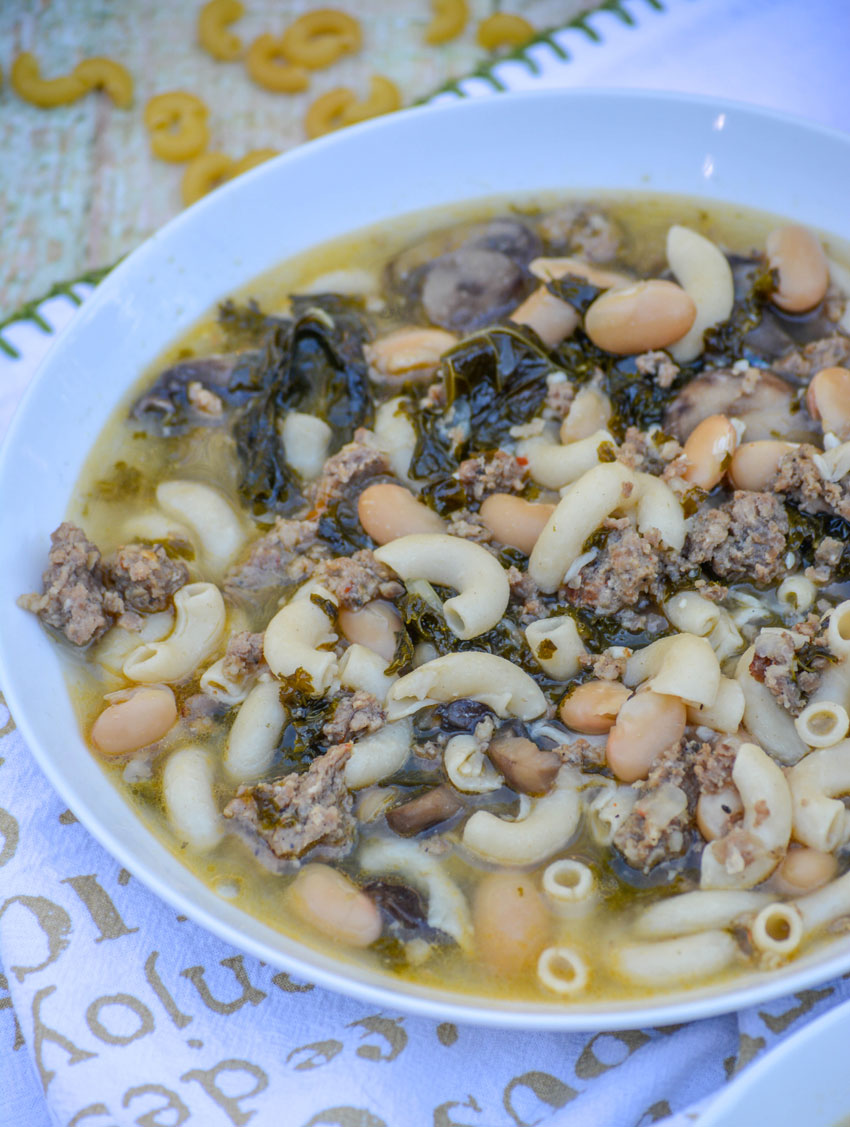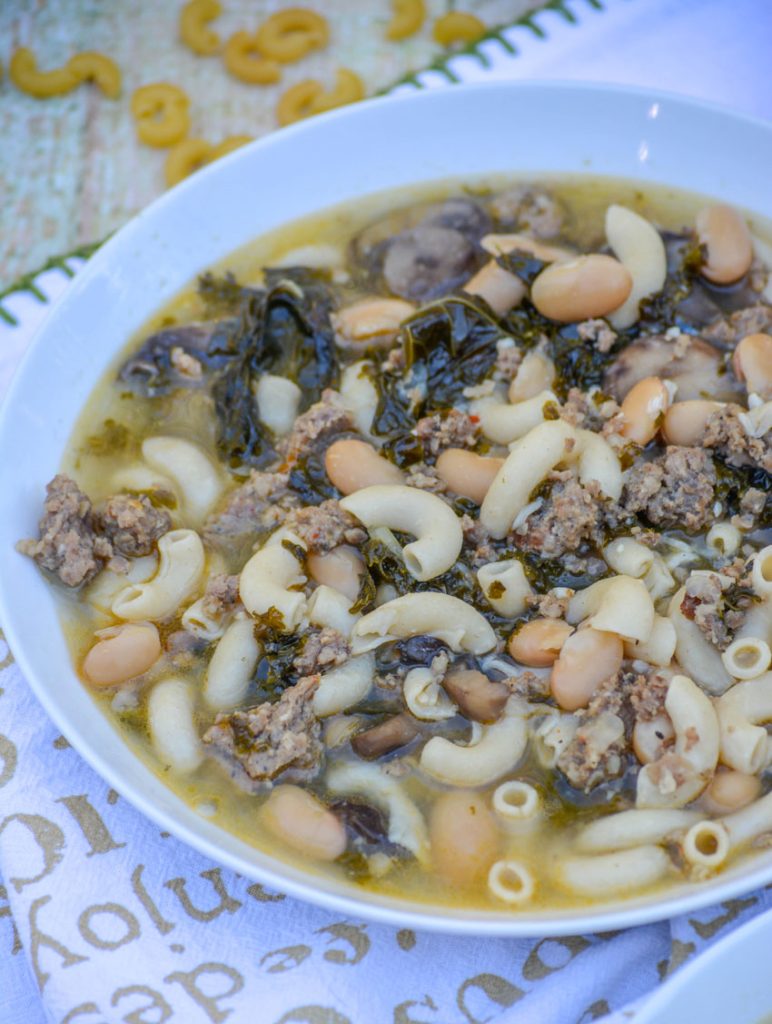 Thank the good lord it's 2018, and real world ingredients are are actually getting a come back. Soup doesn't have to come from a can. Simple ingredients are being embraced once again as the best way to create and blend really flavorful meals.
Even if you can't tell me where the nearest farm to you is, or have never seen a greenhouse- fresh greens are readily available at your local grocer, and generally affordable.
All these seemingly small things came together to make a magical bowl of super cold fighting infused soup. This Warm Sausage & Kale Soup, to be specific.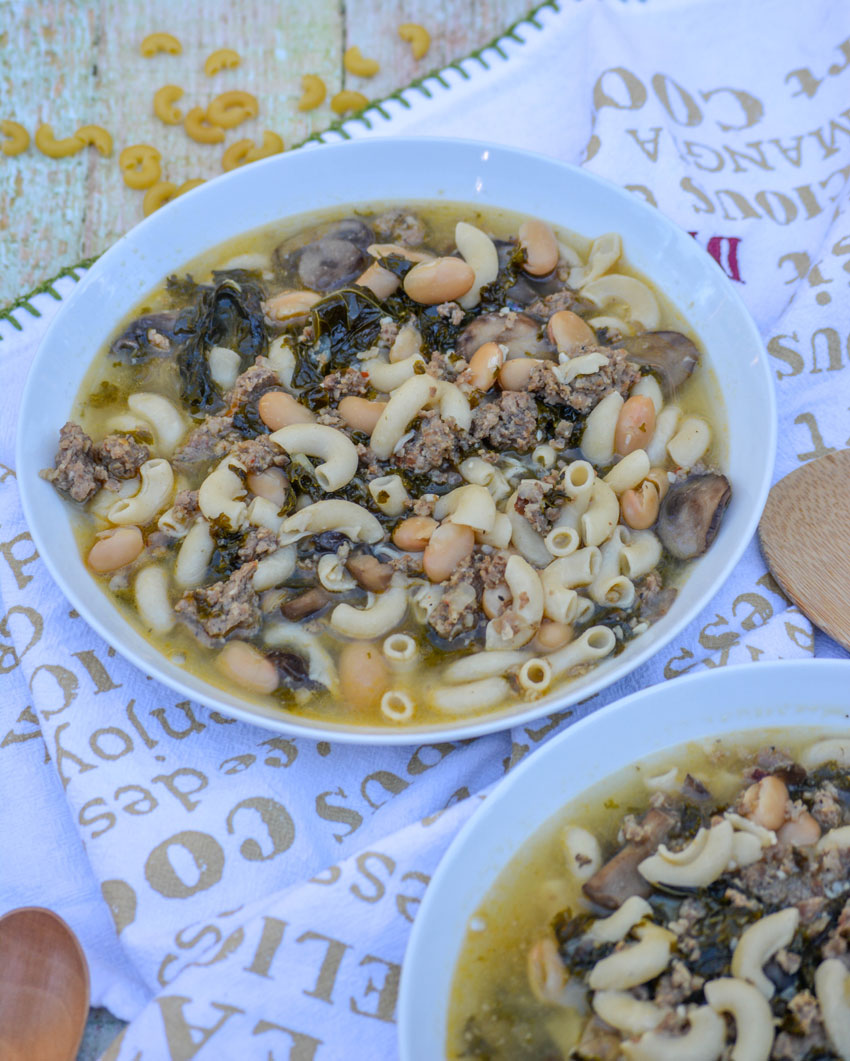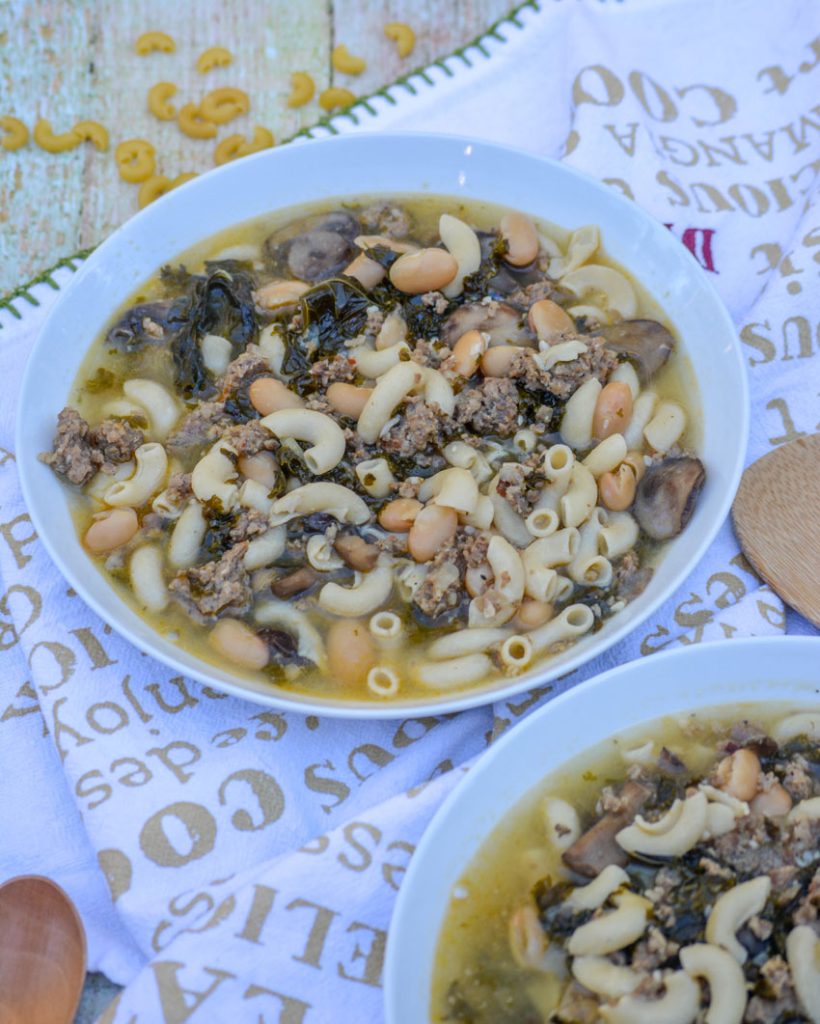 I don't know what it is about this season and schools, but over the years I've realized that it's a Petri dish perfect for brewing, stewing, and handing out sickness. While my boys are healthy more often than not, having power packed meals in their bellies most nights seems to help keep them that way. There's nothing better designed to keep you healthy than eating your greens.
With that in mind, I adore recipes that get them to dig in without complaint- even when 'forest food' as they like to call spinach, kale, etc is involved. Soup usually would get me multiple side eyes. I mean, I think soup's an all purpose food, but I've been told by my guys that it's not 'man food'. Something about it not being filling enough? They're crazy, especially when they're served with something as hearty as this Warm Sausage & Kale Soup.
It's not for the weak of appetite, or those who like a thin broth-y soup. This one is filling and meant to be enjoyed on an empty, worked (or played) all day in the cold kinda stomach. Featuring a blend of sautéed ground Italian sausage, fresh kale, sliced baby Bella mushrooms, elbow pasta noodles, and seasonings in a rich chicken broth- it's the ideal soup for Fall & Winter.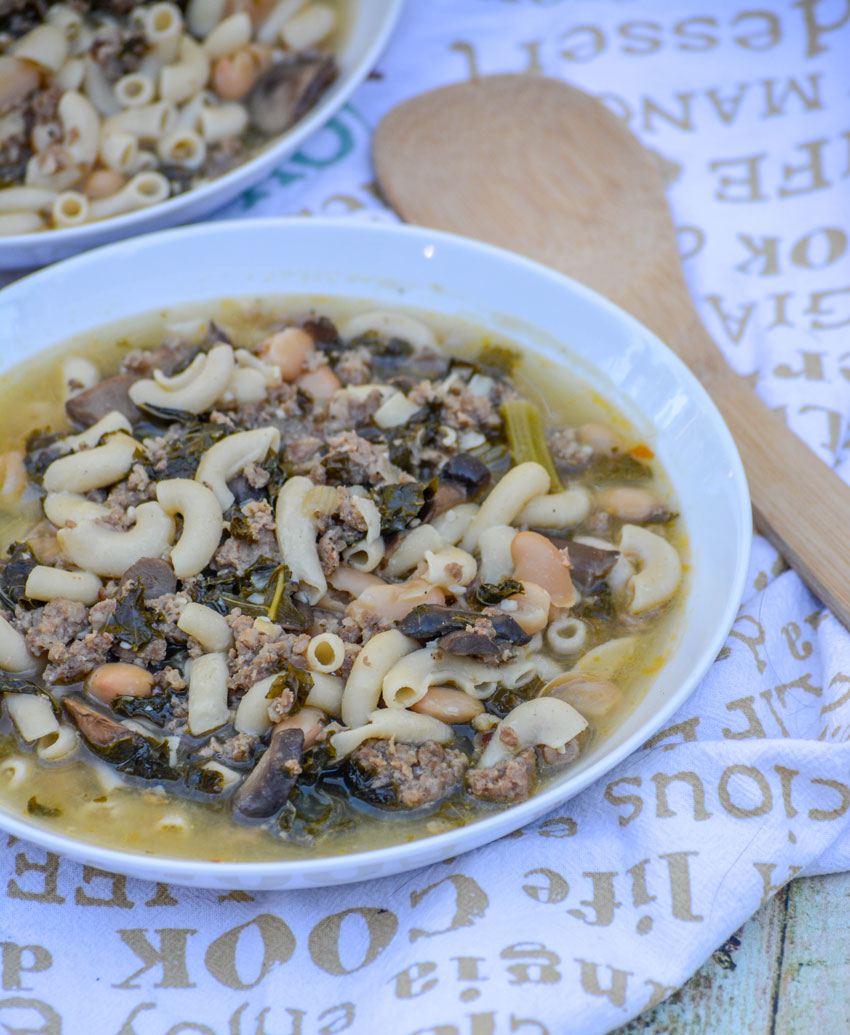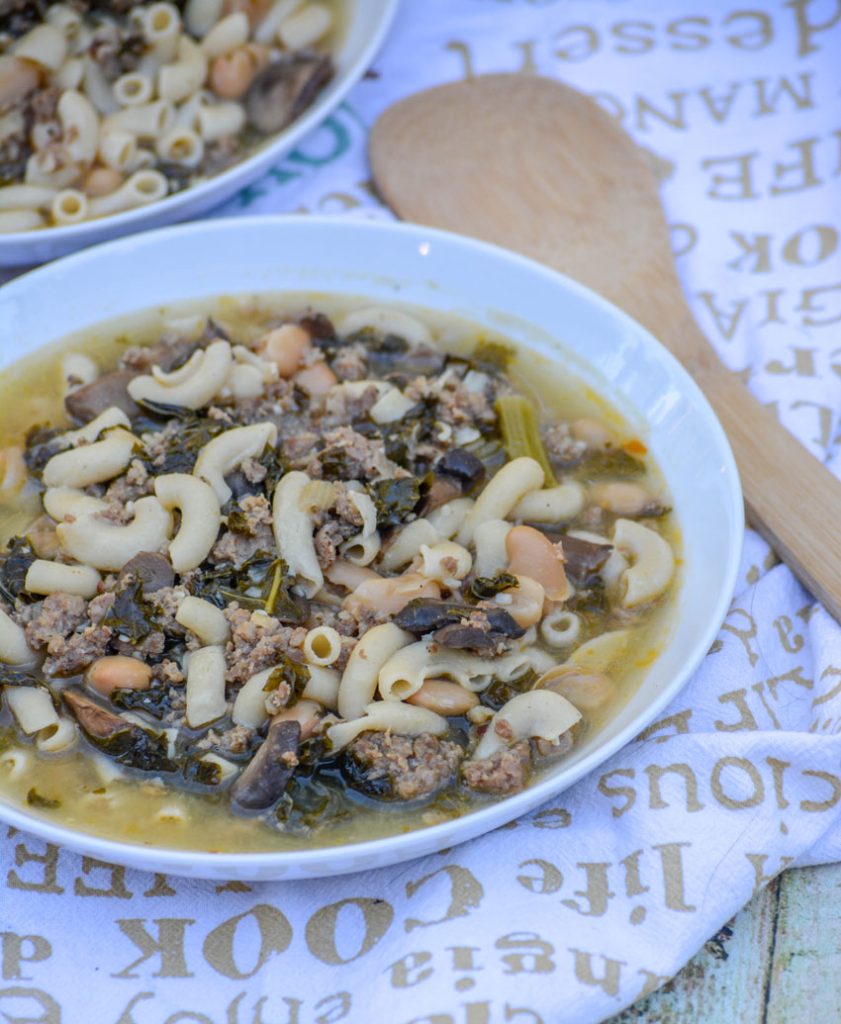 A dutch oven is always a good start to a great dish, and this one is no different. Oil is heated in the dutch oven, then a pound of ground sausage is added. It's cooked, stirring to break up, until cooked through without anymore pink visible. Depending on your sausage, you may or may not need to drain off excess grease. You be the judge, and adhere to your personal preference.
A mixture of crushed red pepper flakes, minced garlic, and sliced mushrooms are stirred into the pot. These are cooked until the mushrooms are soft, about 5 minutes. Fresh kale leaves are then stirred in, making sure to salt & pepper them to taste, and season with the recommended amount of nutmeg. When the kale's just begun to wilt, it's time for the next step.
Pour in the chicken broth, give it all a good stir, and then bring the soup to a boil. Stir in the uncooked pasta, and allow it to boil for a minute less than the package directions call for. Things in the dutch oven, or really any cast iron dish, stay hot way longer than you might anticipate, even once removed from a heat source. So by taking this precaution, even when the noodles continue cooking- they won't turn to mush. Nobody enjoys mushy pasta. That's the worst kind of letdown!
Add the beans, stir, and let them warm up in your savory vat of soup.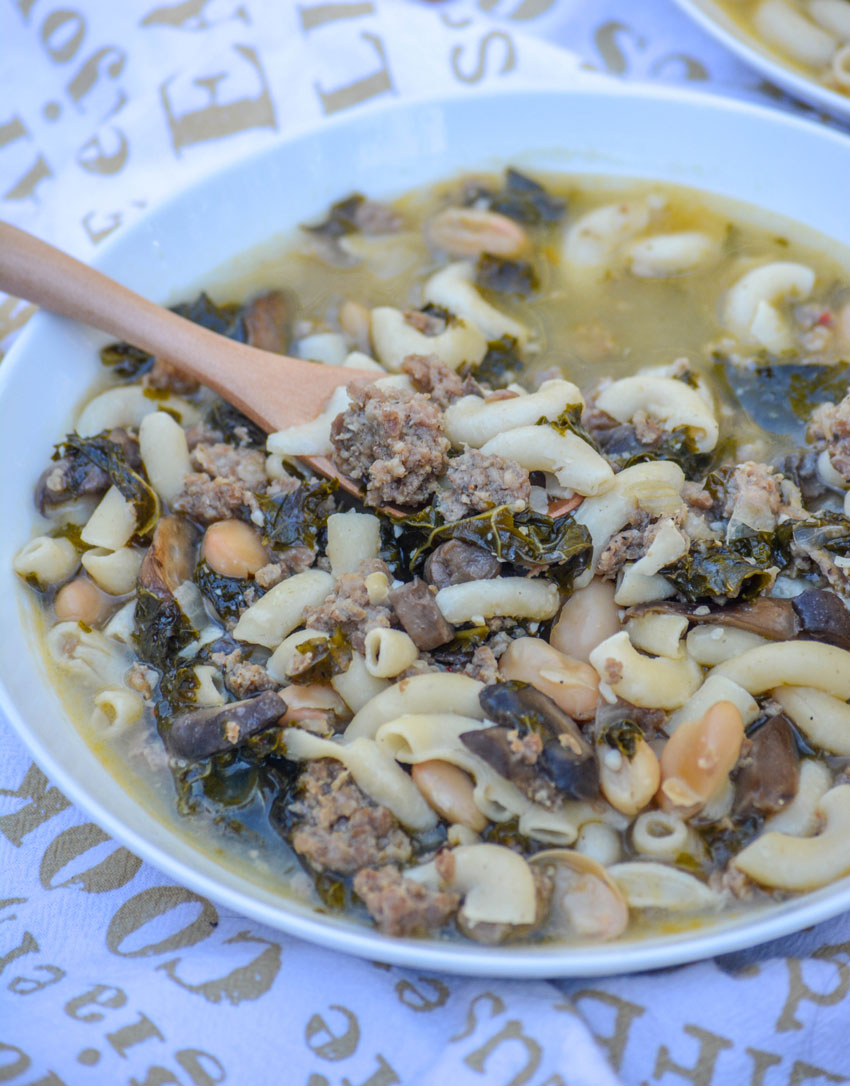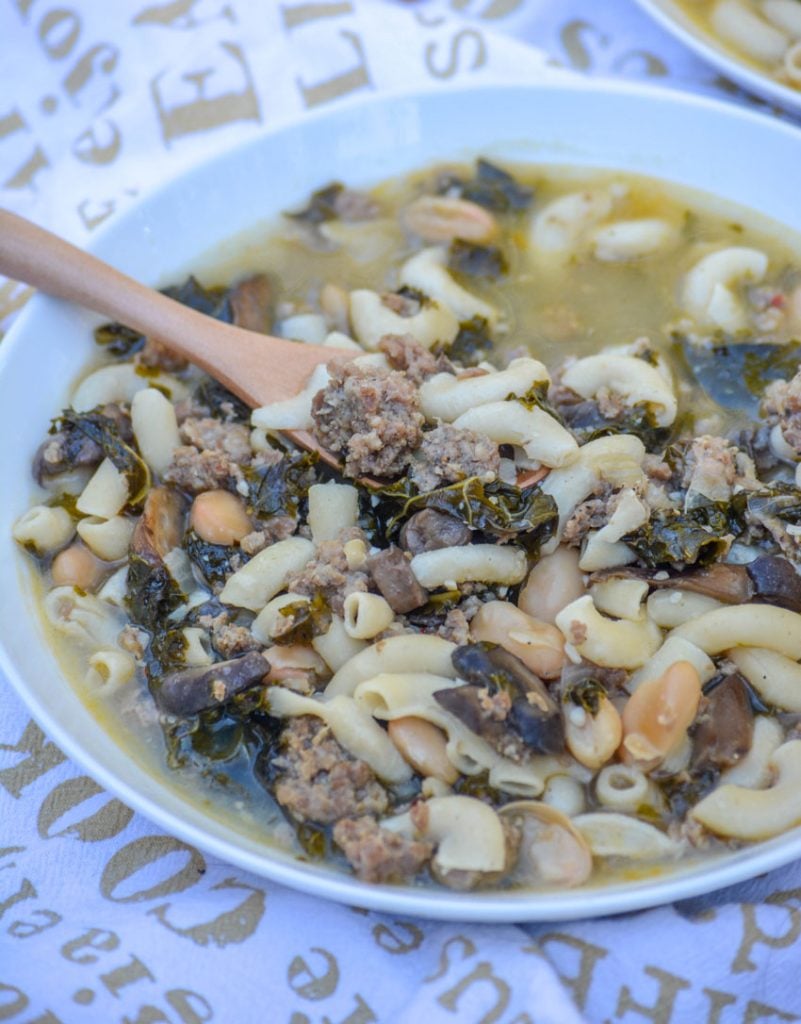 Pure Winter weather comfort food ladled into a soup bowl, this Warm Sausage & Kale Soup is the soup to end all soups. Or at least the hearty one your whole family can, and will, agree on. Make sure to serve it with thick slices of crusty bread for maximum comfort & fulfillment!
Other Comforting Soups You'll Also Enjoy: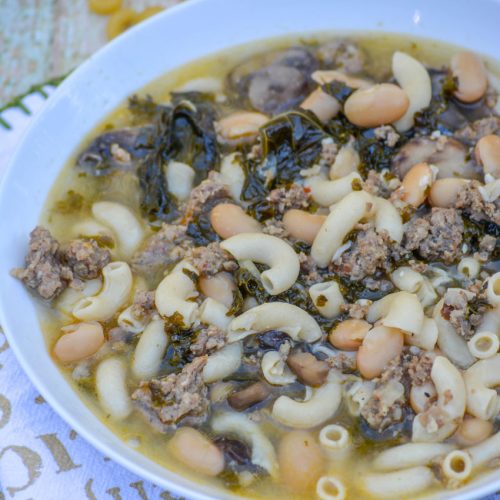 Warm Sausage & Kale Soup
A hearty soup, this version features Italian sausage, kale leaves, and your choices of pasta with a bevy of seasonings.
Print
Pin
Rate
Ingredients
1

lb

package of Sweet Italian Sausages

casings removed

2

tbsp

olive oil

1/4

tsp

crushed red pepper flakes

4

tsp

minced garlic

8

oz

package white mushrooms

sliced

1

bunch of kale

washed, stems removed, and roughly chopped

1/4

tsp

nutmeg

salt & pepper

to taste

32

oz

chicken broth

1

cup

noodles

elbow or small shells

15

oz

can cannellini beans

drained and rinsed
Instructions
Heat a dutch oven over medium heat add 2 tbsp olive oil and cook sausage until no longer pink, between five and seven minutes, stirring occasionally. If necessary, drain sausage.

Add the crushed red pepper flakes, garlic, and mushrooms, breaking up the mushrooms as you add them. Cook, stirring occasionally, until the mushrooms are soft, about five minutes.

Toss in the kale, season with salt, pepper, and nutmeg. Cook until the kale is wilted, about five minutes.

Add the chicken broth, and bring it to a boil. Then add the noodles and cook about a minute shy of the package directions.

Toss in the beans, and stir in until they heat through. Serve with crusty bread & let it warm you up!