The perfect cake for Summer, this strawberry buttercream cake is a cool treat on a hot day. It embraces the best of the season's flavors, stuffs them into a rich buttercream frosting & layers them between fluffy layers of moist yellow cake.
This post and recipe were created for #SummerDessertWeek! I was sent samples by some of the sponsor companies but as always the opinions are 100% my own.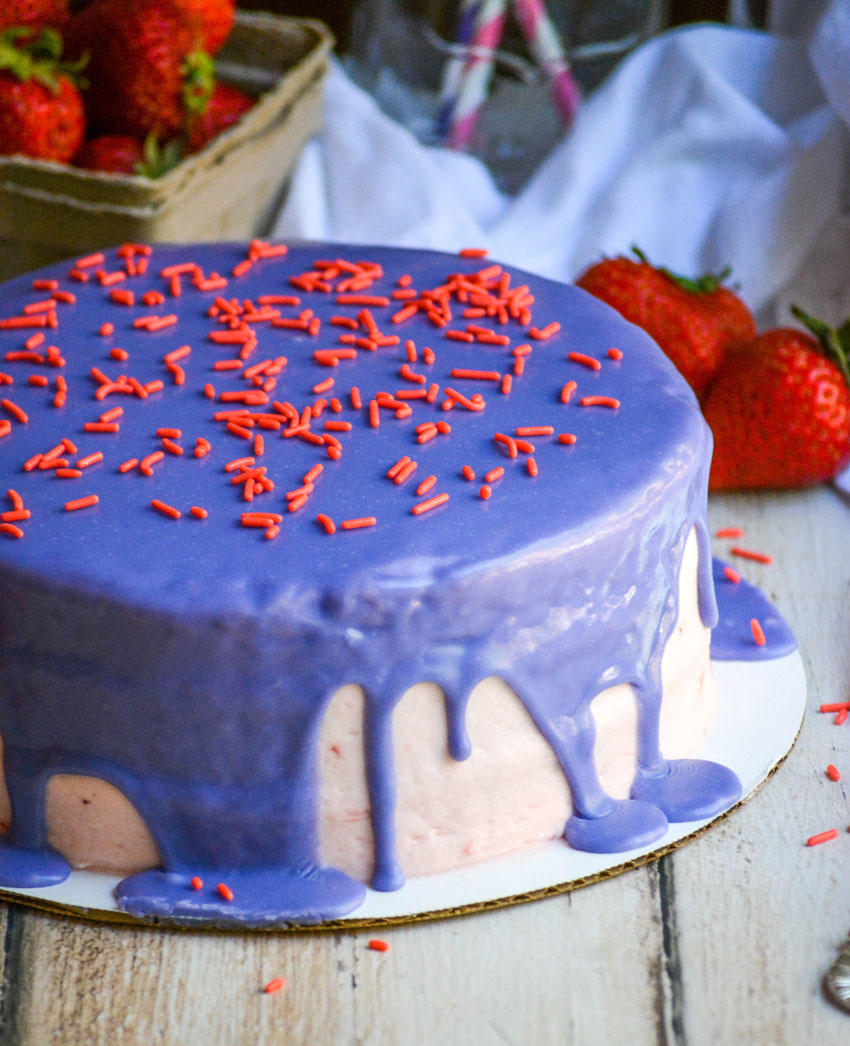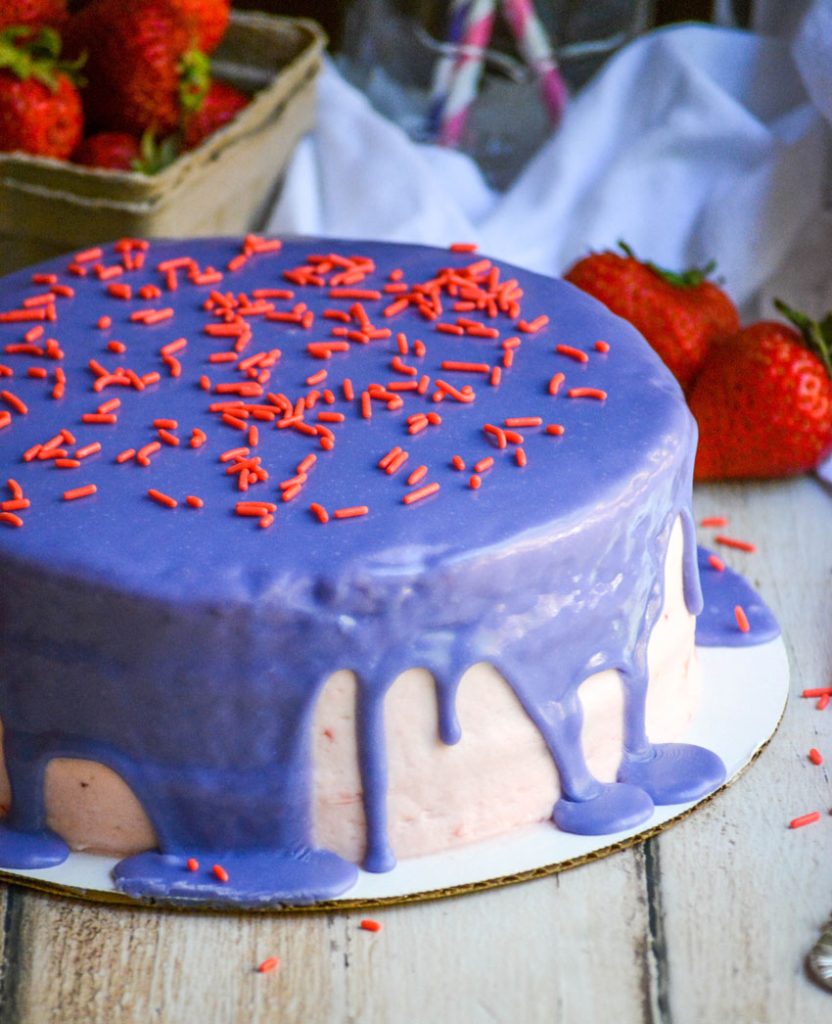 Cakes are an acceptable dessert all year round. Good thing that, because I love a good cake. It's pretty much the best, most universal dessert of all time.
How many times have you heard the saying, 'It's a piece of cake?' Well, when it comes to what dessert to serve at your next Summer get together- it really is.
Cake's the answer. Cake's always the answer.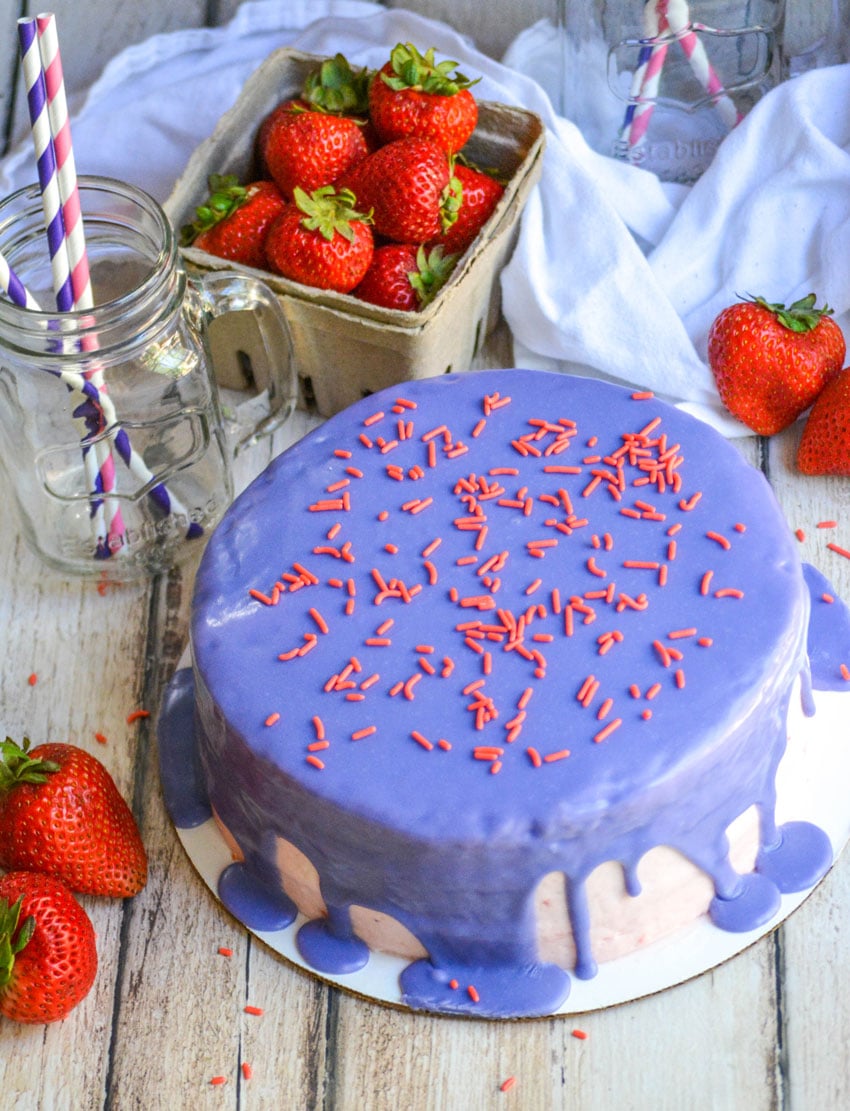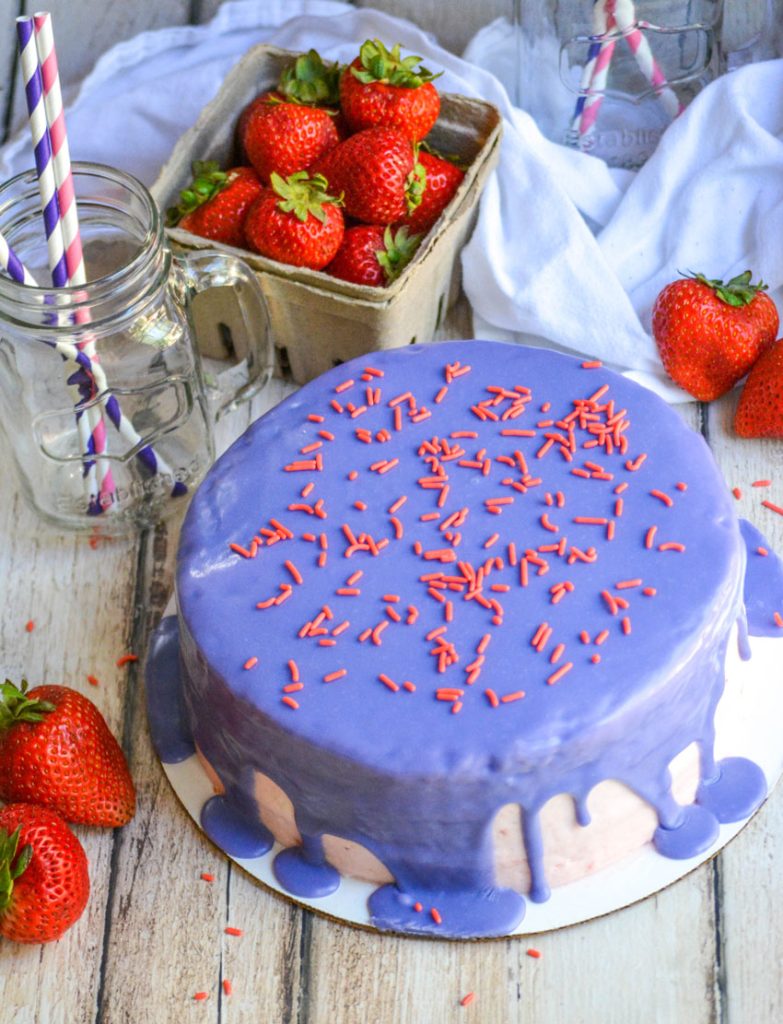 Especially when Summer's come calling. I mean I have a cake for virtually any season, but Summer's where the flavors really shine.
It could be our peaches & sweet cream poke cake, chocolate malted milkshake cake, or even this tasty glazed strawberry lemon yogurt cake. You can't go wrong with any of them.
They're all great. My family loves them all, and would be happy to have a slice of any of them. But, I wanted to surprise them with something new this year. Something equally tasty, that really celebrated Summer.
Strawberries are one of my favorite fruits of the season. What better way to enjoy them than by combining them with cake. And not just any cake, by adding them to a sweet buttercream frosting that really highlights their sweetness.
This delicious Strawberry Buttercream Cake with Blueberry Lemonade Ganache does all of that. It's a little bit of heaven with each forkful.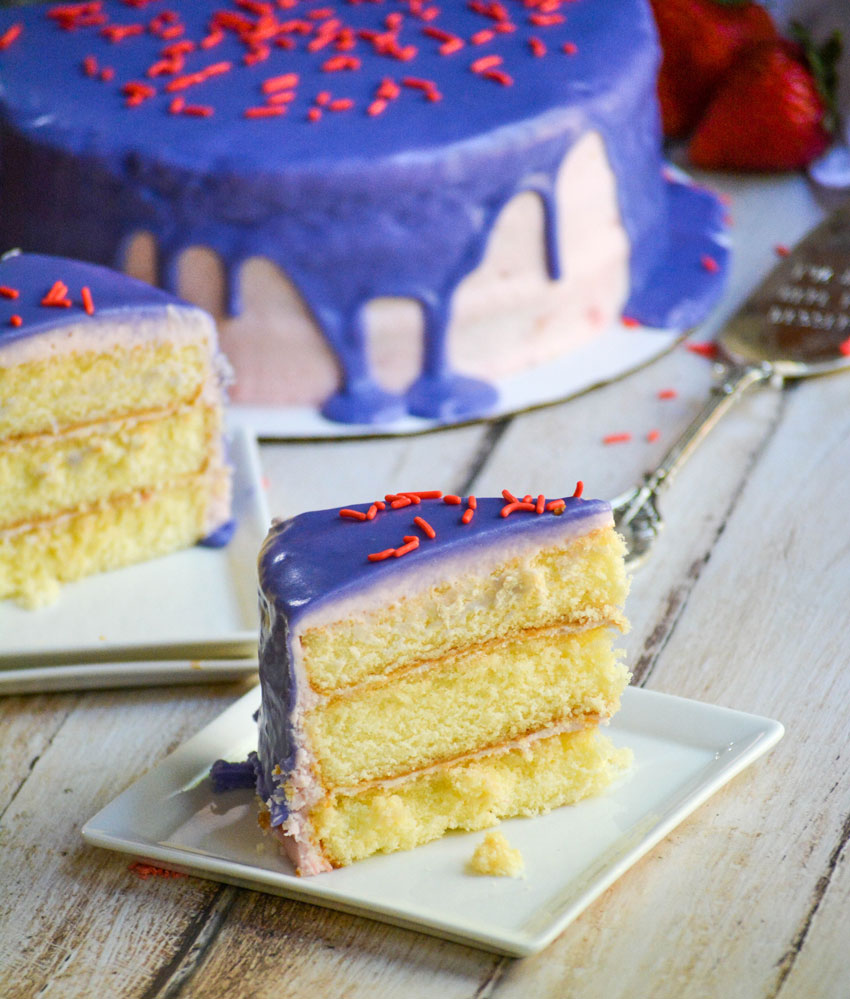 This strawberry buttercream cake is surprisingly simple to throw together. That's because of a little secret I'll share with you.
While I adore a good 'from scratch' cake- that's not always practical. The key is to always keep a good box mix on hand. It's a great pinch hitter when dessert's on the line at the last minute.A couple simple 'froofs', and your guests will never even guess it's less than 100% homemade.
HOW TO MAKE A LAYER CAKE FROM BOX MIX:
Ok, so this is actually rather simple- but first, prepare the cake mix according to the package directions.
The next step is to prepare your baking pans. For this recipe, you'll need at least two 9 inch circular baking pans. Next you have to prep them. This is a key step you cannot skip. I repeat, can not skip. Skipping will all but ensure your cakes will stick to the pan, and be fit for nothing more than cake pops.
Take a stick of cold butter and rub it all over every bit of the inside center and sides of each of your cake pans. Once every bit's coated, add a several tablespoons of flour to the cake pans.
Tilt the cake pans all around, patting the outside as needed to spread the flour. You want the flour to completely coat the buttered surface. When done, turn the cake pans upside down over a trash can and give a final firm thump to release any excess flour.
Divide the cake mix evenly out between the two pans. Once the cake mix has spread in each pan, pick up one pan about two inches off the counter. Drop it straight down. Repeat. This should remove any air bubbles. Repeat for the second pan.
Bake the cakes according to the time and temperature on the back of the box for two cakes with your specific types of pans. Once done baking, remove the cakes from heat, and let them cool completely before trying to release them from the pans.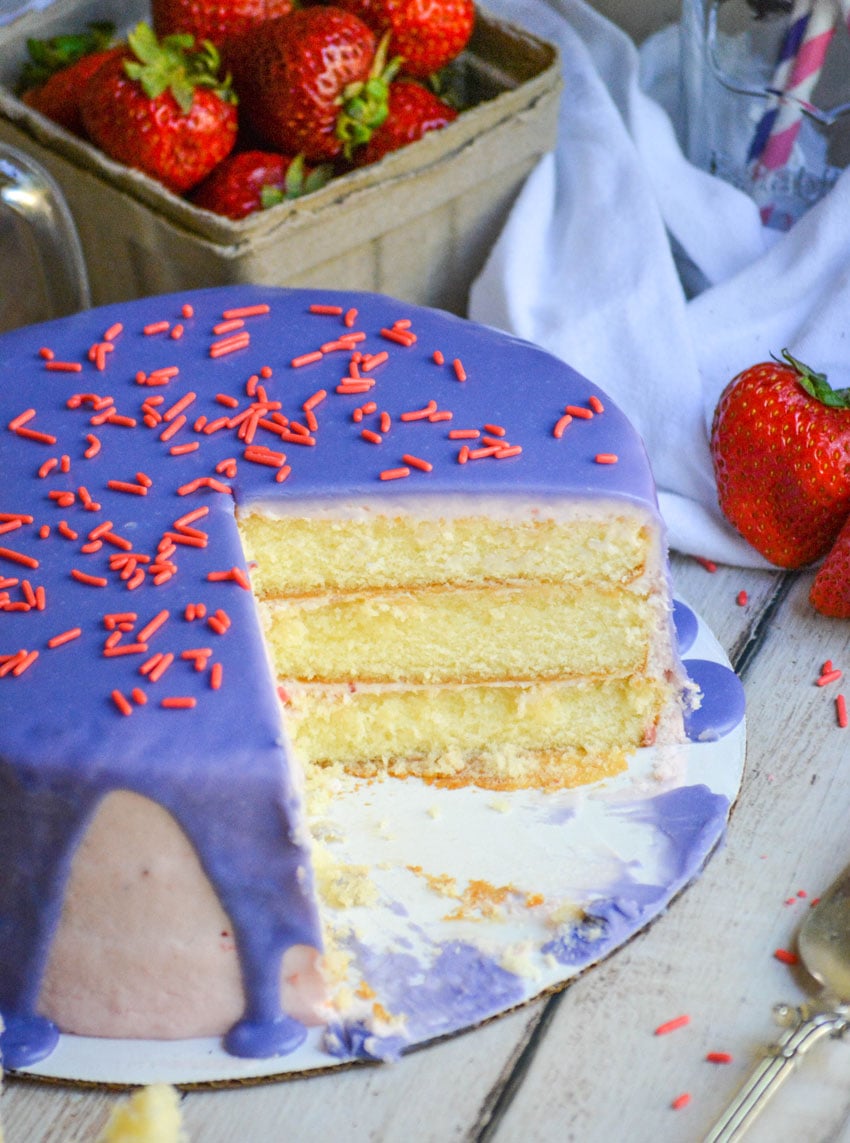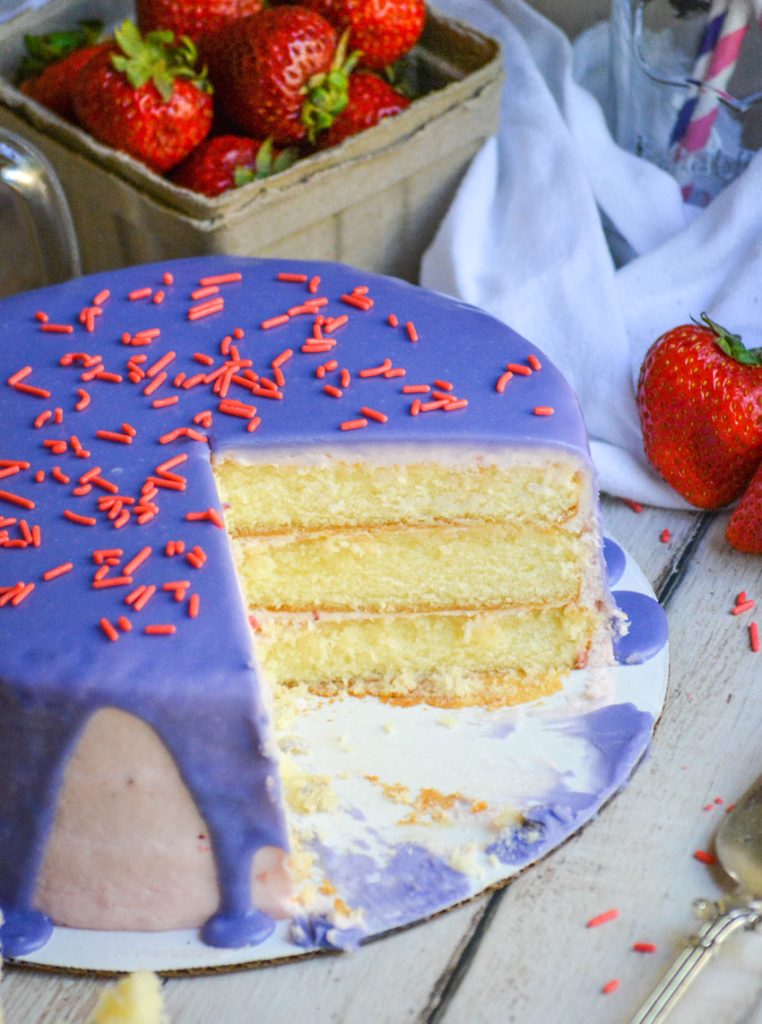 HOW TO MAKE THIS EASY STRAWBERRY BUTTERCREAM FROSTING RECIPE:
For years I wasted my time thinking I could only get flavored frosting from a can of my grocery stores shelf. Yeah. Thank goodness those days are long past.
I've since learned that a good buttercream frosting base is all you need, and you can make virtually any flavor yourself. From scratch.
Thus strawberry buttercream is no different. In fact, it's better. It's the best I've discovered, not only in taste- but also because of how simple it is. I'm all about convenience. I'm easy when it comes to my desserts.
You only need three ingredients to make this frosting: powdered sugar, butter, and pureed strawberries. That's it. I do recommend a dash of almond extract to deepen the flavor, but even that's really optional.
Add the butter & sugar to the bowl of a stand mixer, and begin to beat together on a lower speed. Eventually raise the speed until the butter and sugar have been creamed together. Next add the puree, a little bit at a time, combining until everything's a smooth, even, creamy consistency.
That's it. Your strawberry buttercream frosting's ready to use.
HOW TO USE STRAWBERRY BUTTERCREAM FROSTING:
This frosting recipe ends up making about 2 1/2 cups. If you're using one boxed cake mix, and making a double layer cake- it's the perfect amount. If you're going for a triple layer cake like I did, or even quadruple- you will want to double this frosting recipe.
This frosting isn't just good on cake, it's good on so many things. We've piped it onto brownie bites, and even spread it on sugar cookies. It's also a super tasty way to top shortcakes, just make sure to finish it off with a dollop of fresh cream, and a drizzle of syrup.
Otherwise, use it as instructed in this cake recipe- or pipe it onto a batch of chocolate, vanilla, even red velvet cupcakes. That's it, this strawberry cake is ready to be ganached & enjoyed.
Just like it's good on different cupcake flavors, the same is true with the cake flavor of the box mixed. We've swapped out the vanilla for lemon, coconut, and even angel food.
You can serve it as is, and it will be delicious, but I highly recommend following through with the ganache drip topping. It adds an extra element, and really infuses every bite with Summer flavor.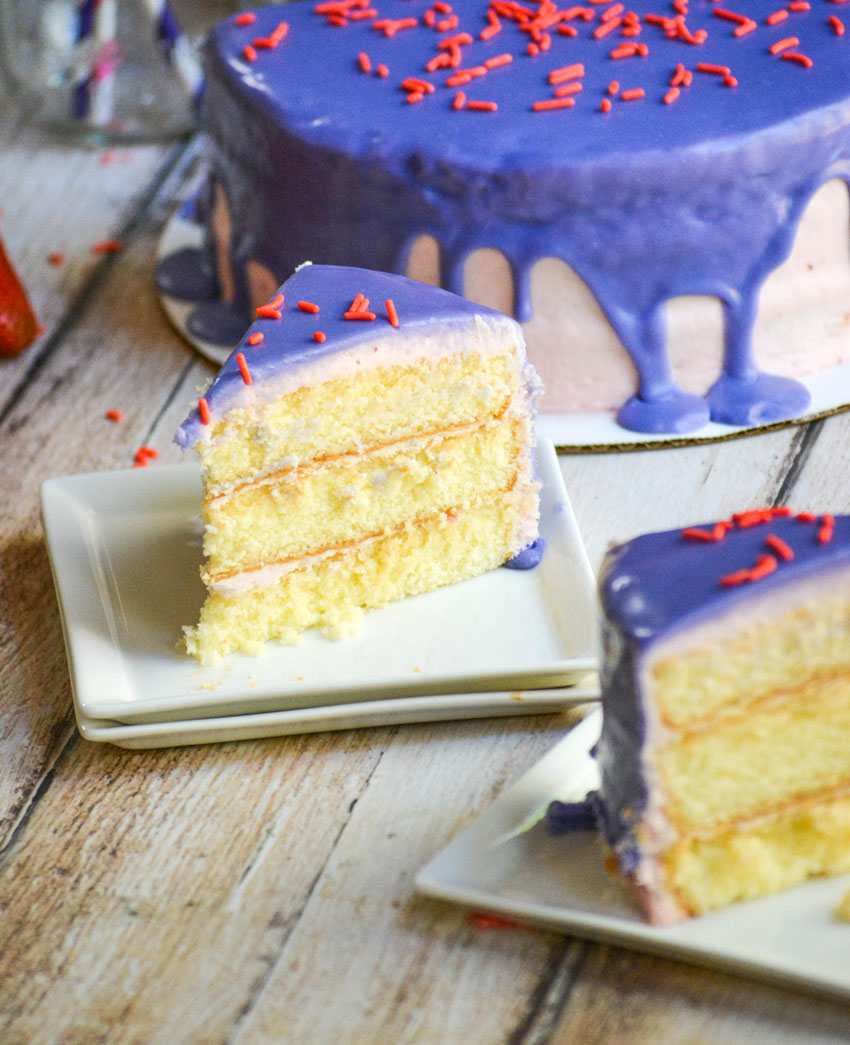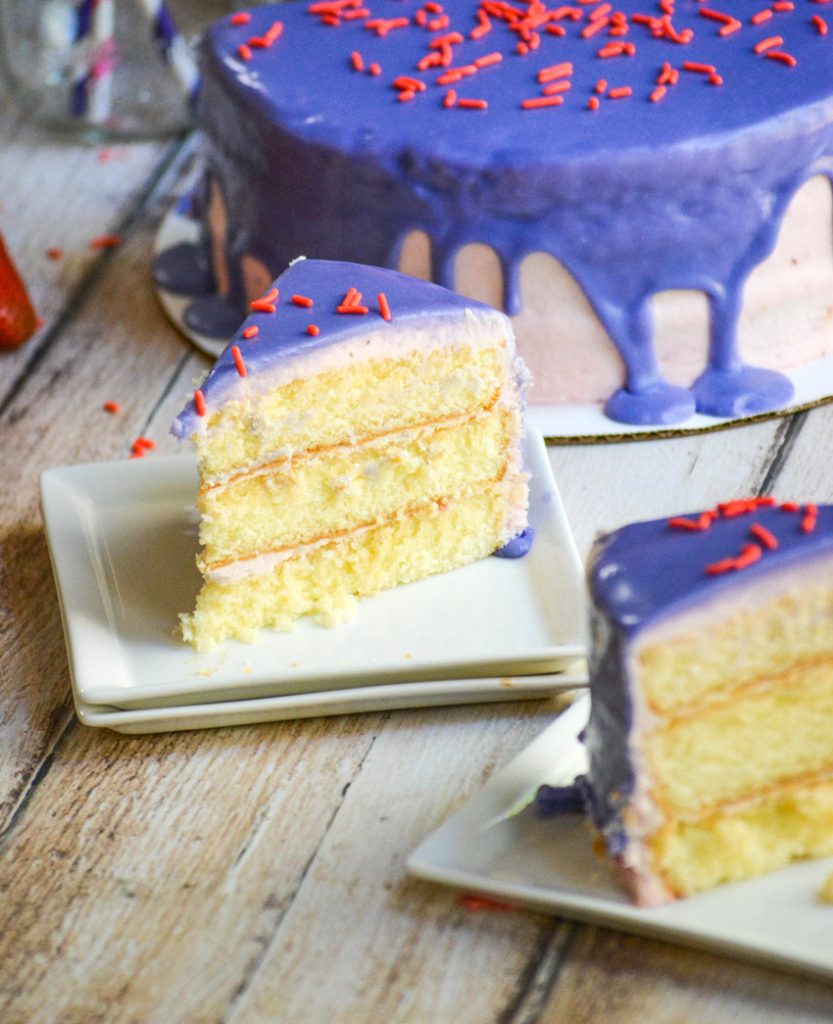 While everything's pretty straight forward in this strawberry cake recipe, there's always things to be improved or little hints to make things easier. This may be a lengthier tips & tricks section, but bear with me- the information in it is worth it.
TIPS & TRICKS FOR MAKING THIS STRAWBERRY BUTTERCREAM CAKE:
Powdered sugar is generally safe to use straight out of the container, but for the smoothest frosting results, I suggest sifting it before using.
As written the recipe calls for plain butter. That's delicious on it's own. If you want to take your frosting to new heights, I suggest using salted sweet cream butter. If all you've got on hand is regular unsalted butter, then I suggest adding a small pinch of salt to the frosting.
Make sure the strawberries are finely pureed before adding them to the frosting. Add them in slowly while beating the frosting together so the mixture doesn't become runny. You can later fold in larger berry chunks if desired.
To make frosting easier, I recommend using an extra large Wilton cake icer tip to pipe on extra large bands of frosting on the sides of the cake. Smooth those out. Then pipe frosting onto the top and smooth that out too.
If you don't have a cake icing smoother, an inverted spatula works or even a butter knife. For the easiest results, remove imperfections by heating up the knife or spatula briefly by dipping it in piping hot water for 10-15 seconds. Wipe dry, then smooth.
If you've smoothed and there's still lumps and bumps, chill the cake for 30 minutes- then use your finger tip to gently smooth out any major imperfections.
Ok, so you've made your cake- but it didn't end up using all of the delicious strawberry buttercream frosting. It's just too good to toss, and you can resist the temptation to eat it straight out of the bowl. This frosting stores beautifully with very little extra effort.
HOW TO STORE THIS STRAWBERRY BUTTERCREAM CAKE:
You can refrigerate this cake until ready to use, but in the Summer that will often lead to sweating. Instead I'd suggest leaving it covered in a cake container on a kitchen countertop, away from heat, for up to 12 hours.
If after 12 hours the cake isn't sweating or running, then you can continue to store it that way for up to three days.
If you'd prefer to store this buttercream cake in the refrigerator, then leave it in there uncovered for 2-3 hours. Just until a soft crust forms. Now cover the cake with cling wrap, and refrigerate for up to five days.
Any leftover strawberry buttercream frosting can be stored in an air tight container, and frozen until ready to use.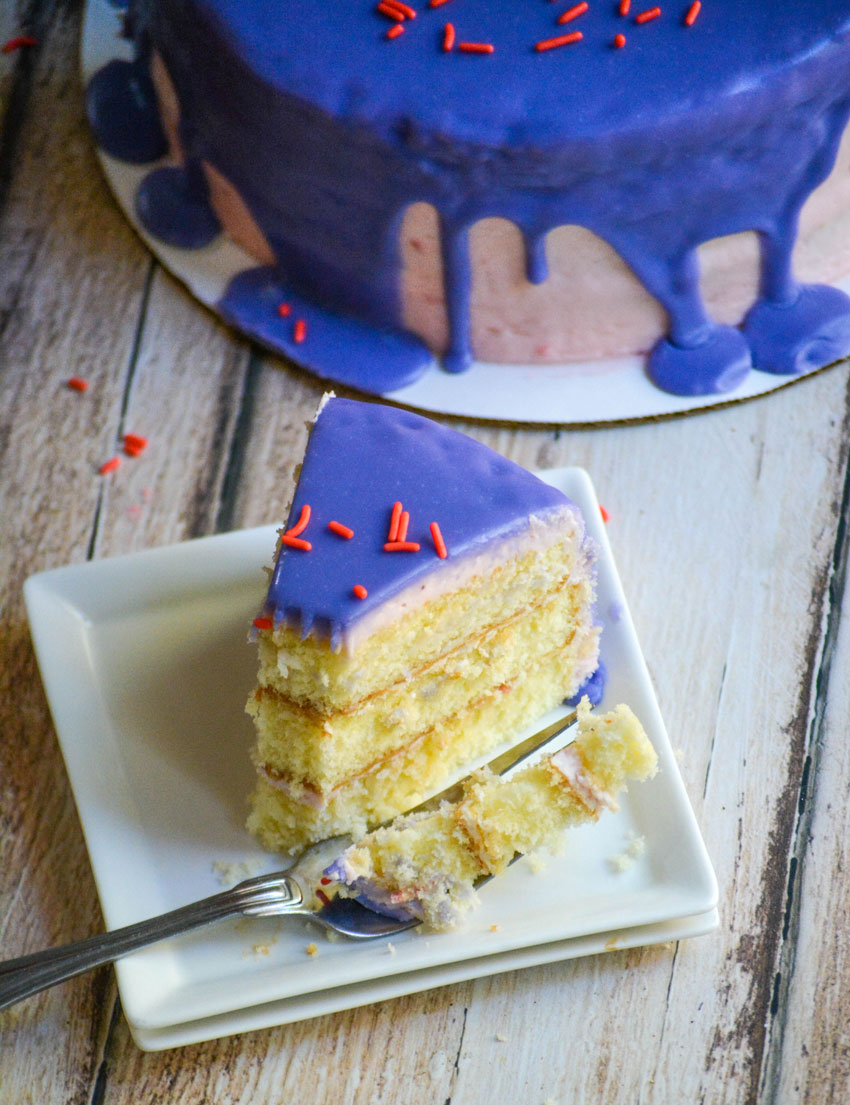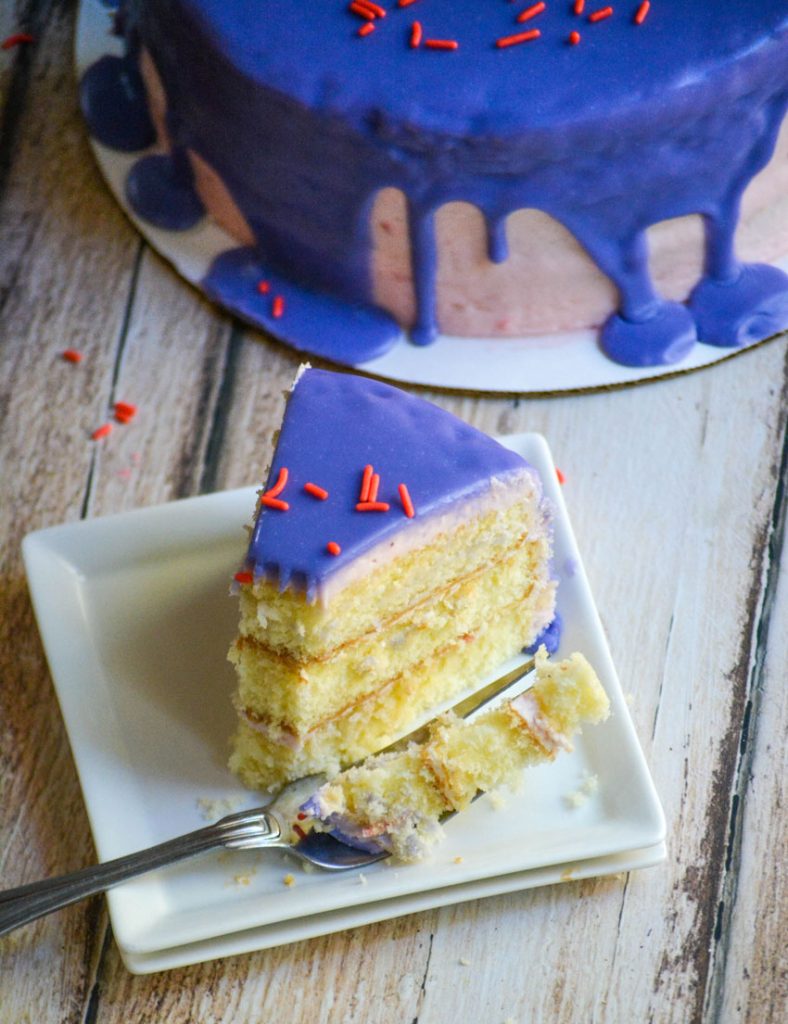 That's it. An easy recipe for a sweet strawberry buttercream cake is the perfect dessert for Summer.
Topped with an extra sweet layer of blueberry lemonade ganache, and it's an amazing next level dessert. Garnish it with bright Summer-colored sprinkles for a fresh, fun feel.
You'll want this cake gracing the center of your dessert table when you entertain this season.
Stay tuned & keep scrolling past the recipe card to check out this year's awesome #SummerDessertWeek giveaway. Don't forget to enter the GIVEAWAY for your chance to win, and also to discover all the other yummy desserts on today's Summer-themed menu.
Other Summer Cake Ideas To Enjoy:
If you've tried these STRAWBERRY BUTTERCREAM CAKE WITH BLUEBERRY LEMONADE GANACHE, or any other recipe on my site, let me know in the comment section how it turned out, we love hearing from our readers! You can also follow along with me on PINTEREST, FACEBOOK, and INSTAGRAM to see more amazing recipes and whatever else we've got going on!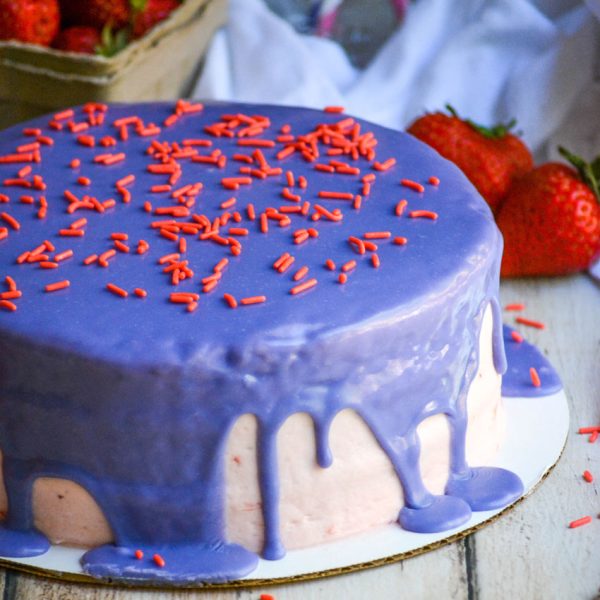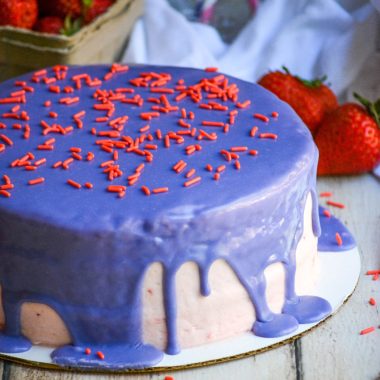 Strawberry Buttercream Cake with Blueberry Lemonade Ganache
A delicious vanilla layer cake, this one is slathered with a rich creamy strawberry butter cream frosting that only requires three easy ingredients to whip up.
Print
Pin
Rate
Ingredients
Instructions
Prepare the cake mix (or mixes) according to the package directions. If you want a two layer cake, divide the mix out evenly between two prepared 9" pans and bake according to the package directions. If you want more layers, prepare the second boxed mix and repeat.

Let the cakes cool completely. While the cakes are cooling, prepare the frosting.

To the bowl of a stand mixer, add the sugar & butter. Start by beating the two together on low speed, increasing the speed a little bit as they come together.

Pour in the pureed strawberry and whip the mixture until everything's come together and a smooth buttercream frosting has emerged.

Run a butter knife around the edge of one of the cake pans to 'release' the cake. Turn it out onto your desire surface. I recommend this being the surface you're going to serve it on- either a plate or a cardboard cake circle.

Spread a thin layer of the strawberry buttercream evenly out over the cake. Repeat until you've reached your desired number of layers- either 2, 3, or 4. The less layers, the thicker the frosting filling layer can be.

Frost the outside of the cake completely with the strawberry buttercream, getting it as smooth as possible without pulling cake or crumbs away.

Transfer the cake to a freezer, and let chill for 15-20 minutes.

Heat the candy melts in a medium sized sauce pan until they've begun to melt, stirring occasionally.

Once they've begun to melt stir in the warm cream, and continue to stir together until a uniform smooth, glossy consistency forms. Remove the ganache from heat, set aside.

Take the cake out of the freezer, and set on wire baking racks set over top of a rimmed baking sheet. Pour the ganache on top, in the center of the cake.

Use an inverted spatula to gently spread the ganache over the surface and towards the edges of the cake. Stop once a bit's begun to drip over all around. Sprinkle sprinkles evenly out over the cake, if using.

Let the cake sit & the ganache set. Once set, the cake can be covered and stored for up to 24 hours, or sliced & served immediately.
Nutrition
Calories:
460
kcal
|
Carbohydrates:
76
g
|
Protein:
2
g
|
Fat:
17
g
|
Saturated Fat:
11
g
|
Cholesterol:
44
mg
|
Sodium:
451
mg
|
Potassium:
32
mg
|
Fiber:
1
g
|
Sugar:
58
g
|
Vitamin A:
510
IU
|
Vitamin C:
2.8
mg
|
Calcium:
97
mg
|
Iron:
0.9
mg
Check out the amazing #SummerDessertWeek recipes from our bloggers today!
Ice Cream Recipes:
Sweet Summertime Cakes and Cupcakes:
No Bake Treats:
Baked Desserts:
Cookies:
Candies:
Summer Drinks:
Blackberry Spritzer from My Baking Heart
Welcome to the 3rd Annual #SummerDessertWeek event hosted by Angie from Big Bear's Wife. This week-long summer time event is filled with some down right amazing sweet recipes from fantastic bloggers and we've got some great giveaways from our generous sponsors for y'all too!! We can't wait to share all of these summer-themed desserts with you and celebrate sweet, sweet summertime all week long!
There are 45 incredible bloggers participating in this year's #SummerDessertWeek event! Thanks to those bloggers, we have over 168 summer time sweet treat recipes being shared this week! Grab a few recipes to try out and don't forget to enter the giveaway below!
Scroll down to take a look!
PRIZE #1
Dixie Crystals is giving away one (1)Keurig® K-Select® Coffee Maker
PRIZE #2
Prize #2 — Adam's Extract is giving away – 1 Gift Pack – including Adams Poundcake Kit, Adams Best, Adams Lemon Extract, Adams Natural Food Color, and Adams Cinnamon Sugar
PRIZE #3
Prize #3 —Wilton is giving away a Wilton Gift Pack – including – Bake and Bring Geometric Print Non-Stick 13 x 9 -inch Oblong Pan, Bake and Bring Geometric Print Non-Stick 8-inch Square Cake Pan, Bake and Bring Geometric Print Non-Stick 8-inch Round Cake Pan, Peach Cobbler Candy Melts Candy, Blueberry Lemonade Candy Melts Candy, Orange Crème Candy Melts Candy, Key Lime Pie Decorating Icing Pouch with Tips, Orange Crème Decorating Icing Pouch with Tips, Pop Art Triangle and Solid Cupcake Liners, Geometric Print and Solid Green Cupcake Liners, Balloon Dog Icing Decorations, Assorted Brights and Pastels Sprinkles, Blue Sprinkles Tackle Box, Coral Sprinkles Tackle Box, DIY-Lish Mermaid Kit, DIY-Lish Candy Lollipop Kit and Disposable Decorating Bags with 1M Tips
PRIZE #4
Prize #4 — Sweets & Treats Boutique is giving away 1 (one) baking supply box including an assortment of sprinkles and cupcake liners as well as one of Love From The Oven's recent cookbooks!
PRIZE #5
Prize #5 — Anolon is giving one (1) winner an Anolon Advanced Graphite 9″ Round Springform Pan & an Anolon Advanced Graphite 9″ Square Springform Pan
Giveaway open to US Residents 18 years or older. All entries will be verified. No PO Boxes Please. Prizes will be sent directly from sponsors to winners, bloggers are not responsible for prizes. This giveaway runs from July 7th – July 14th at 12AMEST. Winners will be selected soon afterward and contacted by e-mail. Winners will have 48 hours to respond or a new winner will be chosen. There are a total of 5 (five) prizes and therefore we will have a total of 5 (five) winners. No purchase necessary. Void where prohibited by law.
Disclaimer: These posts and recipes are part of the week-long event, #SummerDessertWeek but all opinions are 100% mine! We would like to Thank our amazing sponsors: Dixie Crystals, Adam's Extract, Wilton, Sweets and Treats Shop and Anolon ! These wonderful sponsors provided the prize packs for our giveaways and also sent samples and products to the #SummerDessertWeek bloggers to use in their recipes.