This Caesar Mac & Cheese with Kale was a hit with both the kids and the adults. Perfectly cooked kale and elbow macaroni are bound together in a creamy cheese sauce. Topped with Parmesan cheese and crunchy croutons, it's a cozy meal made to please everyone- despite the green bits.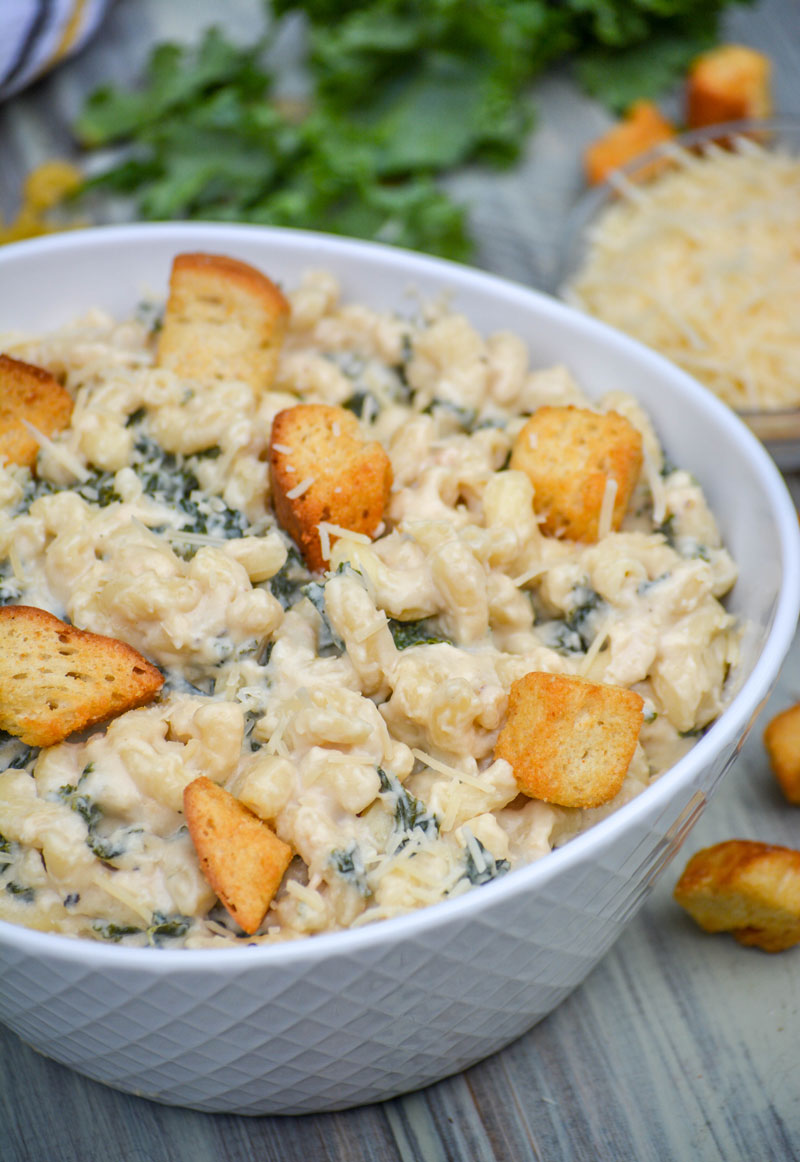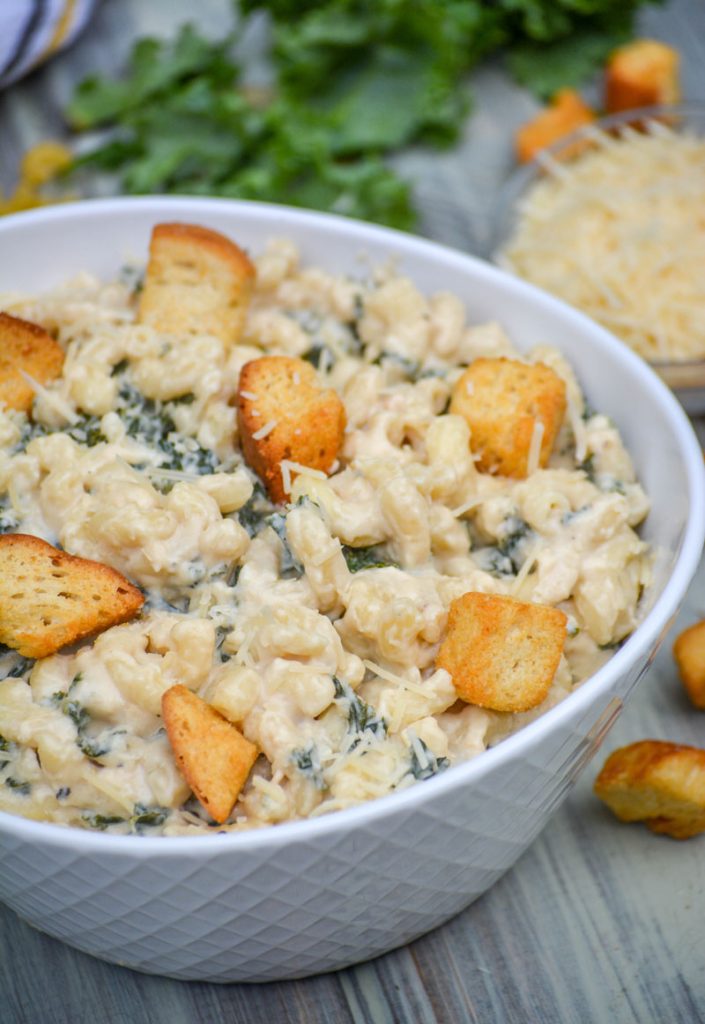 Any one else trying to eat healthier with the start of the New Year? I've been trying to make a conscious effort to eat more veggies. Not just the starchy ones I normally lust after either. Think vegetables the color of the rainbow. The kinds that are low in carbs, but higher in fiber and nutritional stuffs.
It's taken a lot of creativity on my part too, to convince my own taste buds that I'm not trying to poison them. To 'trick' them into liking new things until it becomes a habit.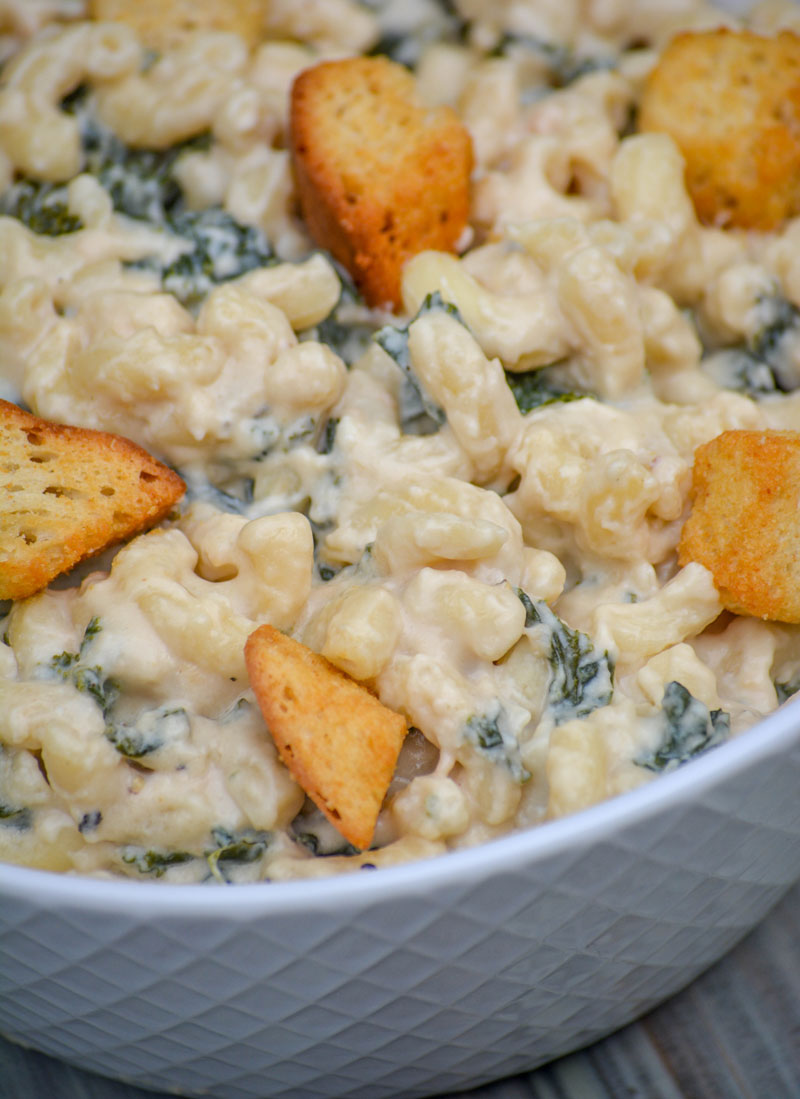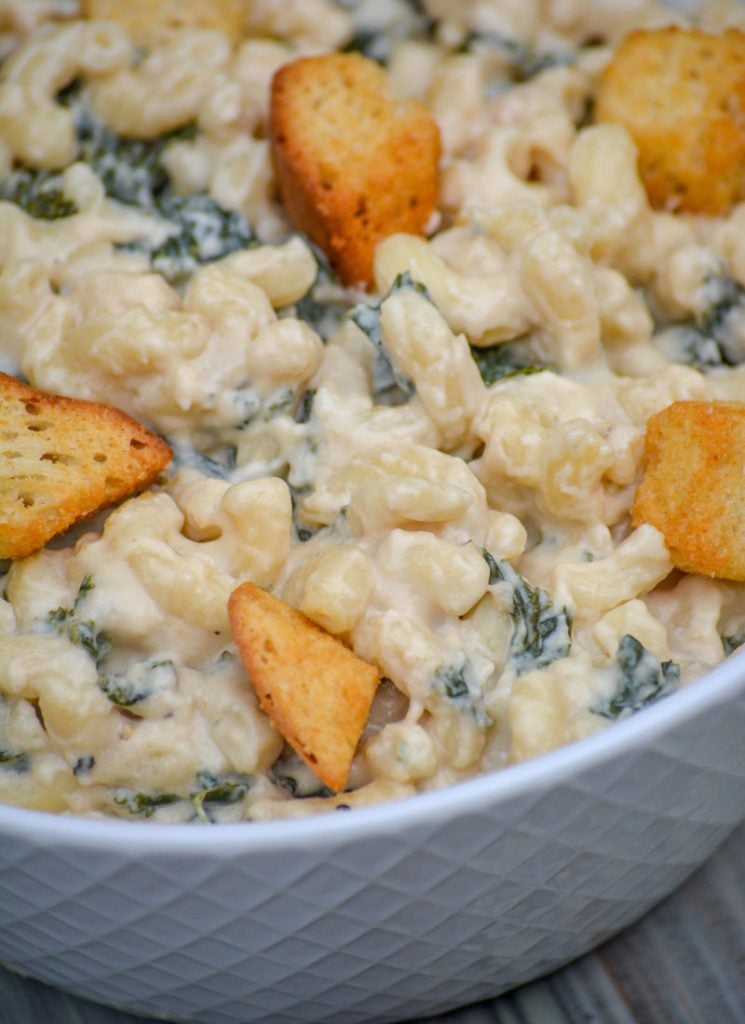 Y'all know how I love to buy all the things in bulk too, right? Well now I also have to convince my brain to enjoy 5 whole lbs of kale leaves. <Insert face palm here>
The things I do to myself. Sometimes my obsession with Costco is both a blessing and a curse.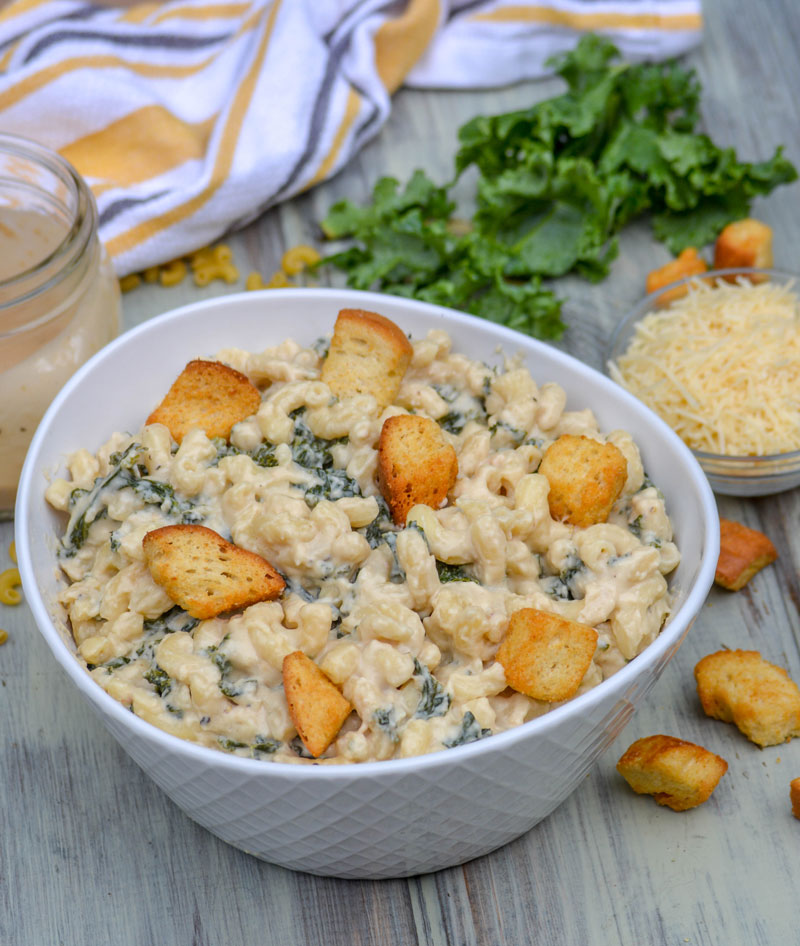 Meanwhile I'm over here chomping on kale chips while my kids are looking at me like I'm nuts. Not that I'm surprised. Ultimately they're crispy, seasoned leaves. What kids would think eating leaves is normal? In their eyes, I might as well be eating grass and chewing cud.
That's ok though, because my black pepper parmesan kale chips are actually amazing, and they go pretty quick. I'll keep that secret to myself, just like where I hide the good candy. Sharing may be caring, but so's Mom having a few secrets.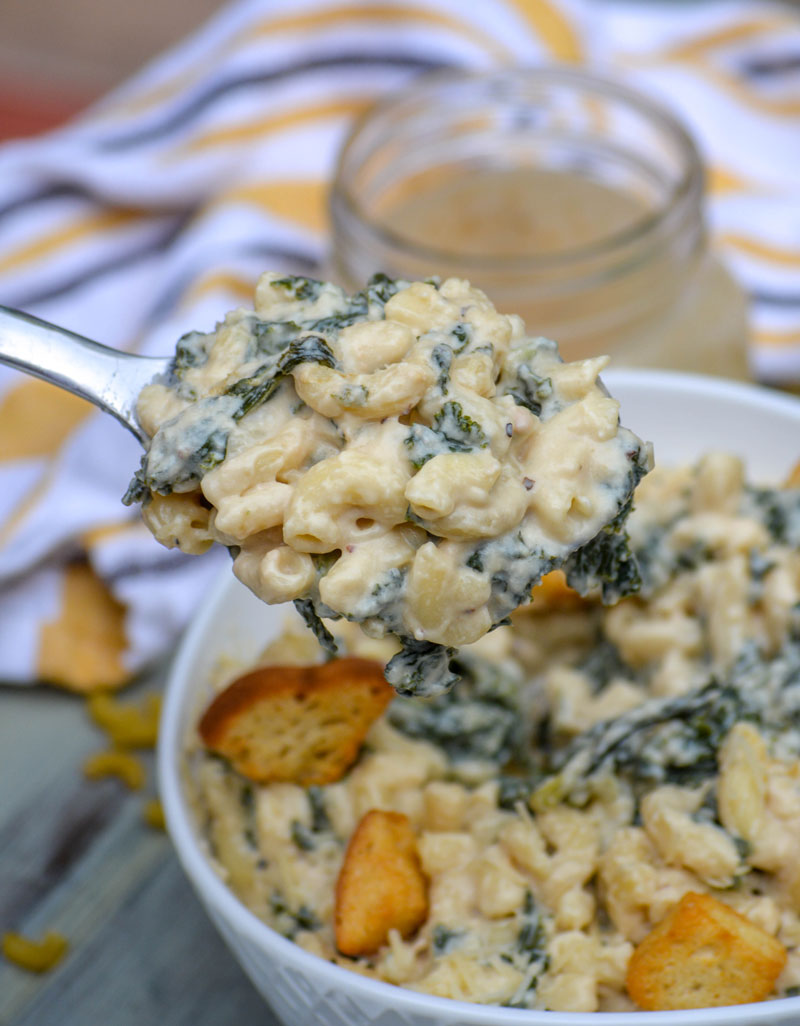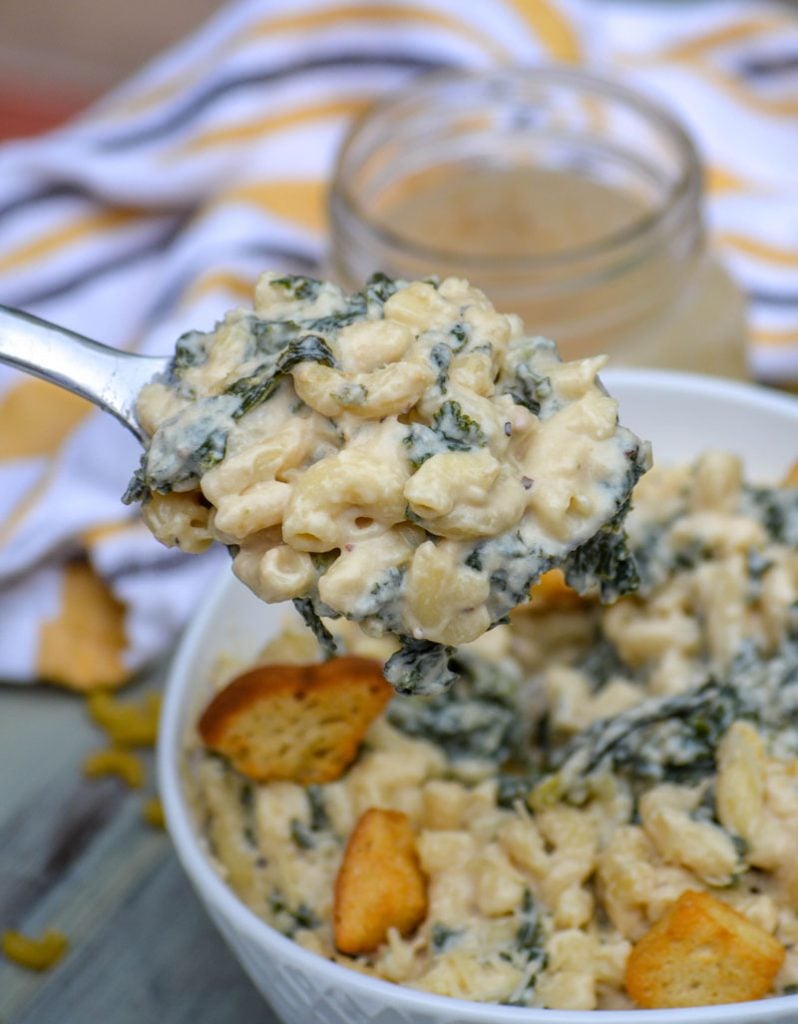 So, back to my kids and their aversion to the funky leaves I've been snacking on. I'm brainstorming good ways to incorporate them into different recipes, but of course all that's on my brain is some serious comfort food. Of course, right?
My kids are over in the corner like, we'll eat your leaves when you can make them taste good. Oh really? Re-he-he-he-he-heally?? Challenge accepted little ones.
While I know I can (and did) always serve them a bowl of homemade zuppa toscana they'll scarf down, that and my kale chips still left me with 1/3 of a bag of kale to use up. What to make, what to make…
A bowl filled with a rich, creamy mac and cheese is always gonna be a hit with my guys. They also love a good Caesar dressing on a bed of leaves. Why not combine the two? Caesar Mac & Cheese with Kale was the resulting hybrid, and boy was it a unanimous hit. The kids added it to the family recipe binder that same night!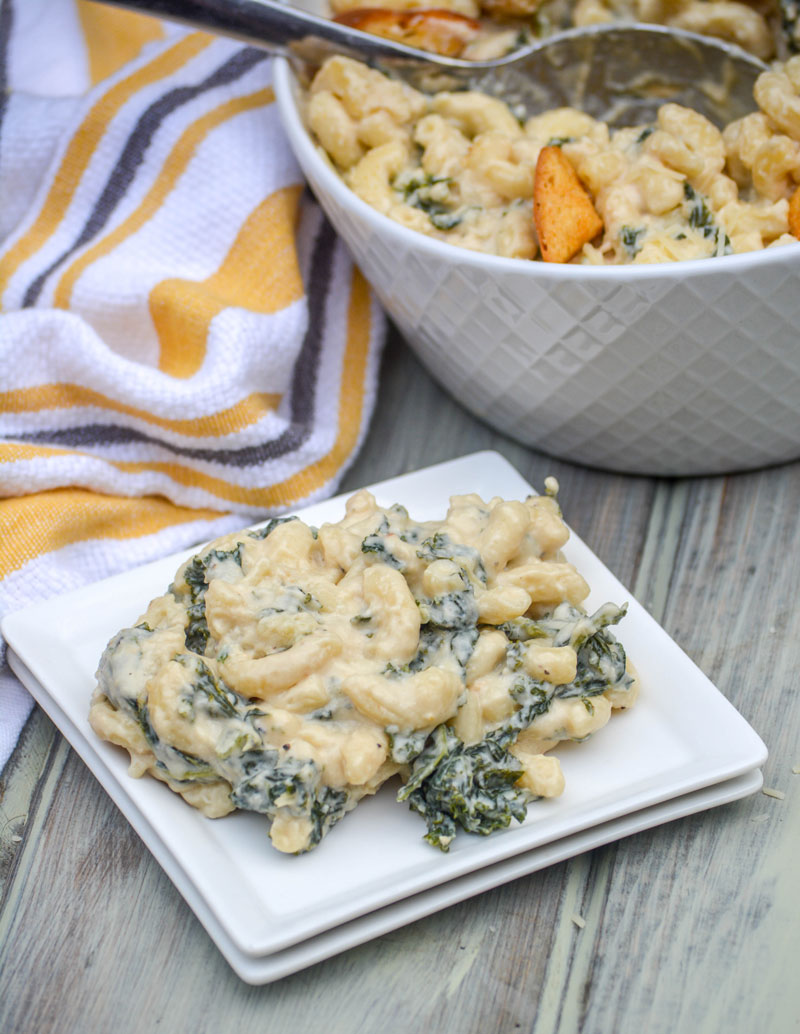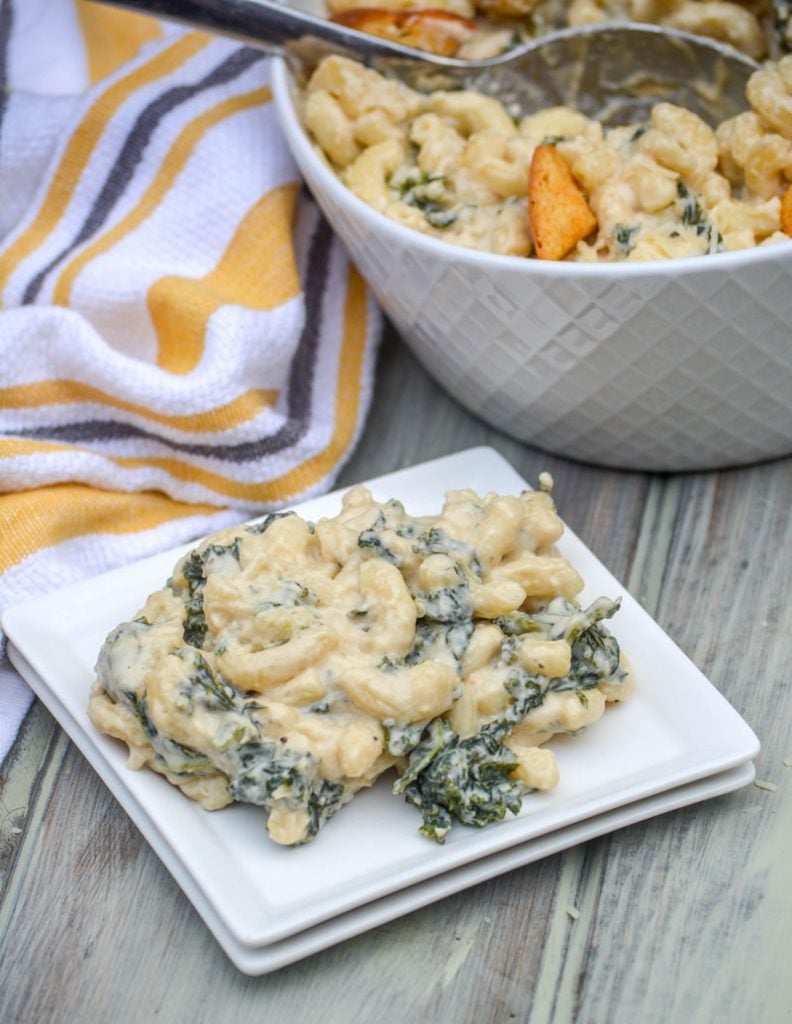 In typical one pot fashion, the dry pasta and half & half are added to a large skillet. Brought to a boil, they're stirred often to prevent sticking and clumping. The heat's then lowered, and the pasta's simmered for about 5 minutes-allowing the starchy cream sauce to thicken slightly.
The kale's then stirred in, cooked for another two minutes, just until the kale's wilted. Reducing the heat to low, all three of the cheeses are stirred in, and stirred until completely melted and the sauce is smooth. Salt and pepper the mac, to taste, then stir in the dressing.
Remove the dish from heat, and immediately ladle it into serving bowls. Top each with some of the Parmesan and a couple croutons. Dig in and enjoy! See, simple- but a creamy, homemade macaroni & cheese with a healthy amount of kale stirred in.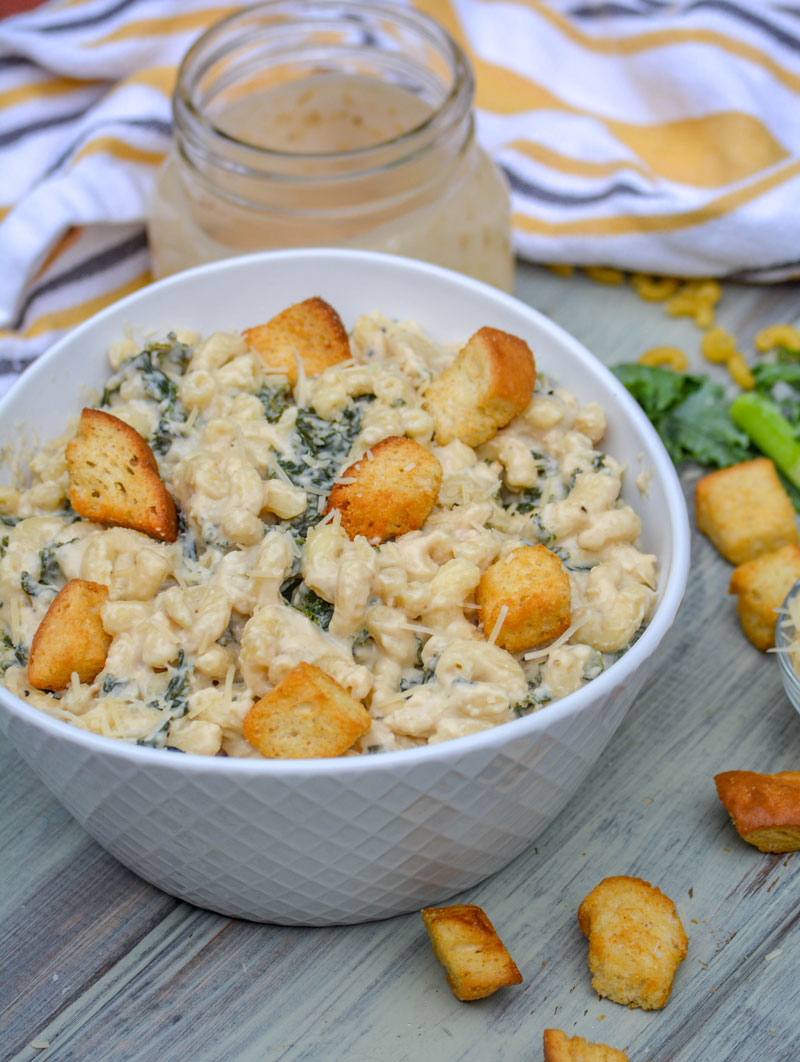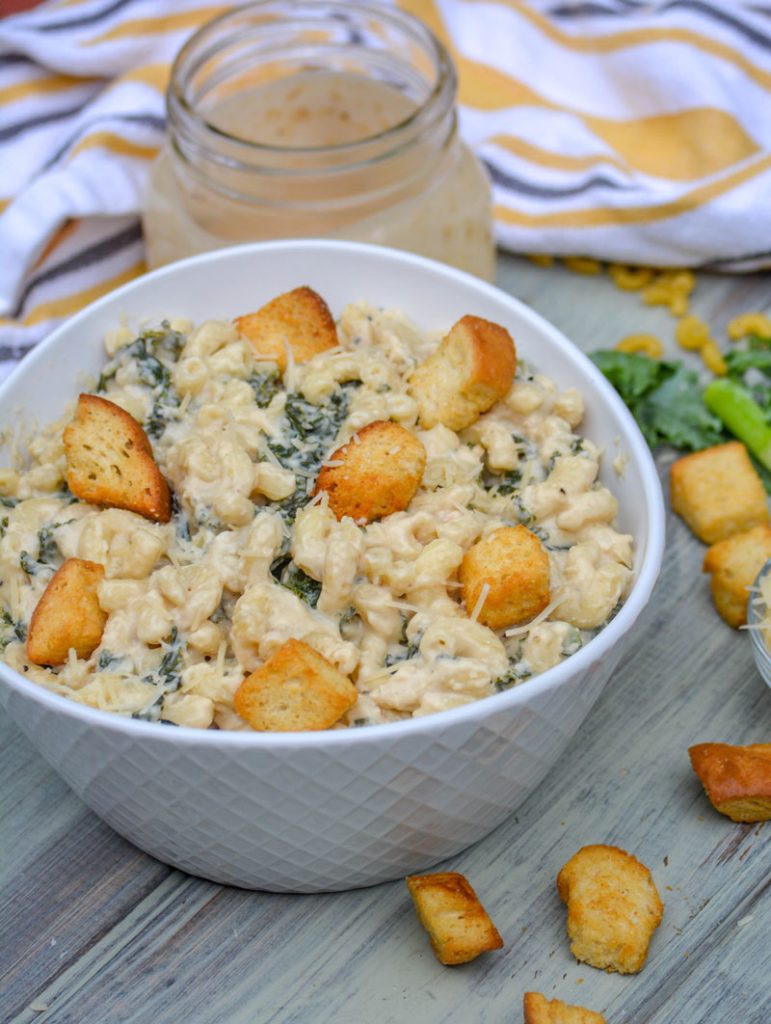 Shock your kids by serving them this Caesar Mac & Cheese with Kale for supper. A delicious mac and cheese they can't help but love, even with good-for-them leafy greens in it. That's what I call using your 'Mom magic' for a total Mom win!
Other Fun Mac & Cheese Recipes You Might Also Want To Try: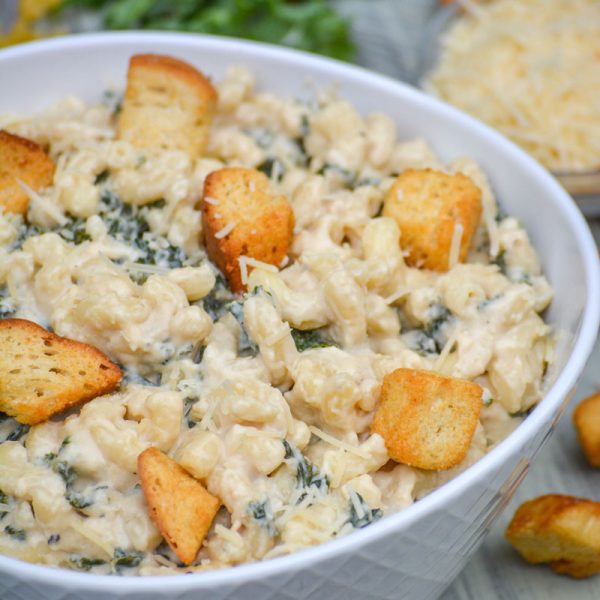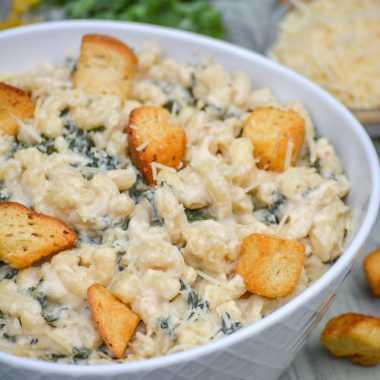 Caesar Mac & Cheese with Kale
A rich & creamy white cheddar macaroni and cheese is infused with Caesar dressing and a healthy amount of perfectly cooked kale.
Print
Pin
Rate
Ingredients
1

lb

elbow macaroni

4

cups

half and half

4

cups

chopped kale leaves, stems removed

2

cups

shredded white cheddar cheese

1

cup

shredded mozzarella cheese

2

oz

cream cheese, chopped into smaller pieces

salt & pepper, to taste

1

cup

Caesar salad dressing

2

tbsp

grated Parmesan cheese

croutons, for garnish
Instructions
To a large skillet, add the pasta and half & half. Bring the mixture to a boil over medium heat, stirring occasionally to prevent sticking & clumping. Lower the heat, and let the pasta simmer for 4-5 minutes continuing to stir occasionally until the mixture's thickened.

Add the kale, stirring to evenly incorporate, and let the mixture cook another two minutes until the kale's wilted.

Lower the heat to low, and stir in the cheeses. Stir until the cheeses are all melted and equally incorporated. Season the smooth cheese sauce with salt and pepper, to taste.

Stir in the dressing, remove the pasta from heat, and ladle into bowls.

Top each bowl with Parmesan cheese and a couple croutons. Enjoy!